Photos by Ste Ho
---
Nissans have long been popular tuning platforms, but today's modern tuners have taken this simple fact to entirely new levels.
Harvin Minhas of Richmond Hill, Ont. knows this well as he has previously owned a pretty sick turbocharged 2006 Nissan 350Z after tiring from his '03 Lexus IS300 and its killer custom audio system. And, in late 2010, he pulled the trigger on this brand-spanking new 2009 Nissan 370Z to turn into a new project car.
"My reason for choosing the 370Z stems from my love for unique cars," said Minhas. "The 370Z is a good platform to build a custom car that fits my unique taste while being conveniently accessible for my daily life."
Over the course of a year and with an additional $37,000 in upgrades, his Z is now a veritable tuner dream machine with an arsenal of parts and accessories to envy.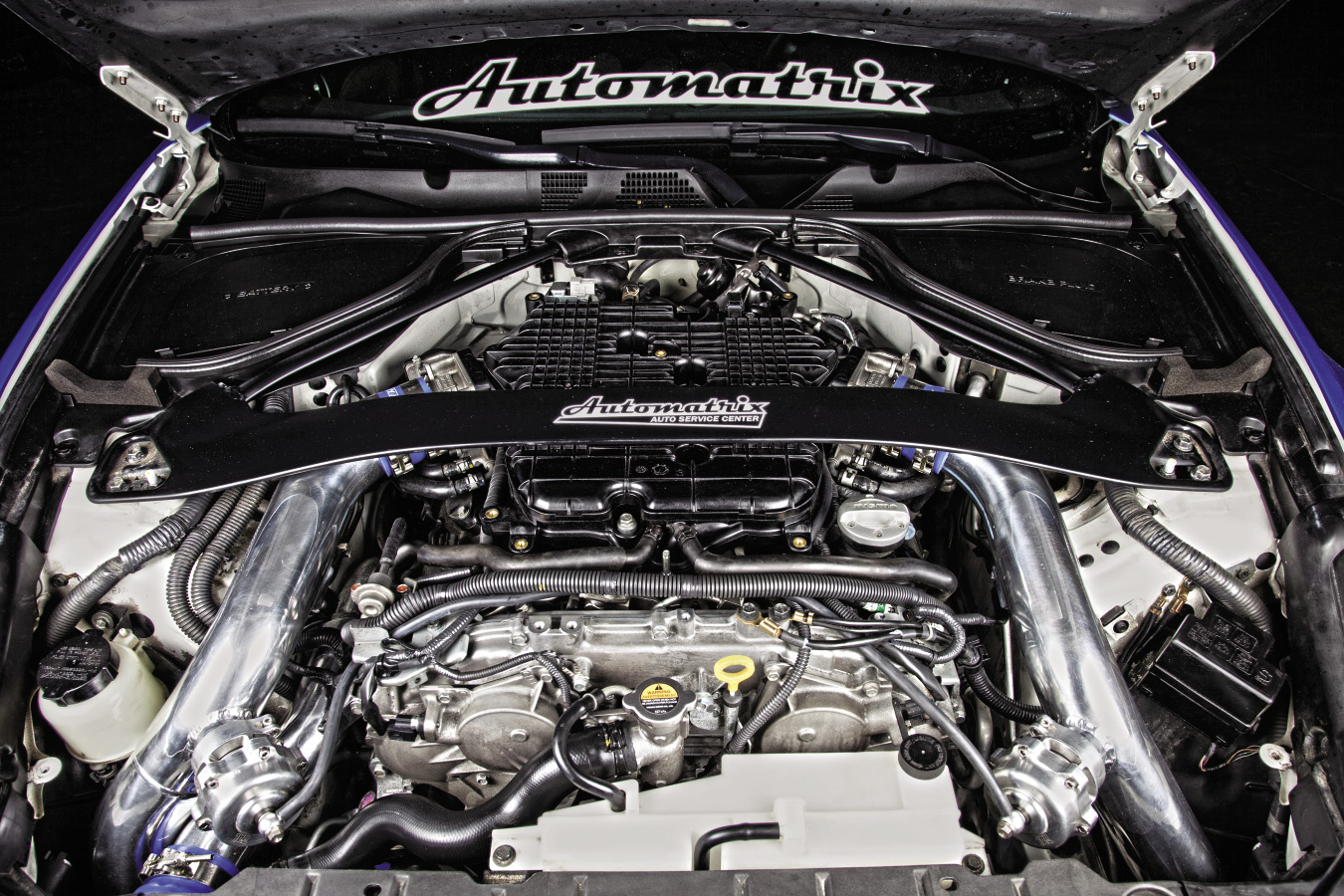 Starting with performance, the VQ37 motor ingests cool air through a GTM Motorsports intake system with a K&N filter. A Walbro 255 lph pump moves high-octane fuel to Denso 600 cc injectors while a bar-and-plate core intercooler from GTM cools the air charge before NGK Iridium spark plugs do their thing inside the combustion chambers.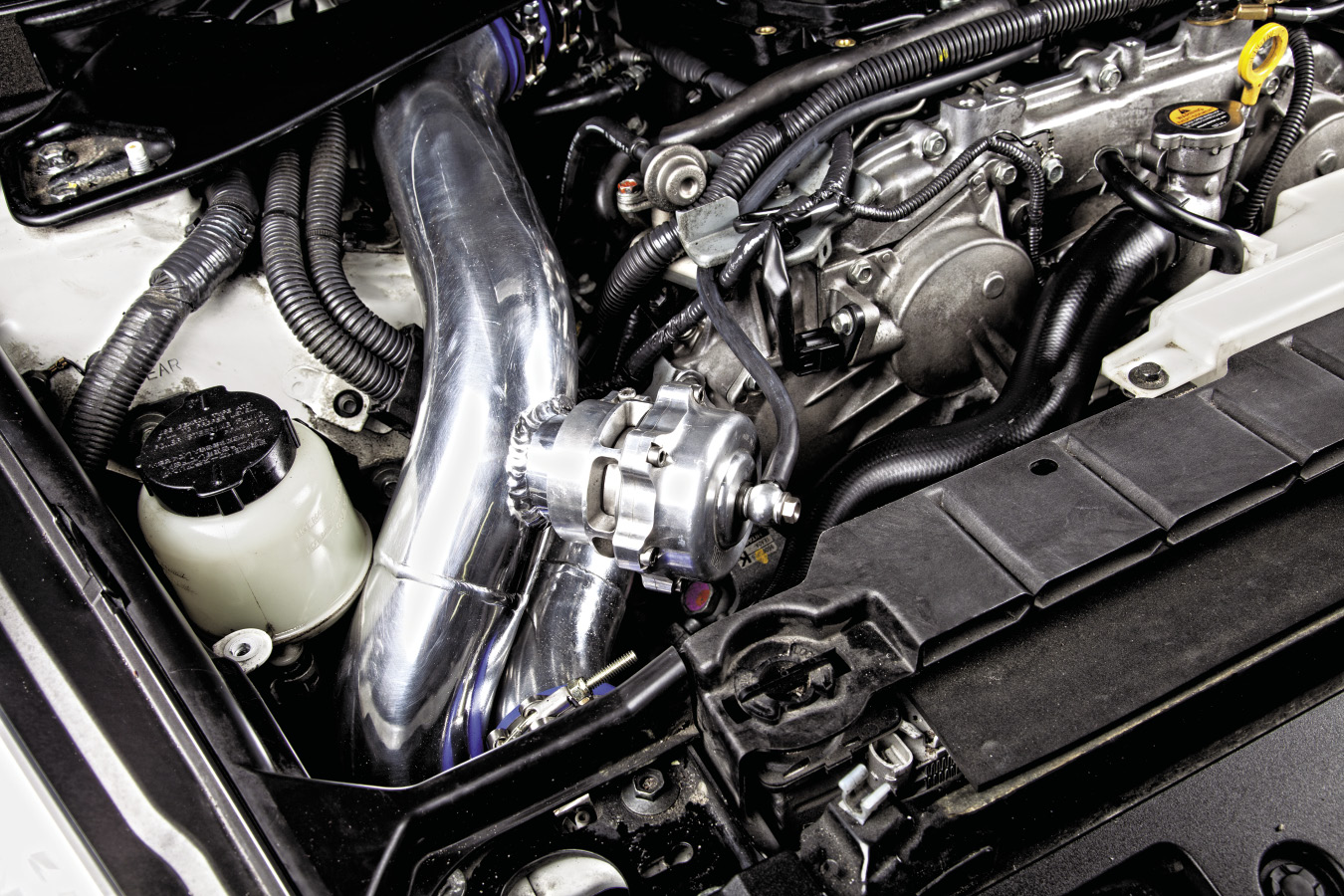 The stock powerband wasn't going to cut the mustard, so, naturally, forced induction has been introduced via GTM's stage two twin-turbo kit. This system features water- and oil-cooled Garrett ball bearing turbochargers, two 50 mm TiAL blow-off valves and dual three-inch downpipes with dual TiAL wastegates affixed to them. Exhaust gases converge inside an Exoticspeed RII-Titan dual exhaust that matches the intake and turbo noises with a more aggressive baritone soundtrack.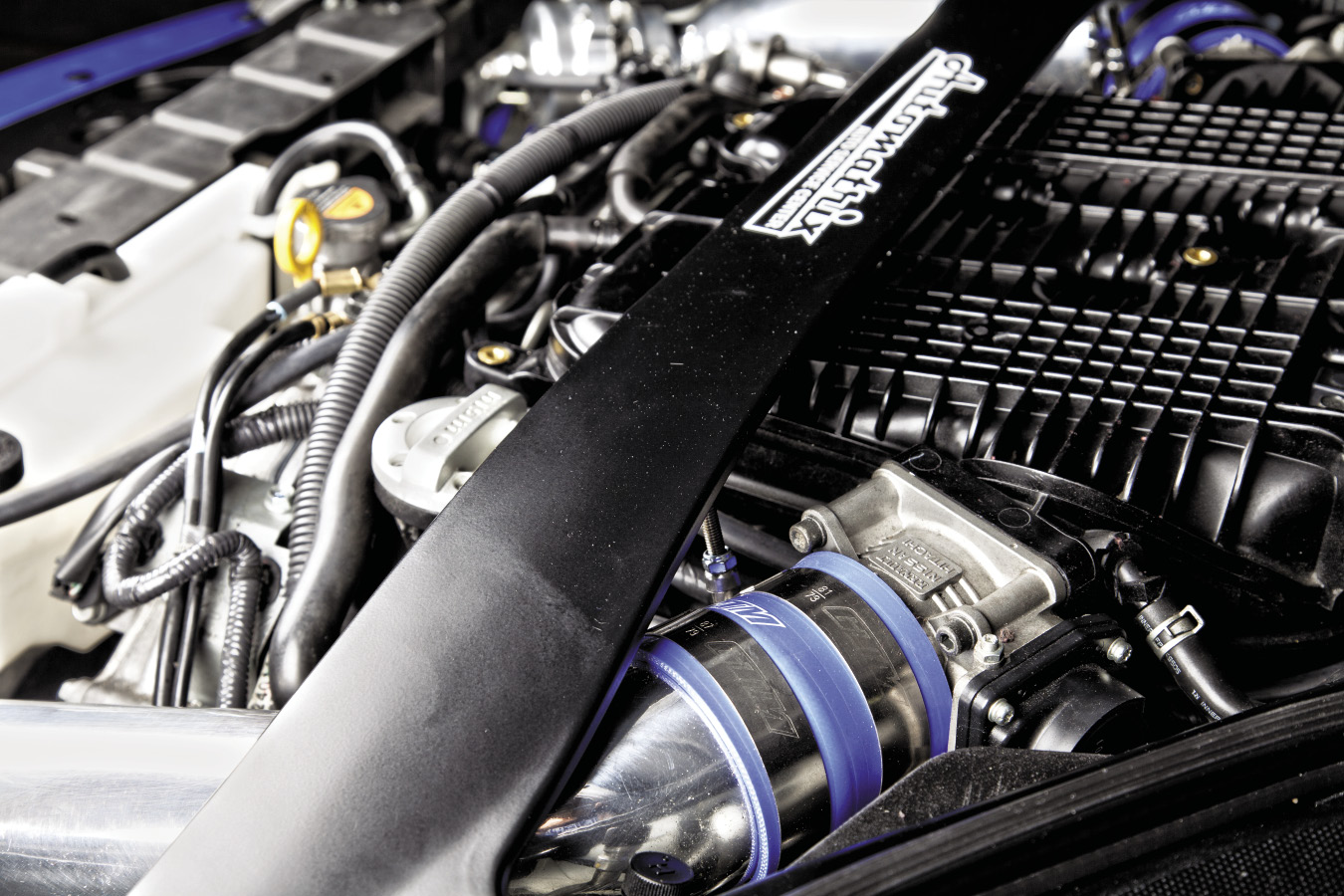 In stock trim, the 3.7-liter V6 engine makes a respectable 332 horsepower and 270 lb-ft of torque (the Nismo version makes 350 hp and 276 lb-ft). Here, however, it now makes an estimated 550 horses and 470 torques, increases of 65% and 74% over stock, respectively. Impressive! To handle the increased might, of course, the drivetrain is somewhat beefed-up with an OS Giken twin-plate clutch and lightweight flywheel as well as a TWM Performance short shifter.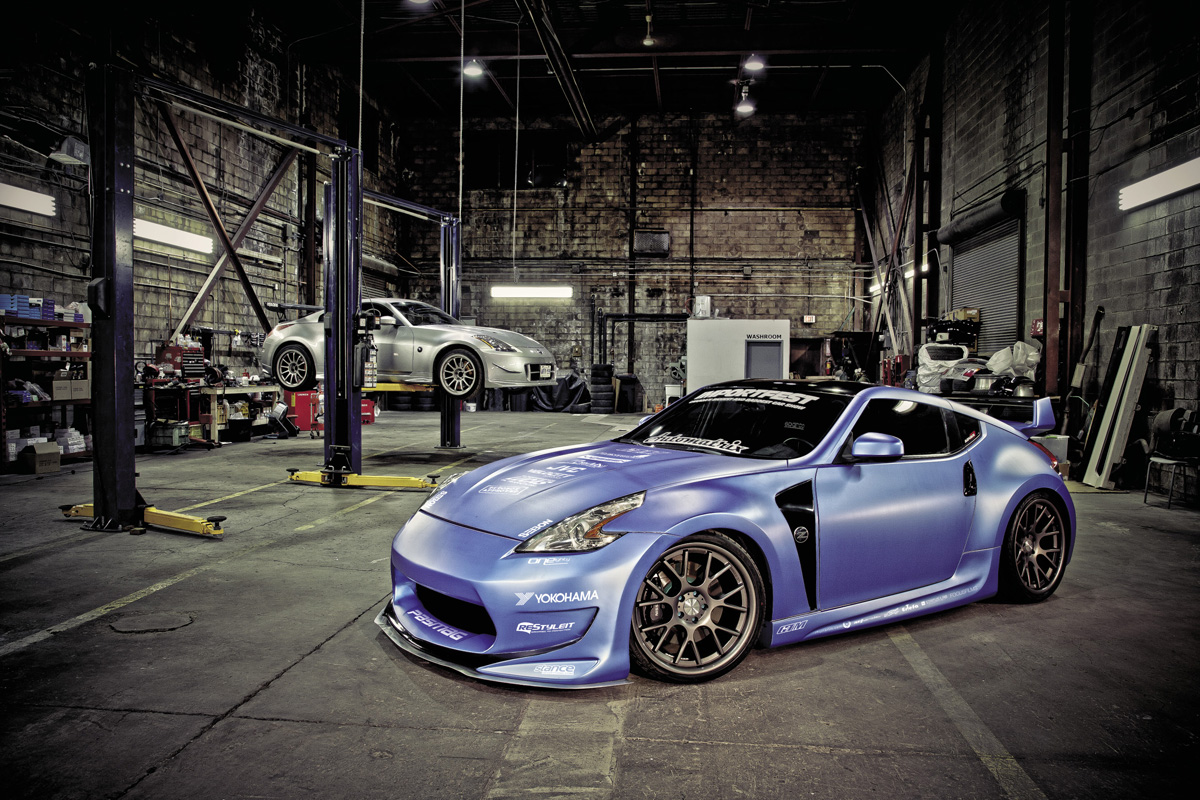 Stance-wise, this Z has got the goods courtesy of a KW Variant 3 coil-over system that mates with a set of 20-inch Vossen CV2 wheels sized nine inches wide in the front and 10.5 in the rear. The notorious stock brakes make way for some upgrades from Project Mu in the form of its Club Racer slotted one-piece cast iron rotors and NS brake pads. The four-piston front and two-piston rear calipers are retained and the new rotors are the same size as Nissan's Sport brakes, though Motul fluid runs through upgraded StopTech braided lines.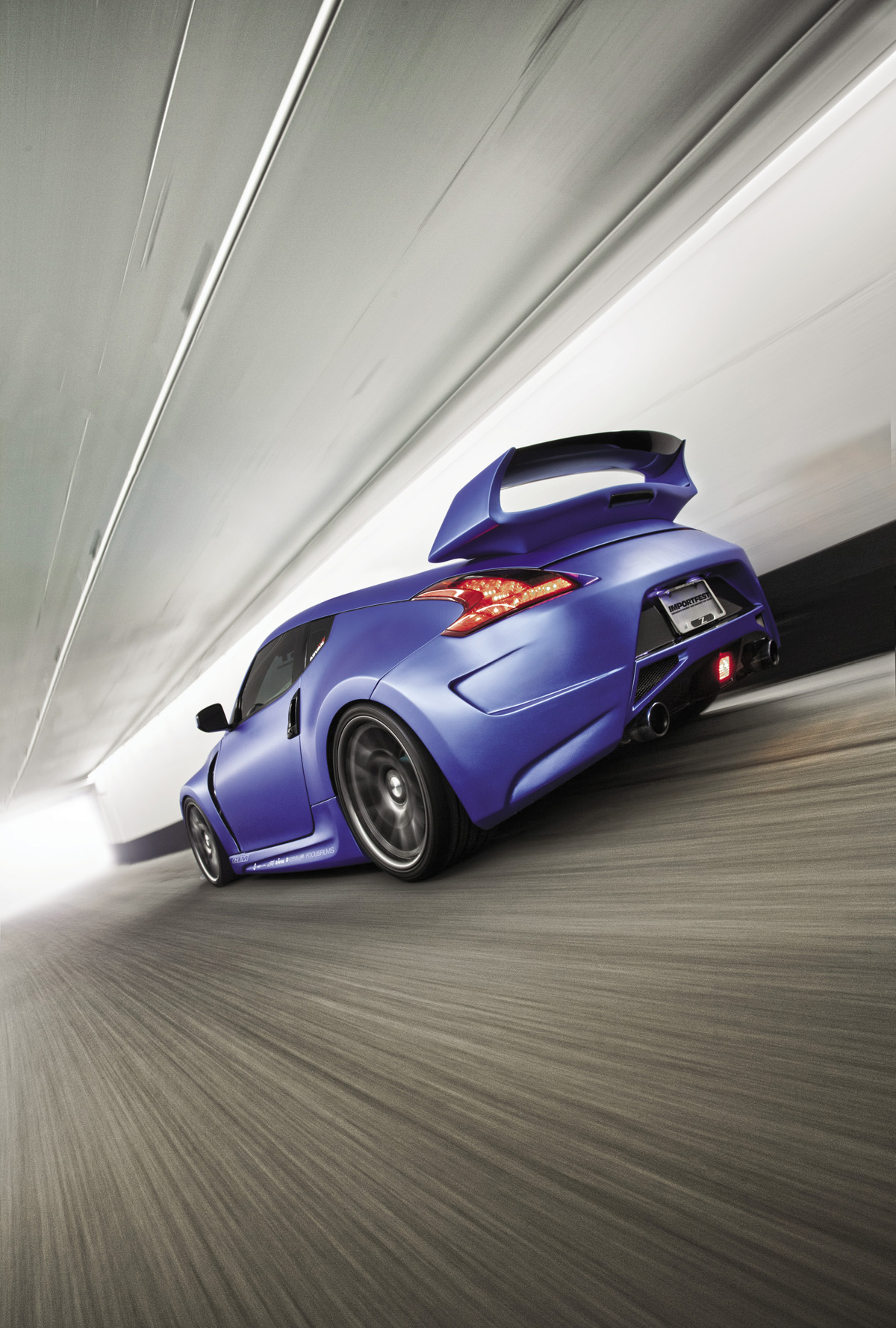 With its design inspired by sharks and stingrays, the 370Z is one of the nicest looking coupes straight out of the box. This one is even more so thanks to an Amuse Vestito body kit that consists of new front and rear bumpers, side skirts, rear wing and a gurney flap for the rear wing. Ability Fabricators has added some unique touches in the form of a custom one-off aluminum front splitter and gloss black door handles and accents while the whole car's been re-skinned with Status Lab's matte blue pearl vinyl by RestyleIt. The headlights are retained, but there are plans to cobble together a new set with an assortment of Oneighty headlight components, including matte black housings, Orb LED rings, orange and white V2 LED landing strips and gloss black accent projector shrouds and reflectors to match the rest of the theme.
Above the new JVC DVD/CD/USB head unit with 6.1-inch touchscreen display is a custom pod built in to the factory storage cubby with a carbon fiber trim panel that houses Defi boost and AEM wideband air/fuel gauges.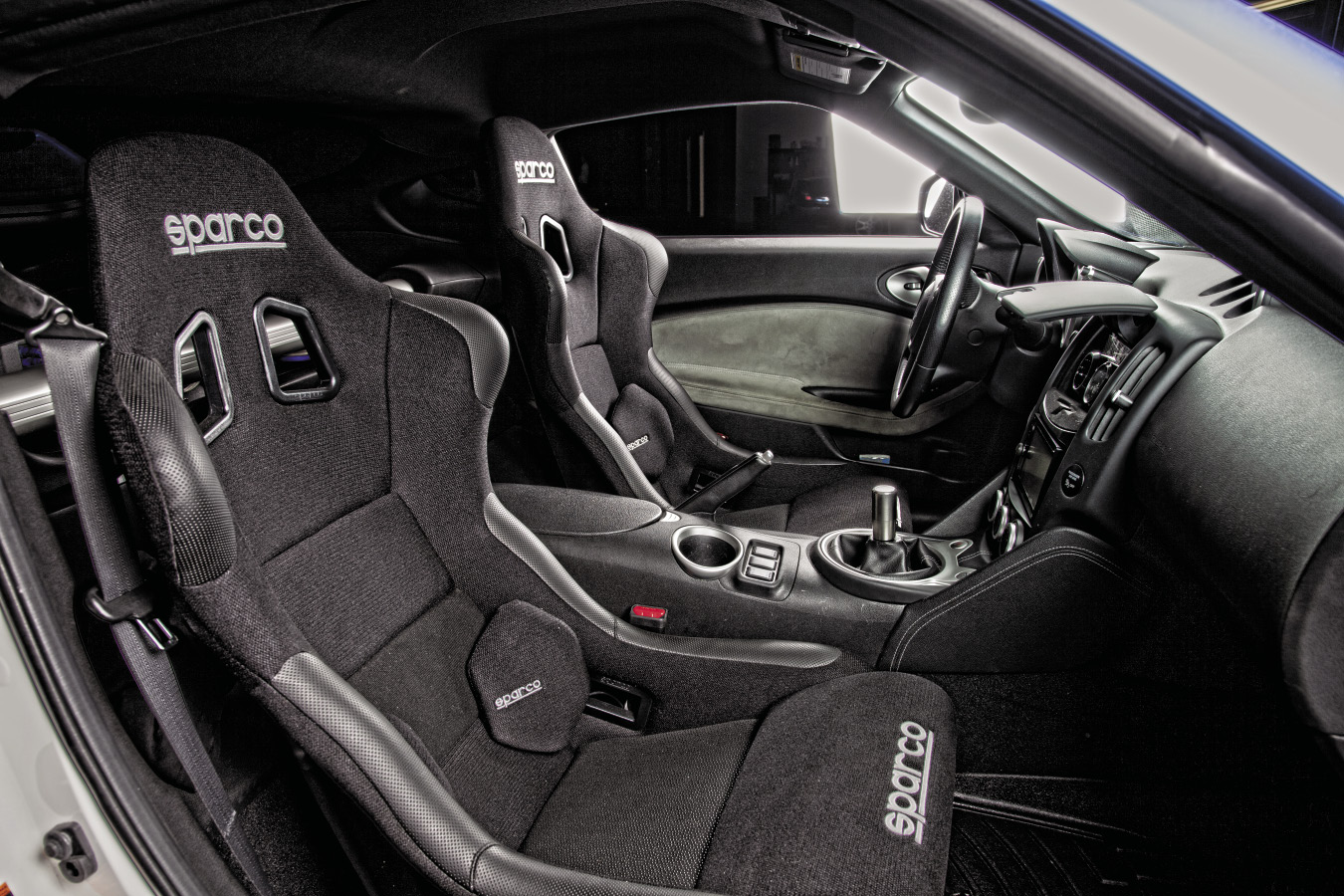 Inside, the mods are minimal but purposeful. Sparco Fighter buckets seats replace the factory ones and there's a titanium Nismo shift knob and WeatherTech floor mats.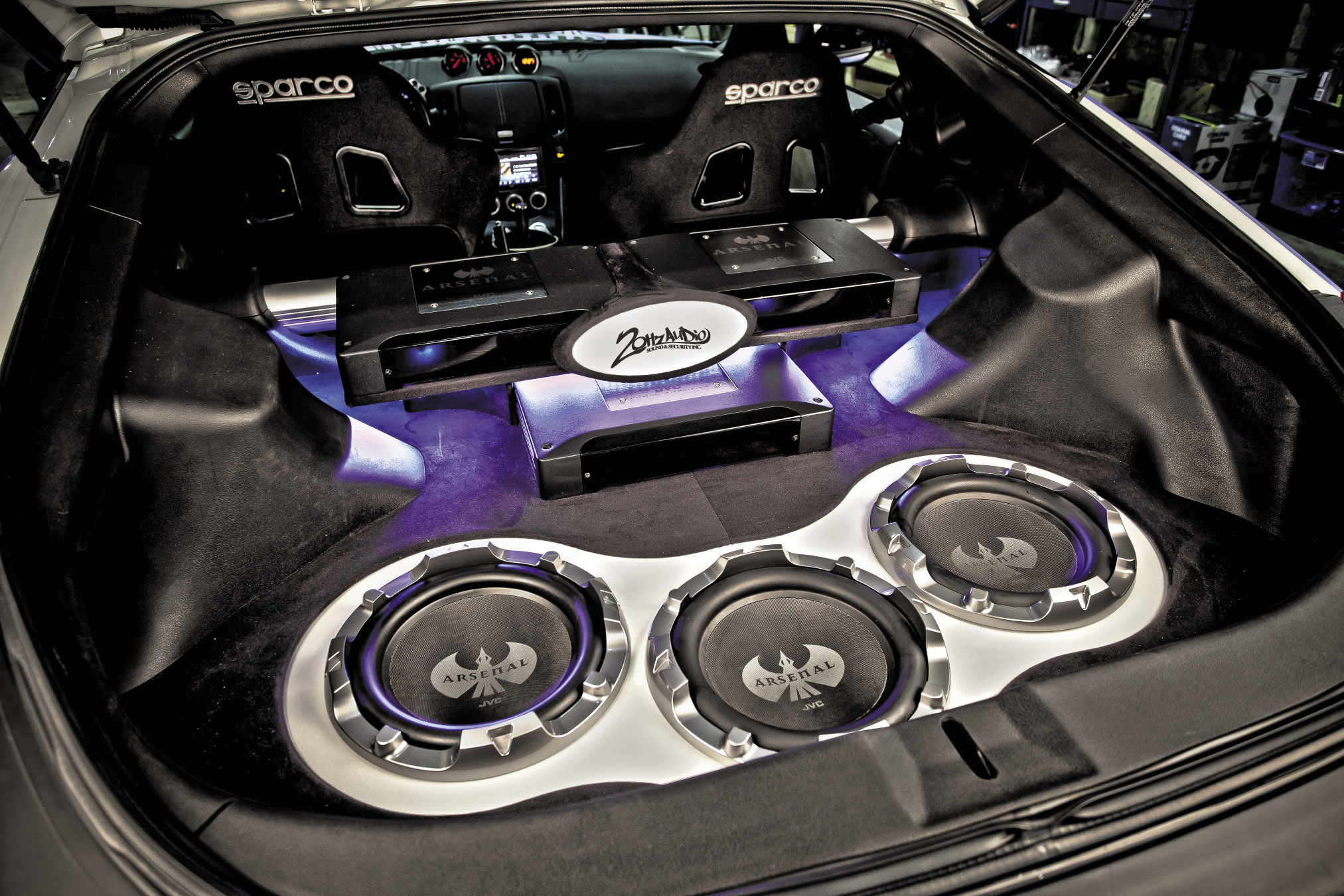 The Bluetooth-capable head unit sends signal to two sub amps and a single four-channel amp that powers two sets of 6.5-inch components speakers in the factory locations. The custom trunk install by 20 Hz Audio features three JVC 10-inch four-ohm dual voice coil subs in sealed enclosures that take up less space than you might think in the Z's tiny trunk. A Northstar battery under the hood provides power for the system, which is accented with blue LED lighting.
Like many of the cars that grace the pages of PAS, this one always seems to be undergoing changes. Besides the planned lighting upgrades, Minhas will be installing Vossen's new CV7 wheels in the near future.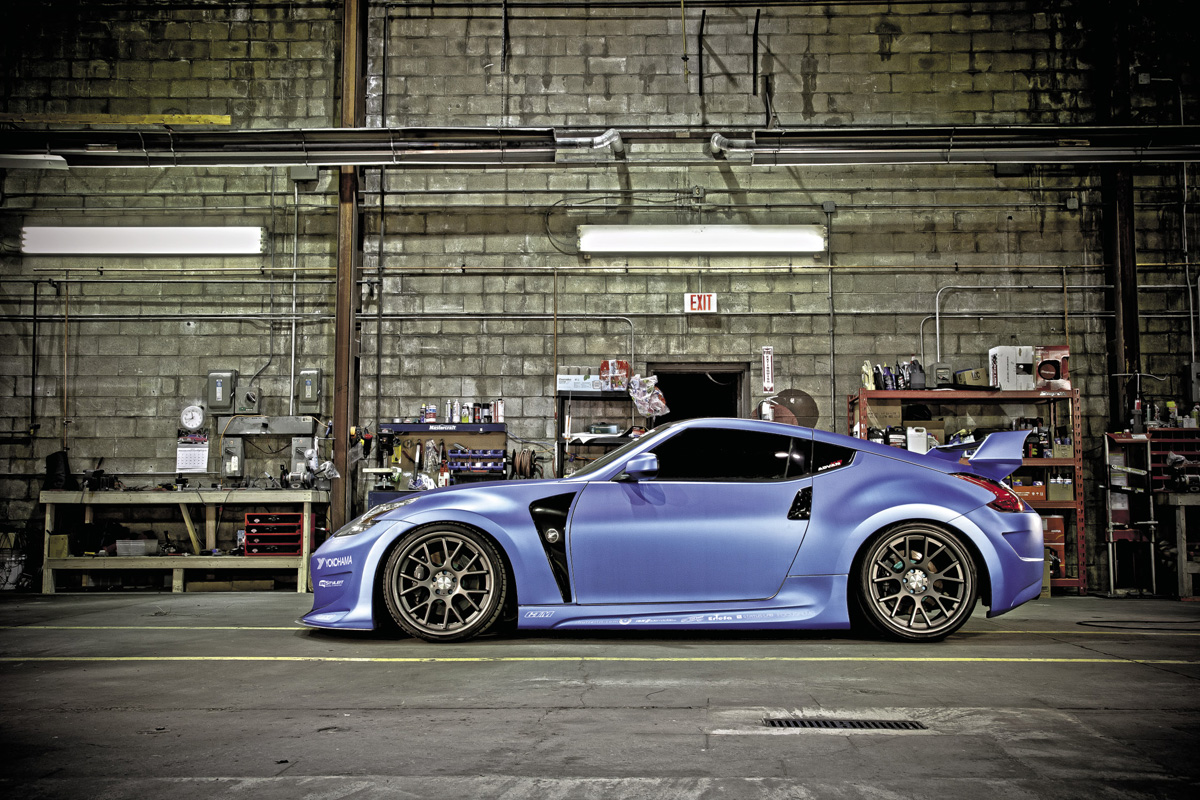 It's one thing to read about and see this car in the magazine. It's always more exciting to see a car like this in person. Well, there's no need to worry as it will once again be the feature vehicle of Importfest, which is the biggest, baddest and longest-running import car and lifestyle show in Canada show, in Toronto on August 25, 2012.
Harvin Minhas's Nissan 370Z is featured on the cover of the PAS August 2012 issue. (Order HERE)
ESSENTIALS
Name: Harvin Minhas
Location: Toronto, Ont.
Vehicle: 2009 Nissan 370Z
Engine Code: VQ37VHR
Horsepower: 550 hp
Torque: 470 lb-ft
ENGINE MODIFICATIONS
GTM Motorsports (Stage 2 twin turbo kit, bar and plate core intercooler, cold air intake, dual three-inch downpipes)
TiAL (50 mm blow-off valves (x2), wastegates (x2))
K&N air filter
Walbro 255 lph fuel pump
Denso 600 cc injectors
Four-ply high-resistance Nomex Silicon couplers
NGK Iridium spark plugs
Mechanical work by Automatrix Auto Service Shop
EXHAUST SYSTEM
Exoticspeed RII-Titan dual exhaust
DRIVETRAIN
OS Giken twin-plate clutch and flywheel
TWM Performance short shifter
CHASSIS / SUSPENSION
KW Variant 3 coil-over suspension
WHEELS / TIRES / BRAKES
Vossen CV2 – 20x9 (f), 20x10.5 (r)
Yokohama Advan Sport – 255/30 (f), 305/25 (r)
Project Mu Club Racer (14-in. slotted front rotors, four-piston calipers (f), rear rotors, two-piston calipers (r); NS pads)
StopTech braided lines
Motul Dot 5 brake fluid
EXTERIOR
Amuse Vestito body kit
Venaci custom fenders
Seibon Carbon fiber hood
Ability Fabricators one-off front aluminum splitter
Status Lab (Matte Pearl Blue) exterior vinyl installation by RestyleIt.ca
Custom painted gloss black door handles
Body work by Velocity AutoBody
INTERIOR
Sparco Fighter bucket seats
Defi boost gauge
AEM UEGO wideband
Nismo titanium shift knob
WeatherTech floor mats
Custom dash pod
AUDIO / MOBILE ELECTRONICS
JVC (KW-ADV64BT DVD head unit, KS-AR9501D sub amps (x2), KS-AR9004 amps (x2), CS-AW7040 10-in. four-ohm DVC subs (x3), CS-ARS650 6.5-in. two-way components (x2))
Northstar battery
Custom trunk install and sealed enclosures by 20 Hz Audio
SPONSORS
Importfest, Automatrix, GTM Motorsports, RestyleIt, Vossen Wheels, 20 Hz Audio, JVC, Velocity, Yokohama Oneighty, Status Lab, Exoticspeed, Seibon Carbon, Sparco