Photography By Jacob Leveton
---
They say the best practice after you bail on a skateboard, BMX, horse or whatever is to get back on. If you over-analyse it too much you probably will second guess yourself out of your sport real fast. Then you get old, grey and have lots of regrets. The bottom-line is do it now, don't question yourself or wait it out to the point where you just aren't able to make it happen. We see it all of the time in the tuner scene. Boy living in parents basement buys, car X, then basic upgrades, then goes ballistic when it's to slow. A motor swap ensues, a turbo goes in. Every paycheck is pre-spent and then the unthinkable happens, a motor blows or a wave of tickets and fender benders puts a quick end to it all. Well not the case for James Lin of Team Hybrid – no way.
Lin is the Founder and the current President of Team Hybrid which as most of you know have created some of the sickest cars in existence. They have dozens of magazine covers, they can't count all the awards and no matter what happened along the way, family, work or otherwise Lin always holds it down.
He figured why not celebrate by building up a chassis that was not only a classic, but capable of unrelenting horsepower levels. His choice was a platform with exotic crushing performance, but wrapped in a nice long-wheelbase GT car format. Lin ended up with the Lexus SC300… or Toyota Soarer to you JDM junkies. A big coupe that fit all of the criteria and had huge aftermarket following in Japan made sense.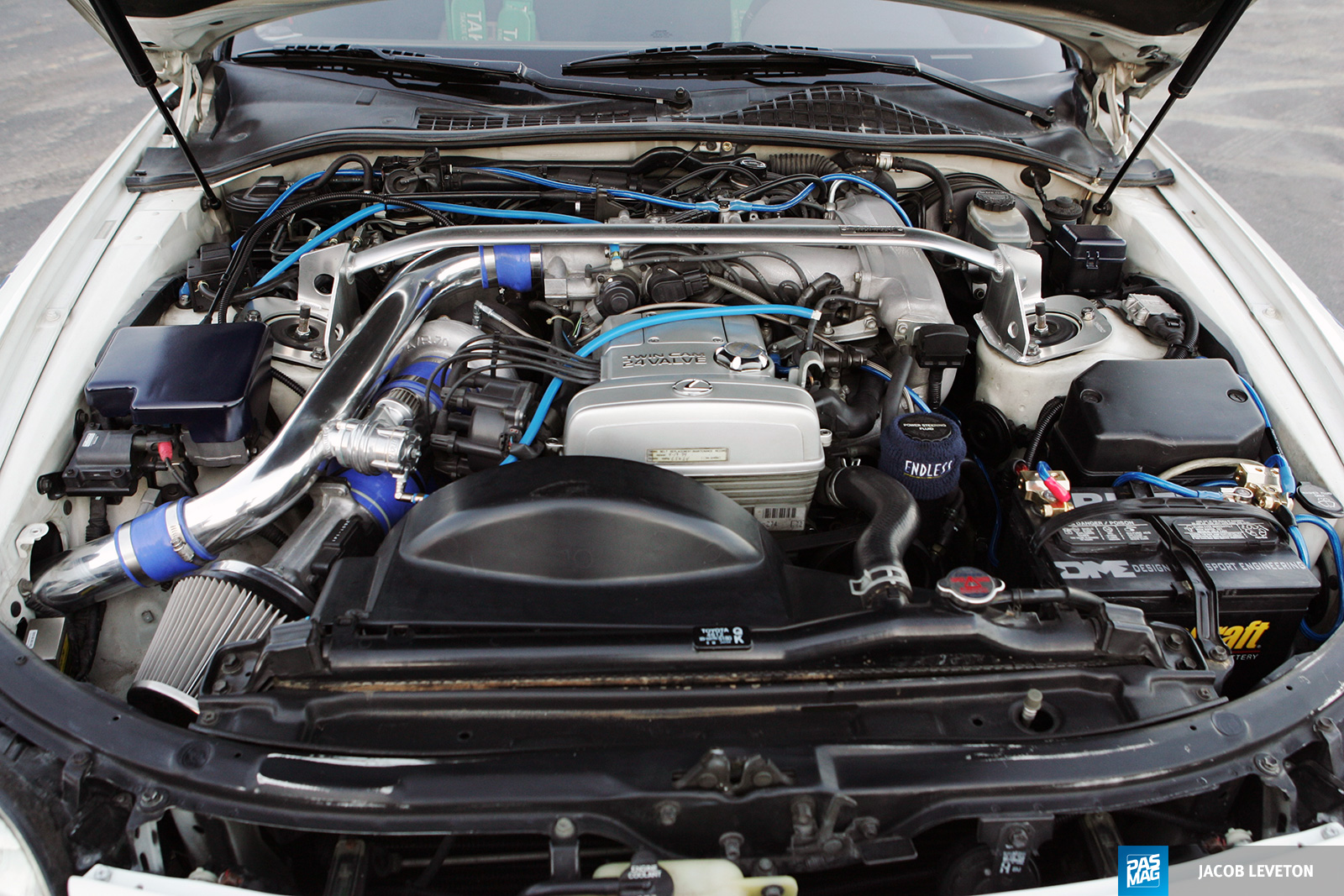 Starting with a 3.0L Supra motor, the bolt-ons began filtering-in after the engine bay was resprayed. A Boost Logic stainless header was added with a dual ball bearing T67 snail running a stainless dump-pipe and an HKS 40mm wastegate. The exhaust dumped into a custom 304 stainless downpipe and continues into a Blitz Nur-Spec pipe. A weave of 2.5-inch polished intercooler piping meets up with an XS Engineering front mount and Blitz BOV. The intake plenum is a high-polish custom job that merges with fuel pumped in by six 550cc Blitz injectors fed by 255 Walbros. The jobs is capped of with items like the GReddy oil and rad caps and a SUN Hyper Ground Kit. With an estimated 500whp, it was imperative Lin beefed up the fuse and he added an ACT street disc to hold it and live with it.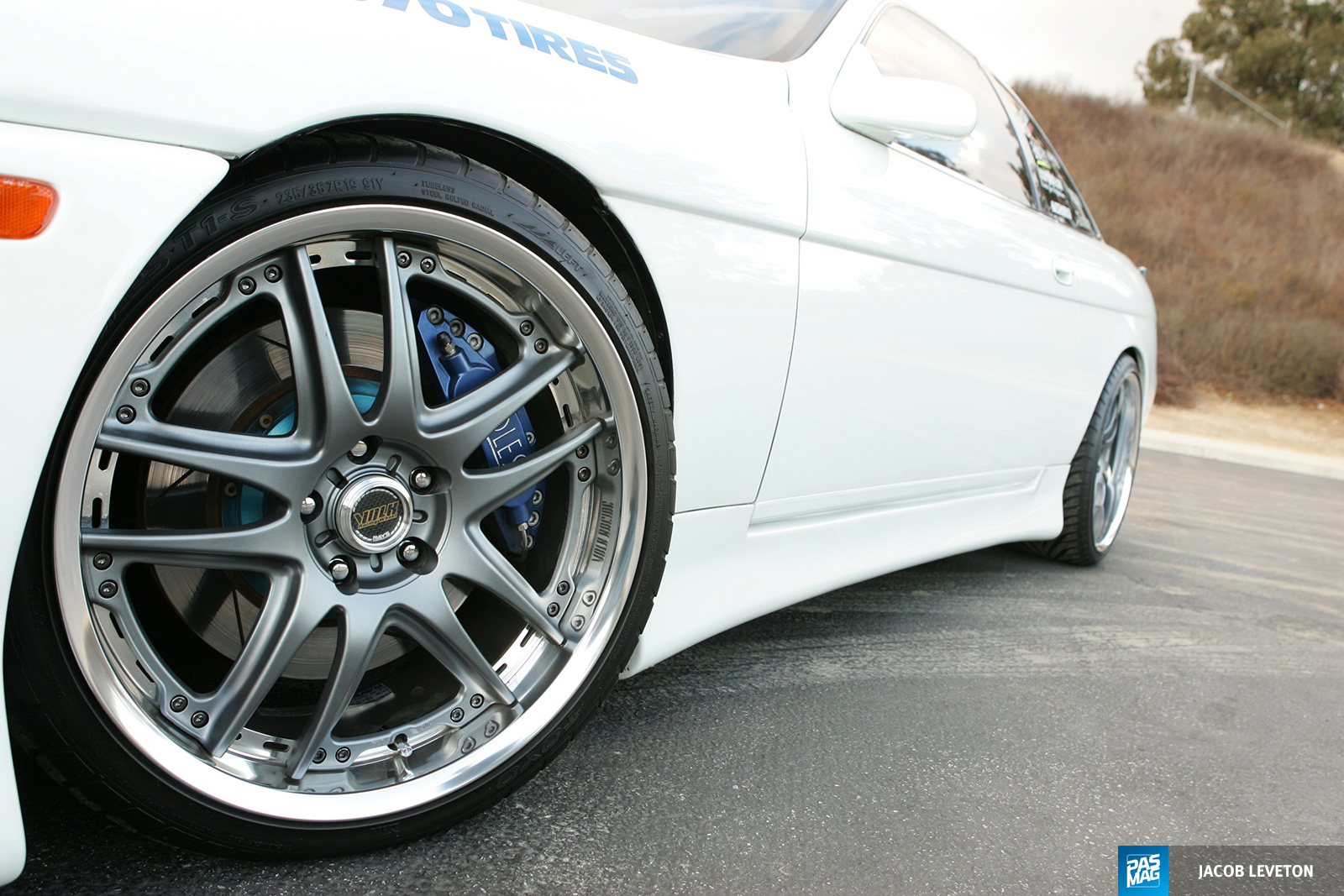 The rolling stock are some classic Volk wheels. The Volk GT-V in Mercury Silver are 19-inch around, but 9.5 in the rear with as much offset as the bodywork could handle with +24. Wrapped in Toyo T1S rubber, the fronts are a 235/35R19 to roll with 265/30R19 in the back. To bring the ride to a complete stop are some clampers from Endless in classic Alumite Blue. Lin went with 332mm 2-piece rotors and a 6-piston calipers with some aggressive street pads.
Under the chassis, we find more of the same aggressive-side-of-street equipment. Lin wasn't planning to race the car, but use it and scoop some love at shows. He decided on the Tein HA 16-way adjustable and a Daizen camber kit to prevent having to call up his tire sponsor every three months for some new rubber. The big-body Lexus loves to sway, but was handled nicely with thicker TRD sway bars. A Carbing front tower bar rounds out the body flex and always adds that special touch to the engine bay.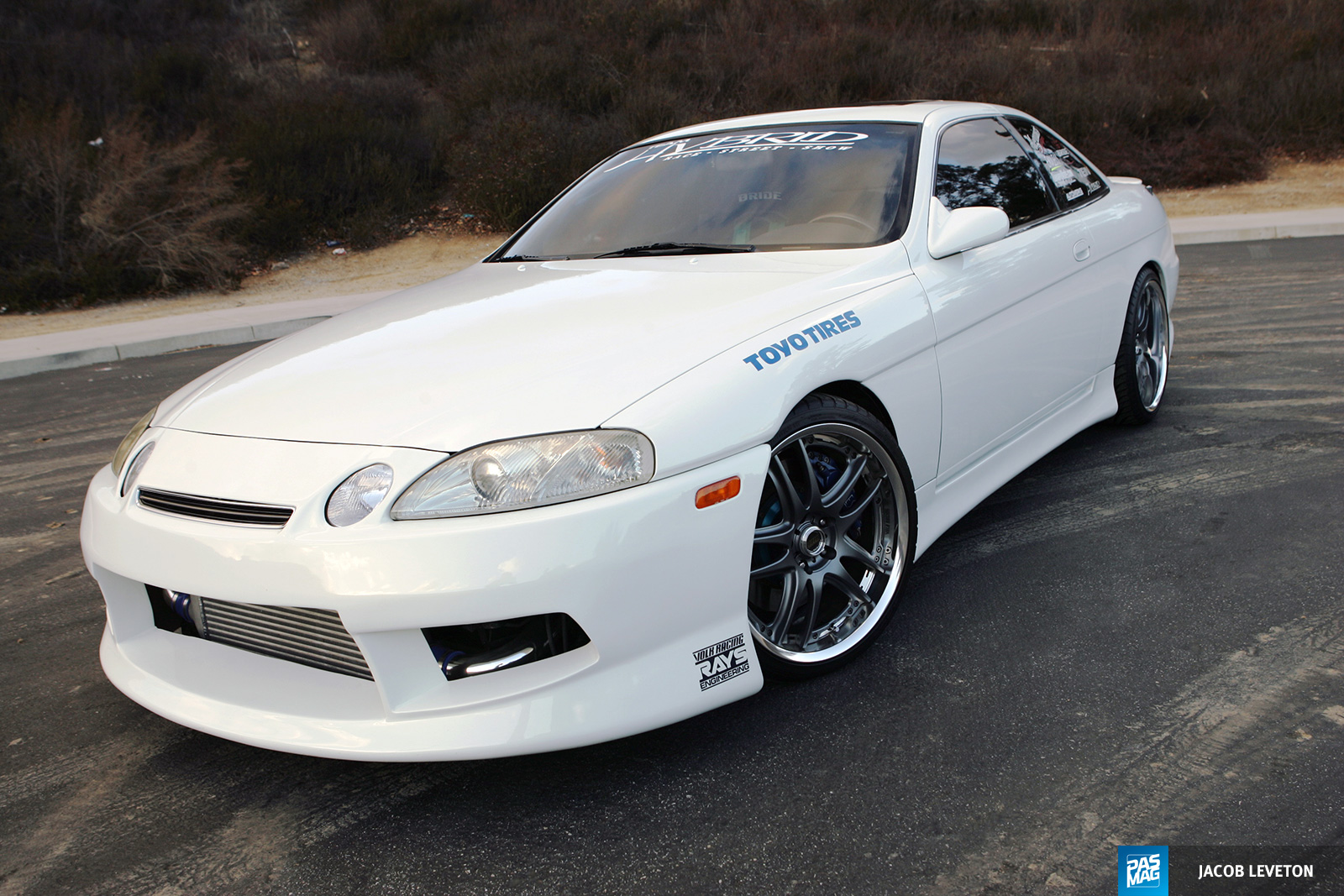 Exterior wise, the Lexus is on point! Here is a car that really benefits from being lowered and filled with huge rollers. So much so that aero parts are optional, well not in Hybrid's world. An Origin front bumper, sideskirts and rear valance were added for that Osaka style. The Bomex side mirrors just seem to work with the OEM rear deck lid spoiler in their new paint. Lin added glass headlights, a 6500K HID kit, a JDM grille and tails to set it apart from the USDM crowd and the 65 year-old golfers who still drive original SCs.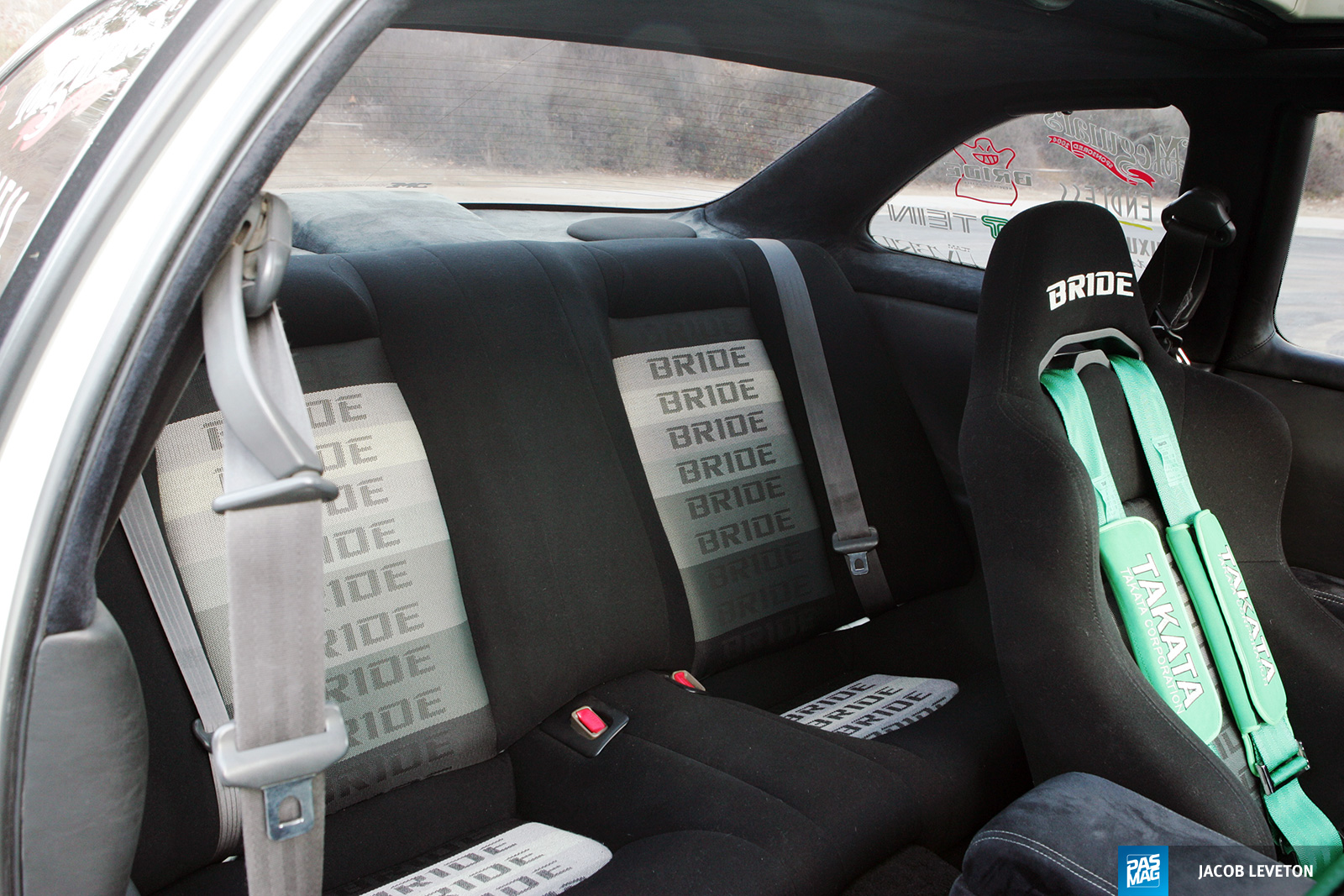 Pop open the door and this is where Hybrid doesn't cut corners either. Here you have the gradient pattern Bride Ergo2 seats draped with 4-point green Takatas. The headliner has been rewrapped in suede as has many of the interior pieces, if not done in carbon fiber. VeilSide supplied the ultra rare steering wheel and alloy shift knob while Blitz supplied all of the gauges. Up front there are Blitz BLM: boost, oil temp, water temp, oil and fuel pressure to work in conjunction with the Blitz Power Meter and the SBC ID3 boost controller.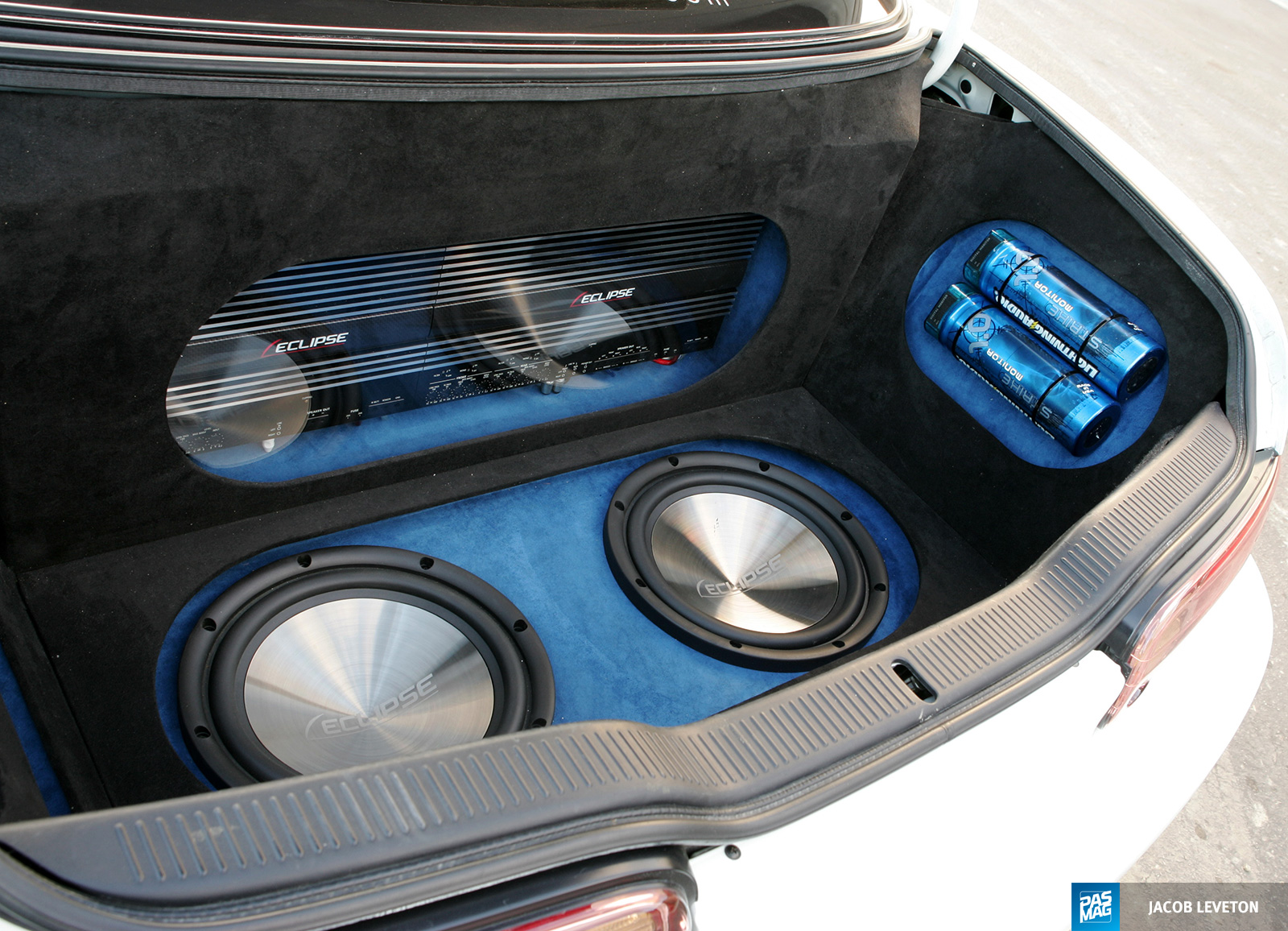 And being a show-stopper, Hybrid knows they have to throw-down serious heat when it comes to multimedia. Lin opted for everything he could source from JDM superstars Eclipse. All linked to an AVN 5500 headunit with navigation are an 8-CD changer and two amps, the Eclipse XA4000 and the XA2000. The mono amp feeds the pair of Eclipse SW6200 subs and the 4-channel rocks the passengers though the Eclipse SC8254 components and point source speakers. Often over looked, this tuner demanded his system be, well, tuned. Lin added a EQ2102 equalizer and had it calibrated properly and slipped in twin Lightning Audio digital caps for the power struggles.
You have to hand it to Lin and the Hybrid crew. Since 1995 they have been really some of the bread and butter for the show scene in LA. They spend countless hours and lord knows how much money to shock the crowds. Without them, well many shows just wouldn't be the same.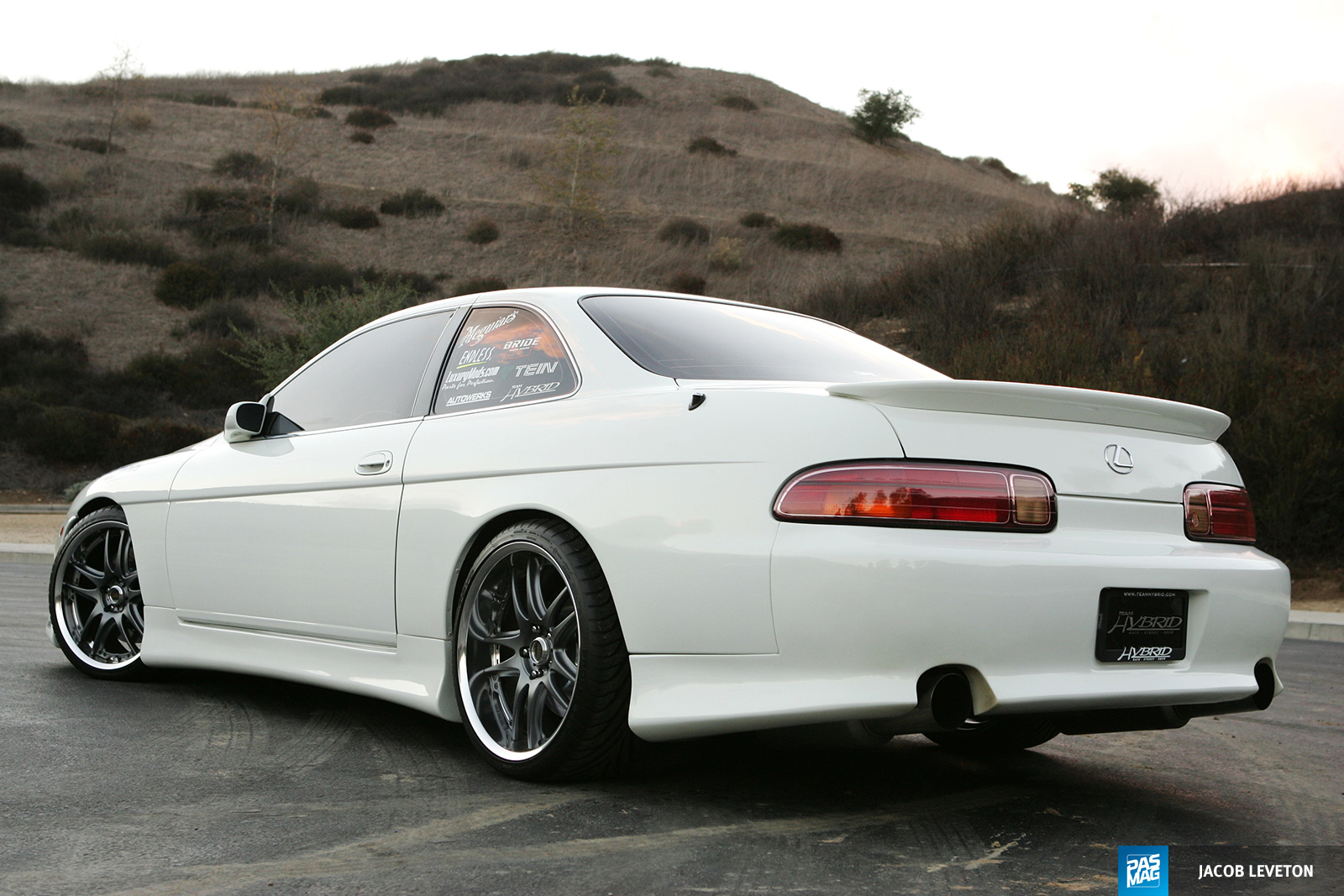 ---
ESSENTIALS
Owner: James Lin
Location: Ventura, CA
Car: 1996 Lexus SC300
Power: 500whp (est.)
EXTERIOR 

Pearl White Paint Job

Origin Front Bumper

Origin Side Skirts

Origin Rear Bumper
Bomex Racing Mirrors
JDM headlights, taillights, grille

6500k HID Kit
ENGINE / PERFORMANCE

Boost Logic 321 SS Tubular Manifold
T67 Turbine w/ T4 Flange

XS Engineering FMIC

3-inch SS304 Downpipe

3-inch SS304 Midpipe
SS304 Dump Pipe
2.5-inch Polished Aluminum Intercooler Piping
3-inch Polished Intake Manifold
Boost Logic Head Gasket
550cc Blitz Injectors

K&N Breathers

Walbro GSS341 255lph

HKS 40mm Wastegate

HKS Fuel Pressure Regulator
Blitz FATT DC 4

Blitz 3-inch Air Filter
Blitz Blow Off-Valve

Blitz Nur-Spec Exhaust
GReddy Oil & Rad Cap

Blitz SBC iD3 Boost Controller
Blitz Power Meter iD

Blitz BLM Boost Gauge
Blitz BLM Temp Meter (Oil/Fuel)
Blitz BLM Pressure Meter (Oil/Fuel)
Sun Auto Hyper Ground Wires Kit
Sun Auto MR-S Hyper Voltage Kit

Power Enterprise Timing Belt
ACT Street Clutch
SUSPENSION

Tein HA Coilovers

Carbing Front Strut Bar

Daizen Camber Kit

TRD Front & Rear Sway Bars


WHEELS / TIRES / BRAKES

Volk Racing GT-V Wheels - 19x8.5-inch Front
Volk Racing GT-V Wheels - 19x9.5-inch Rear
Volk Racing Carbon Fiber Center Caps
Toyo T1S Tires - 235/35R19 Front

Toyo T1S Tires - 265/30R19 Rear


INTERIOR

Bride ERGO Front Seats

Bride ERGO Rear Seats

Takata 4-point harnesses w/gelpads

Black Suede Headliner
VeilSide Shift Knob

VeilSide Steering Wheel w/ Nardi Hub
MoMo E-Brake Handle

Carbon Fiber Interior

Custom Black Suede Interior


MULTIMEDIA

Eclipse AVN 5500 Navigation Head Unit

Eclipse XA4000 Amplifier

Eclipse XA2000 Amplifier
Eclipse SW6200 subs (2)
Eclipse SC8254 Components
Eclipse EQ2102 Equalizer

Eclipse 8-Disc Changer CH3083
Lighting Audio Digital Capacitors (2)
Custom Trunk Enclosure
PHOTO GALLERY