Photography by Adam Delgadillo (@oadam7)
---
The year was 1992. The Space Shuttle Endeavour had just launched from the Kennedy Space Center in Florida, expanding humanity's frontiers and establishing a new milestone in engineering ingenuity. Not long after that, another engineering marvel was rolling off the line of BMW assembly plants - the BMW E36 M3 - the first BMW 3-series to feature a six-speed manual transmission and rear multi-link suspension. Sure, it was no space shuttle, but it was close enough for any driving enthusiast to consider it a rocketship of their own.
1,000 miles away from the launch site of the Endeavour was a young Tony Abad, watching television, not knowing his life would change from here on out. "The Ultimate Driving Machine" is how BMW advertised their line of M-cars on television at the time, specifically the iconic E36 M3 of the era. Throughout his early teenage years, that slogan was repeated over and over in advertisements for the car. The idea of owning one of those ultimate driving machines began to take hold, but he was still too young to pursue the idea seriously.
Eventually he came of age, and ended up driving a Volkswagen Golf R32 of his own. "It was a great car," Abad says, "but it was too heavy and just didn't have what I wanted." Looking for the greener grass on the other side, he occasionally browsed cars for sale near his Texas home. It was only a few years later when a super clean, unmodified 1998 BMW M3 popped up for sale. The television commercials he saw throughout his years as a teenager came rushing back to memory - this was the car. Without hesitation, he pulled the trigger, not yet knowing what was in store for him.
After about a year and a half of driving and enjoying the car in its stock form, the ultimate driving machine started to feel like it needed more. Some coilovers, a set of BBS RC wheels, and a cold air intake temporarily scratched the itch. "I thought I was on top of the world," Abad laughs, remembering how simply things started out. "Then the car needed maintenance work." After some repair bills and another year of using the car as a daily driver, the trouble of finding parts and affordable repairs for the M3 started to wear on him, and a friend's advice on swapping the engine began to sound like a good idea.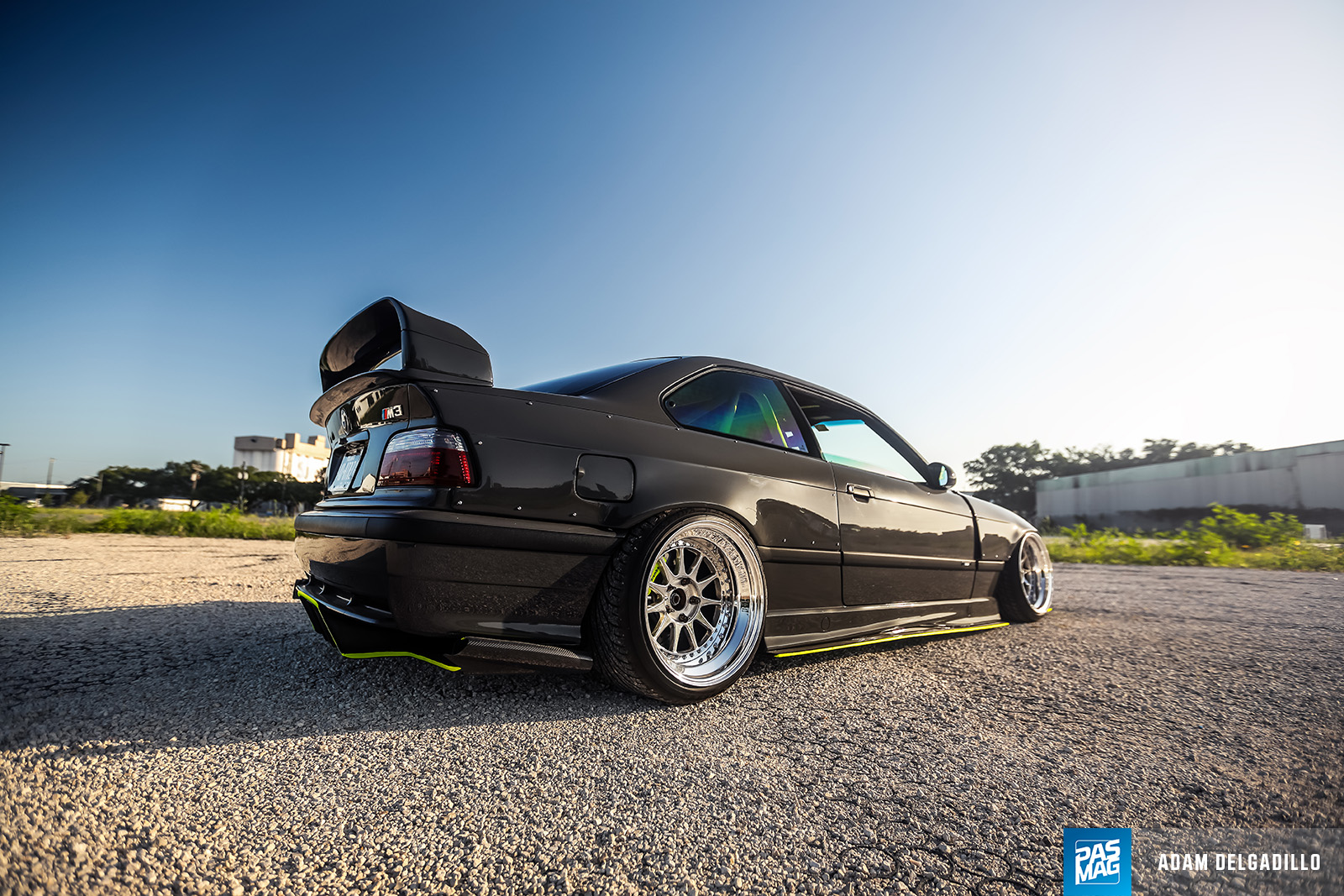 Abad decided to throw caution to the wind, and picked up a 5.7L LS1. Knowing there was a Vorshlag swap kit available to make the LS and T56 transmission install a bolt-in affair, he was confident it wouldn't be too much of a hassle. From a mechanical standpoint, he wasn't wrong, but an unexpected turn of events in his personal life landed the M3 on the backburner. He took that time off to slowly acquire and hoard parts, as well as research other E36 builds for inspiration once he got back into it. Broadway coilovers with air suspension provisions, a rare set of Felony Form front and rear overfenders, and a set of custom staggered OZ Hartge Design C wheels with wide barrels were just a few key acquisitions during his time off.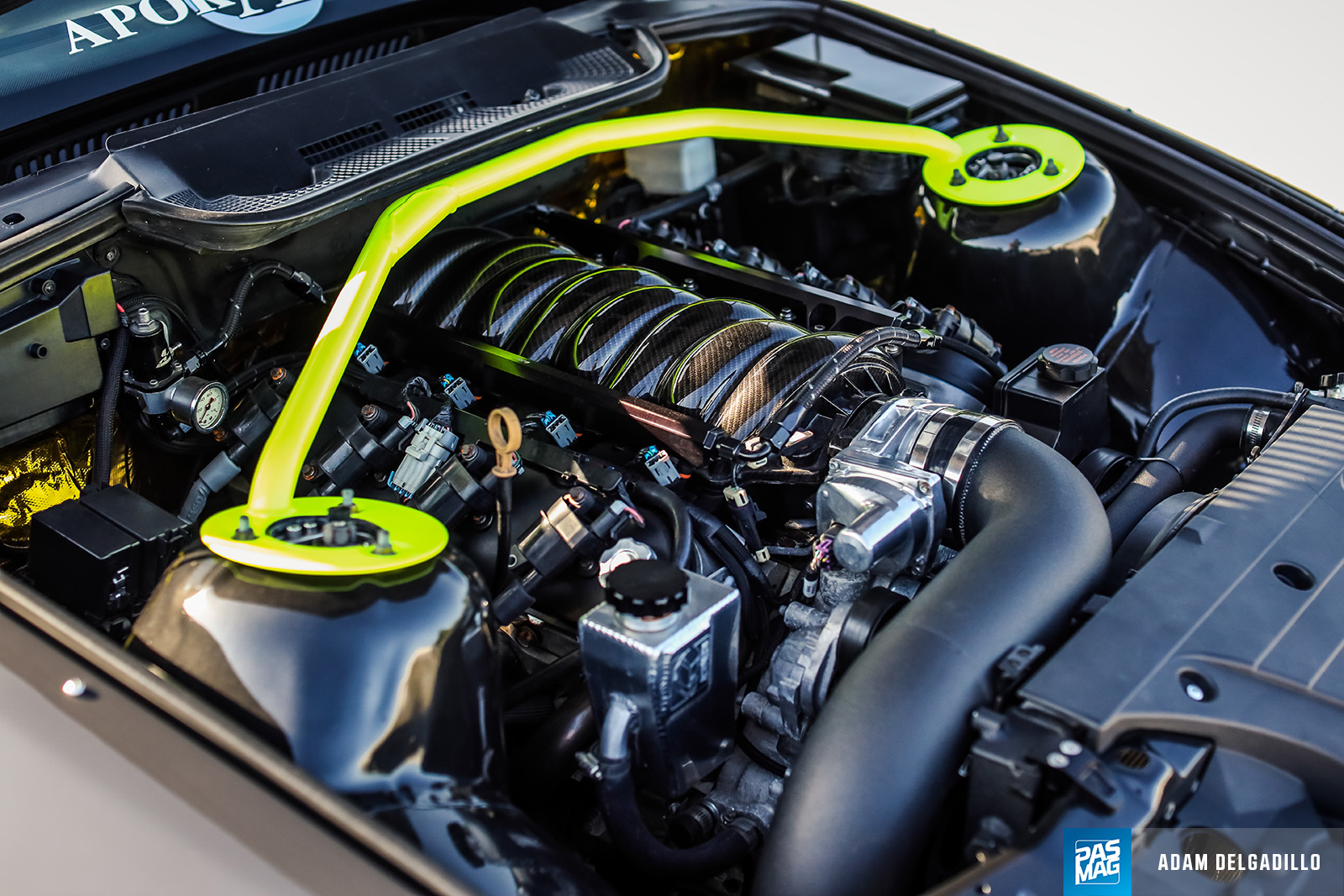 When 2014 rolled around, his friend Manuel Gomez - the same friend who talked him into the LS swap in the first place - opened the doors to his new shop, Midnight Performance. From then on, Abad's build was back on track. The LS was undergoing a full rebuild, so Abad sent the shell for body work and a full respray, at which point the Felony Form overfenders were mounted, new trims and moldings were put in, and the engine bay was cleaned up to make room for a sleek LS install. With the car back in his hands, it was wheeled into Midnight Performance for proper assembly.
The LS1 is already a relatively potent powerhouse as it sits, but in order to make the entire swap worth it, the Chevy V8 has been bolstered with Diamond pistons, Manley rods, ported and polished 243 heads, a ported LS6 intake manifold paired with an Aldo Welds custom intake, and a Texas Speed Torquer V3 cam. Coupling all of the internals and improved airflow goodies with Fore Innovations fuel rails, as well as cooling components to keep temperatures down, the LS1 churns out a healthy 475 whp.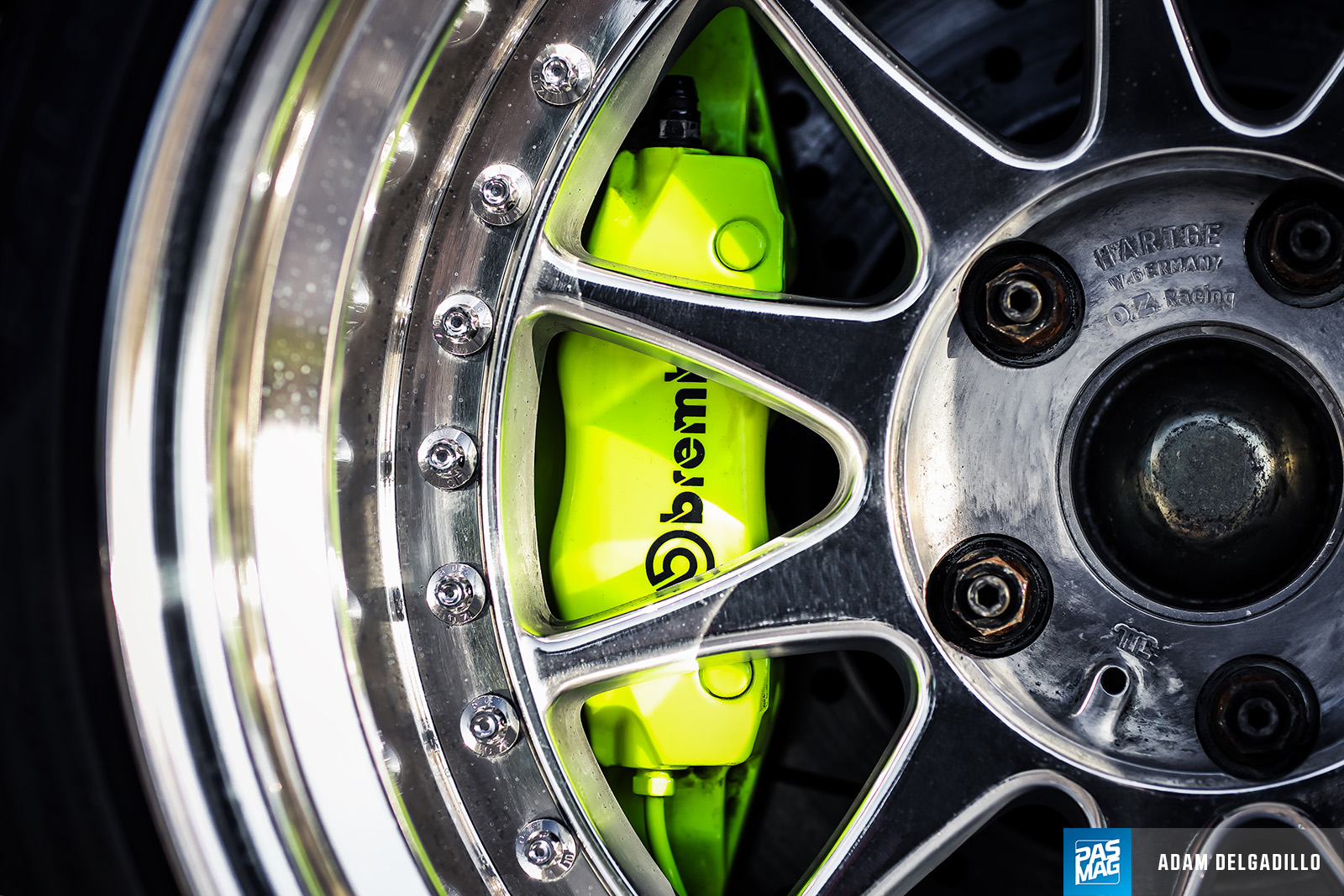 As expected, the LS1 and its mated T56 transmission fit in perfectly thanks to Vorshlag's kit, and once the drivetrain was in, Abad and Gomez turned their attention to the rest of the chassis to ensure the build was cohesive and functional. A big brake kit courtesy of a 996 Porsche, a Sparco strut bar, and a half cage built by Ben Sipson were all powdercoated a bright lime green by Scott Coates in order to add a touch of color accent to the fresh black paint.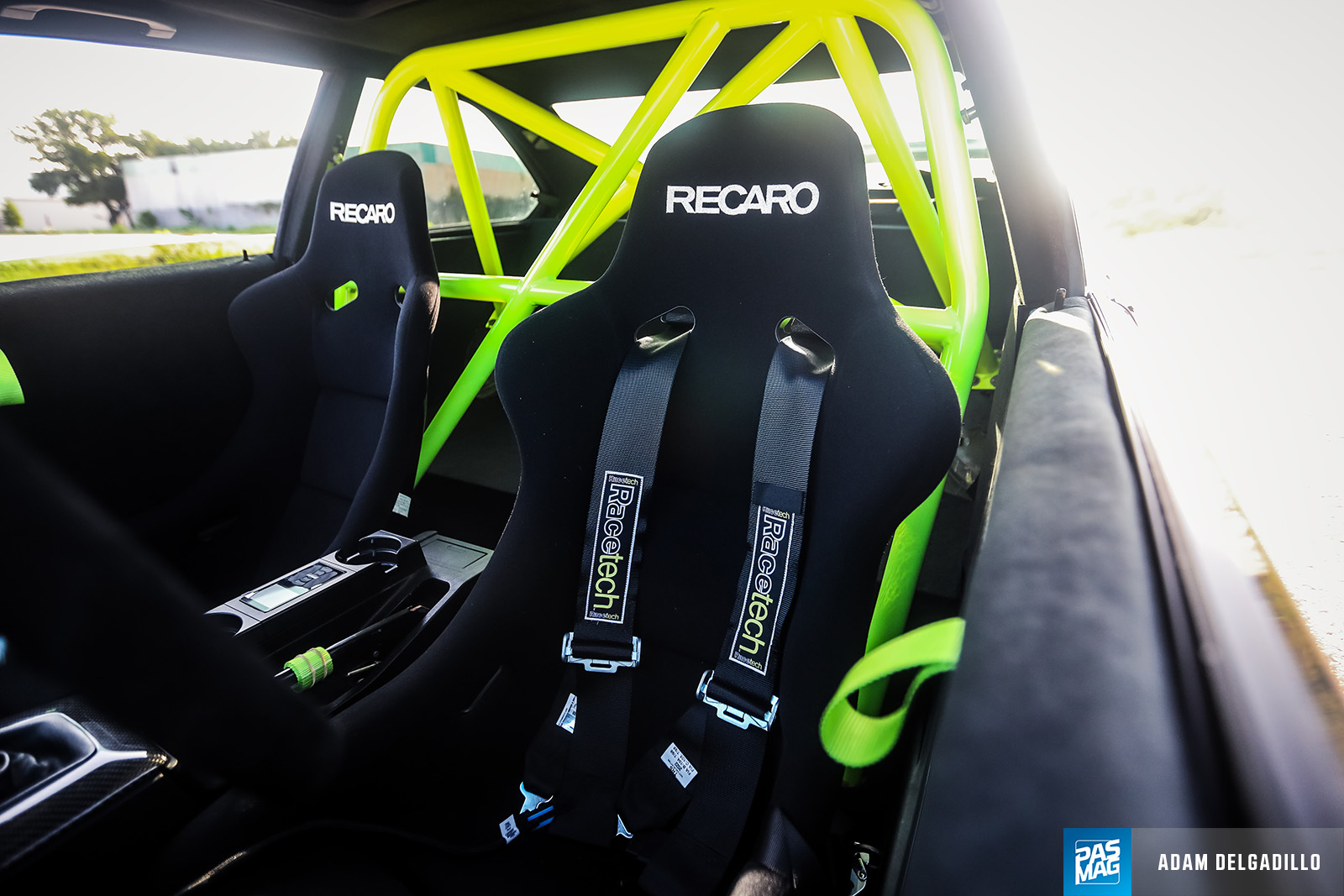 The interior was put together alongside the half cage, and features suede pillars and a suede headliner, an OMP 320 Carbon S steering wheel with matching lime green accenting, a carbon fiber center console, and sleek MKAH delete plates for the door cards, rear seat, and glove box, all of which had been removed. Abad stays safe and snug in a set of Recaro Pole Position seats, held in place by a Racetech Magnum 5-point harness, and all of his car's data is visible on Racepak's IQ3 digital dash.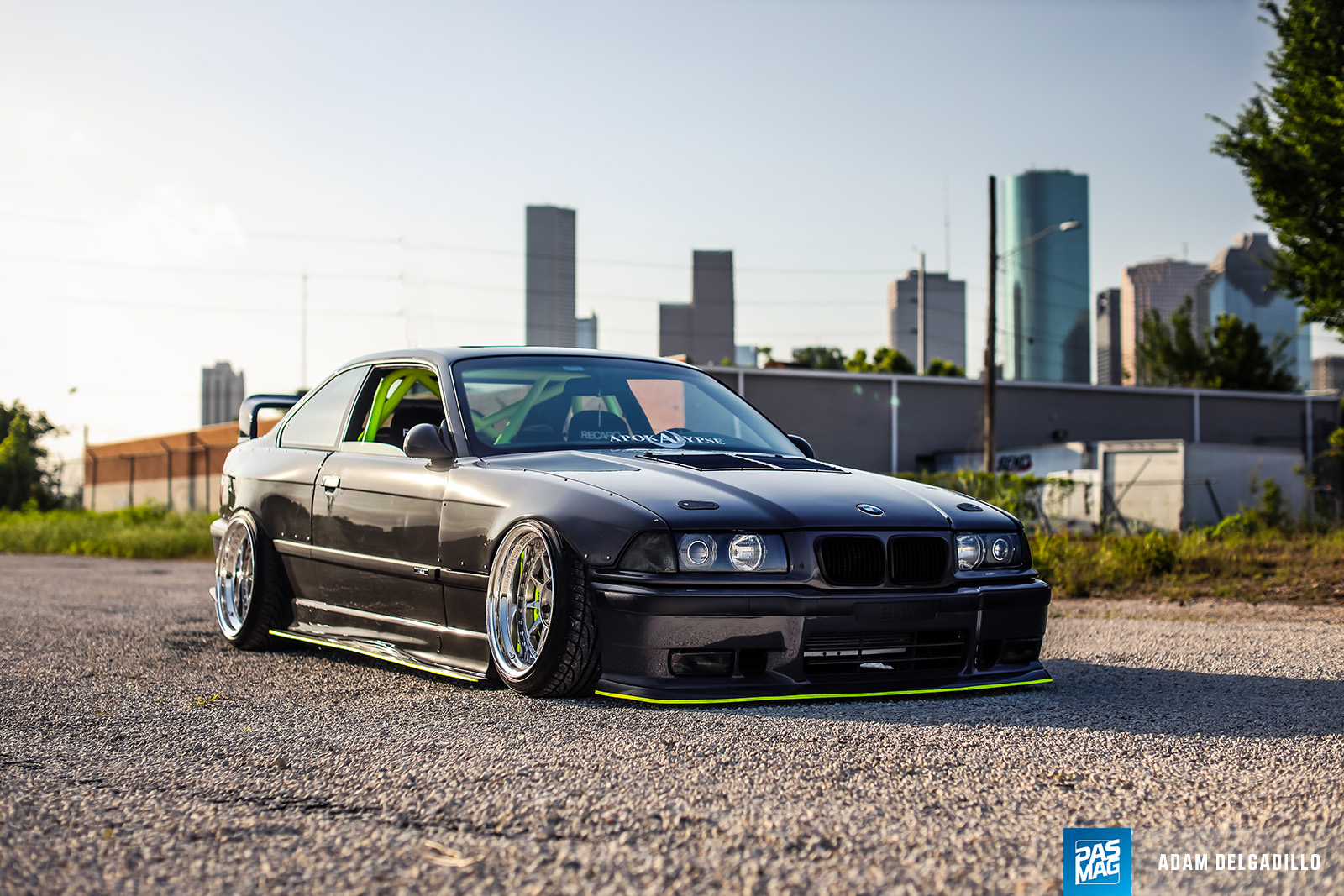 The exterior of the M3 was already a timeless look, but Abad wasn't done just yet. Since the air suspension system allowed him to sit as low as possible, the rest of the car had to follow the aggressive style. With Felony Form front fenders and rear overfenders, he was off to a good start. A healthy dose of carbon fiber was in order thanks to an AC Schnitzer carbon fiber front lip, DTM Fiberwerks carbon fiber side skirt extensions, a carbon fiber rear diffuser, and a Mashaw LTW carbon fiber spoiler. DJ Auto provided some sweet projector headlights, and a Final Form and Rize Japan collaboration set of LED tail lights helped finish off the aggressive looks out back.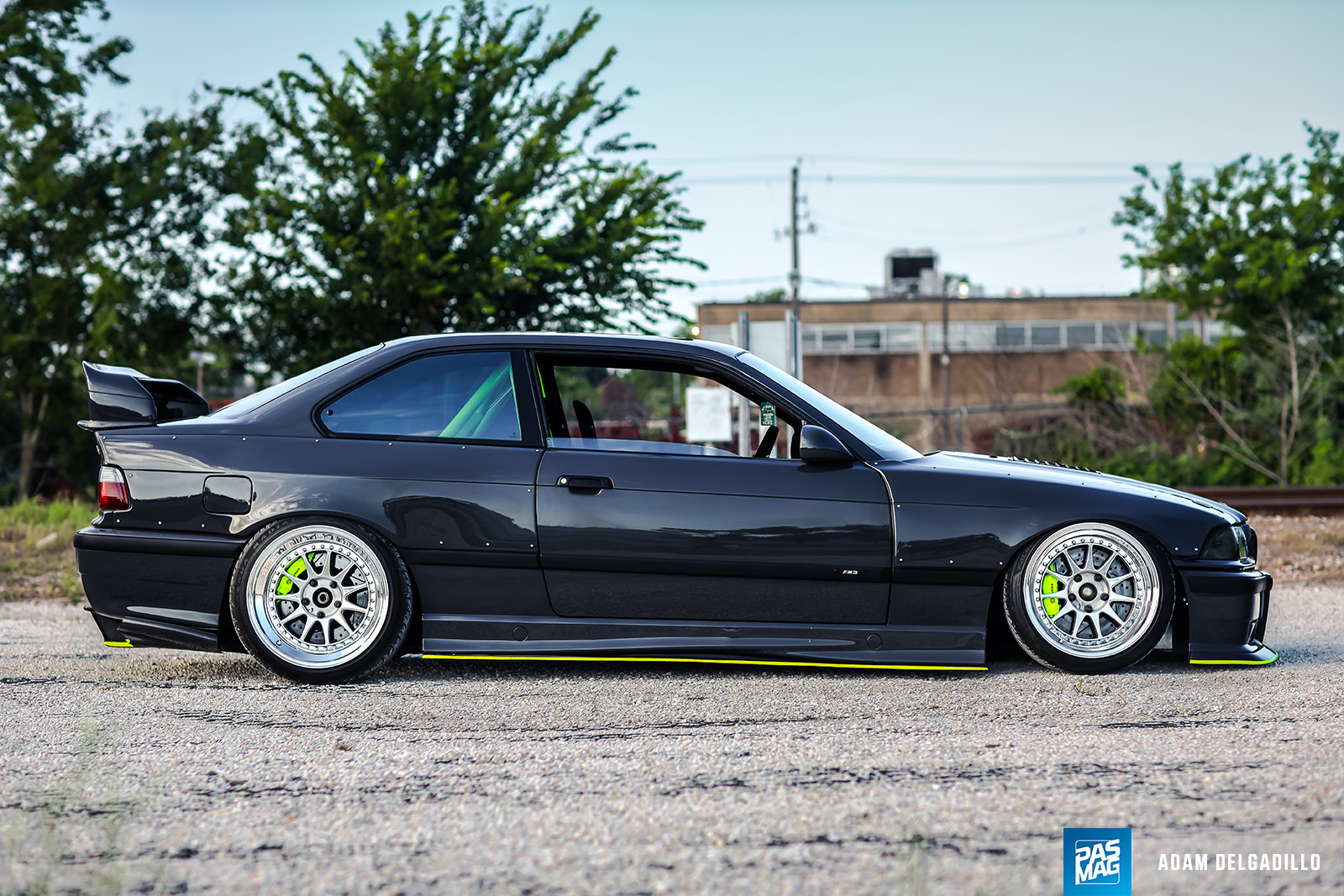 Abad's original intentions were to build an E36 that could keep up with newer generations of the M3, and since his build took a drastic turn, he has long surpassed his original goal and built a more show-worthy car than he ever imagined. The car has been considered "done" for about a year and a half, but he says he finds himself wanting to change things up every now and then, and looks forward to a procharged future for the engine. "Building a car is not a race," he says in closing. "Take your time, enjoy the process, and don't stress about it, and things will fall into place." Whenever you're ready, Abad, we'll be watching for the next move.

---
ESSENTIALS
Owner: Tony Abad
Vehicle: 1998 BMW M3
Location: Houston, TX
Engine: Chevrolet LS1 5.7L V8
Horsepower: 475 whp
Club: Team Apokalypse
SOCIAL
Facebook: /tony.abad.71
Instagram: @tabad10
ENGINE
Chevrolet LS1 engine swap
Diamond pistons
Manley rods
ARP (head studs, bolts)
243 heads ported and polished
Posted LS6 intake
Texas Speed Torquer V3 cam
Current Performance wiring harness
E38 GM ECU
Vorshlag stage 0 kit
Aldo Welds custom (intake, coolant overflow tank, custom hard lines)
Mishimoto aluminum radiator
Fore Innovations fuel rails
EXHAUST
Custom cat-back exhaust
ZR1 X-pipe
DRIVETRAIN
MGW shifter
T56 transmission
WHEELS & TIRES
OZ Hartge Design C wheels - 17x10.5 (f), 18x11.5 (r)
Falken tires
BRAKES
Porsche 996 BBK (f/r)
BMW E46 M3 rotors
Rally Road (adapter brackets, brake lines)
Chase Bays (brake booster eliminator, line relocation)
CHASSIS & SUSPENSION
Broadway 500S coilovers
Air Lift Performance 3P air suspension system
Sparco strut bar
SPC rear adjustable arms
EXTERIOR
Felony Form overfenders
ACS carbon fiber front lip
DTM Fiberwerks carbon fiber side skirt extensions
Racing Dynamic mirrors
Carbon fiber rear diffuser
Mashaw LTW carbon fiber spoiler
DJ Auto retrofitted headlights w/ FXR 3.0 projectors
LED lighting
Final Form / Rize Japan LED tail lights
INTERIOR
Custom half-cage
Recaro Pole Position seats
MKAH (door card delete, rear seat delete, glove box delete)
Carbon fiber center console w/ Prince Customs details
Suede (pillars, headliner)
Racepak IQ3
Motion Motorsport (floor mounts, seat brackets)
Racetech Magnum 5-point harnesses
OMP 320 Carbon S steering wheel
Sparco quick-release
SPONSORS
Mishimoto
Chase Bays
Motion Motorsport Hardware
MKAH
A1 Autoworks