Photography by Ken Au
---
Like many young enthusiasts, Leland Kirton was amazed by Ken Block's early gymkhana videos which featured his old Subaru WRX STI. "The unique styling, engine design and sound made it a must have for me," Kirton reminisces. "As years went by my lust for the car grew, and I just kept saving my pennies until I was able to finally afford one. Now that I have owned one for quite a while, I find that I still have the same feelings towards it, which is an excellent sign that I made the right choice."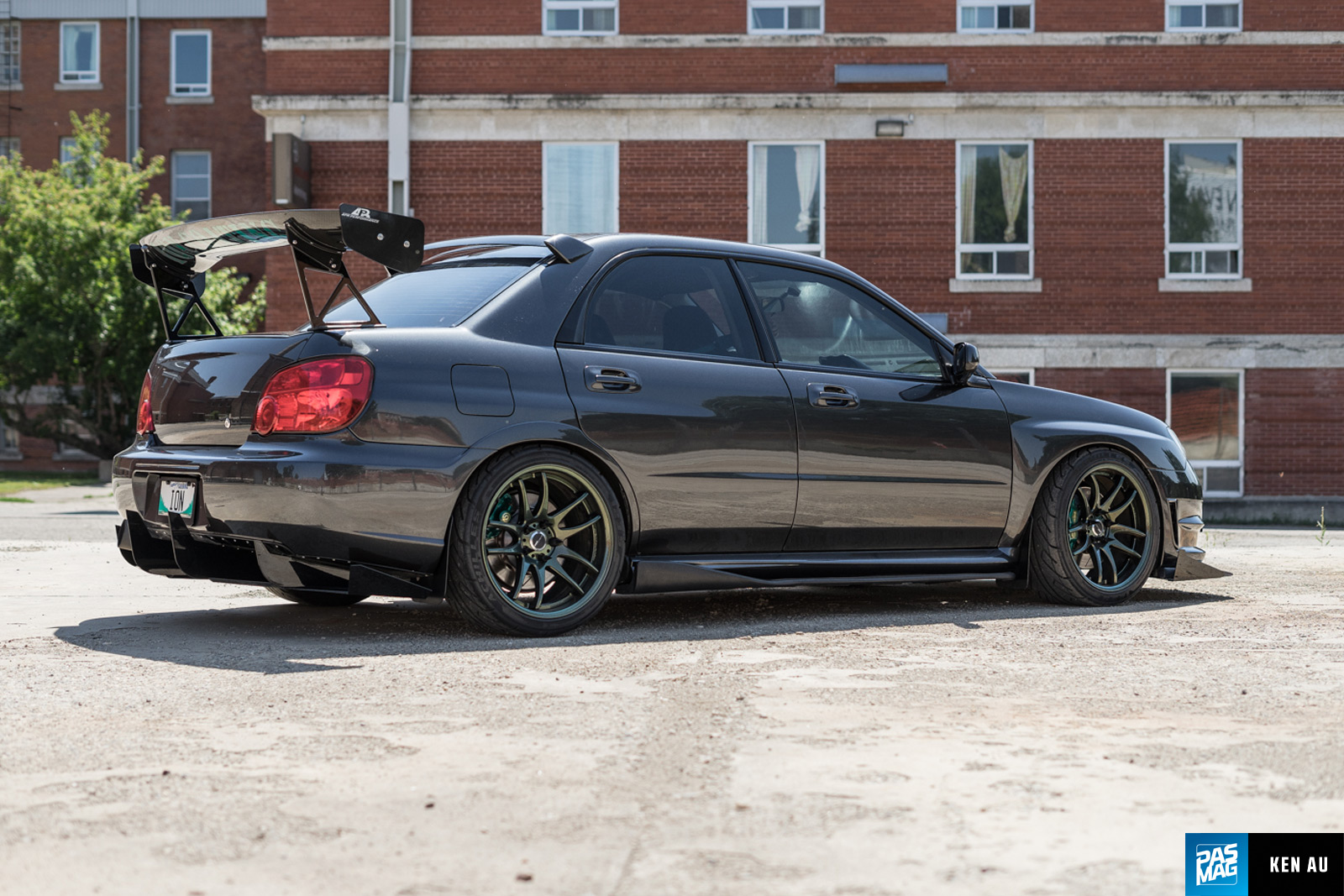 Kirton fancies himself a hands-on tinkerer, and once he had the car in his possession, his ability to learn quickly and apply that knowledge took over. He bought a TIG welder, learned how to use it, and made use of those skills as his build got serious. After having an engine failure luckily repaired while still under warranty, he used the next engine build as an opportunity to push the limits.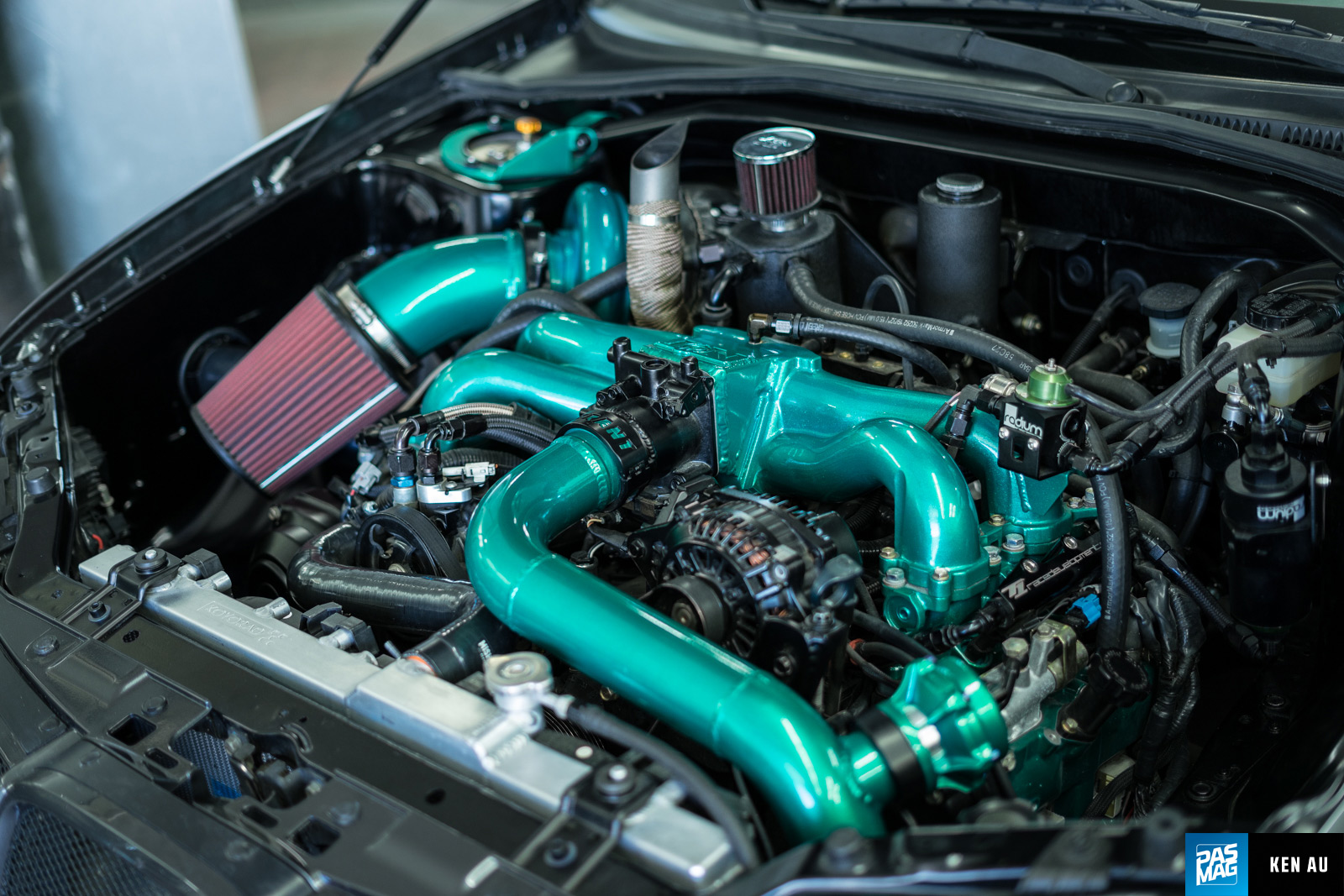 He used his TIG welding skills to fabricate his entire turbo system, including intercooler piping and intake manifold, and did a full valvetrain upgrade.
After hours of research, he settled on a BorgWarner S362sx-e turbo for big power. He had a goal of 500 whp, and sure enough, he made almost exactly that, coming in at an impressive 505 whp on the dyno. "Whenever I choose a specific part, it's always because I've done a copious amount of research and know for a fact that it will fit my build very well," says Kirton. "Case in point would be my current turbo choice of the Borgwarner S362sx-e."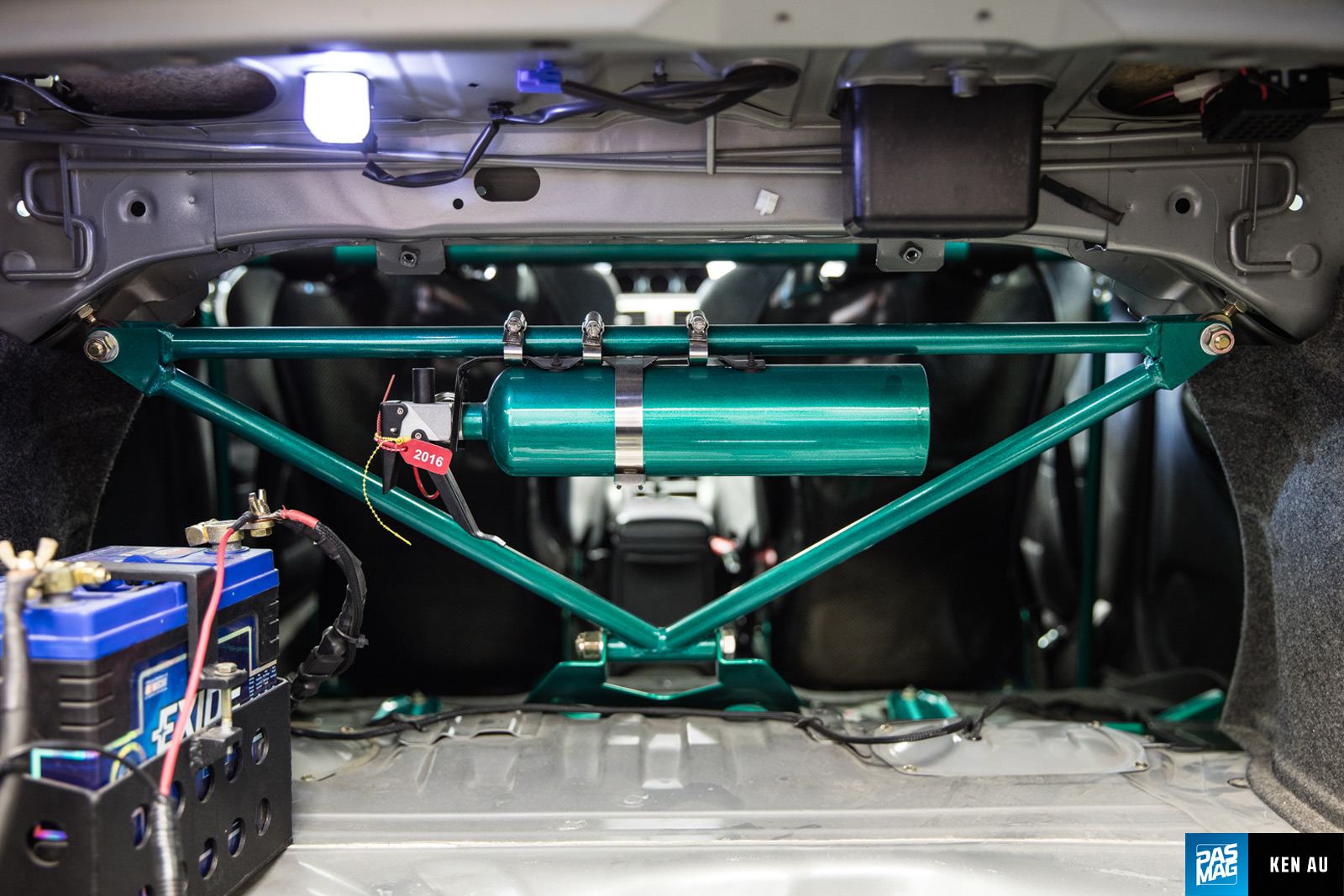 In addition to his newfound TIG welding skills, Kirton also owns a custom pwder coating shop with his brother Taylor, which actually started as a result of Kirton's personal work on his STI. "I originally wanted to start powder coating my own fabricated parts and then it just spiraled into a business," Kirton exclaims. "We have now been going strong for over 2 years and are continuously building momentum!" Keep up the good work, Kirton!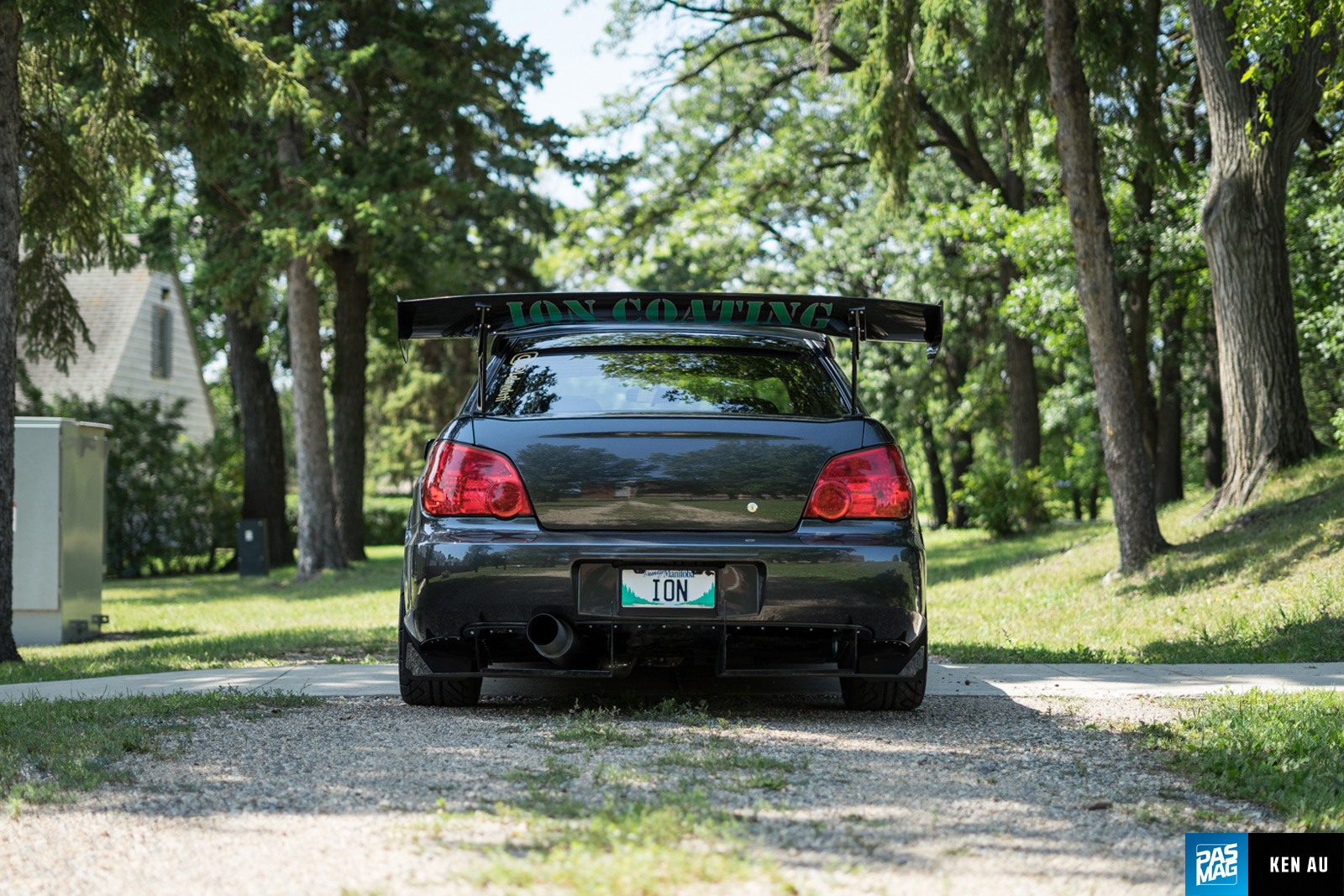 With 58% of the Popular Vote, Leland Kirton was the winner of the PASMAG Tuner Battlegrounds award category competition at Top Tier Imports: Spring Awakening in Winnipeg, MB.
ESSENTIALS
Owner: Leland Kirton
Vehicle: 2006 Subaru WRX STI
Location: Brandon, MB
Engine: Subaru EJ25 2.5L H4
Horsepower: 505 whp
Torque: 430 lb-ft
SOCIAL
Facebook: Leland Kirton
Instagram: @lelandsti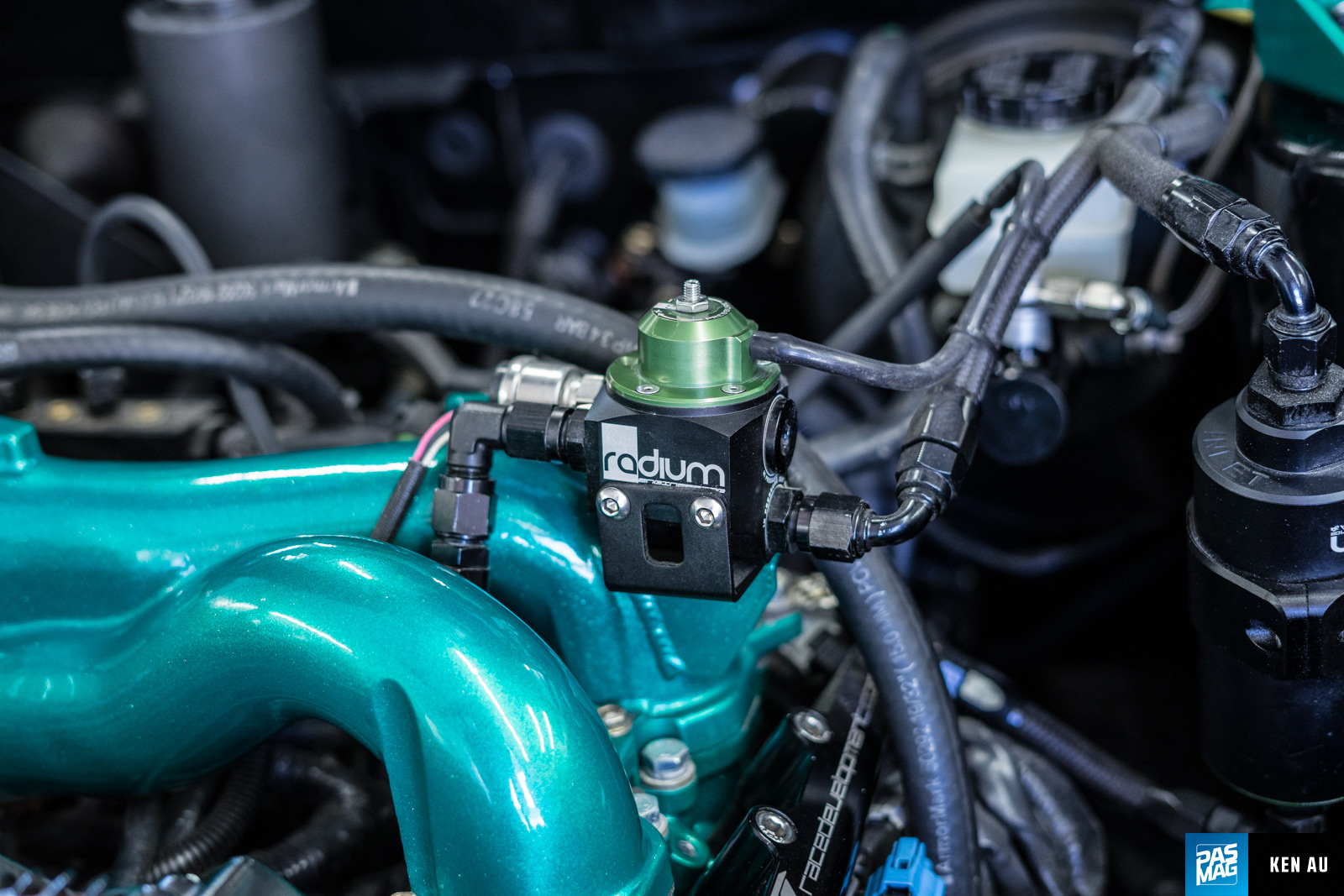 ENGINE
GSC (+1-mm valves, beehive springs w/ ti retainers, S2 billet camshaft)
BorgWarner S362sx-e turbocharger
Treadstone intercooler w/ custom piping
Mishimoto rad hoses
Tial (Q 50mm BOV, 44mm wastegate w/ hood exit)
AEM dryflow air filter
Custom 4-inch air intake
Modified OEM throttle body
T1 Race Development fuel rail
Radium Engineering MPR
Walbro 450 fuel pump
ID 1000cc injectors
NGK iridium spark plugs
Nitrided OEM crankshaft
Manley Turbo Tuff I-beams
CP (forged pistons, piston rings)
JE Proseal head gasket
Outfront Motorsports (half-inch head studs, closed deck block)
COBB Accessport V2
Fluidampr crank pulley
Koyo radiator
Cusco engine mounts
Shaved engine bay
Aquamist HFS-3 water/meth injection system
MapDCCD center diff controller
Company23 antisurge EBCs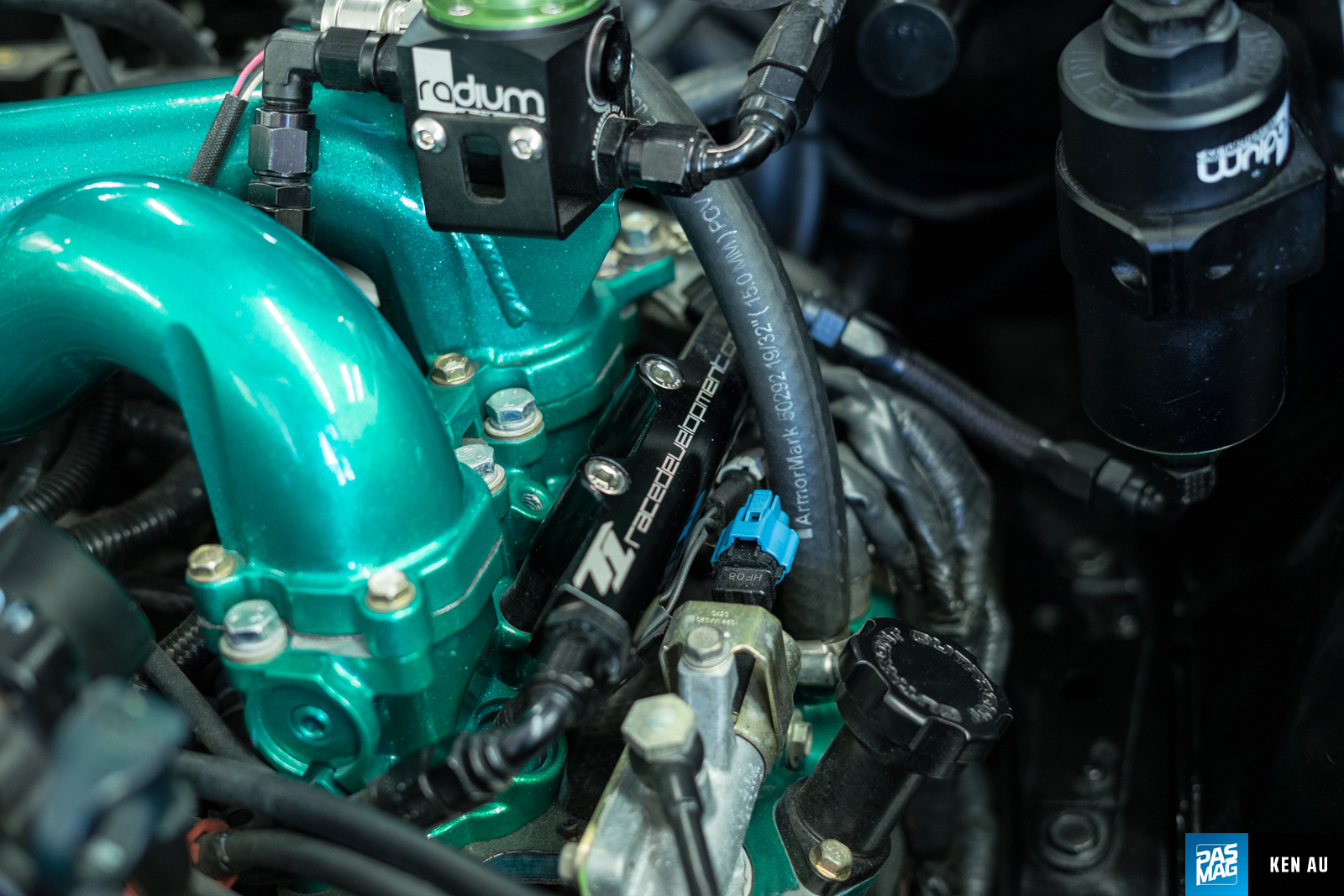 EXHAUST
Custom 3-inch turbo-back exhaust
Custom aluminum muffler
Tomei equal length headers w/ V-banded up-pipe
Custom 304 stainless 3-inch down-pipe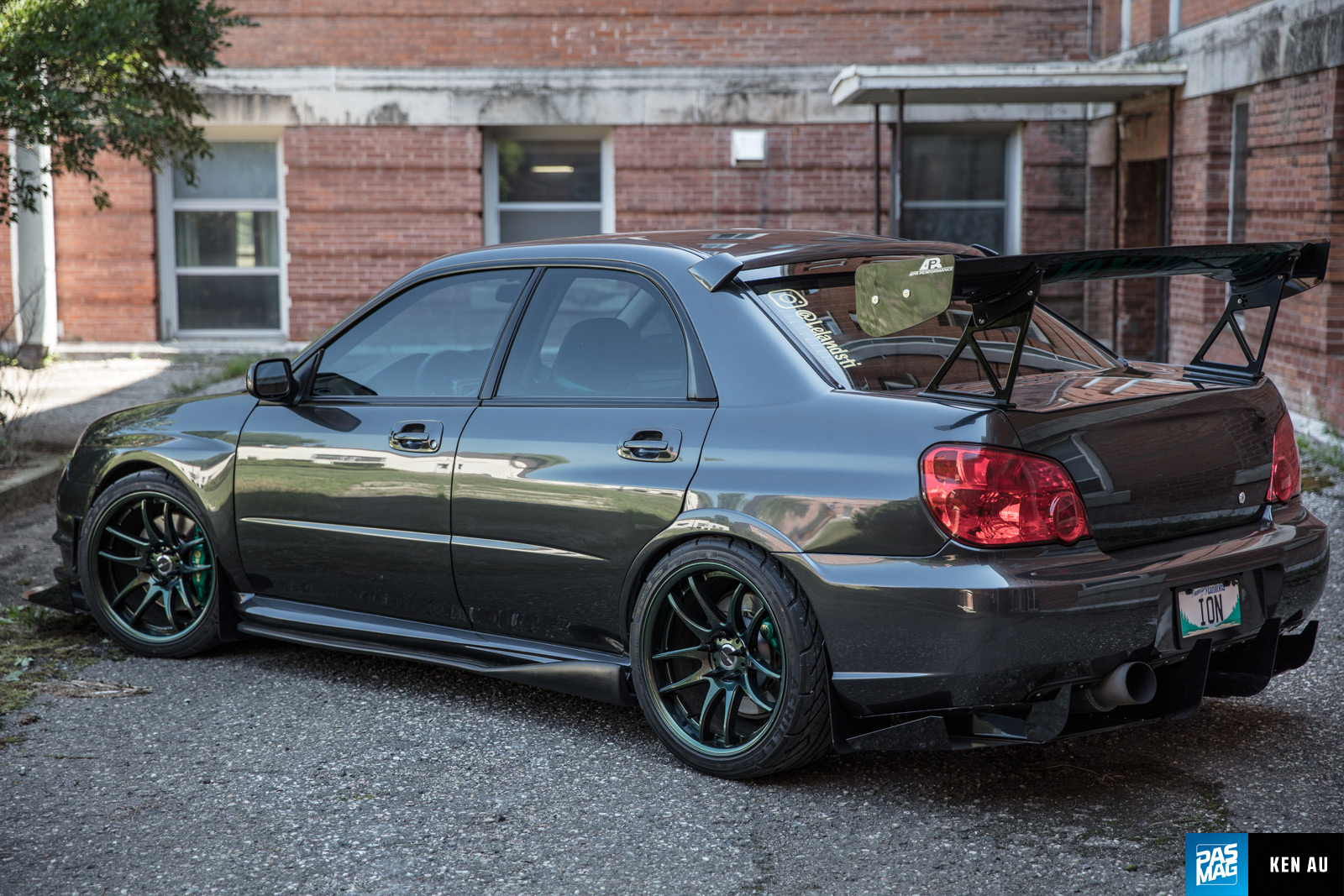 DRIVETRAIN
ACT (6-puck sprung clutch w/ Xtreme Duty pressure plate, streetlight flywheel)
Cusco transmission mount
Custom solid pitchstop mount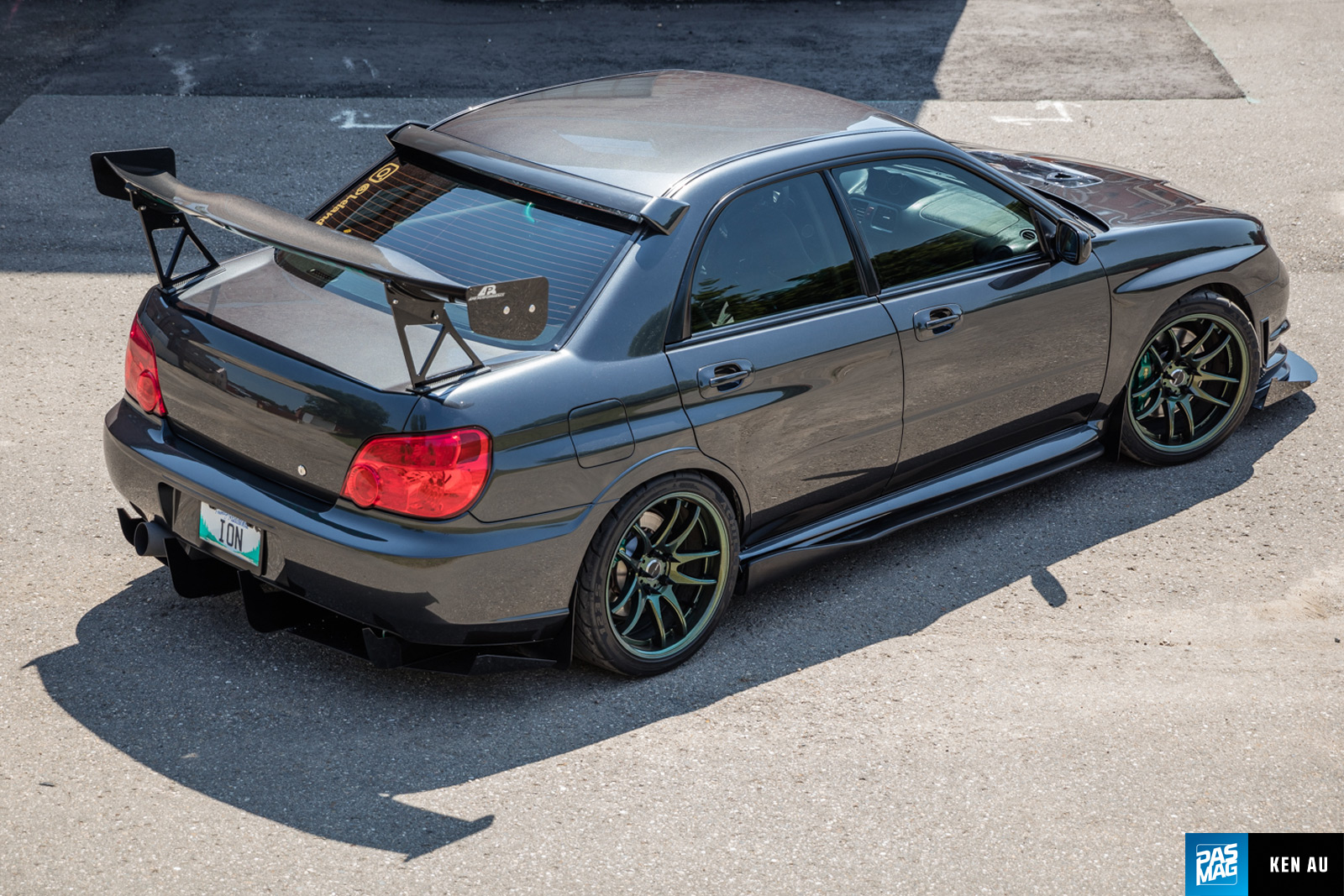 WHEELS/TIRES/BRAKES
Work CR2P wheels – 18x9.5 +38 (f/r)
Achilles 123S tires – 255/35/18 (f/r)
Girodisc 2-piece slotted rotors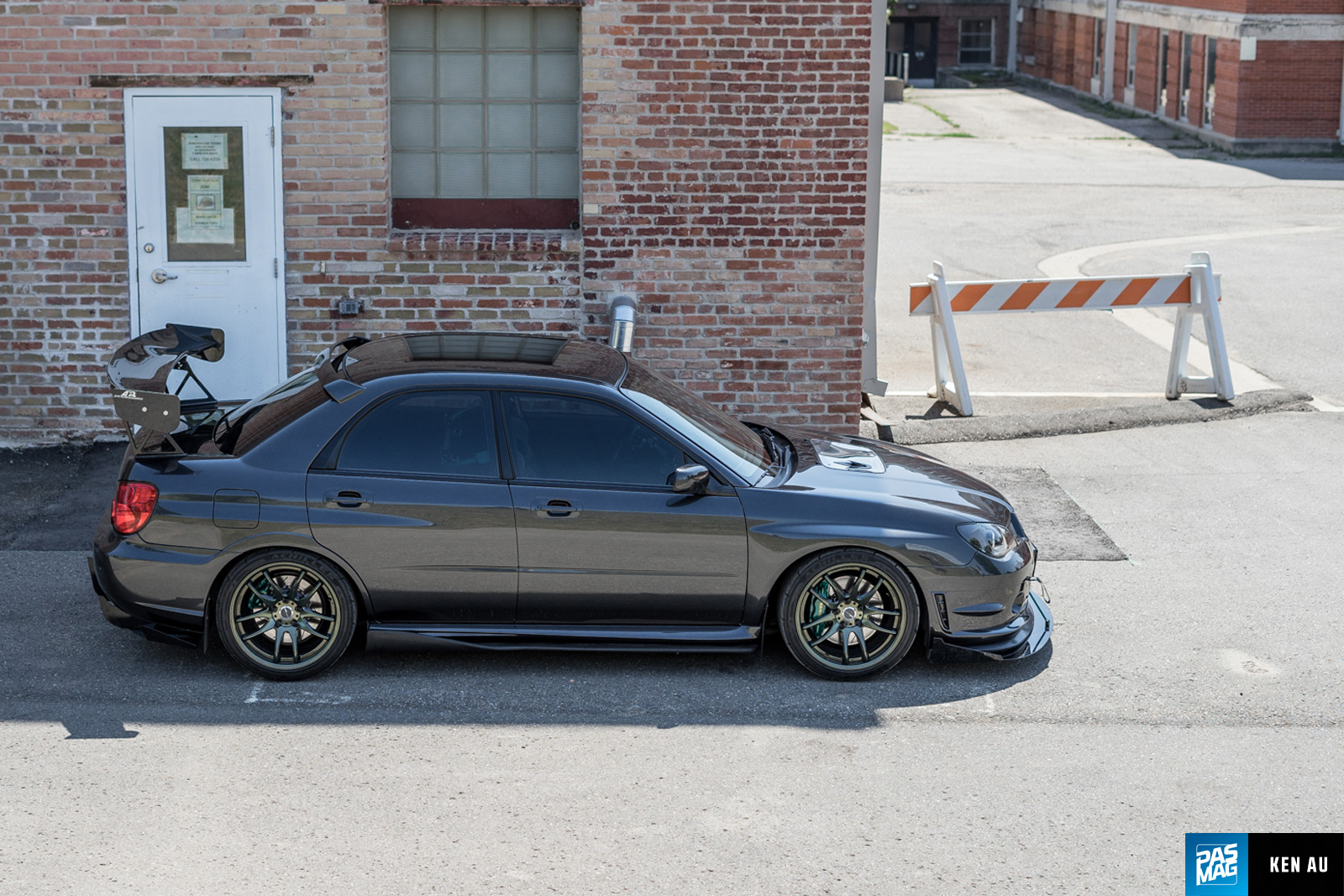 CHASSIS/SUSPENSION
TiC SST coilovers – 7k (f), 5k (r)
RCE (swaybars, urethane bushings)
GTspec front strut bar
Oswald X-brace
Vorshlag camber plates
Whiteline (anti-lift kit, roll center kit, steering rack bushings)
Group N (lateral link, trailing arm bushings)
Kartboy (endlinks, short shifter, trans crossmember bushings, subframe bolts)
Beatrush propshaft bushings
TIC fender braces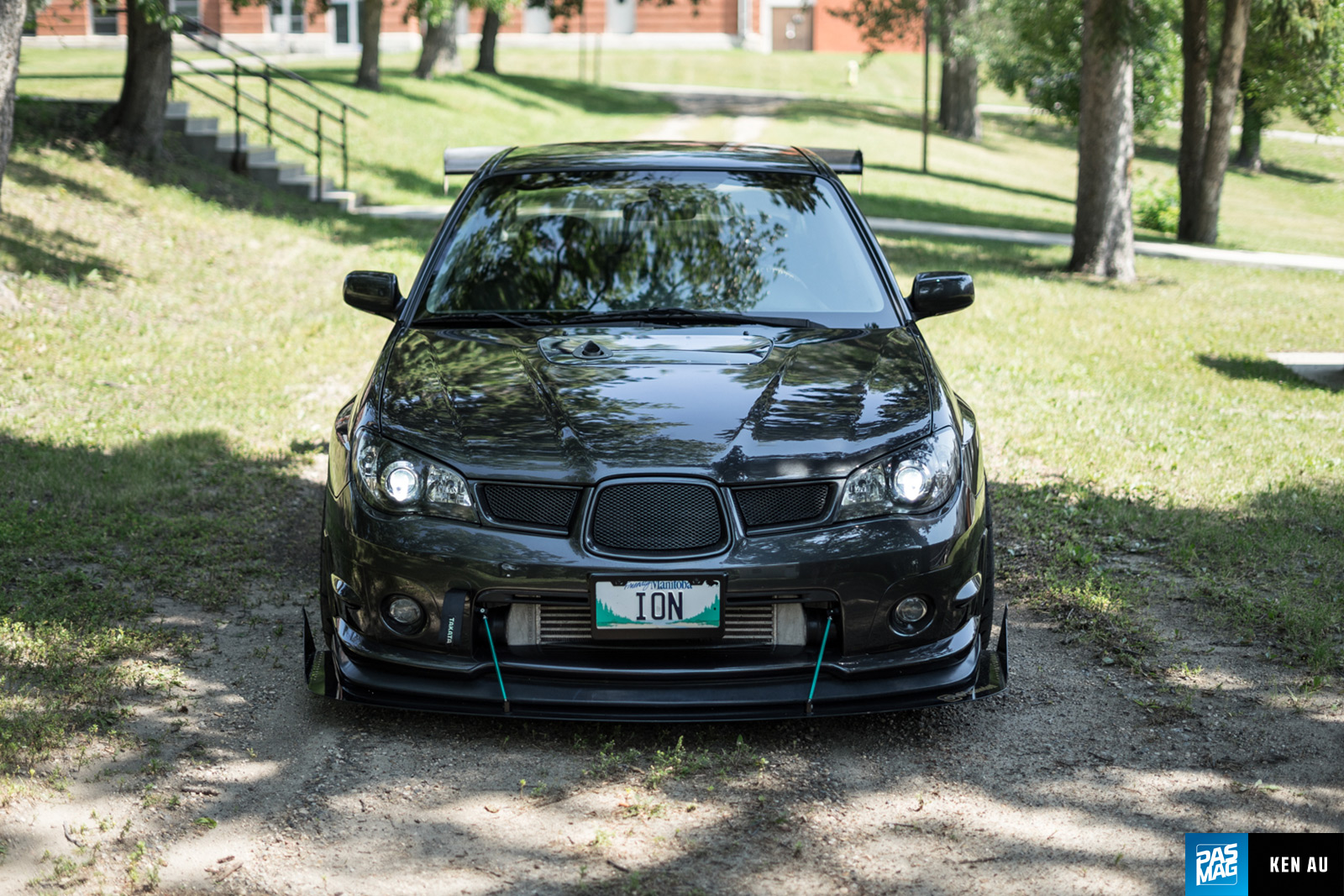 EXTERIOR
Grillcraft inserts
Custom (aluminum splitter, diffuser, lexan hood scoop delete, aluminum mud flaps)
APR GTC-300 spoiler
Painted headlight housings w/ TSX-R clear projector lens swaps
2004 STI tail lights
Clear turn signals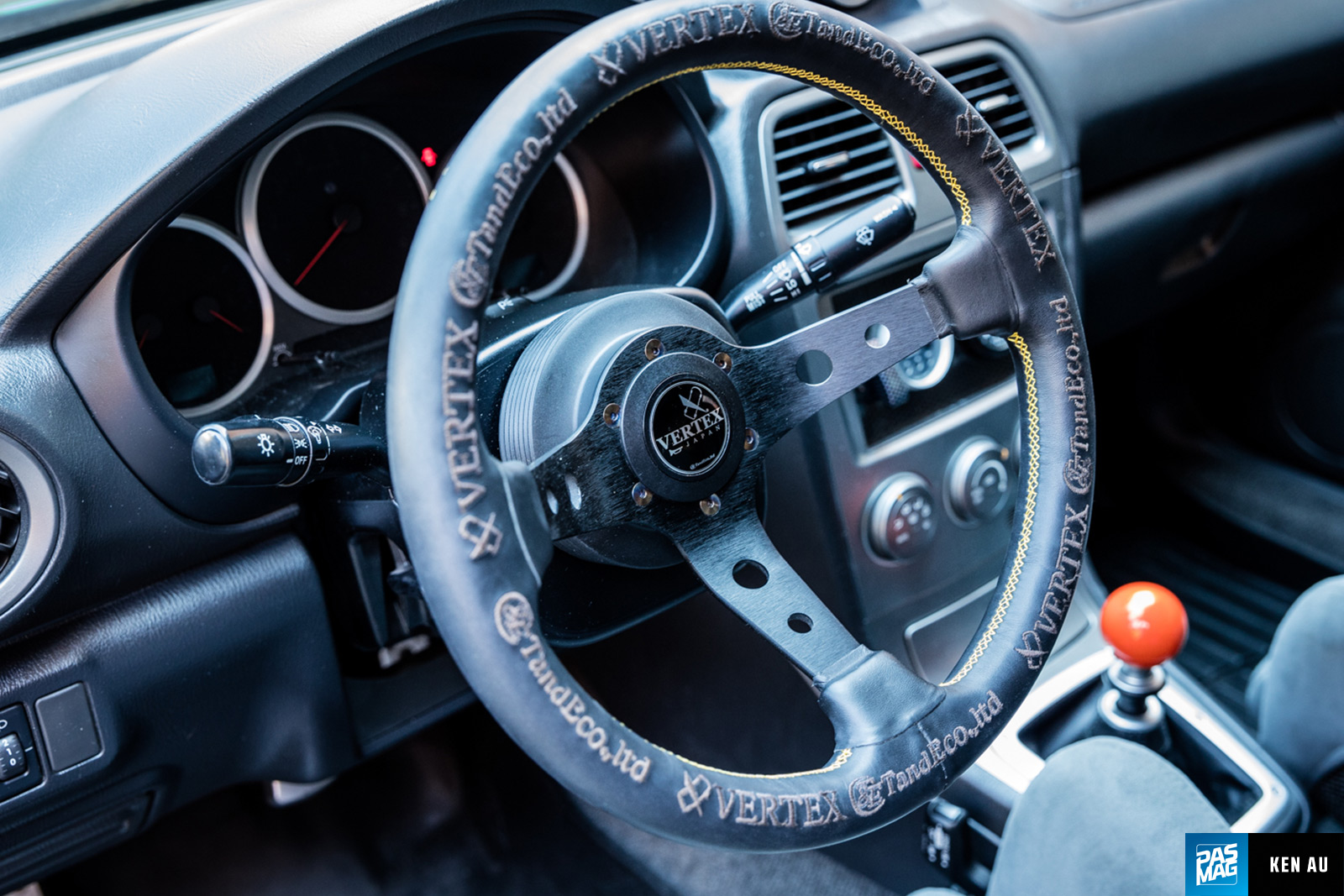 INTERIOR
Black ultra suede (headliner, door cards)
Custom spherical shift knob
Vertex King of Vertex steering wheel
Works Bell hub
Defi BF Advance gauges (boost, fuel pressure, oil pressure)
Innovate MTX-L wideband 02
Aquamist meth injection gauge
ATI triple dash pod
Status seats
Sparco seat brackets
Crow 4-point harnesses
WeatherTech floor mats
NRG harness bar
JDM hazard button
Head unit delete w/ custom carbon plate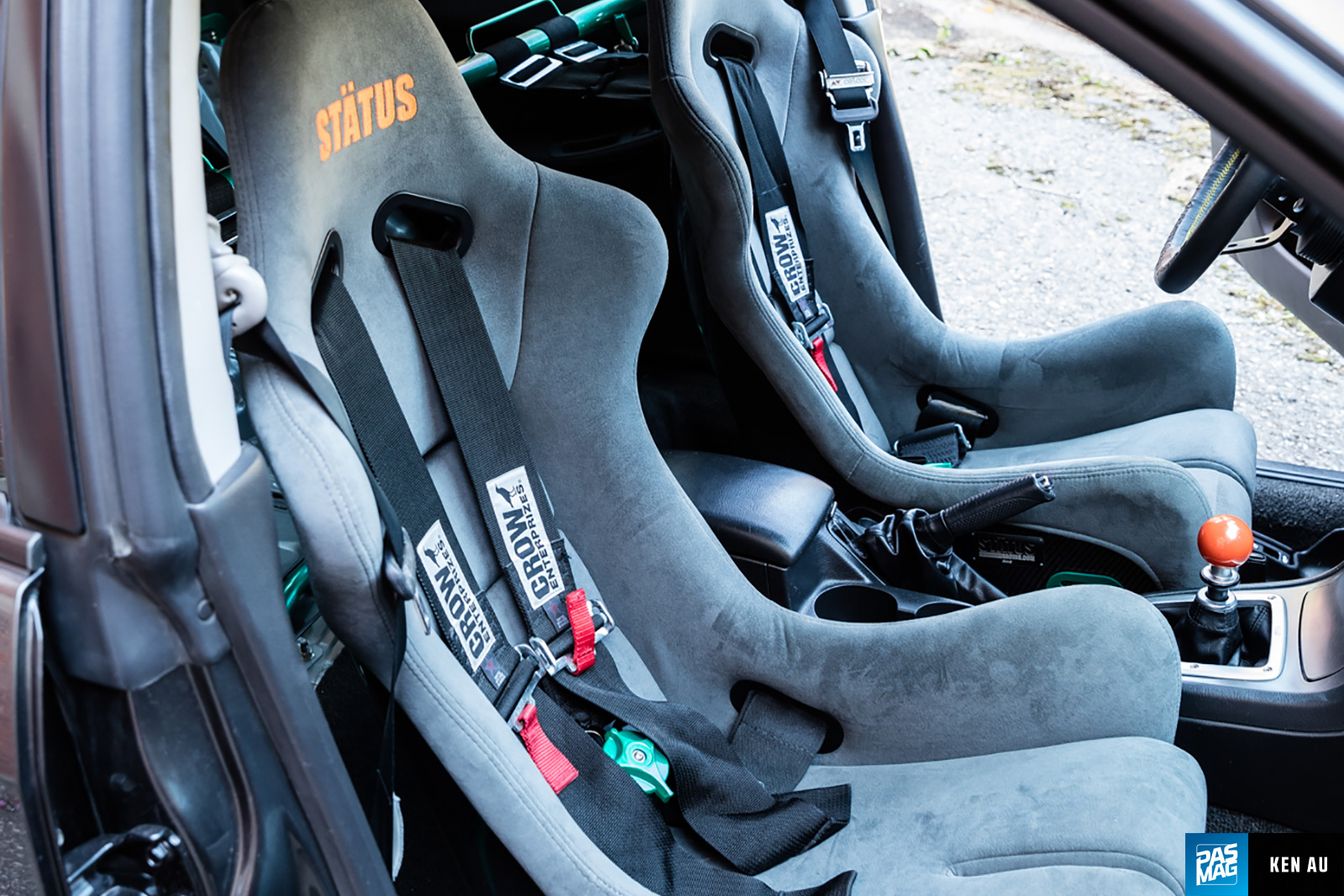 SPONSORS