Photography by Taylor Vollrath (@taydork), Candace Izumi (@raiden_75_), Melwen Fernando (@melwenfernando)
---
It all started for Andrew League at the age of 16 while working at a bike shop. "I made friends with the BMX kids," he remembers. Eventually, they grew up and got into cars, and after being around it he gained his own interest.
League's second car was a Nissan Hardbody and, at the time, all of his friends were getting into drifting. Naturally, he became curious and started driving around with them. Eventually the truck got a turbo and it was slammed to the ground. "It was an effective drift truck," League states, "until it got totalled." After the truck was totalled, and his experience with vehicle equipped with a turbo, he knew he wanted more. "It just so happened that a close friend was selling his stock Evo for a crazy deal," League mentions. Things just worked out perfectly for him and he picked up the car.
"I decided to go crazy with this build since I finally had a platform with proper aftermarket support," he expresses.
Over the next few years League slowly got the 2005 Mitsubishi Lancer Evolution 8 built as a competent touge monster for local Hawaiian mountain roads. "As the aero came, the need for more power arose too," he states. League's inspiration comes from events such as WTAC, and all the grassroots time attack builds in Japan.
"Over the years, and through trial and error, I have had some help from close friends," League mentions, "but outside of paint, and machine work, everything was done by myself with some assistance from my friends."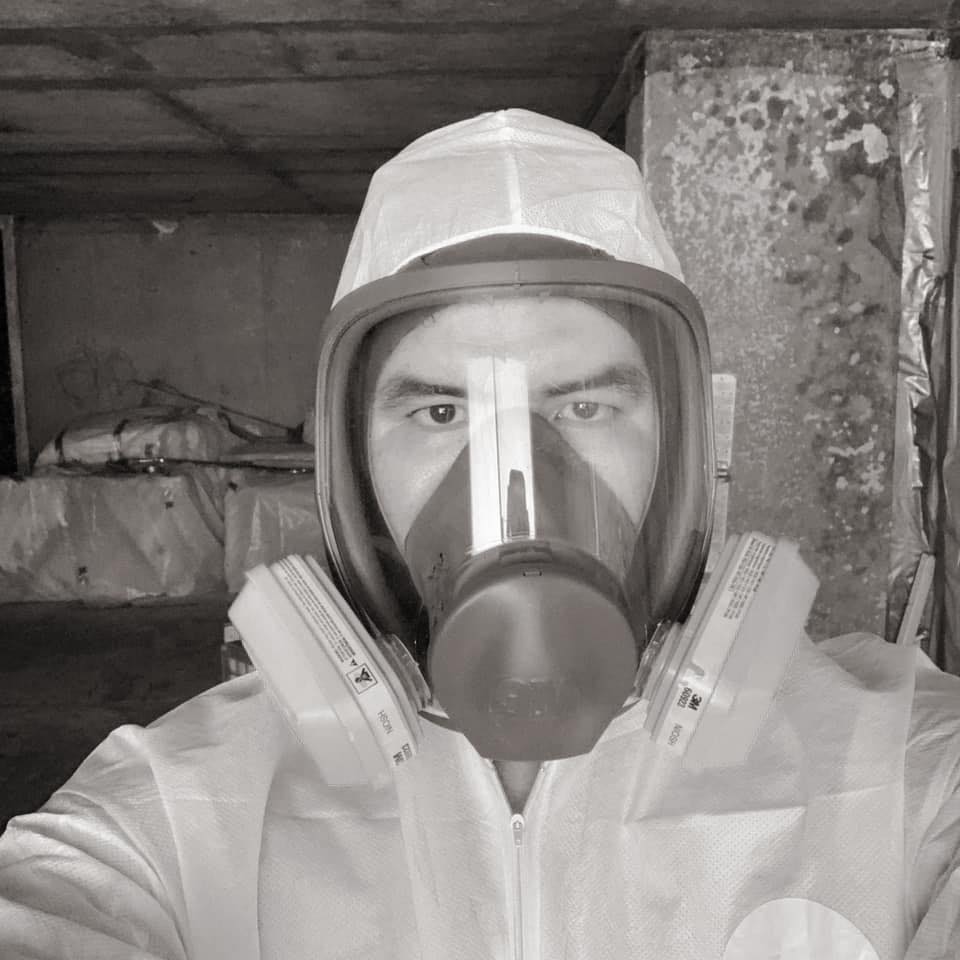 As a Lead Mitigation Technician on the island of O'ahu, League has been involved in COVID-19 disinfecting and clean-ups all over the island. "I can't give specific details on the work due to client confidentiality," he mentions. With this pandemic, he's busy cleaning and helping to keep people safe.
"We still continue our day-to-day operations of fire, flood, mold, and occasional biohazard remediation, as well as asbestos abatement," he states, "and at night, it's all-hands-on-deck when we go out for the disinfecting and cleaning. We're doing both preemptive and precautionary cleanings, as well as reactive confirmed case cleanings."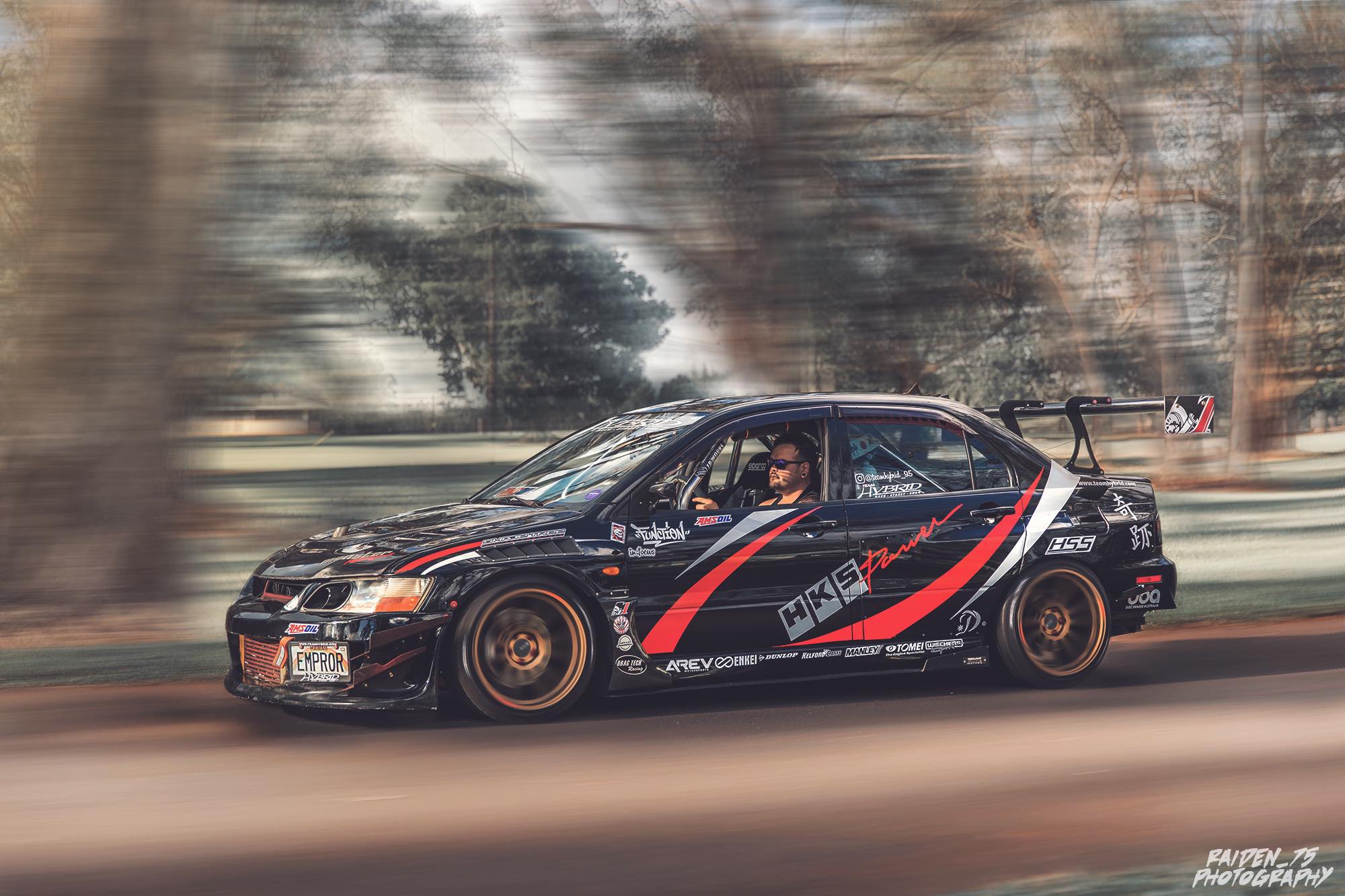 ---
ESSENTIALS
Owner: Andrew League
Location: Mililani, Hawaii
Vehicle: 2005 Mitsubishi Lancer Evolution 8
Horsepower: 383
Club: Team Hybrid
SOCIAL
Facebook: /andrew.league
Instagram: @_yamakaze
ENGINE & PERFORMANCE
ACL main bearings
ACL rod bearings
ACL thrust washers
AEM adjustable cam gears
ARC induction box
ARP head studs
ARP cam gear bolts
ARP main studs
ARP crank bolt
ARP flywheel bolts
ACT monolock ring
Cosworth headgasket
CX Racing 3.5" front mount intercooler
CX Racing lower piping
Comp Stage 3 clutch
Custom ported turbo manifold
Deatchworks 1000cc injectors
Eagle rods
ETS short route piping
Custom ported Evo 8.5 turbo
Fluidamper harmonic dampener
GSC zero tick lifters
GSC balance shaft delete
HKS Race valve
HKS 3" downpipe
HKS radiator cap
Innovative mounts race motor mounts
Kelford 272
Kelford Ti beehive valve train
Manley Pistons 10:1 .60 over
NRG torque dampener
NGK 1 step colder spark plugs
Password JDM cooling plate
STM oil cooler delete
STM EGR delete
TRE trans cooler
Torque Solutions solid rear diff mounts
Torque Solutions solid shifter bushings under hood
UPP hood dump o2 housing
ARC heatshield
Forge wastegate actuator
STM oil catch can
Weapon R brake master brace
Walboro 255
EXHAUST
No name 3" down pipe
Invidia 3" test pipe
Tomei titanium cat back
PERFORMANCE ELECTRONICS
Open source ECU tune
Pro Sport gauges
AEM wideband integrated gauge cluster
GReddy Project EBC
DRIVETRAIN
Competition Clutch stage 3
ShepTrans stage 2 transfercase with Wavetrac
WHEELS & TIRES
Enkei GTC01rr wheels - 18x10.5 +15
Dunlop Direzza DZ102 tires - 255/35/18
BRAKES
DBA 5000 Series front rotors
DBA 4000 Series rear rotors
CHASSIS & SUSPENSION
Wiechers Sports rollcage
Cusco front power brace
Cusco front strut tower bar
HKS Hypermax SPIV coilovers
White Lube XL sway bars (f/r)
Whiteline steering rack bushings
EXTERIOR
JUN front bumper
Seibon carbon fenders
Seibon TS hood
Top 1 rear diffuser
Top 1 side skirts
Top 1 double stack canards
Aero Flow Dynamics gt1 wing
Air rear over fenders
LIGHTING
Custom vented driver headlight
Rize Japan tail lights
INTERIOR
Sparco EVO2US seats
Sparco 4-point harnesses
NRG hub, quick release
RWB v2 steering wheel
Wiechers sport rollcage
AUDIO & MULTIMEDIA
Kenwood Q Series 12" subwoofer
Power Bass 1200 watt Class D amplifier
FUTURE MODIFICATIONS
Upgraded brakes, one lug wheel conversion
Bigger turbo
SPONSORS
Shadetree Motorsports
Amsoil
BFGoodrich
SHOPS & MECHANICS
Garage Nishimura (closed)
RJ Vierra
Kyle Nishimura
PHOTO GALLERY