Photography by Kerry Guevara, Steven Sampaga, @mautsukuda, Randi Bentia.
---
Steven Sampaga has always had a love for Nissans and the whole Z family. He told himself one day he would own a Nissan Z. It was difficult being a broke college student going to nursing school and working at a yogurt shop, but he managed to save enough to afford a 2006 Nissan 350Z. That is when Sampaga named her Sally.
The passion as a car enthusiast started at a young age. "I would go over to my friends' houses and play with our RC cars," Sampaga remembers, "and we would build lowrider models, and race in Need for Speed Underground." As he got older, Sampaga attended many car shows and one that stood out was Hot Import Nights. "I can recall seeing an all-carbon fiber 350Z while The Game was preforming on stage," he remembers. It was at that moment he realized he wanted to build his Z. "I had a dream and wanted to make it a reality."
After graduating nursing school, he told his best friend Donato Cruz that he had a lot of plans for the Z and wanted to build it. "We had worked on previous builds together and I can say he is a mechanical genius," Sampaga expresses. They started taking Sally more serious in the Summer of 2015 and worked on it non-stop.
"It started with bodywork, bagging it, and then wheels done all in my garage," he states. They moved forward and had everything he could polish on the VQ. "I added all the bolt-ons that were not only functional, but also gave performance gains," Sampaga mentions. "Even after doing all the work we had done, I still wasn't fully satisfied." He wanted more power.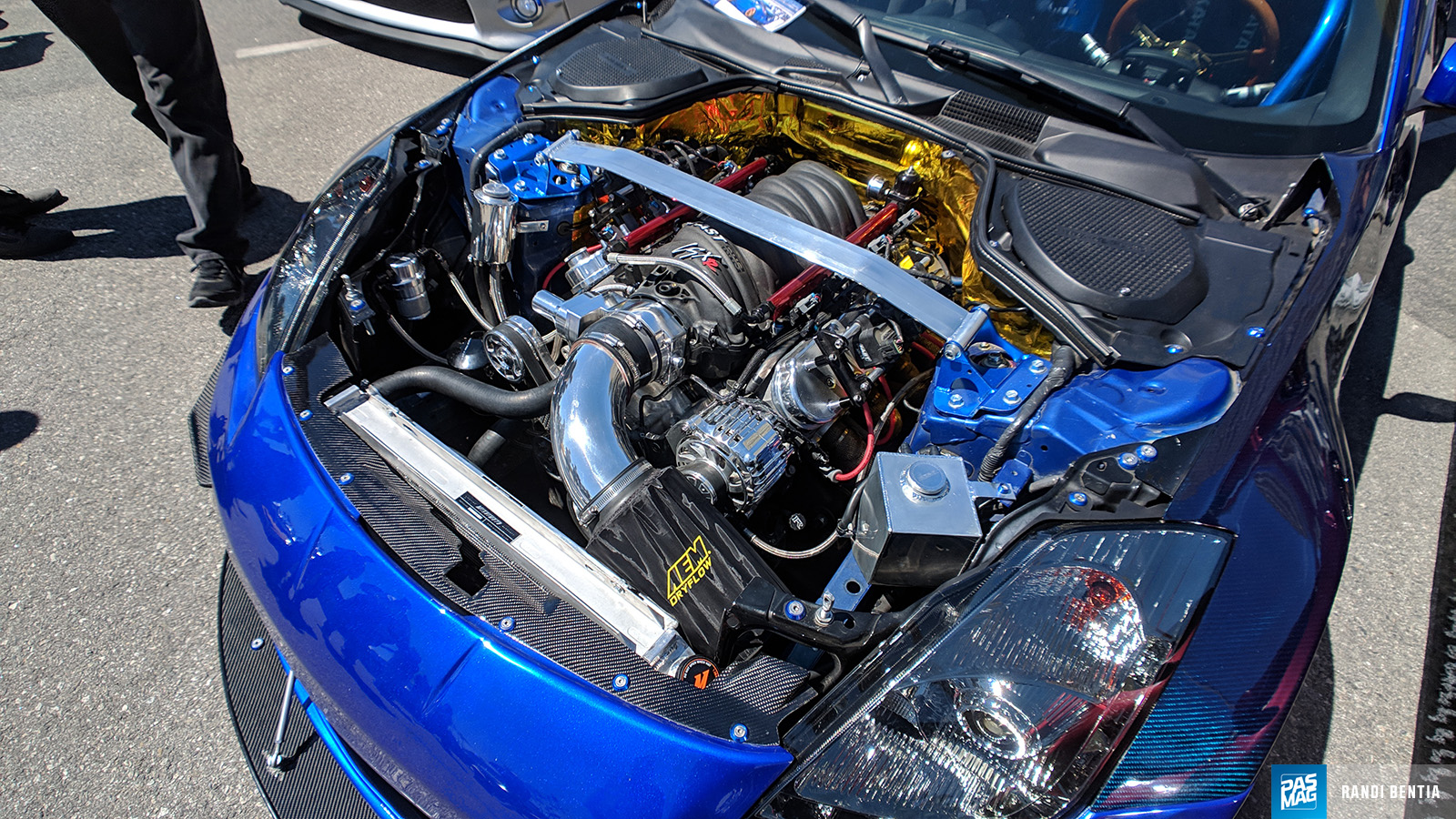 On January 2017, Sampaga decided he wanted to do an engine swap. After hours of research, he realized how much work had to go into a swap but he was ready. "Donato was on board with the build," he states, "and we started gathering tools we needed, such as a engine crane to a TIG welder." They decided on using an LS3 6.2, Motec M130 as the ECU GPR software and Motec C125 race logging kit, Tremec T56 Magnum and Sikky parts to have everything set in.
What inspires Sampaga to build the 2006 Nissan 350Z is his family and the love of being a car enthusiast. "Donato is my best friend and I call him family, my brother," he states. "We share the same love for cars and it keeps the passion alive." After putting in hours of work in his tiny garage, bleeding from cuts and sharing good times, he says it's worth it after seeing the finished product. "It's the support of all my friends and family that keeps the car community thriving," he states. This will be a lifelong journey and he's excited to share it with the world.
"I am a Registered Nurse and Nurse Manager," Sampaga mentions. He works with dialysis patients. "It's been tough managing the supplies and empowering the team to adjust to the new COVID-19 changes." Throughout this coronavirus pandemic, his team has grown stronger and he has worked on some areas of opportunity. "I have become a stronger leader and appreciate all my fellow medical professionals,"Sampaga expresses.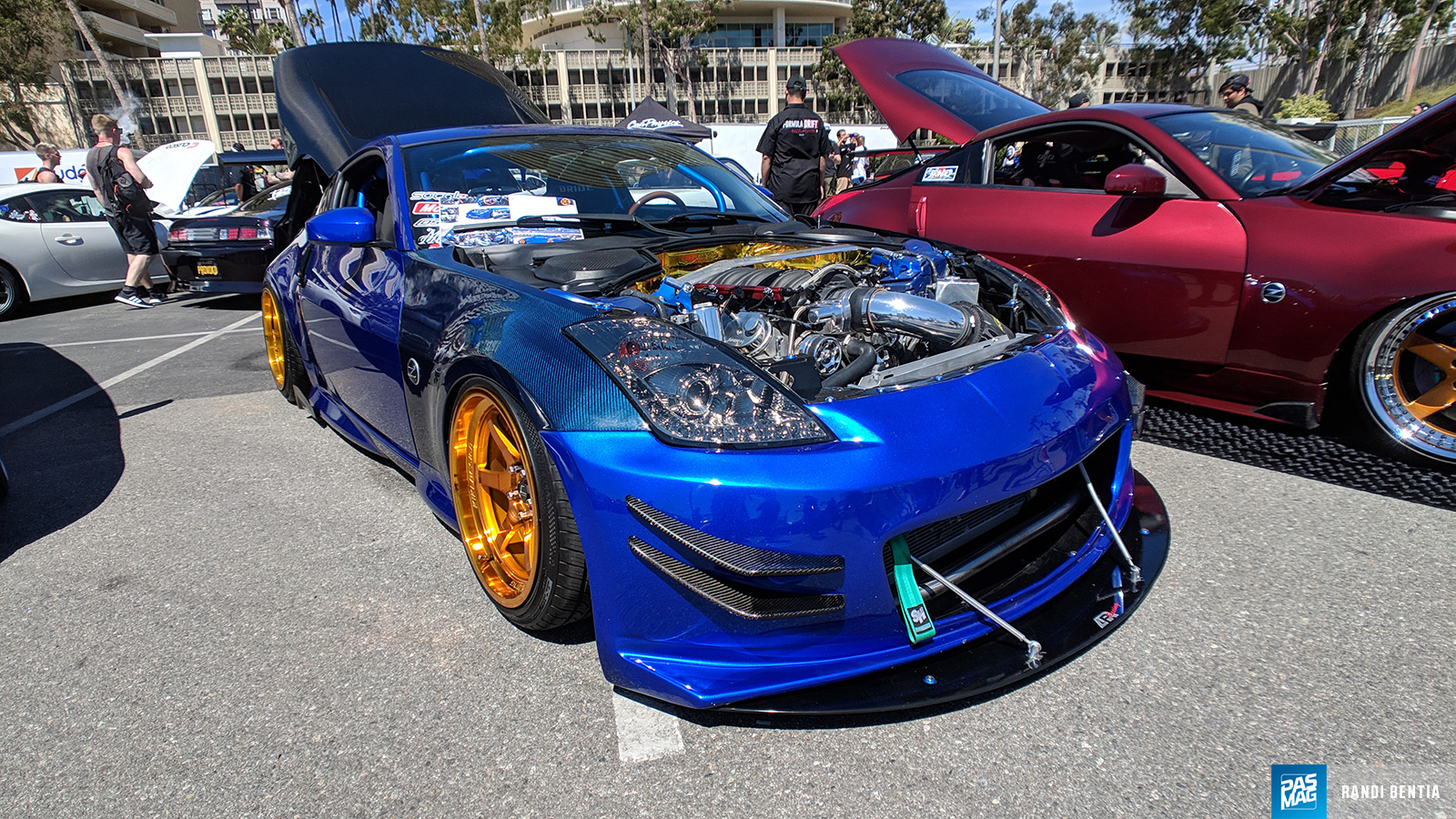 ---
ESSENTIALS
Owner: Steven Sampaga
Location: Bakersfield, CA
Vehicle: 2006 Nissan 350Z
Horsepower: 500 (estimated)
Club: N/A
SOCIAL
Facebook: Steven Sampaga
Instagram: @stevsam
ENGINE & PERFORMANCE
LS3 6.2L swap
FAST LSXR Intake Manifold 102MM
FAST LSX High-Flow Billet Fuel Rails
FAST Fuel Rail Lines
FAST Ignition Coils
Nick Williams Performance Throttle Body 102MM
Edelbrock Fuel Injectors
Moroso Valve Covers
Moroso Coil Pack Mounting Brackets
Billet Specialties Premium Tru Trac LS Pulley System
NOS Nitrous Bottle 10lbs
EXHAUST
GReddy exhaust w/ cutouts
PERFORMANCE ELECTRONICS
MOTEC M130 ecu
MOTEC GPR
MOTEC C125 Race Logging Kit
NOS Nitrous Gauge
AutoMeter Carbon Fiber Gauge Gauge
Boost Gauge
DRIVETRAIN
TREMEC Magnum T56
Sikky mount kit
Sikky driveshaft
Tomei differential
WHEELS & TIRES
BRAKES

CHASSIS & SUSPENSION
SPL camber kit
Cusco strut bar
EXTERIOR
Seibon Fiber Hood/Fenders
AeroCatch Hood Latch
Battle Aero CF Wing
APR Front Splitter
Password JDM Winglets
Nismo V2 Front Bumper
Nismo V2 Side Skirts
Nismo Exhaust
370z Side Markers
Mastergrade Carbon Fiber Rear Diffuser
LIGHTING
Spec D headlights
Custom interior lighting
INTERIOR

Custom headliner diamond wrap
Tremec Shift Knob
Grip Royal Steering Wheel
NRG Quick Release
NRG Short Hub
Enjuku K Racing Harness Bar
Bride Vios III Racing Bucket Seats
Cusco K Bar and 6-point roll cage
Takata harnesses
SPONSORS

Meguiar's
Cosmis Racing
SoCal Zs
PHOTO GALLERY