Photography by Joan Santana (@santanavisualz)
---
When Derrick Antes was younger, his mom had an E30 M3. At the time, he never knew exactly what that car was, "but I knew I loved it," he remembers. Antes' dad used to race go-karts, "I remember when he would take me around the neighborhood in one," he mentions, "I loved the adrenaline rush going around corners and going off-roading."
Antes fell in love with the Fast and Furious series and various car games. He would spend hours customizing and creating different cars to his liking. When looking for a car, he was originally looking for something AWD to handle the snow. "I was in between an Evo and an STi, but I went with the 2012 Subaru Impreza WRX STi," he mentions. Not only has his STi been a great car, but he loves what Subaru values and what they do for the community.
"I started to add my personality to it in order to make it unique," he states. Antes went to car meets and met people, whom he now calls friends, that helped him take his car to the next level. As the years went on, his build continued to evolve into what it is now.
"The past few years were tough as some things didn't go as planned," he mentions, "however, now I'm glad to be able to really enjoy my car again."
"I'm a physical therapist, and I work directly with patients to help them recover towards their prior level of function, and improve their quality of life," Antes expresses. "I work in an outpatient orthopedic facility which focuses on mostly musculoskeletal injuries."
During the coronavirus COVID-19 pandemic, Antes and the team in Las Vegas, NV have started to offer telehealth as a service for their patients. While this may benefit some, many still come into the clinic for more hands-on care, which includes manual therapy. "We've taken extra precautions to prevent the spread of COVID-19," Antes states, "but as health care professionals, there is still risk involved." As scary as this is, there are still patients who count on them to help them to walk without a limp, to be able to use their arm overhead, or to help get rid of their neck/back pain.
Antes comes from a family of First Responders. "I ask that we all do our parts to stay safe," he expresses, "even though some are still working, in this fight, everyone is essential to reducing the spread of the coronavirus."
"Additionally, before you load up on pain medications or rush into surgery, give physical therapy a try," Antes states. "It may not be easy or as simple as taking a pill, but it will be much better for you in the long run. Let's address what is truly causing your symptoms, and let's not just sweep it under the rug with medication."
If anyone has any questions regarding physical therapy, feel free to contact him.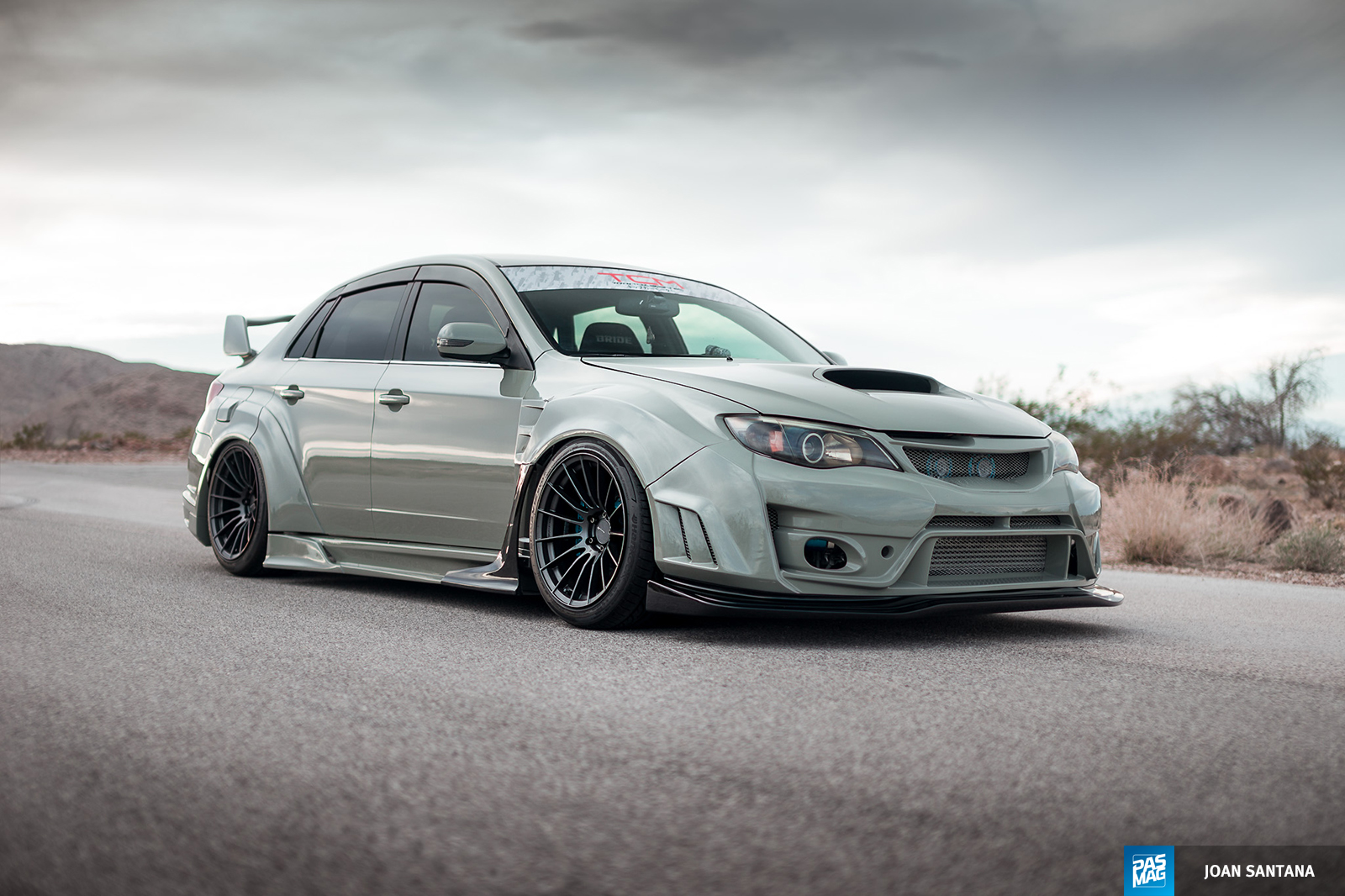 ---
INTERVIEW
PASMAG: What is your favorite aspect of the build?
Derrick Antes: I've loved everything about my build, from the Bride seats to my Varis kit.
Were there any major challenges you experienced in the build? How did you overcome them?
Definitely. If there's one thing I've learned, it's to go through companies and shops that you trust 100%. Some of the various challenges are stories for another time.
What were your original intentions with the build?
To make this car my own. I wanted it to stand out from any other build.
Why did you choose certain brands for your build?
Varis for the quality, creativity, and hard work they put into making this kit. I want to support authenticity.
What influences or inspiration helped you over the course of your build?
All of the friends that I have made along the way, especially my friends from Def Sik.
---
ESSENTIALS
Owner: Derrick Antes
Location: Henderson, NV
Vehicle: 2012 Subaru Impreza WRX STi
Horsepower: 400
Club: Def Sik
SOCIAL
Facebook: /dwrxti
Instagram: @dwrxti
ENGINE & PERFORMANCE
ID1300cc Fuel Injectors
DW300c Fuel Pump
Cavalli Stage 2 Turbo
Crawford Air Oil Separator
Killer B Oil Pick Up Tube
Mishimoto Front Mount Intercooler
Mishimoto Intake
Mishimoto Radiator+Radiator Hoses
Invidia Up Pipe with Tial 38mm EWG
IAG TGV Deletes
Torque Solution Fuel Rails
Aeromotive Fuel Pressure Regulator
Hydrodipped Engine Bay Components
EXHAUST
Invidia Catless Downpipe
Invidia Q300 Exhaust
PERFORMANCE ELECTRONICS
Cobb Accessport V3
Delicious Tuning Flex Fuel V2 Kit
Delicious Tuning Electronic Boost Control Solenoid
AEM A/F Wideband 52mm Gauge
AEM Oil Pressure 52mm Gauge
AEM Boost 52mm Gauge
DRIVETRAIN
2015+ Sti 13:1 Steering Rack
Whiteline Steering Rack Bushings
Cusco Power Steering Brace
Agency Power Pitch Stop
Kartboy Rear Shifter Bushing
ITS Brace
Exedy Stage 1 HD Organic Clutch
WHEELS & TIRES
Enkei RS05RR wheels - 18x11 +16
Hankook Ventus V12 Evo 2 tires - 275/35/18
BRAKES
R1 Concepts Big Brake Kit, Turqoise - 356mm 6 Piston (f), 345mm 4 piston (r)
CHASSIS & SUSPENSION
Air Lift Performance Struts and 3P Management
Whiteline 22mm Adjustable Swaybars (f/r)
Whiteline

Adjustable Balllink Endlinks
Whiteline Anti-lift Kit
Whiteline Rear Adjustable Lower Control Arms
Whiteline Rear Adjustable Toe Arms
EXTERIOR
Varis V2 Widebody kit, Molded
Painted Porsche Chalk Grey
LIGHTING
Custom Headlights
Illumaesthetic LED Taillights, Fog Lights, F1 Light
INTERIOR
Bride Digo Type R
Bride Brix II
Bride Interior Trim, Pillows
Hydrodipped Interior Trim
GTSpec D Shaped Steering Wheel
Bride Seat Rails
SMY Gauge Cluster+SPT Gauge Cluster
AUDIO & MULTIMEDIA
Pioneer AVHX3800BHS 2-DIN Receiver
Kicker 43CSS654 6.5" Component Speakers (4)
Kicker KSC404 4" Coaxial speakers (2)
Kicker CWRT122 12" Subwoofers (2)
Kicker KX8001 Amplifier
Kicker KX2002 Amplifier
SPONSORS
Delicious Tuning
DSG Performance
R1 Concepts
M2 Motoring
Level Up Visions
SHOPS & MECHANICS
PHOTO GALLERY