---
Shaun Graham has been building cars since the mid '90s. "1995 to be exact," he mentions, "although I have always been engulfed in the scene." Graham's father owned an auto body and repair shop in South San Francisco, CA. From a very young age Graham was crawling around the shop floors and always intrigued by the cars his father built for himself, as well the vehicles that were being repaired in his shop. "He was and is an outstanding role model," Graham expresses, "and sacrificed his time to be able to provide me with all the tools and knowledge I have ever needed to be successful in life." Graham has built and owned roughly 25 vehicles since then including cars, trucks, motorcycles, boats, rock crawlers and even NHRA race cars.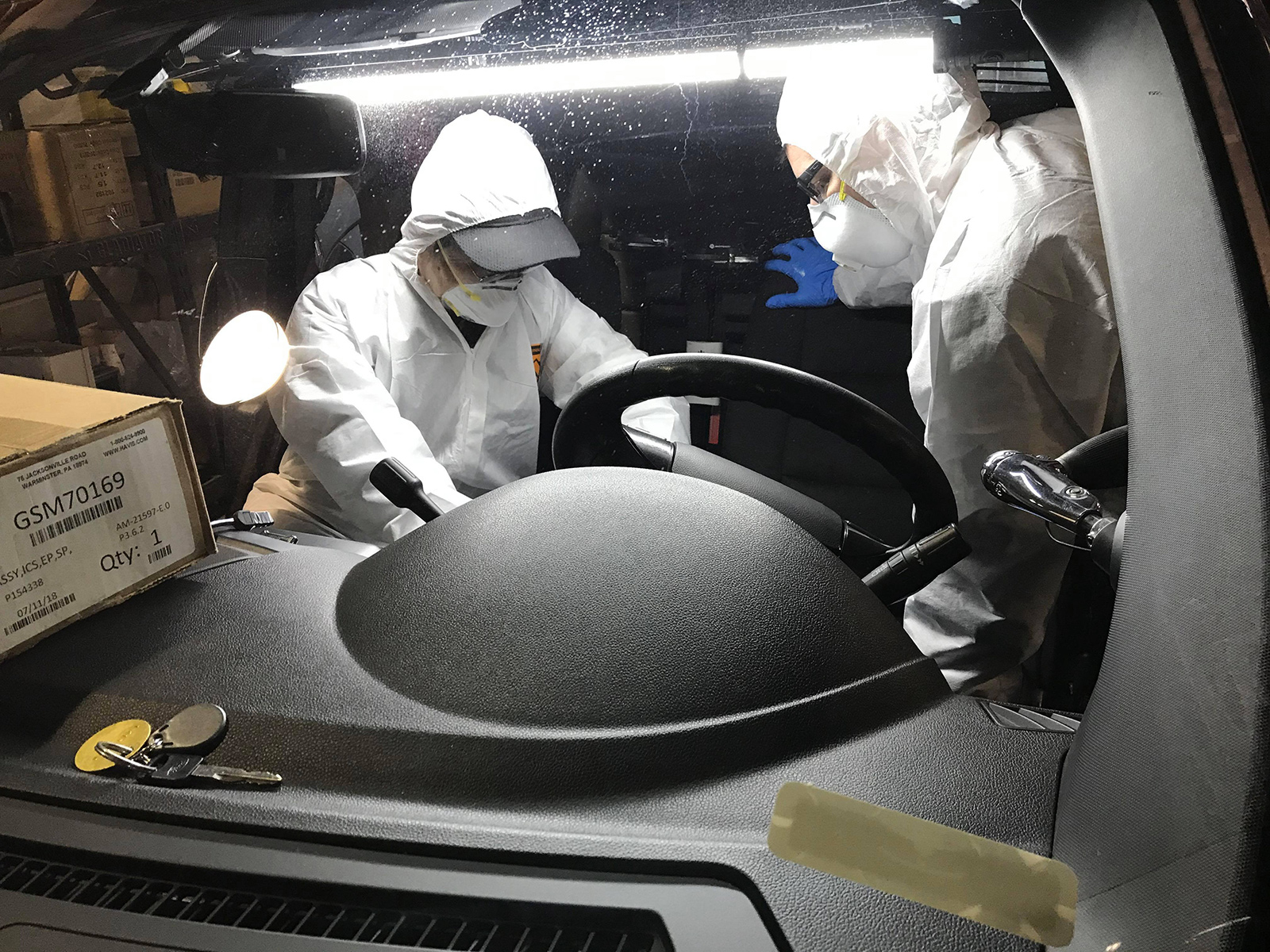 As a First Responder Communications Technician for the City and County of San Francisco, Graham is responsible for the repair and maintenance of the public safety radio network, ie: public safety radio portables, radio communications in vehicles for both police and fire departments.

"We also handle the installation, repair and maintenance of our public safety's CAD program and hardware," he states. Graham provides the first responders with functioning equipment to battle the front lines and if there is a problem and a repair is needed he goes to the front line to make the necessary repairs to keep them safe.
"As many may not know," he states, "the public safety radio system is the first responders' first line of communication to dispatch and provide updates and information during an emergency response."
He and other First Responder Communications Technicians are here to ensure we do no have to worry or think about this essential piece of equipment, and when they go to use it, it will be ready and working.
"The new normal for us now is full Tyrek disposable suits, N95 mask, gloves, goggles and disinfectant materials." Graham mentions. They sanitize everything before the first responders receive equipment as well during a repair to ensure their safety.
"Being a large city such as San Francisco, we have been hit hard," he expresses, "but due to our full efforts for health and safety, we will continue to fight this battle." Most days, they go to work scared for their family's safety but at the end of the day essential work keeps the first responders safe and informed to help fight the virus. "We are humbled and proud of the work we perform."
Graham shows his appreciation to his friends, family and supporters. "I would like to thank my beautiful girlfriend, Sherena for her unconditional support of my car passion, Cody Wolgamott of Air Lift Performance, Alan Kohler of Odyssey Battery, Karl Wasabi of Toyo Tires, Carlin Chiu of Impact Performance, Tim and Rommel Canlas of Canlas Mobile Tint, Michael Small and Harrison Walraven of Marin Vinyl Wraps, and as well my team Endless Projects for everyone's endless support on our builds."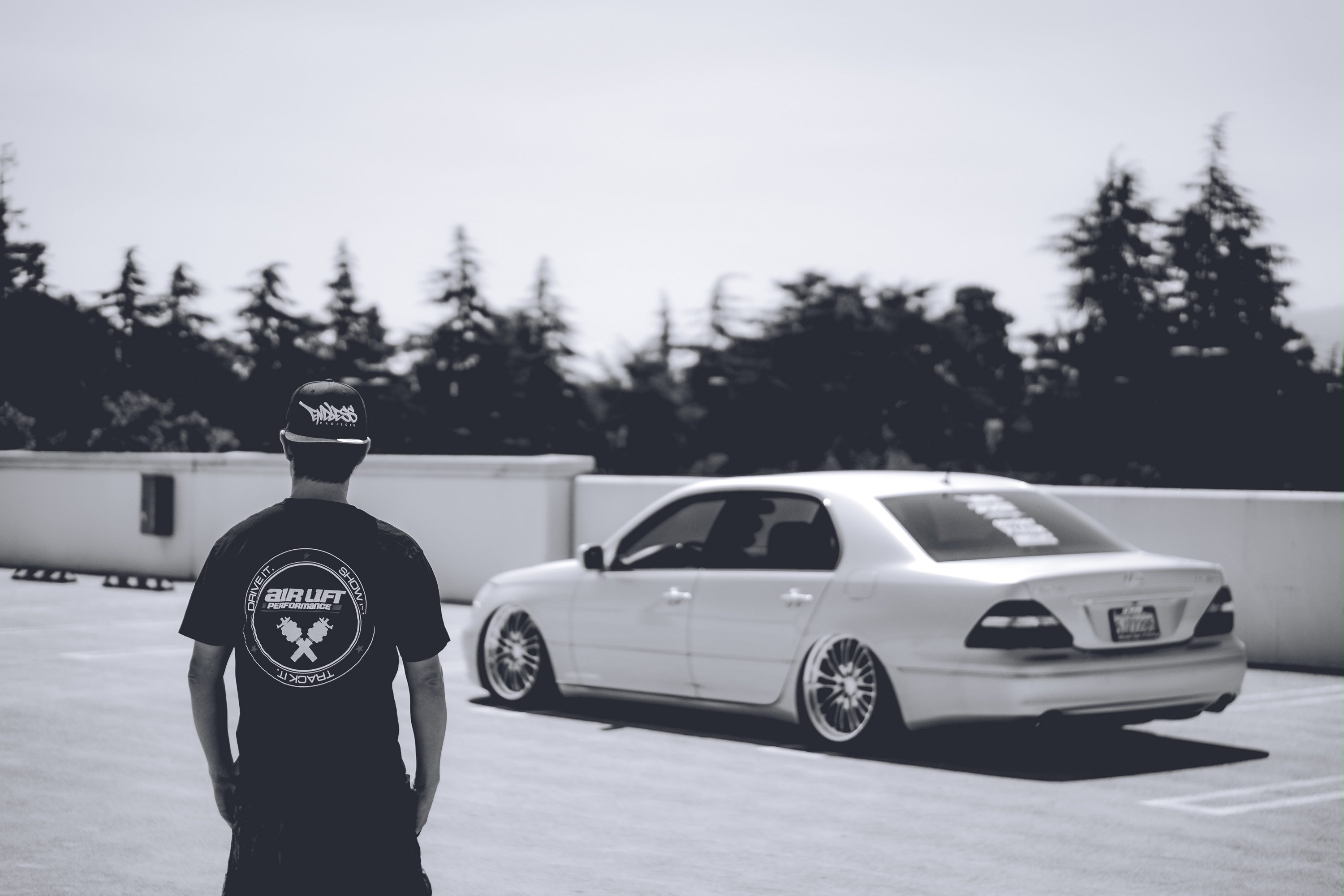 ---
ESSENTIALS
Owner: Shaun Graham
Location: San Jose, CA
Vehicle: 2004 Lexus LS430
Horsepower: n/a
Club: Endless Projects
SOCIAL
Facebook: /Shaun.P.Graham
Instagram: @evil_e36
ENGINE & PERFORMANCE
Anceltion carbon fiber engine cover
Tom's carbon fiber radiator cover
Tom's engine air filter
Odyssey Extreme battery
EXHAUST
OEM exhaust Toyota Celsior exhaust finishers
WHEELS & TIRES
Work Durandal wheels - 20x9.5 (f), 20x10.5 (r)
Toyo Tire Proxes Plus 4 tire - 225/35/20 (f), 245/35/20 (r)
Custom CNC machined center caps with team logo by Eric Lam
BRAKES
R1 Concepts Geomet coated rotor (f/r)
R1 Concepts Ceramic pads (f/r)
Powder coated OEM calipers
Stainless steel brake lines
CHASSIS & SUSPENSION
Air Lift Performance suspension
Air Lift Performance 3P air management
ViAir 444c dual compressors
Accuair Endo 3 gallon tank
EXTERIOR
OEM Toyota Celsior Option complete lip kit
OEM Toyota Celsior fog lamps
OEM Toyota Celsior headlights
K-Break badgeless grill
OEM Toyota Celsior window visors
Artisan Spirits Vented fenders
LIGHTING
OEM Toyota Celsior headlights
INTERIOR
Silk Blaze SD steering wheel imported from Japan
Alcantara Suede headliner, A-pillar, B-pillar and C-pillar
Diamond leather stitched front seats
Diamond leather stitched rear seats
Diamond leather stitched door panel inserts
Diamond leather stitched center console
Diamond leather stitched rear center armrest
FAVORITE MODIFICATION
"Favorite modification are the two engine covers, as I have only seen one other set anywhere in the world through all my years of searching for them. They are super rare, discontinued and add a very nice touch of detail to the engine compartment that may other wise be overlooked on this type of car build.
FUTURE MODIFICATIONS
R1 Concepts forged series big brake kit
Custom audio setup
SPONSORS
Air Lift Performance
ViAir
Toyo Tires
Odyssey Battery
R1 Concepts
Marin Vinyl Wraps
Canlas Mobile Tint
SHOPS & MECHANICS
Shaun Graham
Euro Design Auto Body and Paint (SSF, CA) - Rich
Impact Performance (San Mateo, CA) - Carlin
Canlas Mobile Tint (Santa Clara, CA) - Tim and Rommel
PHOTO GALLERY