Photography by Nicholas Caron
---
A Minty Fresh Take on the Ultimate E30
After hearing years upon years of enthusiast stories and how they came across their project cars, we like to think we know the usual stories. The car may have been a hand-me-down from a relative or friend that could no longer hang onto it, or maybe the car was spotted in a sorry state at an auto wreckers or someone's front yard and looked like it was worth saving. This story may have been the first we've heard of someone randomly walking up and offering a car though.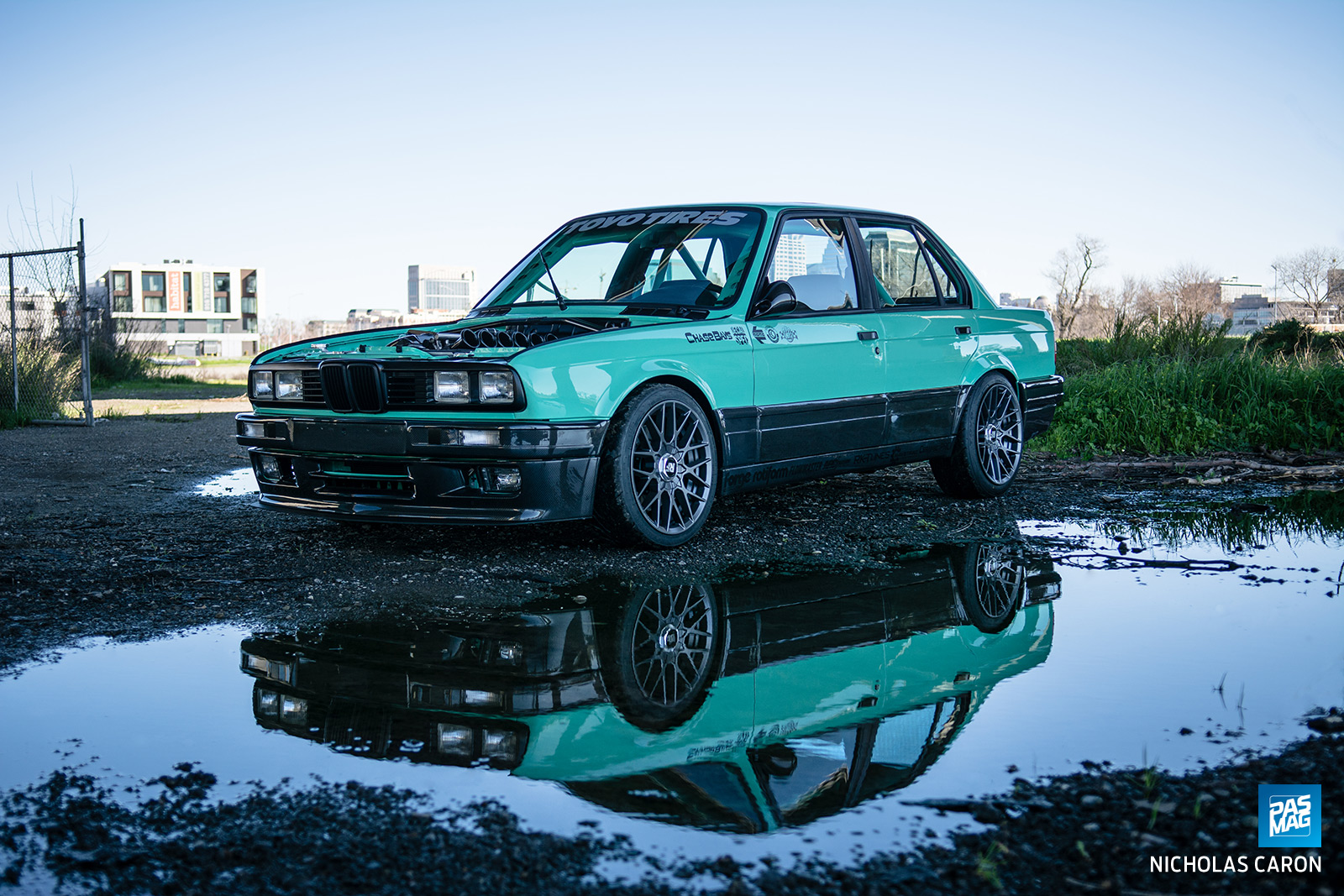 According to Igor Polishchuk, the man over at CAtuned, an old guy wandered into their shop one day, asking around about a BMW E30 sedan. This wasn't a proposition for a project for the BMW veterans of CAtuned though, this was a man trying to offload a car that he just didn't want anymore.
"As he put it, his wife didn't want his daughter driving it any longer because they felt it wasn't safe," Polishchuk recalls of the fateful day. "I found the car sitting lonely under a tree in the rain. The battery was drained, the passenger side had damaged doors from a parking lot mishap, and no working power steering."
After a small amount of money exchanged hands and the battery was resuscitated, Polishchuk was the proud owner of a four-door E30, and as its new caretaker, his first move was to park it in the back lot of the shop and promptly forget about it.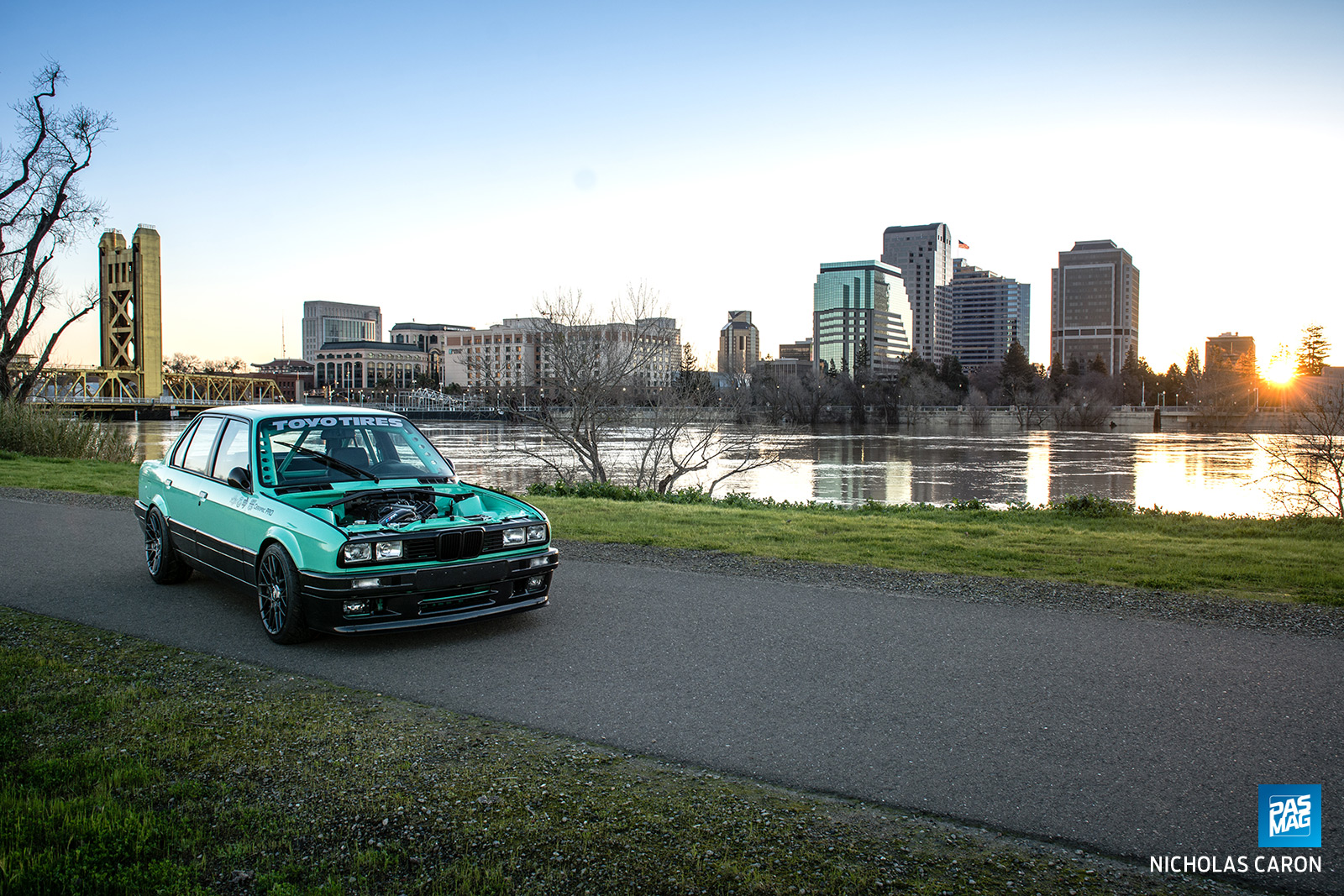 As with any enthusiast, Polishchuk has more than a few dream builds on his mind, and as someone with many hook-ups with part suppliers for BMWs, he sometimes stockpiles parts away to one day make those dreams become a reality. One car on his shortlist was coincidentally an E30 sedan, but time is an asset that's sorely needed to go all-in on a project, and as a guy who runs a busy shop, it's a scarce resource. Finally, though, after a few years of the beat-down four-door calling his name, and a little extra push from Toyo Tires to do something special for their floor presence at SEMA, Polishchuk could channel his time, energy, and parts into that little BMW out back to make something special.
"I've always loved the four-door E30s and wanted to build one in race-spec for the street – without any extras, such as AC or any power amenities, and with a modern powerplant and a proper manual gearbox, of course," Polishchuk says of his plan. "I drew what I wanted to do on some paper and then had a rendering done. From that moment, I knew exactly what I wanted to do."
First step was to get the car over to CAtuned's off-road shop and start the full roll cage and chassis reinforcement. After the E30 was sitting rigid, it was time to fix up those dented doors, get into the paint booth, and run into the car's largest challenge.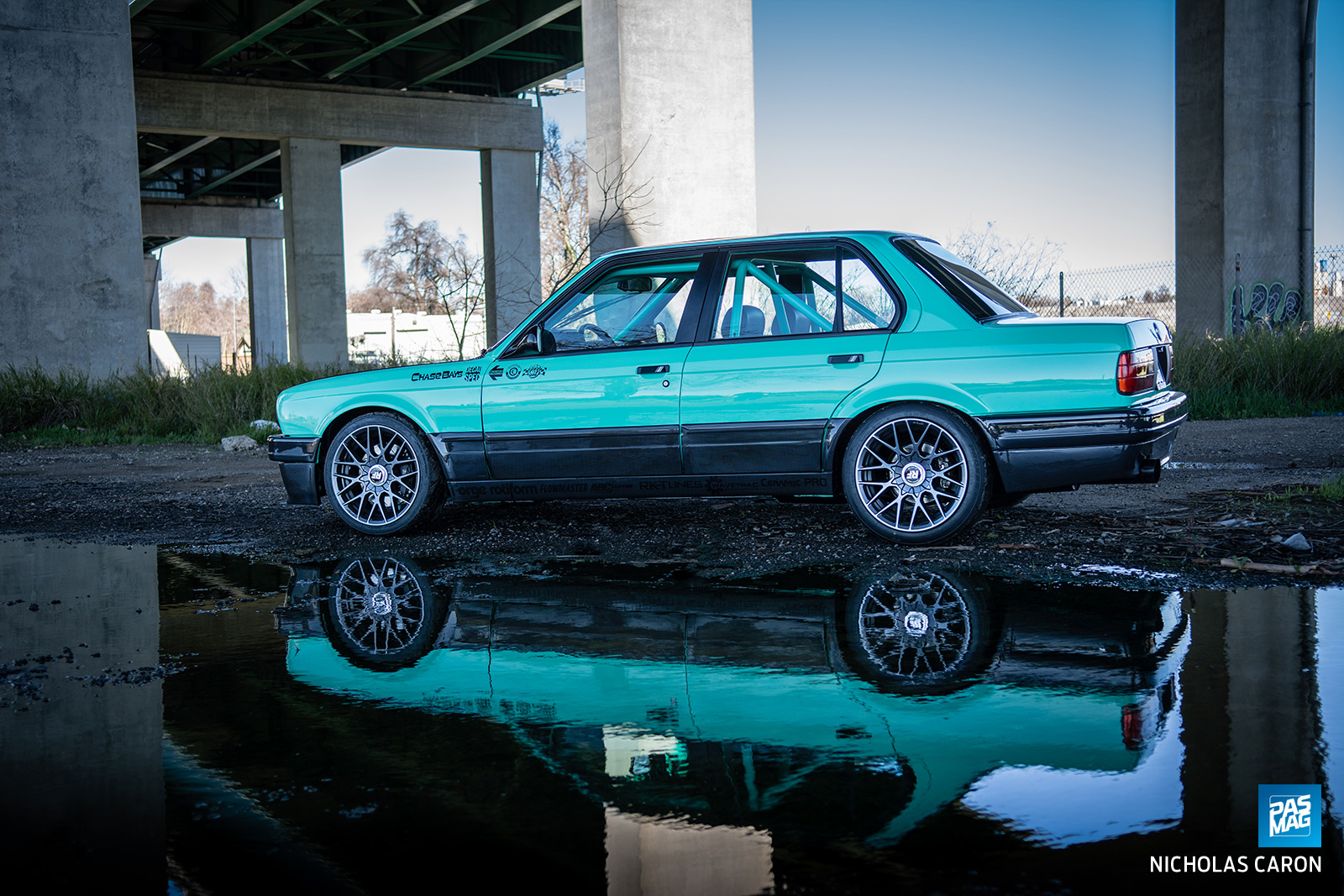 "Paint did not come as easy as we had wanted," grimaces Polishchuk. "The first painter made huge mistakes and left us scrambling to start over and find another way."
Once the car was painted a second time, the CAtuned team was left with just about three weeks on their calendars before rolling out to make SEMA, which is a serious time crunch to complete the rest of the car. If you're familiar with CAtuned's work, however, you'll know it's always quality, so no corners were cut to get the E30 ready; there was just a lot of missed sleep.
Coated in its new (and properly done this time) mint green paint, which earned it the nickname and plates "MINTE30," Polishchuk also pulled out his complete E30 MTechnica kit and skinned it in carbon fiber for an interesting two-tone contrast. The DTM side mirrors also received the same skinning treatment, starting off the "racecar for the street" aesthetic.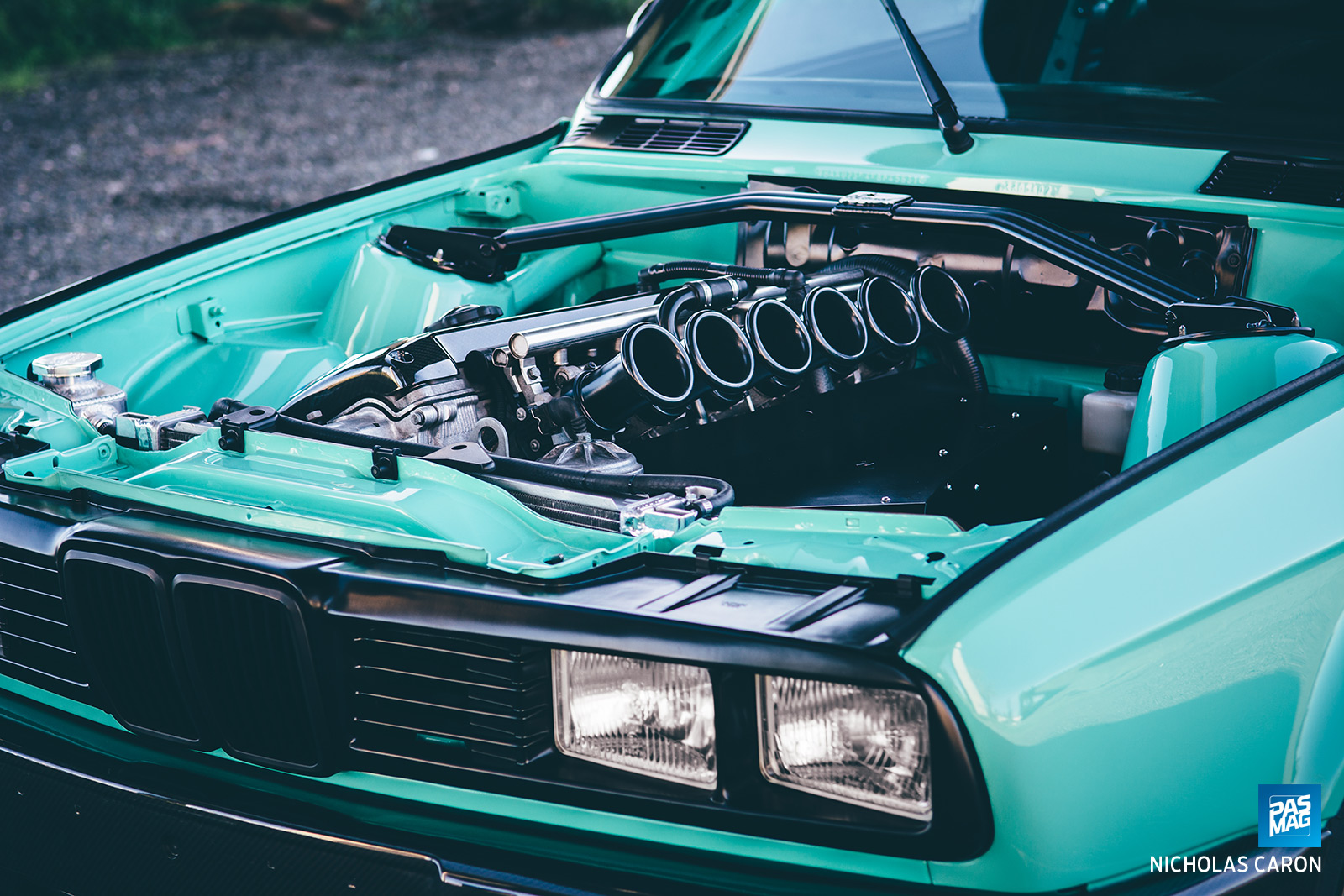 As well as making race-worthy street car, Polishchuk also mentioned wanting to swap in something modern and pairing it up with a manual transmission. For that job, the E30 received a transplant from a, E46 M3 donor. Before the 3.2-liter inline-six engine could be placed, CAtuned trimmed it out with a modified oil pan and custom headers from Arc Asylum, and Chase Bays' power steering and engine coolers, plus a brake booster delete for ideal fitment. Instead of a traditional intake, 2M Autowerks supplied the S54 with their velocity stack kit, powdercoated in black. With the engine happily humming away on RK Tunes software and mated to a Getrag 420G six-speed, the E30 sedan cruises around with 402 horsepower and 390 lb-ft of torque at 7,900 rpm!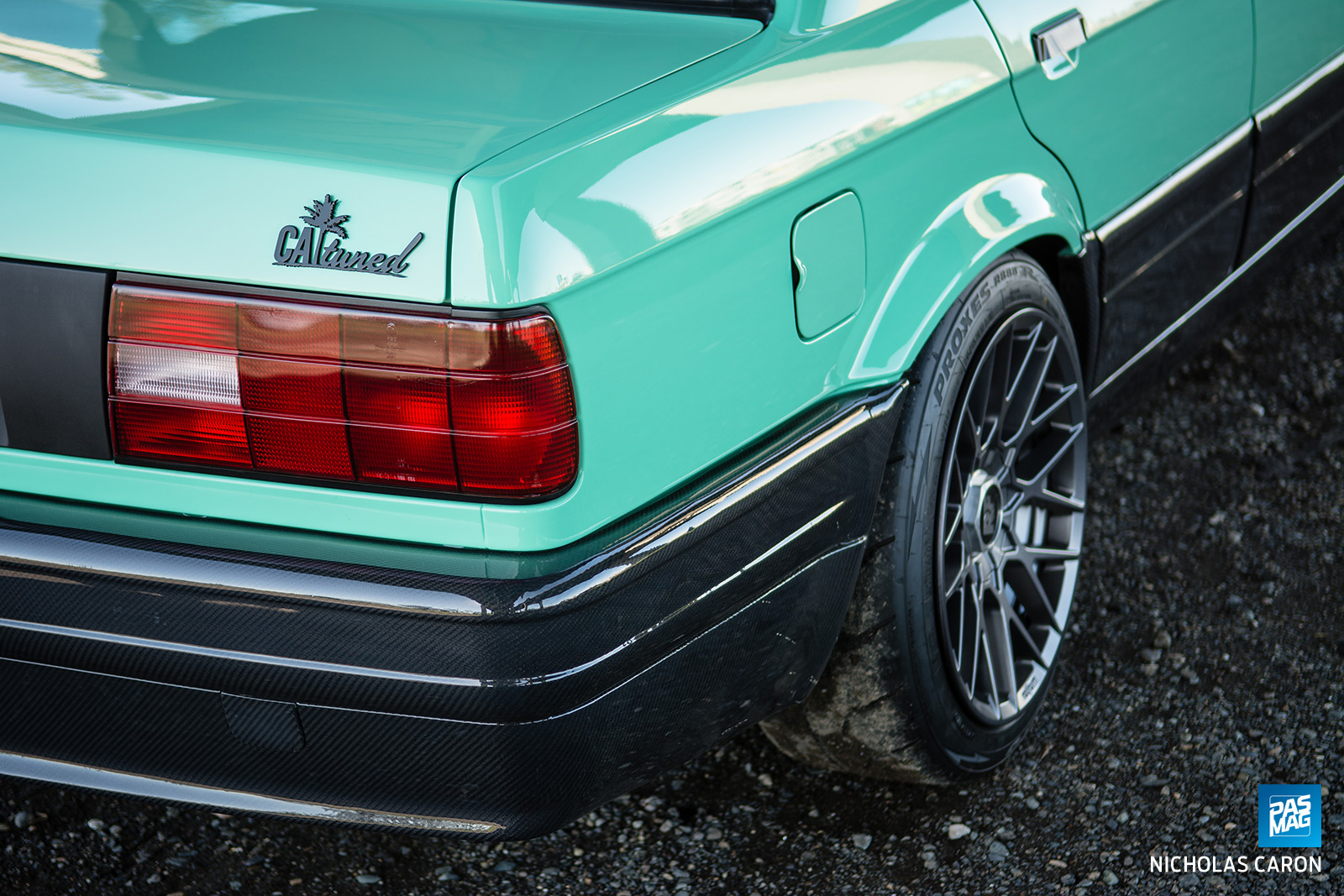 CAtuned's Competition coilovers take place on each corner of the E30, as well as Rotiform's cast RSE wheels sitting snuggly inside Toyo Proxes R888 tires. Behind the RSE faces up front sit Forge Motorsports' big brake calipers, with slotted rotors fitted-up all around. Underneath, Arc Asylum appears again, this time with their transmission brace and custom E30 subframe, while Magnus Racing Team suspension arms tailor a track-ready stance.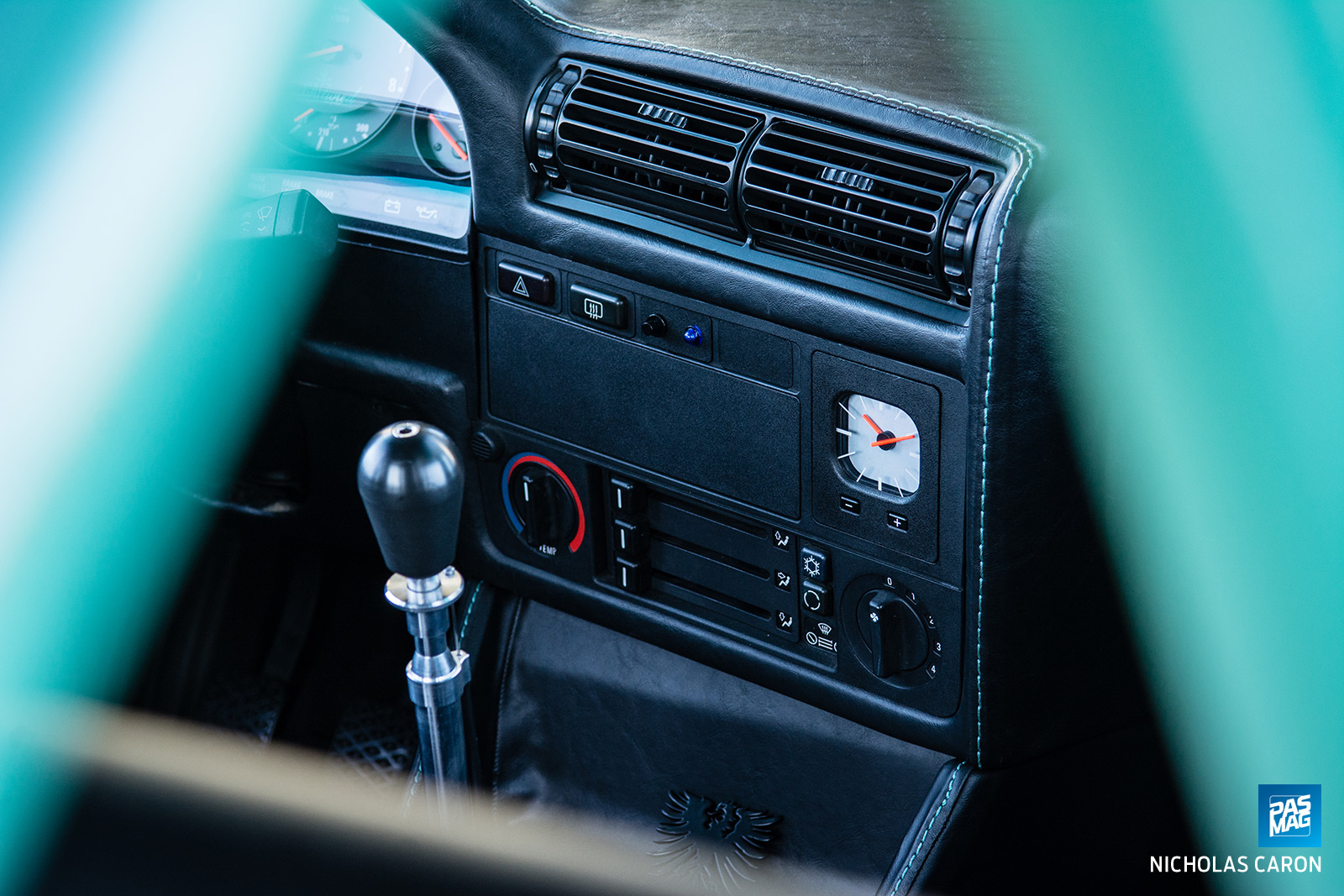 Inside, the E46 M3 influence carries through to the instrumentation, which comes from Bavarian Restoration. Their gauge cluster and "Euro clock" are both styled after the E46 M3 in an E30 form factor to match the modernization happening in the engine bay. The addition of reupholstered headliner, door panels, and seats to the MOMO steering wheel and Hard Motorsports CAE shifter add just enough comfort for a car meant to turn heads on the street and on the show floor, while crushing it at the track.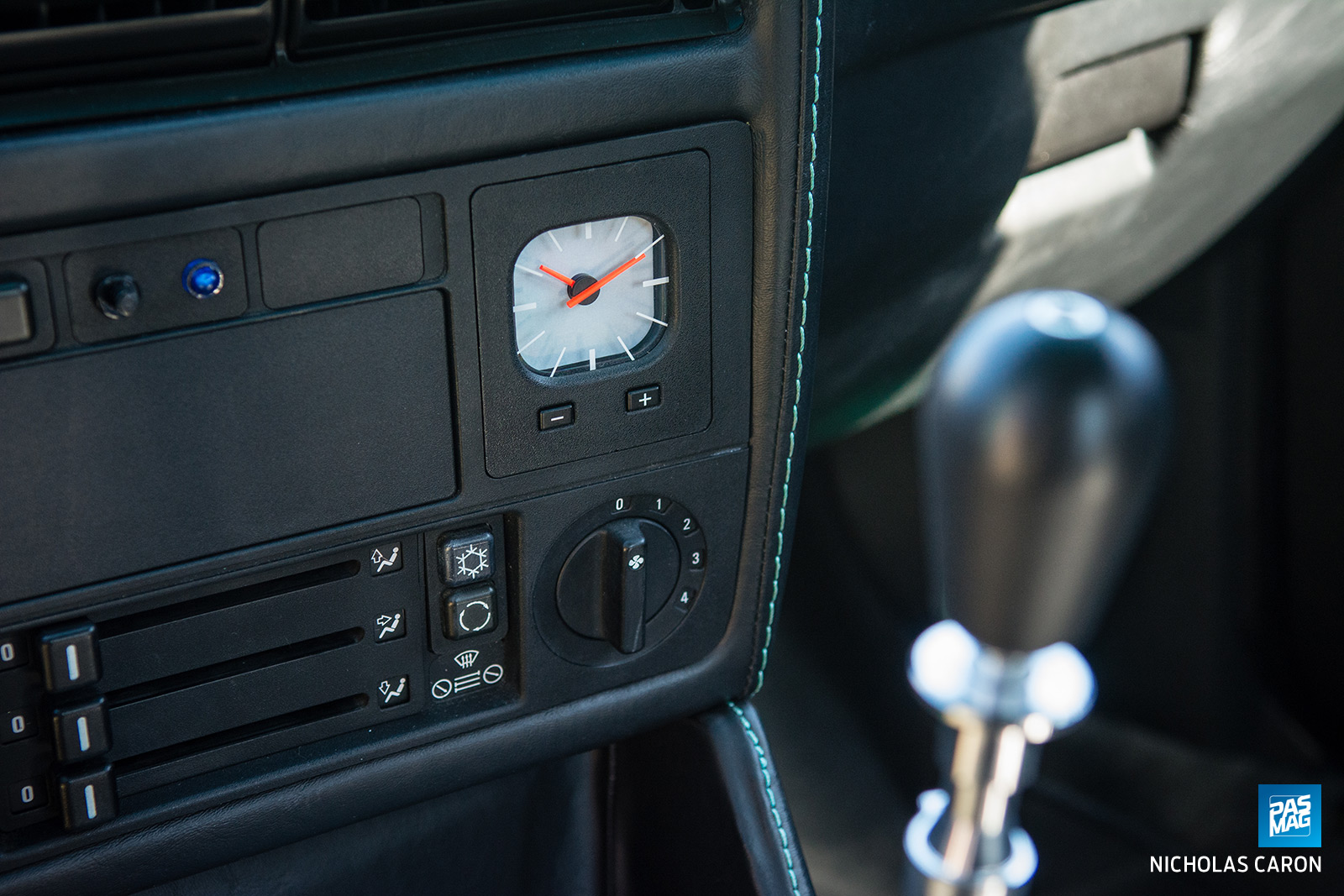 "Without rest we pushed on, although at times loopy and loosing grip on reality," says Polishchuk as he reflects on those three weeks of insanity to get the car finished. "Test drive time came with no surprises. The car drove amazing and had more power then we could imagine!"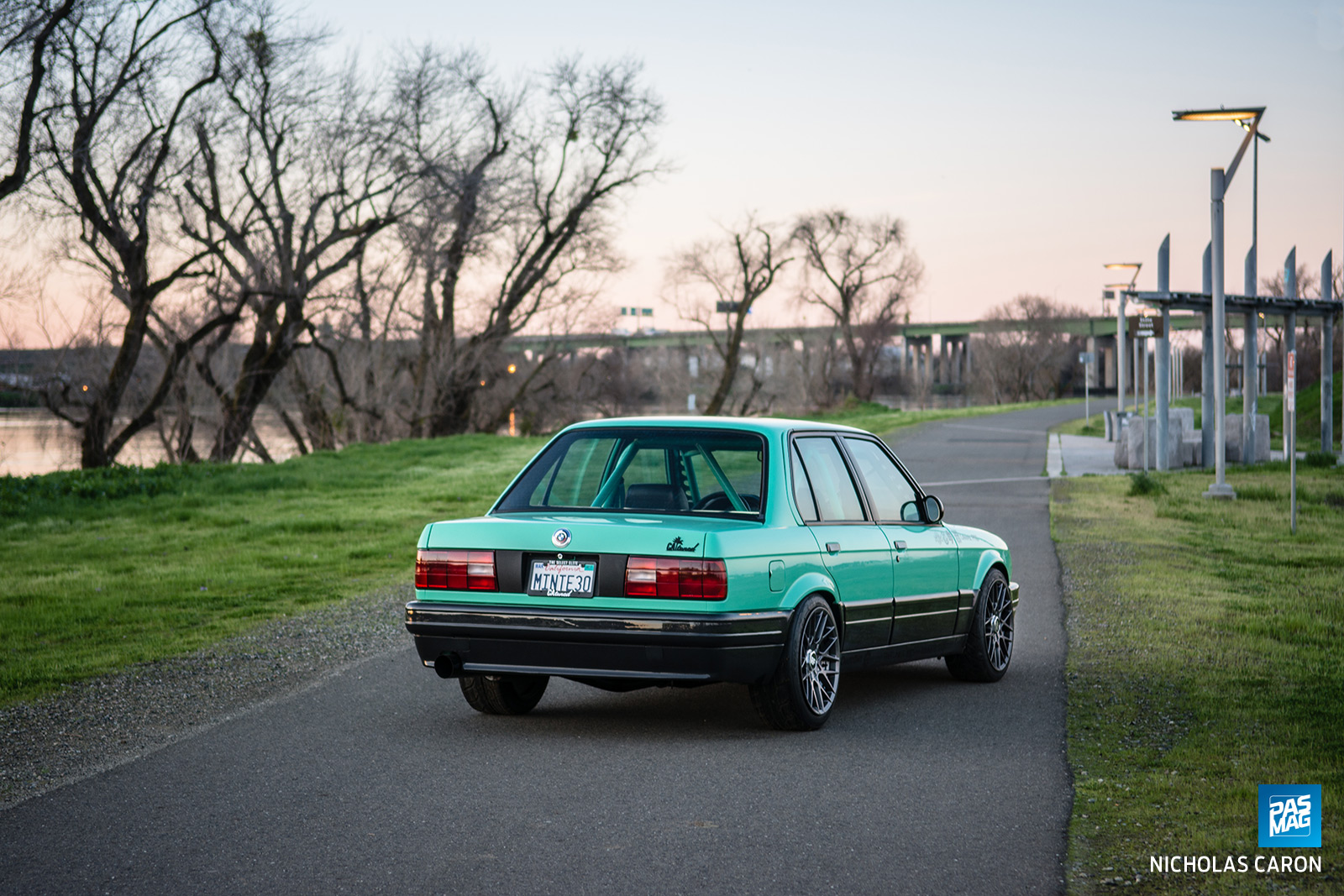 Hitting hitches early on resulted in a team that faced their challenges head-on to produce something that could be classified as dream car territory for many, and left the SEMA show with even more admirers. Now that the E30 has conquered the big show and served as a great car on the street, the last bastion is off to the races – something that Polishchuk lists in his plans for the car this year. Just in case you see a flash of minty green followed by the roar of ITB'd S54 goodness at the track and wonder what it was you saw, now you know.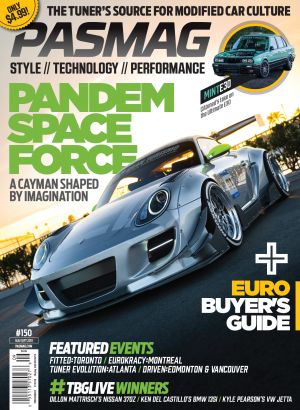 Igor's CAtuned BMW E30 featured in
PASMAG #150.
Click here to order.