Photography Courtesy of JL Audio
---
When you spend enough time in an industry so focused on improvement, innovation, and standing out among the crowd, it's only a matter of time before that ethos begins to transcend into your everyday life. For George Babers, Logistics Manager at JL Audio, the audio company's drive to excel rubbed off on him and his car building process almost immediately. "I just like the idea of taking something to the next level," he tells us proudly. "I enjoy the pride in saying I did something cool." And something cool is exactly what he did.
Babers' family had a long history with GM cars, including a few Camaros. "I had a 1991 RS that was given to me by my uncle," he reminisces. "Unfortunately it was wrecked, and I ended up getting another third gen. I bought a 1986 IROC-Z that I eventually sold to buy a Trailblazer SS." His trail-blazing hiatus from Camaros was short lived, because as soon as the fifth generation Camaro was debuted in 2009 as a 2010 model, he knew he had to have one. A few short years later, he acquired the 2013 Chevrolet Camaro SS you see here. "I love the look and driving feel of the Camaro," exclaims Babers. "The technology with GM has progressed so much in the last 25 years."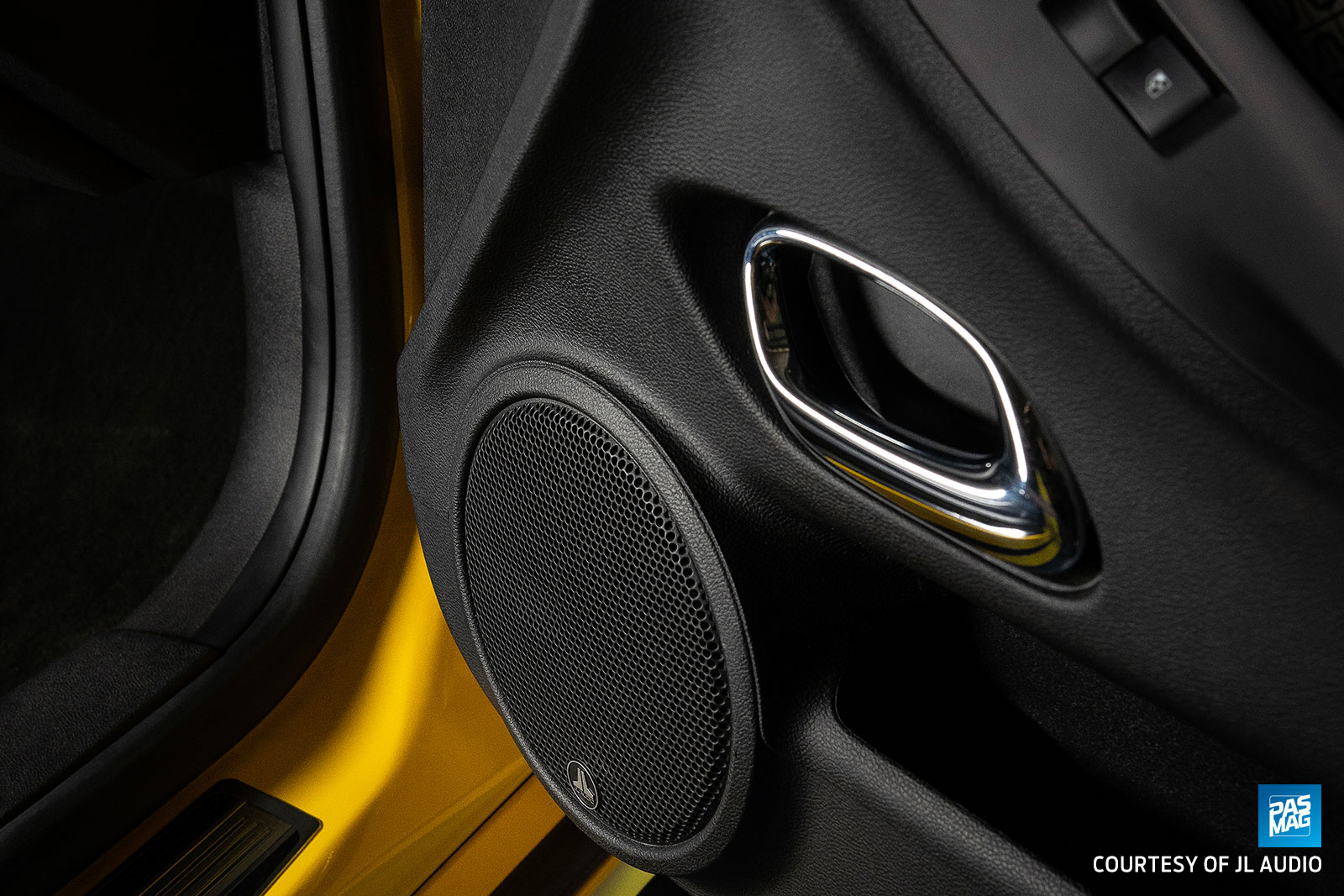 Technology is exactly what Babers specializes in. As one may have guessed, the beginning of his build consisted of car audio – a natural starting point for someone who works at JL Audio. A full system from front to back provides the tunes and in-car entertainment for the Camaro, all of which is directly fed from the Camaro's OEM head unit. A wide array of speakers take up the space in the door and rear deck pods, including JL Audio's C5-075ct tweeters, C7-650 mid-bass drivers, C7-350 component mid-range speakers, and C5-570x rear stage speakers. Safe to say there is sufficient music-pumping surface area in the cockpit.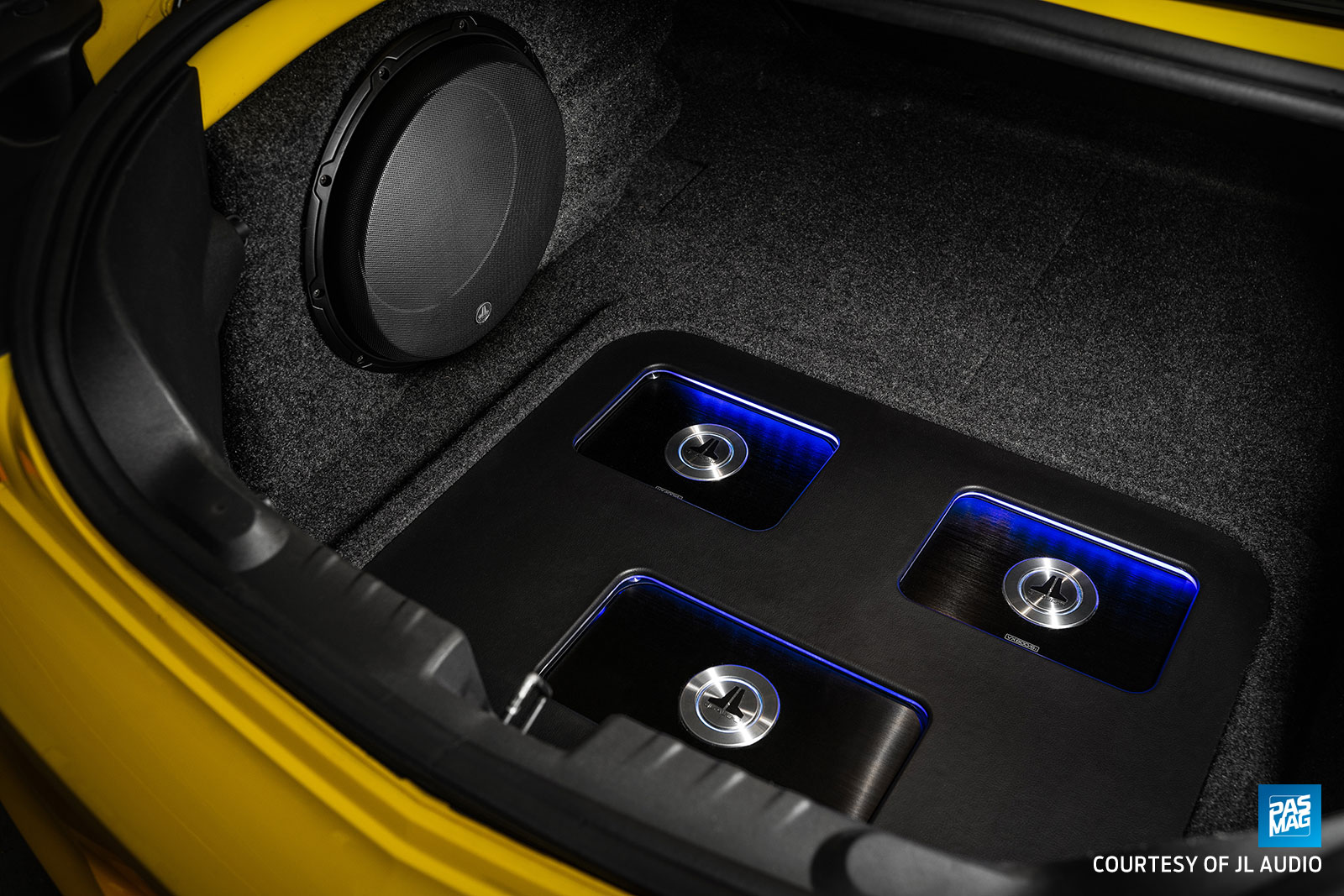 Driving additional power to the multiple speaker sets is a pair of amplifiers, a VX600/6i and a VX400/4i, both JL's works of art, and set in a transparent trunk setup alongside them is a VX1000/1i to power two 12w6v3 subwoofers, each of which is installed in a JL Audio Stealthbox enclosure, one on each side of the truck. Tying all of it together to keep things sounding natural and clean is a VXi DSP, which takes care of the entire system's signal. All in, it makes for one seriously loud Camaro.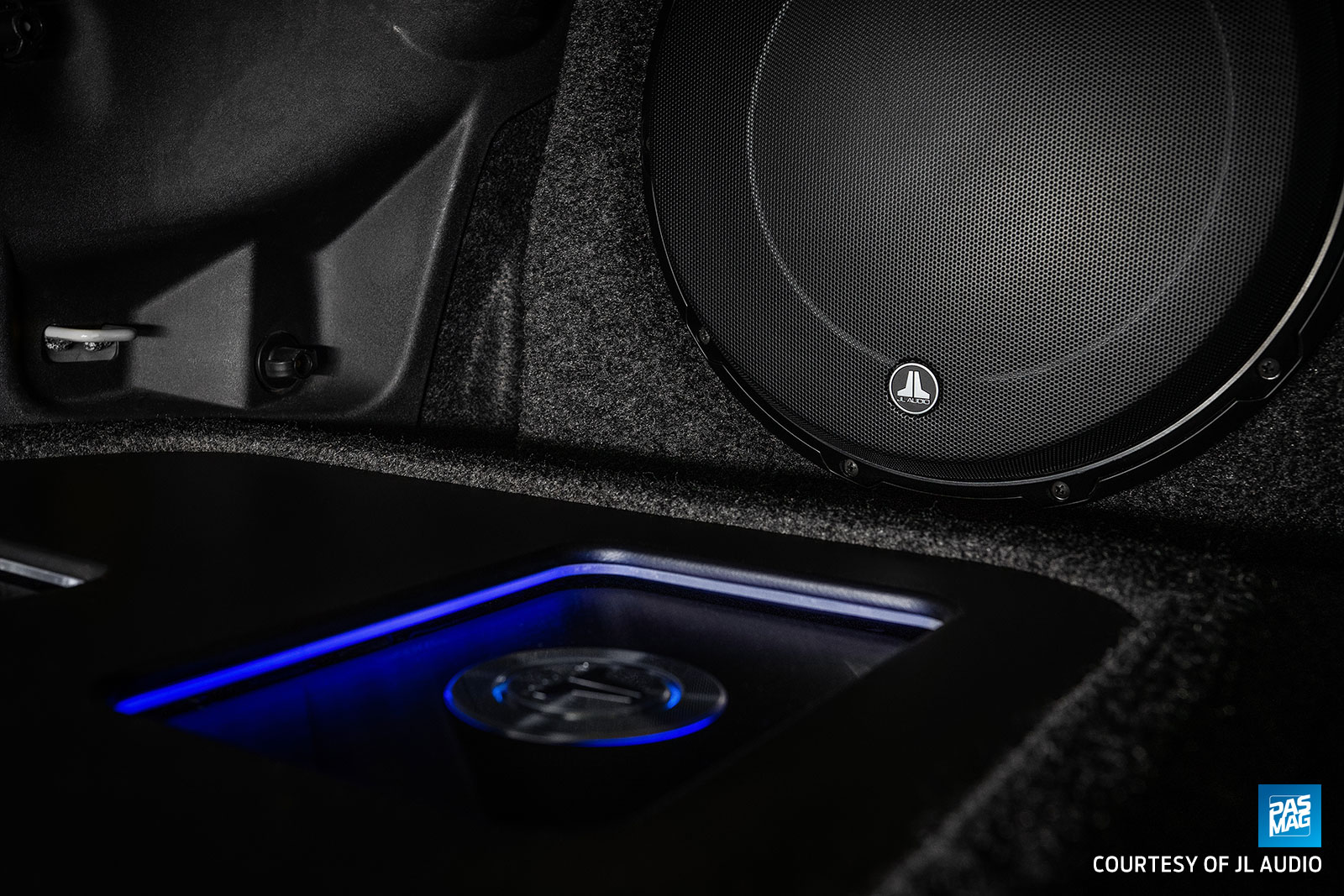 Of course, an audio system itself wasn't enough to keep Babers' modification itch at bay, and it was soon time to make the engine sounds as good as the audio. "A few people said I needed to match my engine performance with the audio system," he laughs. "I guess the supercharger was inevitable." With plans to install the supercharger himself before getting everything properly tuned, a bit of research was needed, but Babers says installing the parts themselves isn't as hard as some people make it out to be. "If you can change your oil and brakes on a car, you can install a supercharger," he quips. With a little help from TS Performance, the supercharger was on the engine.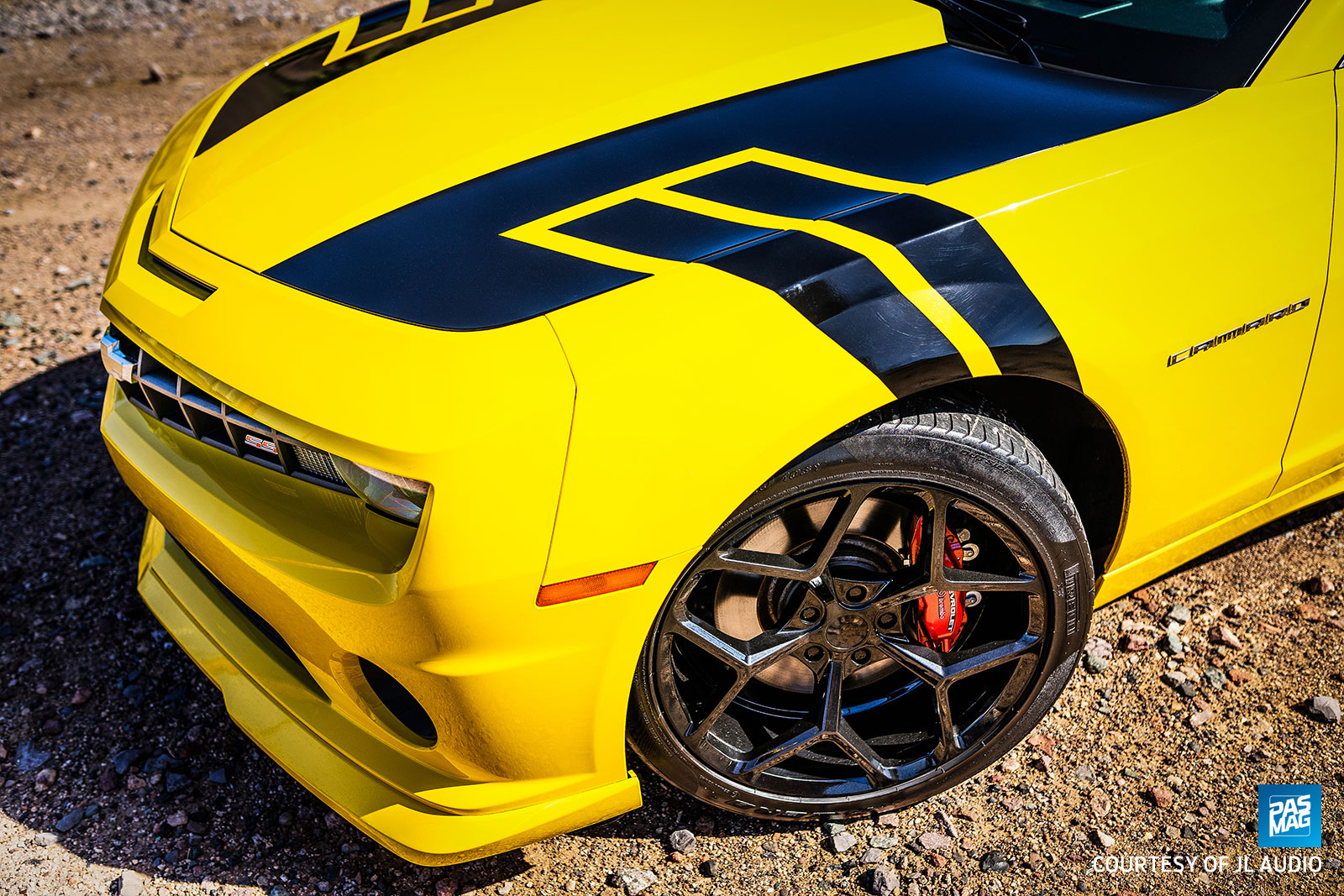 Once bolted up, the Magnuson TVS2300 supercharger kit just needed a few supporting mods to deliver consistent power on demand. The fuel pump from a Camaro ZL1, some Siemens Deka V EV1 840cc injectors, an ALP Nightwing intake tube, and NGK spark plugs keep the fuel, air flow, and spark working in harmony with the blower, and a Billy Boat exhaust gives the entire assembly some room to breathe. With a little tuning assistance from Arizona Elite Motorsports, the entire setup was pushing a linear and potent 500 whp and 500 lb-ft of torque.
With the car's main features taken care of, a set of Z28 replica wheels wrapped in Nitto NT555 G2 tires were added, and a simple graphics from Brandsmith Co. set the look just right without going overboard. While the car has not won any trophies yet, Babers says the real prize is getting to spend time with his son in the car, and the look on his face when he steps on the pedal is reward enough for all his hard work.
George Babers' 2013 Chevrolet Camaro SS is featured in PASMAG Tuning Essentials: Car Audio Upgrade Guide Vol. 8. Click here to order.
---
ESSENTIALS
Owner: George Babers
Vehicle: 2013 Chevrolet Camaro SS
Location: Mesa, AZ
Engine: Chevrolet LS 6.2L V8
Horsepower: 500 whp
Torque: 500 lb-ft
Club Affiliation: AZ Camaro Club
ENGINE
Magnuson TVS2300 supercharger kit
K&N air filter
SLP Nightwing intake tube
ZL1 fuel pump
Siemens Deka V EV1 840cc short fuel injectors
NGK BR7EF spark plugs
HP Tuners ECU flash
EXHAUST
WHEELS / TIRES
Z28 replica wheels – 20x9 (f), 20x10 (r)
Nitto NT555 G2 tires – 255/40/20 (f), 305/35/20 (r)
CHASSIS / SUSPENSION
Powercoated mirror black front strut bar
EXTERIOR
Brandsmith Co. hood/fender graphics
INTERIOR
JL Audio logo wrapped (door panels, dash trim)
AeroForce (Interceptor gauge, gauge pod)
AUDIO / MOBILE ELECTRONICS
JL Audio (Stealthbox enclosures (2), FiX86 processor, VXi DSP, VX1000/1i subwoofer amp, VX600/6i amp, VX400/4i amp, 12W6V3 subwoofers (2), C7-650 mid-bass drivers, C5-075ct tweeters, C7-350 components, C5-570x speakers, fuse holder, main power wire, distribution blocks)