The Tuner Battlegrounds Champion who shot for the stars.
There's something about looking to the stars that reminds us of our tiny place in the universe. Amid the endless expanse of stars and dark matter is our little planet, and there's something oddly comforting about our universal insignificance amid lightyears of stardust. For Kaylee Crayton, that theme is ever-present in her adventures through the world of car shows and motorsports, and it shows itself clearly in her 2013 Scion FR-S.
The 2020 PASMAG Tuner Battlegrounds Championship (presented by AEM Intakes, Gram Lights, Dress Up Bolts and Jensen) title was awarded to Crayton after a hard-fought year of modifying, racing, and competing in our own championship along the way. With one foot in the show scene, and the other firmly planted on the racetrack, Crayton has been involved in cars one way or another for the better part of her adult life. Thanks to her father, she had her hand in the mechanical workings of motorcycles and jet skis long before she could drive, so cars were just the next logical step in her progression.
Her journey into the world of cars started early, when she purchased her 2013 FR-S at just 17 years old. While the car was still in its stock form, she brought it to an Import Drag Racing Circuit event. Not long after that, she was on track herself. All it took was one trip down the drag strip, and she was hooked for life. "Drag racing is my passion," she says, "so the first time I went down the track, I needed to go faster!" That need for speed would slowly snowball into an impressive engine build and racing tenure. Inspired by Ali Afsher, owner of the world's fastest BRZ, Crayton aimed to dispel the common claim that the FR-S platform was too slow for drag racing.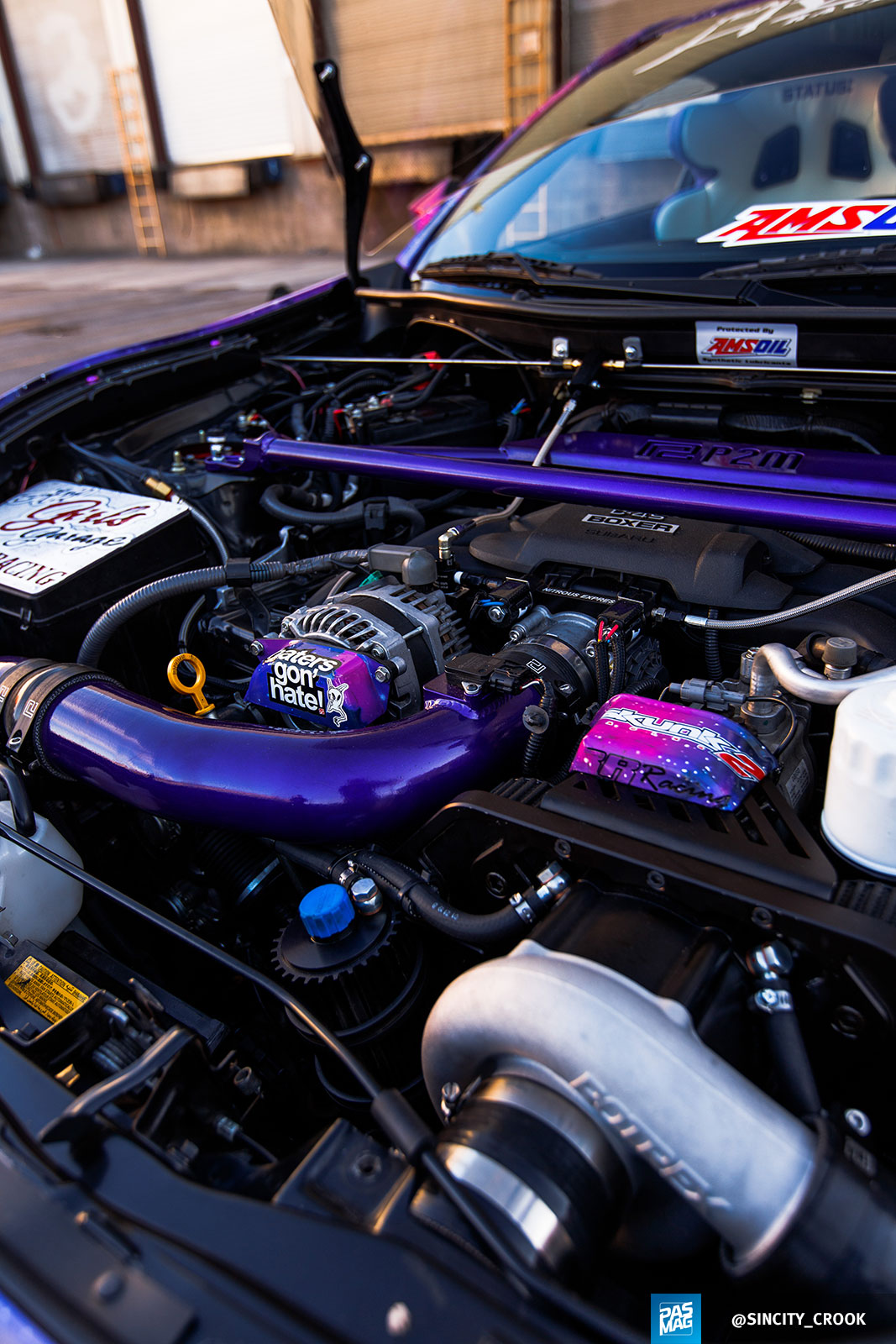 After a few events, the need for speed took over, and the Scion's engine was due for some upgrades. King's bearings, Brian Crower valve springs, CP Carillo 10:1 pistons, and Manley H-Tuff connecting rods would bolster the FA20's internals, while a Kraftwerks C38 supercharger with a pulley upgrade and a Grams Performance upgraded throttle body would drastically improve air flow. Fine-tuned with an EcuTek RaceROM, the setup makes a respectable 280 horsepower at the rear wheels.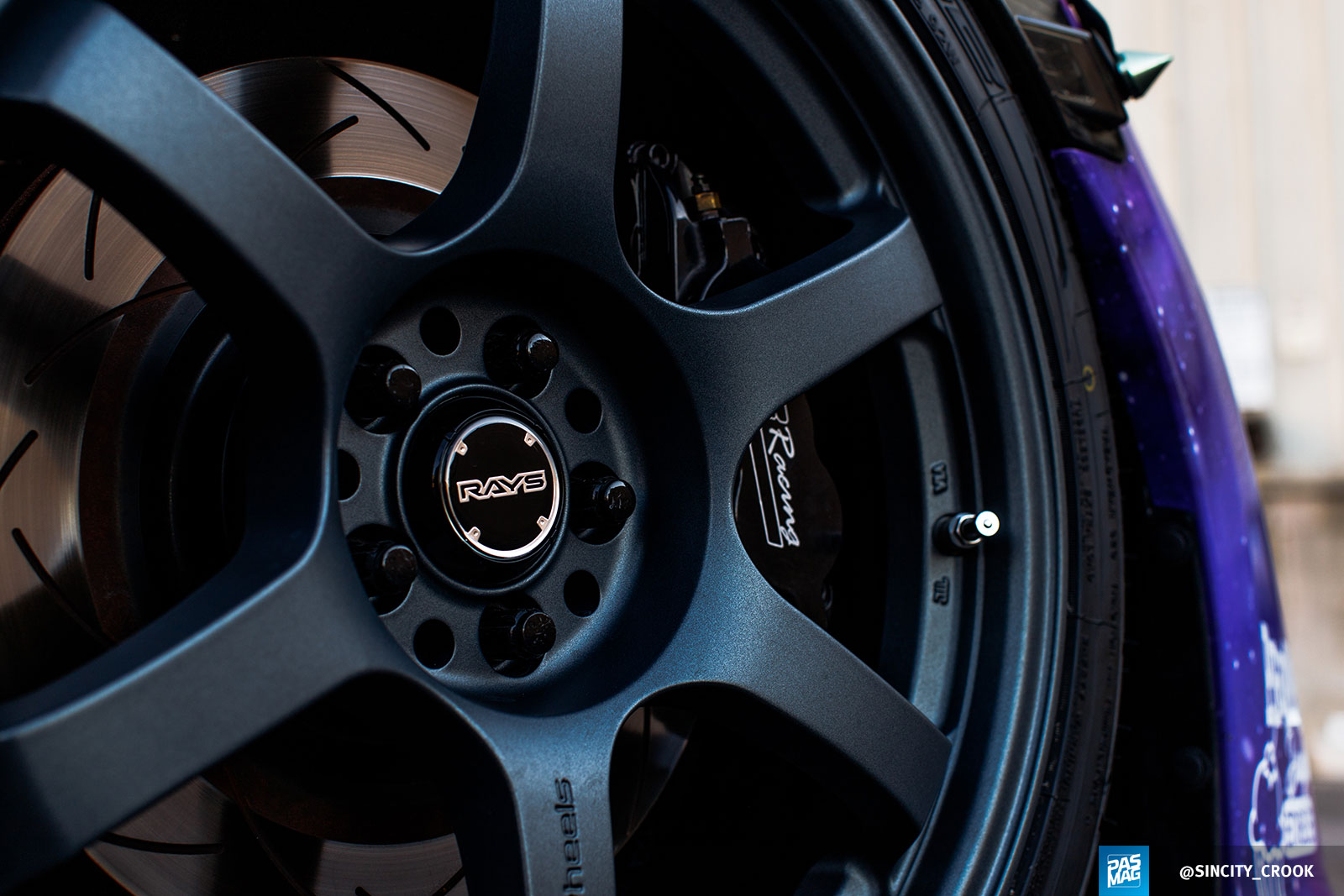 That extra power is put to the ground by way of Nitto Neo Gen tires, measuring 225/40/18, and those are now recently wrapped around 18-inch Gram Lights WGI 57DR wheels - the spoils of victory from Tuner Battlegrounds 2020! Located just behind the front wheels is an RR Racing Sport Performance front big brake kit, adding extra stopping power to the whole ensemble. Performance enhancements taken care of, Crayton didn't want her car to be just another weekend warrior, either. With a deep rooted love for the shows that got her into the scene, she wanted her FR-S to handle itself on the show floor as well.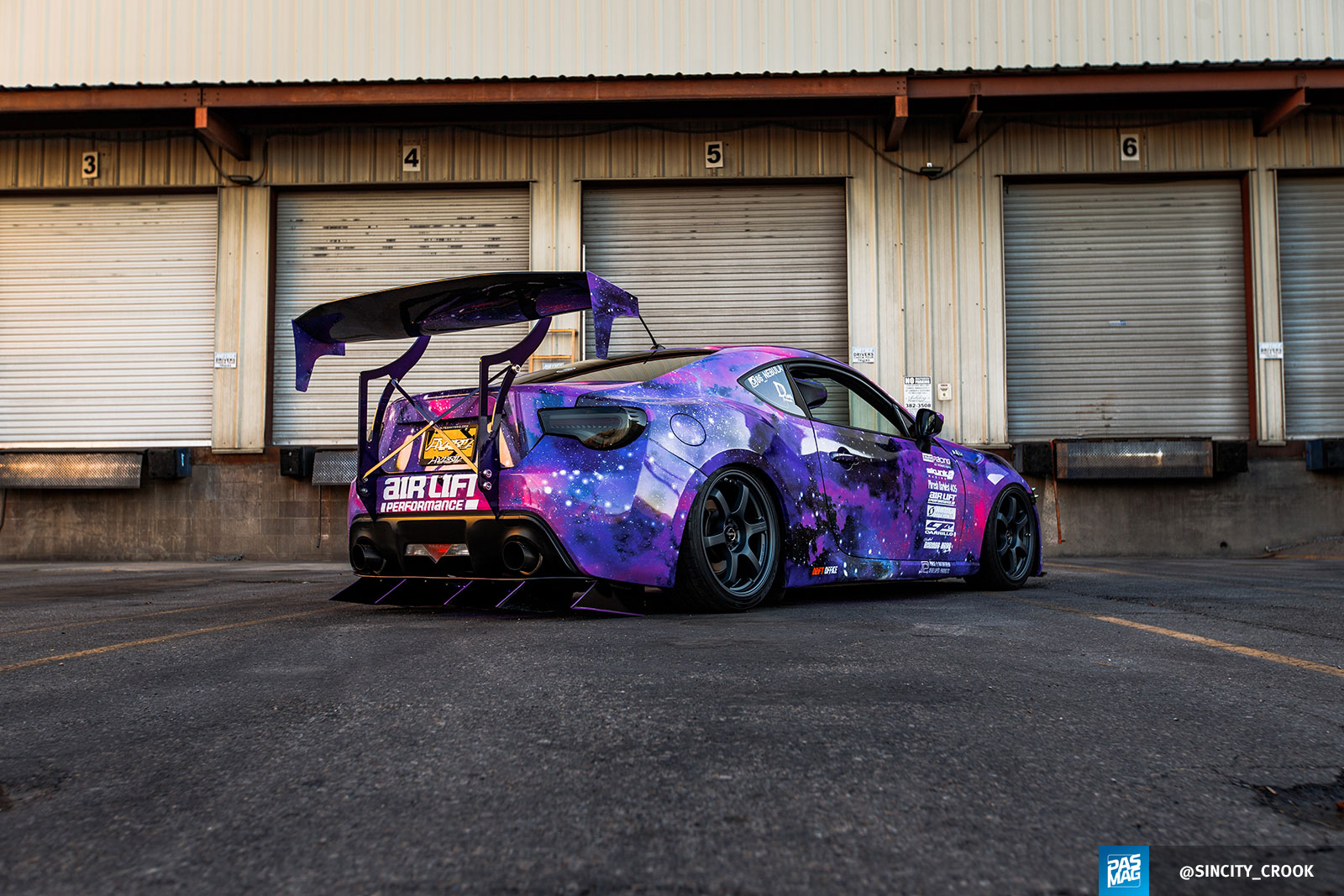 The Metro Wrap Galaxy vinyl wrap is the most noticeable modification from all angles - even with that big Battle Aero chassis-mounted swan neck wing - and was a key part of the reason the car was given the nickname "Nebula" by Crayton. Continuing that theme on the inside is Crayton's handiwork in the form of a twinkling fiber optics starry night sky headliner, which makes for an absolutely breathtaking show piece. Carefully applied support lighting in the form XK Glow underglow and interior lighting goes the distance in setting this FR-S apart as a true dual-purpose vehicle. Thanks to Air Lift Performance's 3P Performance Series air suspension, Crayton gets to enjoy the best of both worlds in the suspension department as well.
Over the years, Crayton amassed several awards on both the track and the show floor from numerous events. In 2019, she attended SEMA to meet the cast of All Girls Garage. The group and Crayton hit it off at the show, and she ended up getting the opportunity to do her supercharger install on All Girls Garage season 9! Despite a tragic spinning of a rod bearing just before they wrapped up filming on the track, Crayton was able to get everything back together in time thanks to MNR Racing.
Her time with the All Girls Garage crew left her feeling inspired. "It's a big challenge being 'lady driven' in a male dominant sport," she tells us. "I've learned to continue to push through and win races and not let that stop me. I let my driving do my talking." Since then, more car show awards and drag race wins have decorated Crayton's record. The Tuner Battlegrounds Championship is just another in a long list of accolades for her!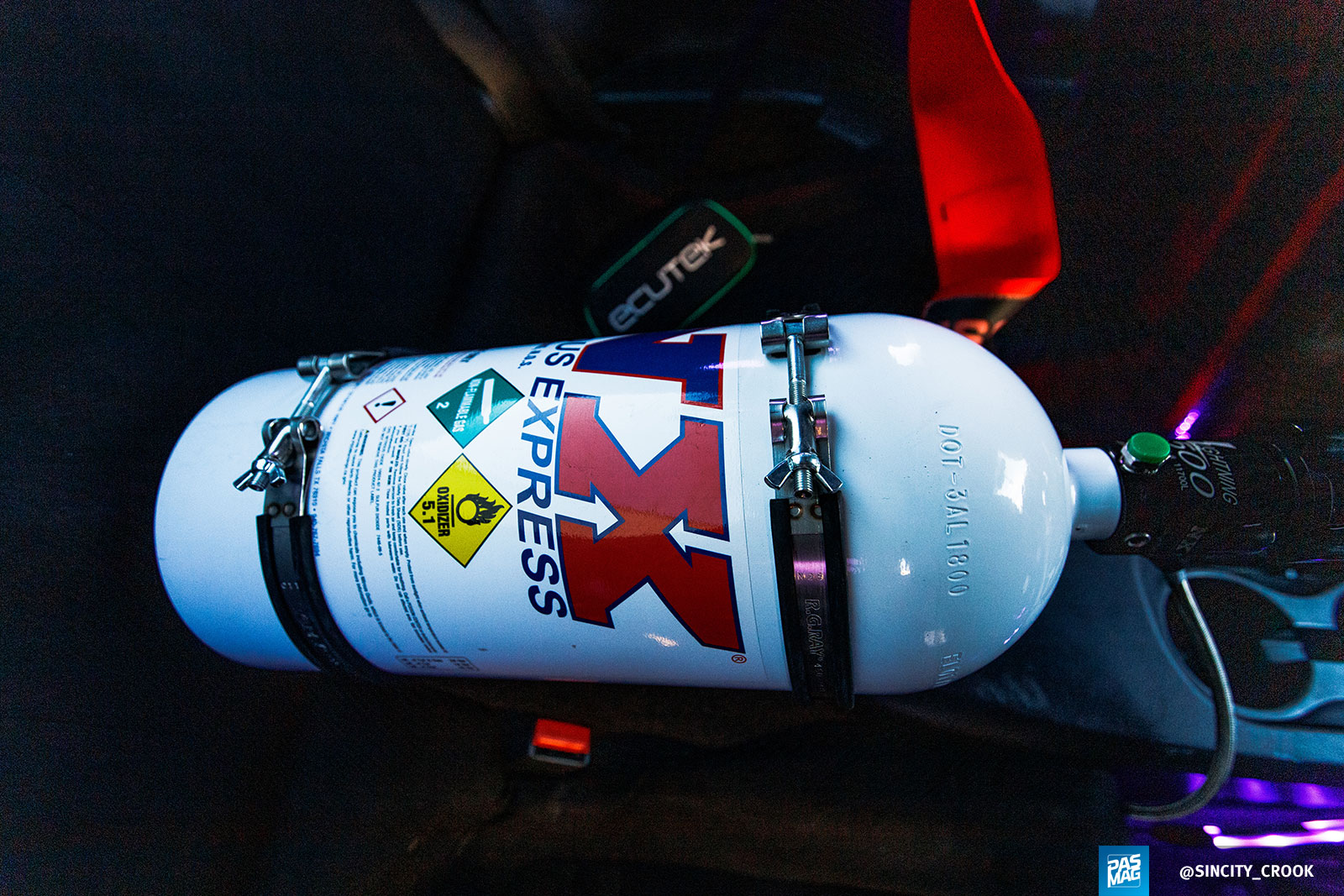 Since winning the Tuner Battlegrounds 2020 Championship, Crayton has added some new modifications to go with those new wheels. Status Racing seats custom tailored to her theme were one of the highlights, and a Nitrous Express kit is probably the most exciting. "My favorite modification is my Nitrous Express kit," she says excitedly. "I like having 100 horsepower at a push of a button." From afar, Crayton certainly seems to be balancing performance and style in equal measures!
With plans to possibly change from a supercharger to a turbo, we know for sure that Crayton's racing tenure is only just beginning. With a Tuner Battlegrounds Championship win under her belt, the sky's the limit now. Whatever comes next, rest assured we'll be rooting for you, Kaylee. Congratulations, champion! Here's to many more wins in your future.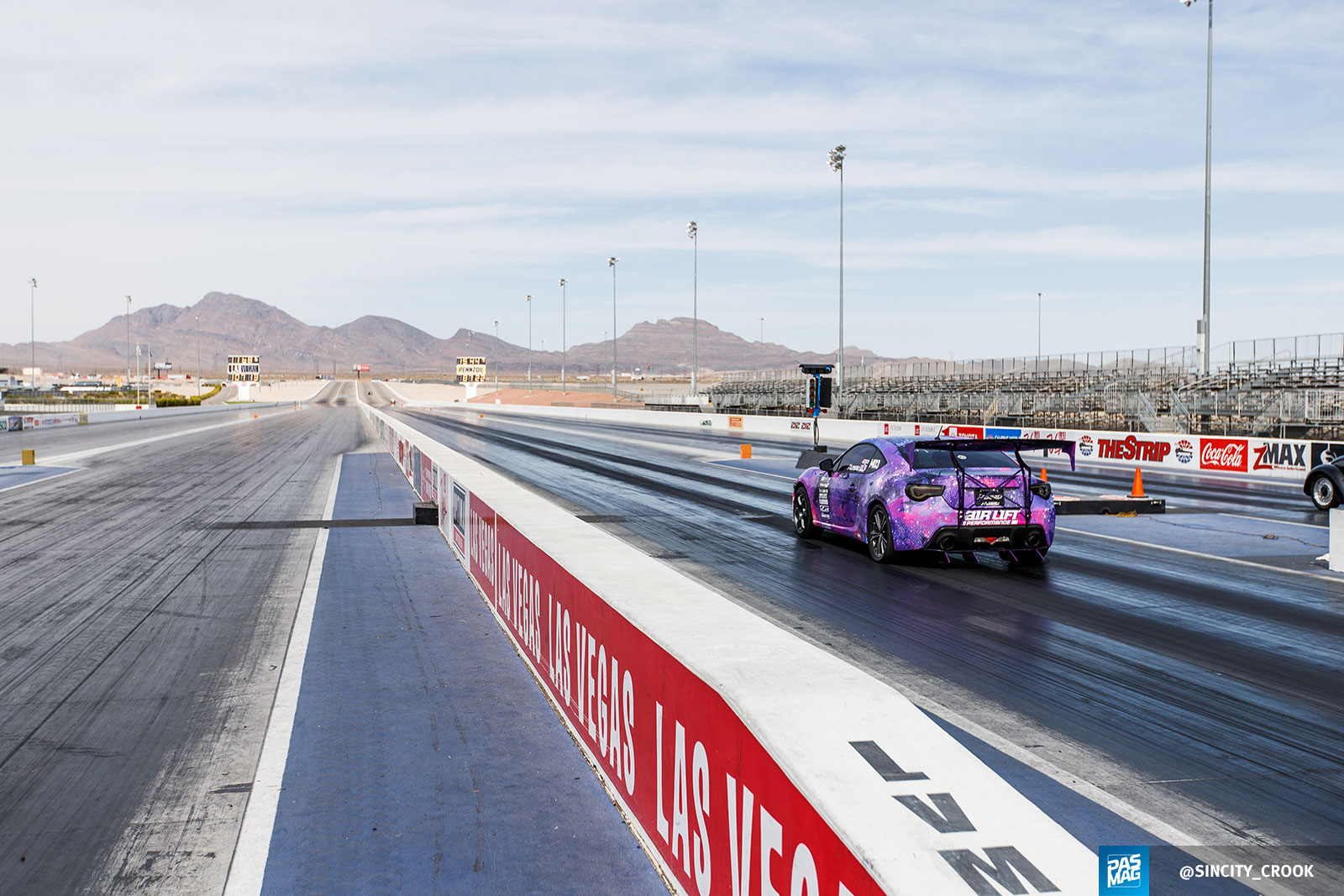 Photography by Jimmy Crook (@sincity_crook)
---
ESSENTIALS
Owner: Kaylee Crayton
Vehicle: 2013 Scion FR-S
Location: Parker, Arizona, USA
Engine: Subaru FA20 2.0L H4
Horsepower: 280 whp
Club: Team Hybrid
SOCIAL
Facebook: /Nebula403
Instagram: @86_nebula
ENGINE
Kings engine bearings
Brian Crower valve springs
10:1 CP Carrillo pistons
Manley H-Tuff connecting rods
Kraftwerks C38 Supercharger w/ pulley upgrade
Ported oil galleys
SSP torque converter
Killer B Motorsport oil pickup
Nitrous Express kit w/ 75 shot
4AN Nitrous purge valve system
Skunk2 Racing (headers, oil cooler)
Grams performance throttle body
EcuTek RaceROM
EXHAUST
DC Sports overpipe
Custom exhaust system
WHEELS / TIRES / BRAKES
Gram Lights WGI 57DR wheels - 18x8.5 (f/r)
Nitto Neo Gen tires - 225/40/18 (f/r)
RR Racing Sport Performance front BBK
CHASSIS / SUSPENSION
Air Lift Performance 3P air suspension system
Phase 2 Motortrend 3-point strut bar
EXTERIOR
Battle Aero chassis-mounted swan neck wing
Gorilla Splitter custom diffuser
APR Performance front lip
Metro Wrap Metro Galaxy vinyl wrap
Smoked clear hood
XK Glow underglow
Valenti tail lights
Smoked white/amber LED side markers
Winjet JDM-style Series 10 headlights
INTERIOR
Status Racing (Nebula Edition Turismo seats, racing harness)
Cipher Auto candy purple harness bar
86 Nebula floor mats
Galaxy fabric (shift boot, E-brake boot)
Metro Wrap Metro Galaxy vinyl accent trim
Twinkle Fiber Optic Lights Star Ceiling 550-piece lighting kit
XK Glow interior lighting kit
AUDIO / MOBILE ELECTRONICS
Android 12.8-inch head unit
SPONSORS
AMSOIL
Renegade
Status Racing
Air Lift Performance
Smokey's Garage
Kraftwerks Performance
Grams Performance
Skunk2 Racing
Phase 2 Motortrend
King Bearings
CP Carrillo Pistons
Pharmers Daughter's Edibles
Dank Extracts
River Dave's Place
Pharvest 405
MNR Racing
XKGLOW
Certified Bad Ass Bro's Racing
---
PHOTO GALLERY