Photography by @killallfenders, @jsherbno, @theryanlopez, @lindmark.photography.
---
Tim Tannhauser has always been into cars growing up. "My dad had been into cars all his life," he remembers, "so I grew up working on them and learning." Tannhauser has owned and worked on three Subarus. He had a 2002 Subaru WRX with a 2.5 STI hybrid swap that was featured in a magazine, and a 2004 STI that ended up blowing up on him. "I wanted to stick with Subaru," Tannhauser mentions, "but wanted something that wasn't the normal Subaru. That's when he ended up with a 2004 Subaru Forester XT.
Since March of 2017, Tannhauser has been upgrading the Forester and making it his own and something unique. He's gained a lot of experience along the way; he appreciated different cars for what they were built for, meeting some of the best people he knows today, and creating great relationships with automotive aftermarket shops. 

Throughout out this build, and his previous builds, Tannhauser has worked with many different companies such as Touge Factory, Six Star Motorsports, P&L Motorsports, JR TUNED, Toyo Tires, SubyFlares, TIBurnt and Stroud Built, Visual Auto Werks, JDM Emergency, and Freedom Mount. Additionally, inspiration comes from his VadedMob family. "They always push me to do what I want to the car," he mentions. "I have built this car for myself to enjoy and not what other people want to see."
Tannhauser's goal is to make this Forester one you don't normally see around; to build the Forester to be a show and track car, all-in-one, and hopefully one day be able to show it off at SEMA.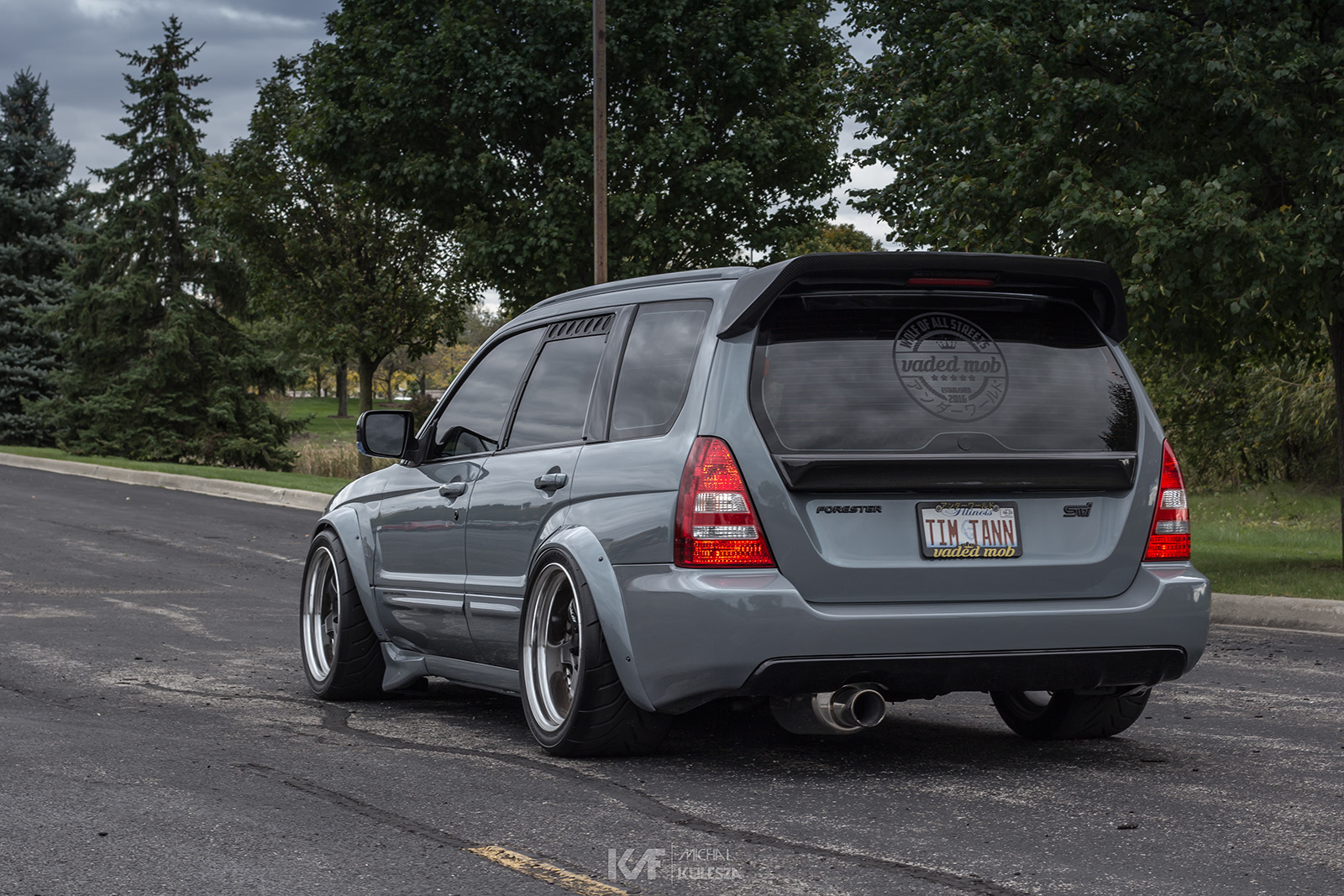 Tim Tannhauser was the Runner-Up in the PASMAG Tuner Battlegrounds award category and online competition at Tuner Galleria in Chicago, IL on March 7th. Click HERE for more details.
---
ESSENTIALS
Owner: 

Tim Tannhauser
Location: Norridge, IL
Vehicle: 2004 Subaru Forester XT
Horsepower: 450 whp
Club: @vadedmob
SOCIAL
Facebook: /tim.tannhauser
Instagram: @tim.tann
ENGINE & PERFORMANCE
Fully built motor & heads
Protuned 440whp/400fpt
Mishimoto radiator
1 of 4 titanium radiator shroud
Subtle Solution hood scoop splitter
Cobb Tuning flex fuel kit
APS SR56 ball bearing turbo
Forge 18psi wastegate actuator spring
Injector Dynamics ID1300 top feed injectors
Outfront fuel rails
Custom fuel lines
2.5 N/A manifold shaved
Fuel Lab fuel filter
Fuel Lab mini FPR
ARP head studs
IAG AOS Comp Series
Perrin cold air intake
Zero Sport intake tube
Perrin turbo inlet
Custom powder coated T clamps
Tomei equal length header
Tomei uppipe
STi oil pan
STi oil dip stick
KillerB oil pickup
Grimmspeed EBC 3-port
GrimmSpeed hood dampers
Group N motor mounts
IAG dress-up caps
Cusco V braces
ZeroSport caps, intake tube
Torque Solutions pitch stop mount
EXHAUST
Invidia V3 catted bellmouth downpipe
Invidia g200 exhaust
PERFORMANCE ELECTRONICS
Cobb V3 Accessport
Cobb Flex Fuel Kit to run e85
04 STI ECU
Custom tune
Defi PSI Link boost gauge
Defi EGT Link gauge
Defi Oil temp gauge
Defi Link controller V2
DRIVETRAIN
05 STi driveshaft
05 STi rear differential
05 Sti front & rear axles
05 STi front crossmember with spacer delete
ACT street light flywheel
ACT Heavy duty street clutch kit "SB4-HDSS"
05 Sti steering rack
05 STi rear subframe
05 STi ebrake system
Whiteline steering rack bushings
Sti factory short throw shifter with Kartboy STS installed
Kartboy front & rear shifter bushings
Kartboy transmission crossmember bushings
TIC shift linkage bushings
Group N rear diff mount
Kartboy rear subframe outrigger comfort bushings
Whiteline rear subframe lock bolts
05 STi steering coupler
WHEELS & TIRES
Work Meister S1 3-piece wheels - 18x11+18/22
Toyo R888 tires - 315/30/18
BRAKES
06 Sti Brembo calipers
Hawk HP street pads
Braided lines
CHASSIS & SUSPENSION
Air Lift air suspension
All suspension bushings replaced with Group N bushings.
Whiteline 27mm adjustable front swaybar
Whiteline 27mm adjustable rear swaybar
Rallitek front & rear endlinks
SubtleSolution fender braces
05 STi front & rear hubs
05 STi control arms
05 STi lateral links
05 STi trailing arms
NRG H brace
Whiteline roll/centre bump steer kit
EXTERIOR
Custom Nardo grey paint job with teal pearl
Suby flares
OEM JDM side spats
OEM JDM front bumper
Custom carbon fiber fog light covers
OEM JDM grill
OEM JDM lower headlight surrounds
STi hood scoop
Custom retrofitted headlights
Carbon fiber eyelids
RARE OEM clear Subaru headlight covers
APR carbon fiber splitter
1 of 10 carbon fiber SYMS spoiler
Carbon fiber mid spoiler wing
JDM 06-08 power folding mirrors with carbon fiber covers
Visual Auto Works window vents
LIGHTING
Starry night headliner
Custom lighting for trunk setup
04 Forester Depo headlights with custom retrofit projectors
RGBW demon eyes
RGBW halos
Panamera shrouds
INTERIOR
Custom trunk setup
Starry night headliner
JDM Europe radio bezel with cup holder
Custom Air Lift Performance control bezel with carbon shifter boot
Recaro Evo X seats
Custom Carbon Fiber Steering wheel
Likewise shift extension and shift knob
05 STi shifter trim with custom carbon fiber overlay double-din dash housing
05+ XT silver gauge surround
05 STi gas, brake, clutch & dead pedals.
08 heater/AC bezel with knobs
Perrin column gauge pods
Diamond stitched carpet covers
AUDIO & MULTIMEDIA
Pioneer AVIC AVHP4200 D3 double-din head-unit
Morel Dotech front speakers
Morel Integra rear speakers
FAVORITE MODIFICATION
"My most favorite modification to the car is probably the flares and paint job. It's a custom paint job that is a Nardo Grey base coat with a teal and white crystal pearl in it. It's a color you rarely see and in the sun and light it can give off a whole different color."
FUTURE MODIFICATIONS
Rotated turbo setup
Start cleaning up engine bay/ try wire tucking
New trunk setup
Custom carbon fiber parts - wiper cowl, B and C exterior pillars, window switches, vent covers, radio and shifter bezel
SPONSORS
SHOPS & MECHANICS
Touge Factory
Six Star Motorsports
SubyFlares
Blackout Coating
TIBurnt
Stroud Built
Boosted Performance
Visual Auto Werks
JDM Emergency
Freedom Mount
PHOTO GALLERY