Pouring your soul into a car is one thing, but being able to identify who you were as a person throughout the process, just by looking at it, is something else. Artem Lavrynenko has created a 240SX from seemingly nothing and transformed it into a self-referential memory album of sorts, while transfusing the S-chassis with the period correct flair it deserves.
When we say "seemingly nothing," we mean it. Lavrynenko bought the husk of a car knowing it had been abused and would take some work, but made the mistake of picking it up under the cover of night. The next morning is when the panic set in.
"I've seen shells in better condition go to scrap," he winces. "I immediately wanted to get rid of it. So many parts were missing. The interior was in pieces, rust holes everywhere, there was a plumbing valve where the handbrake should be, a pair of women's yoga pants in the engine bay, and the smell of rats living in it combined with cigarettes was making me sick every time I stuck my head in the car."
Offers for trades on the car were hastily made, but when one prospective owner scoffed at the car, called it a bucket, and told him to spray paint it black, list it for $3,000 and take $1,000, Lavrynenko took it personally. He immediately got started on the project car, full of pissed-off enthusiasm.
For the next three months, Lavrynenko pulled full days working on the 240SX in a friend's rented garage, or sometimes, just outside of it in the middle of winter. Thankfully, wrenching on his own vehicle wasn't a new concept and he had a clear plan in mind for where he wanted to go with this build. Converting his previous Subaru Legacy GT wagon to rear-wheel drive for drifting was a personal point of pride for Lavrynenko, but made for a brutal daily driver. With the Nissan, he would aim for the perfect balance.
For this blend of performance, aesthetics, and reliability, he employed the full drivetrain from an S15, plus a 4.3 welded differential. The '90s vibe was nailed with full Bomex aero and a set of CST Demon Camber wheels dialed into a tasteful stance. The wangan-style B-Wave wing really just sets the whole thing off.
"I wanted to build a car that I could drive every day without any issues, look like it could be seen street drifting in Japan in the mid '90s, and have a blast track drifting with my friends," Lavrynenko says. "The beauty of it is that I can track who I was as a person, at whatever time, just by looking at the build and seeing the different styling influences and what I was focused on at that time."
To be able to take a "bucket" that's previously been on fire twice and turn it into a balanced fun machine, full of memories and experiences, is something seriously special. Hanging onto that shell was a great decision, and now, we'll all be able to see how it matures along with him.
Artem Lavrynenko's 1989 Nissan 240SX is featured as a Builds To Follow in PASMAG #165. Click here to order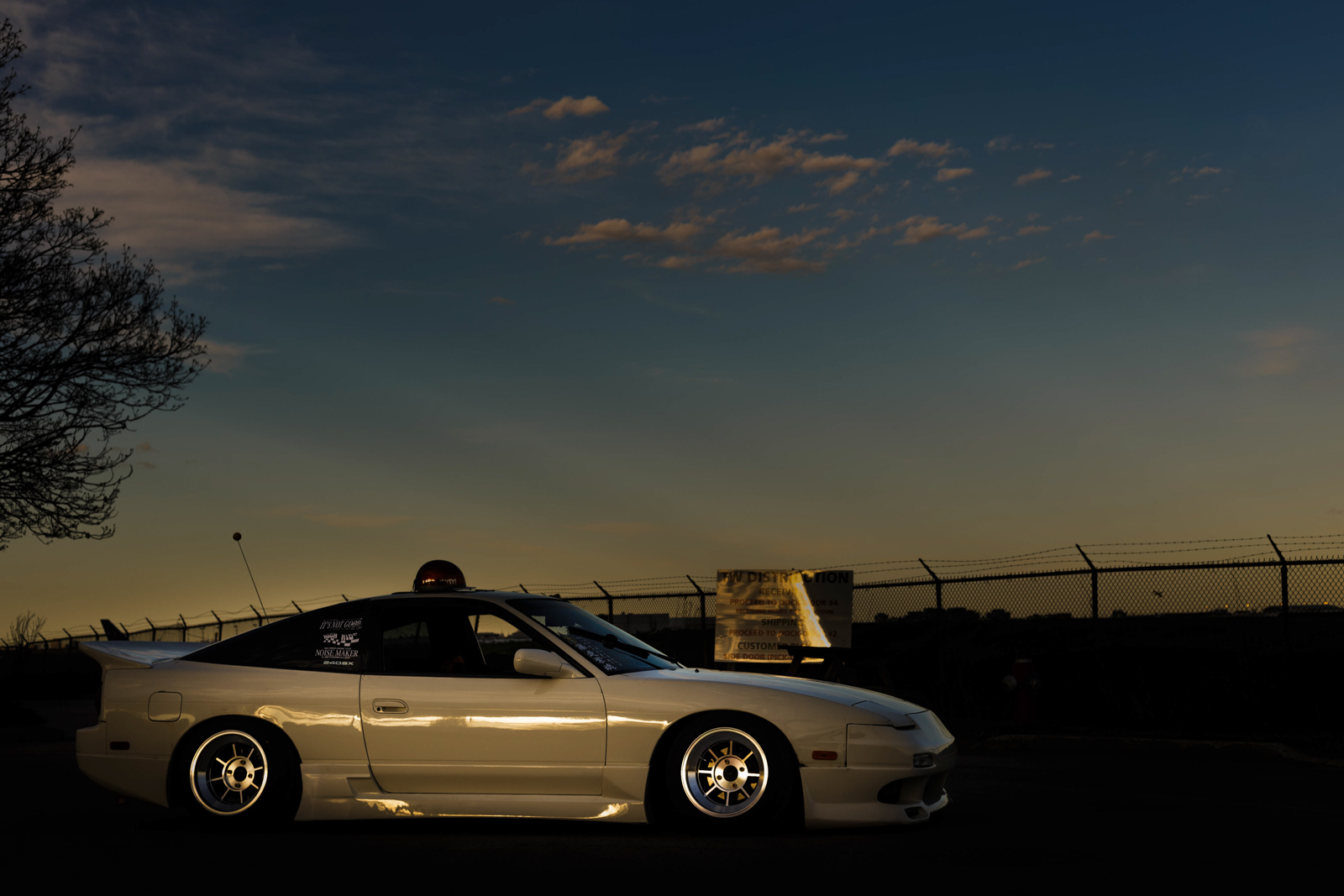 ---
PHOTOS BY Artem Lavrynenko
ESSENTIALS
Owner: Artem Lavrynenko
Location: Brampton, Ontario, Canada
Vehicle: 1989 Nissan 240SX
Horsepower: 162 hp (est.)
Torque: 141 ft-lb (est.)
ENGINE
Nissan S15 SR20DE engine swap
HKS air intake
Koyorad radiator
EXHAUST
Custom 2.5-inch exhaust
Twin blast pipes
DRIVETRAIN
Nissan S15 5-speed transmission
Welded 4.3 differential
Nismo flywheel
WHEELS / TIRES
Hayashi CR Type wheels - 15x9 -13 (f/r)
CST Demon Camber wheels - 15x7.5 -5 (f/r)
Direzza DZ103 front tires - 195/55/15
Antares Ingen rear tires - 195/55/15
CHASSIS / SUSPENSION
HSD coilovers
SPL (camber arms, caster arms, toe arms)
S14 240sx lower control arms
EXTERIOR
Bomex (front bumper, side skirts, Bonneville rear valence)
B-Wave wing
Brain Scratch headlight cover
INTERIOR
Nardi steering wheel
Beautiful Boy Racing shift knob
Quattro bucket driver's seat
Bride Pro passenger seat
Full sound deadening
---
PHOTO GALLERY