Photography by Brian McGee (@itsjustbrian)
---
When you think "JDM supercar," visions of Supras, GT-Rs and RX-7s probably dance around in your head.
You're probably not fantasizing about a Scion FR-S ("Toyota GT86" abroad, and now "Toyota 86" in North America after Scion's demise) with its burbling two-liter flat-four. Sure, you could swap in a turbo'd 2JZ or an all-American LS, but that's been done a few times. Ryan Tuerck knows all about swapped 86s, as he currently owns two: one personal and one business, both with a 2JZ under the hood.
Other than being a Top 10 professional drifter, Ryan has always had it in his head that he'd own a certain kind of engine and swap it into something unexpected. With his most recent project, he's come pretty damn close, and built his own JDM supercar.
"It started with a dream of mine to have a Formula One engine and put a Formula One engine into something in general," he recalls. "This is the next best thing. It's a high-revving 4.6-liter V8 with a flat-plane crank that sounds incredible, and it makes enough power to have a blast. Why not?"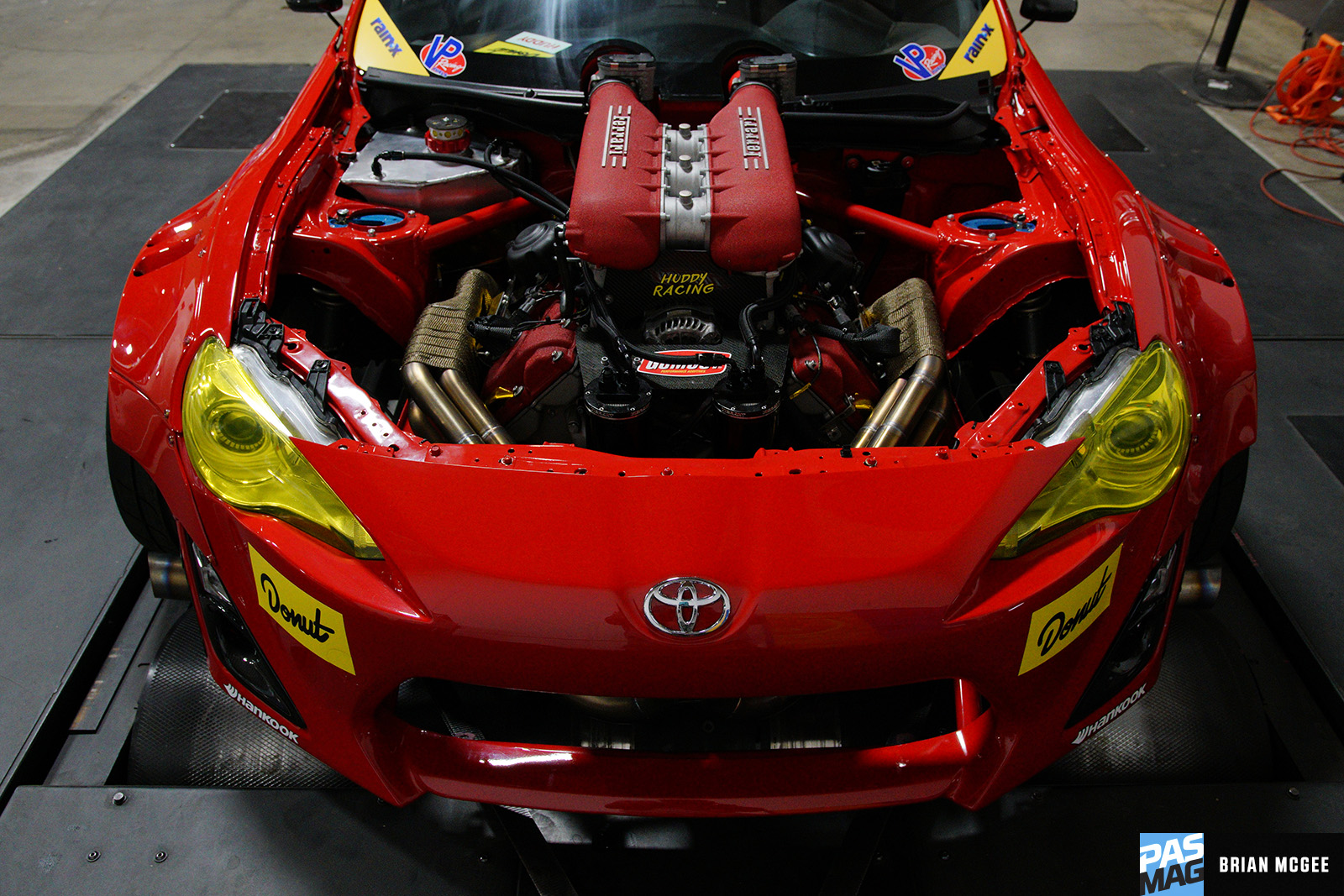 That's right, he's gone and put a Ferrari 458 Italia engine into a Toyota 86, and came up with a fantastic name for it, too: GT4586.
Now, where does one snag a Ferrari engine? While you can probably sell organs for one on the black market, sometimes it's just as easy as knowing someone. In this case, Huddy MotorSports' own Huddy had a close friend who had recently crashed their 458. The front end was crunched, but the engine and drivetrain were fine, so Tuerck didn't think twice in snapping it up for something special.
The platform of choice was a no-brainer as well. Given Tuerck's affinity for the ZN6 chassis, it was only natural that he would source an 86. It was also natural that the shell and engine would head to Huddy MotorSports, where teardown, prep, and fabrication happened immediately.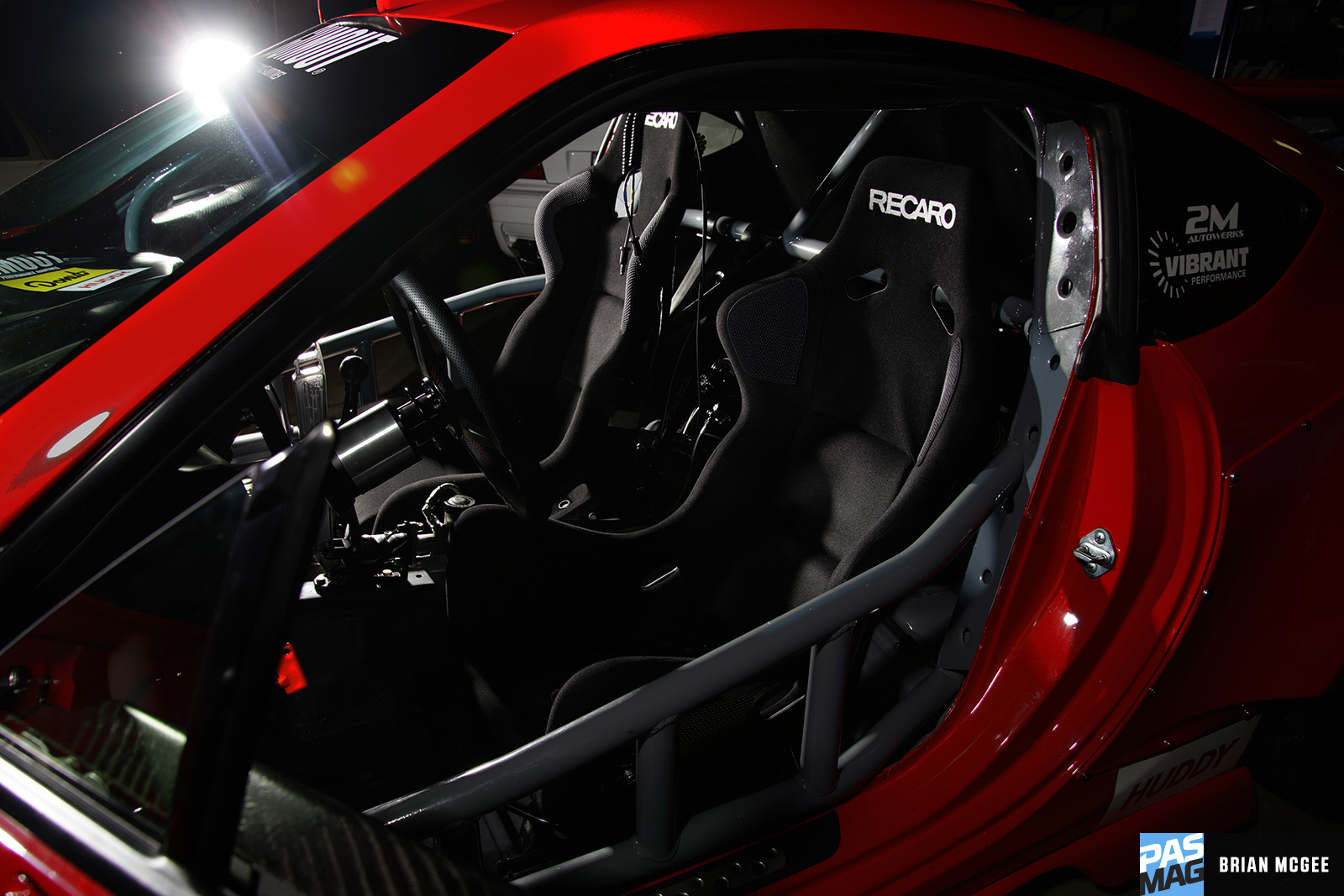 Without a Formula Drift rulebook to keep them in line, the crew at Huddy were able to go nuts on the custom roll cage and extensive chassis bracing. Roll cage tubing is actually being run through the firewall, to the front strut tower, and then triangulated back to the firewall. All of this extra bracing allows suspension to be setup in the most consistent way possible. This isn't just Tuerck's drift car with a Ferrari engine in it – this is a whole different beast.
That being said, the balancing and weight of the car isn't far off from the 2JZ-equipped ones that Tuerck is used to. The V8 is a lightweight all-aluminum block, and unlike the 2JZs in the competition and street cars, the Ferrari F136 doesn't have a huge Garrett turbo hanging off it, so, even if there are two more cylinders and 1.6 more liters of displacement, the weight and balance of the car is fairly similar, if not a little lighter.
Speaking of the horse heart, that was the next thing to be worked into the 86's body. Mounted front-to-back and side-to-side, the Ferrari powerplant is tilted just so the throttle bodies are cutting through the windshield wiper tray (don't worry, Tuerck uses a ton of Rain-X). Having the dual throttle bodies pointed outwards, towards the front of the car would not only look ridiculous, but also wouldn't let Huddy Racing showcase their fabrication genius.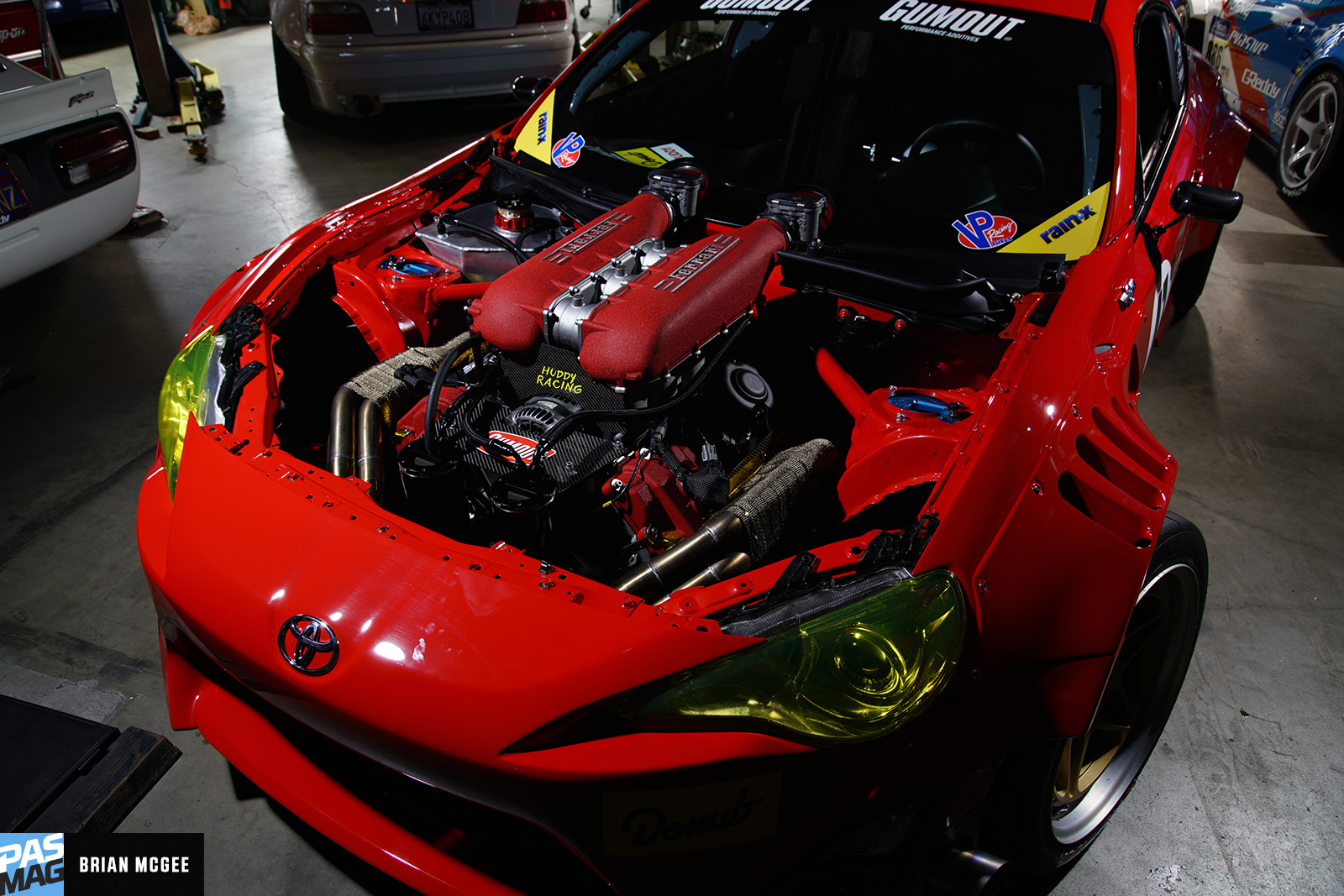 One piece of said genius is their custom induction box that sits just under the dash. Inside the big, shiny breather sit two high-flow air filters, sourcing air for the Italian V8, which are directly inhaling air from inlets integrated into each front fender. The custom louvering done on each Rocket Bunny V1 wide fender isn't just for looks, it actually channels air towards the integrated inlet towards the rear of the fender, which is then fed through piping that travels through the firewall and into the induction box in the cabin. It's an incredible system.
Incoming air is also channeled up and over the car by a carbon fiber roof scoop that has been nicely fit in-between the OEM aero moldings. The captured air is directed through a hole cut into the lower part of the windshield and into the trunk, where the cooling system lives. The rear-mounted cooling system is made up of a Mishimoto circle track radiator, dual-pass oil cooler, and twin 12-inch race fans, pulling around 5,600-cubic-feet-per-minute of hot air, combined, which is then shot out of the cooling holes cut into the rear of the 86.
A huge part of the Ferrari 458 that Tuerck and the Huddy team wanted to retain is its signature F1-style wail, and that could only be replicated in the GT4586 if the headers made for the engine were very similar in terms of size, length, and design of the ones that were made in Maranello. The crew at Huddy studied all of these factors closely and came up with a bumper-exit exhaust design to match the length of the original headers. Branching off of the block, four TIG-welded 304 stainless pipes run along the length of the red engine before meeting at a Vibrant Performance collector on each side, which then turn into some seriously fat pipes that meet dead center and are welded together into an X-pipe. After the cross, each pipe exits through the bumper on either side in a titanium-tipped muffler that spits flames when annoyed.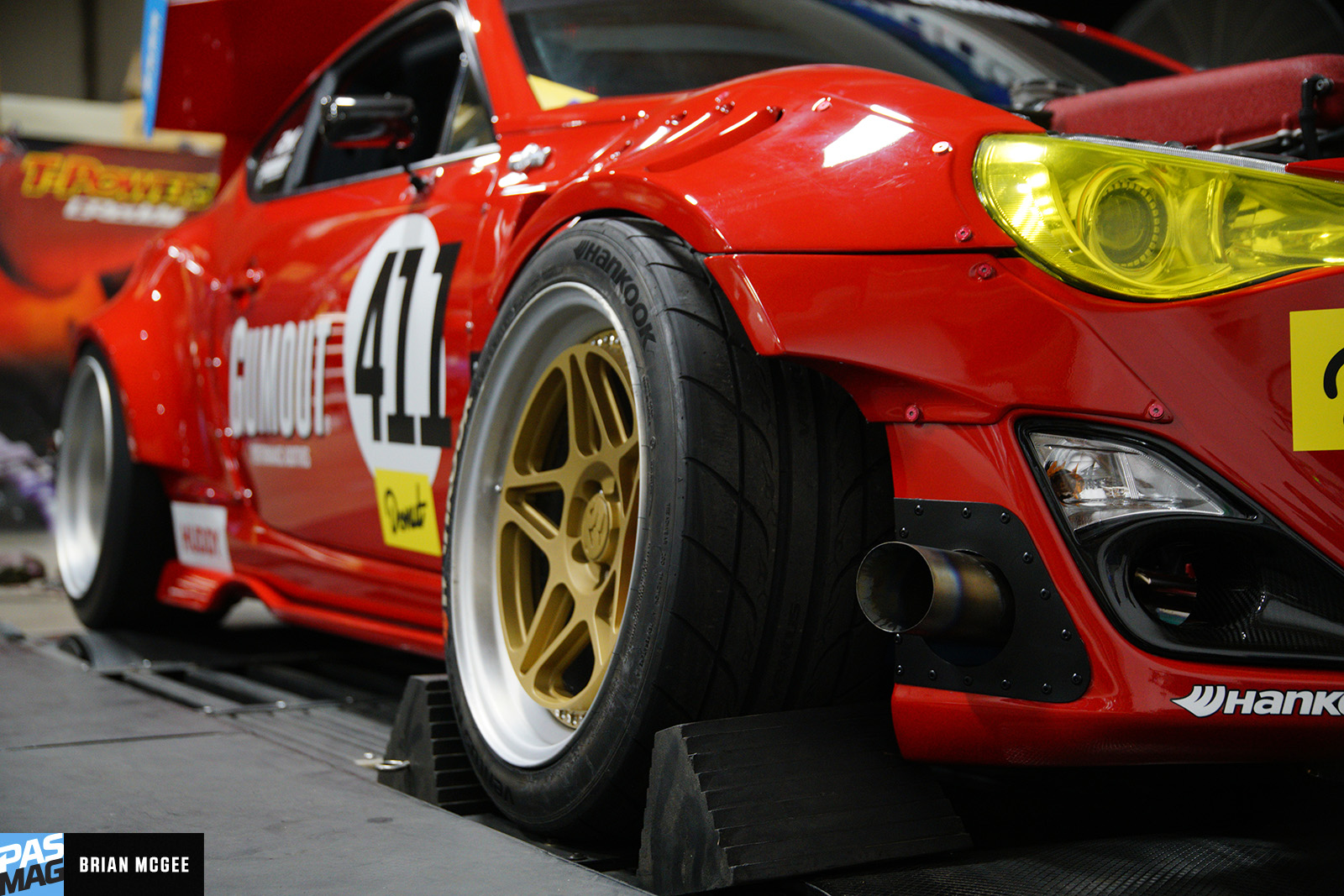 Taking the approximate 580 horsepower (after a tune from John Reed Racing was applied to the Motec M142 ECU) from the Ferrari engine and putting it to the ground is a drivetrain system made of some of the finest names in the business. The transmission is a five-speed sequential unit from Fortin Racing, which is usually thrown in 1,000-horsepower trophy trucks, that features a flat-shift function, so Tuerck can put his foot to the floor, grab a gear, and melt some tires. That tire-melting power is transferred through a Driveshaft Shop aluminum driveshaft to a two-way Tomei differential, spinning the rear Fifteen52 wheels.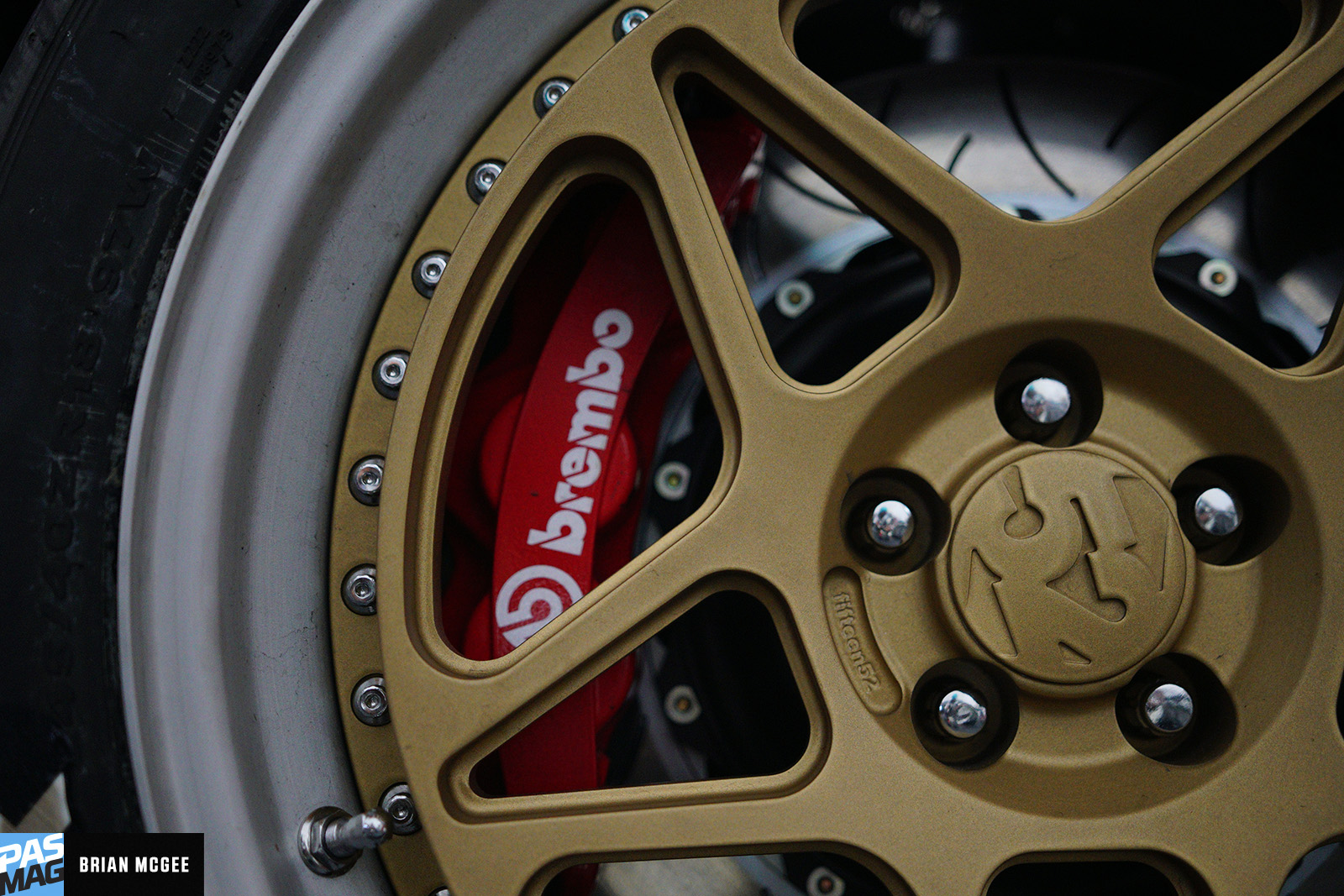 The Fifteen52 wheels mentioned are actually the very first set of their new Penta three-piece design, cut fresh for Tuerck right before SEMA, and feature a little extra lip and concave in the rear to accompany the massive -22 offset. Brushed gold in the center with a polished lip to pay homage to 'Rarri racers of old and wrapped in lightly-stretched Hankook RS3s, the GT4586 is ready to do work sideways in conjunction with a full suspension kit from Wisefab.
Ferrari tie-ins don't stop there either. David Mendoza and his artists over at 2M Autowerks sprayed down the 86 in such a vibrant shade of red with a glass-like finish that it would make any prancing horse blush. The interior has also been sprayed in a drift staple color that Tuerck refers to as "East-Coast-style gray." And with the interior now feeling like home, Tuerck decided to furnish it with a Recaro Profi Spa racing seat, Takata Racing six-point harness, and a big ol' Nameless Performance handbrake. Cozy.
At the end of the day, this is something that couldn't have happened without the immense support of all involved, and Tuerck acknowledges that it really couldn't have been done without his primary sponsor, Gumout.
"I'm super lucky to have a supporter like Gumout that is down to support my wild ideas and push the limits of engine swaps," he says, grinning. "This is something that I've thought about for a long time, and didn't know how it would happen, but it's happening, so I'm stoked!"
From start to finish in just under five months, Tuerck and friends rushed the car from Huddy HQ to SEMA, with a literal minute to spare before load-in closed up for the show. Unfortunately, the hood was damaged in some early test driving, but putting a hood on all of that hard work, dedication and ingenuity would be a crime. Plus, as the thousands of showgoers the GT4586 drew during the course of SEMA would agree, it looks way better on Instagram like that.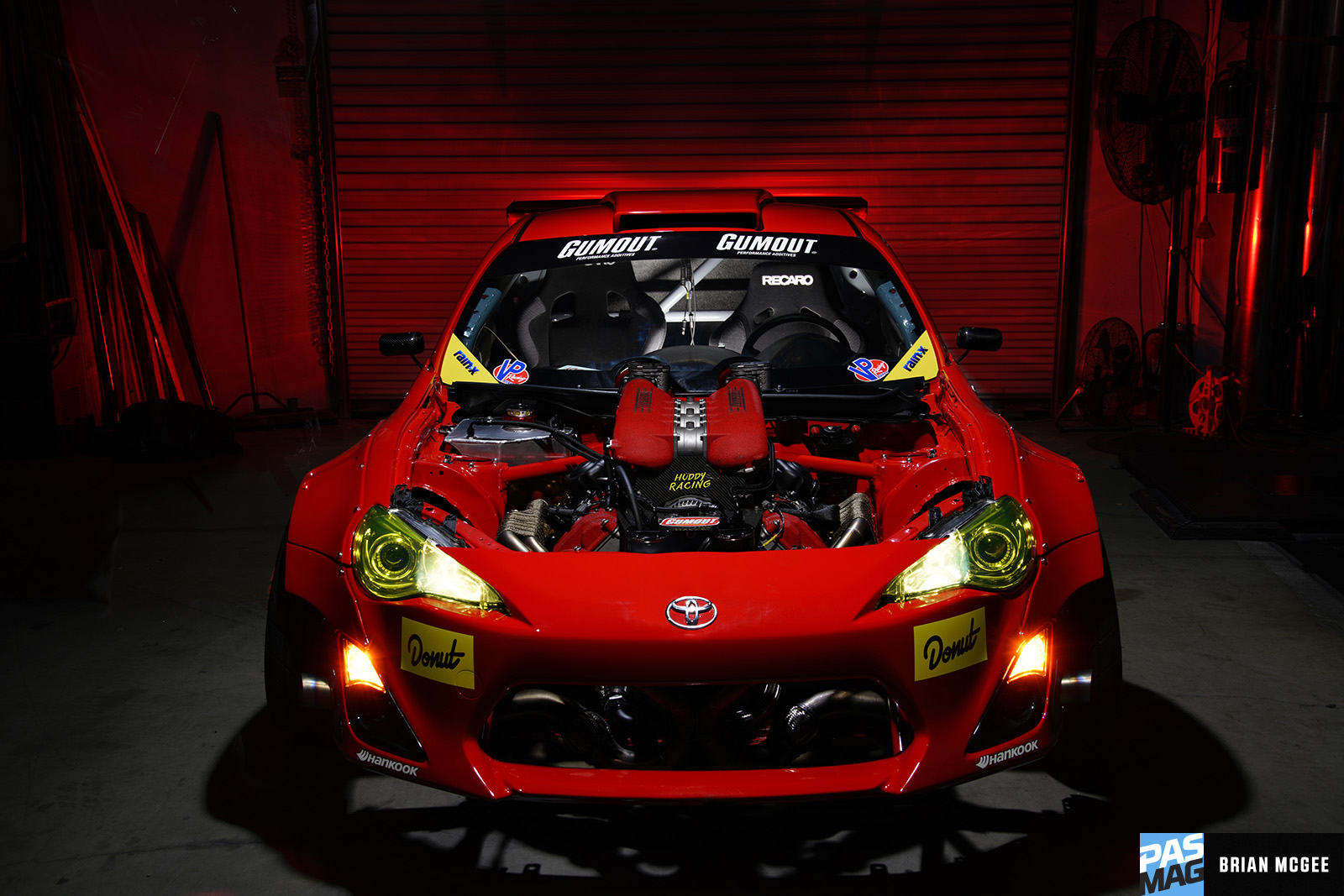 ---
ESSENTIALS
Vehicle: Toyota GT86
Driver: Ryan Tuerck
Built by: Gumout, Huddy Racing, Ryan Tuerck, 2M Autowerks
Location: San Diego, CA
Engine: Ferrari F136 4.6L V8 Horsepower: 580 - 600 hp (est.)
ENGINE
Mishimoto (circle track radiator, dual-pass oil cooler, 12-inch race fans (2))
DeatschWerks (DWFF160 fuel filter, fuel pressure regulator, FPR gauge, fuel pump)
Optima Yellow Top battery
Fuel Safe Spectra-Lite 10-gallon fuel cell
Vibrant Performance (oil catch cans, hoses, fittings)
Huddy Racing oil tank
Gumout performance additives
VP Racing MS109 race fuel
Motec M142 ECU
Unicorn Garage (engine harness, chassis harness)
John Reed Racing custom tune
EXHAUST
Huddy Racing custom (headers, exhaust system)
Vibrant Performance fabrication components
DRIVETRAIN
Tomei 2-way differential
Driveshaft Shop (aluminum driveshaft, axles, stub axels)
Fortin 5-speed sequential transmission
CHASSIS SUSPENSION
Huddy Racing (roll cage, chassis bracing)
BC Racing DR Series coilovers
Wisefab (suspension kit (f/r), steering angle kit)
WHEELS / TIRES / BRAKES
Fifteen52 Penta 3-piece wheels – 18x9 -3 (f), 18x10 -22 (r)
Hankook RS3 tires – 245/40 R18 (f), 265/40 R18 (r)
Brembo big brake kit
Nameless Performance handbrake
EXTERIOR
2M Autowerks custom paintjob
Huddy Racing x 2M Autowerks custom
Rocket Bunny V1 over fenders
Rocket Bunny GT wing
Huddy Racing custom (roof scoop, rear diffuser)
INTERIOR
Motec (PDM15 keypad)
Takata Racing Race 6 6-point harness
Recaro Profi Spa racing seat
SPONSORS
Gumout, Black Magic, Huddy Racing, Donut Media, BC Racing Suspension, Optima Batteries, Vibrant Performance, 2M Autowerks, Fifteen52, Brembo, Mishimoto, Wisefab, DeatschWerks, Driveshaft Shop, Nameless Performance, Recaro, Takata, Fuel Safe
PHOTO GALLERY