Photography by Brian McGee
---
This Car Was Built for Showing, and That's Just It'll Do
Build inspiration can strike from just about anywhere, and it doesn't have to always automotive-related either. We've heard and seen all kinds of stories about design inspiration, but footwear might be a first. For Kristin Justus, her love of shoes, specifically the famous red soles of fashion designer Christian Louboutin's creations, drove her in the direction of a Subaru WRX ready for the catwalk. She's even got the Louboutin shoe tattoo to prove it.
Searching for a new daily driver, but still wanting to keep it fun and shift her own gears, Justus landed at a Subaru dealer and in the seat of a new WRX. Loving the performance and smooth, short shifts, she left that day with ideas to change up the appearance of her newly-acquired WRX; nothing big. Justus had built a show-worthy Civic years ago, and still dabbled in some motorbike bolt-ons here and there, but those days were behind her - or so she thought.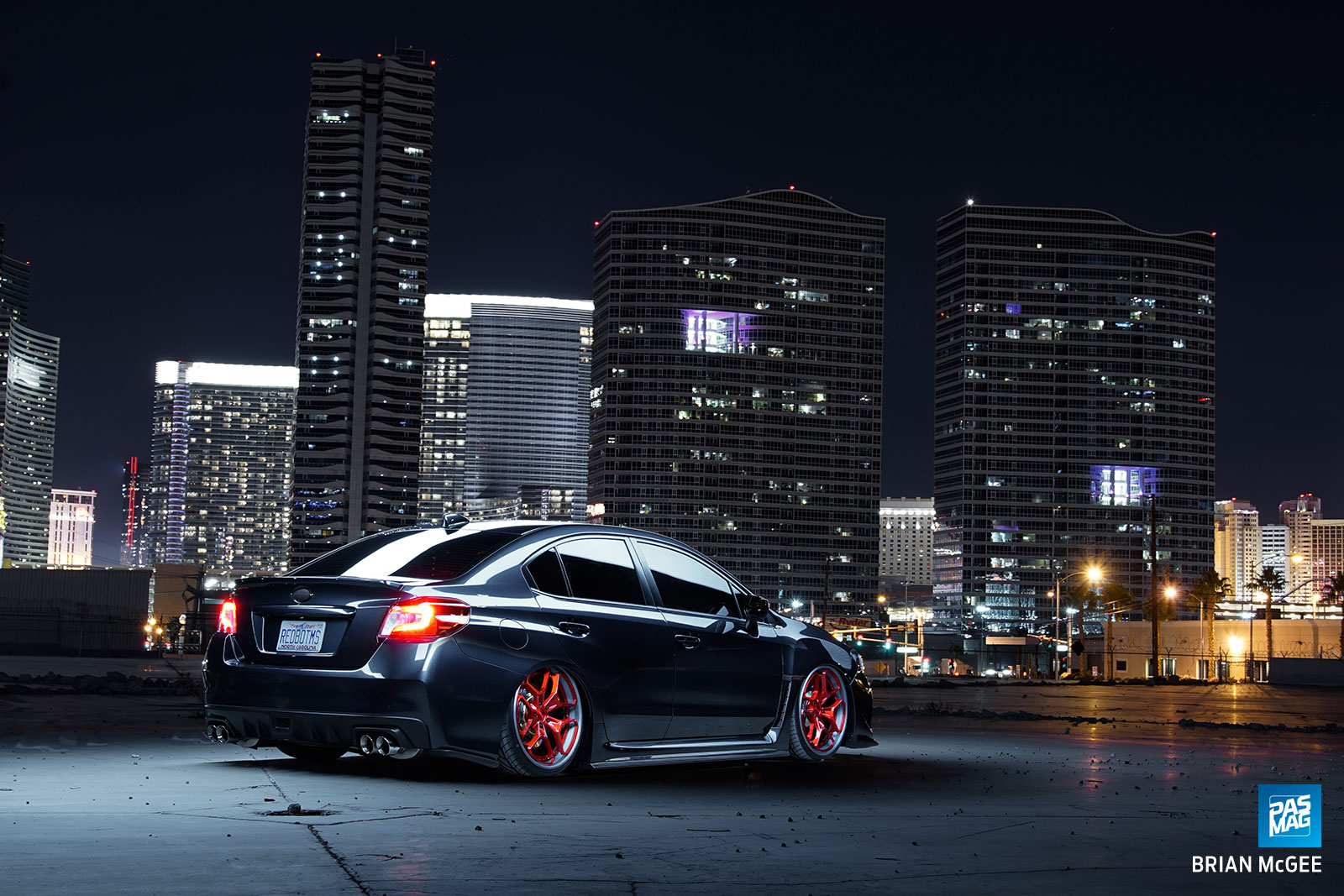 The thought mill kept turning as she arrived home and started chatting with her boyfriend, Brandon Burrell. Burrell has built quite a few custom cars in his day, even having one of his trucks featured in PASMAG Trucks a few years ago, so, naturally, he pushed for more outlandish modifications, even throwing the word "SEMA" into the mix as the two came up with a list of things they'd like to do. As they continued to talk, these fantasy mods moved more into the realm of reality and the go-fast grocery getter quickly became a show-stopping concept.
"After only a few months, the car was completely gutted and then transformed into what it is today," says Justus, thinking back. "I didn't get my 'grocery getter' as originally planned, but I wouldn't have it any other way."
Enhancing the Dark Gray Metallic exterior of the WRX are some seriously impressive custom headlights by Plain An Simple. Using Diode Dynamics' "Demon Eyes" and LED bulbs, while converting the LED "C-lights" to switchbacks, these headlights paired with the dual six-inch light bar setup behind the middle Grillcraft grille make for a menacing appearance when the sun goes down. Beginning the red bottoms theme of the car are some Rotiform HUR three-piece wheels in 20x8.5, with brushed candy red faces and brushed gray barrels.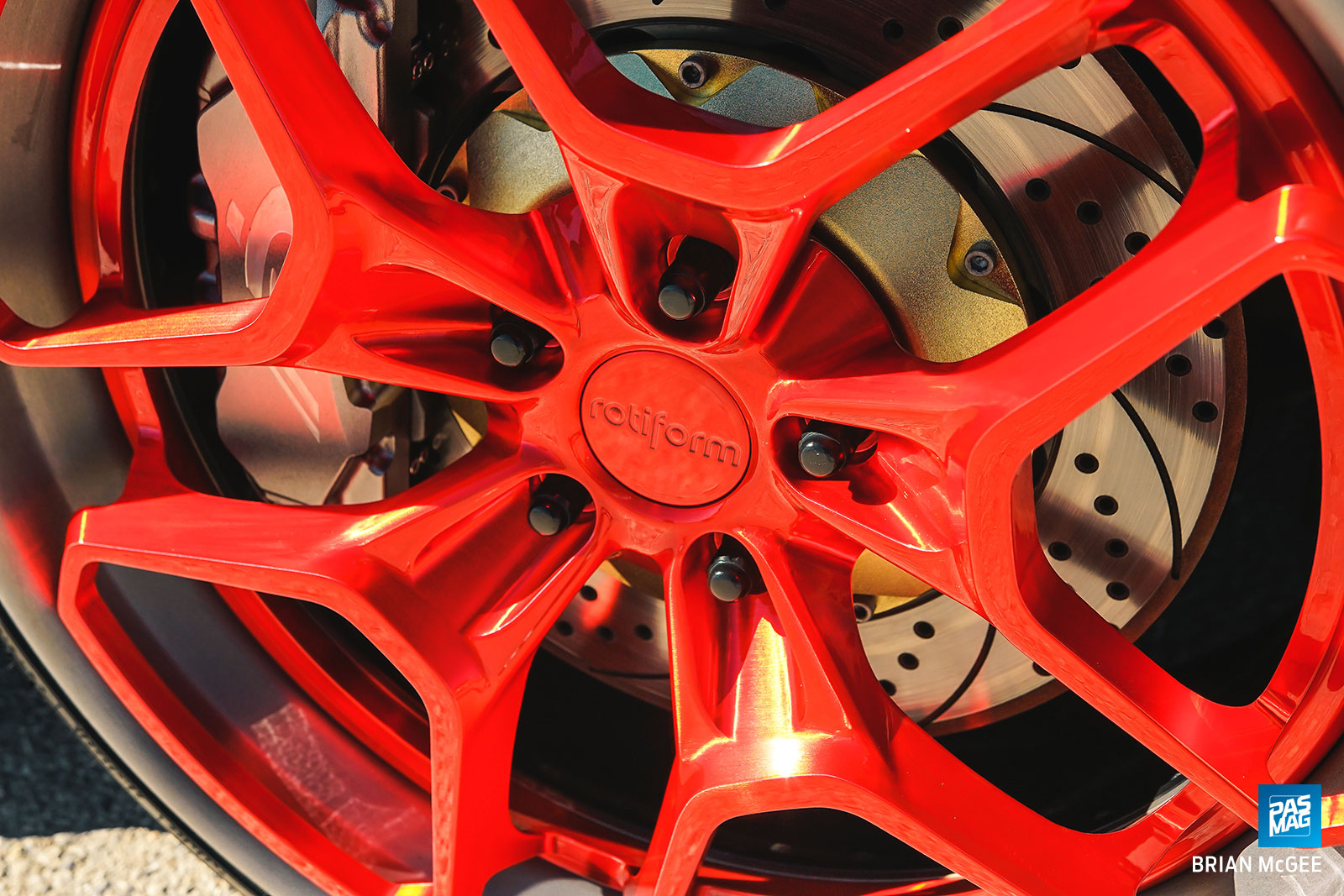 For those wondering about what "red bottoms" even are and how it applies to footwear, it's in reference to Christian Louboutin's signature design of a dark heeled shoe with a bright red sole. The story goes that in the early '90s, Louboutin had just received a prototype of the latest heel he had designed, but was let down by how the physical shoe failed to match what he envisioned from his drawing. Fatefully, his assistant was painting her nails red at the time, so in a moment of inspiration, he grabbed the bottle of nail polish and coated the sole of the heel in red, feeling then that what he had created measured up to his concept. From then on, red bottoms have been synonymous with Louboutin.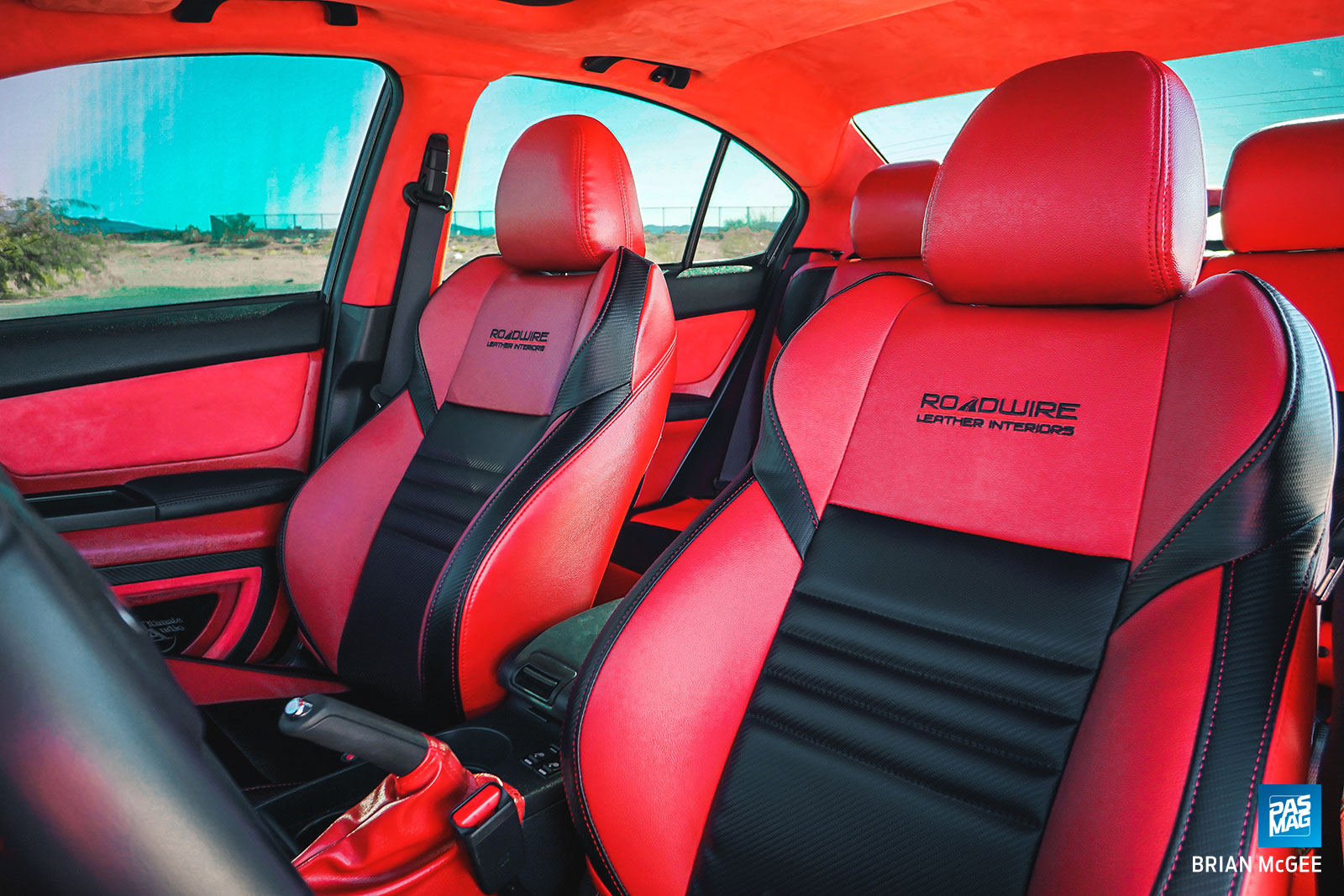 Some red wheels on a dark gray car isn't exactly enough to call it a red bottoms theme, but that's being said before opening up the doors and taking a peek into the interior. Inside is a stunning contrast, as mostly everything has been reupholstered, coated, or wrapped in a bright red. Roadwire's red and black leather covers transform the front and rear seats and some interior panels, while red vinyl is wrapped on the lower half of the dash, and red suede makes up the new headliner. Nestled in the customized door frames are two sets of Memphis Car Audio M-Class 6.5-inch components each up front, with another set split between the rear doors, which are all rimmed by red LED strip lighting. Even some cubbies have been hollowed out for the Air Lift Performance air suspension system controller and Cobb Accessport tuner in a custom panel, just below the climate controls.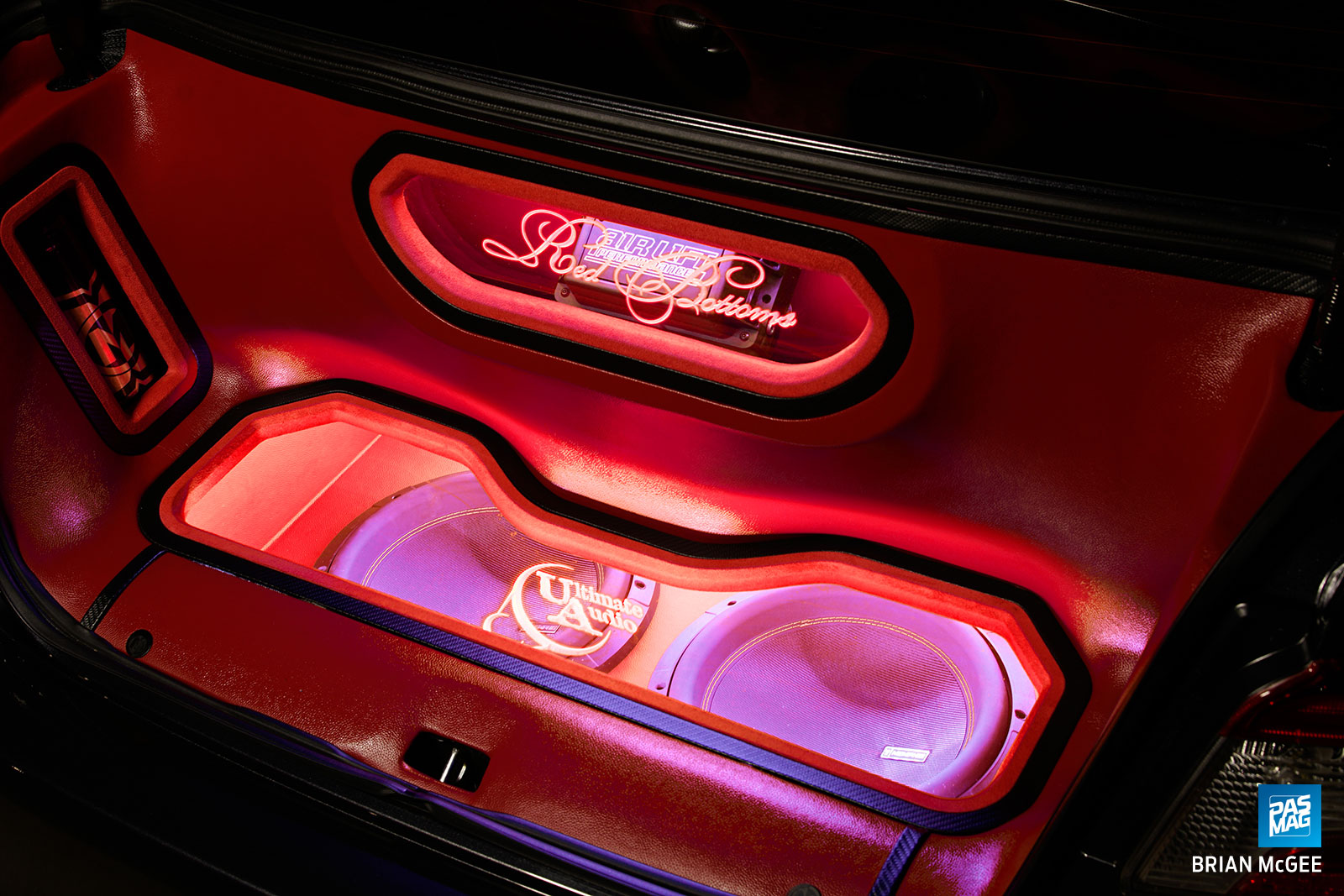 The theme carries through into the trunk as well, which, as well as the interior, was masterminded by the crew at Ultimate Audio SC. With the trunk popped, the red bottoms theme, plus Memphis audio gear and the air suspension system components are all blended together seamlessly in a fantastic display. Behind glass, in the bottom of the boot, are two of Memphis' MOJO 12-inch subwoofers, and just above is a little alcove for the Air Lift management. Two Memphis capacitors on either side compliment the symmetrical design, and the trunk lid isn't left out of the equation either, housing a fourth set of M-Class components in red suede. The whole deal is illuminated by red LEDs, which makes it that much more dramatic under low light.
Of course, all the work that went into the interior of the car to tie her theme together is Justus' favorite aspect, but stopping just short of that is a stealthily-installed HornBlasters train horns up front that she likes to have fun with.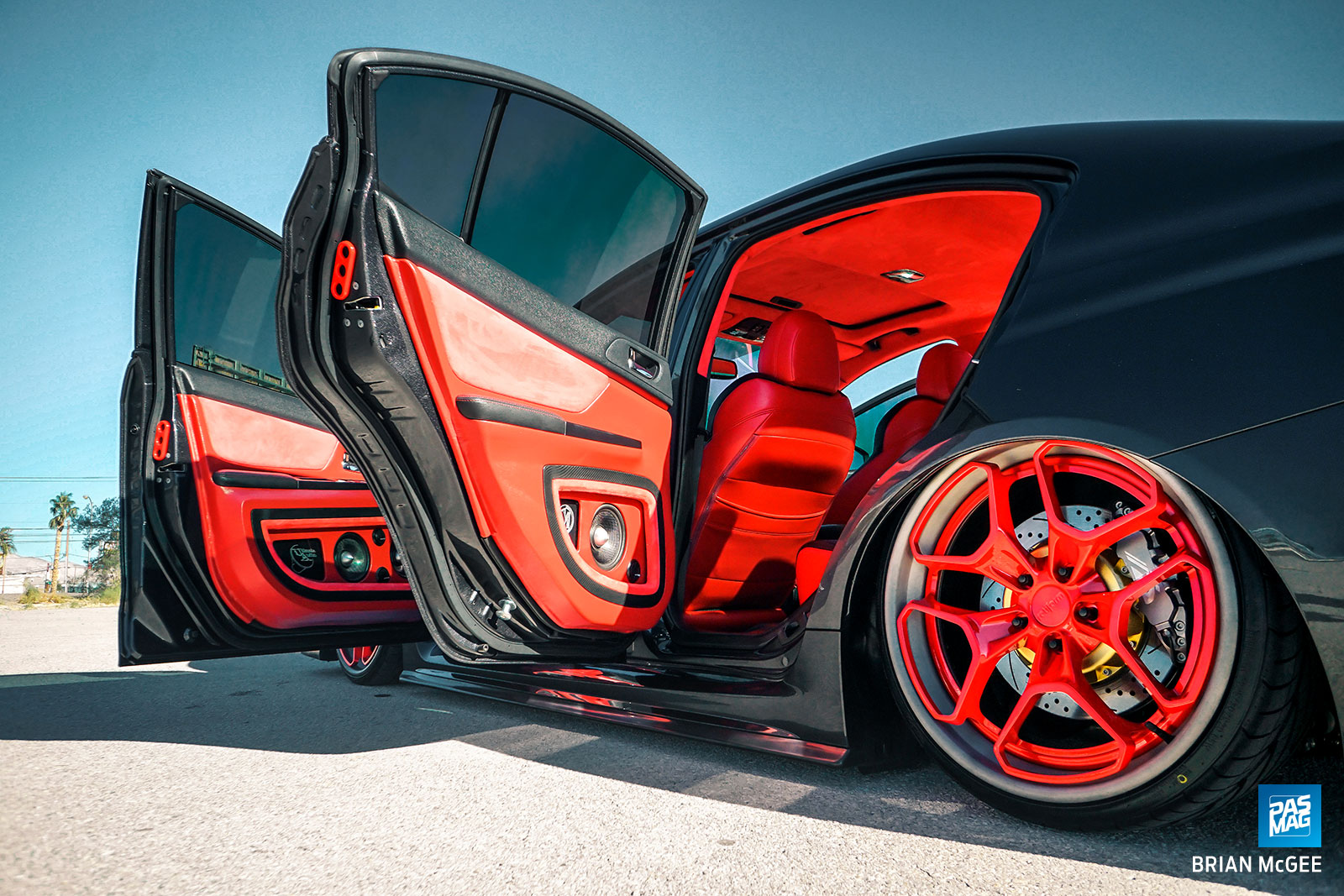 "There's nothing like cruising down the Vegas strip and hoking the train horns, while most people think it's the lifted truck behind me," she giggles.
Through months of hustle, the team behind Justus has allowed her Red Bottoms WRX to attend SEMA twice since 2016, which is certainly something to be said for a car that was supposed to originally used for spirited errand runs. Together, Justus and Burrell have produced something that Louboutin would never need to slather an ounce of red nail polish on.
Check out Kristin's feature in our annual PASMAG Tuning Essentials: Car Audio Upgrade Guide Vol. 9. Click here to order.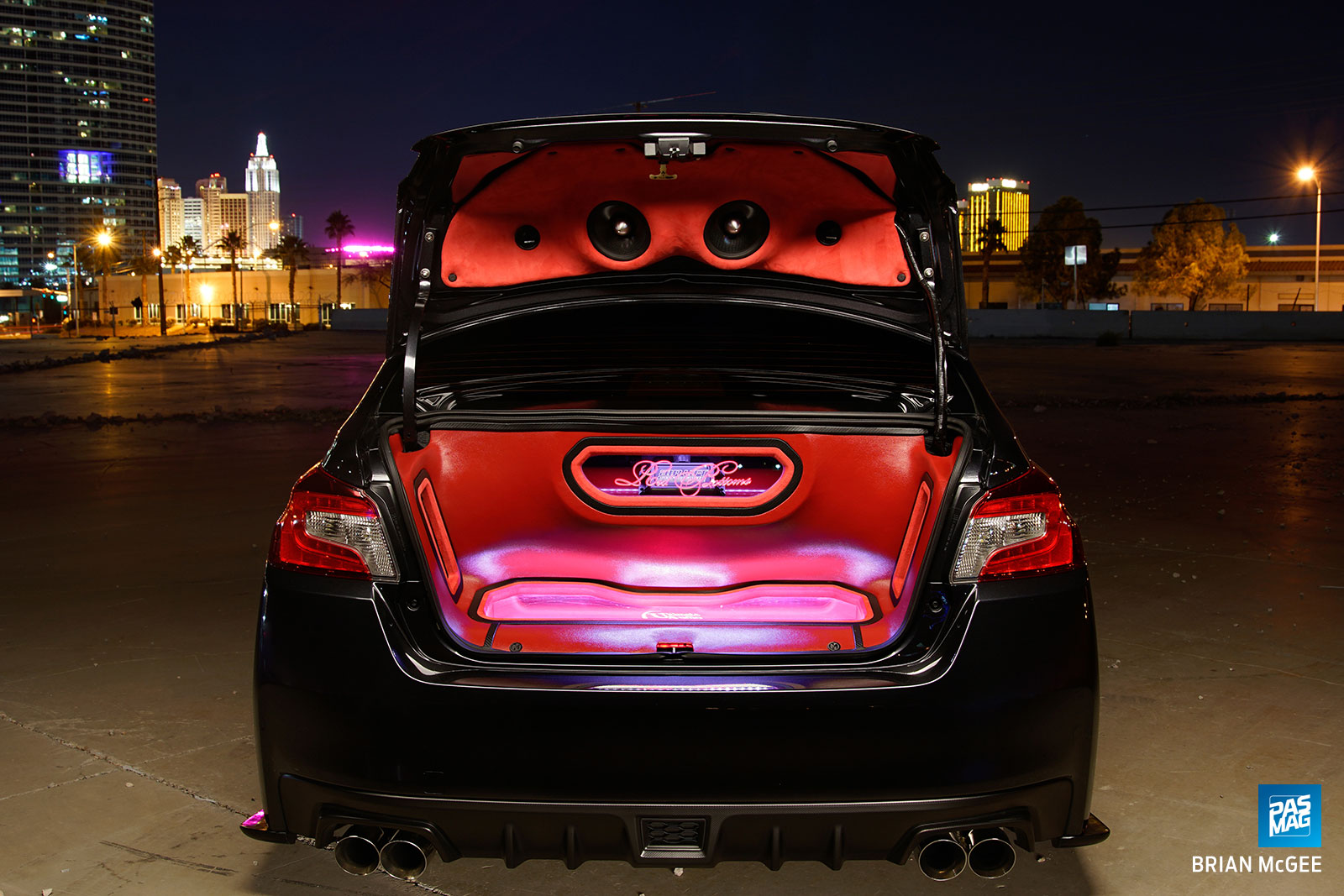 ---
ESSENTIALS
Vehicle: 2016 Subaru WRX
Owner: Kristin Justus
Location: Asheville, NC
Engine: Subaru FA20F 2.0L turbocharged H4
Built by: Brandon Burrell, Ultimate Audio SC, Kustom Kruisers Powder Coating
ENGINE
Mishimoto (cold air intake, top-mount intercooler, charge pipe)
Go Fast Bits blow-off valve
COBB AccessPort tuner
EXHAUST
Mishimoto 3-inch cat-back exhaust system
WHEELS / TIRES / BRAKES
Rotiform HUR 3-piece wheels - 20x8.5 (f/r)
Nitto Neo Gen tires - 225/30 R20 (f/r)
Neo Motorsport BBK - 6-piston calipers, 14-inch rotors (f), 4-piston calipers, 13-inch rotors (r)
CHASSIS / SUSPENSION
Air Lift Performance 3P air suspension system
Viair Stealth 480 compressors (2)
Because Bags universal flat-mount
5-gallon air tank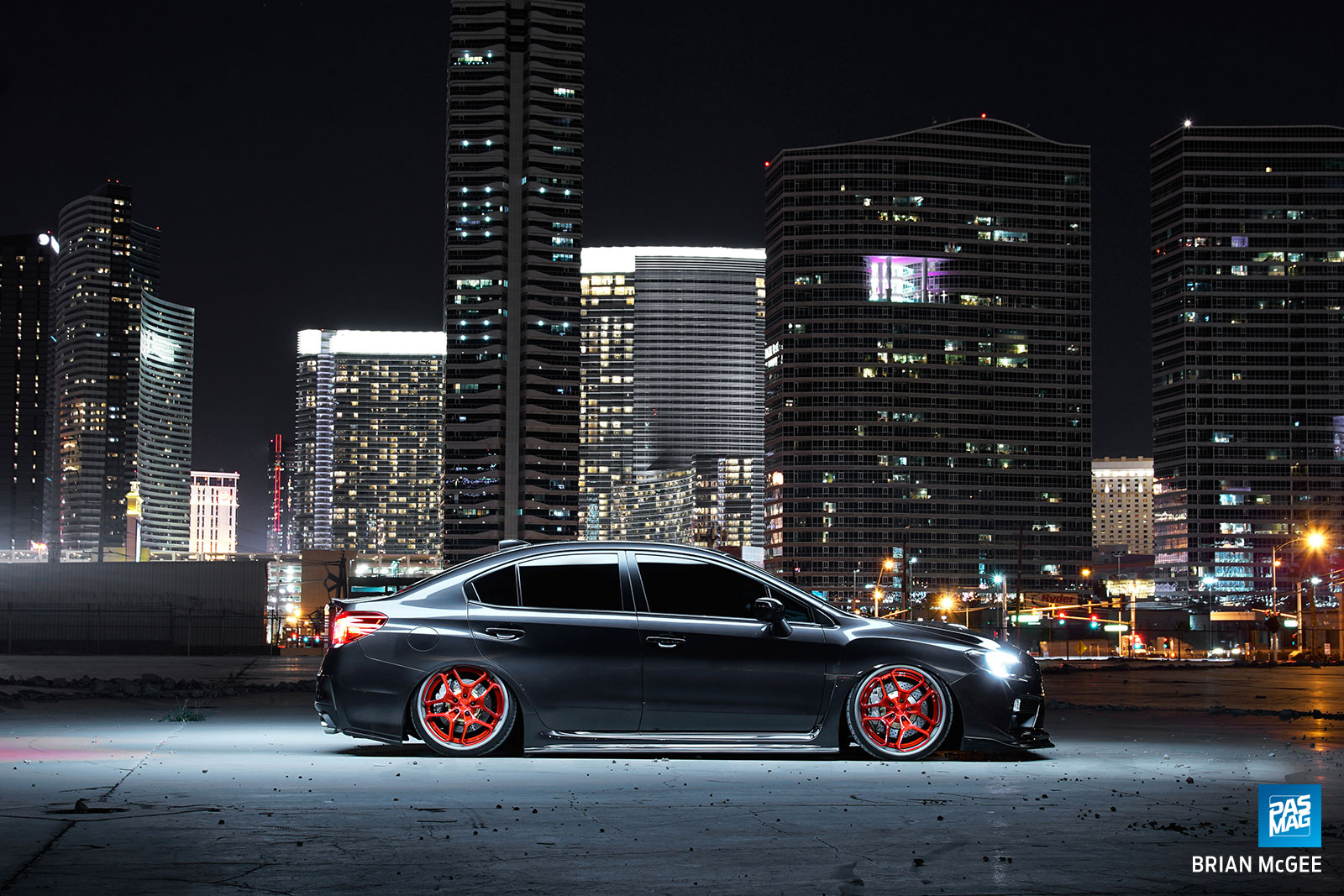 EXTERIOR
JNA Performance lip kit
Subispeed carbon fiber emblems
Grillcraft 3-section grille
Plain An Simple custom-built headlights
Diode Dynamics (6-inch dual light bar kit, switchback C-lights, Demon Eyes, LED bulbs, Tail-as-Turn module, LED reverse lights)
HornBlasters Shocker XL train horn
INTERIOR
Roadwire reupholstered (leather seats, interior panels)
Suede headliner
Billetworx custom shift knob
Custom (Air Lift controller/AccessPort console mount, door panels for audio install, trunk audio & air install)
Vinyl wrapped half dash
LED strip lighting
MOBILE ELECTRONICS
Kenwood 694S double-DIN navigation head unit
Memphis Car Audio (M-Class 6.5-inch components (4) MOJO 12-inch subwoofers (2), PRX300.4 4-channel amplifier, PRX1500.1 mono amplifier, capacitors, wiring, connectors)
XS Power batteries (2)
SPONSORS
Car Rimz, Ultimate Audio SC, Memphis Car Audio, Diode Dynamics, Plain An Simple, Roadwire Leather, Air Lift Performance, Viair, HornBlasters, Nitto, Rotiform, Prismatic Powders, Neo Motorsport, Because Bags, Grillcraft, Mishimoto , XS Power, Adams Polishes
PHOTO GALLERY