Photos by John Liwanag
---
There's a common notion that all VIP Cars are owned by gangsters. This started with cars in Japan that were used to drive high-ranking Yakuza members around the city. When VIP Cars first started to hit the North American scene, all we saw were Japanese sedans dropped all the way to the ground sitting on large wheels. The first thing that came to many people's minds was, 'Are these gangsters dressed in suits stepping out of the slammed sedans?'
To some observers, this was the lifestyle the owners wanted, with companies like Junction Produce, Wald, Sense Brand, Aimgain, Artisan Spirits, K-Break and others surrounding the builds with that gangster squad aura. Many early adopters of VIP Cars in North America all pointed to this type of build as the ideal fit for gangsters. That notion was quickly dismissed by this car.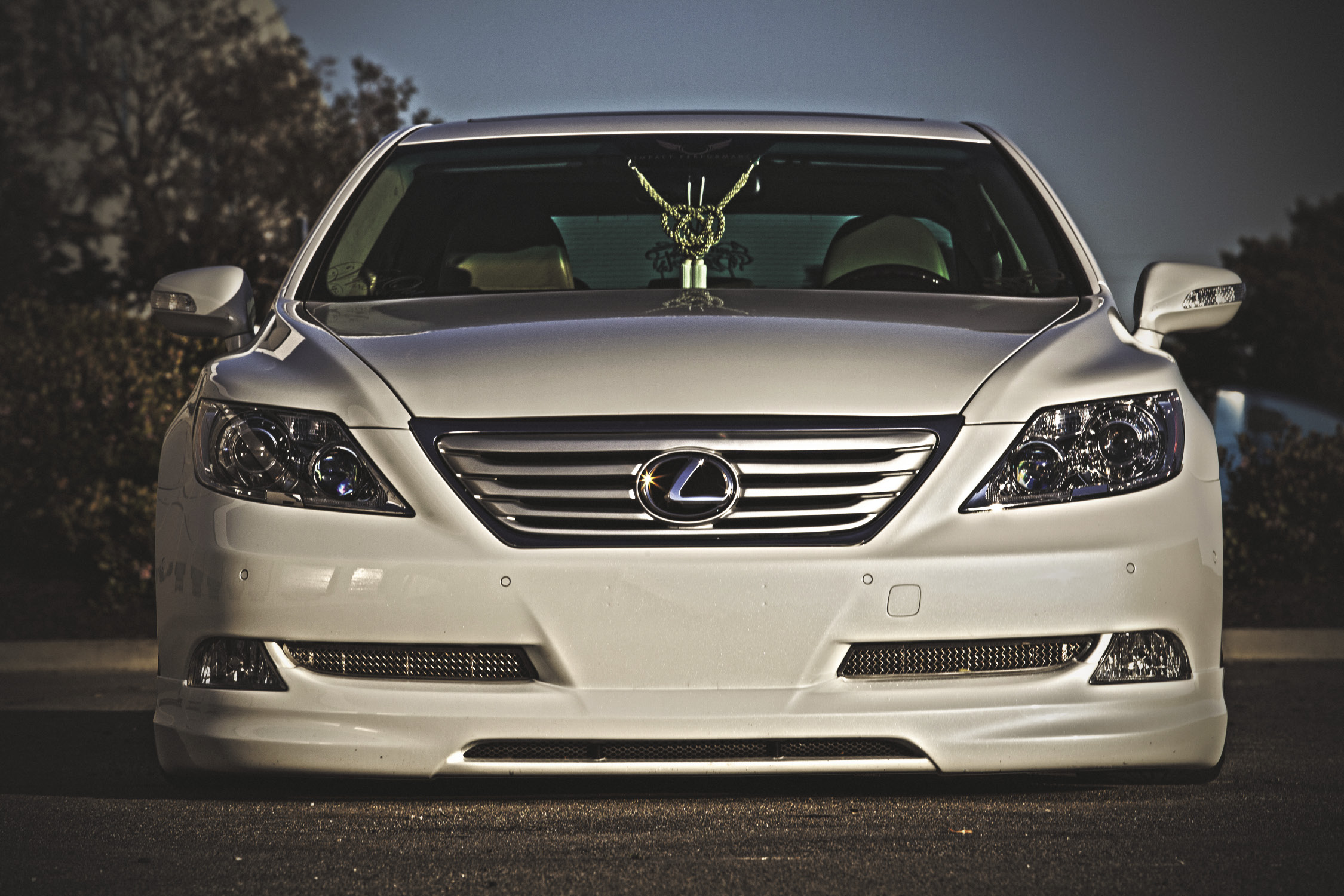 Nat Huynh owns this 2007 Lexus LS460L. Whenever Huynh steps out of his car, most onlookers would assume he fits that bill – always dressing extremely sharp with a very stoic expression on his face. Currently a manufacturing supervisor for a prominent Silicon Valley company, his demeanor exudes being a boss. We first saw this car at a Wekfest event in San Francisco, but at the time couldn't find the owner. At a Northern California Lexus meet we finally had the chance to meet Huynh in person, sit down and really talk to him about his car. Quickly, we learned that it wasn't this predetermined gangster notion that drew him to VIP Cars.
We asked him simply, 'Why a VIP Car?' "I enjoy the VIP Car culture in Japan. They take pride in their builds," Hunyh replied. Not once did he mention the terms 'gangster' or 'Yakuza,' he is solely concerned with the way their cars are built. Having seen a few of the early builds from notable members of VIPStyleCars.com, a particular Lexus GS300 from Texas helped fuel the inspiration to start a VIP build of his own. Huynh enjoyed how clean these VIP Car builds are and how they demand attention, and range in features from simple body builds to colorful and crazy wide bodies with deep dish wheels that push the boundaries of fitment.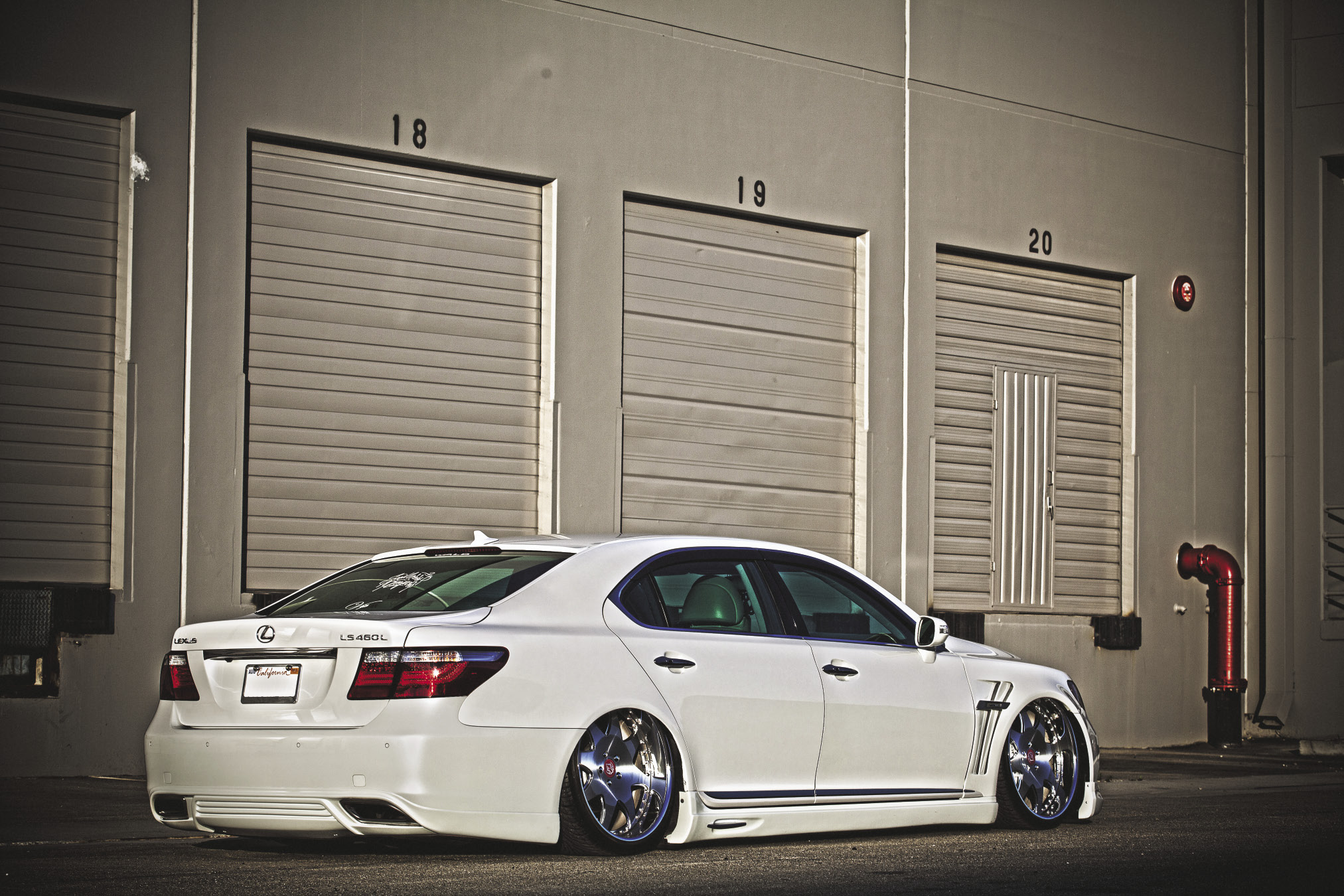 Huynh's VIP car journey didn't start here, however. His first take on a VIP Car was a 2002 Lexus GS300. Utilizing the basics of a VIP Car build, he added a full 13-piece Junction Produce kit and 19-inch Work Euroline DH wheels. This first car was then lowered using a custom air suspension setup. While most people would have been satisfied by this point, Huynh already knew he didn't want to finish there. Already looking ahead, he had his eye set on the LS line. He luckily found this LS460L right when he was ready to start a new build.
The Lexus LS460L is one of the top notch VIP Car platforms that you can build here in the U.S. as well as in Japan. Going by the chassis code USF41 in Japan, this was the car to build if you wanted to make a statement in the VIP Car scene in North America. Huynh told us he wanted an LS460L because "you have options to build the LS in either a classy or aggressive setup. I wanted to build a car that I can show, but at the same time be able to drive daily."
The LS460L also has the luxury of having a longer wheelbase than the LS460. With that in mind, finding a body kit that fits the longer wheelbase provided an obstacle. Not all body kits had the longer wheelbase side skirt available. Huynh sought out a body kit from Wald to address this. It was an easy decision to use the extended side skirts, rear bumper and side fenders from the Executive Line. Huynh also went back to the Wald catalog and used its inner grille to complete the lineup. Ings then filled out the rest of the body kit with its front bumper lip spoiler.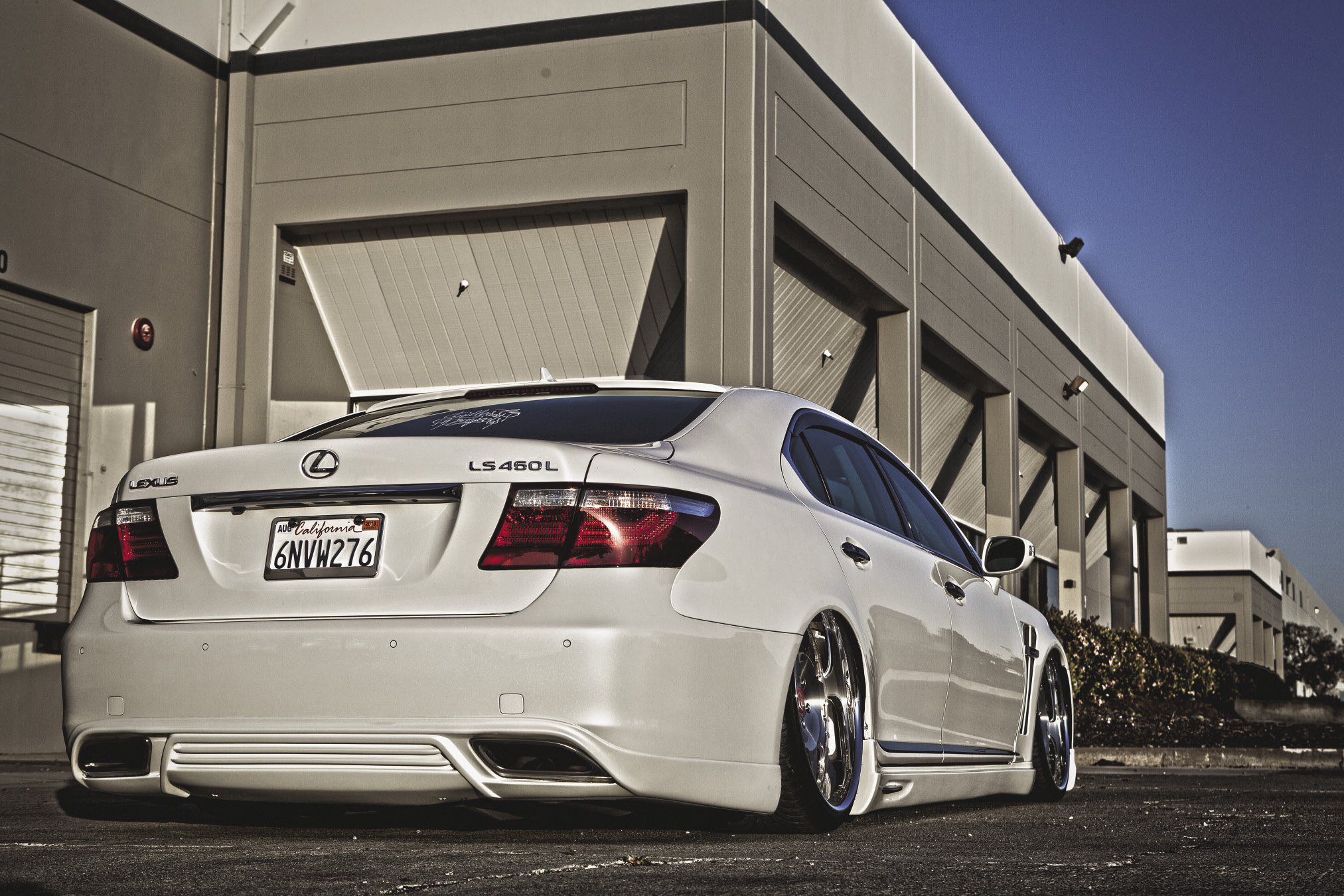 On to the suspension. Huynh originally decided to use a Data Systems controller to raise and lower the OEM air suspension on the car. Over time he felt this setup wasn't going to cut it, and went to Impact Performance in San Francisco to see about installing an Air Runner On-The-Ground setup. This particular setup allows the owner to dial in the height of the suspension while keeping an optimal air pressure to provide great ride comfort. With the air suspension dialled in, Huynh contacted David at VIP Modular and received 22-inch VR01 wheels mounted with Nexen tires.
Keeping things simple on the inside, Huynh started with a Vip'd Out Bombay line front table. Shortly thereafter, Junction Produce seat cushions and Bellezza neck cushions were added so everyone was sitting comfortably. Huynh also added a handmade custom rear seat divider with an iPad mount. To complete the interior a Junction Produce Fusa and Kintsuna were installed.
The engine bay is dressed up with all of the engine covers color-matched with the pearl white exterior hue. A custom exhaust built by Joe Z PTS has also been installed to finalize the build, which after all has been said and done, has taken roughly 10 months to get it to its current state.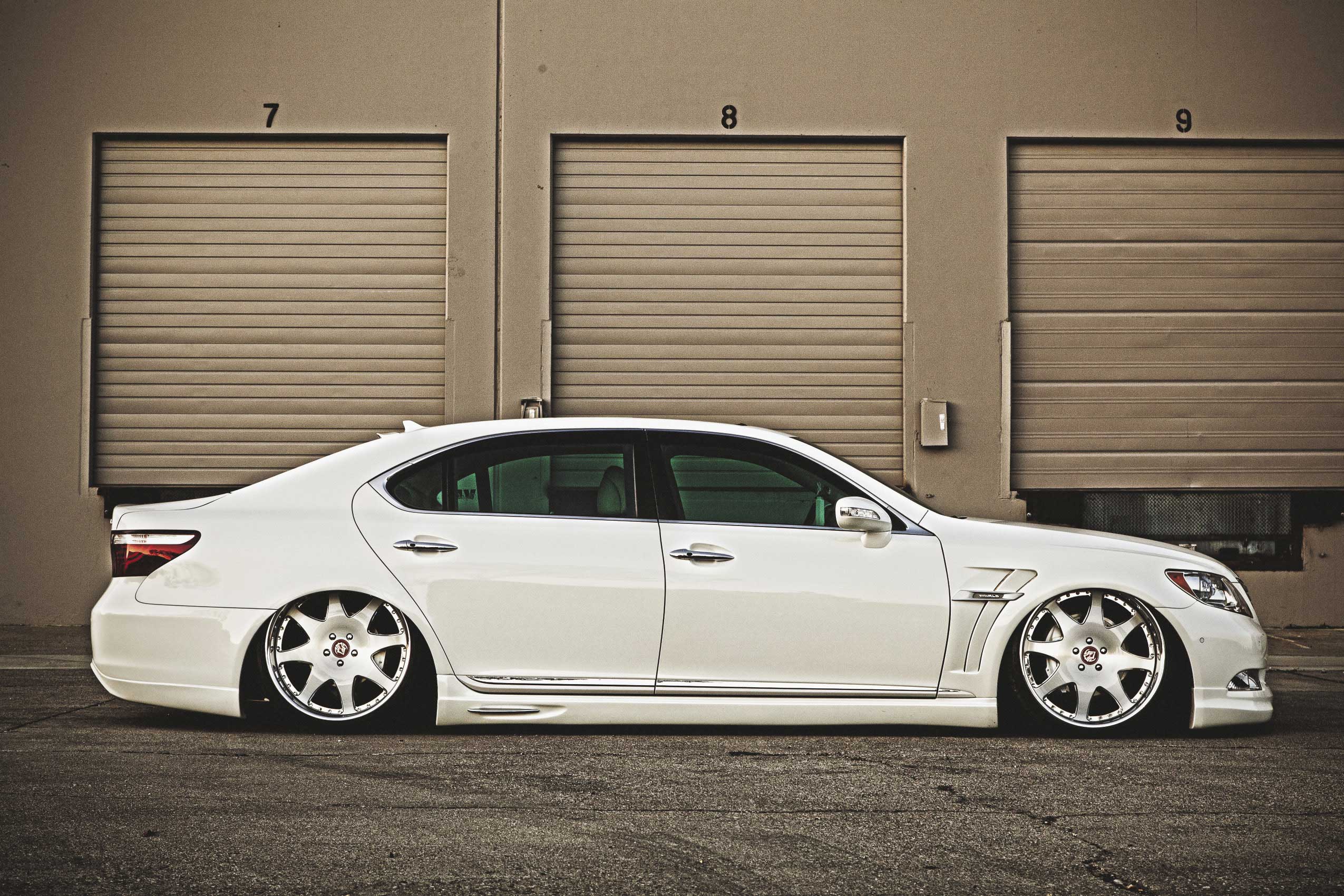 The Lexus LS460L is one of the top notch VIP Car platforms that you can build here in the U.S., as well as in Japan."
Huynh brought his car out to a few of the major events in Northern California, immediately turning heads at events like Wekfest SF and Blox Open House with awards ranged from placing in the Best VIP and Best Lexus categories.
"Building this car has led me to meet a lot of nice people along the way. People who have helped me work towards completing this project," says Huynh. "I am far from being done with the car, but the friends I've met along the way have made it even more worthwhile."
Huynh's car has also earned him an invite into Endless Projects, a car club based in Northern California. Sticking to the club name, Huynh has started to look to the future with a major rebuild already well into the planning stages. With all of the new mods being put into place, this LS460L – and its gangster heritage – has the potential to truly be an endless project.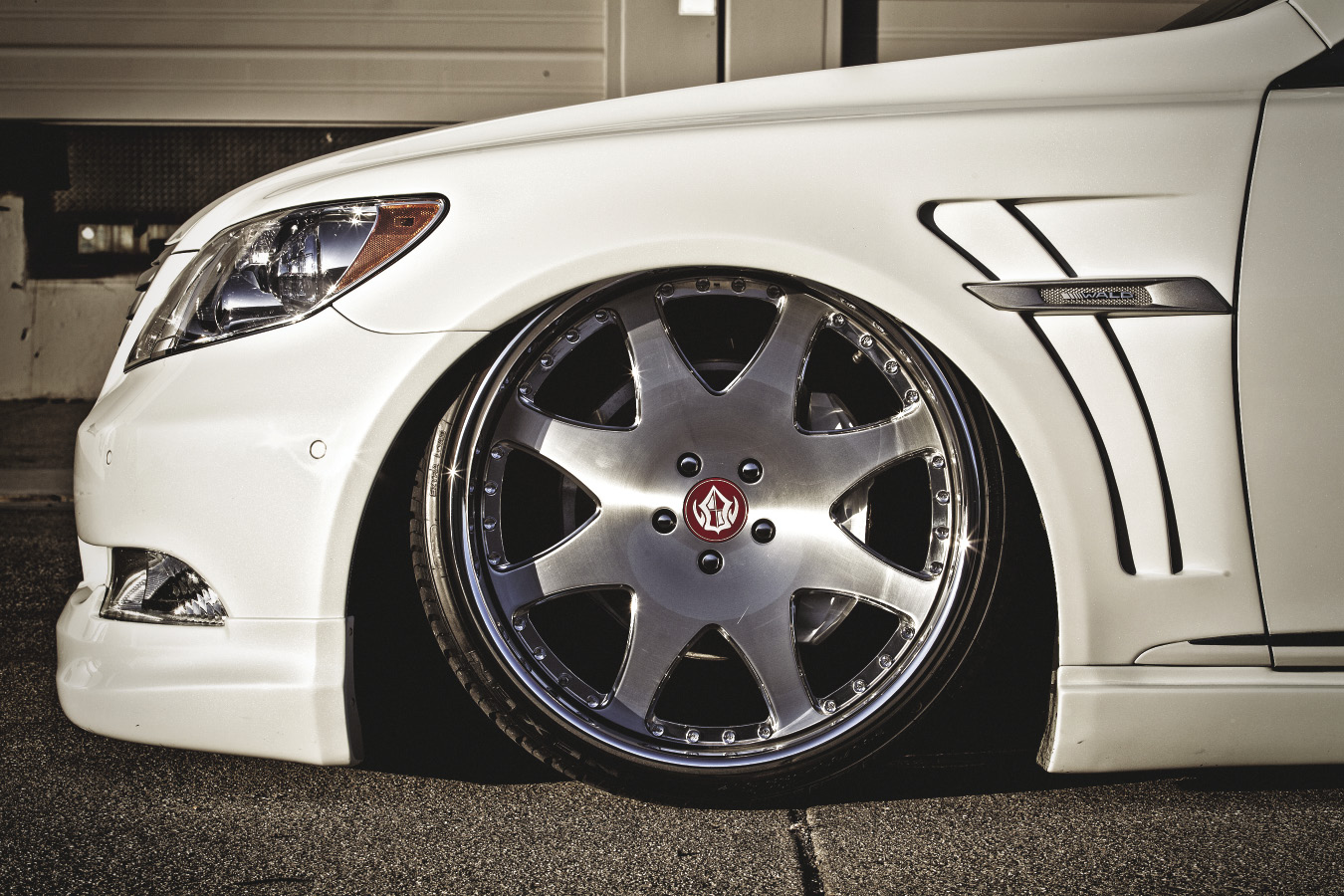 ---
ESSENTIALS

Vehicle: 2007 Lexus LS460L
Owner: Nat Huynh
Location: Union City, Calif.
Team: Endless Projects
EXHAUST

CHASSIS / SUSPENSION
Air Runner On The Ground air suspension kit
WHEELS / TIRES / BRAKES
VIP Modular Wheels – 22x9.5 (f), 22x11 (r)
Nexen Tires – 245/35 R22 (f), 265/30 R22 (r)
OEM calipers power coated in Pearl White (f/r)
EXTERIOR
Wald (Executive Line body kit, side fenders, rear bumper, grilles)
Ings (front bumper, front lip spoiler)
HID fog lights
INTERIOR
Vip'd Out Bombay line front table
Junction Produce (seat cushions, Bellezza neck cushions, Fusa and Kintsuna)
Custom rear seat divider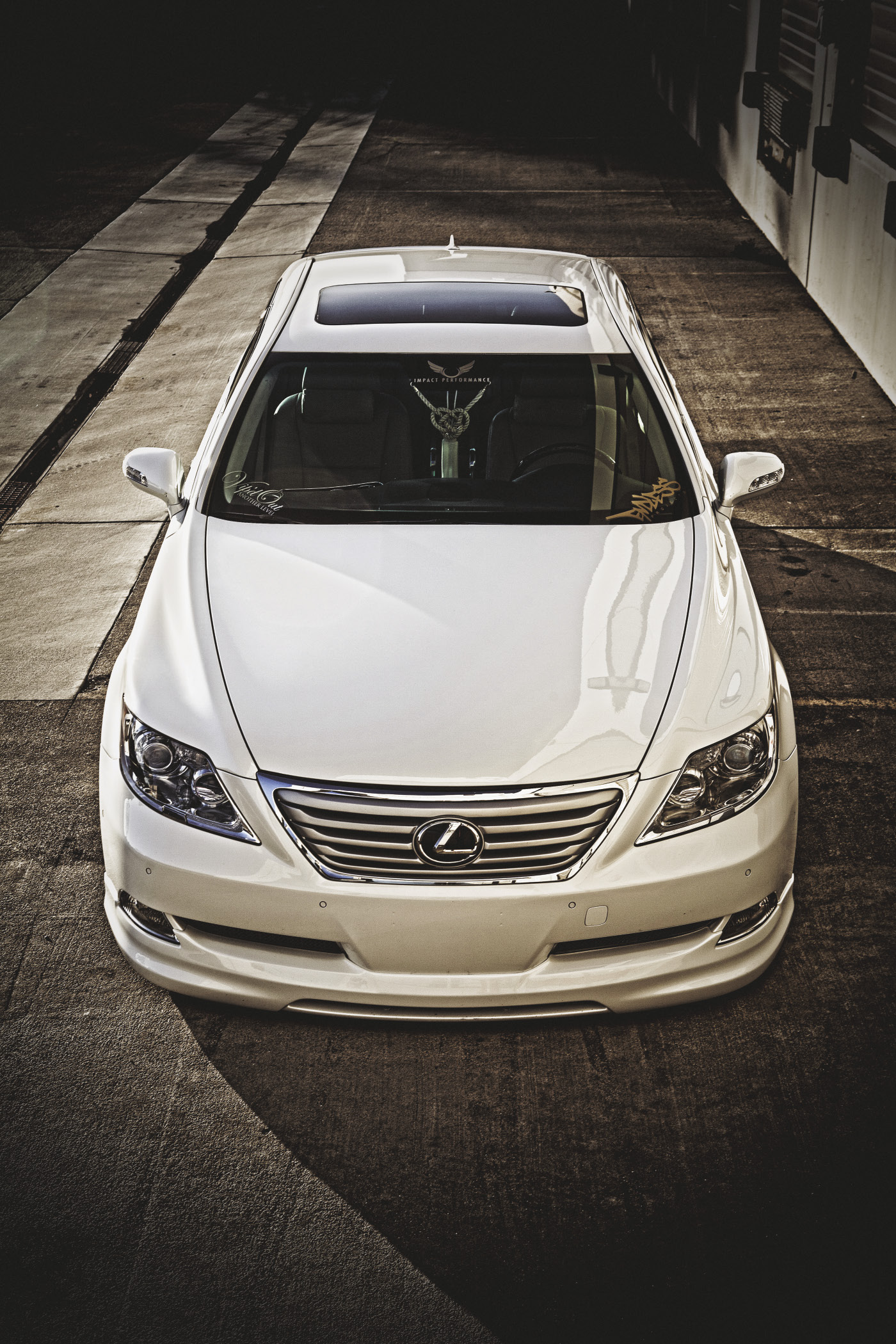 <