Photography by Rob Robson
---
Sometimes you need to let go of something to get ahold of something better, or maybe even something you wanted all along. In Peter Pang's case, this couldn't be more true or unexpected. This is the man who built an already amazing R35 GT-R, reluctantly sold it, and then turned around and started built another, arguably better one, right away. The product of project GT-R 2.0 is the incredible car you see here now.
You may know of Pang's work through his first R35: a gorgeous white example donning the first Liberty Walk widebody kit in Canada, if not North America. This car would tour around to meets shows, eventually landing at the Canadian International Autoshow in 2015. Through all this exposure, the wide GT-R caught the gaze of someone with deep pockets, who followed up with Pang after one of their show appearances to discuss buying the car outright. Initially, Pang was hesitant to let his pride and joy go, but the amount he was offered made it hard to say no. We're not saying it was Dr. Evil amounts of money, but the cash was good enough to buy Godzilla.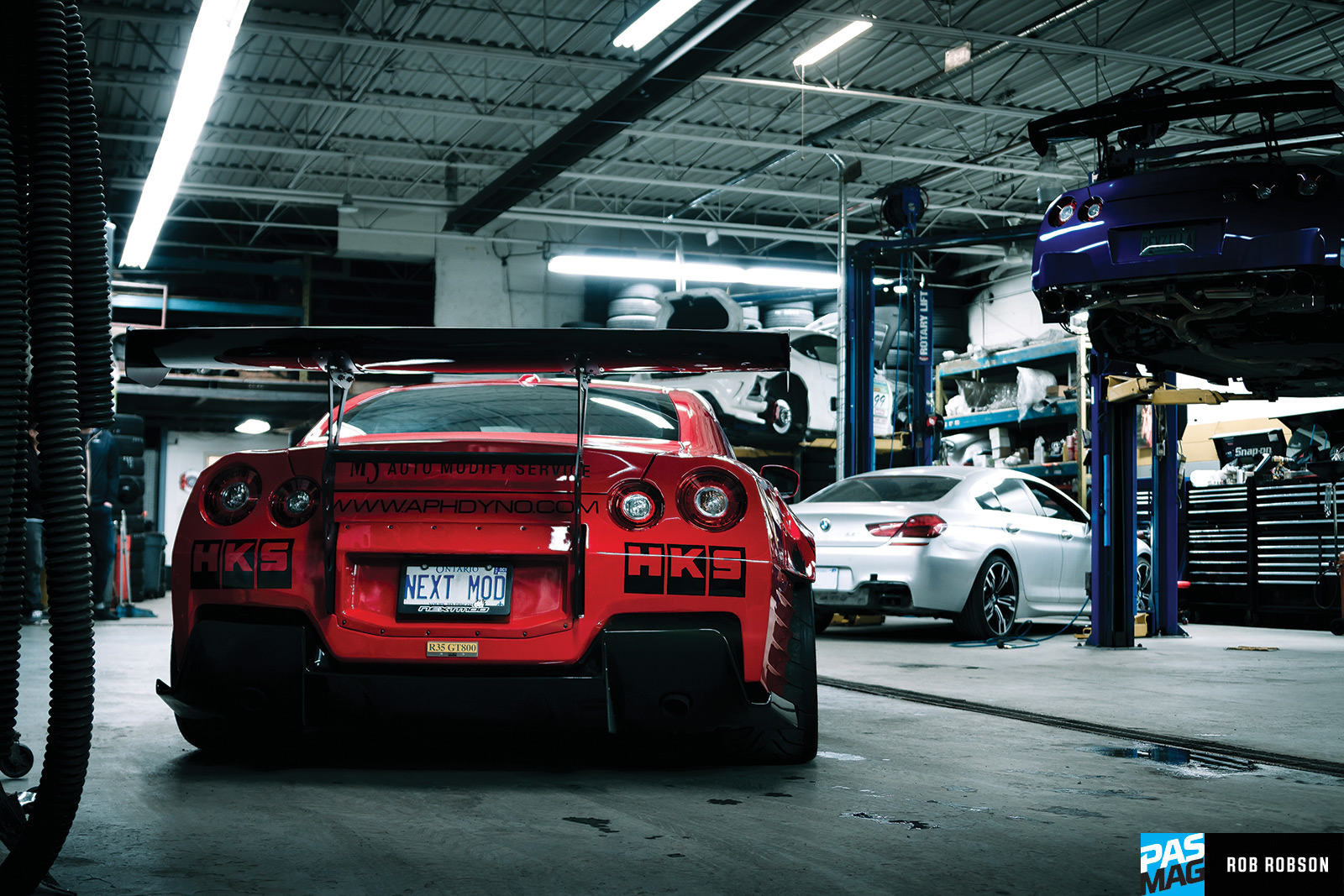 "I was very fortunate that someone was willing to offer a really good price on the white one," explains Pang. "I wasn't looking to sell, so when he gave me the money, I knew I had to build another one. I needed to build another car."
If the name and the car weren't already ringing any bells, we should also mention that Pang is the owner of Nextmod, which has since become renowned for pumping out some of the most standout widebody cars with quality parts in Canada, and even in some areas south of the border. So much so, that the name "Nextmod" was recognizable to the fine people over at BenSopra. With the wealth of widebody kits out there for the Nissan GT-R though, why did Pang gravitate towards BenSopra first with his second GT-R? Honestly, it was the kit he wanted in the first place.
"The BenSopra is the kit that I actually like, but the price was just too hard to justify," says Pang, beaming at his car. "I got an opportunity to get a really good price on it, so I jumped on it. The Liberty Walk car had the right timing, but this car is the one that I'm building for myself."
BenSopra is a Japanese aero company that seems like it's been around forever in the JDM scene, yet has only had their doors open since 2011. So far, BenSopra offers a kit for the R35 GT-R, Lamborghini Gallardo, and Nissan 350Z, but only advertises the first two on their website, which pleasantly plays Time to Say Goodbye by Andrea Bocelli as soon as you open it. Pure class.
Their kit for the GT-R is heavily influenced by Japanese Super GT racing, if that wasn't obvious at first glance. The hood and front bumper are merged into a cowl, plus the receded, veined, front fenders and chassis-mounted GT wing that sprouts from the rear bumper are definite telltale signs.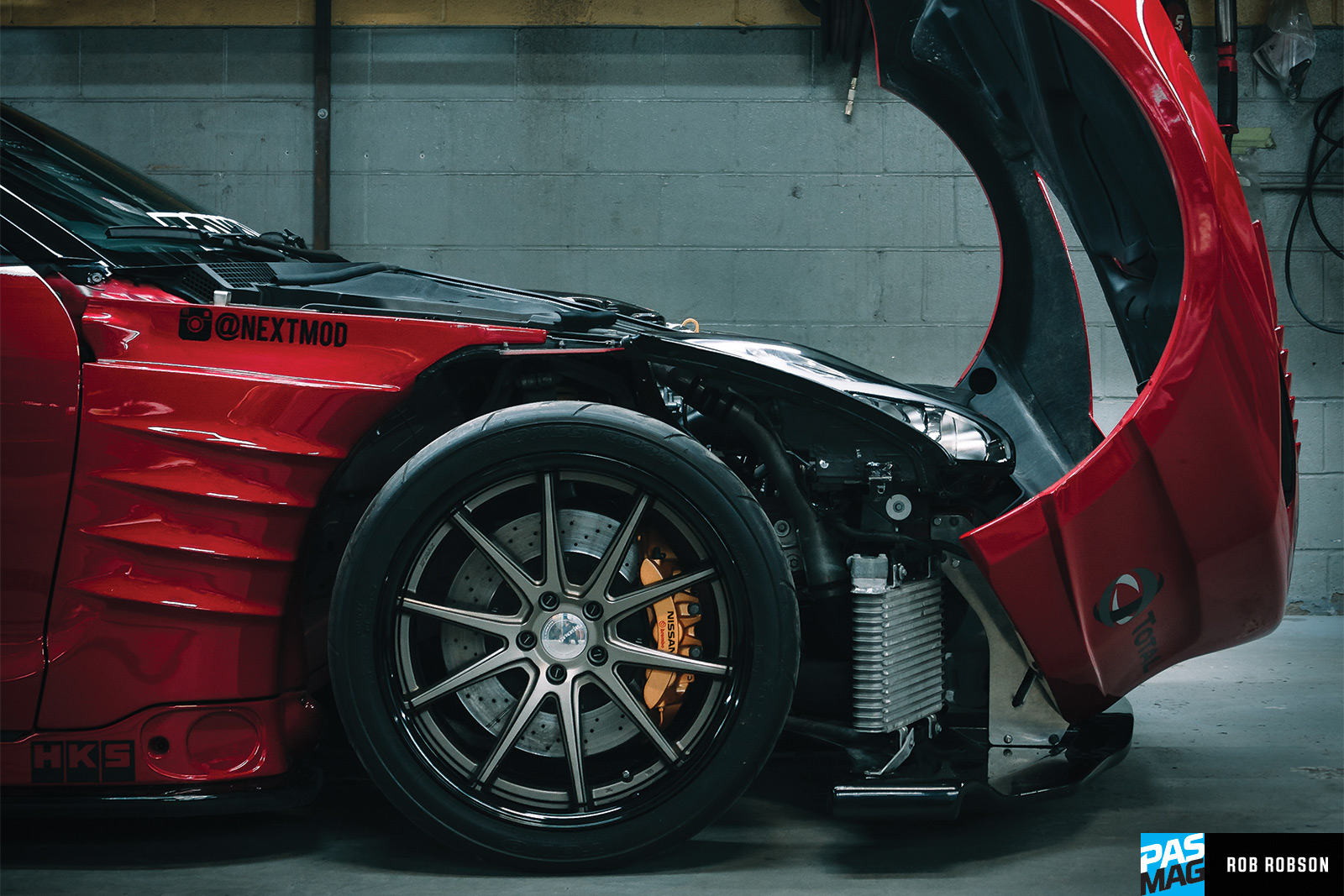 For the cowl setup, the OE hood, front bumper and fenders are all tossed and replaced with the BenSopra goodies. To open the "hood," you need to pop it up after it's released, slide it forward a little, and then have someone get on the other side and help you raise it forward. It's a little more complicated, but the effect is oh so worth it. The install of the cowl is also particularly complicated, as I'm told by both Pang, and Dave Ng at MS Auto, who put this beast together.
"I know there are kits out there where you can't even open the hood all the way up because the installers didn't do a good job," Pang says, shooting a glance over in Ng's direction. "It took a long time to adjust everything. The headlights don't move, so when the hood closes, it has to be perfect every time. There are shortcuts to get it done, but he didn't take any shortcuts."
Apparently, if there's a little gap somewhere in the kit, some people will body-fill it. Not Ng. If there was an imperfection, he would cut the bumper in pieces and re-fiberglass everything to make sure it was perfect.
"I'm surprised we're still friends," jokes Pang. "Right, Dave?"
From across the shop, Ng raises his middle finger in Pang's direction.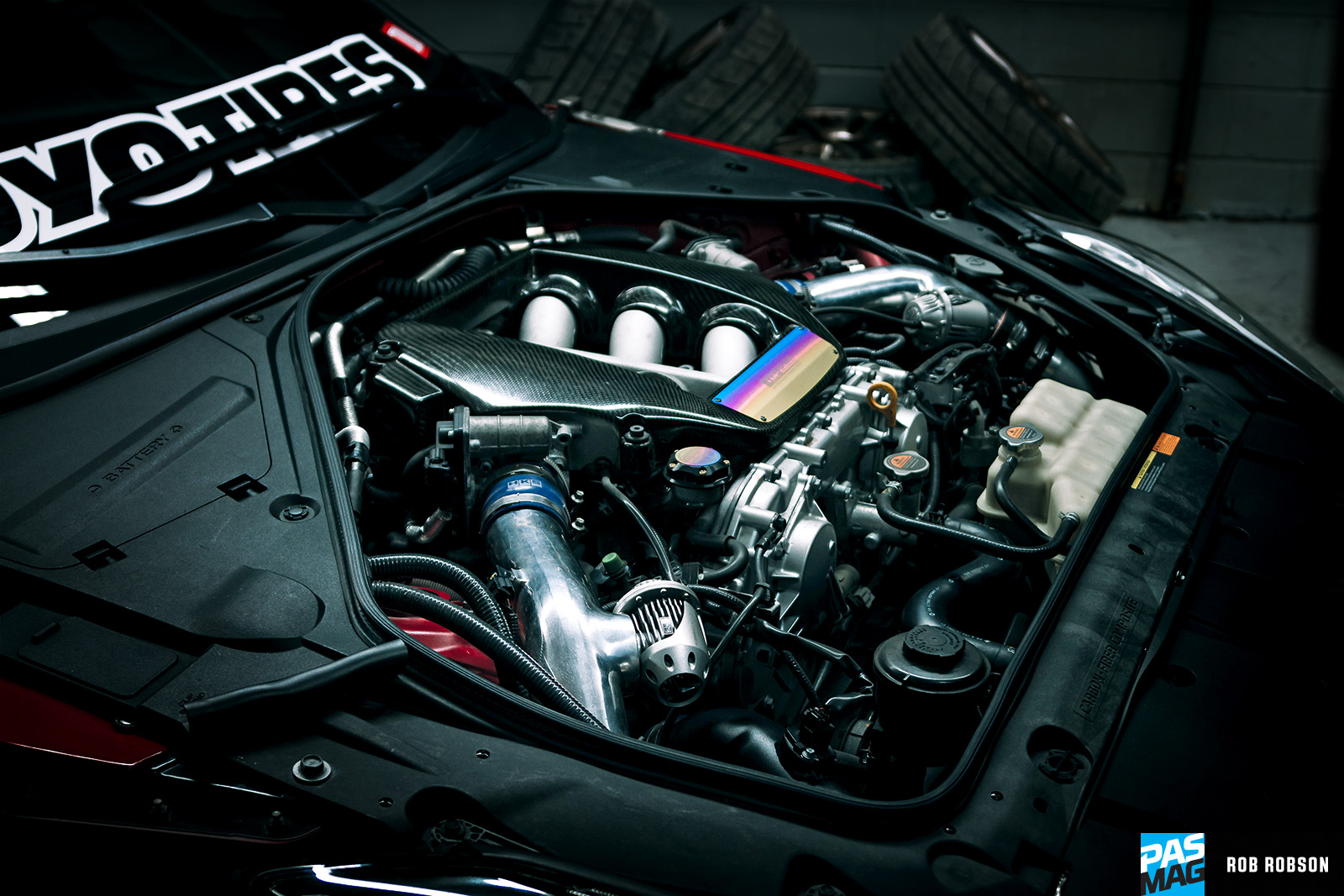 Another shop that was monumental, especially in getting this GT-R moving, is Advance Powerhouse, or APH as they're more well known. The R35, affectionately referred to as "Ben" now, received the full HKS GT800 treatment, which includes two GT II 7460 symmetry turbos, wastegates, intakes, exhaust manifolds, and other turbo-back exhaust-dispelling goodies. APH also fabricated the whole rear section of the exhaust system to mirror BenSopra's Japanese demo car, and I'd say they nailed it.
They even snuck in a custom tune while tinkering on Ben, which runs through a Cobb Accessport V3 and nets Pang 690 all-wheel-horsepower and 685 lb-ft of torque. These numbers may be a little underwhelming to enthusiasts who are used to seeing R35s pushing 1,000 and above ponies, but this is because of a little-known bottleneck that slots in at 700 horses and above.
"If you have too much horsepower, it ruins the transmission if it's not rebuilt," Pang cautions. "You either stay under 700 horsepower, or you go to 1,200 is what I've learned. That bottleneck is like $40,000 difference, but once you go through that bottleneck, it's easy to hit 1,000 horsepower. The tough part is that you have to rebuild everything once you go past 700 horsepower."
Another thing that can be dream crushing to GT-R owners going the widebody route is not sticking within the rolling diameter variance degree when picking out wheels and tires. With the advanced AWD system that each Godzilla houses, the system is very picky (as are most) in terms of what it's willing to roll if what it's rolling isn't close enough to that magic percentage. We've heard some heartbreaking stories of owners going for their first rip in their new, wide, GT-R, only to get a serious engine light and a costly repair bill. Thankfully, Pang is well-informed.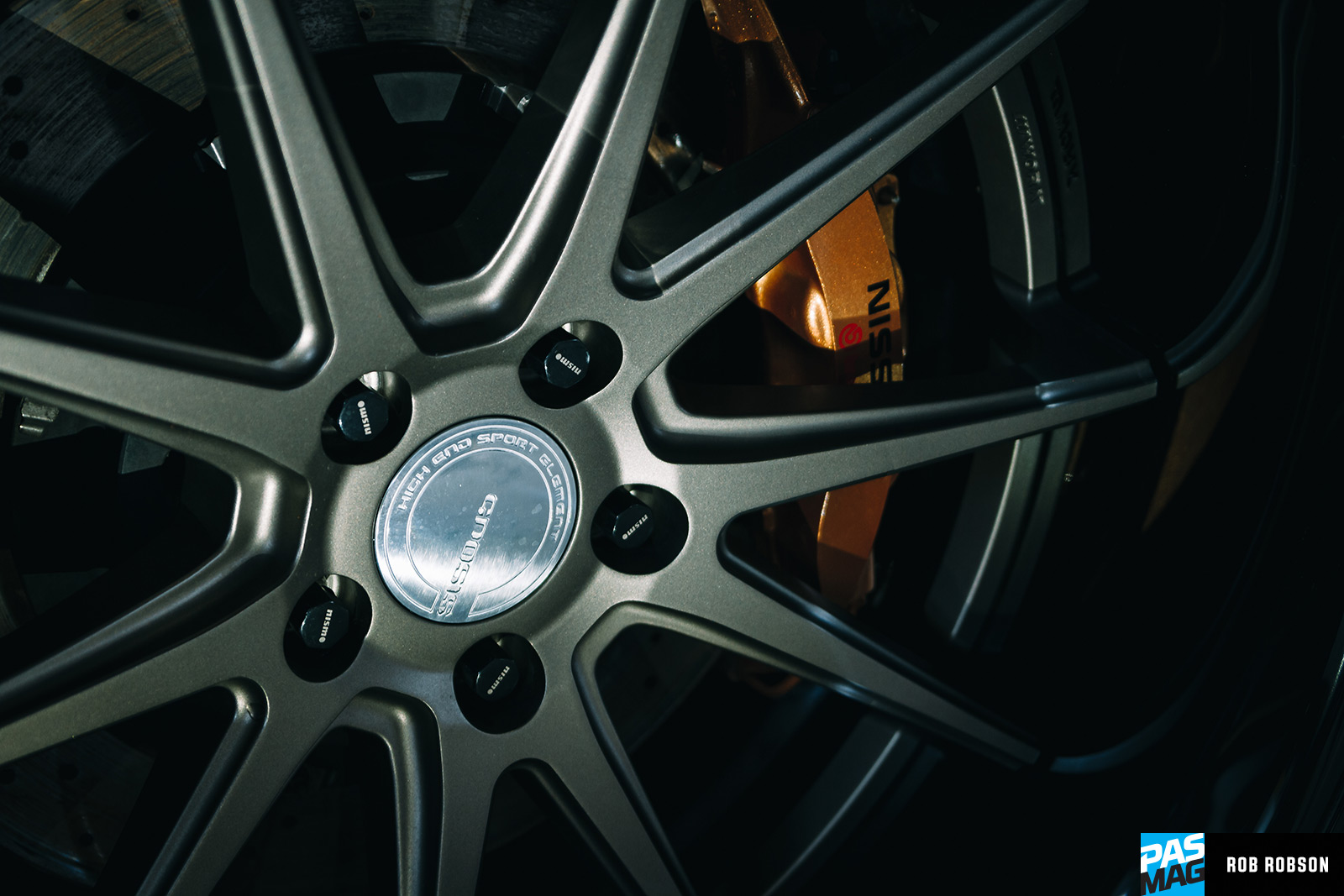 BenSopra sent over the exact wheel sizing specs for their kit, and Toyo Tires carries the ideal sizing for those wheels in R888 – 285/35 fronts and 315/35 rears. Just right for the Work Gnosis CV201s he's running in 20x10.5 and 20x11.5, which actually have different center colors on each side – gunmetal on the left, and dark bronze on the right. It's a subtle difference, but something Pang says he's always wanted to do, and this was the perfect excuse.
Other touches outside of the car are upgraded headlights and taillights to the 2015 model year, really livening up the original look from 2010, as well as KW's Sleeve coilover system, lowering the car to a perfect height and retaining all the factory dynamic suspension goodness. Inside, Recaro SR-7 Ruby limited edition seats by ASM, which are worth more than my life, and an RH9 carbon fiber steering wheel fit in just right with the interior that still holds up seven years later.
"For me, the building process is the most exciting part," Pang says, enthusiastically. "I mean, driving it and seeing the finished product is great, but designing and deciding which parts to use is the fun part for me."
With his BenSopra GT-R complete (aside from some cooling parts in his future), Pang joins the ranks of less than 30 owners worldwide, approximately seven in North America, and the only one in Canada with this exclusive kit. It seems like things will stay that way as well, as Pang has no plans to part ways with Ben anytime soon. Naming the car pretty much seals the deal there.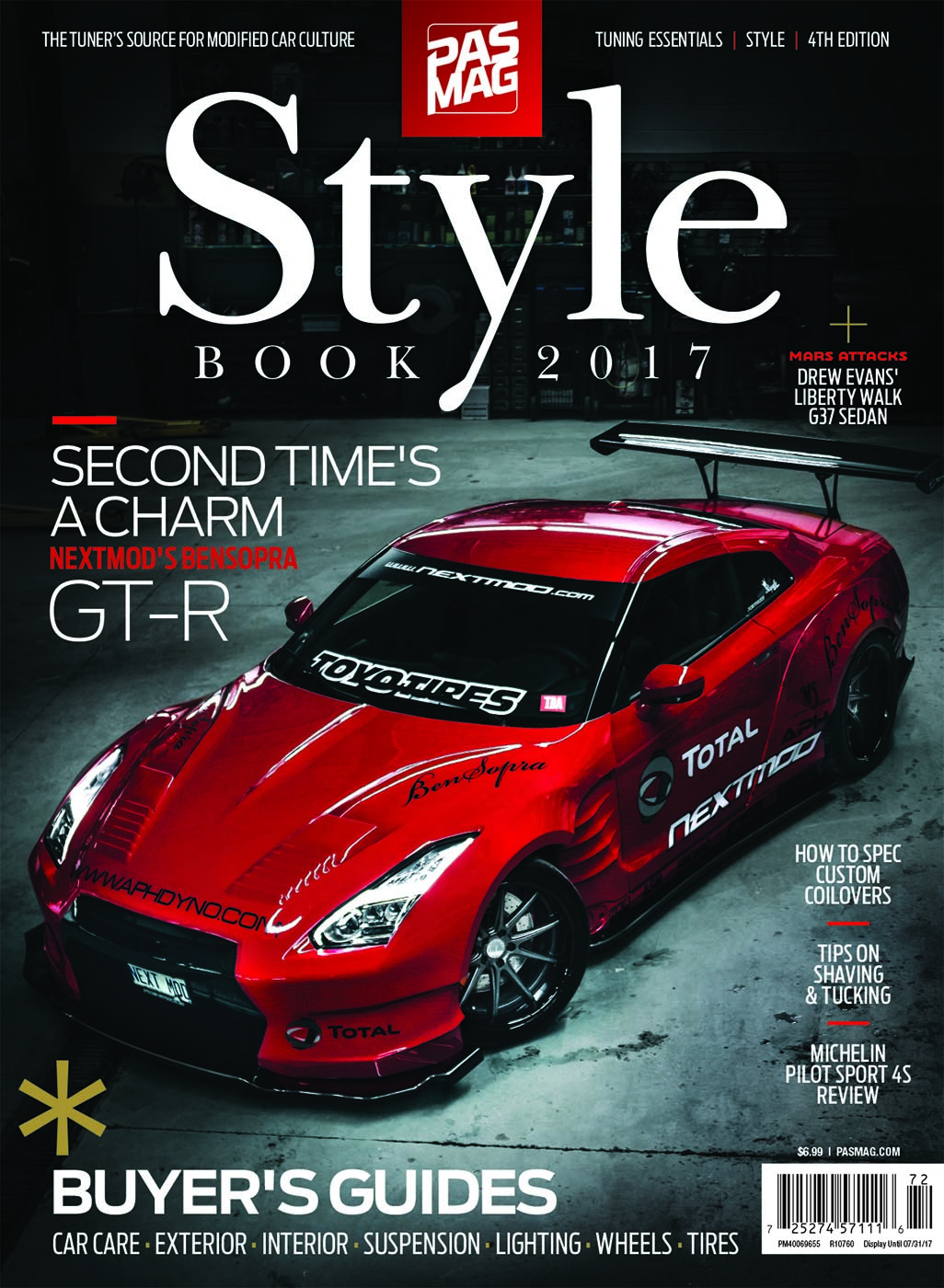 ---
ESSENTIALS
Vehicle: 2010 Nissan GT-R
Owner: Peter Pang
Location: Markham, ON
Built by: MS Auto, Advance Powerhouse, Nextmod
Engine: Nissan VR38DETT 3.8L twin-turbo V6
Horsepower: 690 awhp
Torque: 685 lb-ft
SOCIAL
Facebook: NEXTMOD
Instagram: @nextmod
ENGINE
HKS GT800 package (GT II 7460 & 7460R symmetry turbos, wastegates, suction pipes, intakes)
Cobb Accessport V3
APH custom tune
EXHAUST
HKS (exhaust manifolds, front-pipes, down-pipe, y-pipe)
APH custom exhaust system
WHEELS / TIRES
Work Gnosis CV201 wheels – 20x10.5 -5 et (f), 20x11.5 -37 et (r)
Toyo R888 tires – 285/35 ZR20 (f). 315/35 ZR20 (r)
SUSPENSION
EXTERIOR
BenSopra (widebody bodykit, chassis-mount wing)
Nissan 2015 GT-R (headlights, taillights)
INTERIOR
Recaro SR-7 ASM Ruby limited edition seats
RH9 carbon fiber steering wheel
Custom carbon fiber accent pieces
SPECIAL THANKS
APH, MS Auto, Royalty Auto Spa, Work Wheels, BenSopra Japan, Toyo Tires Canada, Total Lubricants
Contributors: Rob Robson