On the used car market, the Lexus IS300 is one of the most affordable RWD performance sedans money can buy, making it a hot seller among the tuner crowd. Plus you can easily throw a Supra twin turbo mill in it making it one dangerous 4-door. Builder and Soundstream audio dealer Marshall Woolford of Mars Audio Kissimmee, FL. had this in mind when it came time to showcase the products his audio shop carries and installs to the young tuner crowds at events he attends throughout Florida.
"I made a conscious effort to include the most popular aftermarket brands on our Lexus," says Marshall. "I came up with a design that would reach not only the 'Audiophile' but keep the 'Tuner' in mind. To do this, I researched and contacted the best brands in the industry. After three months of continuous contact, the manufacturers chosen for the build got on board with the idea and off I went." As the owner of Mars Audio, Marshall was going to have to align himself with some competent people to make sure the project jumped-off, came correct and stayed on schedule.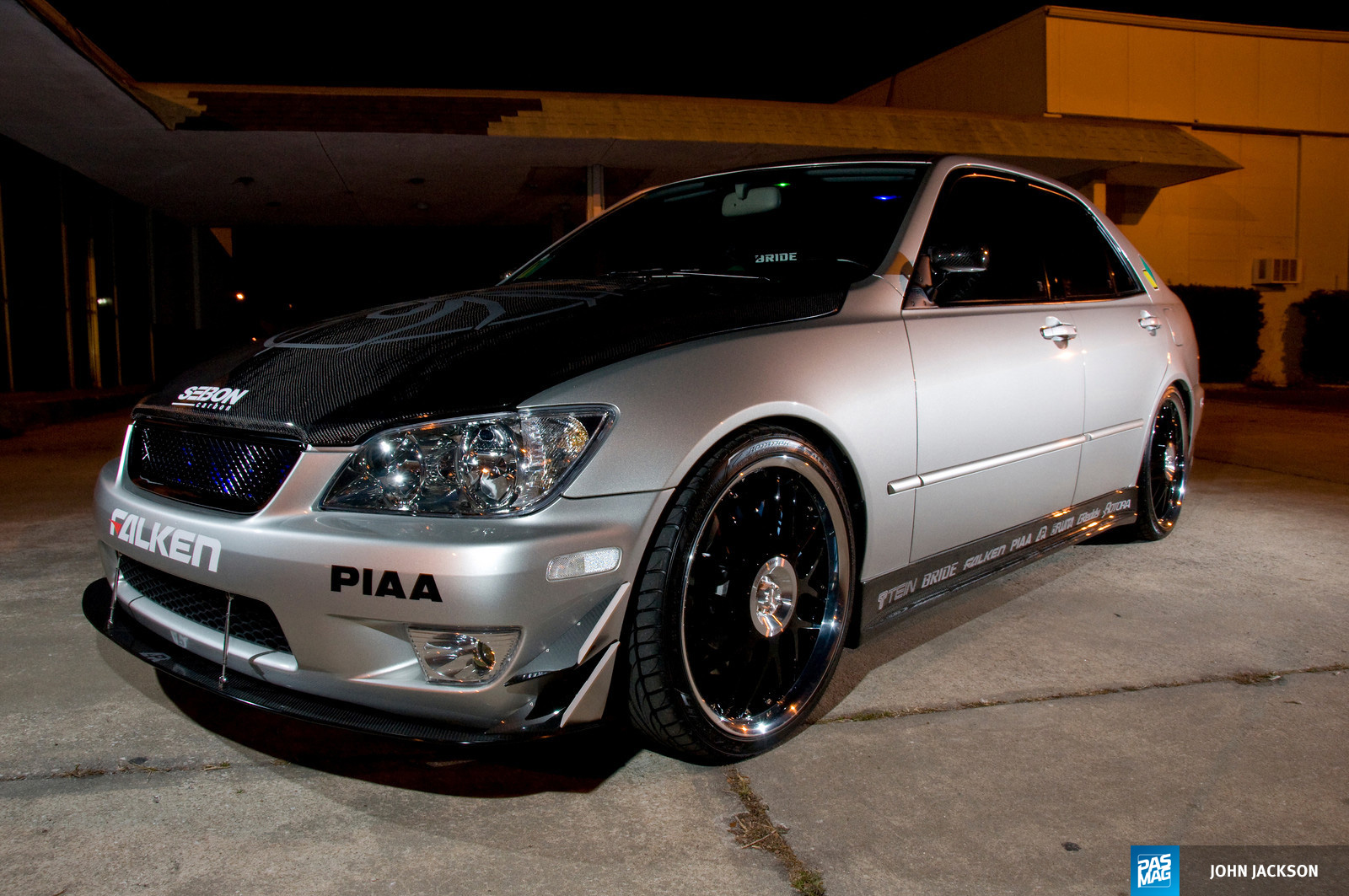 What started as Marshall's personal daily driver soon became what he describes as 'Bass-Ass' in a very short time frame. A great effort was put forth with affiliates, friends and most of all, his father "The Don" to transform this 2002 Lexus IS into a head turning showpiece. The team started by going to work on the body with some help from Seibon on exterior gear. The Lexus wears all Seibon carbon fiber, which includes rear lip and side skirts. Then they added a matching OEM style Seibon carbon fiber hood and CF license plate frame to set it-off. The well known styling experts at APR stepped in with carbon fiber mirrors for the project along with matching canards on the front bumper with an adjustable front splitter. The lighting got a bump as well with some 10,000K HID headlights. PIAA also came thru with additional lighting, horns, and wipers for the project. The front and rear received the JDM clear corner treatment and a VG2 shark fin antenna up top makes this IS streamline with the stunning silver metallic paint.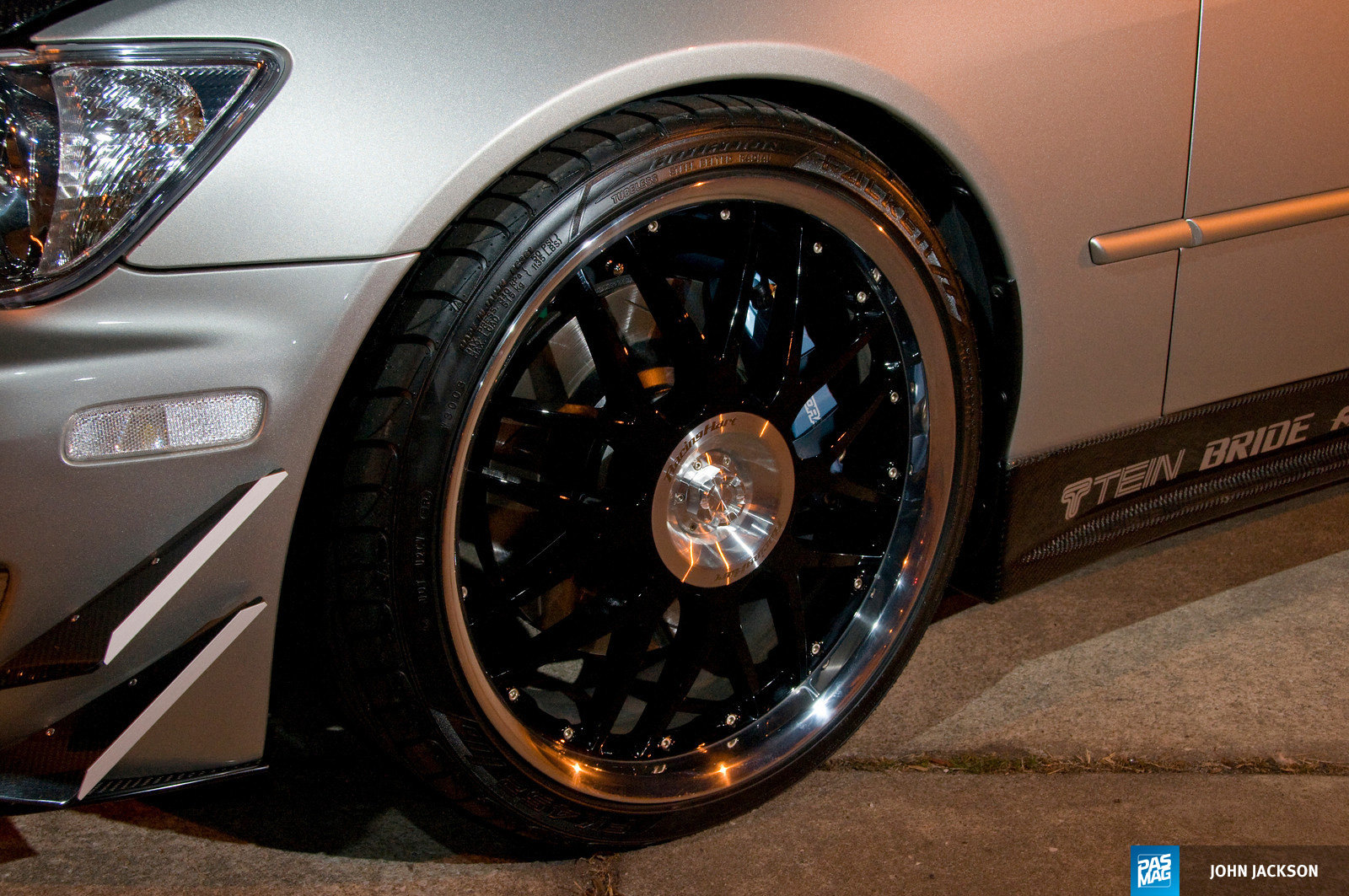 With the improvements to the body complete, Marshall needed to step up his rollers to patrol the streets of central Florida in style. Marshall contacted DAZZ Motorsports for a set of their Racing Hart C4 2-piece wheels in 19x7.5-inch all around. Finished in black with a clean polished lip, this set of one-off wheels, have Falken FK452's on all four corners in 215/35ZR19 sizing. Behind the big black spokes resides a Rotora front "Big" brake kit consisting of a 4-piston/330mm sure to stop the Lexus in a hurry. To get the right stance, a set of TEIN Super Street coilovers were added along with the TEIN EDFC to control the dampening force from inside the car. GReddy jumped in with their new Ti-C all stainless exhaust and some cool add-ons. A GReddy strut bar was also put in place to tighten up the chassis that was soon to be rocked by a load of earth-shaking Soundstream audio.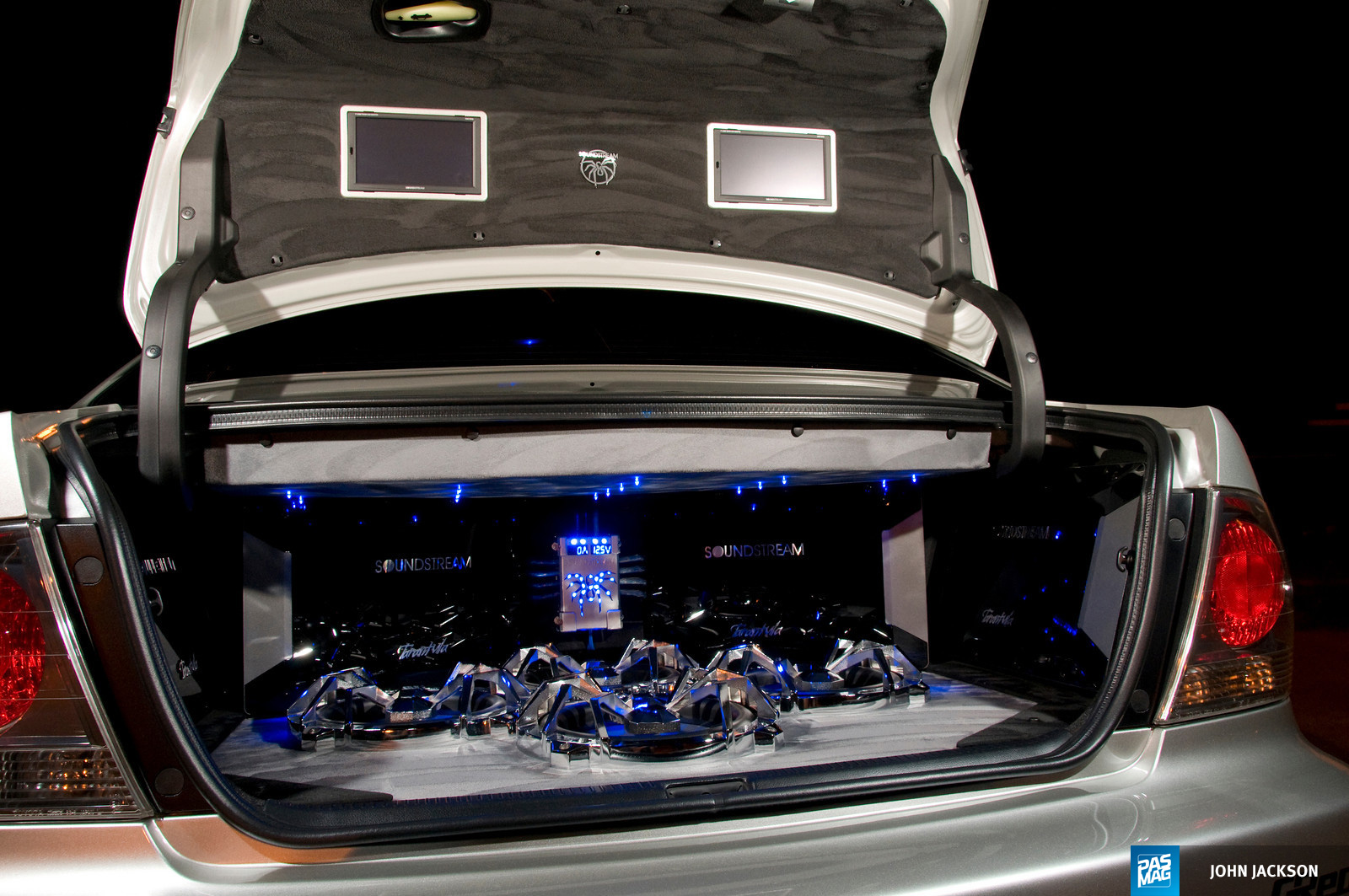 The Soundstream brand is recognized by their deadly tarantula logo, and so Marshall decided to create an equally sinister system to carry over that dark theme throughout the install and included four matching chrome tarantula covers too! Marshall got the help of good friend Jason Rockefeller to not only help with the build but to come up with an innovative idea of how to position the subwoofers. The OEM head unit was replaced with a Soundstream VIR-7011N pumping out signals to a Soundstream PQ-7 equalizer flush-mounted in the glove box. A suede laced custom iPod mount was placed in the console for an easy get to.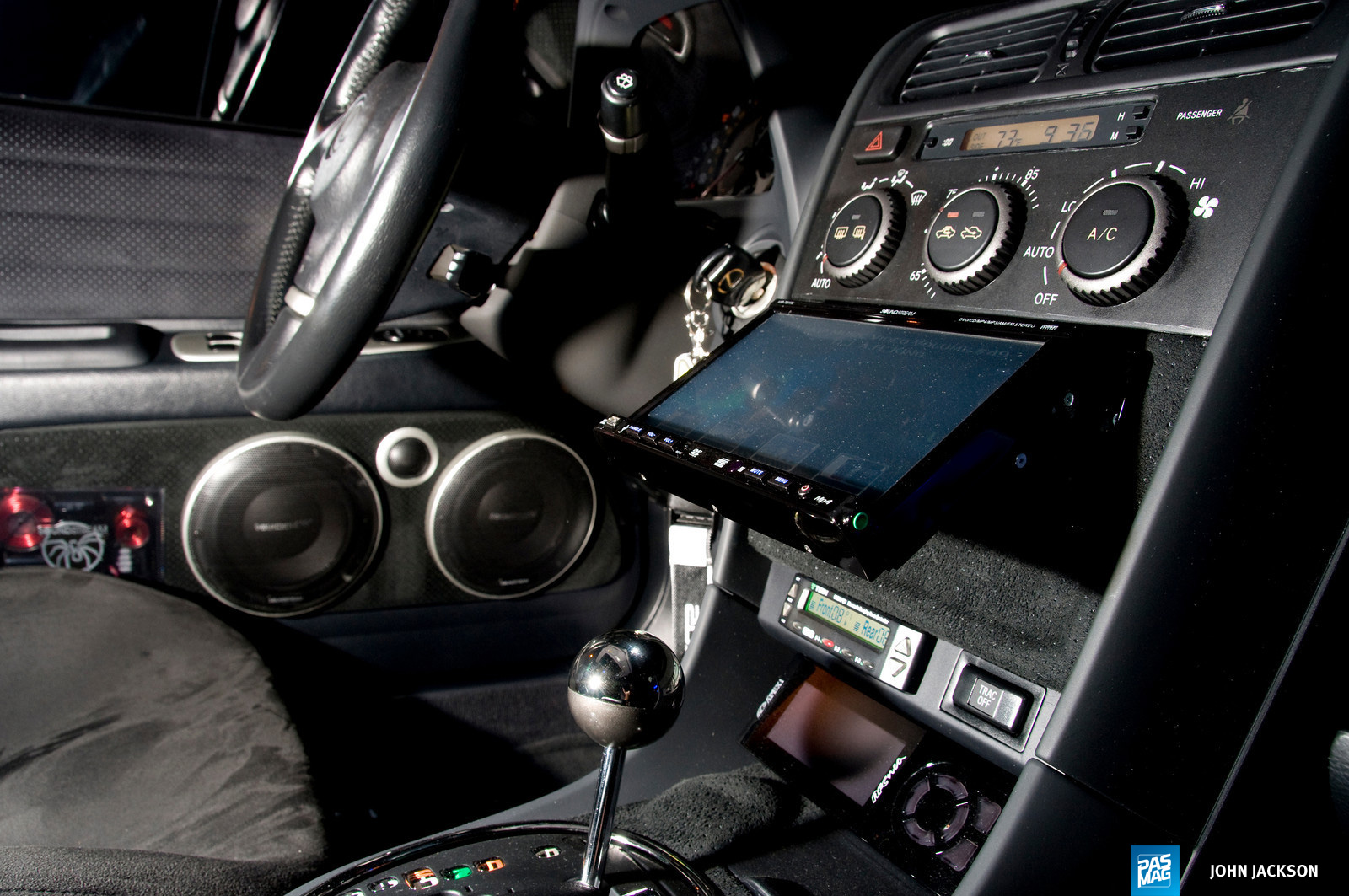 The lows head to a pair of Soundstream TRX2.550 amplifiers, while the mids and highs are directed to dual Soundstream TRX4.640 amps. The SCX-8 8.0-farad capacitor, which is color-matched to the car, is tucked nicely in the armrest cavity. Door assembly and speaker covers for the custom fabricated panels were also color-matched to the car and continue the flow. Marshall's good friend Sam "Picasso" Barker can only be thanked for these seamless touches of paint. Blue LED lighting can be seen thru out the interior adding to the deepness soon found in the rear of this Lexus. Inside the suede-lined trunk reside four creepy crawly Soundstream RW-10 subwoofers sunk into the floor to provide the hard- hitting boom.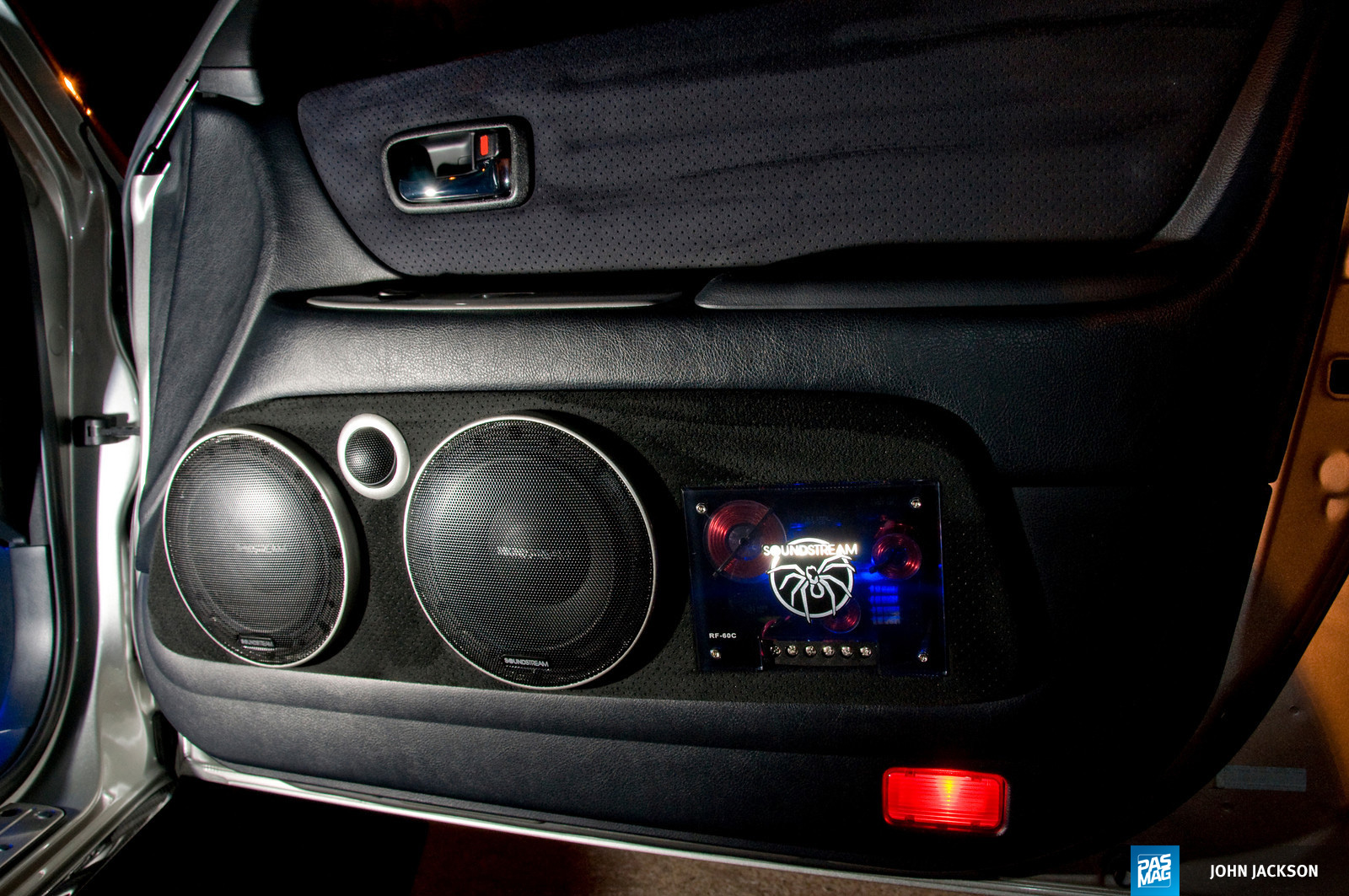 Four rockin' Soundstream RF-60C components consisting of a 6.5-inch woofer and 25mm silk dome tweeter are expertly placed throughout the cabin for great sound in every seat. The sound system is powered by one additional Optima Yellow Top battery hidden out of sight. All is connected by Soundstream audio cables, power wire and fused distributions. The BRIDE Euro II seats house two Soundstream 7-inch touch screen monitors for rear viewing. The trunk top also has two matching Soundstream monitors wrapped in flawless suede for an added touch of bling.
This Lexus debuted at the Spring Break Nationals event in Daytona Beach showcased for Soundstream, and judging by what we saw turned a whole lot of heads. With many more events scheduled for 2009, we're sure to see this extremely clean sport sedan rock its way up and down the Florida coast. For Marshall, it's not about the over the top trophies and bragging rights, it's all about having a car his whole shop can be proud of, show off and promote Mars Audio whose motto is "Sound and Beyond".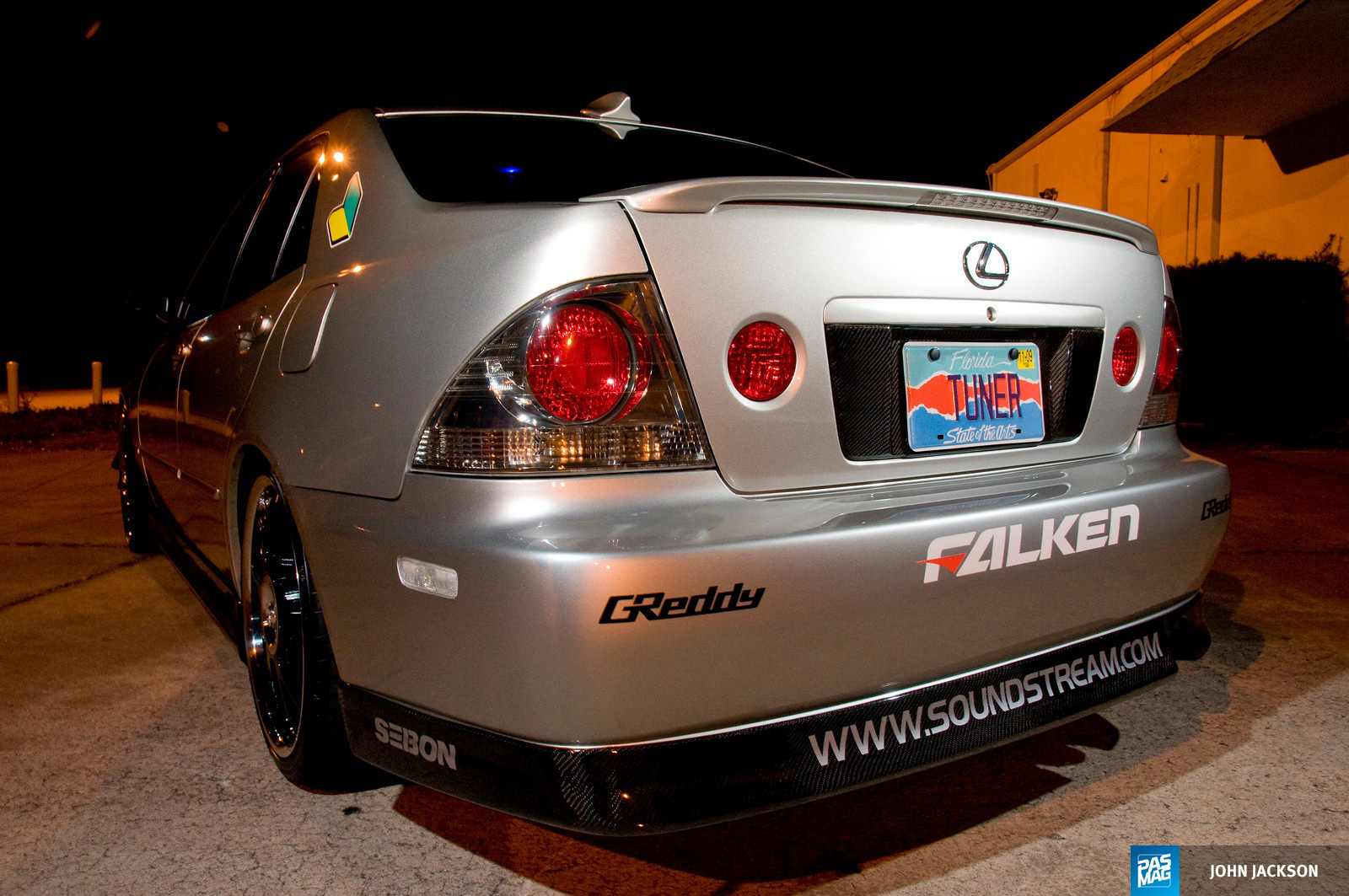 Photography by John Jackson
---
ESSENTIALS
Owner: Marshall Woolford
Shop: MARS AUDIO SOUND AND BEYOND
Location: Kissimmee, FL
Vehicle: 2002 Lexus IS300
Engine: Toyota 3.0L 2JZ-GE inline-6
SOCIAL
Facebook: /marsaudio
Instagram: @marsaudio
ENGINE MODIFICATIONS
Fuijita F5 intake
GReddy Ti-C exhaust
A'PEXi Super Neo
APR Air diversion panel
WHEELS, TIRES, BRAKES
Racing Hart C4 19x7.5-inch
Falken FK452 215/35ZR19
Rotora 4-piston/330mm front brakes
SUSPENSION
TEIN Super Street coilovers
TEIN EDFC
GReddy Strut bar
EXTERIOR
Seibon (Rear lip, Side skirts)
Seibon OEM style hood
CF license plate garnish
APR GT mirrors
APR Canards
APR Front splitter
JDM clear corners
VG2 Shark fin antenna
INTERIOR
BRIDE Euro II seating
Black suede interior treatment
Blue LED interior lighting
Exterior color matched assembly and covers
AUDIO / MULTIMEDIA
Soundstream VIR-7011N Headunit
Soundstream PQ-7 Equalizer
Soundstream TRX2.550 Bass Amp x2
Soundstream TRX4.640 4-Channel Amps x2
Soundstream SCX-8 8.0-Farad Capacitor
Soundstream RW-10 10-inch Subs x4
Soundstream RF-60C 6.5-inch Components x4
Optima Yellow Top x2
Soundstream audio cables, power wire and fuse distributions
PHOTO GALLERY