Building trust and maintaining a good reputation is certainly important for success. When it comes to business or pleasure, a solid reputation can be your most significant asset and make a world of difference. Long before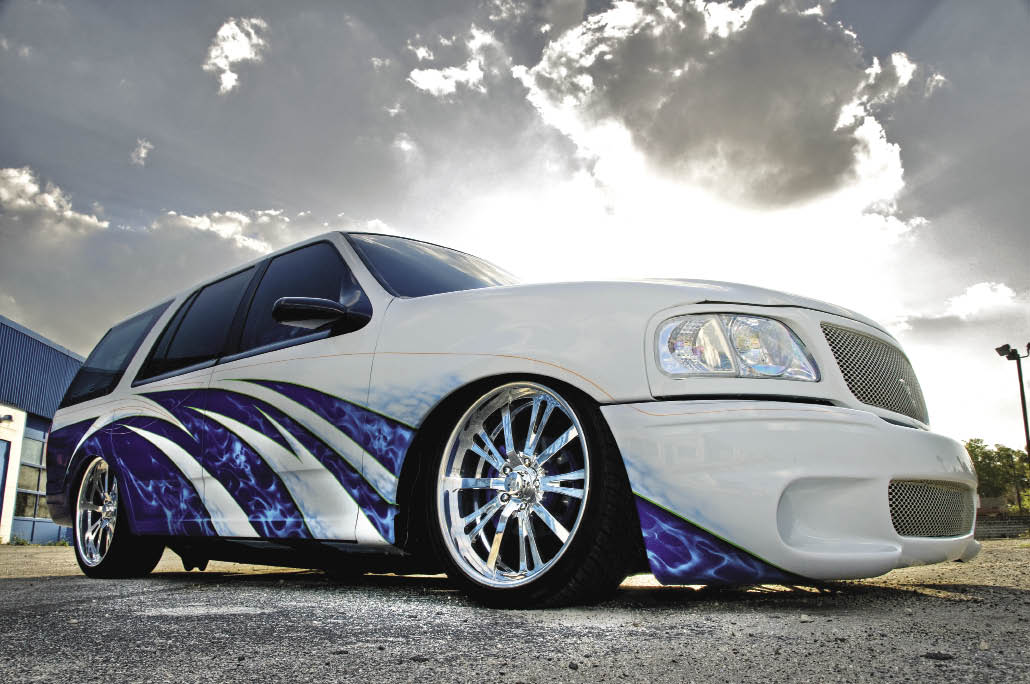 we met Chris Rawlins and his mind-blowing Expedition in person, we'd been told this Savannah, GA enthusiast was one talented dude often known to go above and beyond the call of duty. We caught up with Rawlins in Daytona Beach, FL, for a sea-side photo shoot and quickly learned this dedicated Store and Installation Manager at Kimballs Mobile Electronics was nearly $40,000 deep in customizing his daily driven Ford Expedition. We could certainly relate to Rawlins obsession, as he's exposed to exotic rides and installs all day long working at Kimballs Mobile Electronics and often found at events with his Exotic Auto Trends car and truck club on weekends.
When it comes to being biten by the tuner bug, Rawlins certainly caught car audio fever and promptly transformed his Expedition into a ground pounding audio monster as his only cure! The focus of this project clearly concentrated on a total in-car-entertainment experience, so let's get straight to the goods that go boom!
Rawlins carefully stripped and wrapped his Ford in Dynamat sound deadening to ensure rock solid performance and rattle free sound throughout. He then selected four rocking JBL GTO 1504D subwoofers to place in a custom-made sealed enclosure built around a monstrous JBL Crown A3000 amplifier for onlookers to drool over. An arsenal of JBL P600.2 and JBL P300.4 amplifiers juice the army of speakers which includes JBL C608 GTI MKIIs, JBL C508 GTI MKIIs, JBL P652 and P552 speakers. The highs are taken care of by a whopping 10 JBL GTI tweeters spread throughout the interior!
Rawlins entrusts navigation duties to his handy Harman Kardon GPS 810 Guide + Play which he had custom molded into the center console for a more OEM-like feel along with a Pioneer DEHP8MP head unit and custom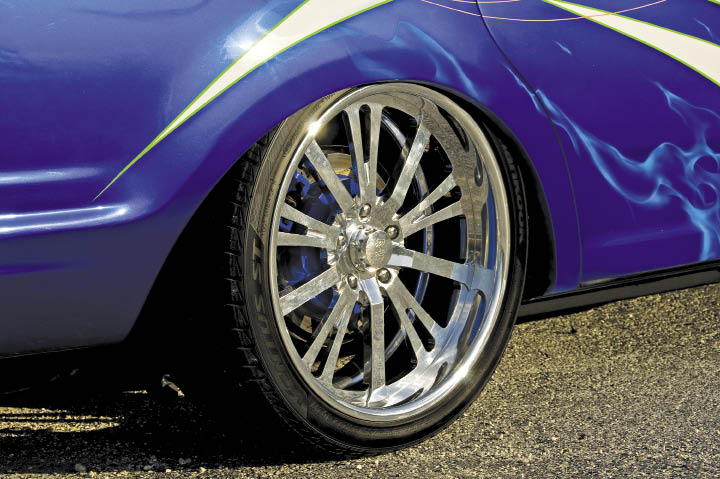 12-inch LCD monitor. A pair of 7-inch Directed LCD video monitors and a flip down 6.8-inch monitor connected to a Panasonic DVD player round out the visual assault. The whole system is brought together and tuned by two Audio Control EQTs.
When it came time to pick vital connections, power and distribution, Rawlins turned to the trusted experts at Stinger Electronics. Underneath it all, you'll find a Stinger SP1500D Power2 Dry Cell car audio battery and Stinger 220 amp alternator driving the very heart of this impressive sound system. Stinger 0-gauge power wire, ANL fuse holder and Stinger Pro Series distribution blocks keep things running smoothly. Five Stinger 1 Farad capacitors are found displayed in the rear of the cabin.
Moving on through the interior, occupants kick back in lavish two-tone Katzskin covered seats and the OEM headliner now wrapped in matching suede also found on the door inserts. The dash has been carefully color matched and even re-fabricated in some sections to accommodate the new center console and Rawlins created a new center gauge pod to keep tabs on his ride. Nu-Image white face gauges rest just behind the BAD billet steering wheel.
With emphasis put on the wild audio install and the Expedition already packing a potent V8, Rawlins plumbed in a cold air intake and Cherry Bomb exhaust as a simple way to get more growl. The big, bad Ford also underwent suspension surgery and Rawlins created a full custom air ride system to really drop it like its hot! Sitting on a set of massive 22-inch BAD Gunslinger wheels really sets this truck apart, as each corner gleam-gleams wrapped in high performance Hankook Ventus ST tires. Behind each 22-inch rim are upgraded Brembo slotted rotors with EBC pads on the freshly powder-coated factory calipers.
The final area to address on this low-slung truck was the exterior. Here's where Rawlins went wild, as his good friends at Smitty's Frame are responsible for the wicked bodywork. The Expedition received a face lift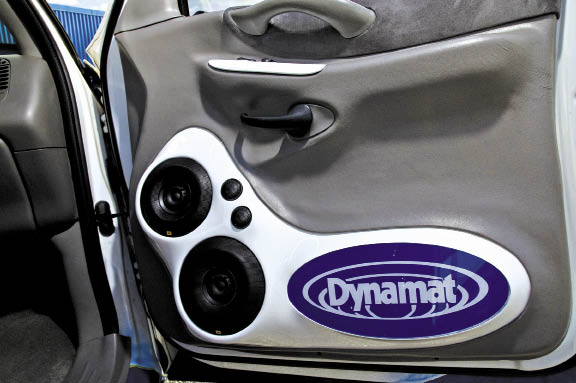 thanks to a new Ford Lightning front bumper and headlights, plus new rear tail lamps off a Lincoln Navigator. The antenna, roof rack, door handles, rear wiper, third brake light, windshield
washers, and emblems were shaved off for a cleaner look while Rawlins added a three-piece roll pan from Grant Customs and Street Scene Speed grill insert. The transformation was complete once the House of Kolor Tru Blue Pearl and Majic Blue Pearl paint were applied with custom blended orange and green pinstripes. Daytona-based Chad Chambers Customs topped it all off with the skillfully intricate airbrush work including some rocking skulls n' flames.
The entire project was completed just days before our scheduled photo shoot and if this flawless truck serves as any indication of Rawlins reputation, it's clearly in good hands. We'd like to thank Chris Rawlins and the JBL team for kickin' it with our editorial crew in Daytona Beach and keeping us out of trouble. Rawlins has a truly special vehicle that captures the truck scene down south and represents for true audiophiles everywhere. Keep an eye out for this Expedition as it's sure to turn some heads and bump some bass at an event near you.