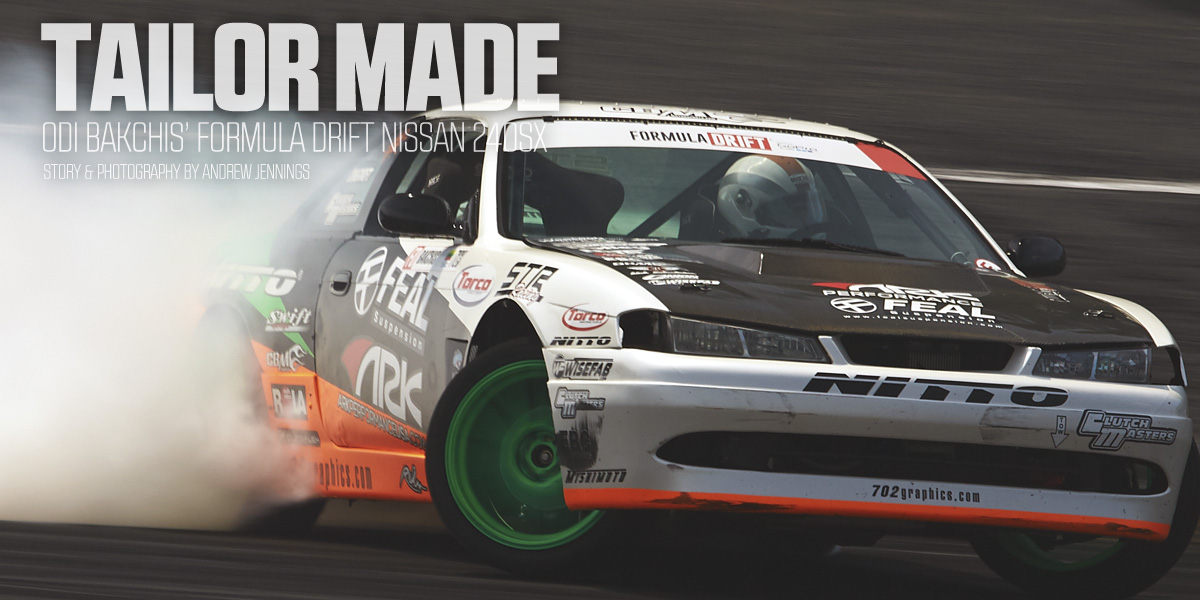 Formula Drift's roster is filled with drivers from diverse, global backgrounds, and Aurimas "Odi" Bakchis is no exception. Originally from Lithuania, he immigrated to the United States at the age of eight, bringing with him a motorsports background that runs in the family. His father was a professional boat racer in Europe, so it was only a matter of time before Odi could get behind the wheel (or in his case, handlebars) of something fast. Motocross gave way to rally racing and, in 2009, he turned his focus towards professional drifting. Now, in 2015, he is gunning for the FD title in his latest entry: the Feal Suspension / ARK Performance / Nitto Tire Nissan 240SX.
At first glance, Bakchis' Nissan may look pedestrian. There are no whale-tail carbon wings, canards or miniature side mirrors. Don't be fooled by the sleeper attitude. Bakchis is a quiet guy, but once the visor goes down on his racing helmet, he is just as formidable as any of Formula D's champions, and his car reflects this.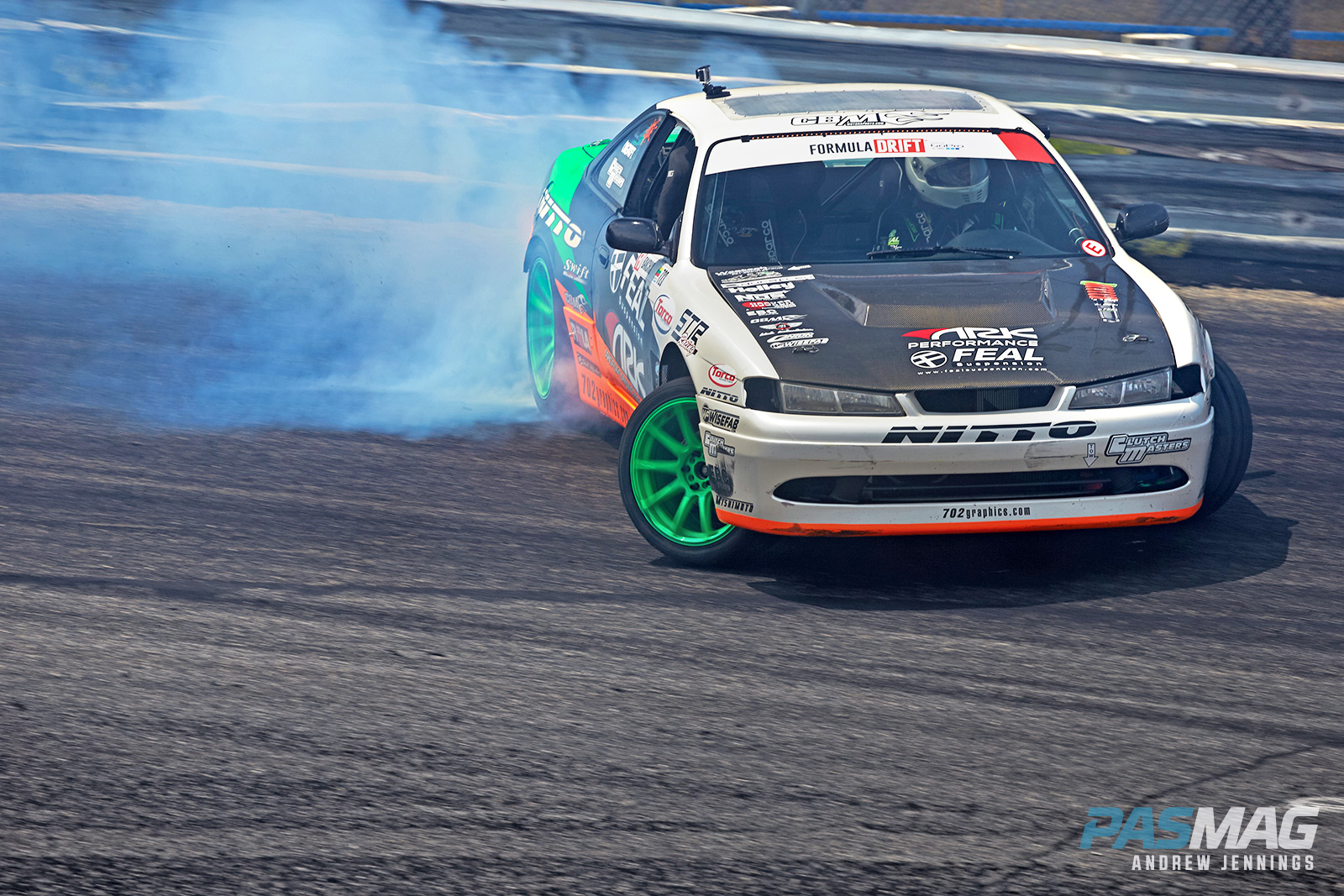 The coupe's bodywork has been replaced with Dynaflex panels, each serving an important purpose. The front and rear bumpers are more bendable, allowing Bakchis to give love taps to the walls and other race cars without being disrupted. The hood is a carbon fiber vented design to help relieve hot air from the engine bay. His fenders are each 50-mm wider than stock, opening up space for a set of sticky Nitto NT05 tires. The rubber is wrapped around the first of many signature mods created specifically for Odi. STR Racing provided a unique edition of its 902 series flow-formed 18-inch wheels in Bakchis' favorite shade of hot green. It all adds up to a simple, effective philosophy: make room for everything that matters and let the driver do the rest. No gimmicks, just raw design.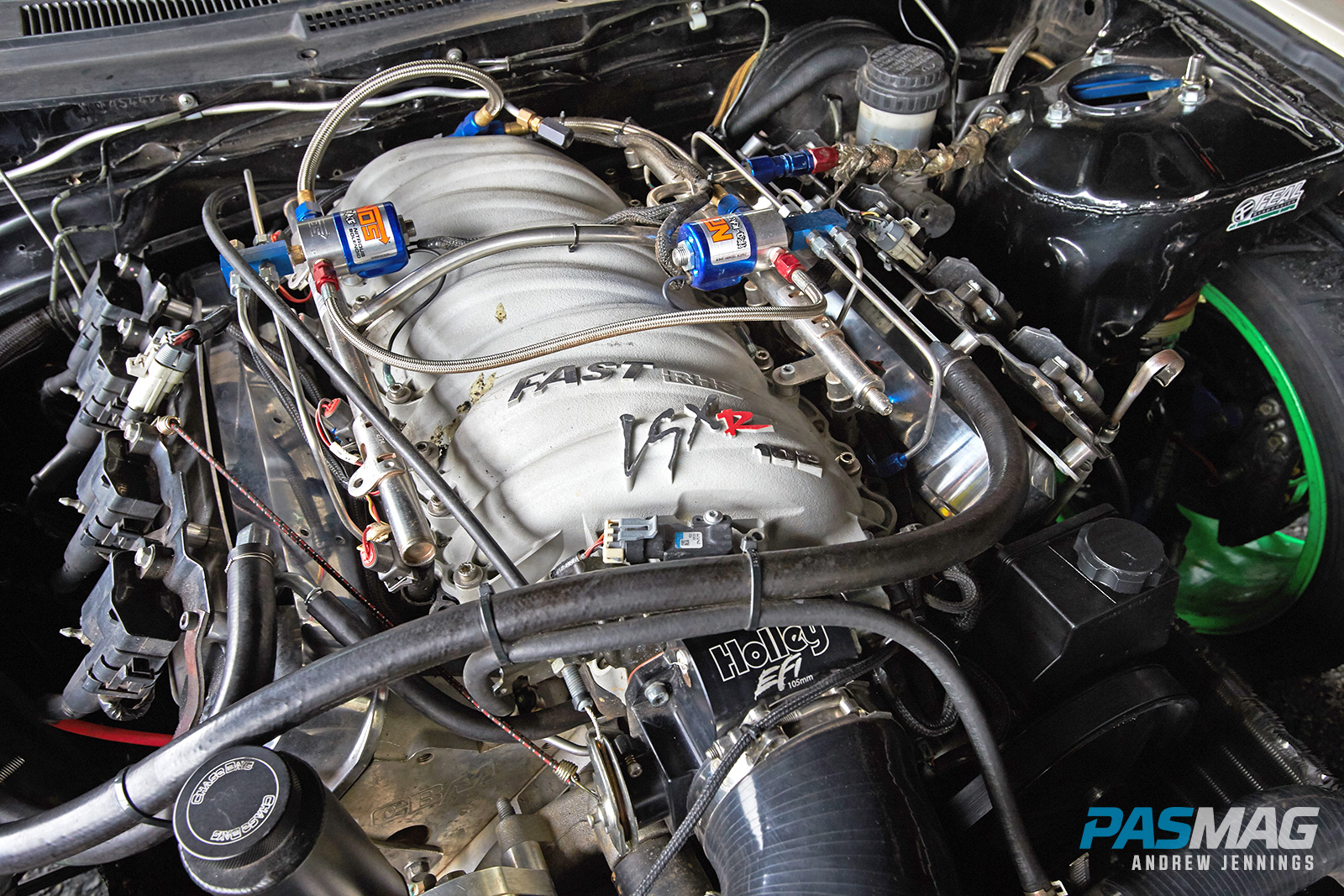 Under the bonnet, the engine has to be ready for quick acceleration, and punishing torque that will light up the rear tires on command. To accomplish these tasks, he turned to CBM Motorsports for a crate LS7 V8 engine. Normally, it would put out around 540 horsepower and 470 lb-ft of torque, but that just wouldn't cut it at the top tier of drifting. Add on a Fast LSXR intake manifold, together with a larger Holley EFI 105-mm throttle body and Fujita air intake, and the engine breathes in exponentially more air. On the back end, Hooker headers feed down to a custom straight pipe exhaust for a lossless exit. The recipe is finished with a dash of nitrous injection to deliver upwards of 650 horsepower and 625 lb-ft of torque. Bakchis' LS7 may not have the highest output in the sport, but its naturally-aspirated, instantaneous feedback perfectly suits his aggressive, no-hesitation tarmac pirouettes.
Moving from the power unit to the corners, a quick peek beneath the 240's fenders reveal Bakchis' personal project: the suspension. As President and CEO of Feal, Bakchis not only enjoys some high-quality parts without added cost, he can also fine tune them for his own specific driving style. The Feal 441 drift coilover setup he employs has been tested and refined season after season, even getting input from other Formula Drift drivers that also use the suspension. All Feal coilover kits come with Swift springs, one of the most sought after names in the business, giving the car a stable ride height and consistent travel. The 441 application is also suited to another component within the wheel well: the steering components.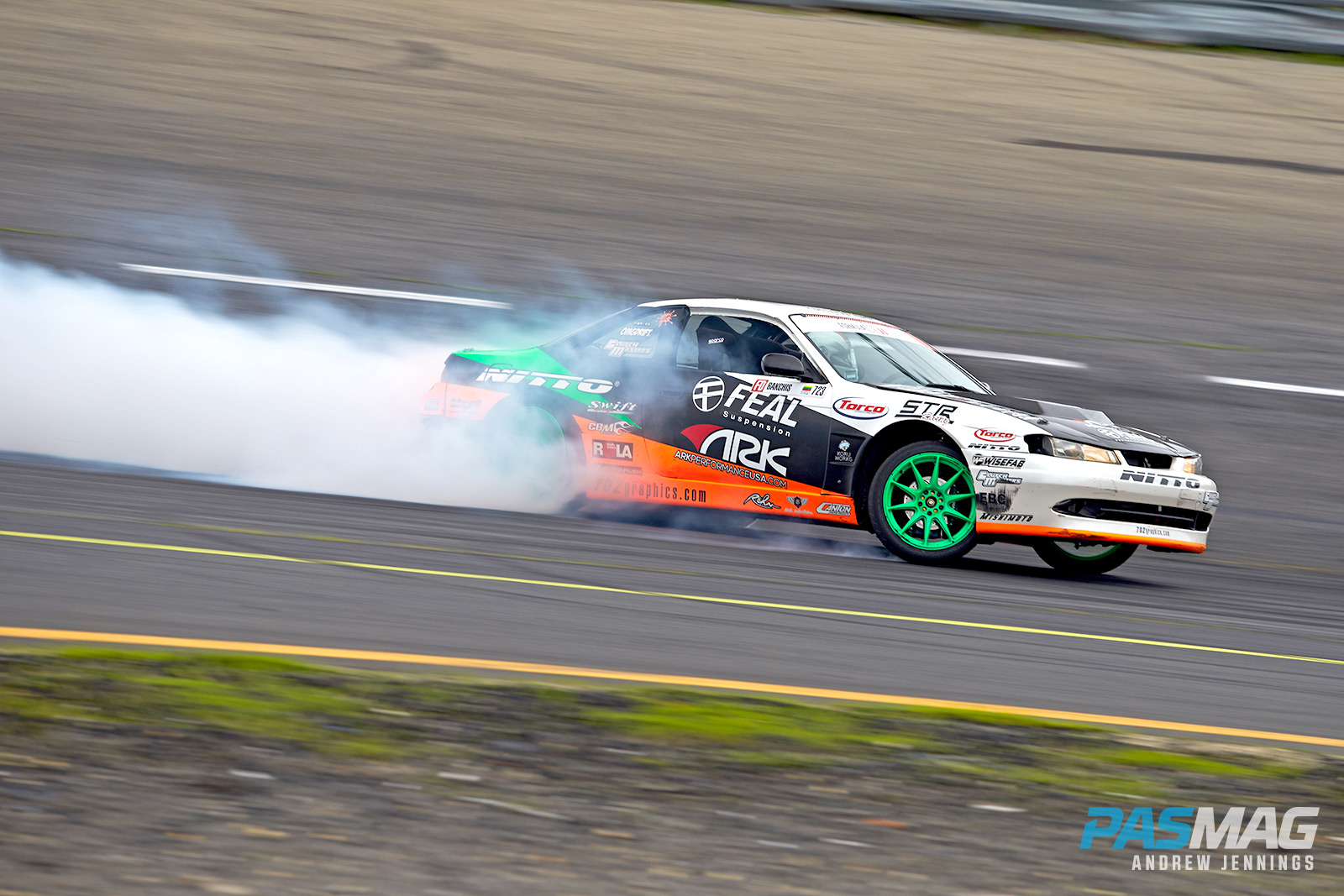 The only way to maintain an extreme angled slide and prevent the car from turning into a full-on 360-degree spin is to give the driver more ability to countersteer. Enter Wisefab, a company that is quickly becoming the drifting equivalent of Coca-Cola for steering arms. Bakchis employs their S14 FD-legal kit on his 240, increasing the turn lock from 37- to 65-degrees! The kit also features camber control, meaning that even though both front wheels are tilted inward when the car is facing straight ahead, the contact patch isn't largely reduced or degraded in extreme turning. The arms rotate together with the bump of the suspension, smoothening out front end jar and making the car much easier to drive. For Bakchis, it means whenever he flicks the steering wheel from side-to-side, he knows there won't be any mechanical surprises to correct for. Everything works together to help him perform slides the judges award extra points for.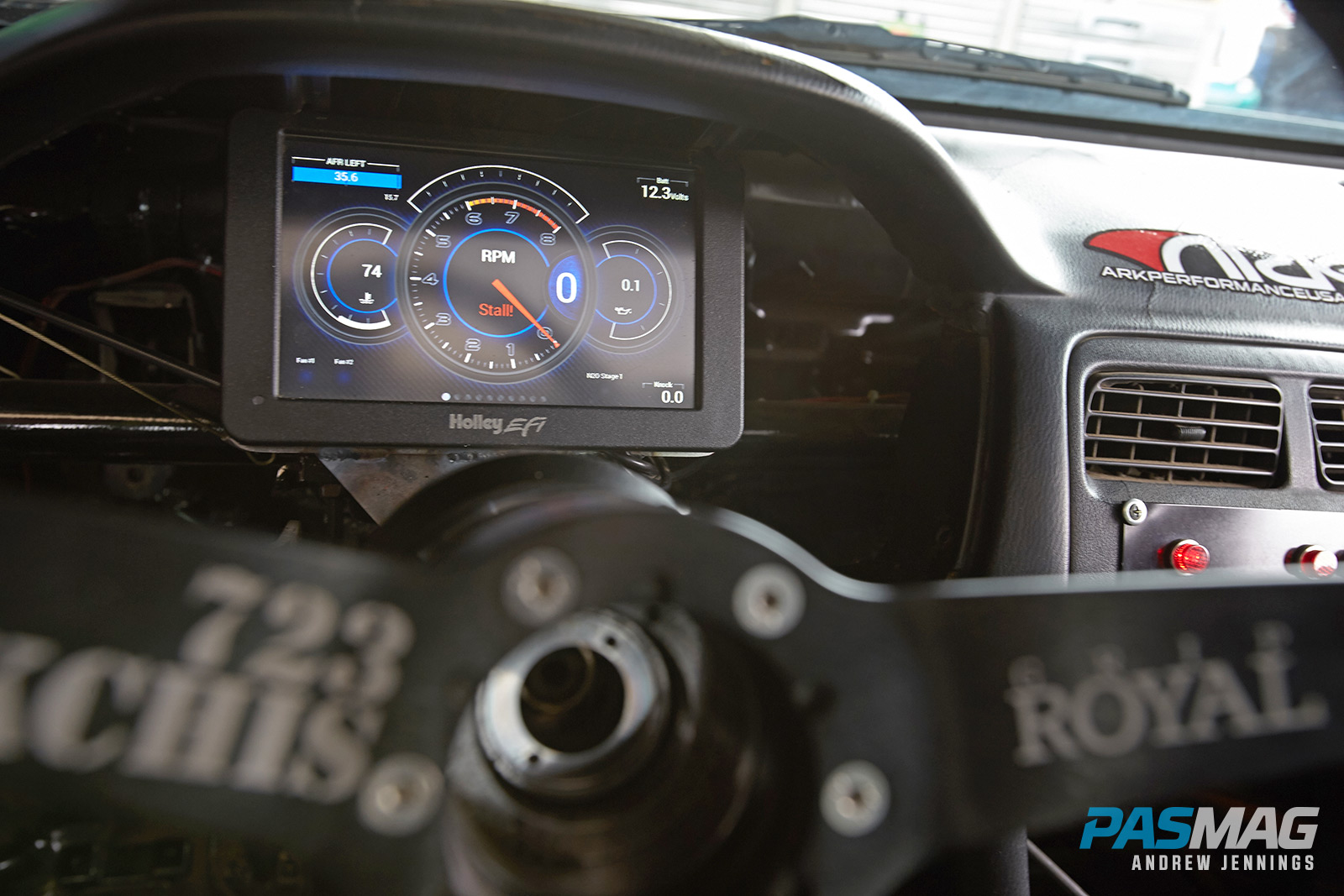 Speaking of steering, the interior continues the theme of unique parts just for Bakchis with a custom wheel by Grip Royal. This full suede rim has black machined spokes and signature "723 Bakchis" branding against the left side - a visual reminder that this driver isn't your average owner/privateer. The steering wheel is attached to a NRG quick release hub for easy removal on entry/exits to the tight cabin. A few inches farther up sits the Holley Performance EFI touchscreen dashboard. Long gone are the days of oversized tachometers that belong in Hollywood's early 2000s movie franchises. This new era of tech has ushered in a fully configurable unit that can display and control everything from engine temps to fuel delivery, all in a compact package that fits nicely under the stock meter hood.
The rest of the interior is business as usual: a full roll cage to FD's safety specs, along with Sparco bucket racing seats and Sparco six-point harnesses. Bakchis mated his CBM LS7 to a Tex101A four-speed transmission and ClutchMasters dual plates to handle shifting duties. Beside the gear knob, a specialized ASD handbrake module connects to the secondary set of rear calipers for locking the rear wheels at will. Stopping power has been upgraded all around with an EBC Nissan Z32 brake kit and EBC Yellowstuff pads. The grip that sits atop Bakchis' handbrake lever is another unique feature. No, that's not from a samurai sword; it's actually Bakchis' old Scott dirt bike handlebar grip - a keepsake that has stood by him faithfully through multiple S14 builds.
Bakchis has consistently upped his drifting game year after year. In his 2011 debut, he earned Formula Drift's Rookie of the Year award. Last year, he claimed his maiden podiums, first in N.J. and later in Texas, helping to earn himself fourth place overall. Now, with this host of upgrades to his Nissan 240SX, Bakchis feels more confident than ever about challenging for the overall championship in 2015.
ESSENTIALS
Feal Suspension/ARK Performance/Nitto Tire Nissan 240SX (S14)
DRIVER: Aurimas "Odi" Bakchis
LOCATION: Ontario, CA
ENGINE: Chevrolet LS7 7.0L V8
HORSEPOWER: 650 hp
TORQUE: 625 lb-ft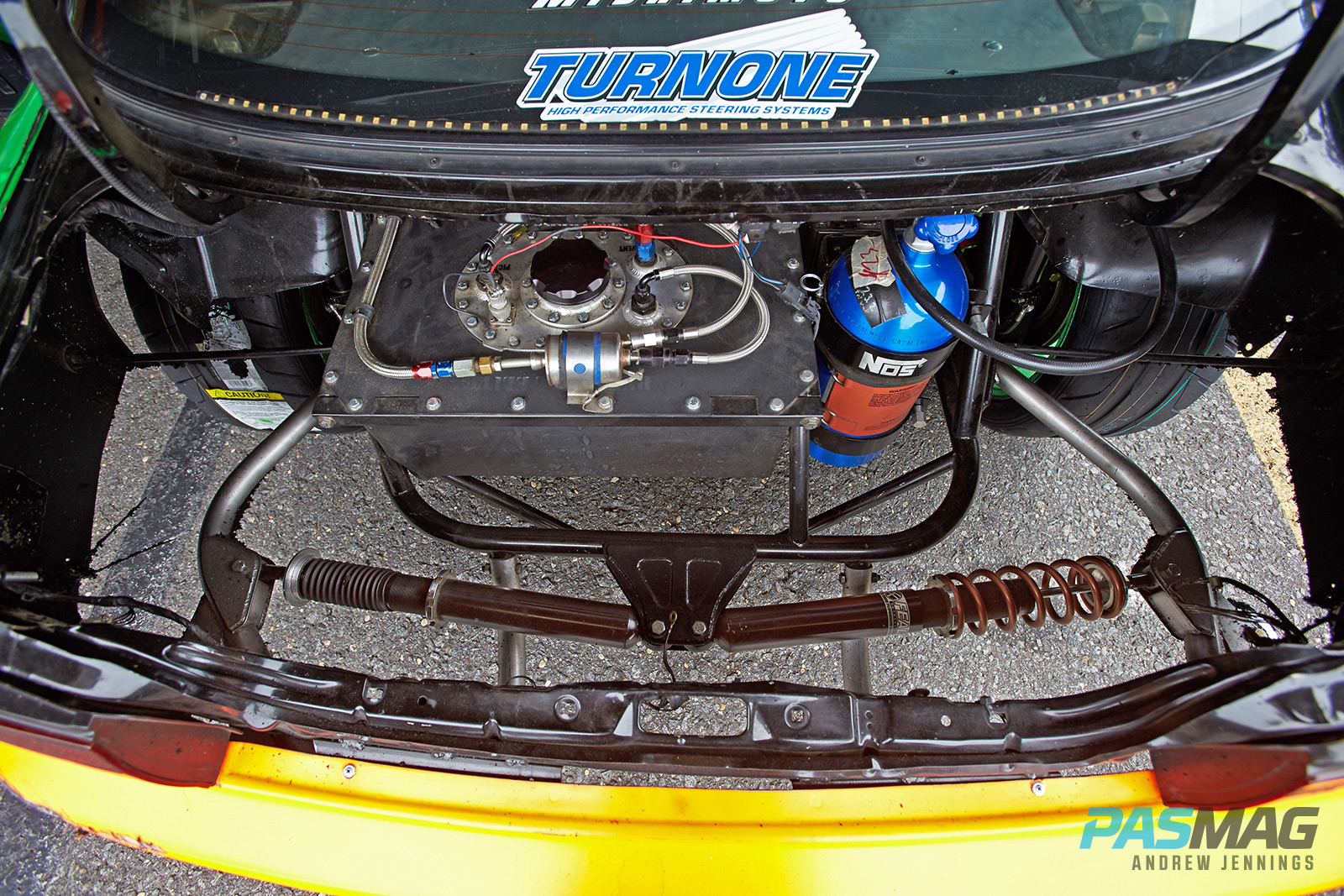 ENGINE MODIFICATIONS
CBM Motorsports LS7 race engine
Holley Performance EFI
Hooker headers
FAST LSXR 102-mm intake manifold
Fujita air intake
Mishimoto (X-Line aluminum radiator, oil cooler)
Nitrous Oxide Systems multi-port progressive kit
DRIVETRAIN
Clutch Masters (twin-disc system, slave cylinder)
Tex101A 4-speed transmission
Speedway Engineering quick change rear end
DSS axles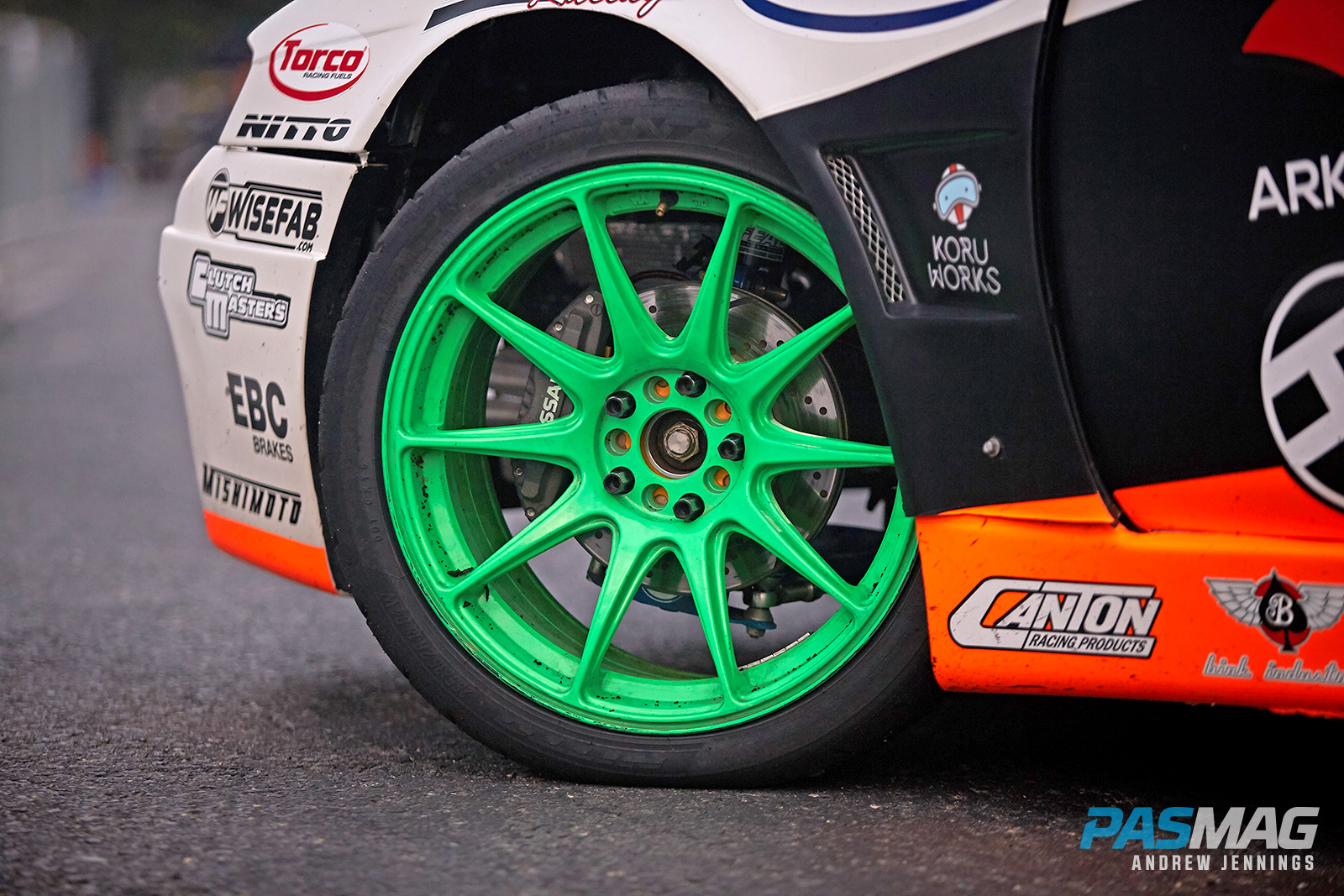 WHEELS / TIRES / BRAKES
STR 902 ODI Edition Track Series wheels – 18-in. (f/r)
Nitto NT05 tires – 275/35 R18 (f/r)
EBC Yellowstuff brake pads
Nissan Z32 (calipers, rotors, master cylinder)
ASD handbrake
CHASSIS / SUSPENSION
Wisefab FD-legal angle kit
Feal 441 drift specific coilover kit
Swift springs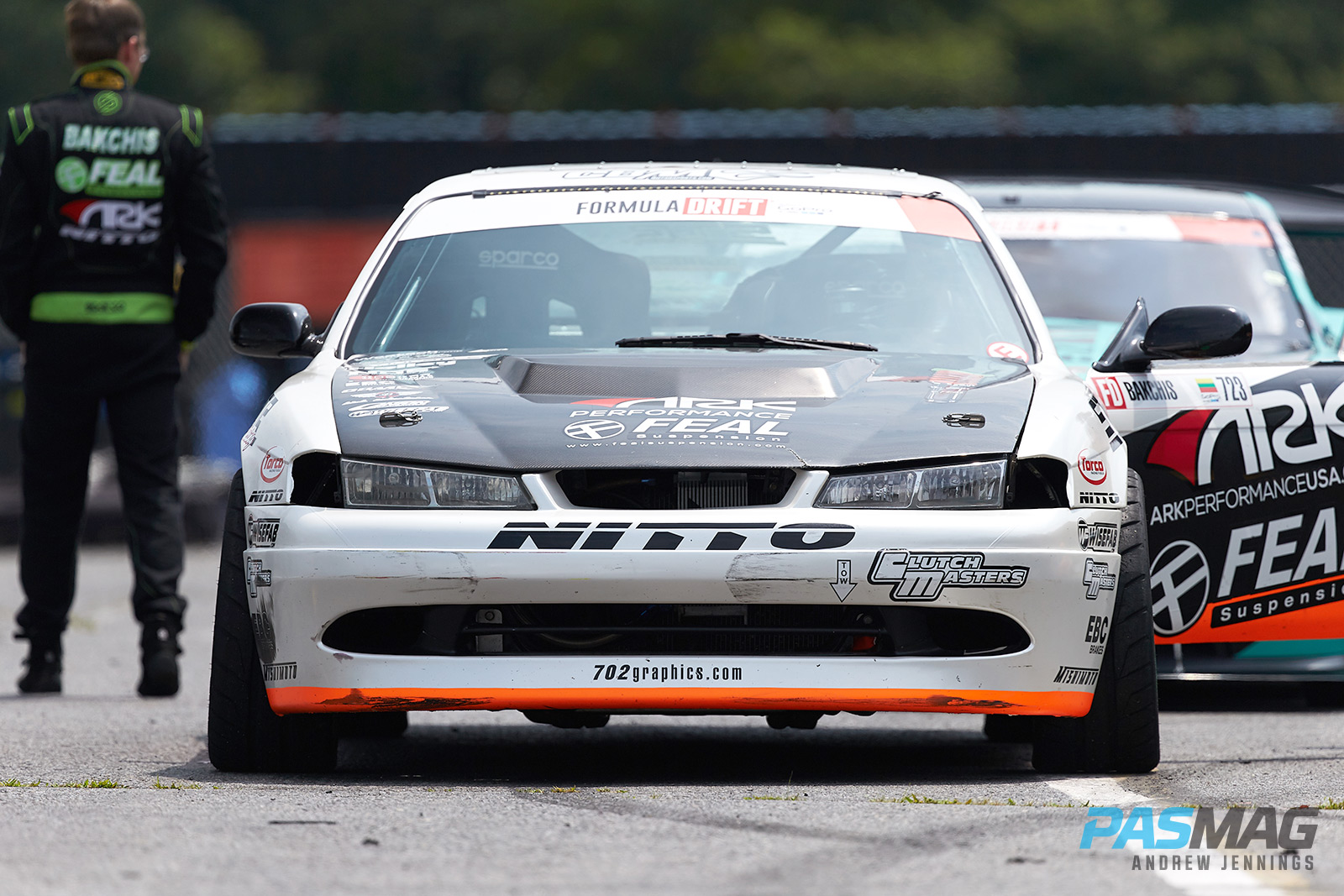 EXTERIOR
Duraflex (Supercool body kit, vented hood, 50-mm fenders (f/r))
702 Graphics livery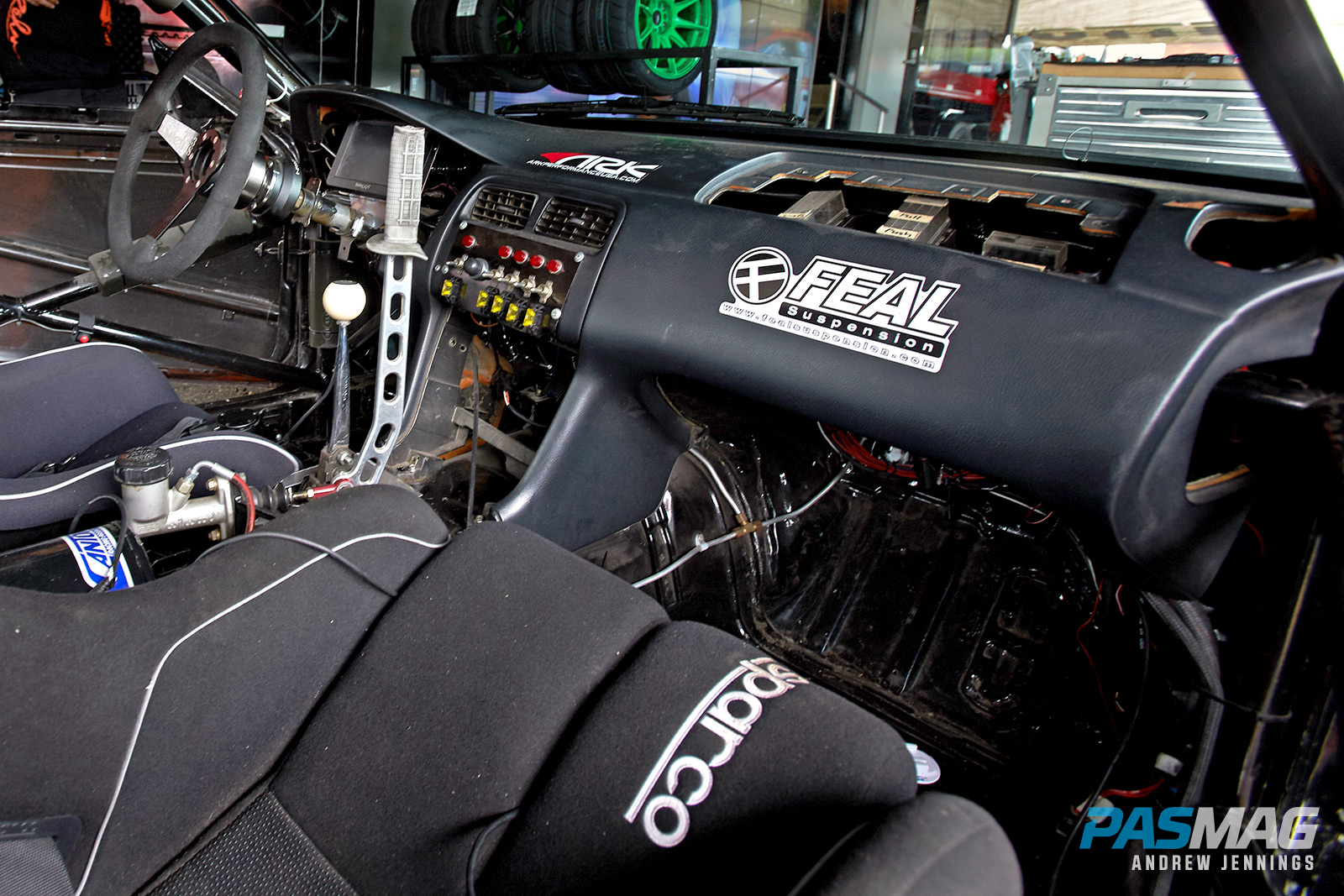 INTERIOR
Sparco (Circuit race seats, 6-point harnesses)
Grip Royal "Odi Edition" suede steering wheel
NRG quick release steering wheel hub
FD legal roll cage
Holley Performance EFI touchscreen dashboard
Scott dirt bike grip e-brake handle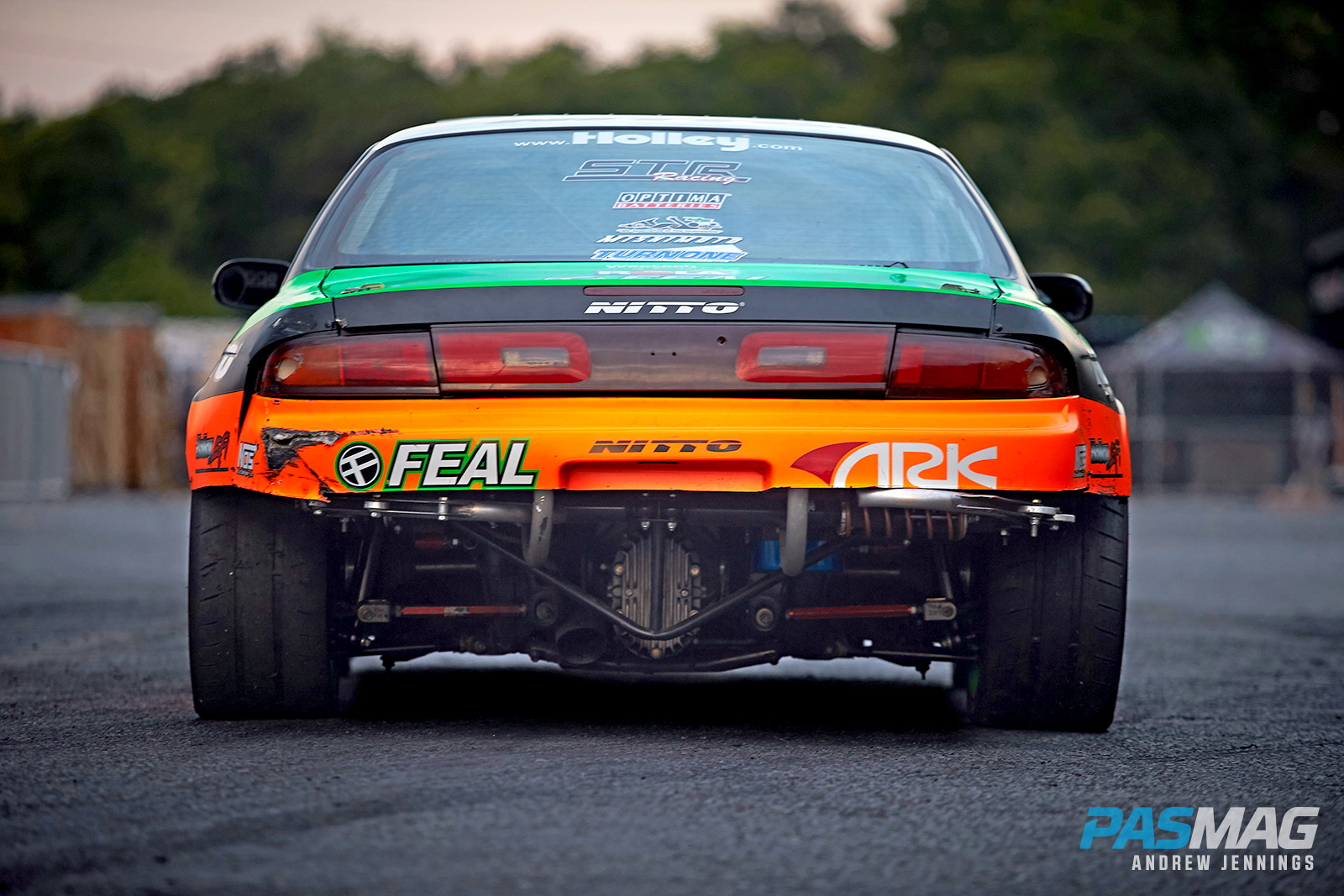 SPONSORS
ARK Performance, Feal Suspension, Nitto Tire USA, STR-Racing Wheels, Torco Advanced Lubricants, 702 Graphics, Clutch Masters, Holley Performance, Hooker Headers, Nitrous Oxide Systems, CBM Motorsports, Rola A/V, Mishimoto, Swift Springs, Rehv Clothing, Canton Racing, McCune Design & Mfg, Extreme Dimensions, Grip Royal, Wisefab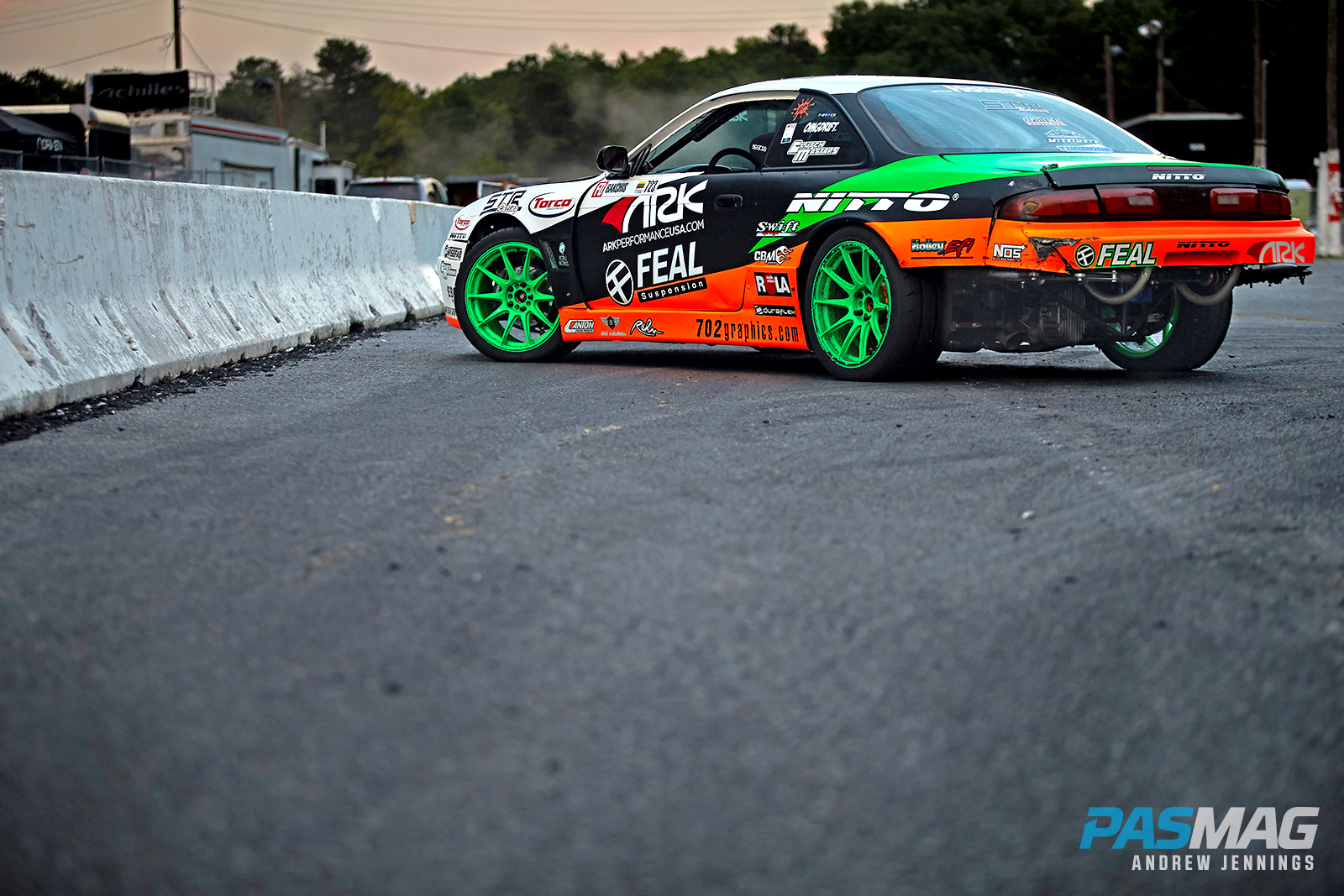 Contributor: Andrew Jennings