Photography by Jeremy Brian.
---
No matter what the sport or competition, being the champ isn't easy. It takes determination, focus and oh so much work. Anthony De Guzman, our 2014 Tuner Battlegrounds Champion, is no stranger to any of those words. He knows what it means to put in the work to succeed and chase your vision until it's a reality. And, as those of you in Winnipeg know, he's no stranger to building some pretty noteworthy cars.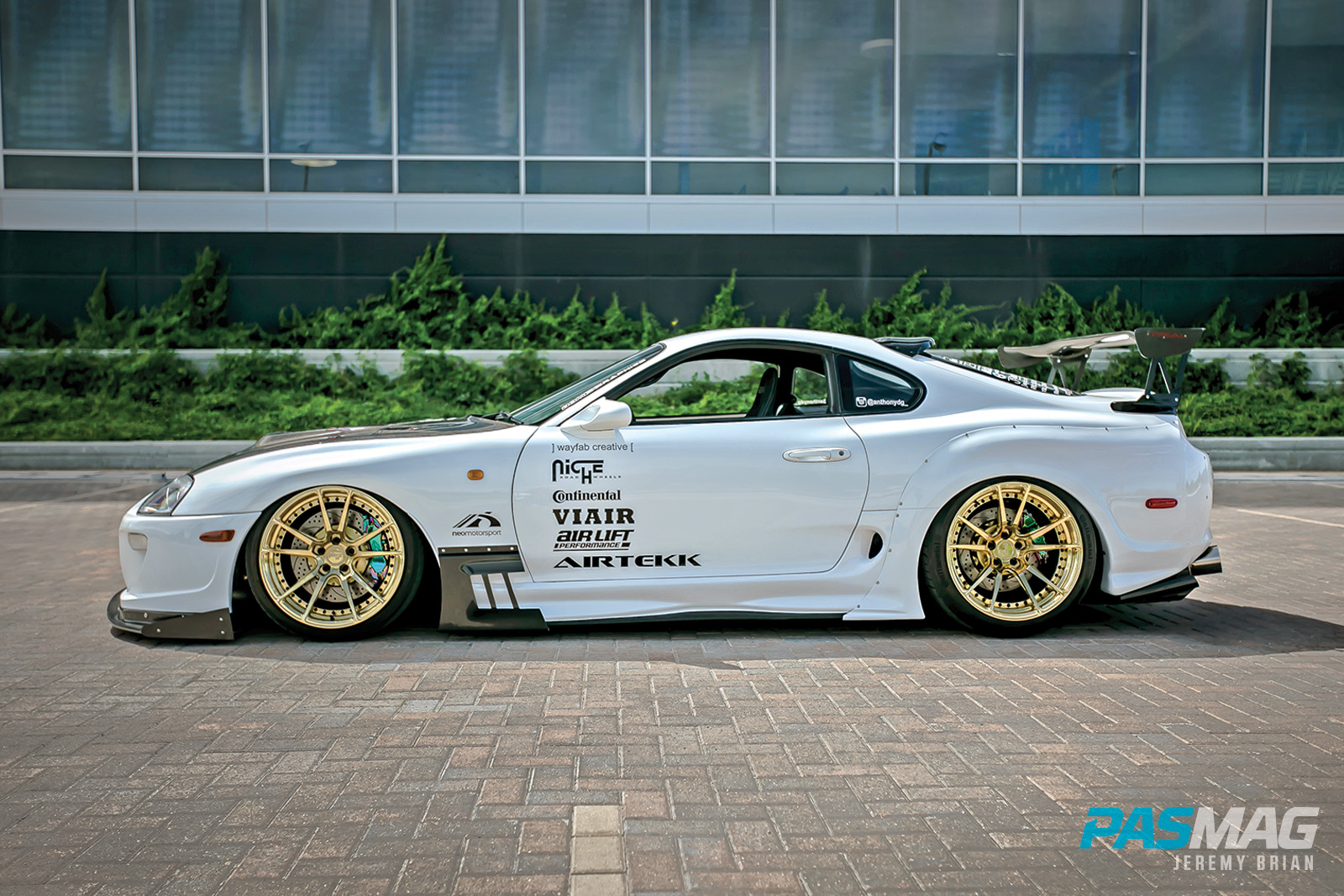 See, this isn't De Guzman's first time being featured in PASMAG – he took a feature spot way back in our October 2008 issue with his insane twin-turbo Infiniti G35. The car that started it all for him, however, was a 2002 Toyota Celica (also PASMAG featured in June 2004) that he and his twin brother both pitched in to buy and modify when they were 17-years-old. It turned out to be fairly successful.
"We built [the Celica], kept going with it and it kept winning a lot of awards," De Guzman recalls. "Eventually we stopped working on it in '07-ish."
So, just a year after hitting the pause button on "DA TWINZ" Celica, De Guzman had already snagged a G35 and had it in PASMAG feature condition. That's impressive. But, if you know Anthony at all, you know he doesn't sit on one car for long. He just so happened to stumble upon the next one while he was browsing around Kijiji one day.
"I saw this Supra and it was pretty beat up, but I just looked at it and thought, 'Yeah, this is something I could work with,' De Guzman explains. "It was beat up and the paint was blue and it had a really bad body kit. The motor actually had low compression, too, so I had to put a new motor in. That's how it began. I bought it off of Kijiji as a diamond in the rough."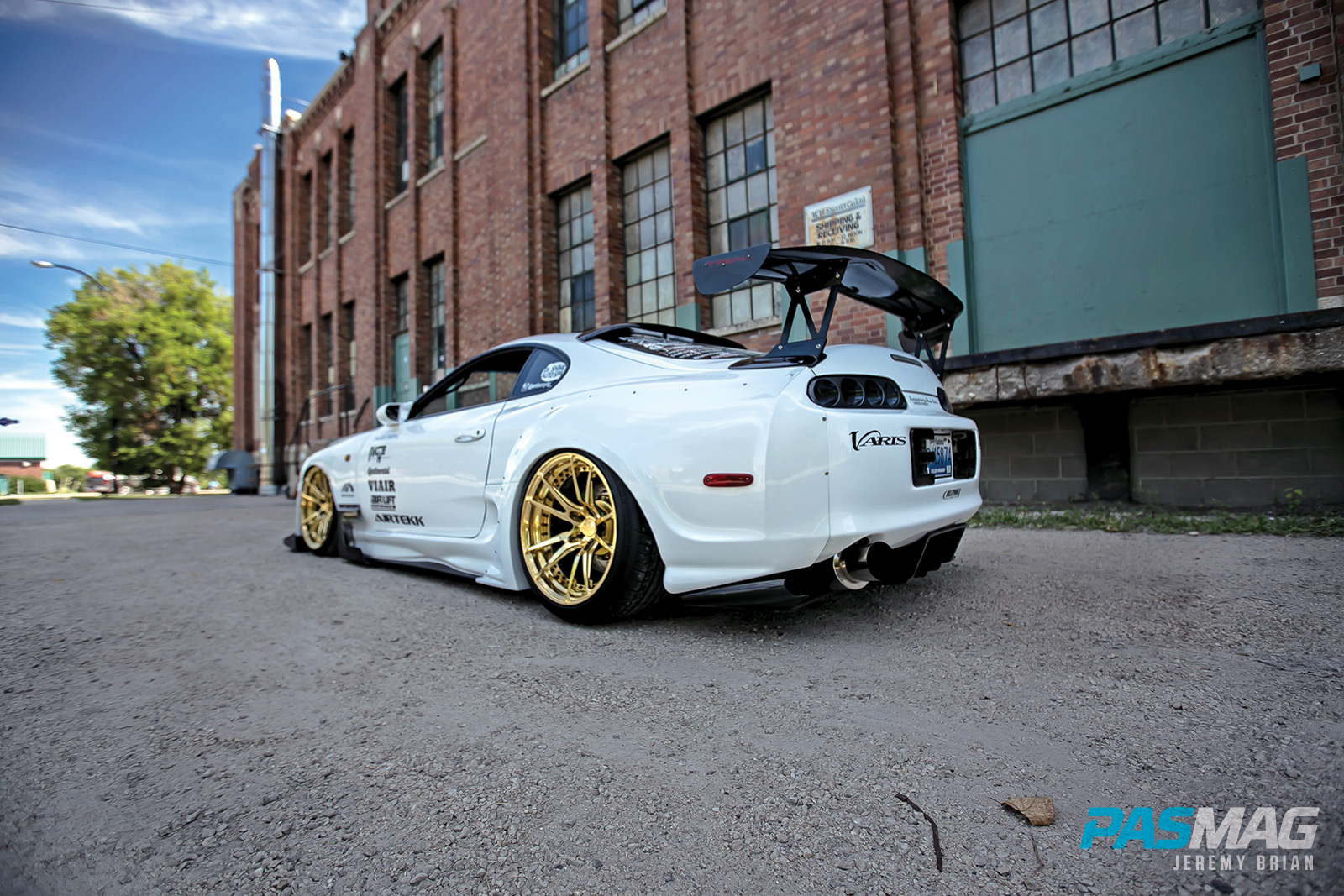 Ripping off the old gaudy body kit and painting the car a spectacular mixture of Lamborghini Balloon White and Lexus Starfire Pearl paints, with a few other tasteful updates, things were looking up. The engine was swapped out and the new 2JZ got a friend in the form of a Boost Logic Stage 3 single turbo kit. This brought the facelifted Supra up to just over 700 horsepower. De Guzman trimmed it out just right with a sprinkle of JDM bits and an impressive custom trunk audio install and called it done for a while.
That was until he saw something interesting as he was flipping through his latest issue of PASMAG. He saw the words "Tuner Battlegrounds" and his interest was piqued.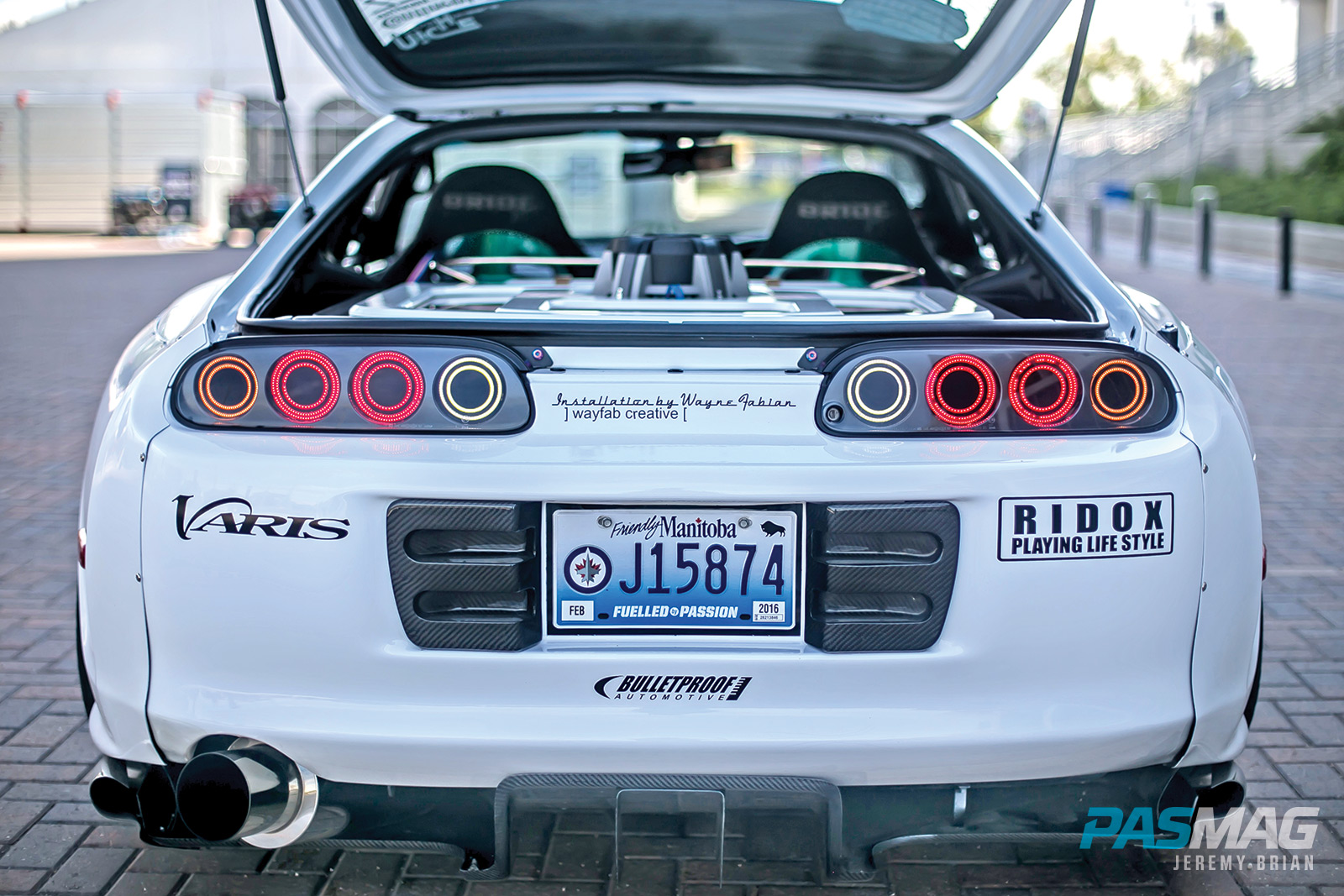 "I was curious and I went on the Performance Auto & Sound Facebook and Instagram pages and found out it was a competition," De Guzman laughs. "I applied on my phone, maybe two weeks before the deadline. It was just a last minute decision I made lying in my bed on my phone!"
With a sizable personal and professional network of friends, family and colleagues, De Guzman dominated his way through the ranks of the TBG Championship competition, taking on everything from Civics to GT-Rs. He had finally met his match in Vegas at SEMA when he came face-to-face with Moses Awad's carbon fiberclad 370Z. The night before the decision, the polls were neck and neck, with no clear winner in sight. When we woke up the next day, De Guzman had the lead by a mile. He credits everyone back in Winnipeg with the victory.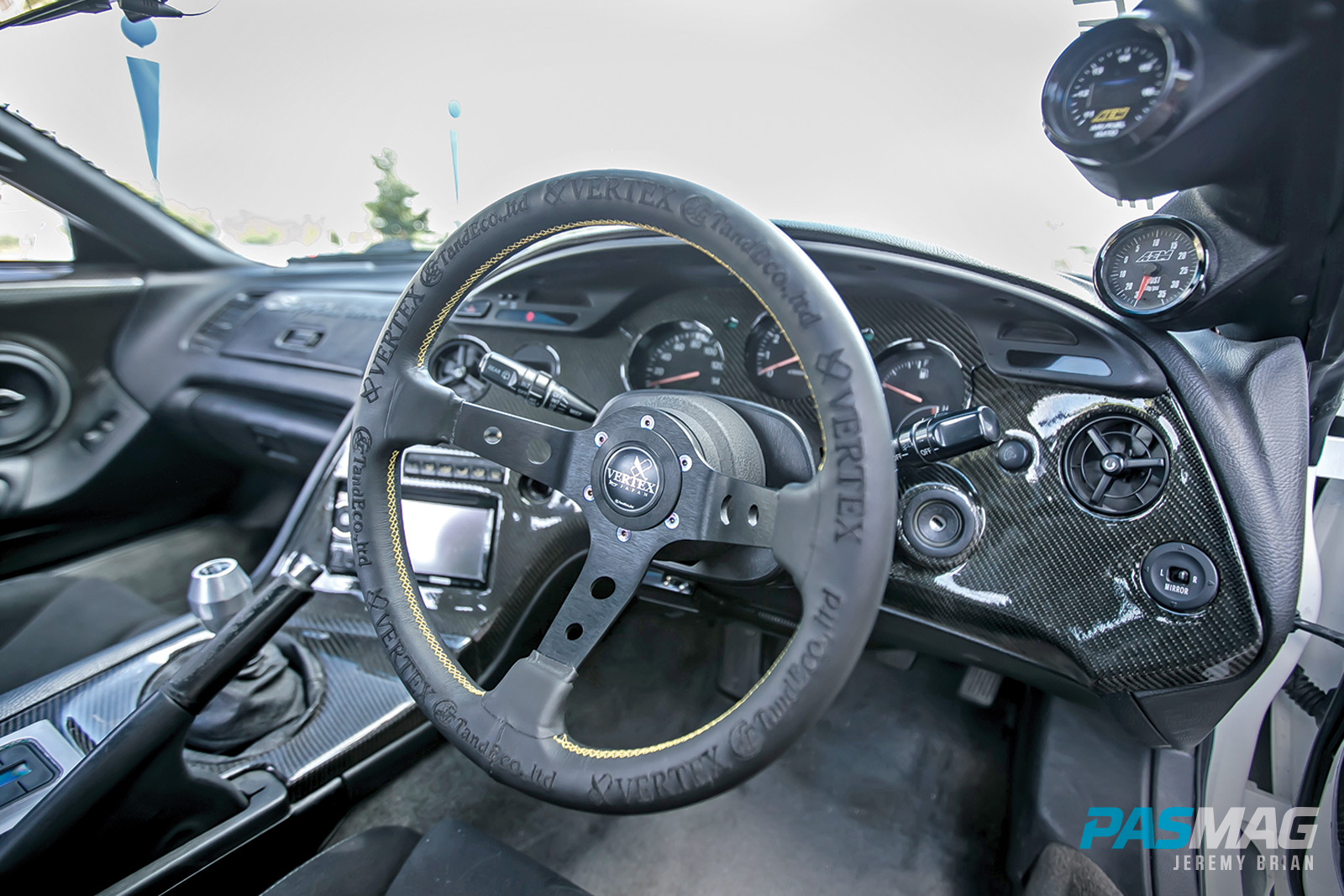 "I reached out to my network, my friends, family, everybody and it was a good team effort," says De Guzman. "My city, Winnipeg, really helped me out because they wanted someone from Winnipeg to make it that far."
'Supra' was also the word on everyone's lips while it was shown off to those at SEMA. It helps that the car has a cult following, but De Guzman also encouraged those interested to look closely at both competitors' cars and pick whichever one they liked better, with no hard feelings if it wasn't his. His charm and sportsmanship probably also played a large part in his win in Las Vegas.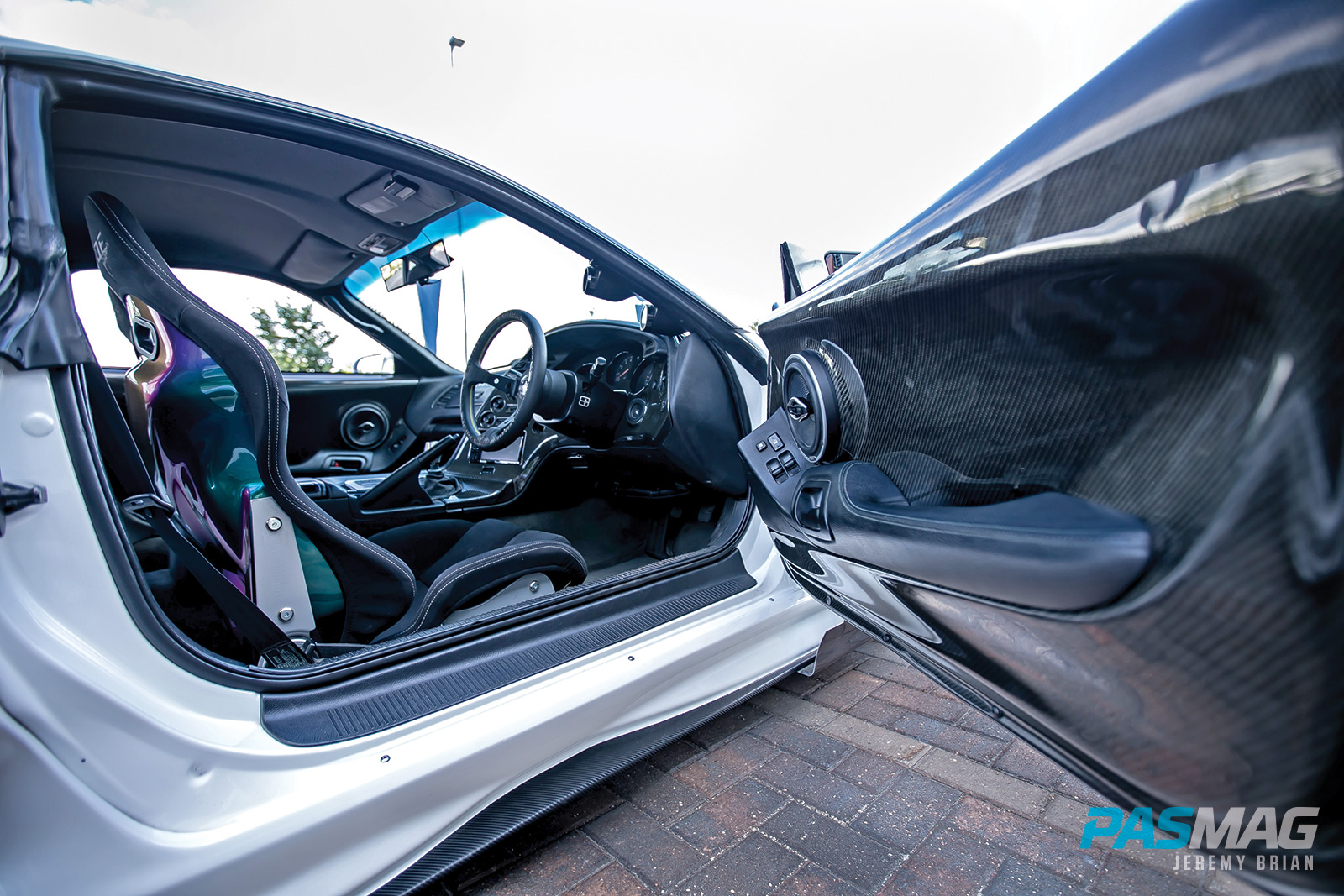 Everything wasn't all sunshine and daisies on his way to Vegas, however. De Guzman was hit with what everyone building a car for SEMA is hit with: the SEMA crunch. He says that without the help of his friend Wayne Fabian of Wayfab Creative, the car wouldn't have been close to done come showtime.
"Getting the stereo done was a challenge in itself," De Guzman recalls. "I texted my buddy Wayne and explained that we had exactly a week to get the car done. He couldn't take it in right away because he obviously had to finish his customer stuff first. He took it in on a Wednesday and went crazy that night, then to Thursday morning and Thursday night."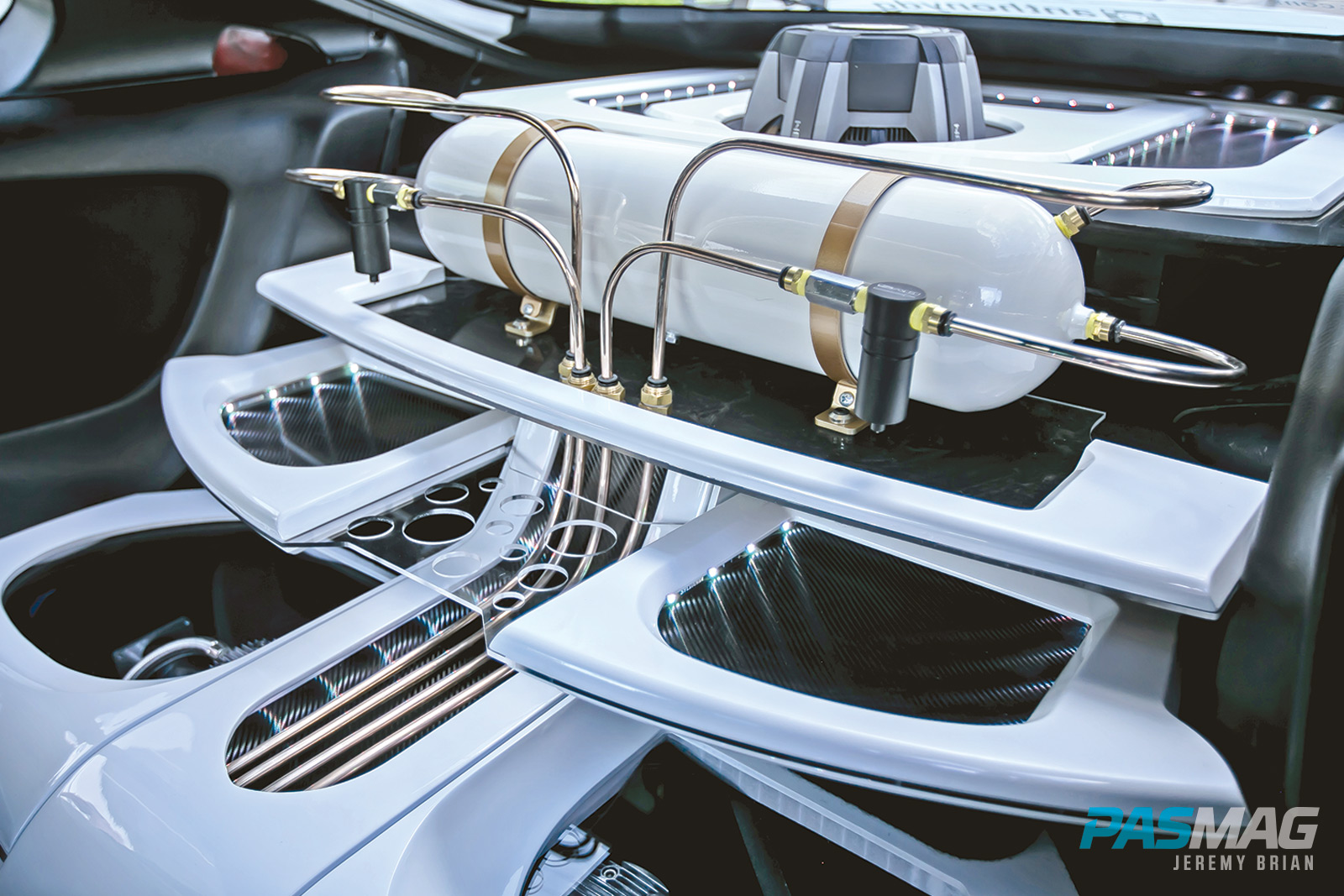 "Friday is when the truck said they were coming to pick the car up," he continues, laughing. "Wayne went at it for two nights straight working non-stop on that stereo. I think I have a picture of him sleeping in the Supra at like 4 a.m. or something!"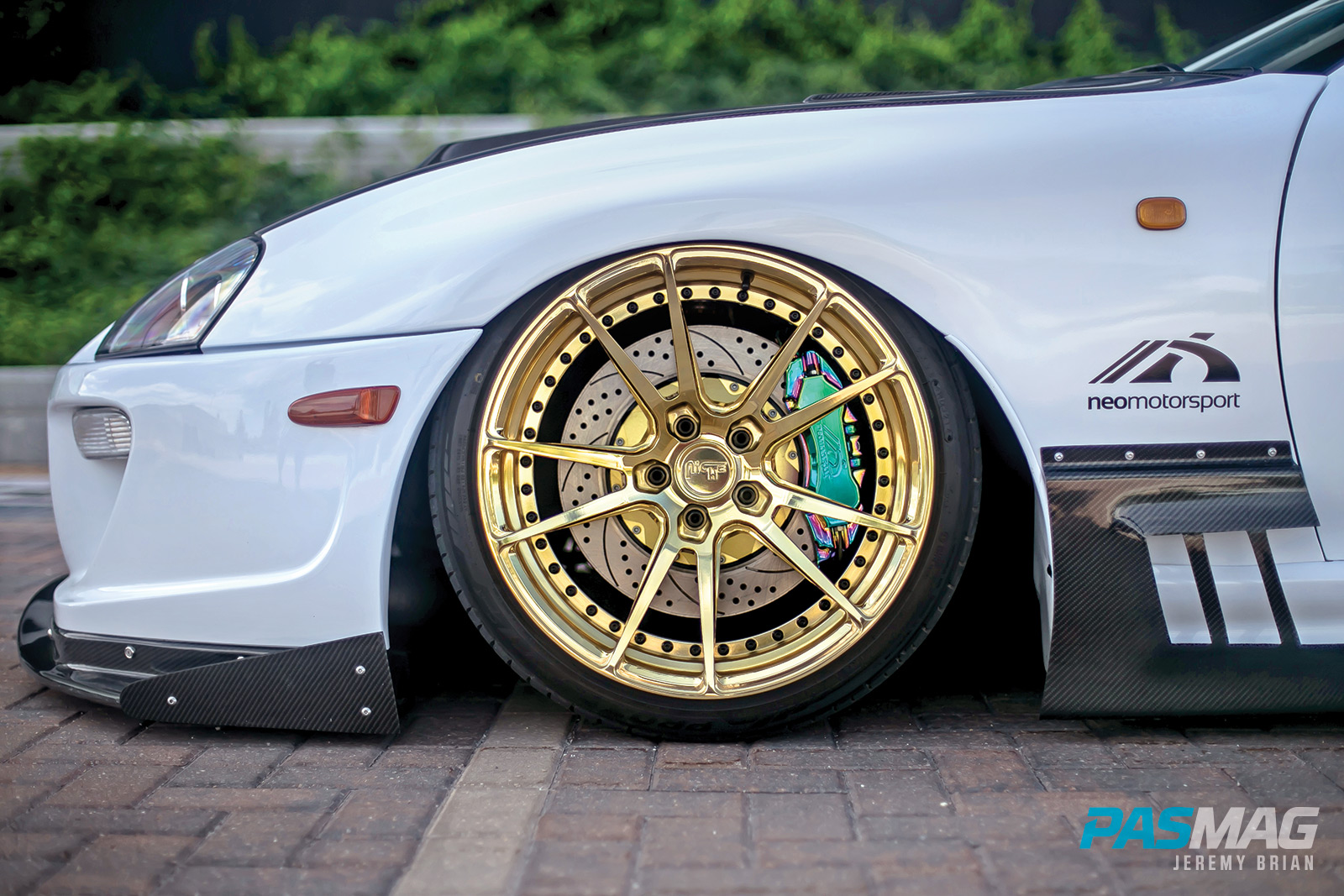 Another close call for the Supra were the one-off gold-plated Niche Grand Prix Mono II forged wheels in 19x10 (front) and 19x12 (rear) that the car donned for it's Tuner Battlegrounds debut. They were ready just in time for the show, and were actually shipped out to a shop in Las Vegas where they were installed on the first day in front of the crowd!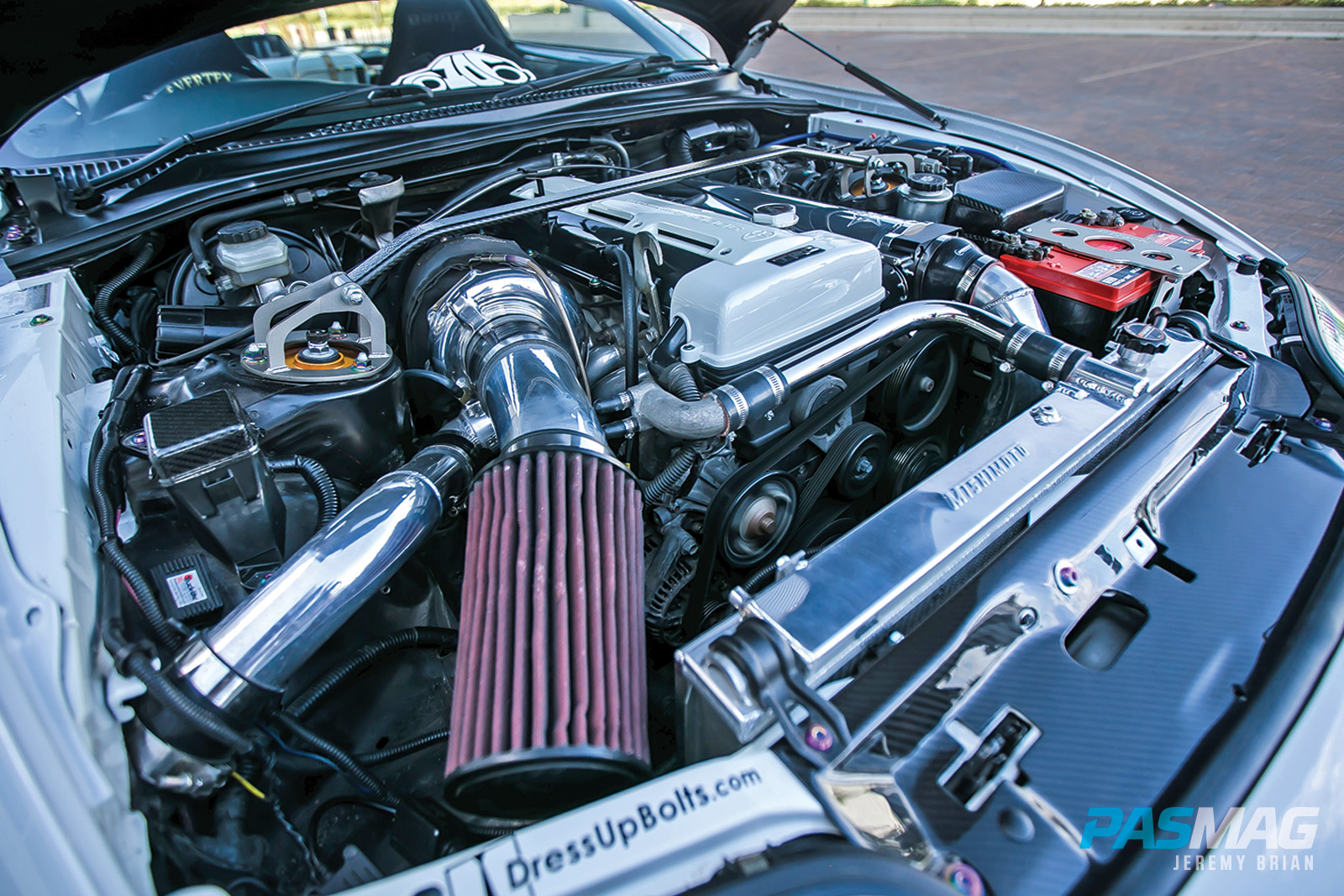 You'll no doubt notice the Supra you see here is not the car we saw at SEMA. That was all our fault, as we gave our winners time to update their cars. De Guzman took the word "update" as "transform" apparently. We're not complaining though. The wait has been worth it. The guy turned his engine up 100 more horses to 800 for heaven's sake! De Guzman says the whole SEMA experience triggered his next Supra phase.
"I'm walking around SEMA going, 'Oh that's a nice car, that's a nice car,'" he says. "As soon as I got home, I made a wish list of what I wanted and made a list of companies I needed to contact. Then it was a process of giving them my ideas, giving them my vision and seeing who wanted to work with me."
One noteworthy piece of the puzzle are the one-off, first-of-their-kind neo-chrome brake calipers from Neo Motorsport.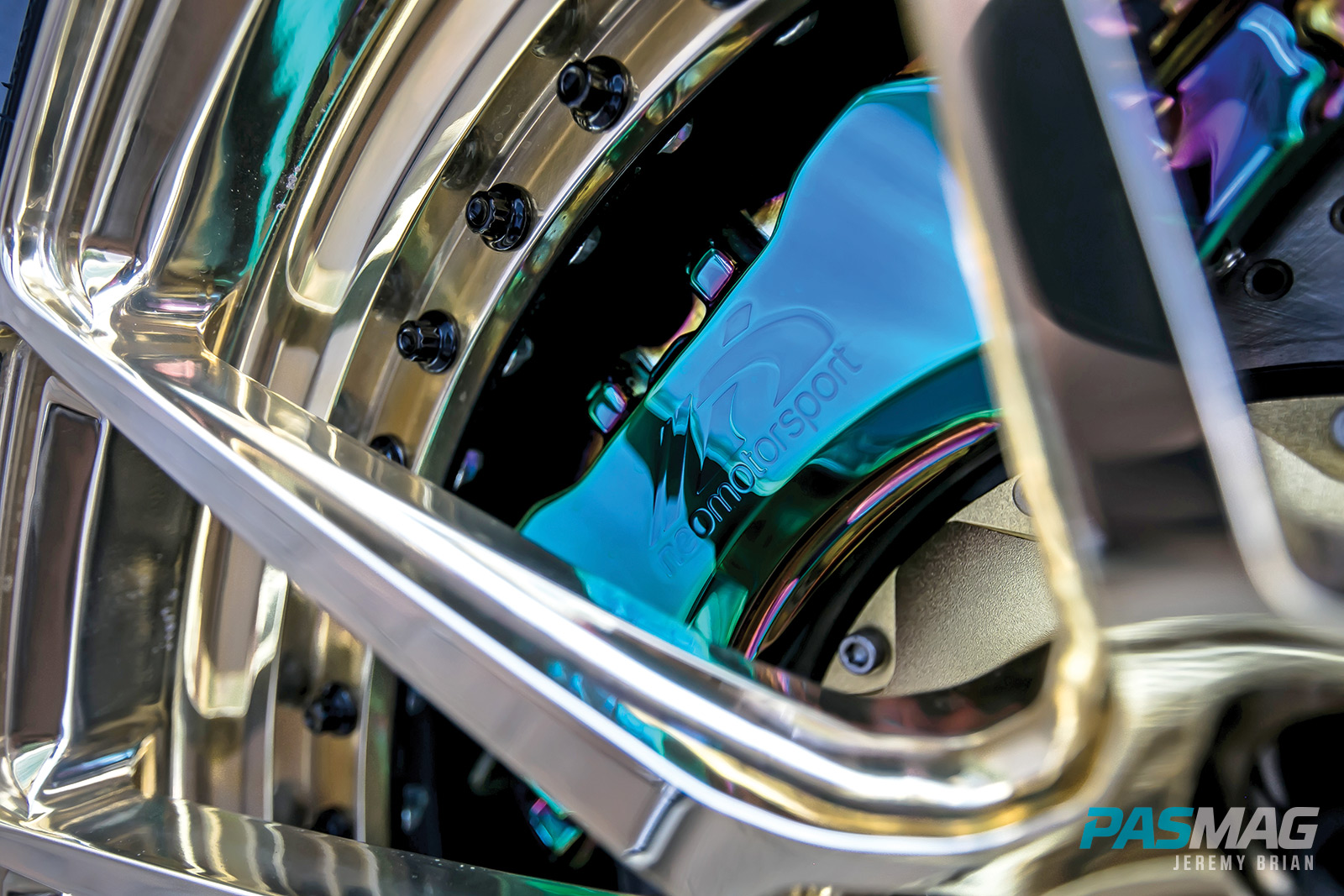 The process of getting that finish right is pretty tricky and Neo tells us that it took a few attempts to get them perfect.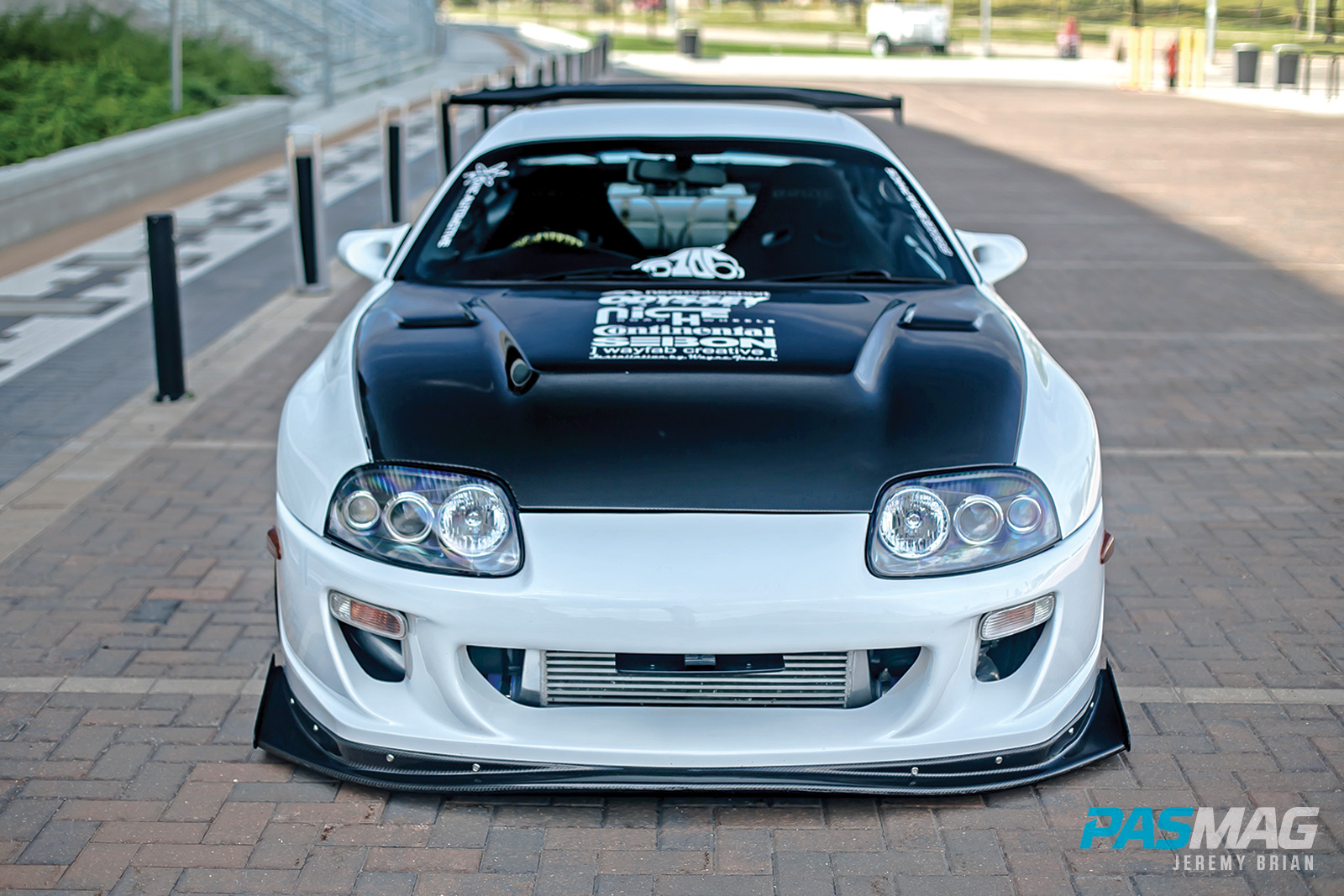 The crucial upgrades to De Guzman was going widebody and getting his Supra on air – a huge theme at SEMA. With Airtekk air struts taking up the corners and the tried-and-true Air Lift Performance management system providing the up and down, the next item on De Guzman's wish list was the legendary Varis Ridox widebody kit. It was actually iffy whether that element would make it onto the car. After having a broken English conversation with Varis Japan, they pointed him to Bulletproof Automotive to get the kit, but there was a huge wait to come.
"That was one of the last pieces of the puzzle we were waiting for, but it made it," De Guzman says. "There was a strike at the Long Beach port, so it took a long time to get from Japan to California. Then I had to get it from California to Canada. It was worth it and all the trouble I went through getting it."
Above all though, De Guzman's favorite aspect of the car lives in the back seat. Wayfab Creative worked its magic once again, using the previous Hertz Hi-Energy 12-inch HX300D subwoofer, HDP1 amplifier and custom enclosure install as the basis for the new custom air setup Fabian was to tackle. After exchanging verbal ideas as well as sketches, the two decided to combine both of their wishes and really show everyone what Wayfab was capable of.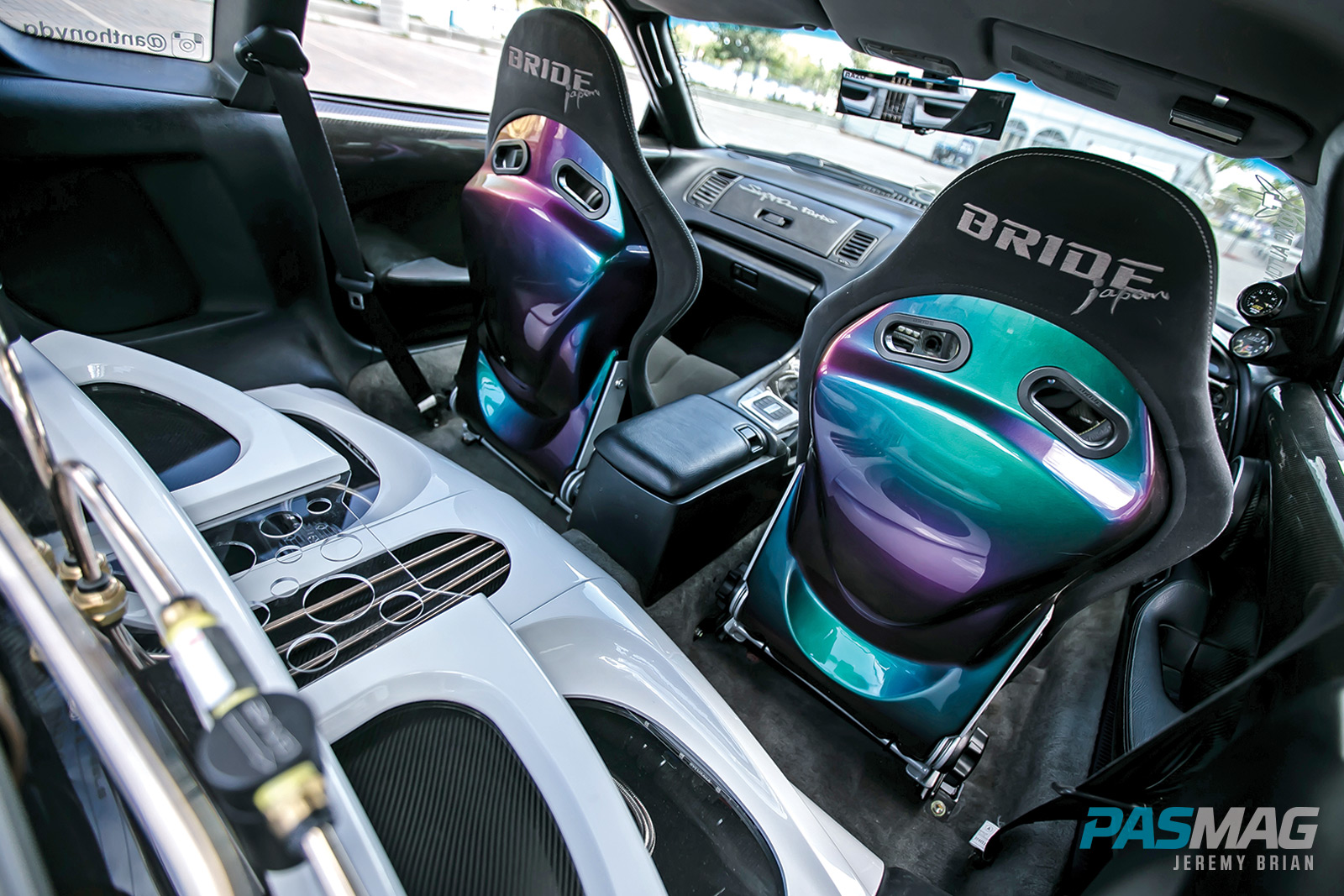 "It took him like a month-and-a-half of working on the side," De Guzman exclaims. "When he was done, I was like, 'Are you serious right now? Is this real life?' It was his first time doing air ride!"
Can you say talented? That's amazing! Really, the whole car is. It's the product of dedication and focus to a vision that, at the end of the day, De Guzman can call his own. And that's what it's all about, isn't it? Building something that's all your own. Becoming a champion along the way isn't so bad either.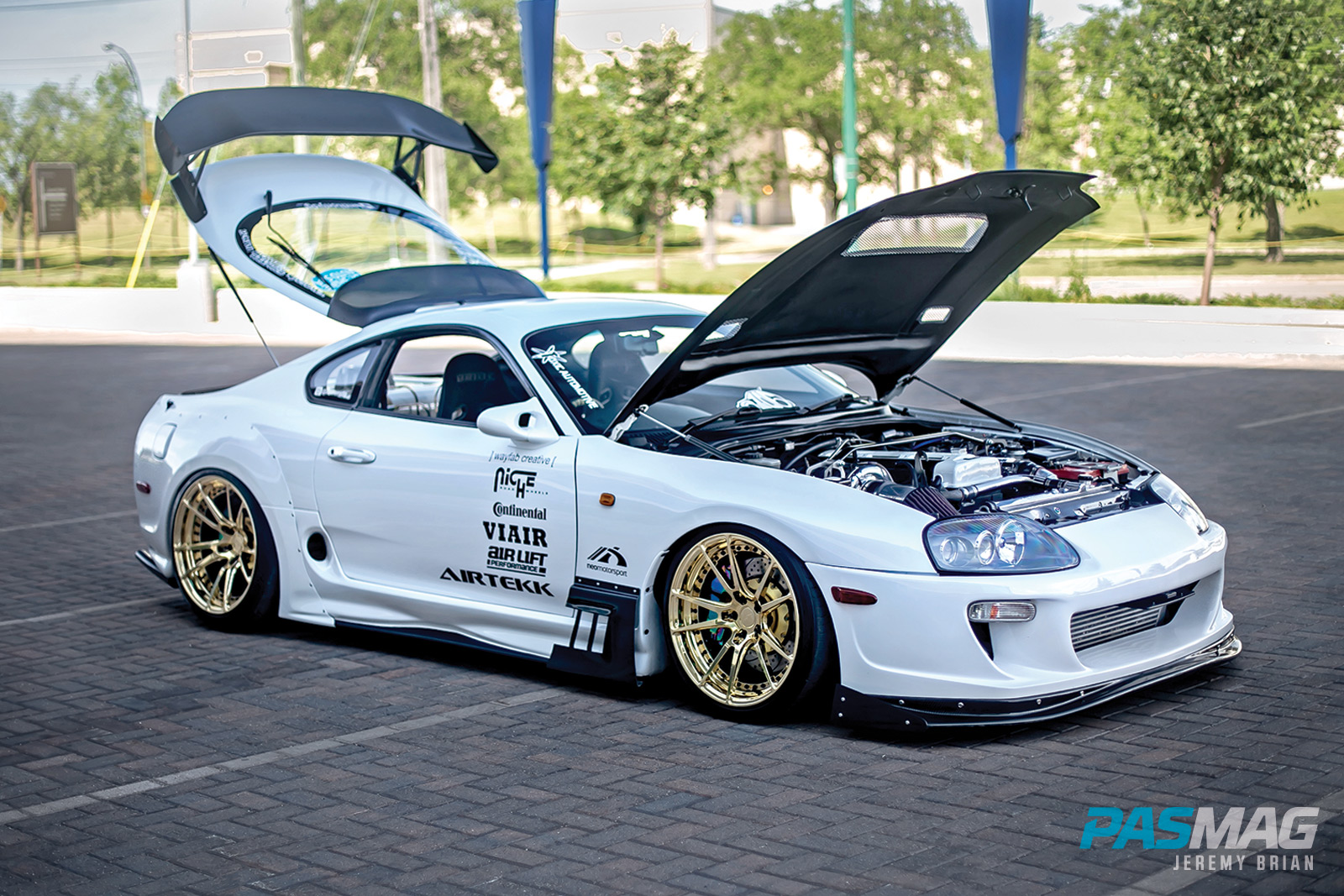 ESSENTIALS
1993 Toyota Supra
OWNER: Anthony De Guzman
LOCATION: Winnipeg, MB
BUILT BY: EK Collision Repair Centre, Wayfab Creative, Speed Factor Racing
ENGINE: Toyota 3.0L turbocharged I-6 (2JZ-GTE)
HORSEPOWER: 800 hp
ENGINE
Boost Logic Stage 3 single turbo kit
Precision 67-mm 6766 billet turbocharger
Tial 44-mm V-band wastegate
GReddy 4-row front-mount intercooler
HKS SSQV blow-off valve
Sleeper Designs (billet RMR-style intake manifold, billet -10AN dual feed fuel rail)
Ross Machine Racing 90-mm throttle body
Powerhouse Racing polished upper radiator pipe
ARP (main studs, L19 head studs)
Mishimoto (aluminum racing radiator, aluminum dual fan shroud)
SuperSpark Fire Red coil packs
Titek carbon fiber (cooling plate, main fuse box cover, ABS fuse box cover)
ATI Super Damper
Gates Kevlar timing belt
RKS PowerSystems Stage 3 Bugatti Veyron fuel system
AEM EMS V1 engine management
NLR AMS-500 boost controller
TRD oil cap
DressUpBolts burned titanium engine bays bolts
EXHAUST
HKS Hi Power exhaust system
Boost Logic (turbo manifold, 4-in. down-pipe, 4-in. mid-pipe)
DRIVETRAIN
Getrag V160 6-speed manual transmission
TRD (LSD, steel braided clutch line)
RPS (Max Series 6-puck solid hub disc clutch, CYN-R-G billet flywheel)
WHEELS / TIRES / BRAKES
Niche Grand Prix Mono II forged wheels (gold-plated) – 19x10 (f), 19x12 (r)
Continental ContiForceContact tires – 265/30R19 (f), 305/30R19 (r)
NEO Motorsport (F501 neo-chrome 6-piston forged billet calipers (f), R404 neo-chrome 4-piston forged billet calipers (r), slotted / drilled 2-pc. rotors – 14-inch (f) /
13-inch (r), carbon ceramic race brake pads, stainless braided brake lines)
CHASSIS / SUSPENSION
Cusco carbon fiber strut tower bar (f)
Airtekk air struts
Air Lift Performance Autopilot V2 air management system
Viair 480c compressors (2)
Specialty Suspension aluminum 5-gallon seamless air tank
EXTERIOR
Lamborghini Balloon White & Lexus Starfire Pearl custom paint
Ceramic Pro paint protection by Dr. Shine Auto Spa
Varis Ridox widebody kit
Top Secret (carbon fiber rear diffuser, side vortex generators, centre diverter)
Ganador aero side mirrors
TRIAL carbon fiber GT wing
Seibon Carbon KB-style hood
Toxic Tails COB LED stealth taillights
Toyota (1998-2002 Supra headlights, 1998-2002 Supra turn signals, JDM amber side markers, JDM rear window visor)
Carbon fiber license plate pods
INTERIOR
Bride (Stradia II Venus seats, MO seat rail brackets)
Vertex King 330-mm steering wheel
Seibon Carbon front door panels
204Carbon carbon fiber dash panels
AEM (UEGO digital wideband O2 gauge, boost gauge)
Wayfab Creative custom back seat air system installation
Sylvania ZEVO LED lighting
MOBILE ELECTRONICS
Odyssey Extreme Series battery
BlackBoxMyCar BlackVue DR600GW-HD dash camera
Pioneer AVH-P2400BT multimedia head unit
Hertz (Hi-Energy 12-in. HX300D subwoofer, HDP1 mono amplifier, Hi-Energy 6.5-in. front speakers, Hi-Energy 6.5-in. rear speakers)
Wayfab Creative custom trunk enclosure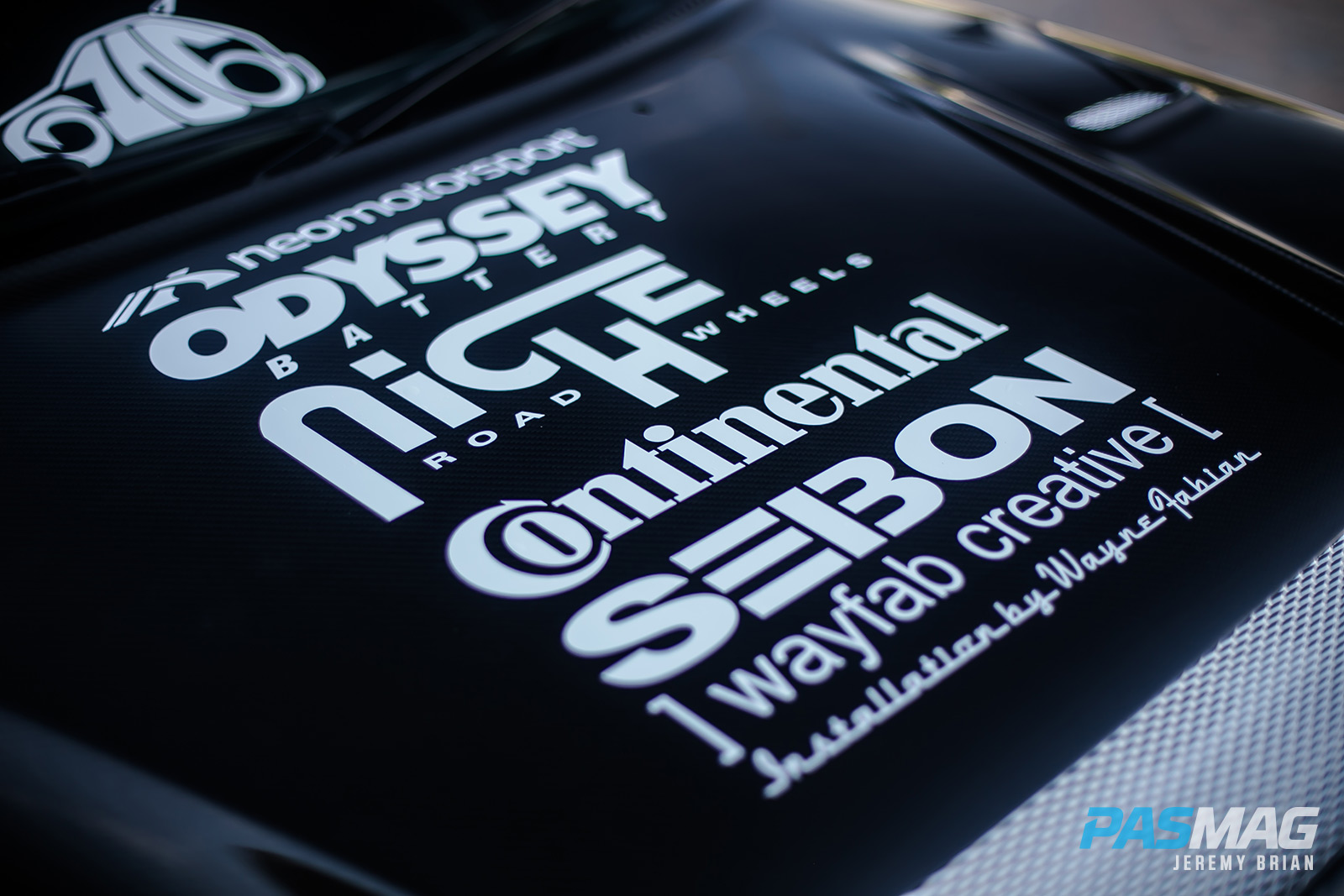 SPONSORS
Continental Tire, Niche Road Wheels, Airtekk, Air Lift Performance, Viair, NEO Motosport, Wayfab Creative, Sylvania ZEVO, Varis Japan, Bulletproof Automotive, Sleeper Designs, ATI Performance Products, BlackboxMyCar, DressUpBolts, Toxic Automotive, EK Collision Repair Centre, Speed Factor Racing, Dr. Shine Auto Spa, Bomex Graphics, Odyssey Battery, Seibon Carbon, 204Carbon, Performance Fuel Injection, Jeremy Brian Photography