Photography courtesy of United Speed Racing
---
Adam of Warp 10 Motorsports bought his BMW E92 M3 with DCT competition package from the dealer showroom with a sole intention – make it a great racecar for his track days. His journey to become lighter, faster, and more agile started with a drop-off to United Speed Racing (USR).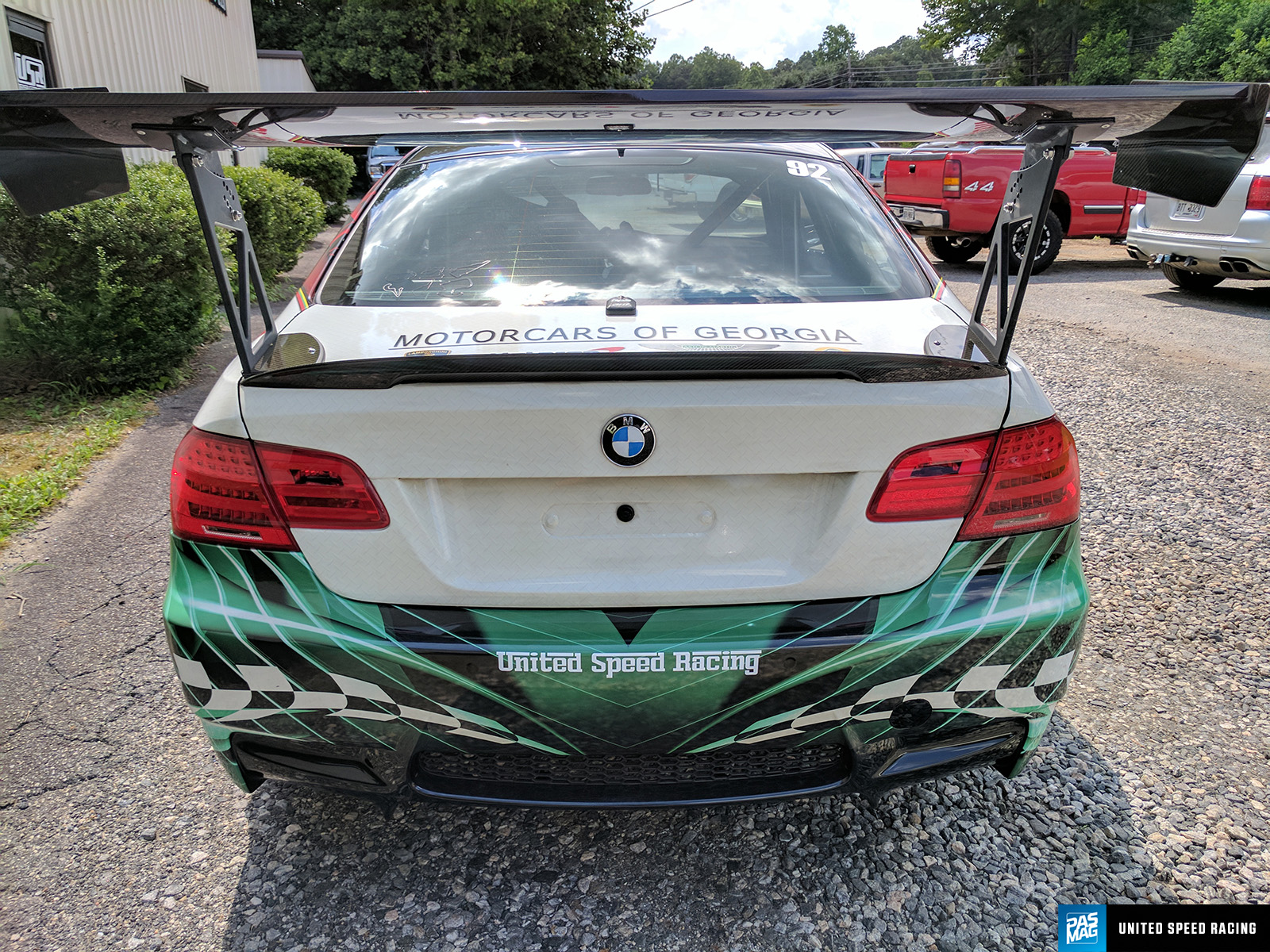 Click HERE to order your copy of PASMAG Issue #144 (Aug/Sept 2017)
USR dove right into the E92, replacing the already competent M3 front brakes with StopTech's track setup that could handle repetitive abuse, and bolstering the car's aerodynamic shape with BimmerWorld's carbon fiber whisker kit and APR's GT-250 GT wing. Pair that added downforce with the faster rotational speed and tire maximization that the Motion Control two-way coilovers with Hyperco springs, Ground Control camber plates, BimmerWorld adjustable rear spring perches, solid rear subframe bushings, and a spherical race arm conversion provides, and you've got a potent performer.

Click HERE to order your copy of PASMAG Issue #144 (Aug/Sept 2017)
Since Adam's M3 had no need to be a dual-purpose racecar, USR completely gutted the interior, excess wiring, and A/C – everything except the dashboard, which was flocked to reduce glare. A competition legal roll cage with rear bulkhead closeout panels was commissioned to Blue Maxxxx for stability and safety, and while they were at it, they also installed an Air Jax system for accessible tire changes and mechanical work at the track.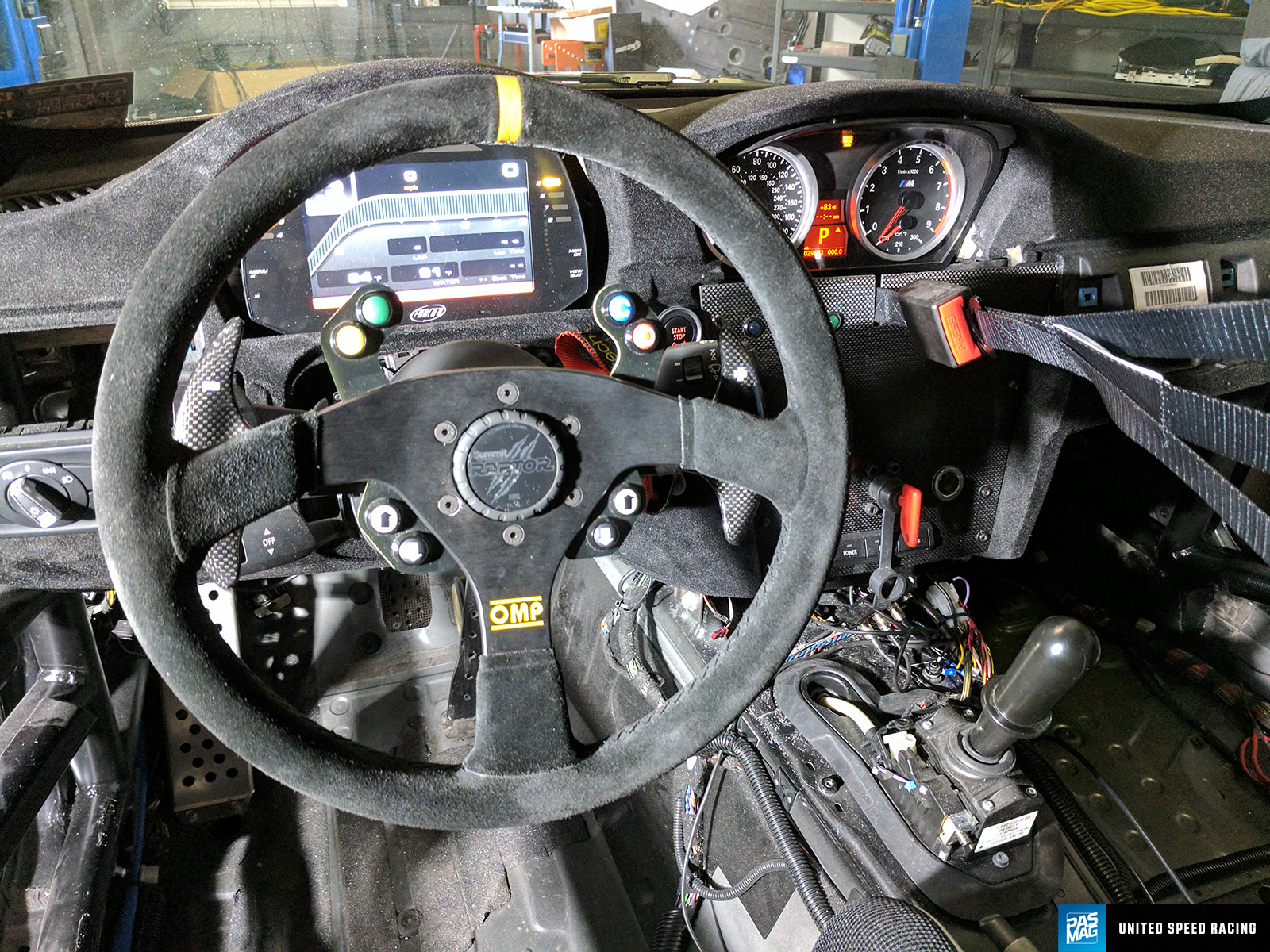 Click HERE to order your copy of PASMAG Issue #144 (Aug/Sept 2017)
To keep track of lap times and data for improvement, AiM's MXG digital dash and SmartyCam dash cam were installed into the spartan dash, alongside the factory display and carbon-fiber-covered center panel. An OMP suede steering wheel is mounted to Krontec's quick release and wired up with Summit Technologies' Raptor remote steering wheel button system to the DCT shift paddles. An OMP HTE-R seat, Schroth harnesses, and a right-side net to keep Adam tight and safe inside his racecar.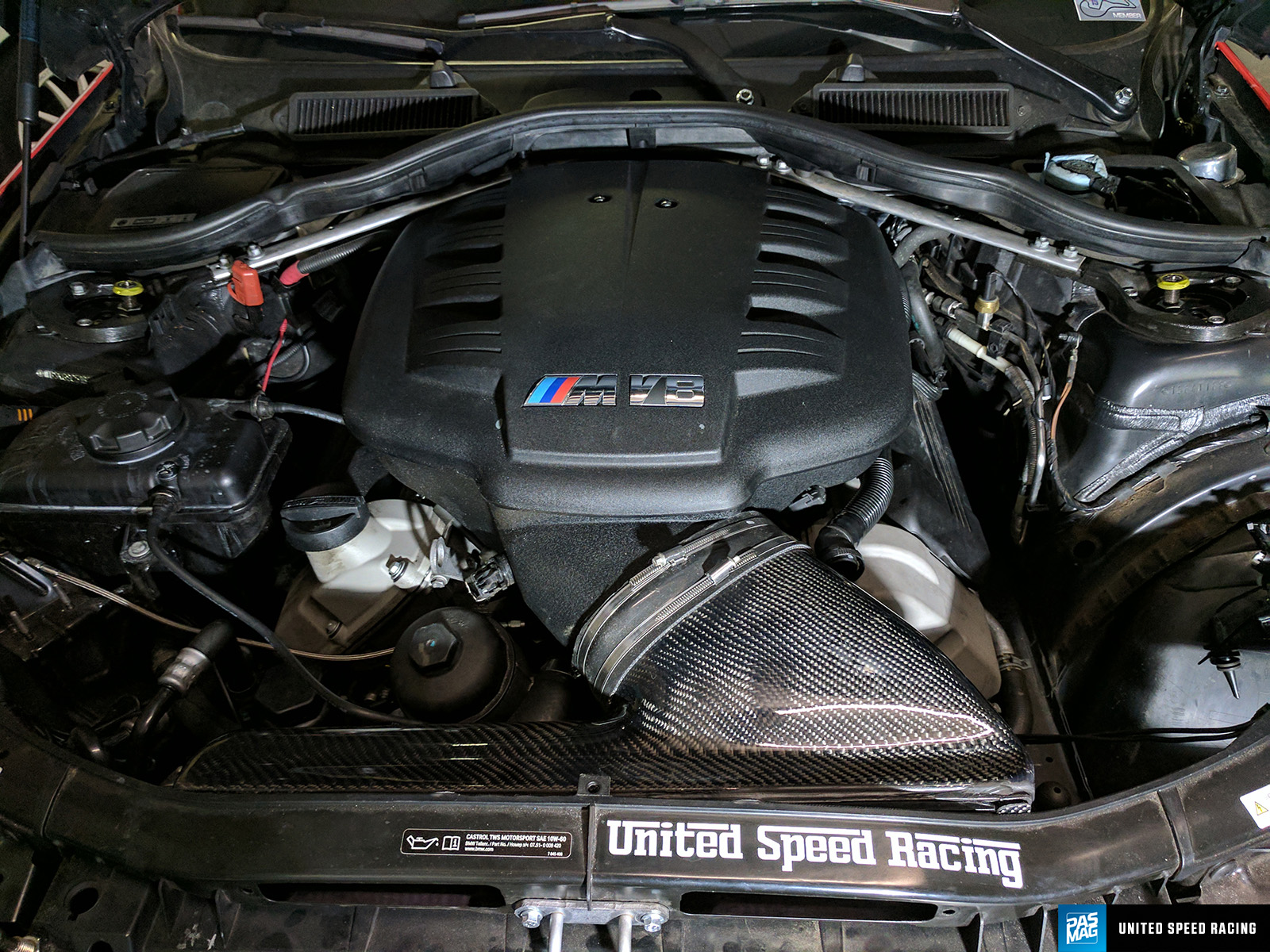 Click HERE to order your copy of PASMAG Issue #144 (Aug/Sept 2017)
Adam actually already had a bit of power addition in the form of a Geoff Steel Racing carbon fiber intake system, but it was spec'd for a European model E92 M3, so USR custom fit a CSF 135i radiator for clearance, and ducted the front bumper for more airflow. In supporting parts, USR installed a carbon fiber driveshaft, Mercedes electric power steering pump conversion, trunk-mounted diff oil cooler, CSF oil cooler, and even Geoff Steel Racing carbon fiber doors with Lexan windows and quarter windows for a little bit extra weight loss.
Acquiring his competition license, Adam is looking forward to getting into time attack with his E92 racecar. USR has further plans to install an aftermarket ECU and other upgrades to make this M3 the best it can be on the track. www.unitedspeedracing.com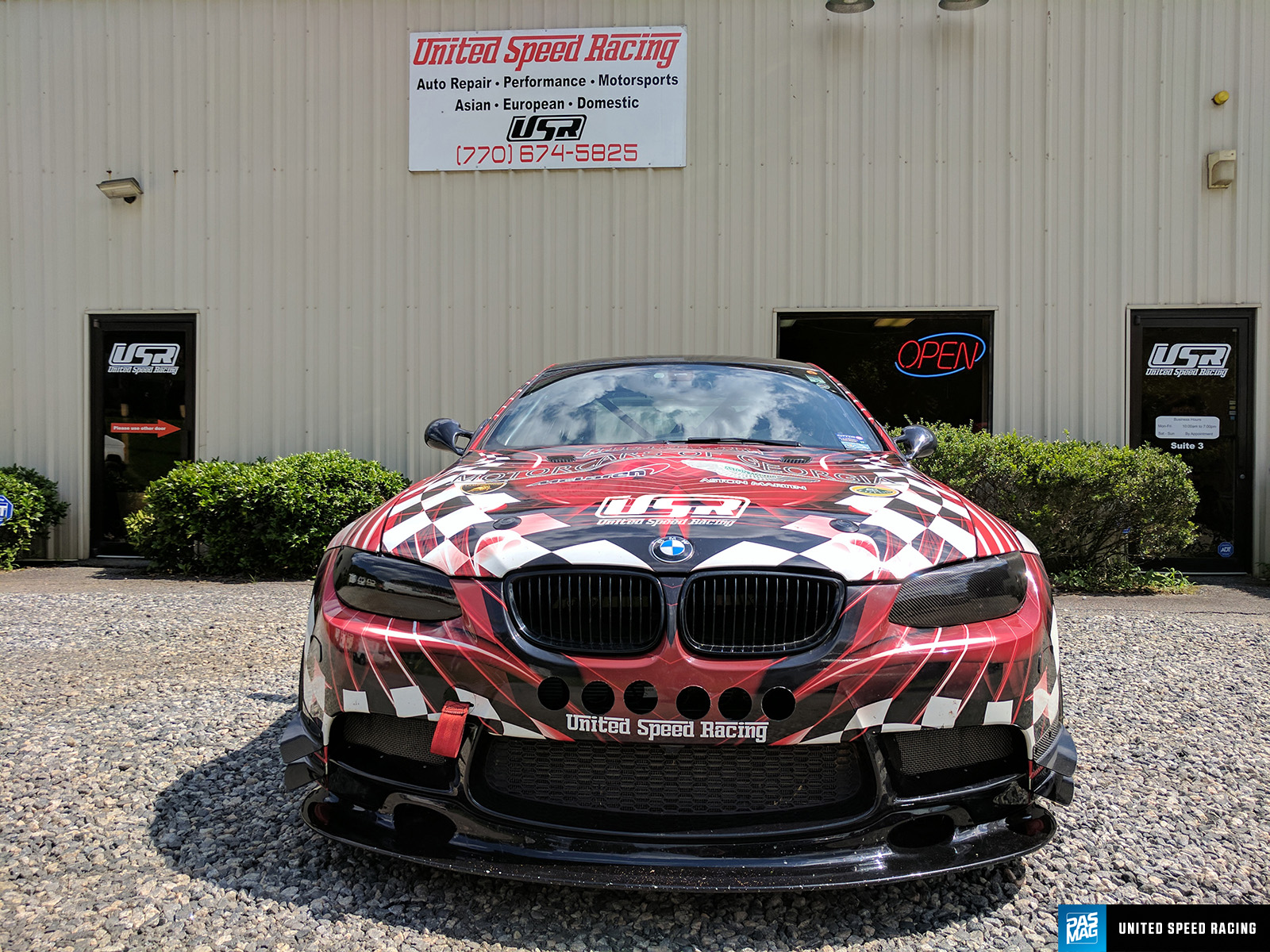 Click HERE to order your copy of PASMAG Issue #144 (Aug/Sept 2017)
ESSENTIALS
Owner: Adam / Warp 10 Motorsports
Vehicle: 2011 BMW E92 M3
ENGINE/DRIVETRAIN
BMW DCT Competition Package
StopTech front big brake kit with brake ducting
Carbon fiber driveshaft
Mercedes electric power steering pump conversion
Custom diff oil cooler setup with cooler mounted in trunk
Geoff Steel Racing carbon fiber forward facing air intake
CSF oil cooler
USR custom fitted CSF BMW 135i radiator. Lowered and angled for intake clearance
BimmerWorld race exhaust with x-pipe
APEX ARC-8 18" Wheels on slicks
CHASSIS/SUSPENSION
Motion Control Suspension 2-Way non-remote coilovers on Hyperco Springs
Ground Control camber/caster race plates
BimmerWorld adjustable rear spring perches
BimmerWorld solid rear subframe bushings
BimmerWorld adjustable spherical race arm conversion
Air Jax onboard jack kit
EXTERIOR
BimmerWorld carbon fiber headlight blanks
BimmerWorld carbon fiber whisker kit
BimmerWorld screw-in tow straps
Carbon fiber rear lip spoiler
APR Performance GT-250 carbon fiber wing
Fiberglass splitter undertray with brake ducting
Geoff Steel Racing carbon fiber doors with Lexan door windows and quarter windows
Ducted front bumper for more radiator air flow
INTERIOR/SAFETY
Competition full race legal road cage, rear bulkhead closeout panels, and air jack mounted by Blue Maxxxx
Completely gutted interior, airbags, carpet, panels, excess wiring, a/c and heater system
Black flocked factory dashboard
AIM MXG dash logger system
AIM SmartyCam
Krontec steering wheel quick release with integrated wire connection for custom wiring of the DCT Paddles
Summit Technologies Raptor remote steering wheel button system
OMP steering wheel
OMP HTE-R seat
Remounted factory dash to center
USR custom carbon fiber dash center panel
Schroth harnesses
Schroth right side net
LifeLine plumbed fire system
CoolShirt system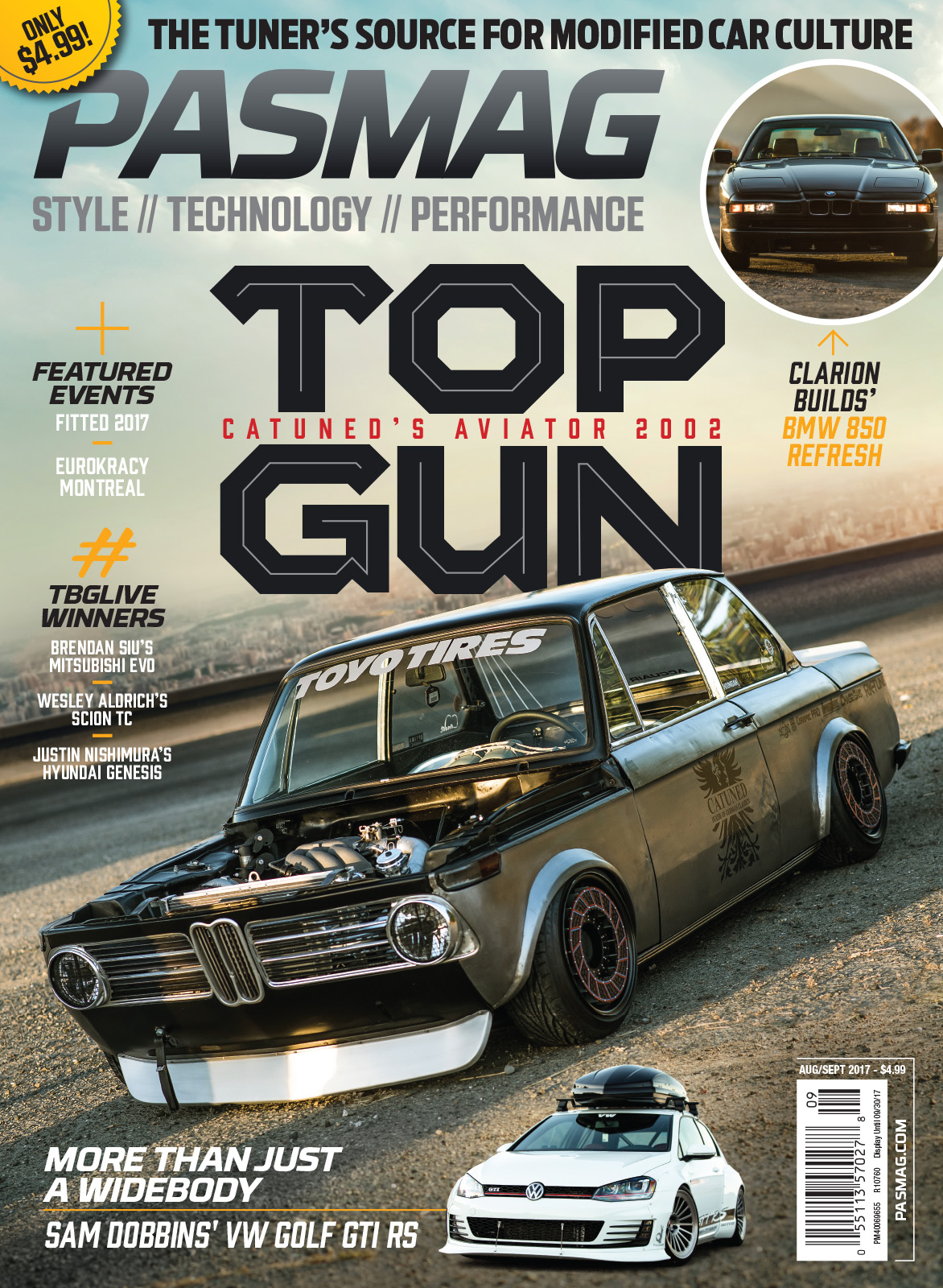 Click HERE to order your copy of PASMAG Issue #144 (Aug/Sept 2017)