Photography by Alec Paris
---
Zach Tankersly's history with building cars started in a very different place than it is now. "I grew up building and racing Late Models and Streetstocks with my father at the age of 13," he tells us. His last major build was a 1973 Oldsmobile Omega, which was build inside and out. Unfortunately, the Omega's engine took a turn for the worse, and at the time Tankersly was not capable to maintaining or storing the car. Knowing he was scheduled for deployment to Afghanistan in a few months, he made the tough decision to let the car go.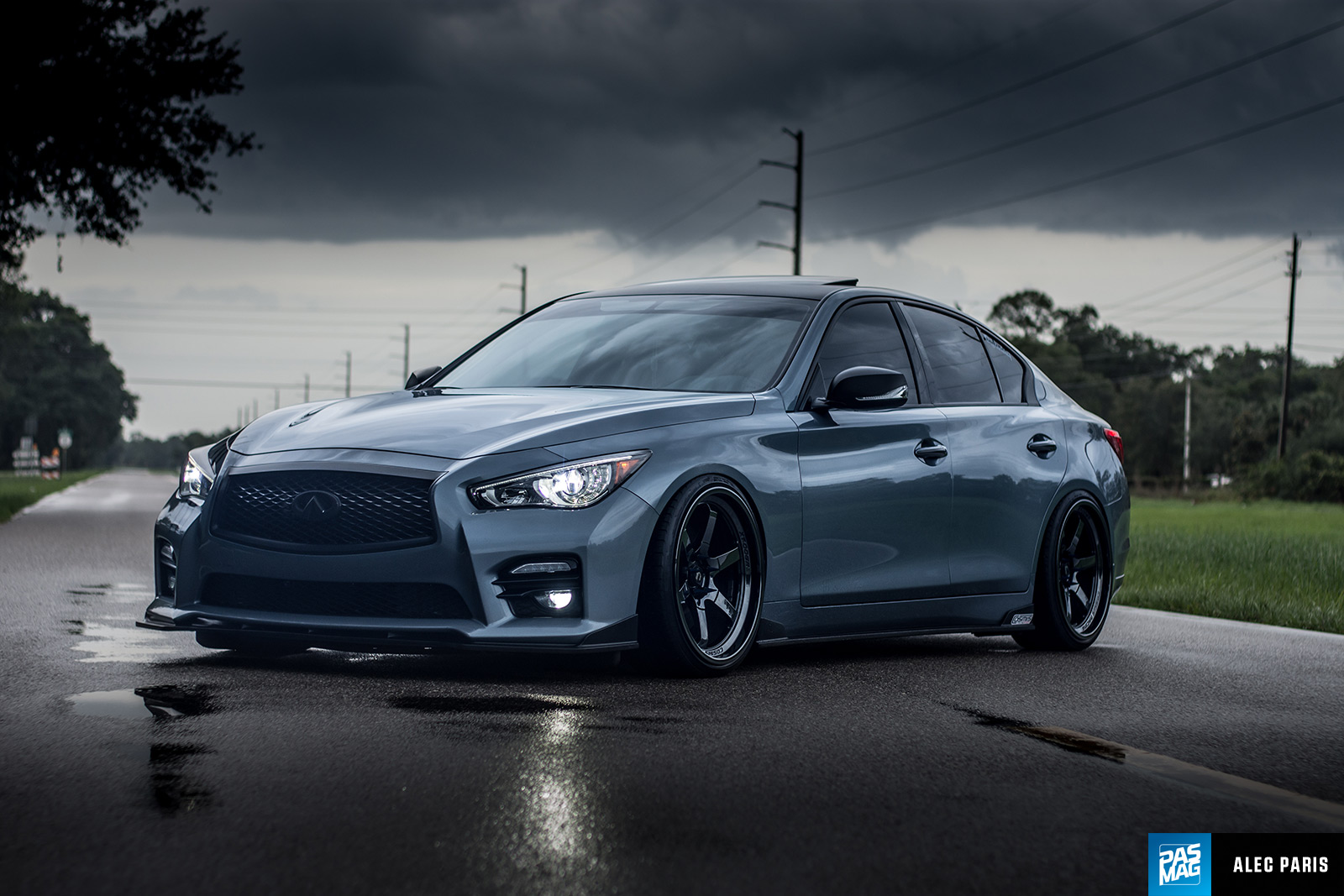 While out on deployment, Tankersly began learning about newer vehicles, and found himself drawn to Infiniti's newest Q-series that replaced the G-series before it. He decided he was ready to deviate from his usual builds, and create a masterpiece that expresses his own tastes and personality with the 2015 Infiniti Q50S.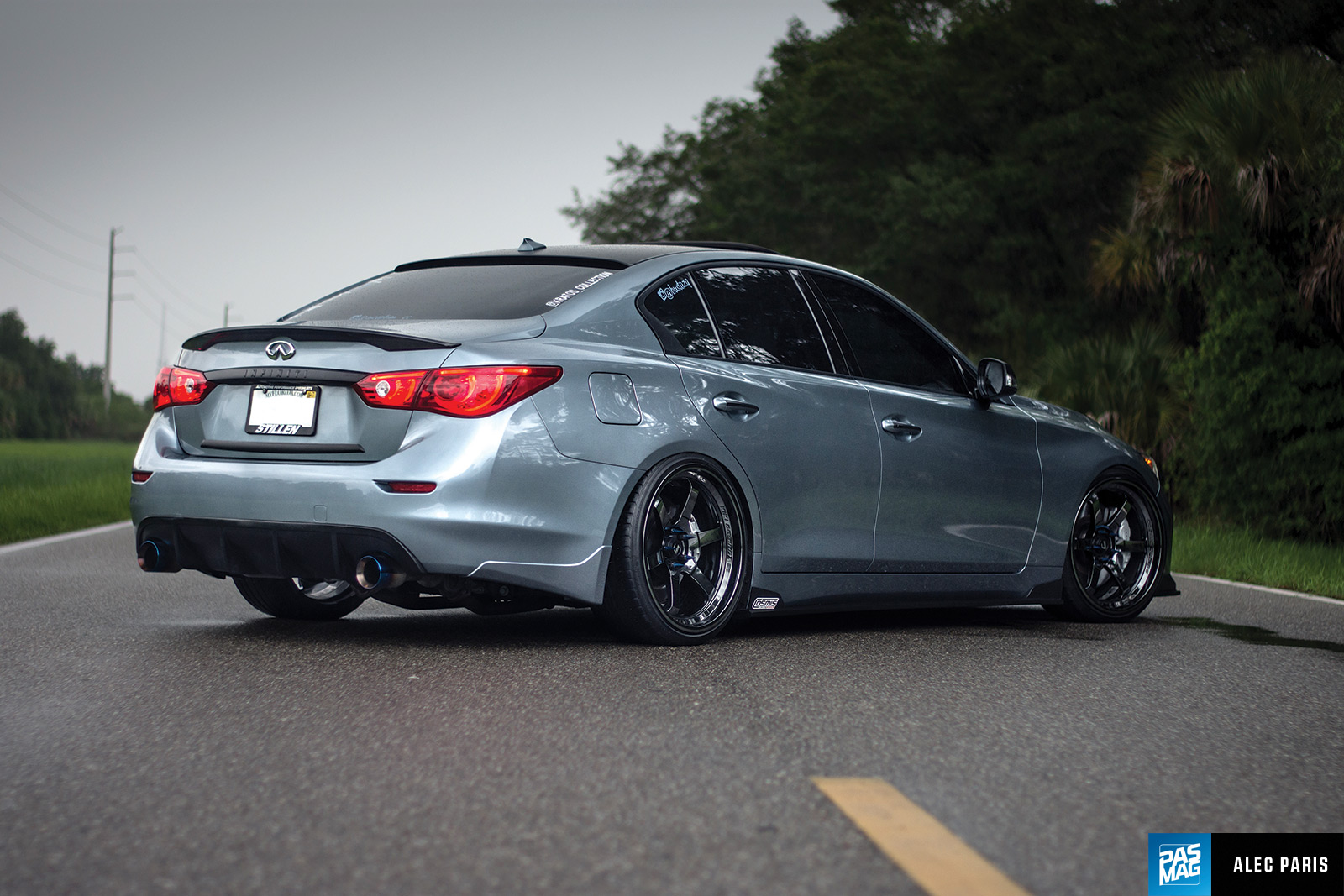 Tankersly set out with a vision in mind, and when he picked up the car, he knew what he wanted to do. The biggest challenge was finding an appropriate set of wheels for the Q50S, as the offset needed to be at least +35 on all four wheels to clear the brake calipers. Once he found the right set of wheels, the rest was just a matter of sticking to his vision for the car.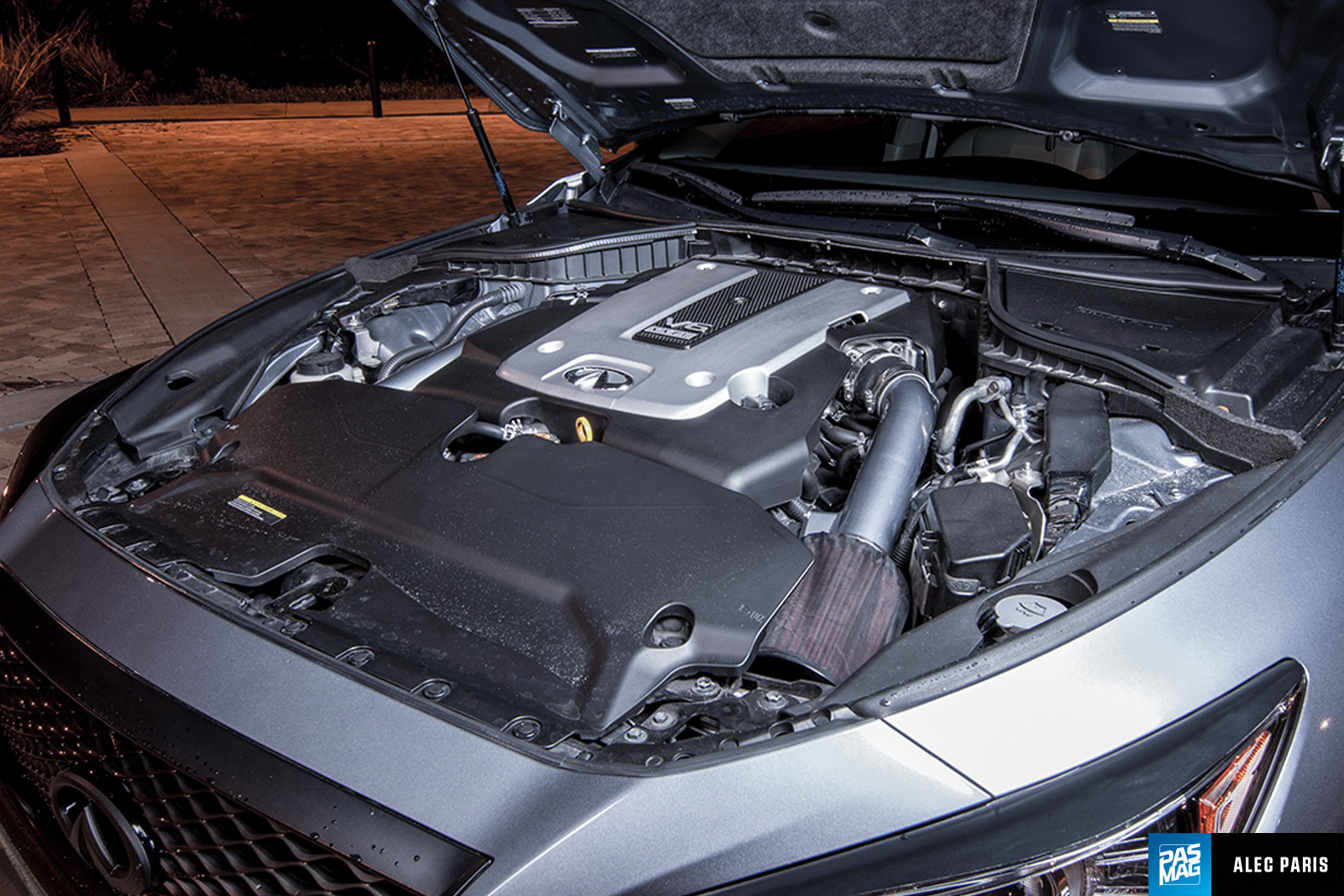 With some add-ons from Stillen, RSR Superdown springs, and some custom engineering from Optimus Performance, the car came together in exactly the way he envisioned it. Tankersly extends a thank-you to his fiancé and his friends for the support over the course of his build.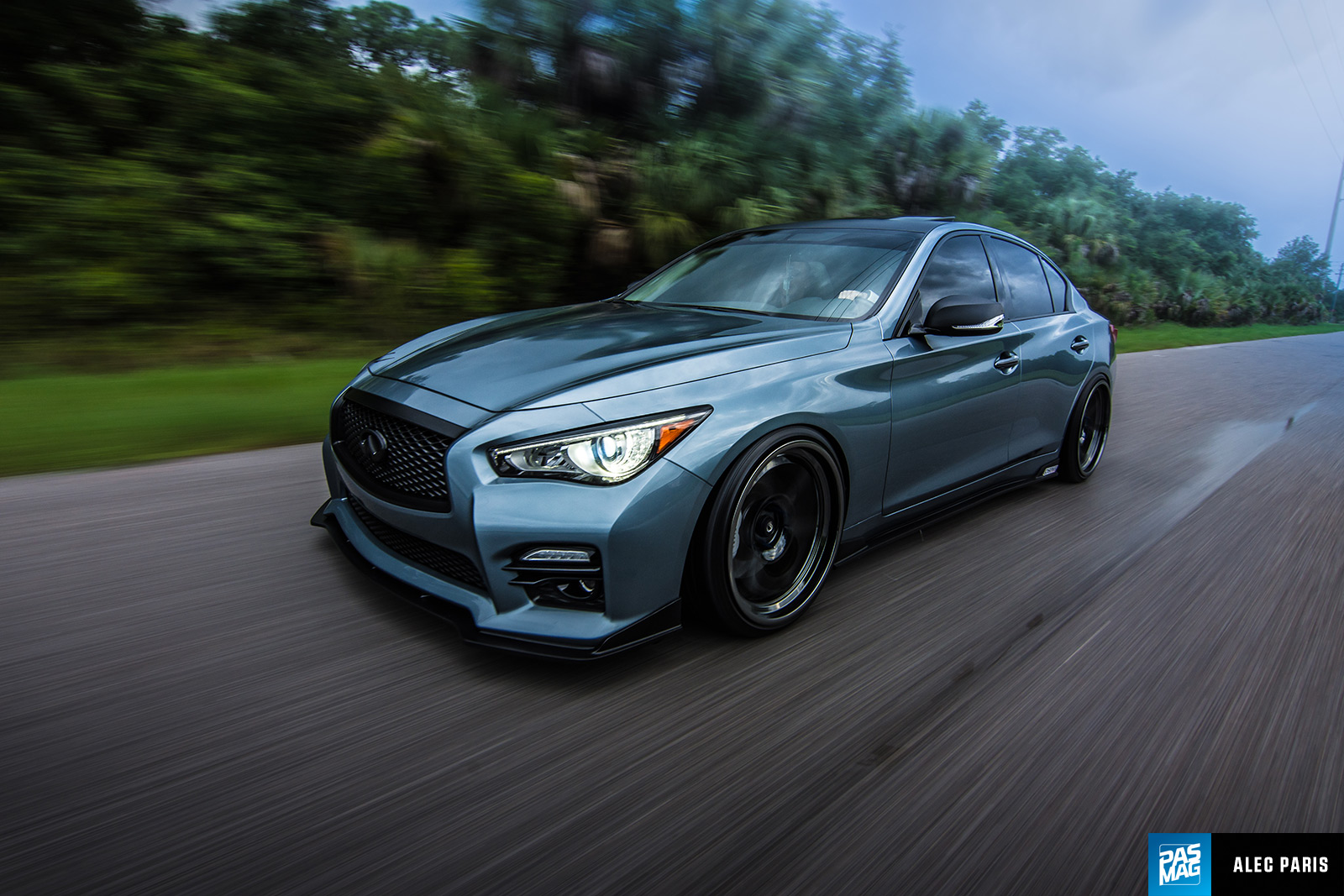 With 73% of the Popular Vote, the winner for the PASMAG Tuner Battlegrounds #TBGLIVE award category competition at Tuner Legacy: Takes Florida in Punta Gorda, FL on June 11 2017 is Zach Tankersley with his 2015 Infiniti Q50S!
ESSENTIALS
Owner: Zach Tangersley
Vehicle: 2015 Infiniti Q50S
Location: Fort Myers, FL
Engine: Nissan VQ37VHR 3.7L V6
Horsepower: 315 whp
Torque: 295 wtq
SOCIAL
Facebook: Zach Thomas Tank
Instagram: @bustazq
ENGINE
Optimus Performance air intake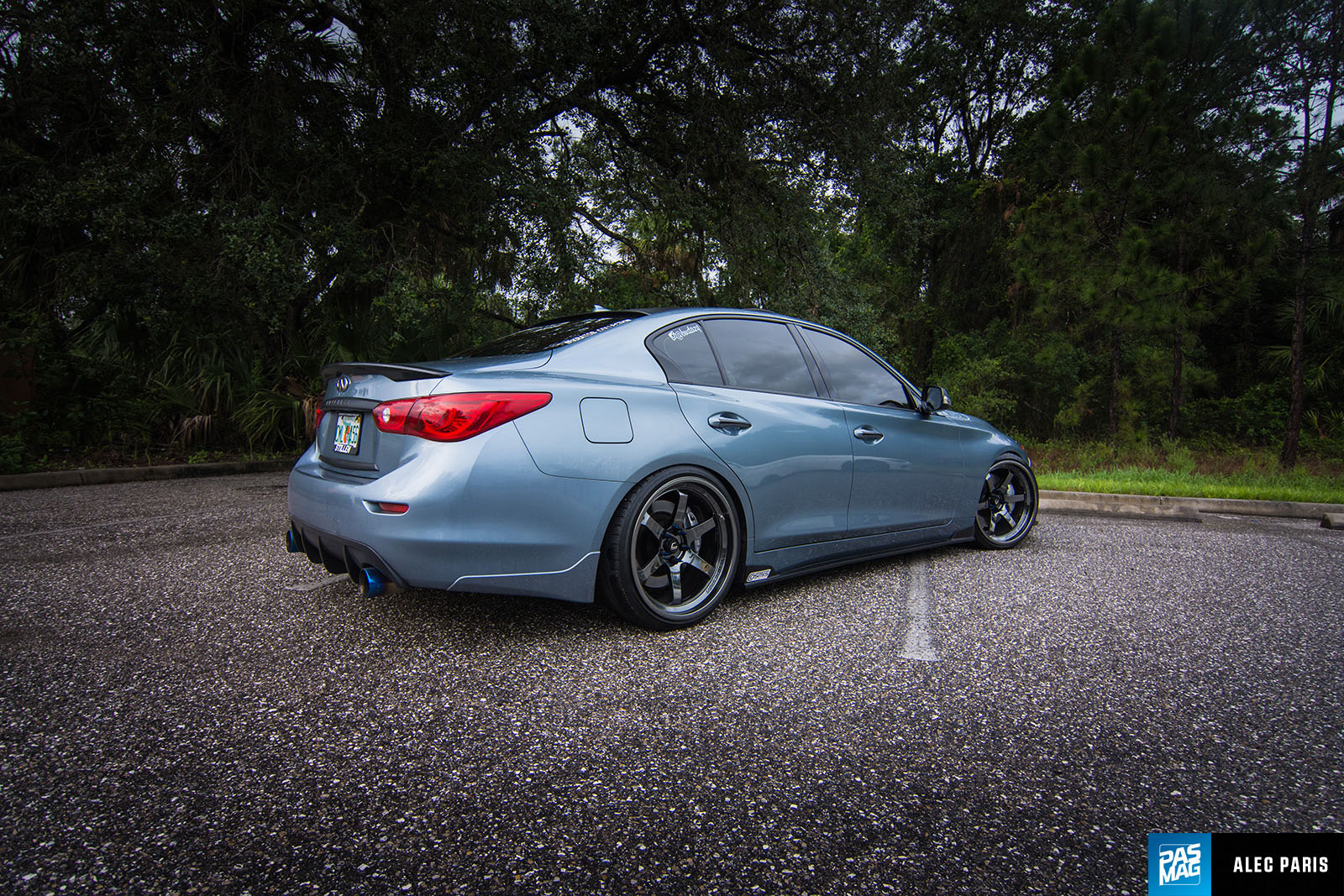 EXHAUST
Optimus Performance ehxuast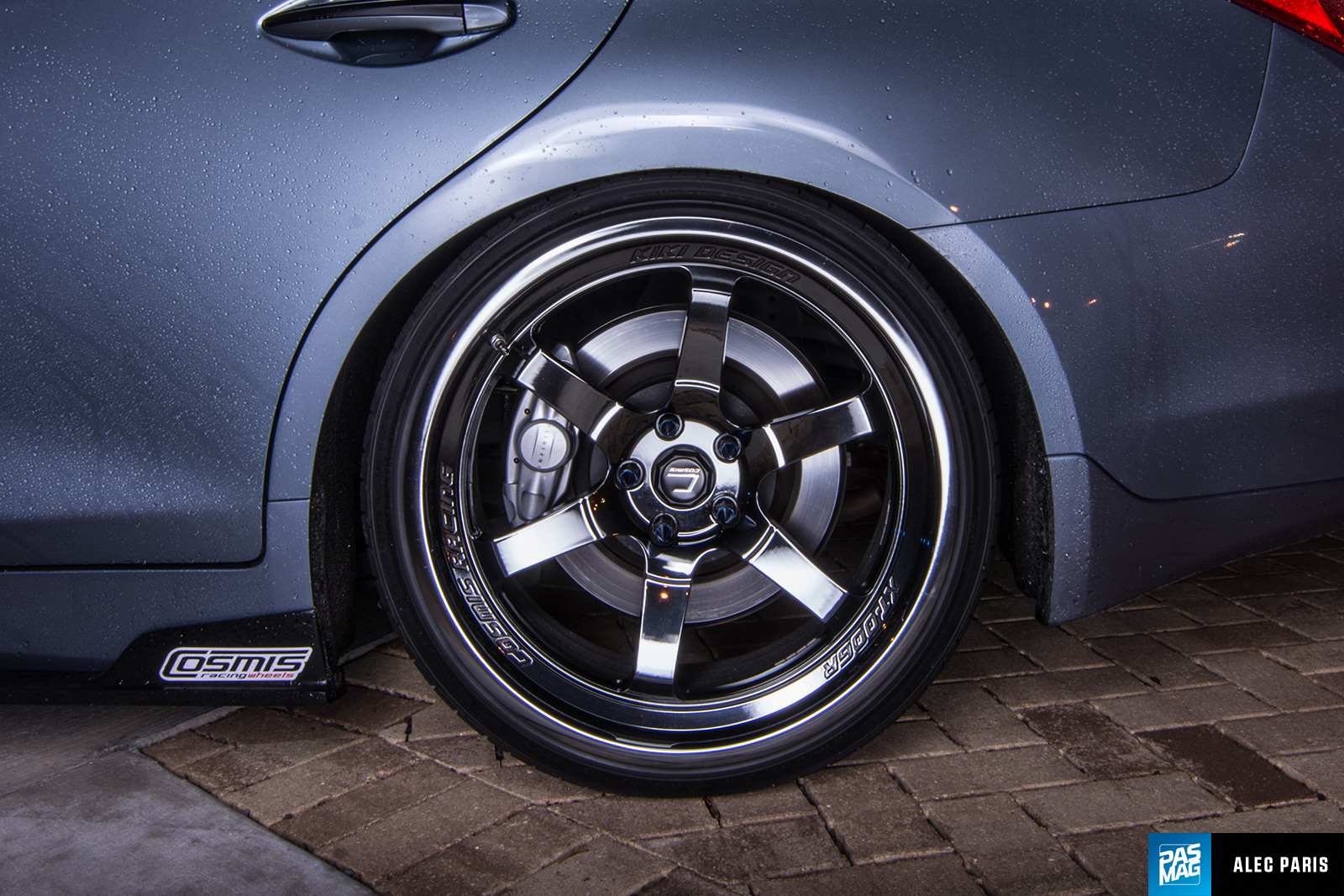 WHEELS/TIRES/BRAKES
Cosmis Racing XT-006R wheels – 20x9.5 +10 (f/r)
Velozza tires – 255/35/20 (f/r)
Akebono (calipers, 14-inch one-piece rotors)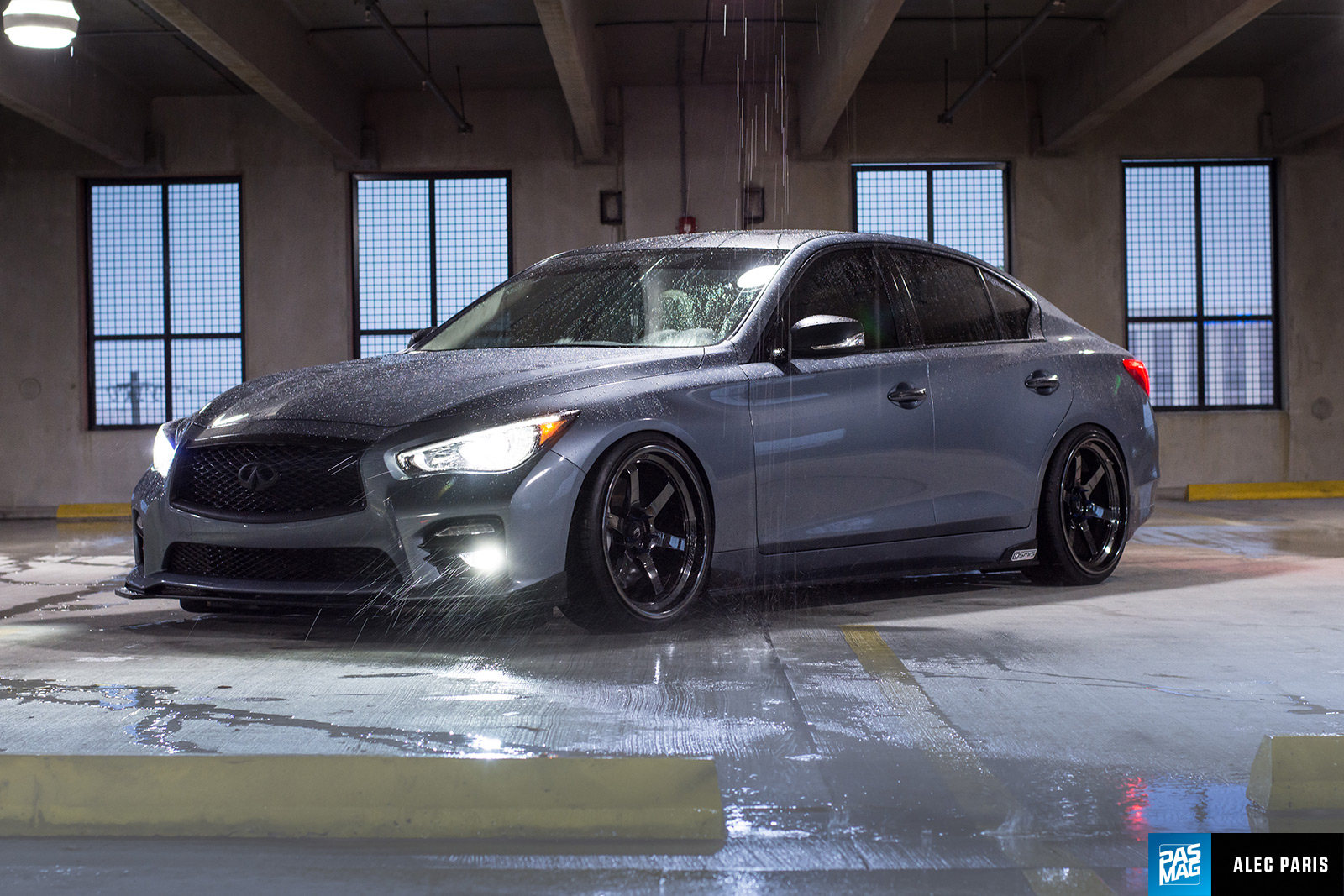 CHASSIS/SUSPENSION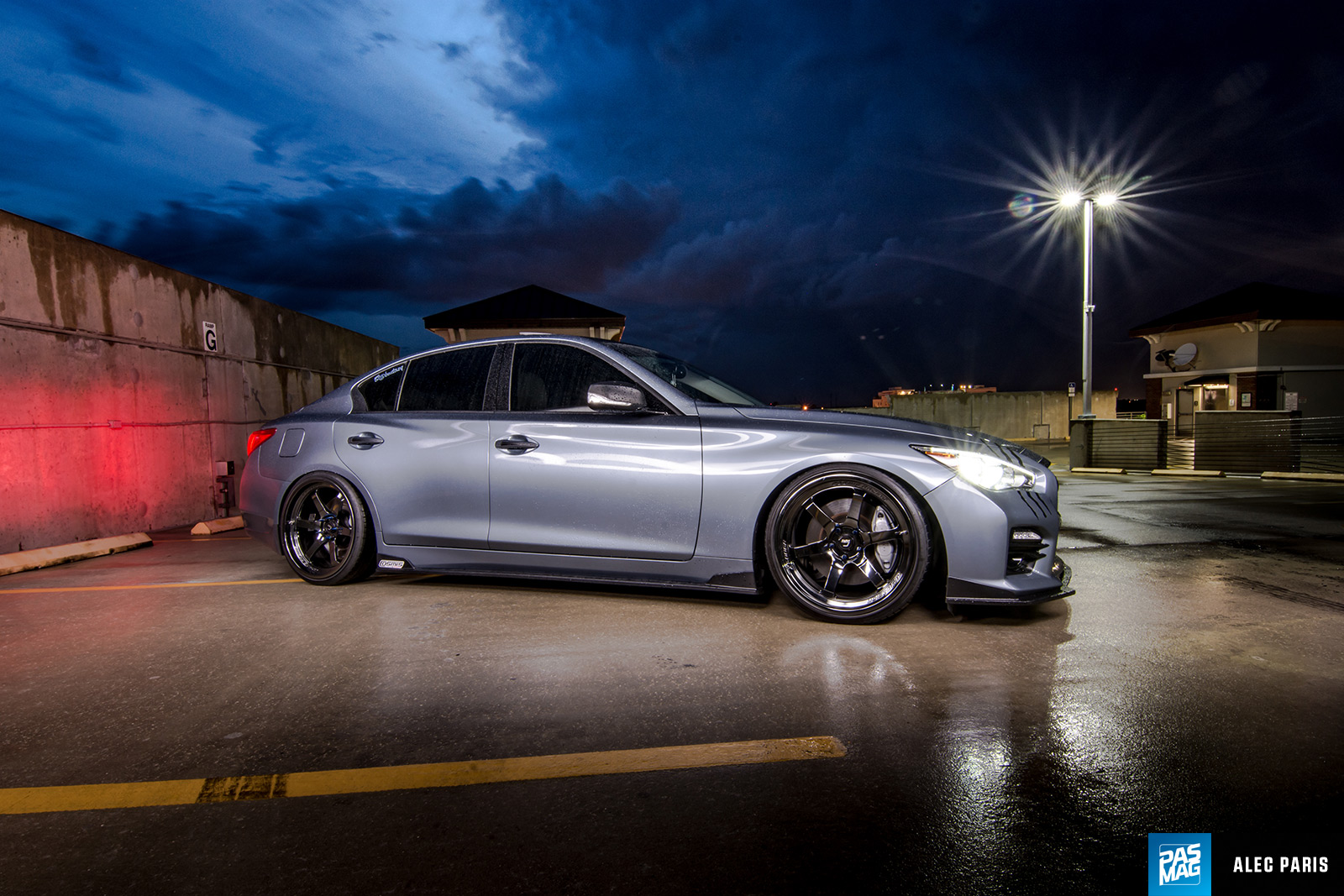 EXTERIOR
Stillen (front splitter, diffuser, spoiler)
Vinyl wrapped (grille, door handles, roof, mirrors)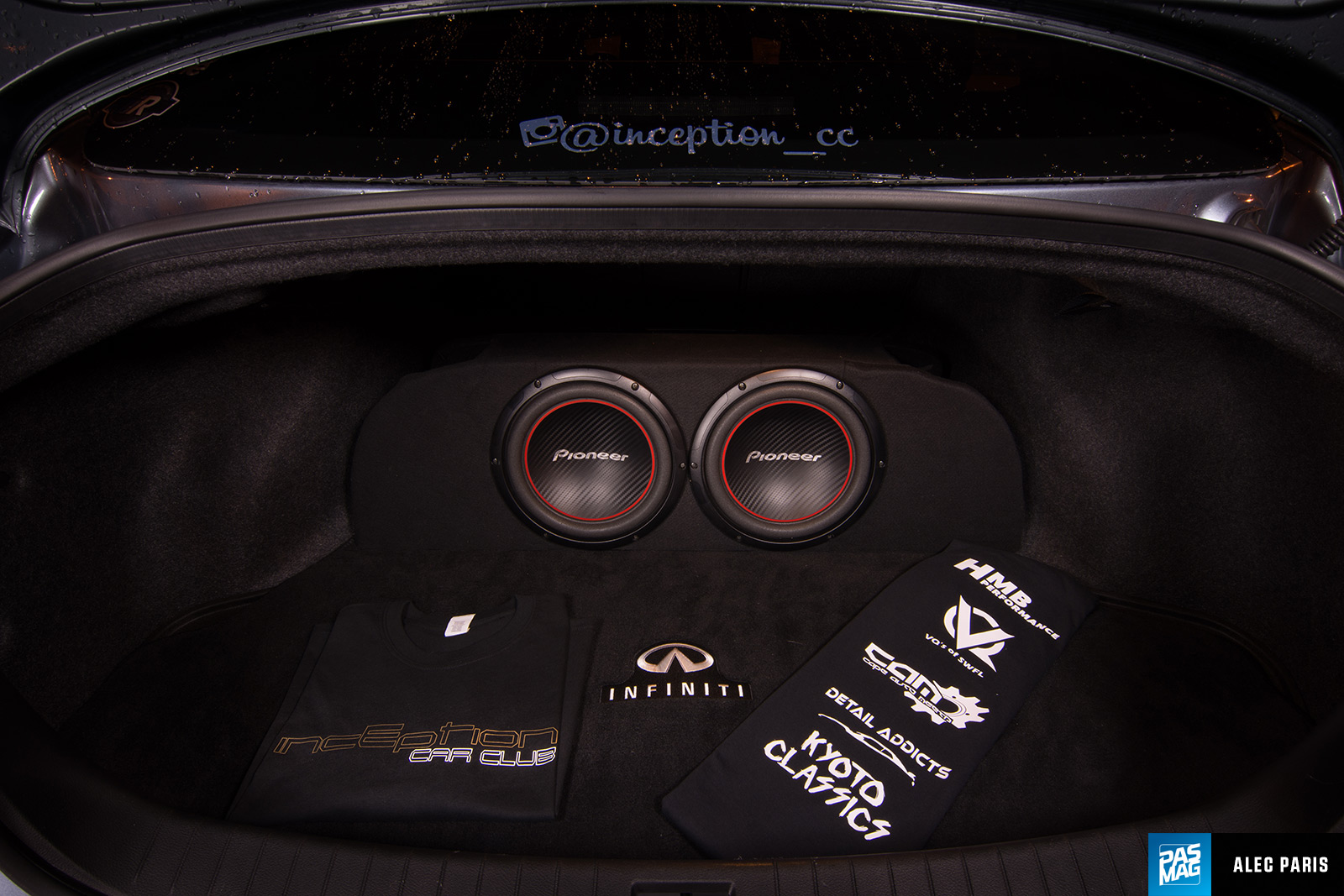 AUDIO/MOBILE ELECTRONICS
Pioneer TS-W304R subwoofers (2)
Sealed subwoofer enclosure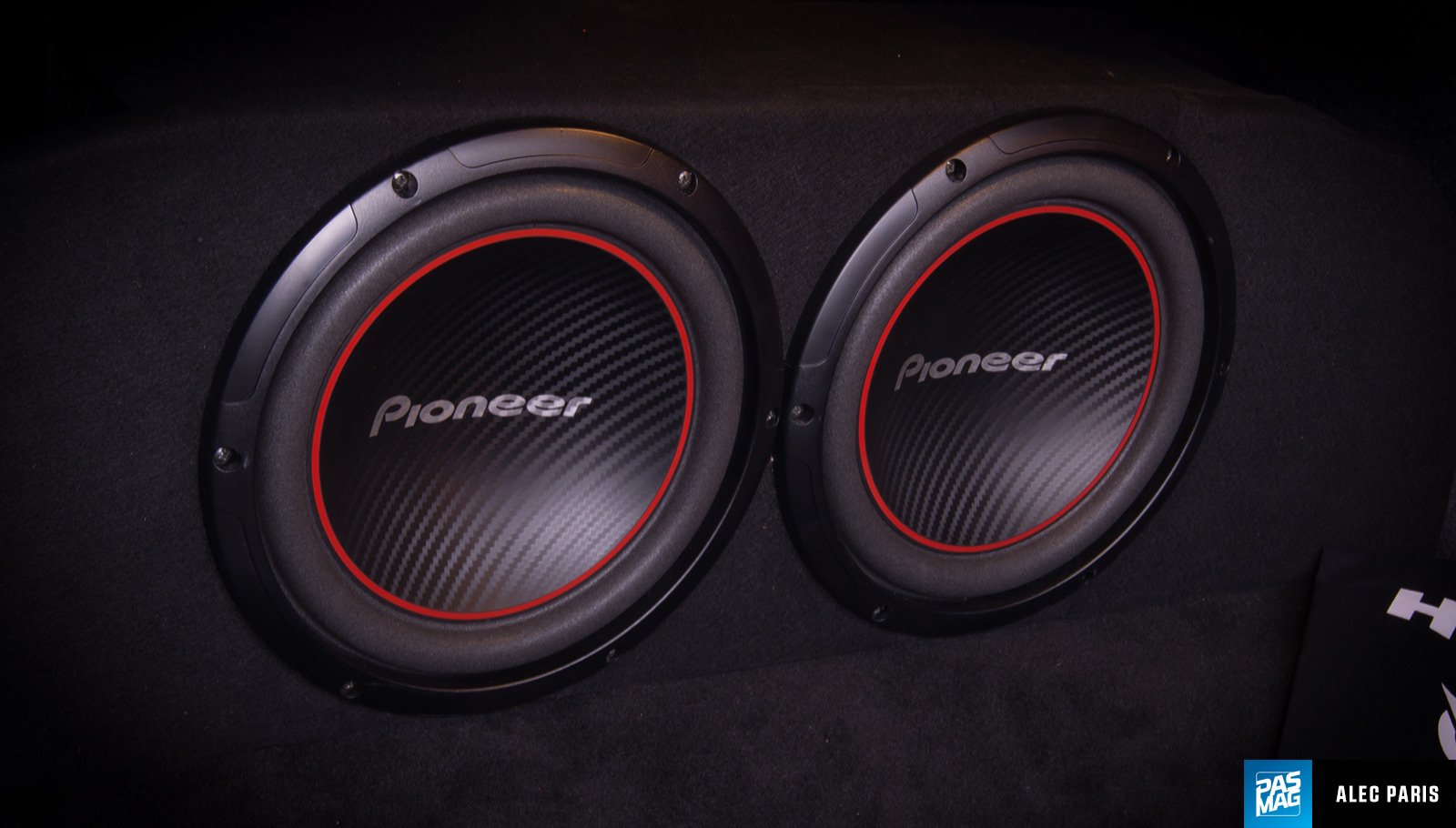 SPONSORS
Import Image Racing, HMB Performance