Photos by Phillip Awad
---
When one is passionate about their craft, it is often said that they put a part of themselves into their creations. If it's writing, maybe it's their voice. If it's art, maybe it's their likeness. With cars though, it's a lot of personality and a part of your spirit. Nowhere is this more apparent than with Wataru Kato's "Kenmeri" Skyline.
"Liberty Walk means 'walking freely'," Kato says. "Don't let the rules prevent you from enjoying your free movement; enjoy what you love to do without bothering others in any way."
If you don't know who Kato is, please educate yourself. Google it. Ask Jeeves if you really have to. Better yet, you can see an interview we did with Kato at the Tokyo Auto Salon last year on PASMAG.com. This guy really is in a league of his own.
You can really see the personality that Kato injected into his GC111 Skyline. If you look at it dead-on, it looks like its splitter smile and tilted headlights give off that same mischievous and playful face that its owner does. Maybe the bumper-mounted oil cooler symbolizes the cigarette that dangles out of his mouth.
The rest of the car is outlandish, but in the best possible way, as one would expect from Liberty Walk. It's modeled in the popular Japanese shakotan (extremely low) and kyusha (modified Japanese classic car) stylings for that throwback flair with a no-cares-given attitude. Partnering with Mizuno Works, Kato and his Crew at LBW really worked their magic. Sure, you could look at this hacked up vintage car and be mad about it, but could you really stay mad at it? Didn't think so.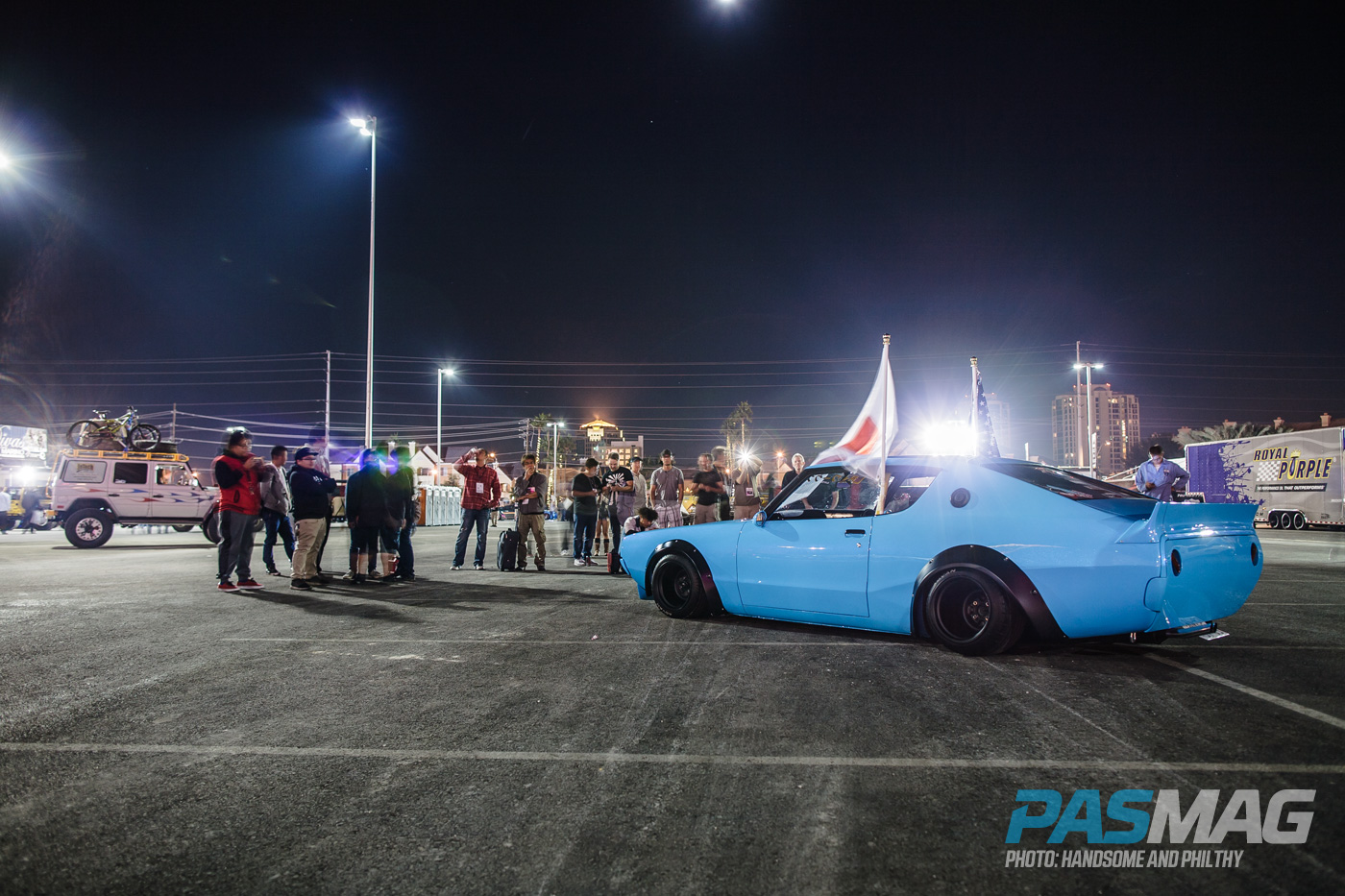 Since shakotan was the main influence here, Kato's Kenmeri is suitably super low. At its lowest point, it's about five or six millimeters from the ground. Mizuno Works' short stroke shocks provide peace of mind, knowing that the wheels aren't going to throw off the fender arches when the car goes over a bump.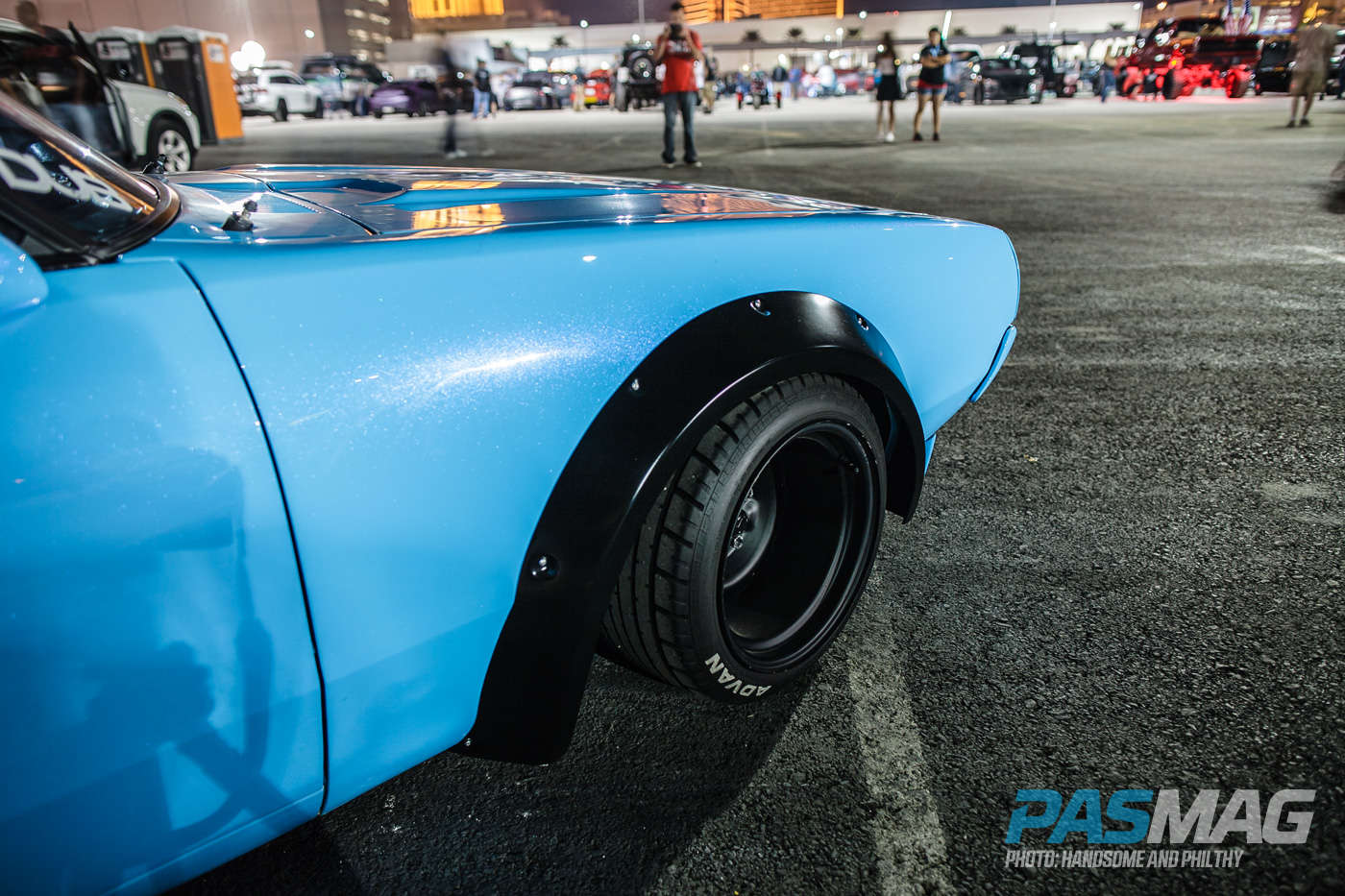 Kato isn't very concerned about name brands when it comes to his personal cars, so you won't find Work or Volks or BBSs beneath the overfenders – which are the widest Mizuno Works offers. Instead, you'll find custom widened steel wheels. Measuring 14 inches around is the norm, but the 10-inch front and 13-inch rear widths are just what Dr. Kato ordered. Wrapped around the steelies are vintage Advan racing rubbers in 225/525 R14 and 245/525 R14 front and rear, respectively. These tires aren't made anymore and no other manufacturer tackles those measurements, so until Kato can convince someone otherwise, the cracked and stretched Advans are here to stay.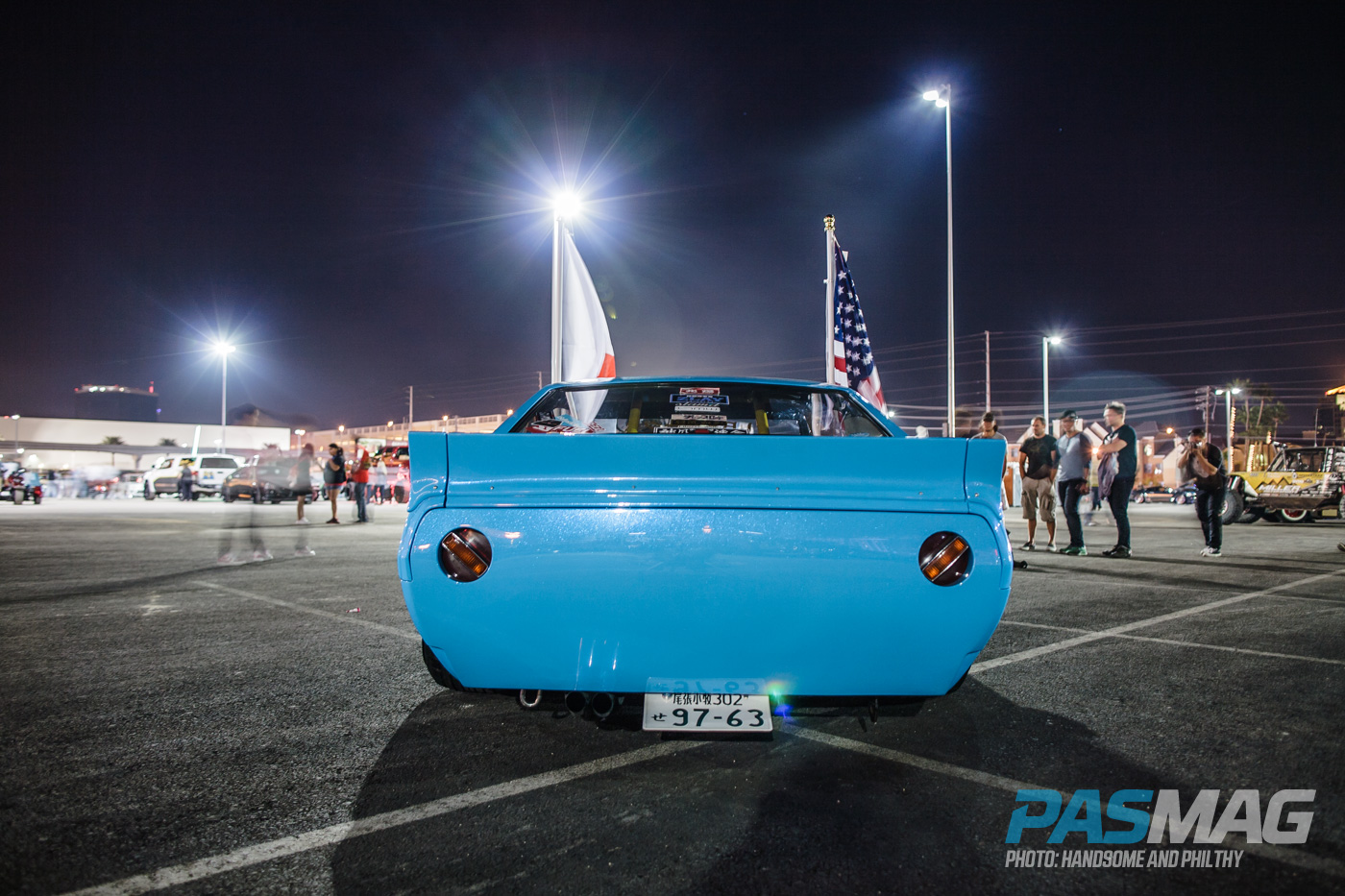 The rear of the Skyline is completely shaved down. No bumper, no recess for a license plate; just smooth. Two Nissan Cherry taillights have been implanted and give the tilt to match the front. Just above those is Mizuno Works' three-piece ducktail spoiler, adding to an already timeless silhouette.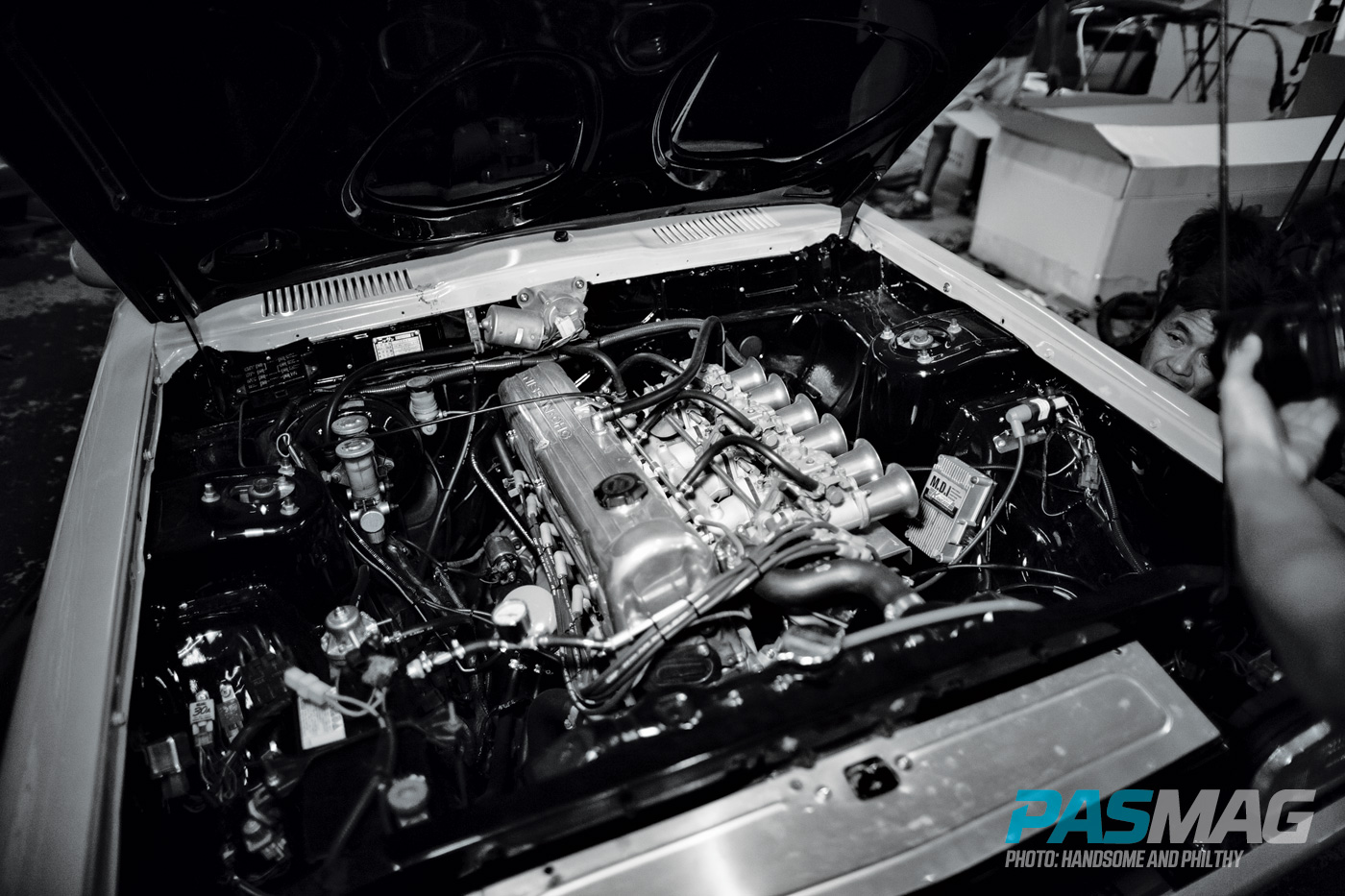 Under the hood, Mizuno Works outdid themselves. The factory L20 has been lifted and replaced with an L28 straight-six for higher output and more wail. The addition of a balanced crankshaft from an LD28, forged pistons and connecting rods from AS Watanabe, Kameari Engine Works camshaft, and some machining work have resulted in a 3.1L stroke up and some extra power under Kato's foot.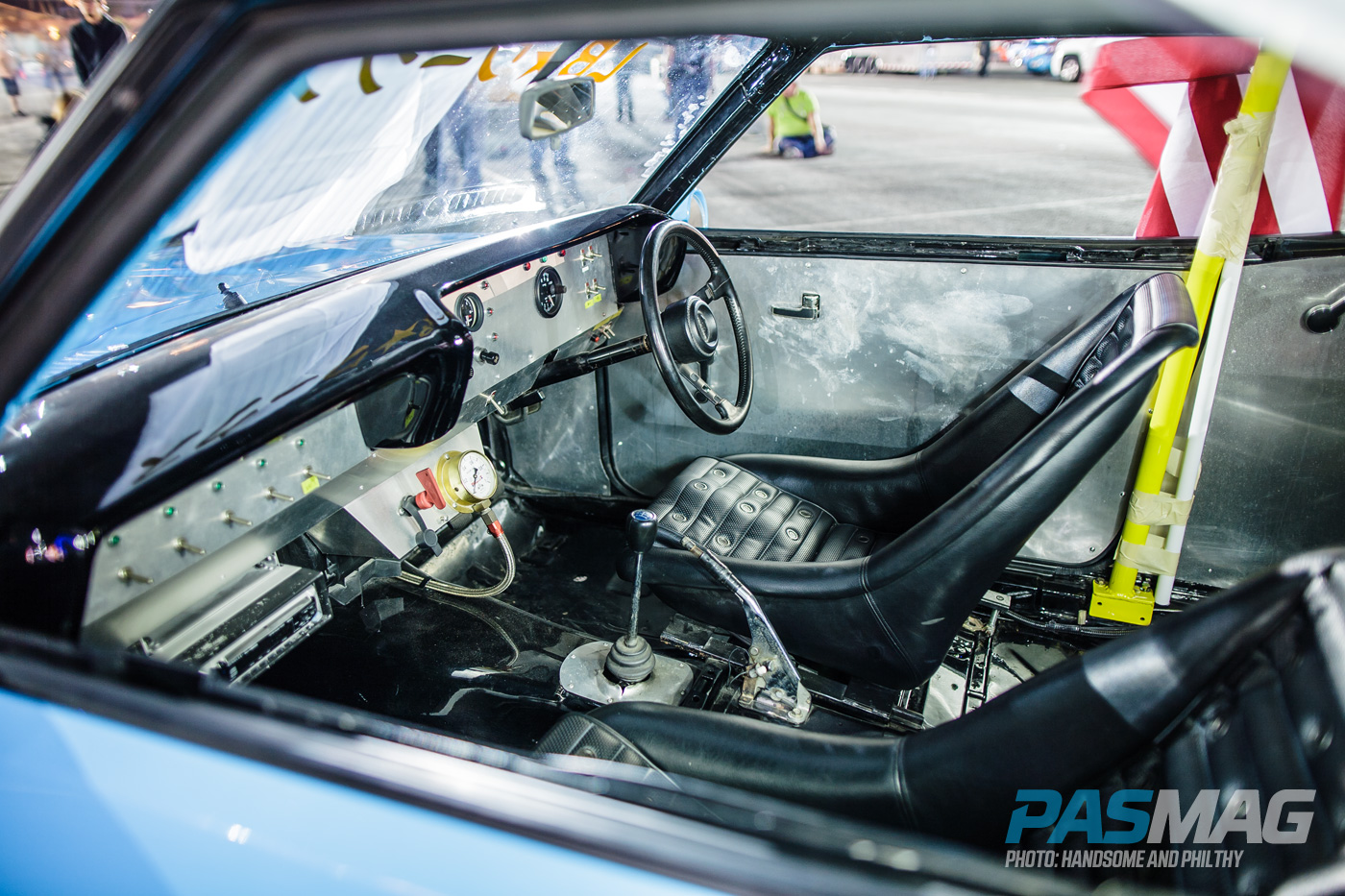 Inside the Kenmeri, you won't find diamond-stitched custom seats or fancy headliners. The interior takes a heavy influence from Japanese endurance racers and as such, is absolutely gutted. Alunimnum and FRP paneling makes up what were once the door panels and dash. Under the custom dashboard is a Carrozerria head unit, which feeds tunes to Kato via a pair of speakers behind of the same make. The steering wheel and seats are both competition models taken from other vintage Datsuns. A plethora of switches, lights and gauges, as well as a half cage that takes up residence in the rear, all give off that motorsports vibe.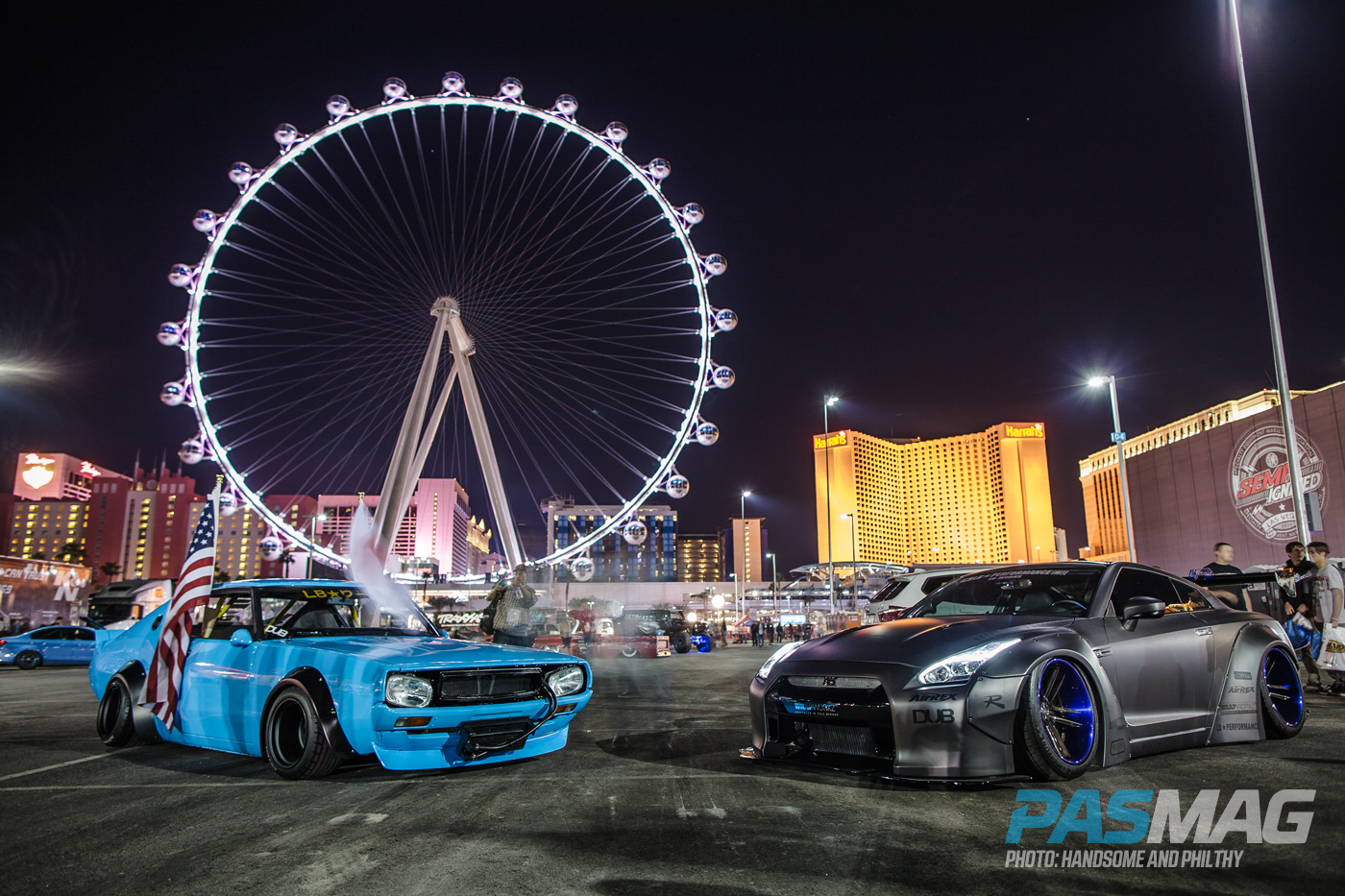 By now, you've surely noticed the awesome photography by Phillip Awad. Now look at this layout and take out every image that's set in the parking lot with the Ferris wheel in the background. Those almost didn't happen. Somehow we found the Skyline, or maybe it found us.
"The Ignited event is happening and I was combing the event space for Kato and his crew," recalls Awad. "I assumed the car would be there, but it wasn't."
The Skyline was nowhere to be found because it was stuck in traffic. The rollout from SEMA Ignited caused an incredible amount of traffic. Kato, his crew and the Kenmeri were waiting in traffic for so long that the car ran out of gas! Not able to get the fuel the Skyline needed to run (it takes high-octane or "hai-oku"), the LBW crew was forced to push the car into a large, empty parking lot.
"When I eventually found him, there was his Skyline, the Aventador, and a few of the people from his crew had their cars parked," Awad continues. "I pulled one of the guys aside and asked him if he could ask Kato-san if it was okay to shoot his car. Kato was 100 percent down to shoot, but when I asked to take it off the lot and go somewhere a little more exclusive, he put his hands up in the air and said, 'No gas!'"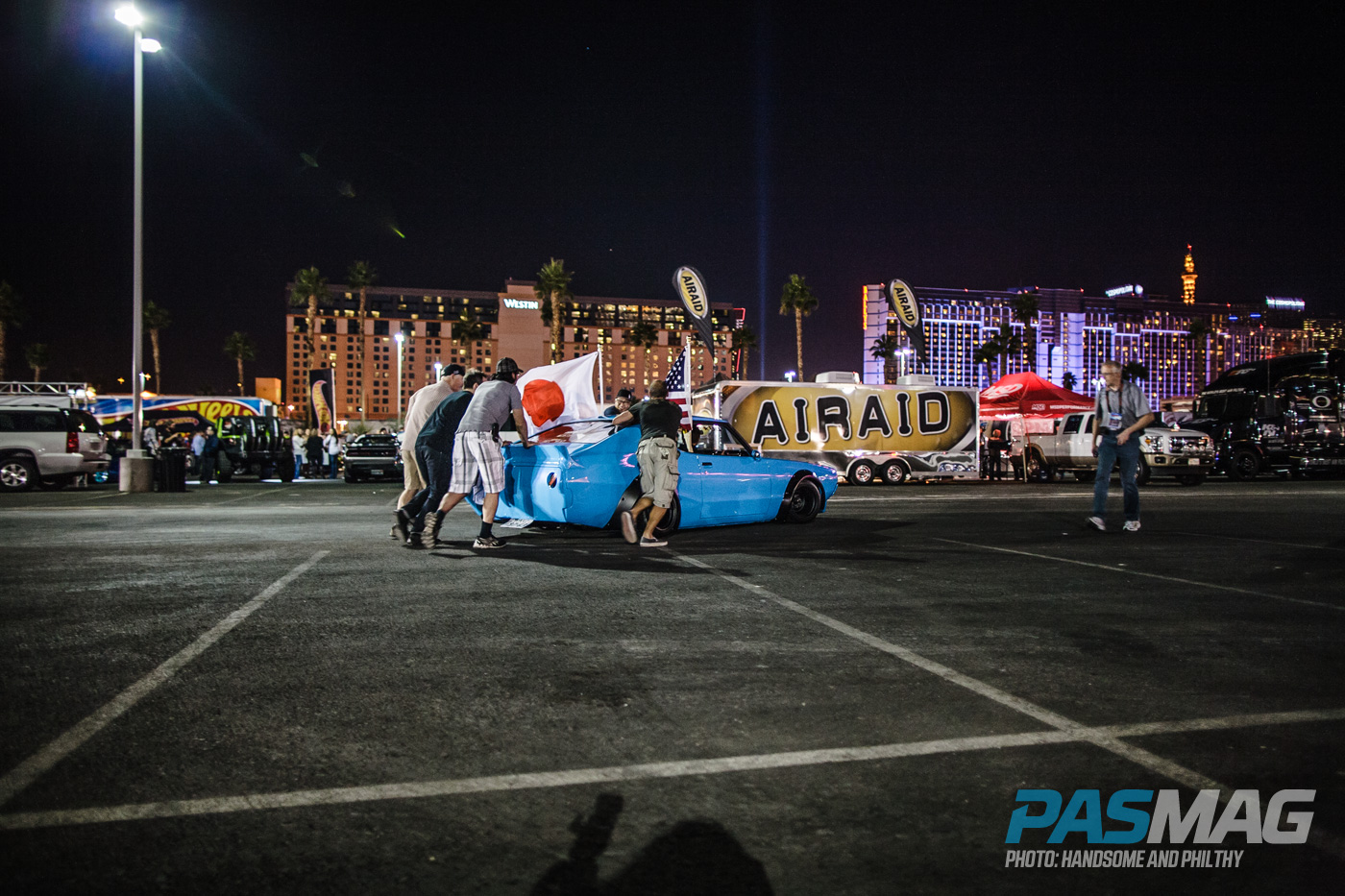 Awad can't really believe what he just heard, but shakes it off and suggests, "Well, why don't we push the car and put it in front of the Ferris wheel?" With ample parking space it was easy enough, but of course, a crowd had formed and started taking pictures and following the car.
"At one point I'd say that there were 50 or so people just standing in front of the car," says Awad. "I wouldn't say it was mayhem, it was more like a party."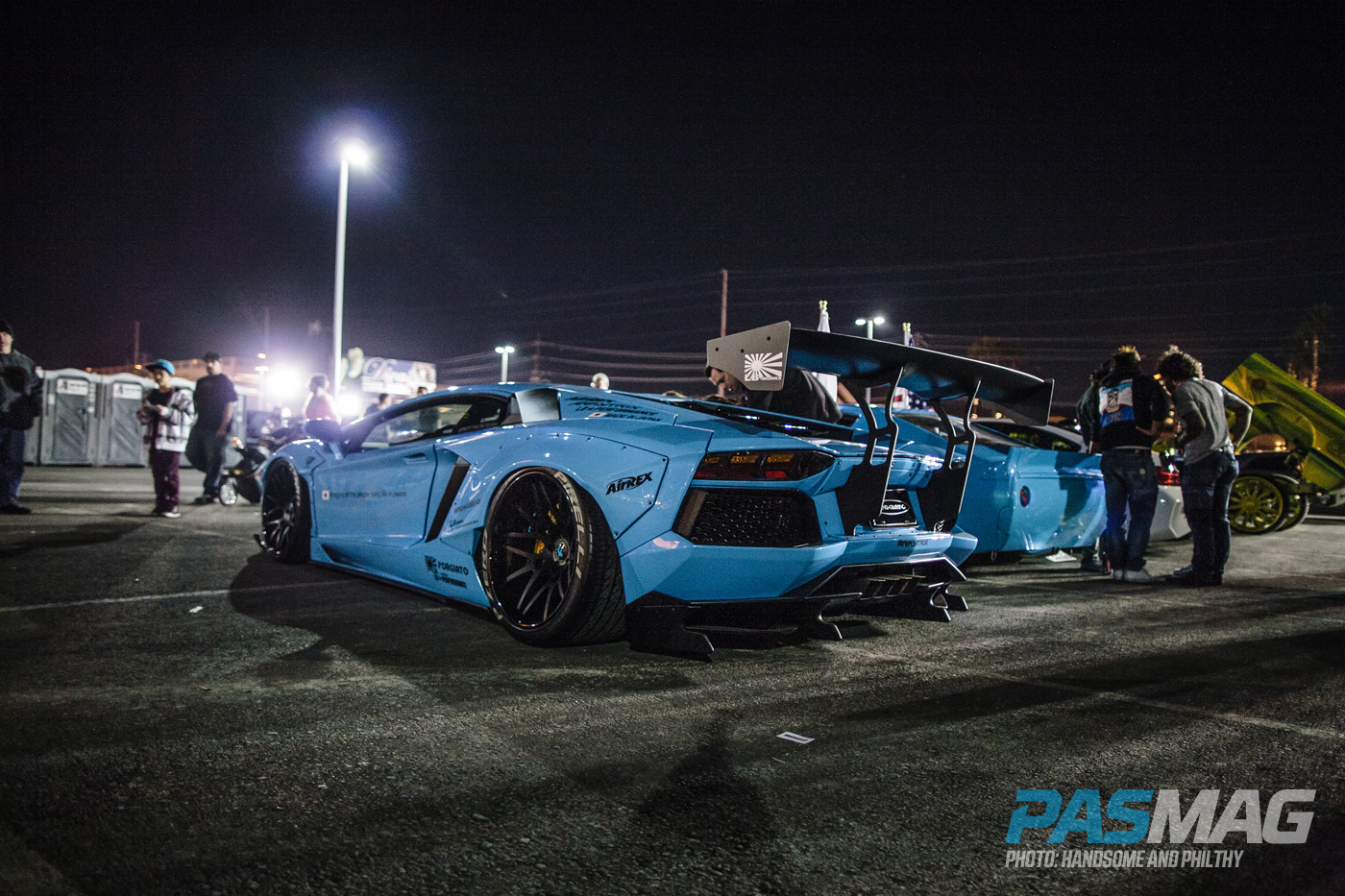 With all of his new friends there, he didn't know how many good shots he'd get. In the end, he decided to just go with it. The atmosphere was great and it complemented Kato's creation very well. We think so, too.
"It was spur of the moment and I just gave up control," smiles Awad. "Because Kato ran out of gas, I was able to find him in the Ignited lot. It was a fortunate series of events."
We say it was meant to be. A party setting in a parking lot after what seems like devastation is so fitting for Kato and his car. Just before this, Kato's 458 was rear-ended. He simply got out, put on a headband and started screaming, "BANZAI!" This is a guy who makes the best of a bad situation. Kato's Kenmeri is a work of passion and has just the right amount of him in it.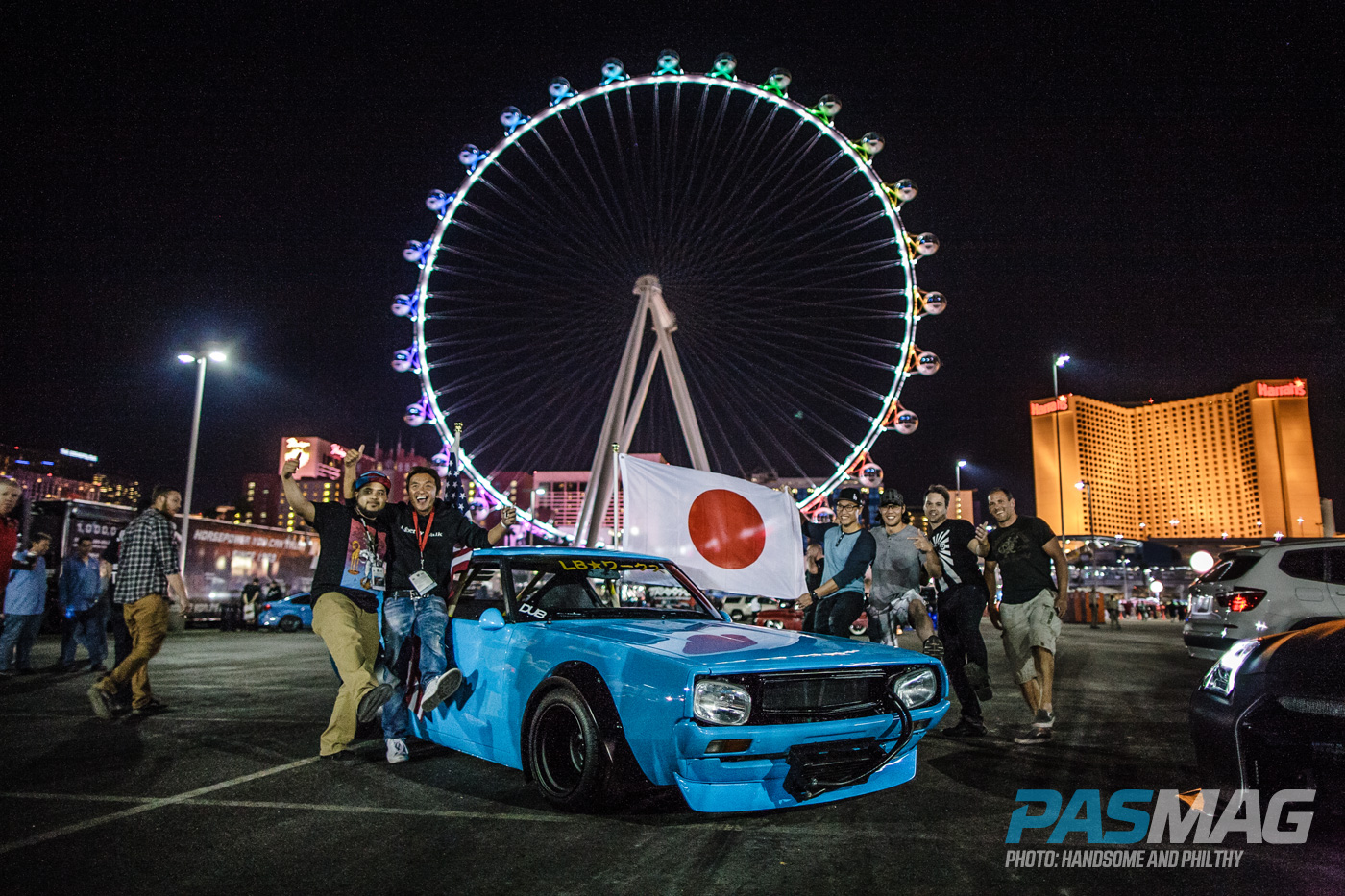 ESSENTIALS // Owner: Wataru Kato, Vehicle: GC111 Nissan "Kenmeri" Skyline, Engine: Nissan L28 2.8L I-6, Built By: Liberty Walk, Mizuno Works, Location: Owariasahi, Japan
ENGINE // Mizuno Works (L28 engine, LD28 balanced crankshaft, ported and polished head, 3.1L stroke), AS Watanabe (forged pistons, connecting rods), Kameari Engine Works (camshaft, oversized intake valves, oversized exhaust valves), Mikuni carburetors, Ultra MDI ignition system, FireWire plug wires, NGK spark plugs, Oil cooler – bumper-mounted
EXHAUST // Custom fabricated ("takohashi" headers, exhaust system)
CHASSIS / SUSPENSION // Mizuno Works short stroke shocks
WHEELS / TIRES / BRAKES // Custom widened steel wheels – 14x10 (f), 14x13 (r), Advan race tires – 225/525 R14 (f), 245/525 R14 (r), Disc brakes (f/r)
EXTERIOR // Mizuno Works (front chin spoiler, grille delete, tilted headlights, shaved rear end, Ice Blue Pearl paint, overfenders, 3-piece ducktail spoiler), Nissan Cherry taillights - rotated, Vitaloni side mirrors
INTERIOR // Datsun (sport seats, competition steering wheel), Custom (half cage, FRP dash), Kameari Engine Works fuel pressure gauge, Omori gauges (tachometer, water temperature, oil pressue, oil temperature)
MOBILE ELECTRONICS // Carrozzeria (head unit, speakers)
This article is published in PASMAG #130 (April/May 2015), on newstands between Mar 30 - May 29, 2015). Order online at www.pasmag.com/backissues.