Around five years ago or so, it wasn't common for ground kits and voltage stabilizers to be found on tuned vehicles. Today, virtually every manufacturer has entered the market with their unique take on how proper grounding and voltage stabilization will benefit modified cars. I've tried a few in my day including: BuddyClub Condenser, A'PEXi Super Ground Stabilizer and the HKS Circle Earth and they have all yielded some form of proven horsepower gains. However, one of the more popular kits over the years has been the line of Sun Automobile products designed to improve grounding and voltage.
When I say line, it's because there are several kits available from Sun Auto, including the Hyper Grounding kit, the Hyper Voltage kit, the Hyper Voltage GT and the Ignition Blade. While the grounding kits are separated into three types for car, truck and rear mounted batteries the Hyper Voltage is both universal and specific to cars (STi, WRX & Evo). The Ignition Blade is a coil pack grounding kit specifically designed to improve the spark in the 4G63, K20 and SR20 motors. We contacted Sun Auto to install a kit on our project car and hopefully eliminate some grounding problems and ensure the maximum spark was delivered on each and every power stroke. The project car in question is a 1990 Nissan Skyline GT-R (R32), which currently makes over 500whp with a wiring harness and coilpacks that are nearly 20 years old!
Since the electrical system had poor grounds everywhere with symptoms like audio noise, hesitation and even dimming of lights under load, Sun Auto was confident many of these issues would be cured. They shipped us their Hyper Voltage GT kit and the optional Hyper Grounding Kit. The Hyper Voltage GT kit is designed to address voltage stabilization at all RPM ranges. The kit allows the battery in your vehicle to deliver maximum efficiency by ensuring proper resistance along the power line.
The benefits of the Hyper Grounding Kit are numerous. Many cars, especially older and winter driven ones have grounding that worsens every year. The terminals get corroded and the copper oxidizes over time. Couple that with many different grounding wires found throughout the car of varying sizes and widths, which creates undesirable dips in voltage. The dips can affect everything from lights to fans but can be even more detrimental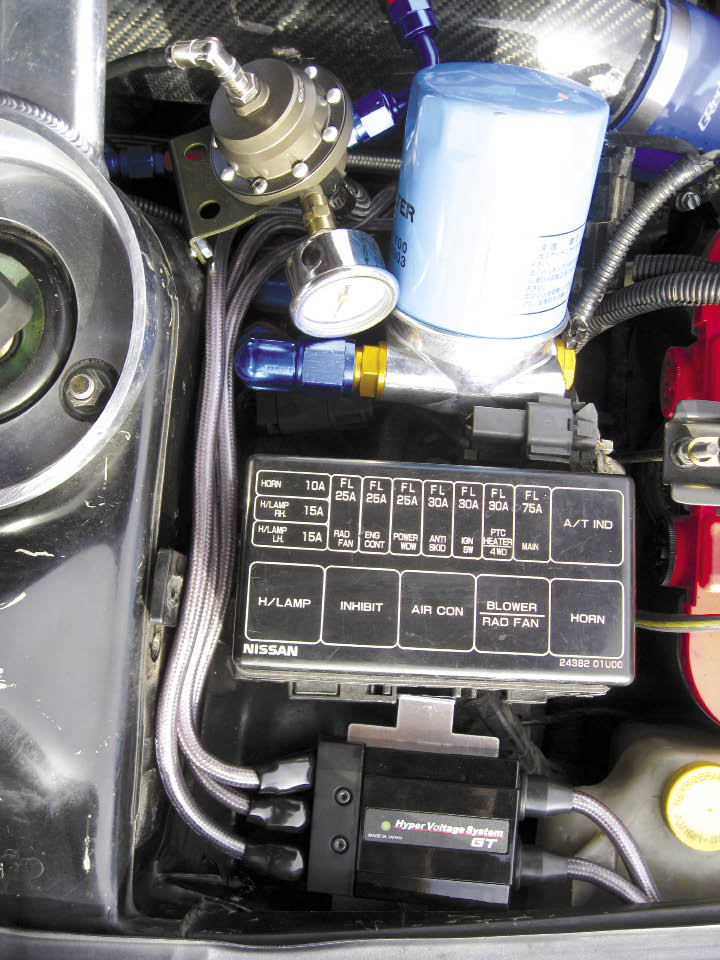 if a fuel pump is starved for voltage. The Hyper Grounding kit uses thick 99.9% pure copper wiring of varying lengths to provide wire to various points around the engine bay using a minimum amount of cable.
The installation was a snap, with detailed instructions, hardware and mounting brackets all included. We selected a mounting point right beside the fuse box and battery. Sun Auto even includes a negative battery terminal extender to bolt all of the new ground wires to. The grounding wires spread out from there to the fenders, cylinder head, intake manifold, starter.
The end result is evident and again results can vary from car to car. In our case, with a two decade old wiring harness, the grounding needed help. The immediately noticeable benefits were zero radio noise coming in through the speakers and a more stable idle.

When we did some pulls on the street, the throttle response seemed much better and stronger at any RPM, with slight gains in both horsepower and torque. Over time, Sun Auto claims to have more benefits of improved gas mileage, starting ability and battery life – only time will tell.
Sun Auto is the only company authorized to provide high performance grounding system as optional equipment for OEM cars, so their quality is clearly first class. Increased grounding and proper voltage regulation is a safe and reliable upgrade for any car – and Sun Auto is a great place to start.