Rewind ten years ago and you'll recall making changes to your boost meant pulling over and popping the hood. Then you would have to fiddle with the clumsy knobs on your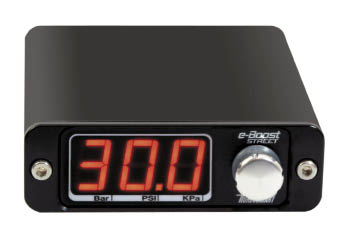 manual boost controller and road test until you found the sweet spot. Manual controllers were unreliable too and were prone to spiking so many tuners hunted for an electronic boost controller (EBC) to conveniently control everything from inside the cabin. Only problem was, they were expensive and have remained so…that is until the boost experts at Turbosmart set out on a mission to change all that.
Enter the Turbosmart e-Boost Street (part number TS-0302-1001), an electronic boost controller aimed directly at the street performance market. With all of the same features as the successful eBoost2, the eBoost Street is jam-packed into a slim aluminium case with a ¼-DIN format. The mission was to provide all of the boost control with a simple, uncomplicated approach. They don't even clutter the box with printed instructions. It's all on a mini-CD!
Crack open the box and everything you need for a painless install is inside. Turbosmart recommends soldering all wires and insulating them with supplied shrinkwrap tubing for a lasting connection. A total of five wires require connection: red for 12V power, black for ground, yellow for RPM signal, green for auto dimming and finally brown / grey to the boost control solenoid. The solenoid is a stout cast aluminium piece that operates ideally at temps less than 100°C (212°F), so keep it away from manifolds and turbos. We tapped into a line off of our billet vacuum block and ran it through the firewall. When it came to hooking up the wastegate actuators to the solenoid, we thought we might run into a hurdle since we have not one turbo but two. Not the case with Turbosmart since they supplied a diagram of how to link up the twin turbo wastegates with all of the provided barb fittings.
Once it was all connected, we decided to check out how the functionality of the unit stacked-up. The TurboSmart e-Boost street has two boost groups SP1 and SP2 accessible by a quick press of the knob. You're then able to enter the setup by holding the knob for 3-seconds. Here you can enter your number of cylinders from 1-16 (4 or 6 for rotaries), so the RPM function works correctly. Then you can choose the units you wish to work with measured in PSI, KPa, or BAR.
One of the other slick features of the Turbosmart e-Boost Street is the ability to measure peak / hold and set the overboost limit, which is set to a default 7psi. From there we set up the SP value (between 0-99) by starting at 10 and incrementally stepping it up until desired boost pressure is held all the way up to 30psi. Next up is the Gate Pressure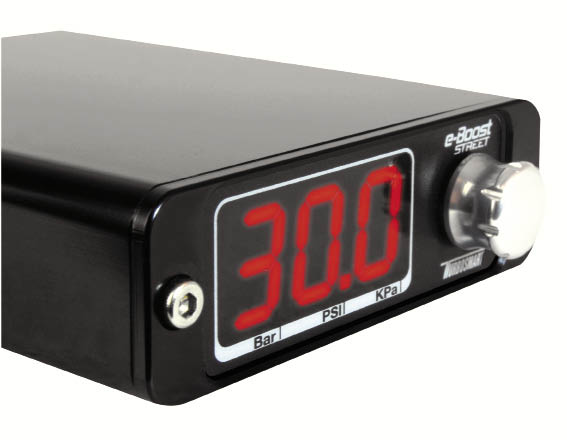 setting, a value that should be 5psi below desired boost pressure to allow for instantaneous response of torque. The Gate Pressure should be incrementally stepped up until a spike occurs and then backed off. The sensitivity can also be set up, starting with a default of 20, it can be reduced for any wavy boost curves. Finally, we investigated the Boost Correction feature that counteracts the tendencies of some inefficient turbo systems to drop in boost pressure at high RPM. Let's say your boost drops from 15psi to 10psi between 5,000 to the 7,000rpm redline, you can plug in those parameters and enter a correction value to maintain the same boost throughout the range.
Once we found some optimal settings, we switched to Live Mode that displays different parameters. Most of you will likely have the boost level displayed but you can also display RPMs too. You can also set shift-points to make the e-Boost Street a shift-light to bang the next gear at the correct RPM!
With all of theses features, a simplistic design and an excellent price-point ($395 MSRP), Turbosmart is on track to re-write how everyday turbo cars manage boost. Since it is made in Australia to exacting standards and backed by a solid guarantee, any Turbosmart product is as a logical choice for your street car as it would be for a race car.
USA: (909) 476-2570
CANADA:  Mopac: (800) 667-667 or (877) 496-6722  Xtreme Vision: (888) 755-9255