For many years, Advanced Clutch Technology has been at the forefront of the performance clutch market. They stay on top of the game by focusing on market research and development in the early stages of new products, and that's exactly how the Mod-Twin clutches came to be.
When developing a twin disc clutch for the Subaru WRX STi and Mitsubishi Evolution platforms, they knew that big power four-cylinder engines would have a lot of torsional vibration, which is notoriously hard on clutches - especially hard on splines in the hubs. In their market research, ACT noticed that a lot of aftermarket options were race clutches adapted for street use, or clutches with significant trade-offs such as short clutch life due to wearing down of the splines, harsh engagements, low heat capacity, slow shifting which could be hard on transmissions, and pull to push conversions.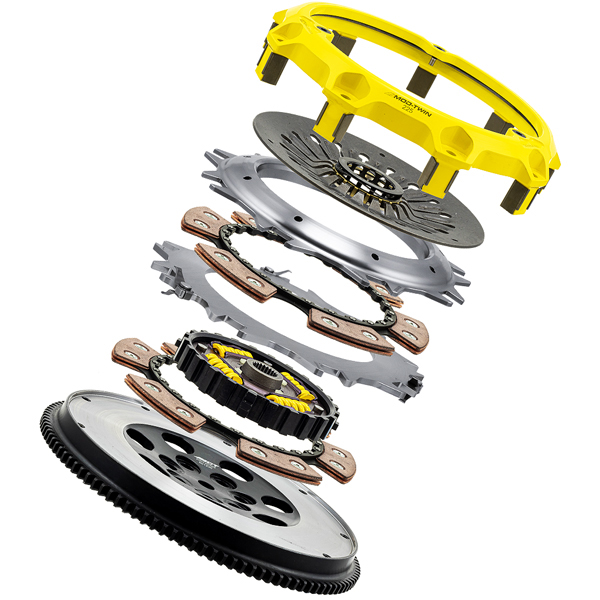 The initial problem they found was that it was too difficult to get to spring centered hubs in such a small space between the turbo four-cylinder engines and their transmissions while adequately reducing torsional vibrations. The solution came in the form of an industry mould-breaker: The ACT Mod-Twin, a modular clutch kit in which both friction plates mount to one Mono-Drive hub.
The modular kit allows customers to customize their clutch kit to their needs, as well as easily replace components in the event of wear. You can choose either organic or six-puck style friction materials, as well as choose between a spring center or a solid center Mono-Drive hub. All wear surfaces are hardened to withstand the abuse we all know and love ACT clutches for, and each kit is entirely rebuildable.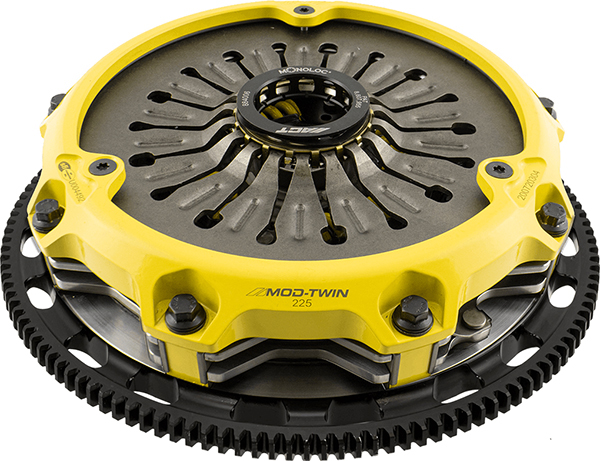 ACT's requirements for the kit were simple enough: It had to hold big power, have good heat capacity, provide smooth and clean shifting, and be durable. Additionally, it also had to have a good pedal feel and engagement characteristics, and offer extended life on friction materials and the spline. It was an absolute must that the Mod-Twin be a pull type clutch, only use one hub, and be able to offer sprung or solid centers.
Needless to say, the result has been a resounding success. Advanced Clutch Technology's Mod-Twin clutch kits for the Subaru STi and Mitsubishi Evolution platforms has been a high-power hit. When we got our hands on one of the first prototypes a few years back, our editorial team was blown away by the modular aspect of the clutch, and hearing that it performs and holds power as intended makes it all the more impressive. While the STi and Evo may be the first foray into this space, we can safely assume that ACT has more like this on the way after proving their prowess.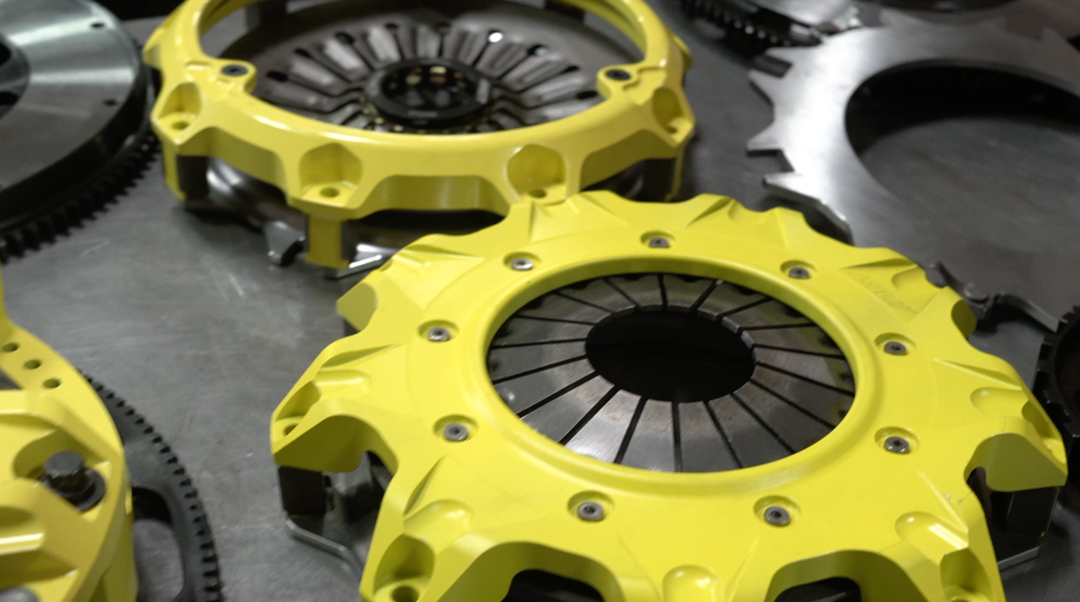 Friction Plates
Uniformly load the Mono-Drive Hub during engagement. Steel backed organic for street applications and smooth engagement, ceramic puck type for racing applications, increased heat capacity.
Floater Plate
Chromoly steel machined to exact specifications. High strength steel construction for transmitting high torque levels, while also remaining flat under thermal stress to keep shifts clean and quick.
Wear Plates
Hardened stainless steel on each post to prevent damage from torsional impacts.
Diaphragm
Optimized design using ACT's exclusive four stage heat treating process. Provides a consistent light pedal feel.
Mono-Drive Hub
Transfers the power from the friction plates to the input shaft. You can choose a robust spring center for longer spline life, less gear noise and cushion engagement or choose rigid design for faster shifts.
Forged Aluminum Cover
Forged Aluminum, integrated nine post design engineered strong, light, and rigid using finite element analysis (FEA).
Streetlite Flywheel
Chromoly steel, engineered using finite element analysis (FEA), reduced weight with enough material to absorb heat, precision balanced, induction hardened ring gear teeth integral to the flywheel. This one-piece design is stronger and more durable than billet steel, aluminum, or cast iron.
Centering-Springs
Stainless Spring Steel assures cleaner, quicker shifting by pushing the surfaces apart during disengagement and provides smoother, more predictable clutch engagement.
Anti-Rotation Pins
Prevents undue wear from the diaphragm "walking" in extreme output applications.
Mono-Loc
A must-have to assure reliable attachment of the release bearing. This solves the OE wedge collar woes.
Pressure Plate Face
Precision machined chromoly steel to ensure strength and long life with ample material to dissipate heat.
If you're looking for the latest developments on clutch options for your platform, be sure to hit up www.advancedclutch.com.