So you finally scraped up the funds to plant your butt in the ride you've been lusting after. While you're reveling in the new car smell, the confidence and security of a full warranty, and making three trips a week to the local hand wash, you realize there is something missing. The stereo system simply doesn't stack up to the rest of the new car experience. But what do you do about it?
Some people go online and listen to a plethora of opinions from people who have little to no business offering them. Others go to a car stereo shop and end up with whatever a particular salesperson believes is best – or even worse – someone who simply wants to clear out some old inventory. Then there's the all-too-common issue of OEM features no longer working after the new system is installed, and the same salesman tells you that nobody really uses OnStar or Bluetooth anyway.
Others tend to throw money at the problem and end up with several thousand dollars of gear that may or may not work correctly for that particular car.
But there is a better way, and it comes from the folks at Kicker, who have been building good sounding car audio since before some of you readers were born.
Kicker has a division called SoundGate that is completely focused on designing and building factory-engineered audio upgrade kits. Kits are currently offered for popular vehicles from Chevrolet, GMC, Ford, Jeep and Dodge, with new kits for additional vehicles being developed all the time. Not only do these kits fit seamlessly into your new car, but they are individually tuned to each vehicle by audio experts.
There are two types of upgrades available from SoundGate. The first is called a SubStage upgrade and is used primarily when your new car system sounds reasonably acceptable as is, but distinctly lacks real bass.
The SubStage upgrade consists of a 200 watt amplifier and special 10-inch, dual one ohm voice coil subwoofer that has been specifically designed to provide excellent bass in a 0.6-cubic-foot enclosure. The enclosure is a molded ABS construction that is thick and strong. It is also treated with a special UV protection film called Korad to prevent any deterioration from sunlight over the years. These components are designed to take up minimal space, fit perfectly into the vehicle, and not tax your vehicles stock electrical system. There is no cutting required and a complete wiring harness is included.
SoundGate's most popular and effective upgrade is the PowerStage kit. You still get the custom-designed subwoofer, enclosure and amplifier, but a special DSP powered 50 W x 4 multichannel amplifier is added to improve the sound quality as well as the staging and imaging of your new car. Each DSP program is designed specifically for every vehicle model and, like the SubStage upgrade, comes as a complete "plug and play" kit.
Rest assured that every factory function like On Star, Bluetooth, and Navigation will continue to work correctly. In some cases it sounds even better than before. The SoundGate system is designed to meet or exceed all OEM specifications and is totally compatible with the vehicle communication bus. With the SoundGate PowerStage upgrade kit, things like reduced radio reception or interference with TPM, air bags, traction control, etc. are a thing of the past.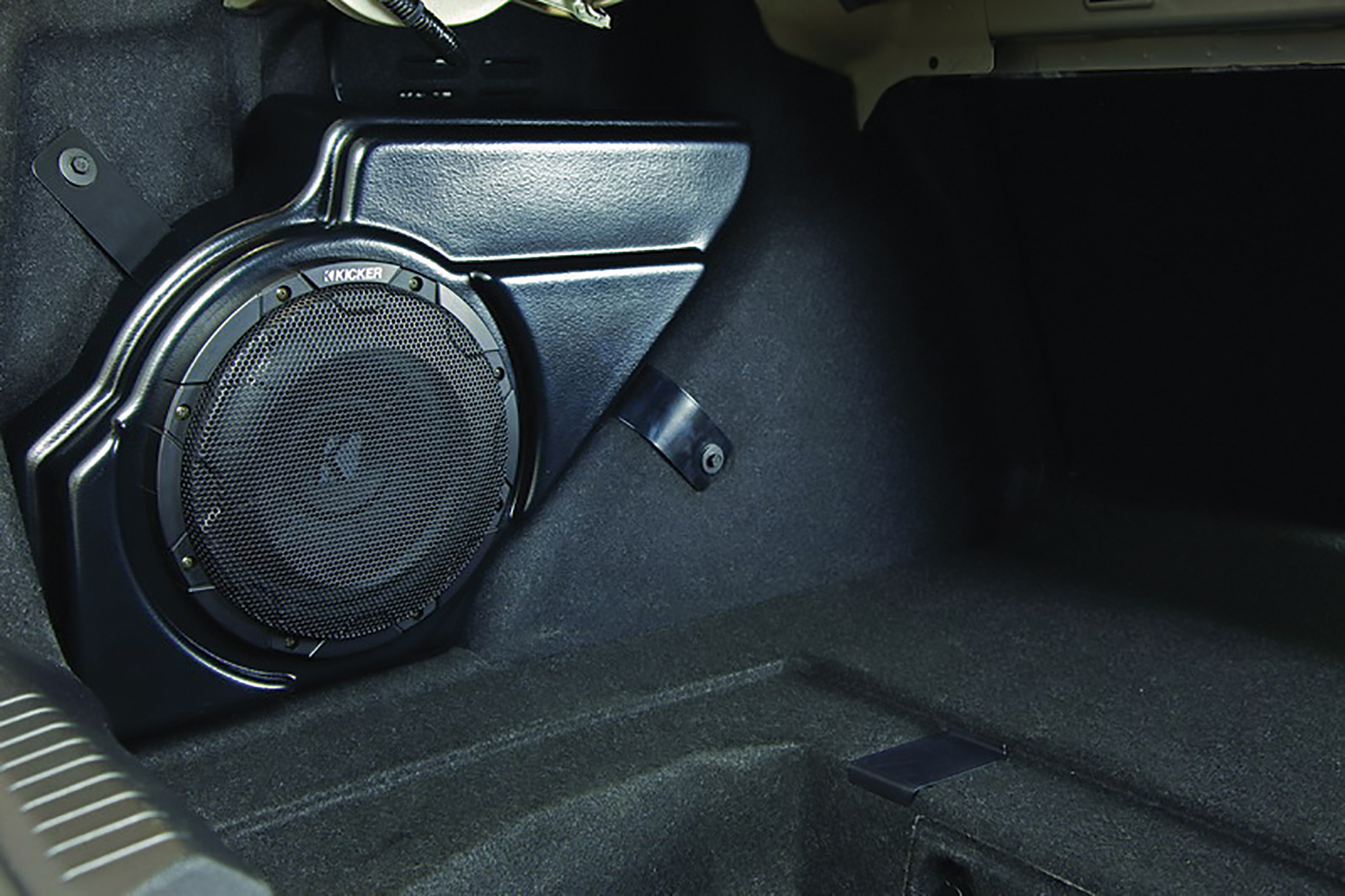 The PowerStage upgrade is much more than just a 50 watt per channel amp. The powerful DSP processor in the amplifier has been tuned for your vehicles specific interior, speaker placement, and acoustic characteristics. Great pains are taken to maximize the sound quality for each seating positions, with the front two seats obviously being the most important. The DSP controls frequency response shaping through expertly tuned equalization, and even includes sound arrival time correction, so the stereo image is high and wide, and the overall sound staging replicates the actual performance.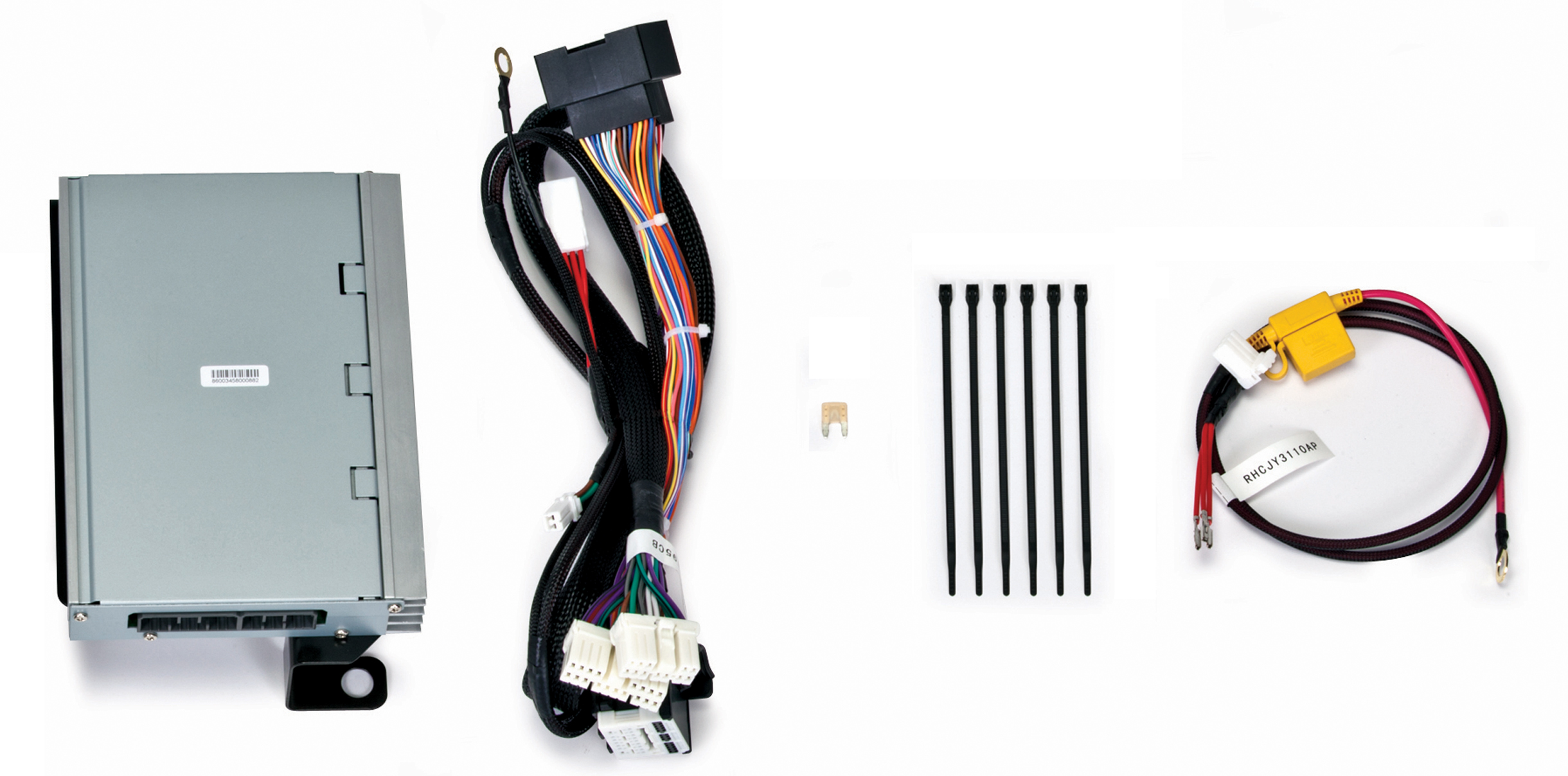 For rear seat passengers, special secret tricks are employed to make sure passengers stuck in the rear still have a great listening experience. And like the SubStage kit, there is no cutting, no codes and no loss of any of your existing factory functions. Suggested retail prices for these upgraded systems start at a very reasonable $699.95 for the SubStage upgrade kit, and $1,249.95 for the full PowerStage kit.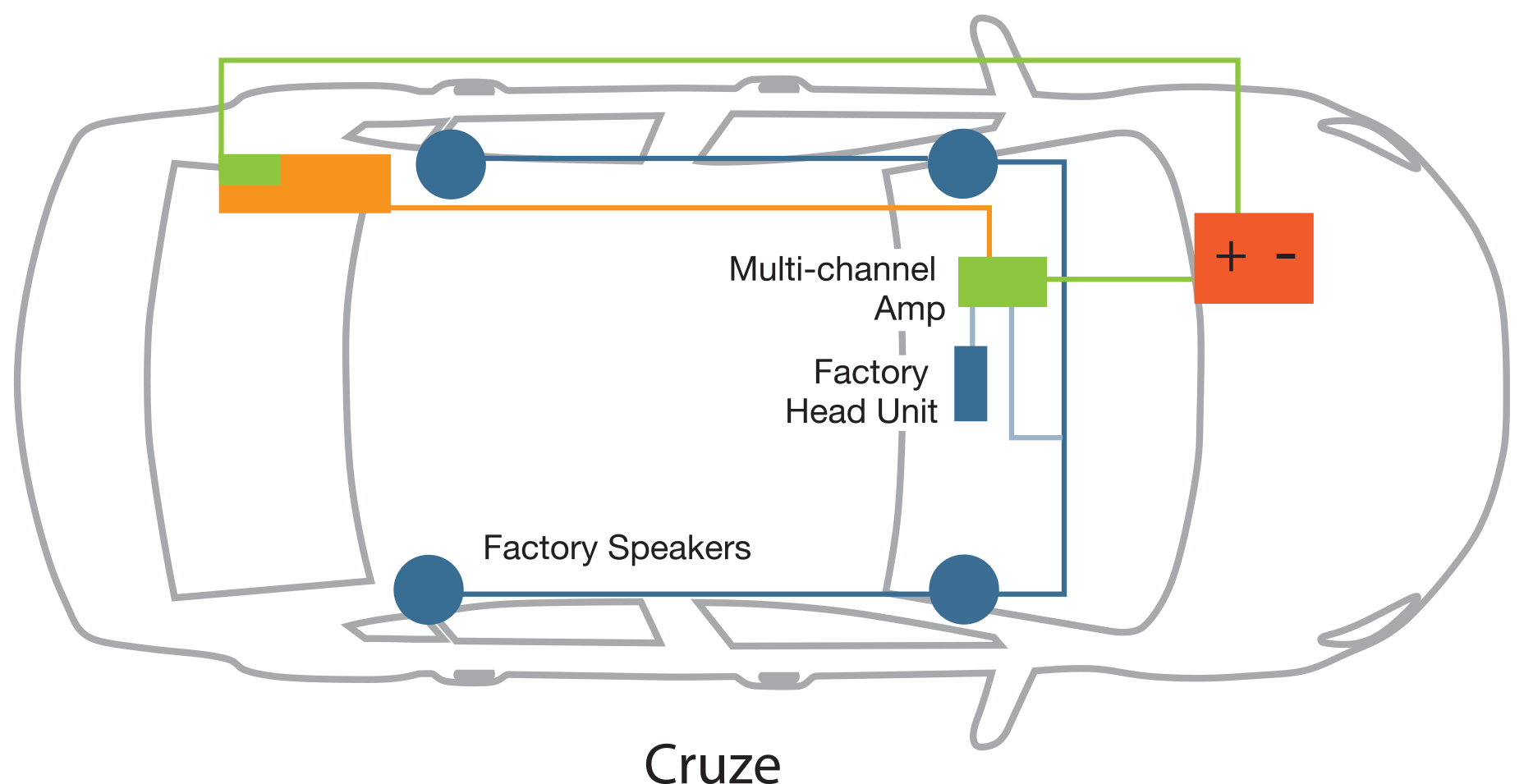 So that I could experience the system firsthand, the folks at Kicker were kind enough to set up a car for me to evaluate here at my lab. The vehicle for my evaluation is a 2012 Chevrolet Cruze owned by a local enthusiast, with the installation capably handled by a local Kicker dealer. When the morning comes to listen to the car, I learn that the system has been conveniently installed with a three-position switch so I can compare the original stock system to the SubStage and ultimately, the PowerStage version of the upgrade kits.
Listening
When I first get into the car, there is no indication whatsoever that a serious upgrade had been done. The interior of the Chevy Cruze looks completely stock. I begin by setting the tone controls on the factory head unit to the flat position. Joe Gross, SoundGate's wizard in charge of tuning these systems, explained to me that the system was designed to be able to accommodate a wide range of listener preferences, from audiophile types with classical music, to head bangers with hip-hop or metal. To accomplish this, the adjustment capabilities of the Chevy head unit were carefully measured and recorded. Tuning of the PowerStage was developed to allow the user to adjust the stock tone controls to achieve their own personal audio nirvana.
With things set flat and a handful of my favorite discs ready, I begin my listening with one of my favorite tracks for judging tonal accuracy: the Star Wars theme performed by Eric Kunzel and the Cincinnati Pops. With the switch in the stock position, the system sounds weak and lacks any authority or warmth in the bottom end. But everything changes when I engage the SubStage upgrade. Whoa! Now the bass is deep and actually a bit too much for my taste and this kind of music. I reduce the bass tone control a couple of notches and things really pull together well. The track starts to become fun to listen to.
Then I switch to the PowerStage upgrade. The difference the DSP tuning makes in the mids and tweeters is startling. Not only does the system sound more accurate, but the soundstage immediately forms in front of me, and well out to the sides. There is a definite sense of width and depth that was completely missing from the other switch positions. I play several more tracks from this disc (Telarc CD called Time Warp) as I switch the DSP in and out, marveling at the differences it makes.
Some of the most challenging music to make sound good is classic rock. Back in the 60's and 70's many of the recordings of my favorite bands left a lot to be desired. There is always a lack of low-end bass, and generally poor dynamics. With the SoundGate upgrade engaged, even Creedence Clearwater Revival sounds like they actually have a drummer and bass player in the band again.
Over the course of approximately three hours, I listen to everything from Bach to ZZ Top. With the PowerStage engaged (and through careful manipulation of the radio tone controls), not once do I have a problem getting the system to sound the way I want it to. The stereo imaging of the Cruze system is quite amazing, even on difficult tracks that have a lot of stereo separation and odd interchannel phasing, especially considering the factory mid and tweeter locations are less than optimal, to say the least. Sure, there were a few tracks that I would have EQ'd slightly different, but frankly it is good enough that I probably wouldn't have bothered.
I could listen to this system everyday and be pretty darn satisfied with it. Does it have the high fidelity of a high-dollar system with aftermarket components and a very good, professionally-tuned installation? Probably not. But factor in the convenience, stock look, low theft factor, and complete compatibility with all of your vehicle functions, and I believe many people may prefer the SoundGate method of improving their factory system.
Conclusion
I'm the first to admit that I've never been a big fan of DSP-powered systems to try and correct existing problems. But technology has brought forth these new, high-power, ultra-fast DSP designs that really seem to work. As has always been true, even the most powerful DSP is only as good as the people tuning it, and that's why I believe the Kicker SoundGate system has an edge. If each of these specific vehicle upgrade systems offer improvements similar to what I heard in the Cruze, the future for great car audio looks very good indeed.