Recently, Pioneer launched a new marketing campaign called "Hear More."
The campaign promotes awareness of two new series of speakers: the Z series and the budget-friendly, next-generation D series. They were kind enough to send me a pair of the new Z series 6.5-inch components, known as the TS-Z65CHs. The Z series speakers are intended for people who desire high resolution accuracy, great tonal balance, and clarity at any volume. The Z series speakers were designed in Pioneer's Tohoku facility in Tendo, Japan - the same factory that produces the highly acclaimed Carrozzeria products sold in Japan. Pioneer claims a no-compromise approach to the design and manufacturing of the Z series, gleaning from nearly 80 years of experience. The good news is that it all comes at the very reasonable price of $400 USD.
FEATURES AND CONSTRUCTION
Woofer
The midrange/woofer is built on a stamped steel frame with an oversized 15.2-ounce ferrite motor. The large magnet was chosen specifically to enhance the low frequency output of the driver for more realistic mid-bass. The cone of the midrange is an exclusive combination of Twaron aramid fiber and cellulose in a dual-layer configuration, with a matching dustcap. Twaron is a synthetic para-aramid fiber that is very strong, heat resistant and rigid when woven into a cloth material. First introduced commercially in 1987 by a Dutch company, the high-tech material is used in a wide array of applications, from aerospace to automotive, and even body armor. When used as a speaker cone material, the result is a very stiff, yet incredibly lightweight cone that can move a lot of air while retaining excellent high frequency definition. The surround is formed from butyl rubber and the meta-aramid spider controls and centers the two-layer copper voice coil. Grilles are also included in the box if needed.


Tweeter
The tweeter used in the TS-Z65CH system is 29-mm in diameter and is formed from an aluminum alloy. It has a unique shape that allows the dome to remain pistonic and linear, even at frequencies well above our hearing range. The unique diaphragm shape was developed using HSDOM (Harmonized Synthetic Diaphragm Optimum Method) computer analysis. Pioneer's Vertex Drive System is used here, which improves the mechanical coupling of the coil and diaphragm, reducing distortion and improving power handling. The tweeter uses a 6.4-gram neodymium magnet and a swivel housing with several mounting cups included in the box. Thankfully, the leads are pre-attached as well.


Crossover
The separate crossover networks are typical rectangular plastic enclosures with a semi-transparent smoked cover. Inside, I found a -12-dB filter for the tweeter, with a switch to adjust tweeter levels, and a PTC thermistor to prevent tweeter damage from accidental over-current situations. A -6-dB high-pass filter handles the output for the woofer. The crossover frequency is 2 kHz. The capacitor is a high-grade Mylar-type, and the inductors are iron core parts. The tweeter level can be adjusted without removing the cover, and the connections can also be made with the cover in place. Terminals are gold-plated barrier-strip-type, and clearly marked for proper connection.
Okay, enough tech talk. Let's get on to how they sound.
LISTENING
After getting the system mounted in my listening room's baffles, I set the tweeter output to the +3-dB position and connected the wiring. In my listening room, the speakers are positioned about five feet apart, and I sit about five feet back from them, forming a rough equilateral triangle. Because the Z series are designed for high resolution performance, I brought out some of my more complex and difficult high resolution recordings (24bit/192kHz) for my evaluations.
I began with the superb acoustic guitar in Stanley Myers' Cavatina. This recording was done inside a mission in San Juan Capistrano, and the acoustic effects captured in the recording are not to be missed. The Pioneer components do an admirable job of realistically reproducing all the detail and resonance of this beautiful recording. Off axis response is smooth as well; a testament to Pioneer's "Open and Smooth" sound concept.
The next track was My Fathers Shoes by Cliff Eberhardt. I like this track because it has exceptionally wide range of frequencies and a very well-recorded male vocal. The acoustic guitar and tight, dry drum work sound very natural and realistic. Of course, given my optimal setup, the Z series system provides a nicely detailed and extremely well-placed stereo image. This ability to image well speaks to the overall coherency of the system, and I noticed it again on The Manhattan Transfer tune, Birdland, where I could easily place each singer's location, not only from left to right, but also from front to back. The next track was The Blues Walk by Lyle Lovett and his Large Band. I was really impressed by the amount of mid-bass the woofers produce. The overall warmth and smoothness of the mid-bass output of this system is about as good as it gets in car audio.
As it frequently happens when I get into something uncommonly good, my listening session turned into several hours and encompassed many of my favorite tunes from a wide variety of genres. Through it all, the Pioneer TS-Z65CH components were very articulate and pleasant sounding. These speakers make you want to just keep listening.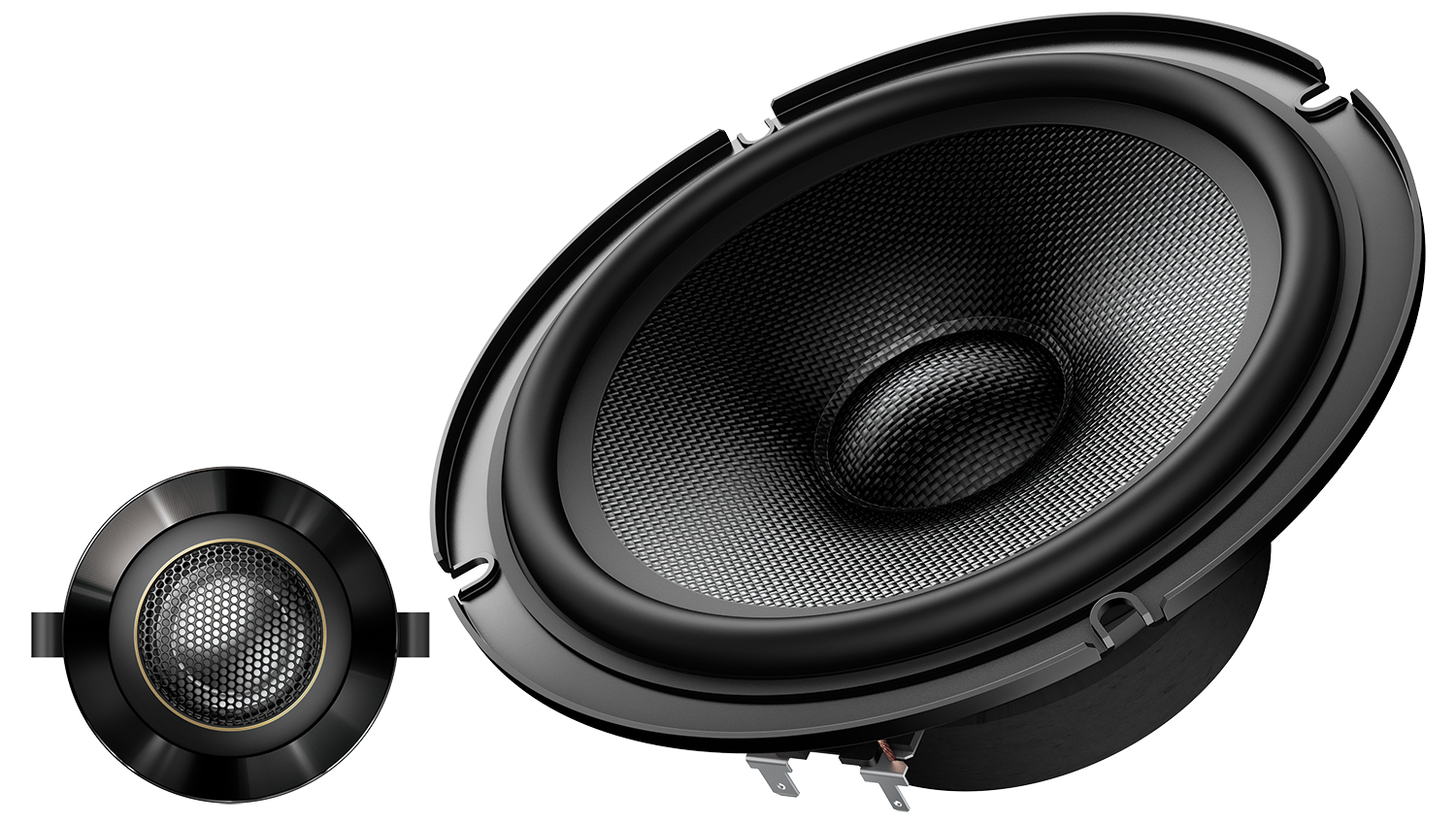 QUICK SPECS
Recommended Power: 110 Watts
Sensitivity (2V/1M): 85.0 dB SPL
Frequency Response: 50 Hz -22 kHz (-3 dB)
Mounting Depth (approx): 2.6" (65 mm)
CONCLUSION
Eighty years in the audio business provides Pioneer with a vast amount of resources and experience to draw from when they go to create something that's supposed to be really good - and it shows. The TS-Z65CH component speakers are excellent in every measurable way. They are very well made, will fit a wide variety of vehicles, and have been engineered so well that they outperform other brands costing more than double the asking price. Yes, I like them, and so will you. You'll have to go get your own though, because this set is going in my truck as soon as possible. For more information, visit www.pioneerelectronics.com, Twitter, Instagram, Facebook or YouTube.
Frequency Response - Tweeter Levels Graph