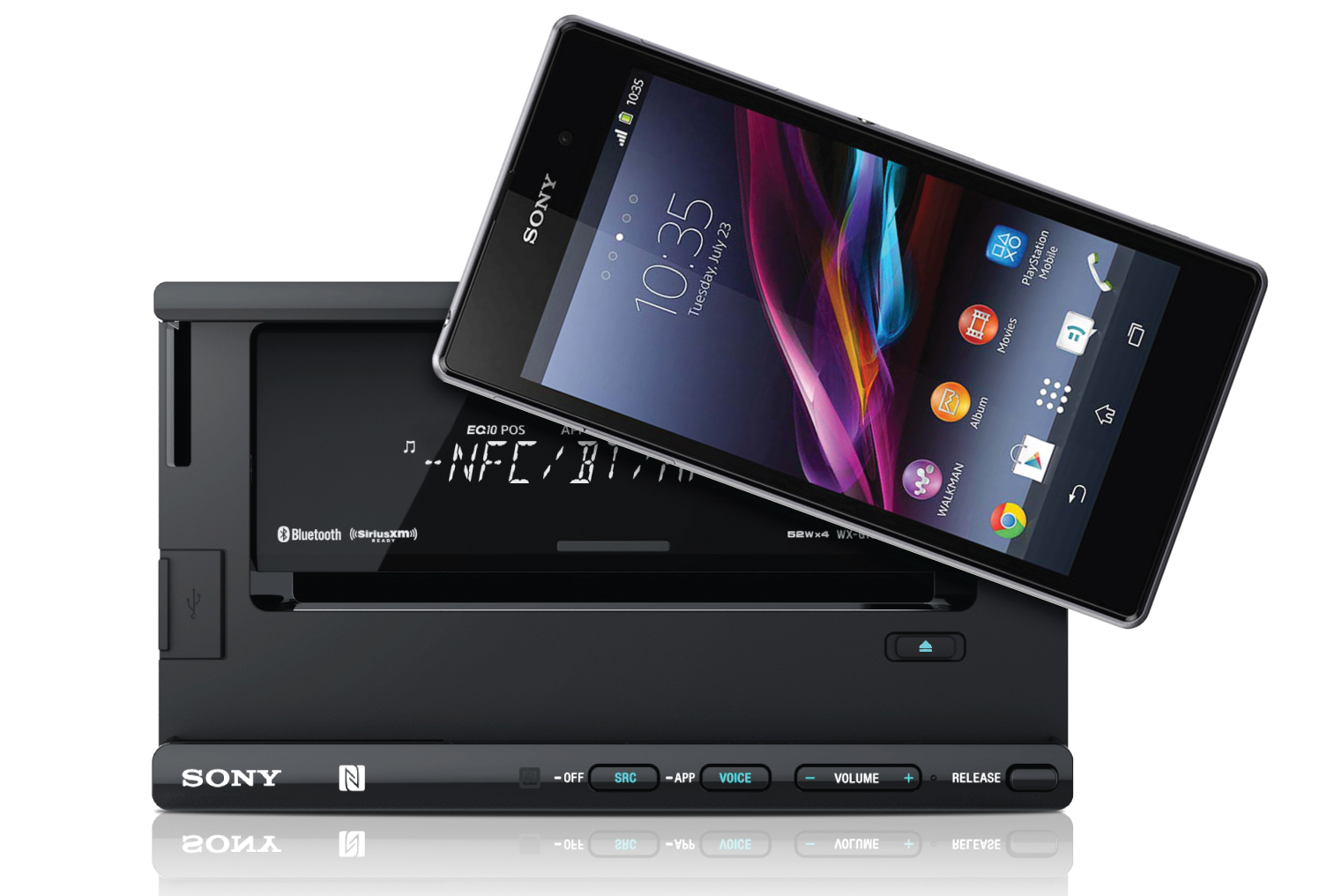 Leave it to Sony to come up with a new way to make your smartphone more useful than ever. The new Sony XSP-N1BT CD receiver is also the world's first double-DIN head unit that can turn virtually any NFC/Bluetooth enabled smartphone into a radio touchscreen control panel. And, after being ignored for years by head unit manufacturers, Android users are going to jump all over this thanks to the dead-easy connectivity and voice control available via Sony's "App Remote" application (available for free on Google Play). iPhone users can activate voice controls through Siri.

FEATURES
The XSP-N1BT is a little unusual looking due to the smartphone cradle in the front of the unit where you'd usually find a large touchscreen. There is a smaller LCD screen for use when you don't care to dock your phone, and of course, the unit will operate just fine in tuner, CD, USB, or satellite radio modes without any phone present. But when you dock your smartphone and secure it in the neat cradle, things get a whole lot more fun.
The Sony uses near field communications (NFC) and Bluetooth to connect to your smartphone and provide all sorts of cool features. Sony's Simple Secure Pairing means your phone will pair easily the first time, then you can use incredibly convenient voice control for the unit, and even have your messages read aloud with App Remote 2.0. You can compose text or email messages using voice control and of course, you'll be able to hear turn-by turn directions for a GPS app or listen and control your Pandora stations (U.S. only) as well. Hands-free and voice-activated phone calls are also part of the program, and the XSP-N1BT will keep your device charged as you drive, thanks to the 1.5 amp USB connection. If you happen to use a Sony Xperia smartphone, no USB connection is required, because the XSP-N1BT is designed to charge those phones via a special electromagnetic connection built into the front panel of the unit and the back of the Xperia phone.
On the audio side of things, the XSP-N1BT is no slouch either, with a built in four-channel amplifier, five-volt pre-outs, a 10-band equalizer and a powerful DSP function to set up the stereo image in your car just how you want it. There is a high-pass crossover for the full range channels, with five different frequencies available and three selectable slopes. A similar low-pass crossover is included for the dedicated subwoofer outputs. In addition, you have control of subwoofer phase and level, from the front panel of your phone, or via the included infra-red remote control when your phone isn't present.

CONTROLS AND ERGONOMICS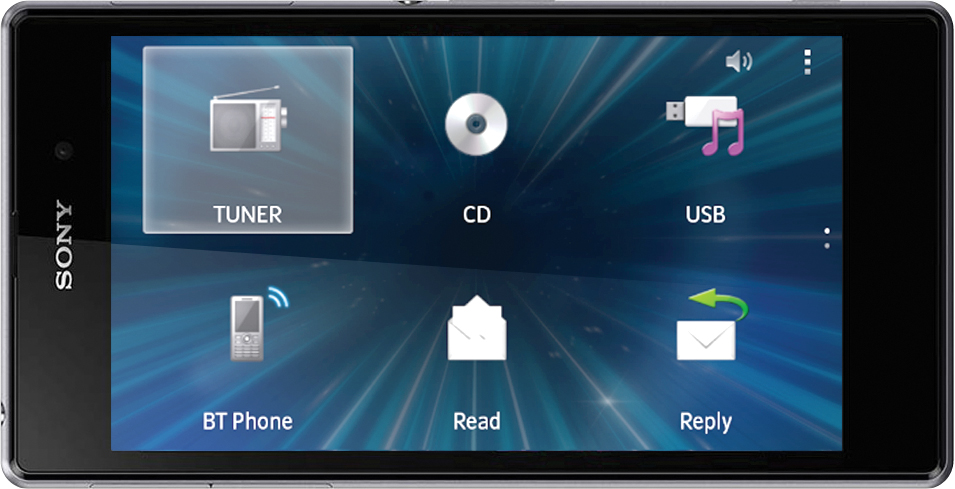 The smartphone cradle is designed to securely hold almost any sized smartphone. My HTC One is large, but it fits perfectly – even with its protective case on – and there is plenty of room for an even larger phone. Pairing with the XSP-N1BT is very simple and easy. Simply touch the backside of the active phone to the lower left part of the face of the unit, and it immediately goes into pairing mode via NFC. For smartphones without NFC capability, pairing can be done via USB cable or Bluetooth connection. Connecting my phone for the first time took under 30 seconds with minimal instruction.
After downloading and installing the "App Remote 2" application, you have the ability to launch and control all compatible applications on your iPhone or Android device. With an Android phone, you can read out incoming texts, SMS, emails, Twitter, or Facebook feeds. You can even reply to email or text messages using the voice control. Additionally, Android users have the ability to launch applications or change sources via voice control as well. Again, voice control using an iPhone is done through Siri.
The volume controls are push-button style, mounted to the right of center, which I find a bit odd. The controls are quite minimalistic, with only five buttons on the entire unit. Obviously it is designed to be operated via a smartphone, and when in that mode, the screen is easy to read and works well.

LISTENING
After connecting the XSP-N1BT into my reference system, I connect my iPod and gather a few of my favorite test discs. For the iPod, the access speed is good and the Quick BrowZer search feature allows me to quickly access any tracks I want. Of course the ability to search by category (artist, album, genre, etc.) is also supported. Controlling the unit with my phone screen is quite easy and intuitive and once again, I don't need to refer to the owner's manual to make adjustments.
Overall, the XSP-N1BT sounds very good. It has inaudible noise and the sound Q tracks I play sound very natural in tone and timbre. Subtle nuances and details are reproduced very well, and the unit simply sounds proper.
After a bit of experimentation with the EQ and the DSP-powered soundstage adjustments, it is soon obvious that there is quite a bit of tuneability built into the XSP-N1BT. The tuner works very well, pulling in all the local stations with ease and good clarity.

ON THE BENCH
Back on the test bench, the Sony outperforms its published specifications and reinforces what I heard in my listening session. The unit has a very flat frequency response, excellent preamp voltage, decent output impedance, and dead-quiet signal-to-noise performance. From a test bench perspective, there isn't a single thing to complain about.
CONCLUSION
The Sony XSP-N1BT will appeal to technophiles and those who simply can't be away from the connectivity their smartphone provides. Android users in particular will appreciate the voice control functionality, and anyone who enjoys music will be very pleased with the unit's audio performance. Maybe best of all, with a retail price of under $250, it's also a head unit that most anyone can afford. If you want to be the first on the block to truly integrate your cell phone into your car audio system, get down to your local Sony dealer and check this one out. But I wouldn't dilly dally, because I'm predicting these are going to sell fast!