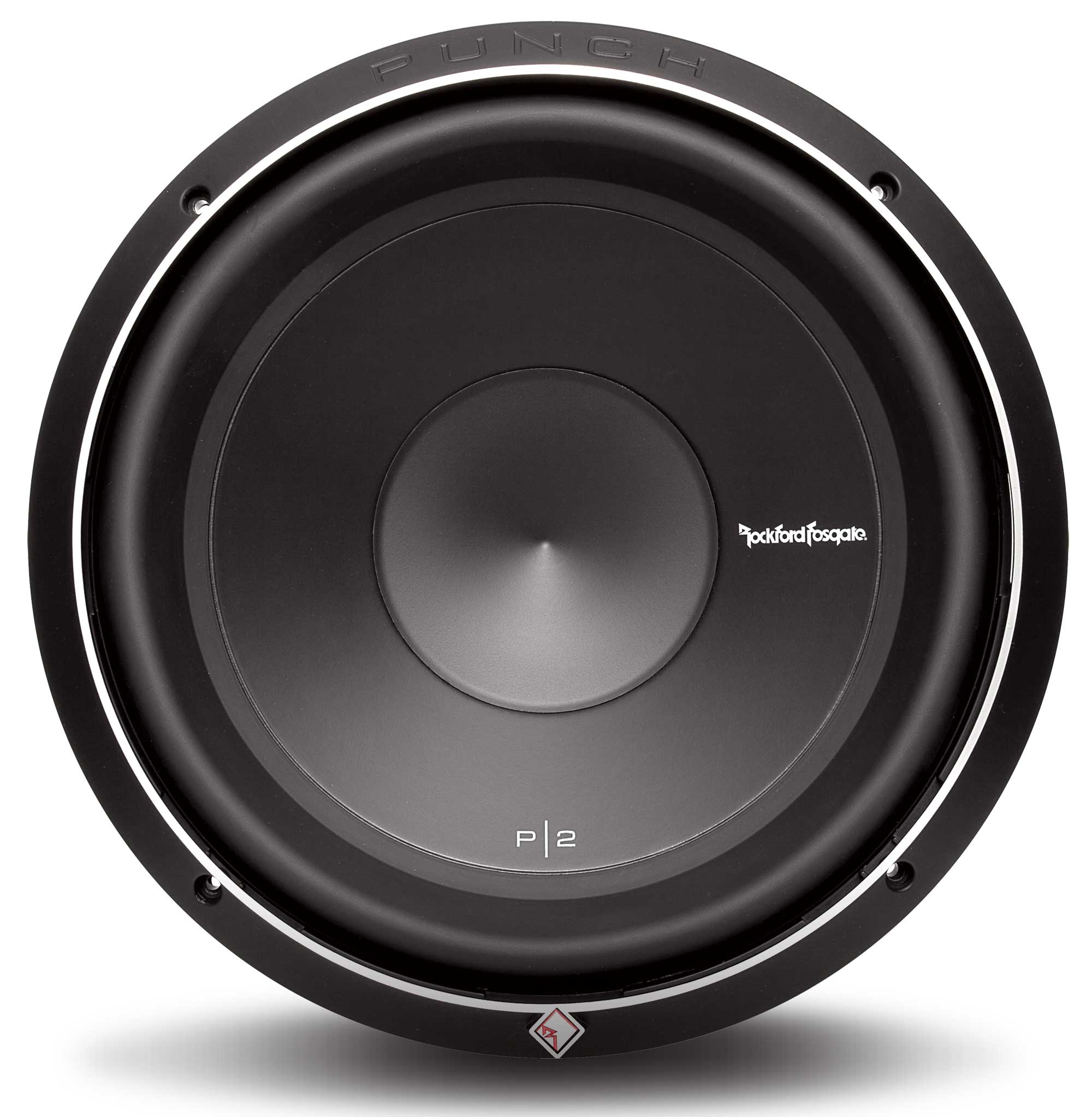 Ever since the first Punch woofer was built almost thirty years ago, Rockford Fosgate has been an industry leader in subwoofer technology and performance. These days, the venerable Punch series of woofers has been expanded to three separate series of products, each with their own attributes. This time we're looking and listening to a woofer from the mid P2 series - specifically the P2D2-12. As you may have guessed from the model number, this is a dual, two-ohm voice coil, 12-inch woofer. The P2D2-12 has a continuous power rating of 400 Watts and a suggested retail price of $169.99 (USD).
Features
Each P2 woofer is built on a unique, heavy duty, stamped-steel basket that Rockford calls 'StampCast.' Built into the basket is an innovative mounting system known as 'FlexFit.' The basket is made with a special slot-mounted frame pattern to allow fine-tuned adjustments of the woofer position. A diamond-cut, cast aluminum trim ring is included with the woofer to give the final installed version a classy, finished look.
Magnetic energy to power the P2D2-12 comes from a double-stacked ferrite magnet assembly, weighing in at 72.8 ounces. The magnetic energy is focused in the narrow gap surrounding the 2.25-inch, four-layer copper voice coils, which are wound on an aluminum former to maximize heat dissipation. Additional cooling is provided by vent openings under the spider which allow cool air to enter and hot air to be expelled, thus improving long term power handling and durability. A pair of mirror-imaged poly cotton spiders are used to keep the coil centered in the gap and provide the precise amount of compliance required.
Embedded in the spiders are 16 AWG tinsel leads for maximum current transfer at low impedances. Two pairs of nickel-plated, spring loaded terminals are mounted on opposite sides of the basket, which accept up to 10 AWG cables.
This moving assembly drives a Kevlar-reinforced pressed paper pulp cone with an inverted dustcap. Through a clever concept Rockford calls 'VAST' (or Vertical Attach Surround Technique), the effective cone area of the P2 woofer is greater than a typical 12-inch woofer – which means more bass output! Rather than taking up the valuable cone diameter with a standard flat glue landing, the VAST method uses a tall-profile Santoprene surround that requires less space and attaches to the specially formed basket. The result is a woofer with exceptional excursion capabilities and more cone area. A molded soft rubber magnet cover trims the bottom of the woofer and protects the motor assembly.
Earlier this year, Rockford Fosgate announced that all new woofers are tested and verified using state-of-the-art Klippel analyzers and specially trained and certified personnel to ensure the highest level of product quality and consistency.
After my usual woofer break-in period, I mount the P2D2-12 in a 1.25-cubic foot sealed enclosure (roughly in the middle of the recommended sealed enclosure sizes), and connect it to my listening room reference system. With the subwoofer amplifier crossover set at 100 Hz with a second order slope, I begin my listening session. First up is Donald Fagen's classic Ruby Baby. This track has an exceptionally well recorded kick drum, synthesizer, and bass guitar. The Punch woofer reproduces everything nicely, with lots of authority and excitement. Next up is Take the A-Train from a DMP Big Band disc called Carved in Stone. The stand up bass in this track is in the forefront and has plenty of natural overtones. Playback of this complex track is very good, with a hint of ring from the Punch woofer. At this point, I lower the crossover point to 80 Hz. Switching to some hip-hop and Billy Idol's Prodigal Blues, the woofer really comes into its forte, with strong, deep bass that begged you to turn it up. I listen to the woofer for a couple of hours and play everything from classical, to hip-hop and country. Regardless of the music, the Punch woofer handles everything in stride, and sounds good doing it. I won't say it's the most accurate woofer I have ever heard, but it certainly is exciting and fun to listen to. It's also not perfect from an audiophiles perspective, but very few woofers at this price range are, and of them, none could hold a candle to the P2D2-12 in terms of authority and output.
Then I put the woofer in a 1.75-cubic foot vented enclosure, because that configuration is also listed in the manual. The vented design really increases the already impressive output significantly, but at the expense of a certain amount of control and articulation. The bottom end is immensely strong, but seems to lack a bit of the detail and tightness I observed in the sealed enclosure. From my personal perspective, I prefer the woofer in the sealed enclosure. But if you're willing to give up a little bit of SQ for a whole lot of SPL, maybe the vented enclosure is your choice.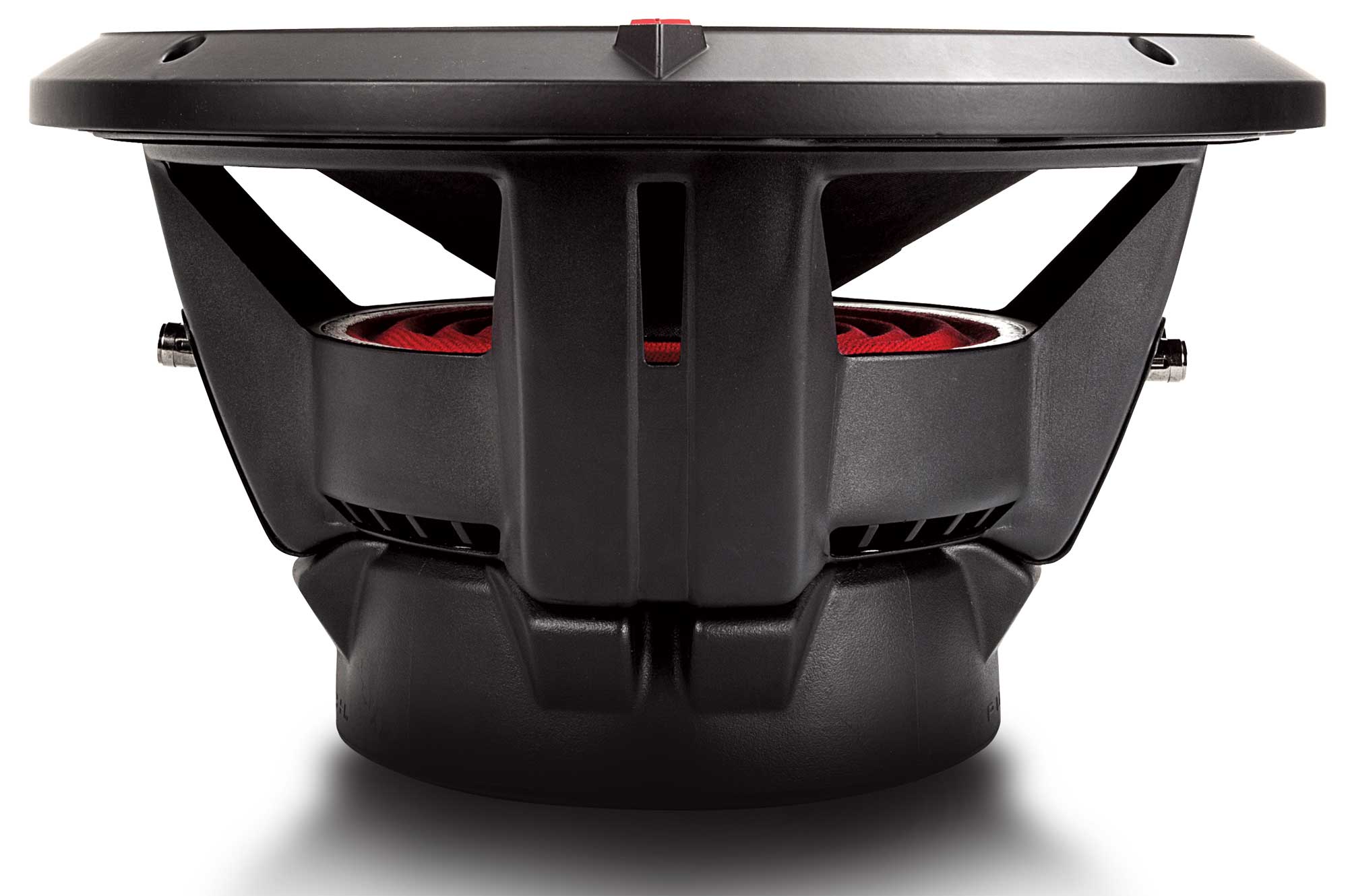 Performance / Bench Measurements
After letting the woofer cool and normalize, I remove it from the enclosure and measure the Thiele-Small parameters. Comparing my results to the somewhat limited published numbers, I found them to be spot-on or very close. The following parameters were measured on the sample I tested, with the voice coils in parallel.
Measured Specifications
Parallel Coils
Revc= 0.95 ohms
Fo= 27.215 Hz
Sd= 0.056 M²
Vas= 80.1 Liters or 2.828 Ft³
Cms= 0.179 mm/N
Mmd= 182.556 g
Mms= 190.176 g
BL= 7.195 T•M
Qms= 5.341
Qes= 0.597
Qts= 0.537
Levc= 0.425 mH
No= 0.262%
SPLo= 86.194 dB
EBP= 45.6
Quick Tech Specs
Power Handling 400 Watts RMS / 800 Watts "Peak"
Frequency Range 20 Hz – 300 Hz
Sensitivity 86.2 dB/SPL @ 1.0 W (1.0V @ 1 ohms)
Nominal Impedance (2) 2 ohms coils
Conclusion
Almost thirty years have passed since the legendary Punch woofer rolled off the assembly line. That's a long time ago in today's rapidly changing world. But while technologies have changed and materials have improved for performance that's better than ever, when it comes to the sheer enjoyment a Rockford Fosgate woofer brings to your ride, some things haven't changed at all.