With its radical styling and kick-ass customizations, the Lexus LS 460L on these pages took Japan by storm before doing the same here in North America at the 2013 SEMA Show. After being purchased in 2011, this 2008 limousine model was exported from the United States to Japan to be completely transformed into a show piece for Job Design. Its owner, Takakuni Jo, invested more than $100,000 to design and assemble his own body kit – a ton of money, in my opinion – before the car was shipped back Stateside to make an appearance at the SEMA Show in Vegas.
We managed to catch up with Takakuni-san and our friends at Platinum VIP, the exclusive authorized distributor for Job Design in the U.S., before this ultimate VIP car was shipped back to Japan just weeks after the show. And, to help spread the word and prove his dedication to his craft, Jo even drove the car around Southern California unregistered, uninsured and fully aware that his masterpiece risked being seized or crushed if he were to be pulled over by the cops. Pretty ballsy considering cars of this type get pulled over all the time in So-Cal.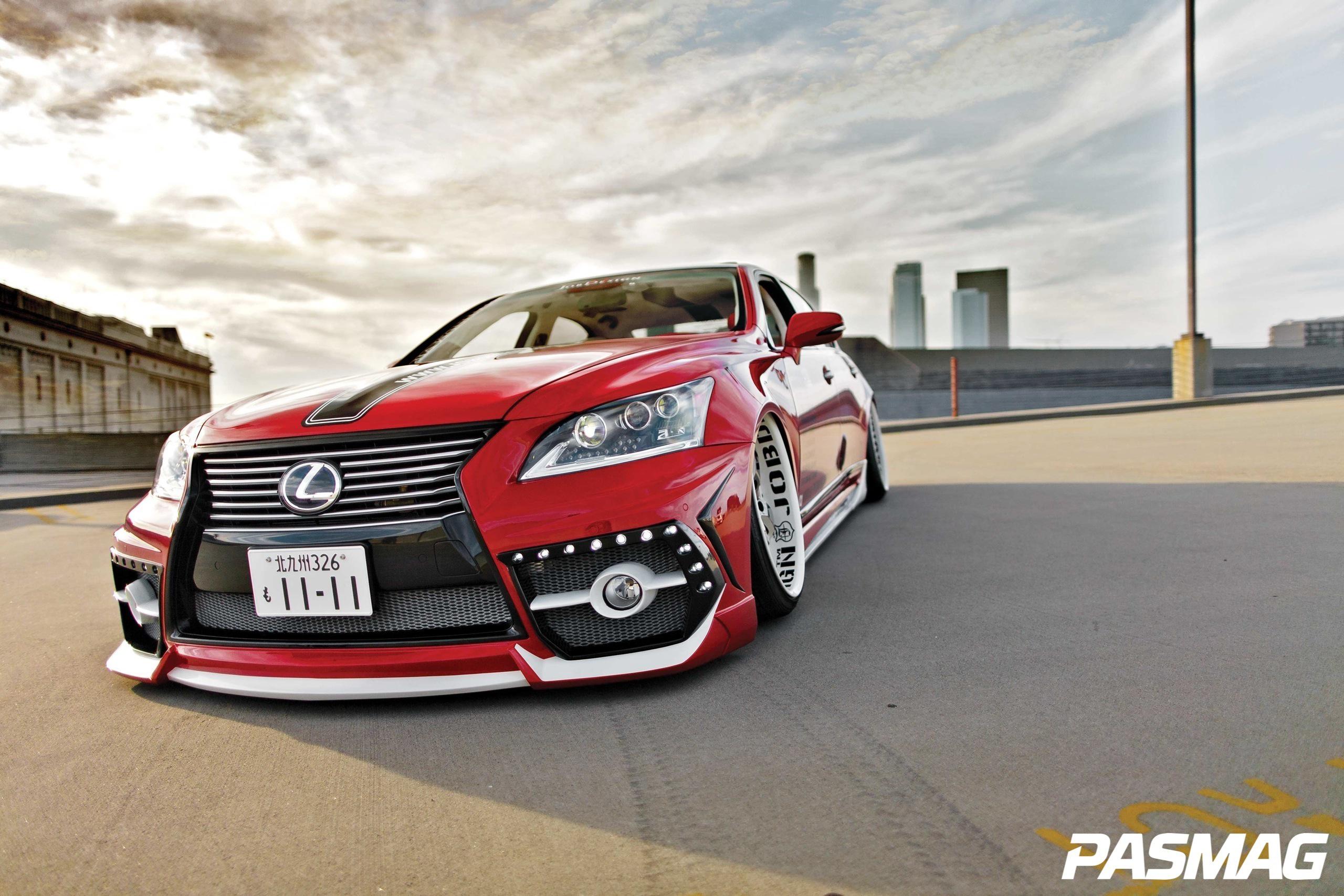 Southern California may be the birth place of the original "show off" car show series and the melting pot of car culture, but it is also the worst place to own a modified vehicle. The state has the strictest emission laws, octane does not normally surpass 91 and you can fail smog and receive a state referee ticket just by having a cold air intake installed. In fact, the police hide out at gas stations to stop modified cars and ticket them as they're returning home from one of the state's many car shows. And, if you are caught street racing, the standard is to be jailed and your car seized and crushed in front of you when you are released. None of this scared Jo. In fact, it made him want to showcase his car even more!
This feature isn't so much about the build, but rather Jo the person and the name he has made for himself over the years. Jo originally started working in construction when he was 15. He was always building things, and just loved to work with his hands. Naturally, just like almost everyone else that likes to build things, he became fascinated with cars and began to teach himself how to modify them. Jo was never taught by anyone, he is all trial and error. He is responsible for all of his designs and the work that accompanies them.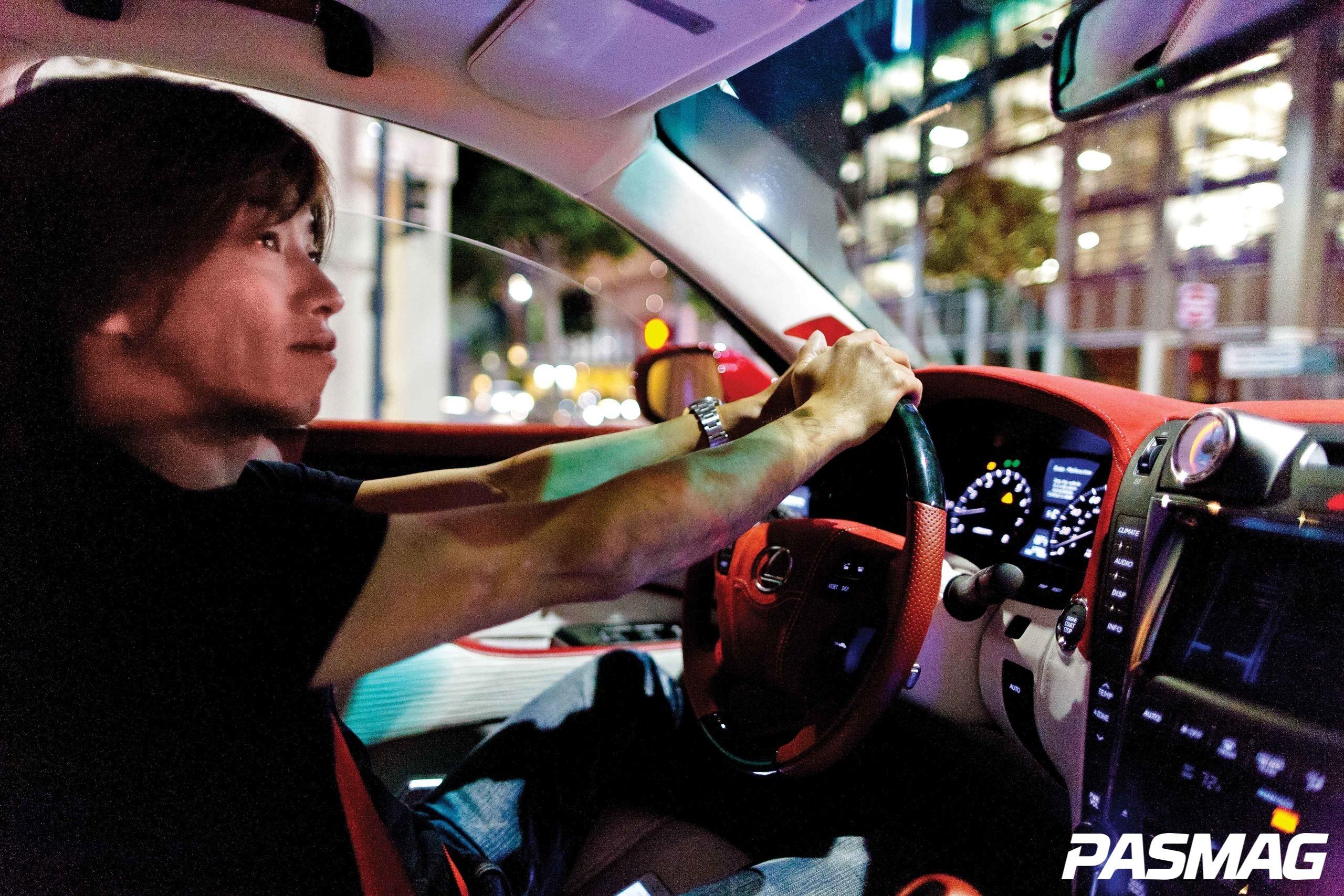 When he got his driver's license, he began to tinker with his first car and was instantly hooked. After a few builds with various Toyota chassis, such as the 147 and the 161, he was already becoming recognized – his first magazine feature in VIP CAR was more than 18 years ago! Almost two decades later he is still building magazine-quality and car show-winning builds. I personally don't know many others who can make that claim.
Every build not only advanced his style, but also his knowledge and talent until finally, in 2002, he was awarded the highest award in Japan: first place Dress Up. A staggering seven-foot-tall trophy that signified he had built the best car in Japan. The winner was chosen in a tournament style face-off (much like PASMAG's popular Tuner Battlegrounds competition) between different areas of Japan. Imagine if Wekfest or Hot Import Nights took their Best of Show winners from each event and put them up against each other in front of judges and fans to vote for the ultimate car of the year. His 2JZ-swapped UCF21 is proclaimed as the Best Car in Japan to date, so it was only natural for Jo to turn his hobby into a career.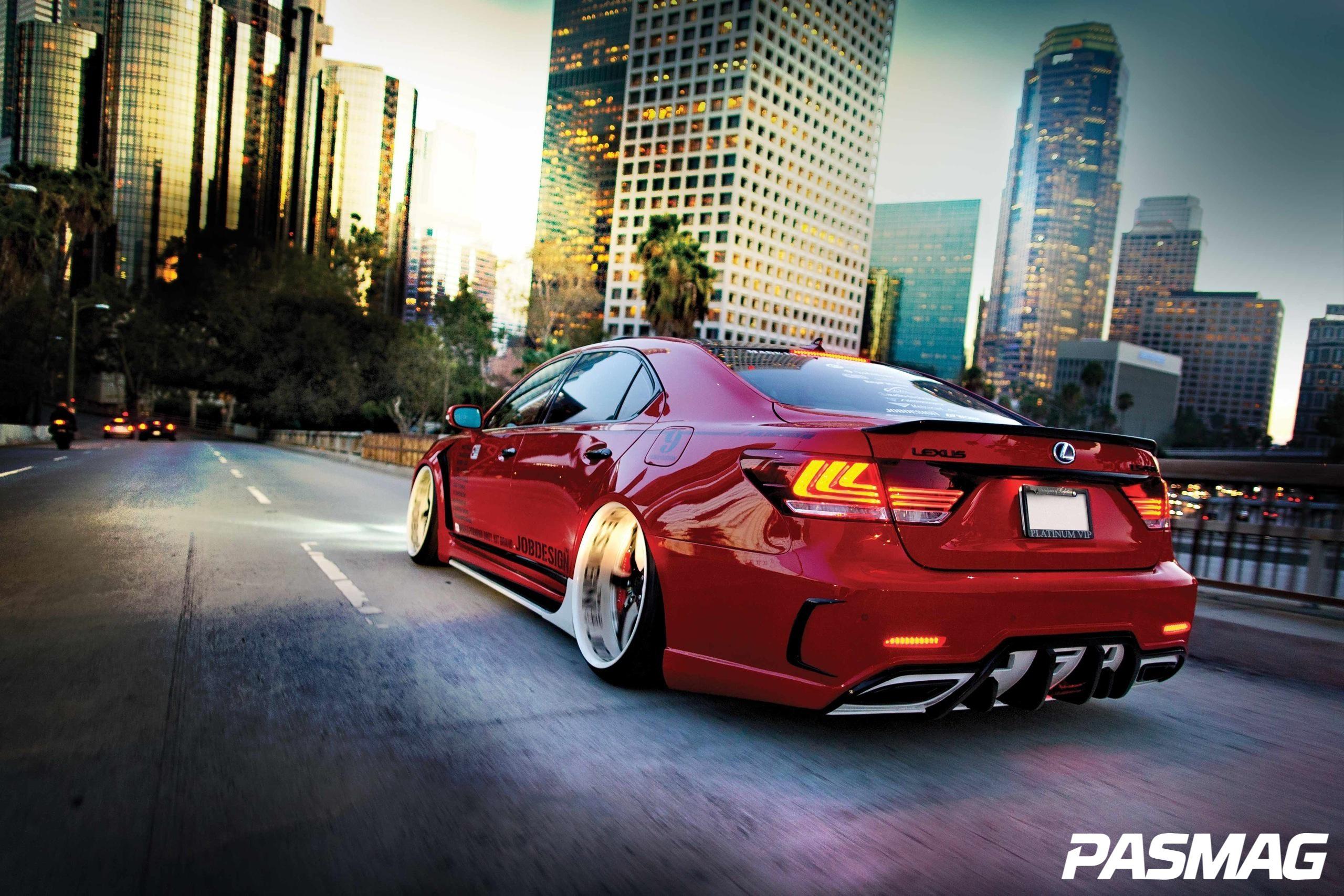 The name Job Design does not come from the text book definition of "organizing and delegating tasks to various workers to carry out the job at hand." J-Blood was the original name that Takakuni-san had in mind for his brand, but realized that Jo-Blood sounded better and was more memorable. The reason for the blood was the amount of devotion and love he puts into his work, he says that with all of his work he literally puts his blood into it. The fit and finish of his kits prove this, and his craftsmanship ranks at the top in Japan. In 2003, Jo-Blood was shortened to Job and Design was added to signify his aero line designs.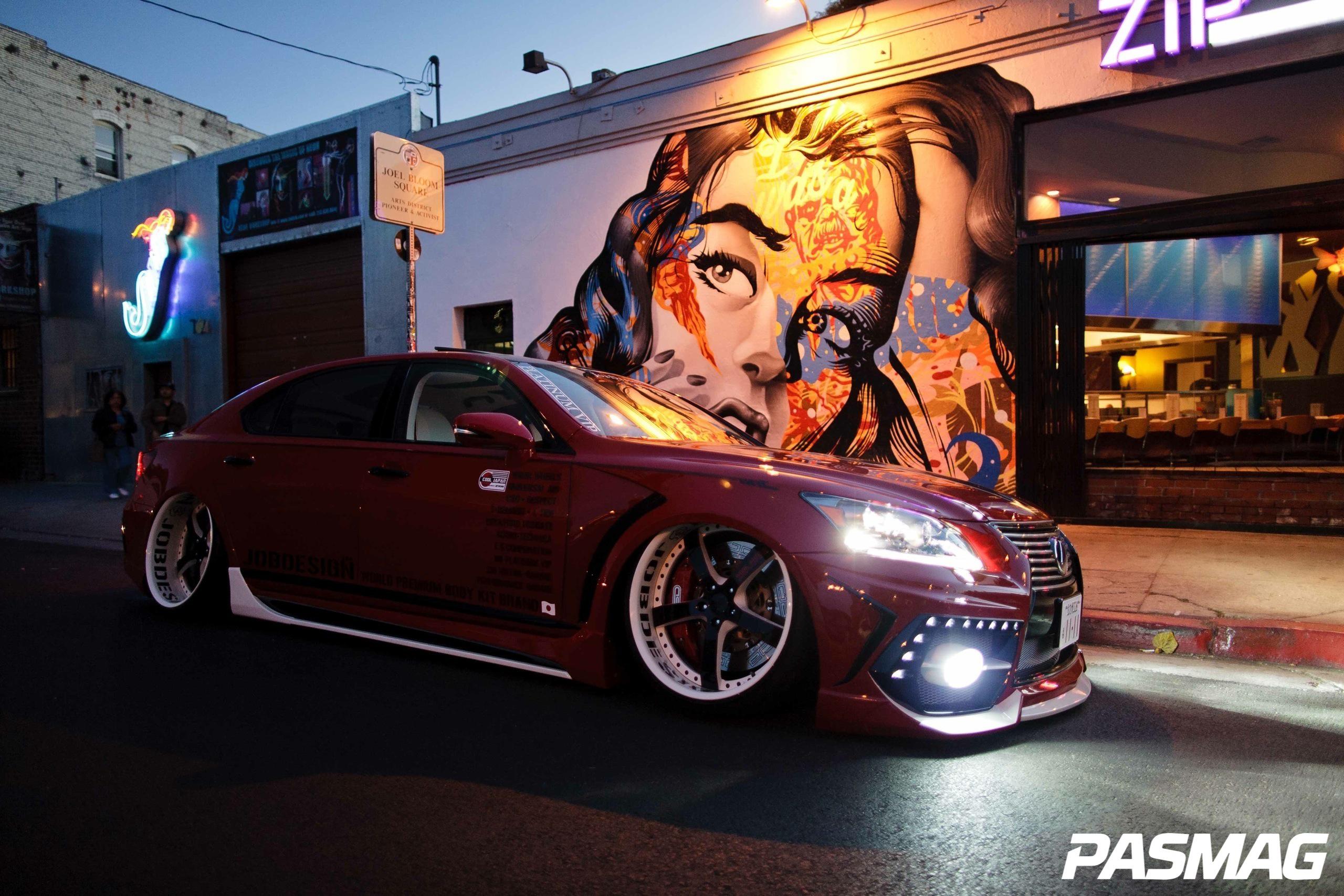 In this feature, what you are seeing is the World Premier 10 kit, which signifies the 10-year anniversary of Job Design. This aggressive, yet beautiful, kit takes the LS 460 and morphs it into something that one can only dream of. In today's world with so many replicas and strictly business-minded people, it is rare to find someone as dedicated to their craft as Jo. To put your blood into your work is to fully dedicate yourself to it.
Jo wanted to showcase his 10-year anniversary kit to the world, and what better company to partner with than Platinum VIP, The Irwindale, Calif.-based company is regarded by many as the top VIP shop in the U.S. With that sort of reputation, it's no surprise that it is the exclusive authorized American distributor for Job Design. Platinum VIP, led by Kennedy Nguyen, displays the same love and dedication for his work as Jo does. Sadly, these two are part of what is becoming a dying breed. eBay has virtually killed off retail margins for smaller tuner shops because it has enabled sellers to move products at or near cost due to a lack of overhead. Knock-offs and replicas of high-end products that are lacking in quality, but cost half as much as the originals, also plague the market. The days of a product with "blood" in it are numbered. Also, bargain-minded consumers are eating into the profits of shop owners, who sometimes struggle to cover their expenses as they put in long hours to complete their work.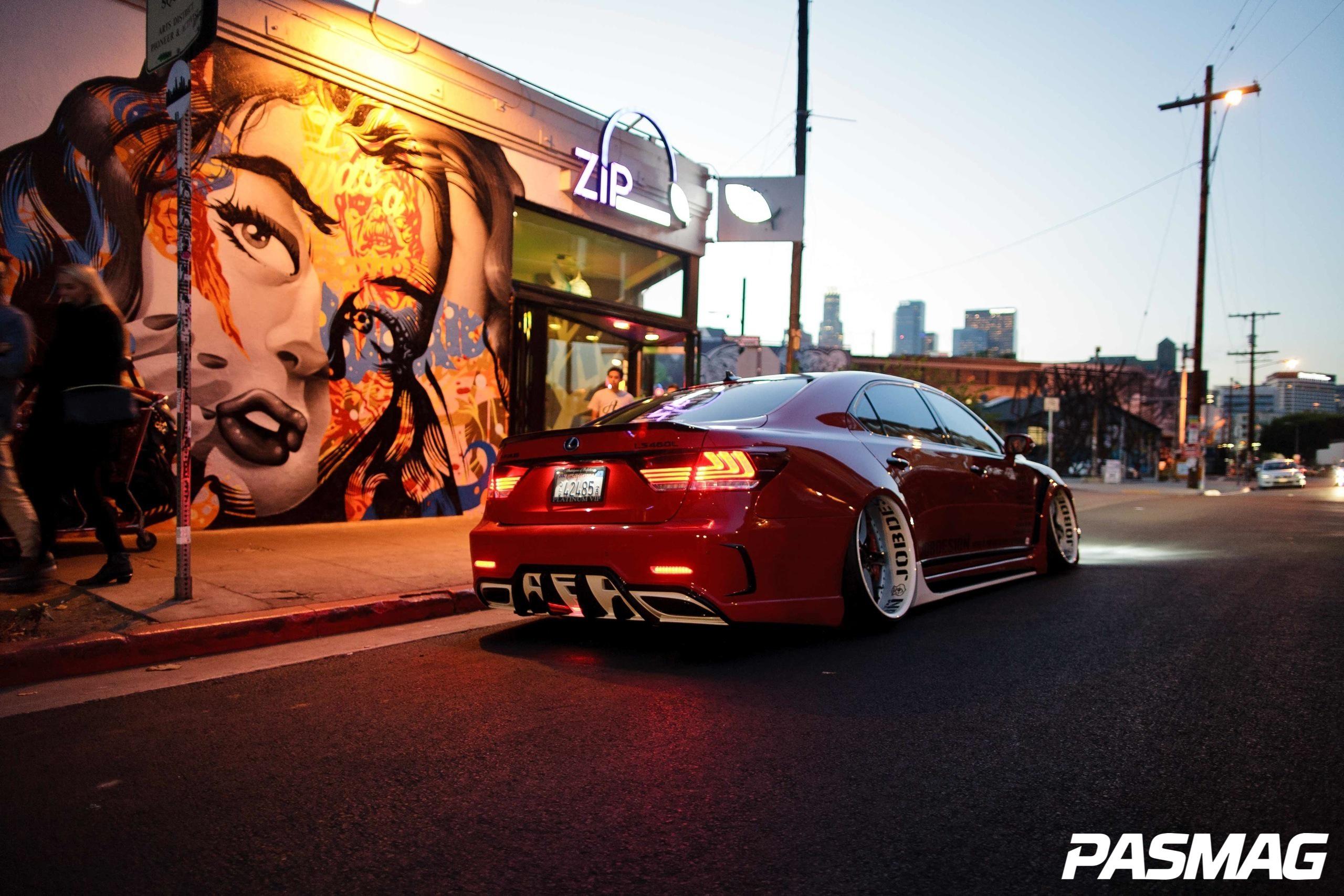 Given the tough economic climate, it is truly a blessing to still have craftsmen such as Kei Miura of TRA Kyoto, Akira Nakai of Rauh-welt Begriff, and Takakuni Jo of Job Design. These artists design for the love of the craft, not just to make money. Jo puts his blood into each of his designs. When you purchase authentic products from authorized retailers or direct from the manufacturer, you support the work of these great artists. You are not just buying a product; you are purchasing their passion and dedication.
And that's what it's all about, isn't it? When you put everything, including your blood, into a product what you end up with is something that is hard to put a price on: authenticity.
Photography by Phillip Awad
---
ESSENTIALS
Vehicle: 2008 Lexus LS 460L
Owner: Takakuni Jo
Club Affiliation: Job Design
Engine: Toyota 1UR-FSE 4.6L
ENGINE MODIFICATIONS
EXHAUST
Job Design (custom exhaust system, exhaust tips)
CHASSIS/SUSPENSION
UAS Hybrid Kit custom suspension system (f/r)
T-Demand (urethane bushings, front strut bar, rear strut bar, front control arms, rear control arms, camber kit)
WHEELS/TIRES/BRAKES
Work Equip E05 custom wheels – 22x10.5 + 0 offset (f), 22x12.5 + 3 offset (r)
Nitto Invo tires – 245/30R22 (f), 295/25R22 (r)
CSD (16-piston brake calipers (f), 8-piston brake calipers (r), ceramic brake pads)
Slotted and drilled 430mm 2-piece rotors
Braided brake lines
EXTERIOR
Job Design (World Premium 10th Anniversary Edition: front bumper, rear bumper, spoiler)
Custom fabricated (wide body, fender vents, rear quarter panels)
2013 Lexus LS460 (grill, headlights, taillights)
310 Motor Garage Job Design red custom paint color
INTERIOR
L-Tide (custom red suede shift boot, custom red suede steering wheel, custom red leather/white perforated leather/suede Job Design custom embroidered seats, red carpet, custom embroidered floor mats )
Custom (headliner, full dash wrap, arm rests, doors)
AUDIO/MOBILE ELECTRONICS
Rockford Fosgate (equalizers, processors, crossovers, line driver, sub amps, mid bass amps, high frequency amps, rear fill amps, subwoofers (x2), mid bass speakers (x4), tweeters (x6), front fuse holder, main power wire (0-gauge), distribution blocks, capacitors (x4))
iPad custom-mounted trunk monitor
Full custom trunk setup by Respect, Japan
Sealed subwoofer enclosure (infinite baffle, aperiodic, sealed, vented, bandpass)
Optima Yellow Top battery
---
PHOTO GALLERY