For Mark Leake, the Toyota Celica GT-Four an absolute legend of a car. "It's one of the original Japanese hot hatch AWD turbocharged cars with a historically winning rally pedigree mixed in with Toyota Reliability," Leake mentions, "if you don't go too crazy with the boost without proper supporting modifications." The Celica GT-Four is incredibly rare in the USA, with less than two thousand ever having existed across 4 years, and even in the early 2000's the number remaining was probably less than half of that remaining.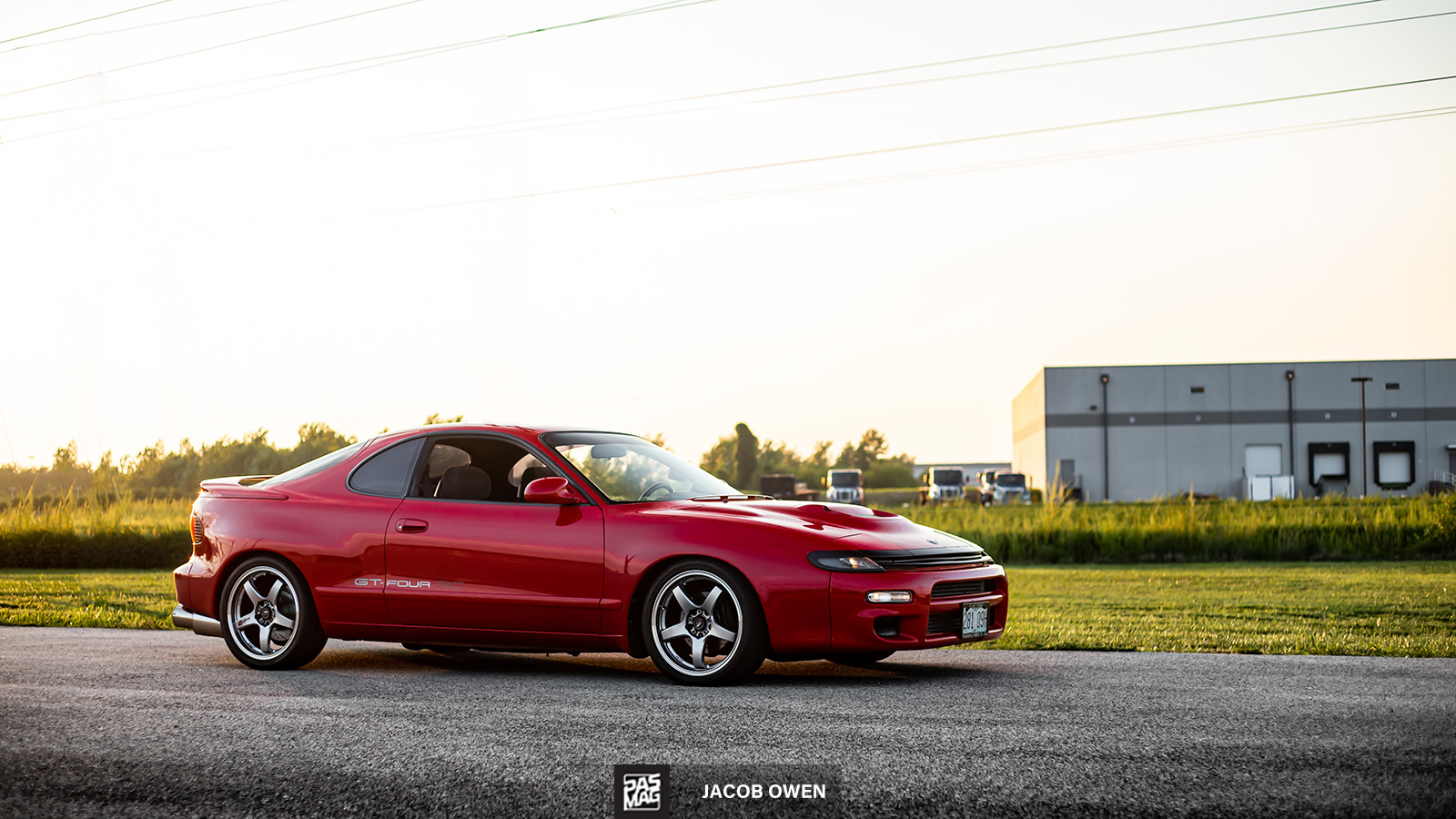 Leake's version of the 1990 Toyota Celica GT-Four is stunning, and when we saw his registration come in for our Tuning 365 Show at Formula DRIFT: St. Louis, we were stoked to get a deeper dive of his modification list. On-site, Larry Chen walked the competitor field and selected Leak's Celica to receive the Editor's Choice: Larry's Pick award.
Mark Leake received a print feature in PASMAG #168. Click Here to order.
Photography by Jacob Owen (@jacob.owen_photography), Justin Krafft, Josh Coldiron.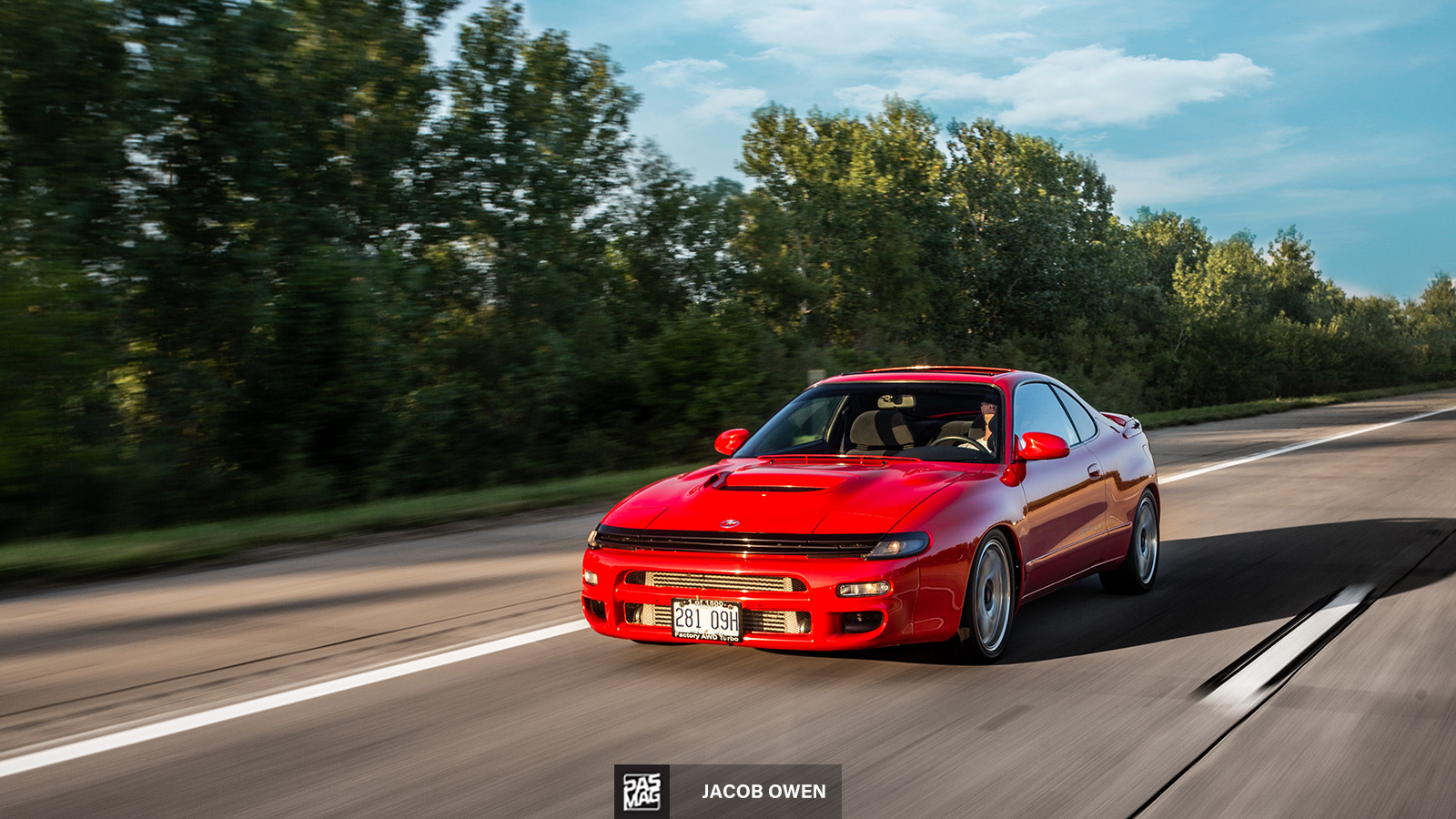 ---
ESSENTIALS
Owner: Mark Leake
Vehicle: 1990 Toyota Celica GT-Four
Location: Imperial, Missouri, USA
Engine: Toyota 3S-GTE 2.0L I4
Horsepower: 250 whp
Torque: 237 lb-ft
SOCIAL
Facebook: /mark.leake.148
Instagram: @trumanpriest185
ENGINE
JDM Toyota (3S-GTE engine, ST185 ECU, Ceramic CT20b turbo)
HKS (EVC4, SSQV gen4 BOV, twin power ignition)
GReddy catch can
Dr Tweak engine harness
Front-mount intercooler
Custom (intercooler piping, aluminum radiator cooling panel)
Walbro Supra 255lph fuel pump
ATS Tuning aluminum throttle body adapter
Zaklee clear cam cover
2-row aluminum radiator
TOYOCOM diagnostic reader
EXHAUST
HKS Hi-Power 3-inch exhaust system
3-inch flex pipe
3-inch down-pipe
DRIVETRAIN
TWM short shifter
Toyota E150F transaxle
Clutch Masters FX300 clutch kit
WHEELS / TIRES / BRAKES
Lenso Project D D1R wheels - 17x7 +38 (f/r)
Yokohama Parada Spec 2 tires - 215/40/17 (f/r)
R1 Concepts drilled/slotted rotors
CHASSIS / SUSPENSION
Koni Yellow adjustable front struts
Intrax front springs
BC Racing BR Series coilovers
Whiteline end links
EXTERIOR
Toyota GT-FourRC (hood, bumper, electric folding mirrors)
JDM clear corner markers
INTERIOR
Speedhut custom GPS speedometer
Custom instrument cluster
TRD 90s shift knob
AUDIO / MOBILE ELECTRONICS
Aftermarket double-DIN head unit
---
QUESTIONNAIRE
PASMAG: What got you into building cars in the first place?
Mark Leake: Necessity. I didn't have money to buy a nice example of an Alltrac.But couldn't throw money at a junk pile one that was going to keep draining me. I figured if someone else could do it - so could I. I could read pretty well and most car things are simple, just a lot of simple systems put together to form something complex. I lucked into a VERY clean shell, and found a good condition SST185 half cut for the engine.From there I just had to follow the Toyota BGB manuals and ask good questions and get help from good friends.
What is your favorite aspect of this build?
The car itself. It's hard to zero in on one thing.The car is amazing. The GT-Four was the first Japanese car to dominate the WRC with the help of Carlos Sainz, Juha Kankkunen, and Didier Auriol.It was the Japanese car that FINALLY was able to wrest the top spot from the Europeans. The fact that the US only version Alltrac had so few units made over a 4yr period makes it very unique. I also dig a lot of clever 90's solutions to technologies that hadn't yet been invented - like TVIS before VVT or the AFM before MAP. Better? Not in any way even remotely. Sweet retro 90's ingenuity - 100%

Were there any major challenges you experienced in the build? How did you overcome them?
There aren't a lot of Alltracs out there and aftermarket support is pretty scarce for the most part. And a lot of the aftermarket parts that were available for the 3sgte in the mid 2000's were not close to OEM in terms of quality and reliability. Cheaper replacements - not better. For me personally the big challenge was because I had zero experience doing 99% of things related to building a car. Putting the interior back together, the drivetrain, the engine, the body panels etc probably took me 100x's longer than anyone even remotely familiar with cars would have. That also ended up helping I think because I stressed over the torque value of every bolt and making sure everything down to the bolts were clean and tidy. Beyond that - it was not uncommon to have a question or complication that no one else in the community had had. The community itself in those days was fantastic - but small. I think a lot of people underestimate the impact on the knowledge base aftermarket companies have. Usually aftermarket companies design products to fix a known limitation or weak point with a car model or engine. Some aftermarket companies in their R&D discover those limitations or pitfalls etc. Without large aftermarket support there are a lot of lessons learned and R&D knowledge that never happens.
What were your original intentions with the build?
My plans from the beginning until now was to have a RELIABLE homologation rally legend that was fun to drive, looked amazing, and had enough power to let you actually enjoy driving curvy roads, but that wouldn't fall apart and constantly be in one phase or another of an engine rebuild which is/was common for Alltracs. In 2019, I had to pull the engine out for a oil pump/cam seals leak, and one "I might as well do this since the engine is out" thing led to another with me ending up completely refreshing the engine and every seal, bolt and maintenance part. Before that though, the car had ran perfectly for 11 years with no issues at all. That was the goal. To be able to drive it and not fix it constantly.
Why did you choose certain brands for your build?
Most of what I bought were OEM for engine and drivetrain components. If it was NOT an OEM part it had to be equal in quality or better; IE HKS. I don't mind spending money if the money is worth it, but I wasn't going to throw money at something just because the brand was hot at the time. A better alloy? Yep. A better design? Yep. A hot brand slapped on an inferior part - thats a negative.
What influences or inspiration helped shape the course of your build?
The early and mid 2000's were the age of the Fast and the Furious car culture. Some of it was neat, but it was way over the top for my taste. Throughout my build the car culture of the time was almost an anti-inspiration for how I wanted my car done. I wanted it clean and tidy and preserving the factory amazing body lines. Toyota invented complex compound curve metal stamping technology with the 5th gen Celica to make it harder to be duplicated by other manufacturers. To me the design was way ahead of its time. Curvy years before the rest of the market adopted that 90's curve aesthetic. Its possible if there were any decent body kits out there that subtly altered but retained the OEM body design, then I might have been interested at that time, but the only thing we had was the Vader kit - which was awful.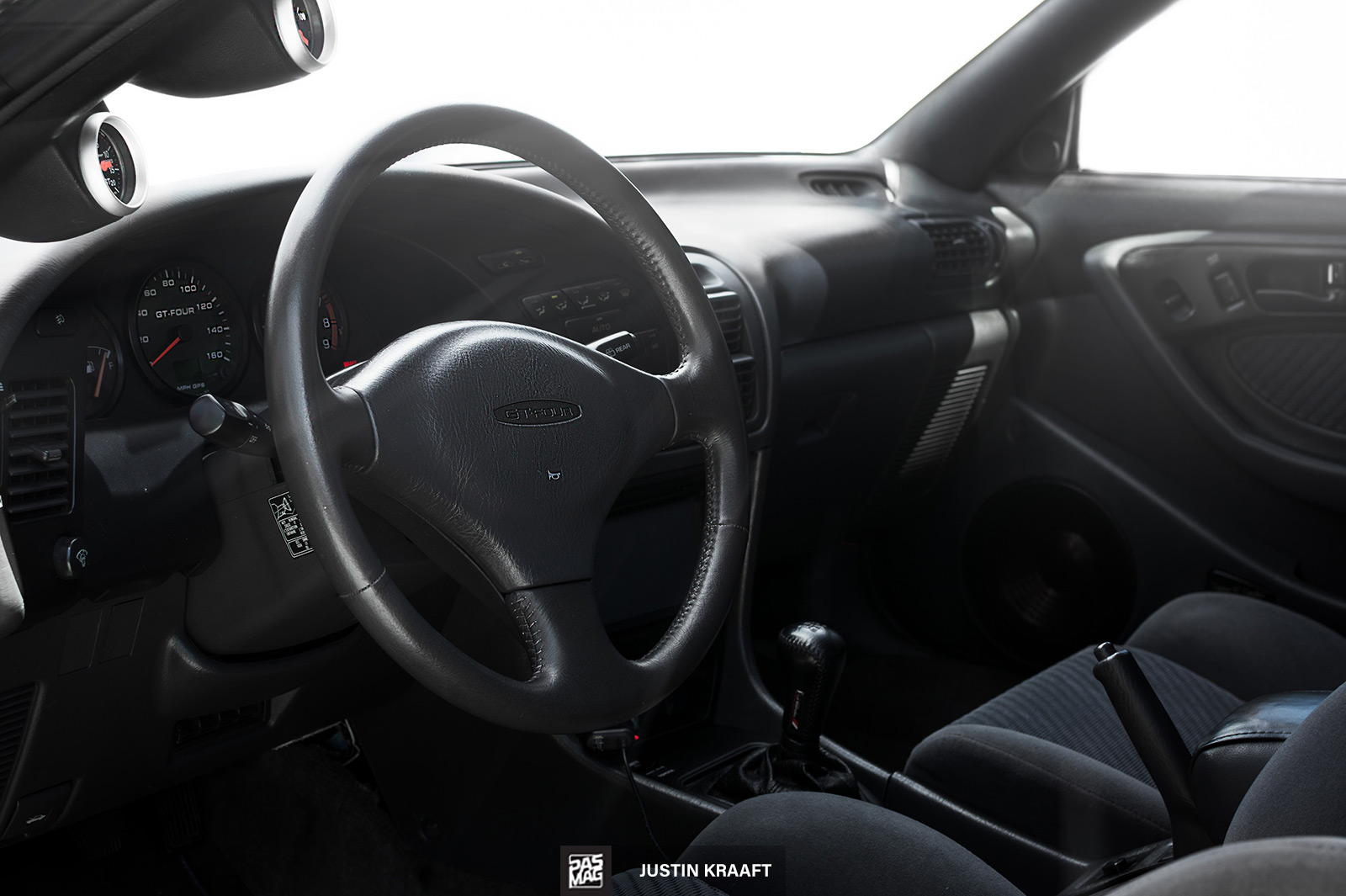 Is there anything personally or about the build that you would like readers to know?
I didn't grow up viewing cars as anything other than boring tools to get you from point A to B. Notable family cars included a Chevette and a celebrity. Likewise, you didn't work on your own cars, you paid a mechanic to do it. In college I discovered rally car racing and fell in love with the ST185 / GT-Four. At that time I didn't think we ever got them in the USA. The first car I bought was a 1991 Celica GT Coupe, sold and replaced a few years later with a 1990 Celica GT-S. Joining a forum for the Celica, I found out that we DID get the GT-Four in the USA, it was just called the Alltrac and output was reduced a smidge due to detuning for emissions requirements. From there the hunt began. I couldn't come close to affording the nice ones, and the ones I could afford were buckets thanks to the majority being shipped to snow/salt states because of AWD. Eventually, through a friend of a friend I learned someone in St Louis, I lived in KC at the time, was looking to sell a rolling shell for $2500 in 2005 bucks because of an unfortunate divorce. That I could afford. I asked a friend named Dan in KC if he could help me put an engine in, and then I contacted the guy, borrowed a truck and trailer and had a rolling shell and a mostly destroyed engine in boxes back in my garage in KC. I bought a low mileage half cut from an engine importer - straight outta japan. And got to work, with the help of the Toyota BGB's, taking the engine out of the half cut and cleaning it up, replacing and maintaining everything and then installing it in the rolling shell and making the careful modifications I wanted. It took a couple of years of learning and doing, but after it was all done, I had a reliable 250awhp Alltrac that has ran since with minimal issues. I wouldn't trade the decision to do it myself for anything. Being a "car guy" and doing my own work has become an identifier with who I am. "Thats Mark, he's into cars too". I get a lot of pride being able to explain what I DID and how I did what I did with my car as opposed to just paying for a pro to do it. There's nothing wrong with that - its just different. It's the difference between owning a cool painting, and owning the painting and being the one who painted it. Its more personal in my experience.
What is it like driving the car now that it's done?
I love the connectedness. When you drive the car you truly feel in control of it. Its analog in the best ways - pressing the accelerator is pulling a cable thats opening the throttle body. You press the brake - you're pushing fluid through lines to compress the caliper pistons. You turn the wheel - its connected by a shaft to a rack that uses some hydraulic wizardry to help you actually turn the wheels. Its so much more personal to the cars of today. I won't argue that in terms of performance the cars of today are far superior. I'd get my doors blown off by a current Camry. For me its akin to clothing though. In general we don't buy the cloths that wash the fastest - or that repel stains the most, or that we can put on and take off the quickest. Sure - our cloths for a purpose, like a winter coat, we do in part. In the same way a farmer buys a truck for a purpose. Even then, brand/style/design are important. In general we pick the cloths we like, that we think will make us feel a certain way, be that confident, or attractive, or popular, or emulating the people we like etc. My Alltrac is the same as that. It's not the fastest, or most superior in any category. But its an amazing looking machine with an amazing heritage and its an incredibly driving experience. Just hoping in it transports me back to the golden era of the 90's and the golden era of Toyota. Knowing that I built it makes me grin from ear to ear every time I fire it up.
---
PHOTO GALLERY