Photos By Adam Cha - TYC photography
---
I know what you are thinking. "Oh golly gee, I'm so friggin' ecstatic to see another 240 with Silvia parts, I can barely contain myself." Don't worry, it isn't weird, I get like that once a month like PMS. But see one build that is funky and a bit outside the trends is always welcome in my inbox. Oh and Silvia's need love too, so deal with it. For every hater, there are like 1,000 readers that want one so take a Xanax…and relax. I'll admit, I was a bit of a sucker for this feature when I saw a shake of Osaka flava in the mix. From its crazy offset polished lip wheels, to aggressive body kit and famous Tsunami print by Japanese artist Katsushika Hokusai on the hood, it was reminscent of a visit I made to Osaka back in '05 (damn that was dope!). The chassis was also an S13 ragtop which are just rare period! Plus the car was from the quiet area of Richfield, Minnesota and for that reason alone, we paid owner Dennis Som a lot of respect. We understand it's probably not a huge scene in Minnesota, but trust me... tuners out there are very dedicated to the cause and deserve recognition as much as anywhere else. With fewer local shops and expierienced builders to turn to, creations like this Silvia are proof our tuning comminity has no limits.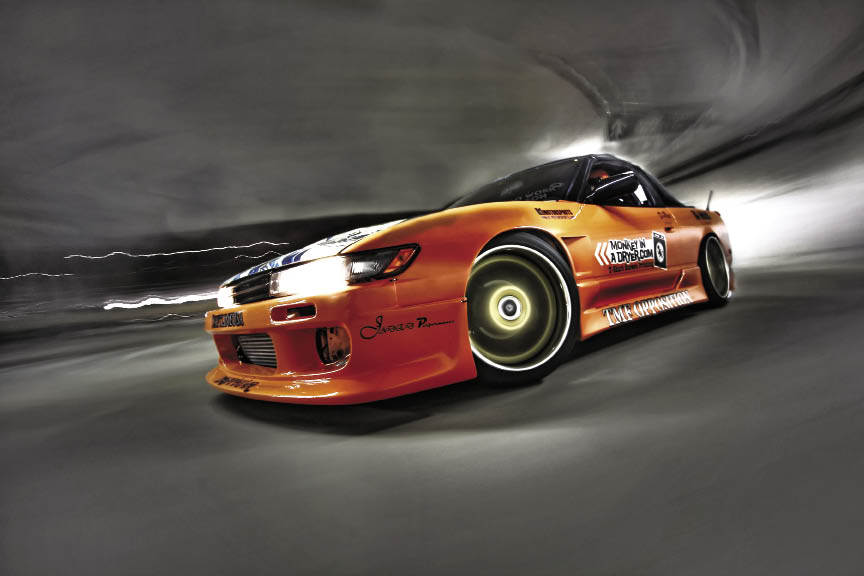 After having done the EG Civic thing (how many times have I heard that?) Som got hooked on S13s. And that obsession led him to the rare ragtop which is seldom done up considering it is less stiff than its hatch or coupe siblings. But that was fixed up quicktime by adding a 5-point cage that increased rigidity and amped up the safety factor. A Silvia K's front end was grafted on with the trademark Halogen brick headlights. The body itself got fattened up with an A1 Motorsports GPS 4-piece kit that features wide 20mm over fenders to accommodate larger rollers. A Silvia GTR style grill was added along with a Super Made Silvia wing that was last of its kind in the USA. The rear tails received Origin 2-tone lights with the clear/red no amber styling. After the body was prepped it was coated in several layers of Tangerine Orange by Kyle at Item 4 body shop. Then the vinyl was applied by the experts at www.monkeyinadryer.com to show some sponsors love before the final touches were made.
"I had a chance to pick up this one of a kind D-DRUG Tsunami Silvia hood a while back and I did," says Som. "I've held onto it for nearly a year until I decided to use it. The hood is for a Silvia front end, so I would have to do a conversion to my S13 fastback in order to use it... but I didn't like sil-80s at all, so I decided to roll with this sweet ragtop."
The overall style of the car is ramped up by the rare Japanezzie wheels it rolls on. "The choice of wheels was also very important for this project," admits Som. "I needed something big and something with a gangsta lip. It needed to sit with an aggressive stance and have the lip and fender clearance like a JDM VIP car. I stumbled upon some Work Stitch Evolutions and I knew they would be the one. I kept with my theme for orange paint and gold wheels and had them custom painted gold, wrapped in Feddys and ready to go." So a set of Work Stitch Evolutions were sourced out in the largest the body work could accommodate, with ultra wide 18x9-inch +16 offset up front with 225/40R18 Federal SS595 tires stretched over the lip. Around back are some 18x10-inchers cloaked in the same Federal 225/40R18s, just in case you thought the fronts were stretched. The brakes are simple yet effective 11-inch slotted rotors running combo of Hawk HPS and Project Mu brake pads.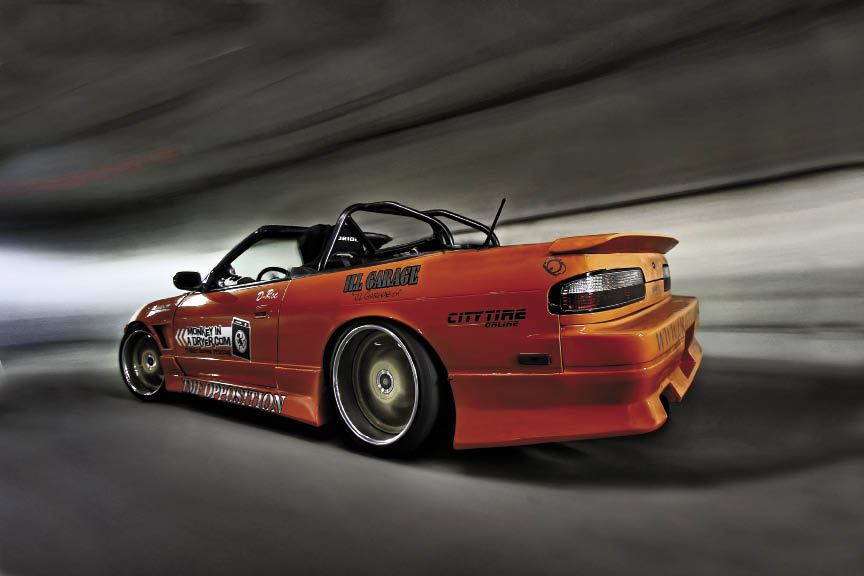 To keep the S13 under an organized slide, the coilovers are a set of highly adjustable Stance GR Pro. In the front, Som spec'ed out 8Kg spring rate with a 6Kg around back to really get it sideways. A set of Tanabe sway bars were added front and rear to eliminate roll and a strut bar. Peak Performance inner and outer tie rods were also added to get proper angle. Also onboard is some of Som's own product from his company Drift Line USA, including tension rods and wheel spacers.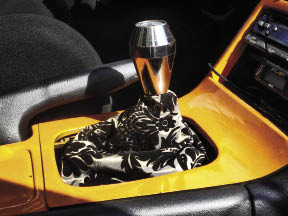 Beyond the roll cage, the interior is a blend of function and flash. A pair of Bride Brix II seats are mounted on some sliders and draped with Sparco 4-points harnesses. The console has been done in a color match panel and a custom fleur-de-lis fabric throughout. Some SPW gauges including: boost, water and oil temp are found inside an AutoMeter custom pod.
Under the D-Drug lid is the venerable SR20 4-banger. This turbo motor is basically the small block Chevy of Japan and has been swapped into nearly everything that has rear wheel drive! The once regular S13 redtop engine block now sports CP Pistons and S15 rods, as all mods and installation were done by Driftline / B&A Cylinder Head. His own company Drift Line USA in Richfield, MN performed engine mods including: CP pistons, Cometic headgaskets and stout S15 rods. A fresh Garrett GT28 turbo was fitted to a T-pros tubular manifold. The gases head into a GReddy downpipe into a Buddy Club Spec II 3-inch stainless steel exhaust. On the cool side, compressed air heads into Blitz front and is popped off with an HKS SSQV blow-off valve. To hook up the extra torque is an Exedy Stage 2 clutch with a machined OE flywheel.
"The car is far from complete; I have big plans for it later in 2009," boasts Som. "If I can get the right sponsors on board for the next drift season I will be looking into a VQ35DE swap and a Formula D legal roll cage. As for now I prefer to drive it on the street as much as I can and she's never been on a trailer and has been on the track multiples times." What more can you ask for, some jam, some style and something that can be equally as lethal on the street or track.
ESSENTIALS
Owner: Dennis Som
Location: Richfield, MN
Vehicle: 1994 Nissan 240SX Special Edition
Power: 260whp (est.)
ENGINE MODIFICATIONS
Drift Line / B&A Cylinder Head build motor
Port, polish, CP Pistons
GReddy oil pan
S15 rods
Cometic Headgasket
Garrett GT28 turbo
T-Pros manifold
Blitz SUS intake
Blitz front mount intercooler
HKS SSQV blow-off valve
GReddy downpipe
Buddy Club Spec II exhaust
DRIVELINE
WHEELS, TIRES, BRAKES
Work Stitch Evolutions wheels; 18x9-inch +16 offset (f), 18x10-inch +12 offset (r)
Federal SS595 tires 225/40R18 tires
Hawk HP and Project Mu pads
SUSPENSION
Stance GR Pro coilovers (8K/6K)
Tanabe sway bars
Peak Performance tie rods
Drift Line tension rods
Drift Line wheel spacers.
EXTERIOR
D-Drug Tsunami hood
Silvia K's halogen brick headlight conversion
GPS body kit / Silvia single vent fenders from A1 Motorsports
Silvia GTR grill
Origin 2-tone tails
Super Made wing
Item4 performed paint work
www.monkeyinadryer.com vinyl
INTERIOR
Bride Brix II seats
Sparco 4-point harnesses
Color-matched interior panels
Fleur-de-Lis fabric
SPW carbon fiber gauges: boost, oil & water temp
Sparco steering wheel
GReddy shift know / seat belt pads