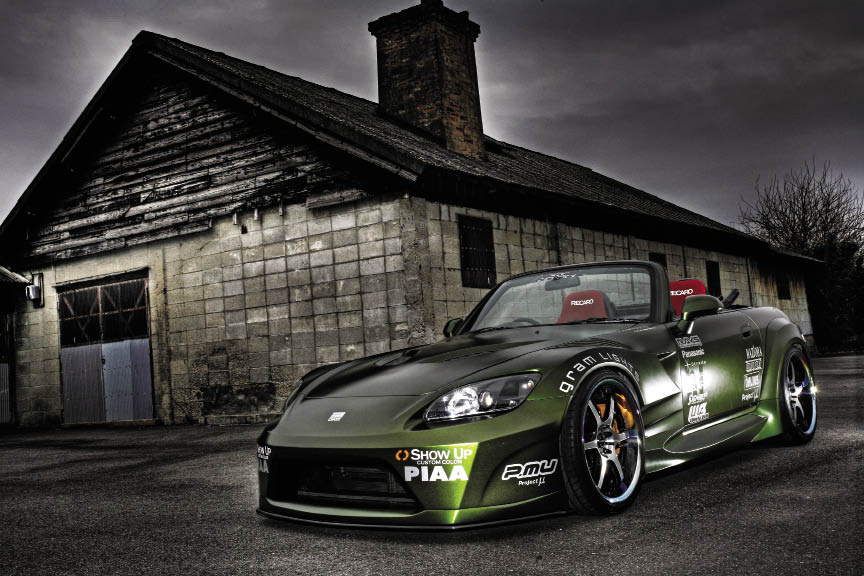 Truth be told there are a load of hacks out there masquerading as aerokit manufacturers. Notice, I did not say bodykit because well... the difference is some parts are just for appearance. Aerokits on the other hand have been painstakingly refined in wind tunnels and on tracks to ensure they meet performance standards, regulating the airflow around over and underneath the car. If you are parking lot pimpin' in your 14-piece Black Widow kit on a rusty CRX you probably won't care, but if you are hurling a 400+HP race car around a track or chasing 200mph, then aerodynamics are very, very important. Most bodykits are typically knockoffs of proven designs, offer poor fitment and will crack as soon as they come in contact with a pillow.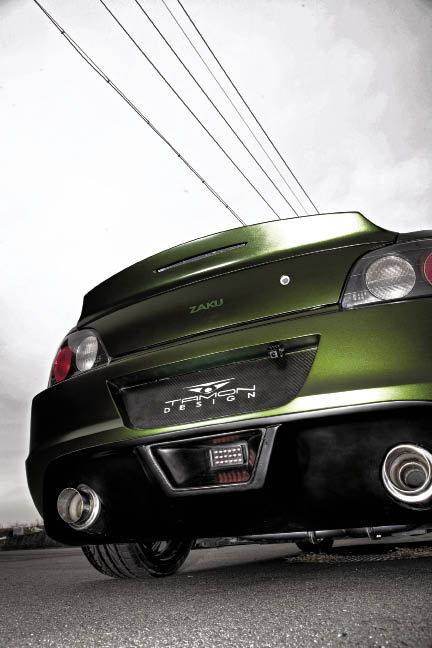 Tamon Design of Japan is one of those aerokit crafters that rises above the sea of scrap out there. They take seductive designs and meet all the criteria for performance improvement and as a result their products end up looking tight in the process. Owner and head designer of the company Tamon Shoji became very famous for the outrageous during his work with RE Amemiya FD RX-7s, one of which was a striking orange roadster. Dubbed the TDC-047 (Tamon Design Concept), this 2-seater was barely recognizable as an FD and readdressed all of the aerodynamic short comings of the original design by Mazda. With the popularity of the FD slipping, Tamon Design turned their efforts to the Honda S2000, a platform that is being heavily modified as they enter affordable ownership territory. We first spotted this monster at Tokyo Auto Salon 2009 and had to get our main man and Japan-based photographer Dice-K on it.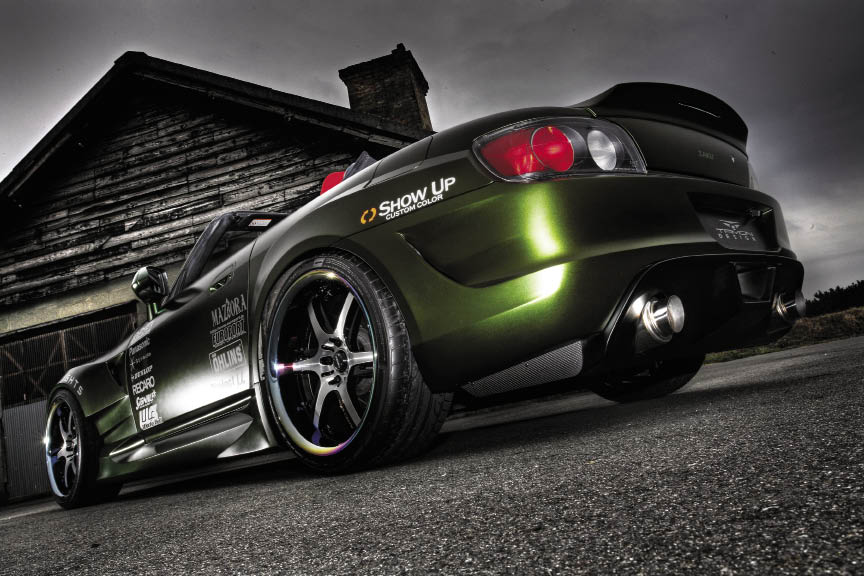 Under the hood, you might be shocked to find out that this particular roadster has nothing going for it because the emphasis has been on a design study. With 280ps under the hood, Shoji believes the exercise is to make it lighter and faster with aero parts. The kit is the prototype of the Widebody Street Version and went through several stages of 3D design and even a scale clay model! With dramatic lines, curves and parts adorning the car that doesn't serve purpose. The vented hood cools and relieves pressure, the wind provides more downforce and the front end is designed to reduce lift at high speeds. The principles will be carried over into the next kit under development called the S2K-R, which will be a race-only kit sure to pop up in some crazy project over here one day. The shell was shot in a satin green Mazora paint scheme done by Signal's paint shop Show Up.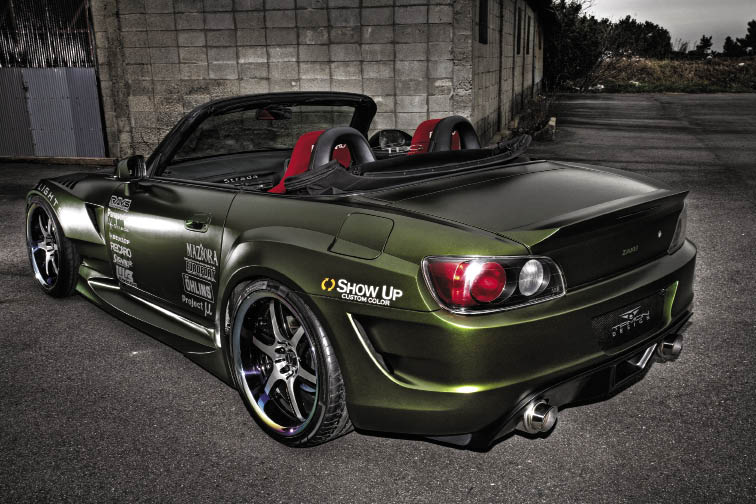 The footwork is something Shoji carefully selected through research and no expense was sparred. The stock Honda dampers and springs were removed in favor of an Ohlins DFV adjustable coilover system to dial-in the ride height and the dampening force. The brakes have been replaced with Project Mu 6-piston calipers finished in special orange paint chomping down on 355mm slotted rotors. In the rear Project Mu pads and rotors are found with a custom painted stock caliper.
The wheels on this car were so new, that they were not approved for any high speeds. The Rays Gram Lights 57 Accelerate were in prototype phase so you are getting a glimpse of what isn't even available yet! These 6-spoke wheels with titanium finish lip are going to be coming to the US in 2009 but the delivery date is unsure. Up front is a 57 Accelerate 19x8.5-inch with a Dunlop Sport Maxx 225/35R19 and in the rear are 19x9.5-inch cloaked in 265/30R19 Dunlop rubber.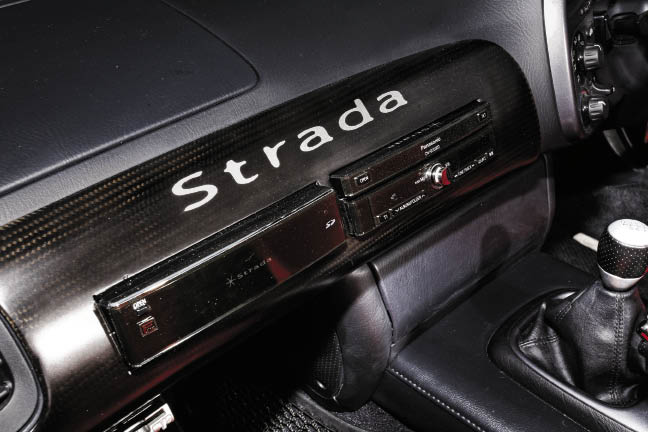 Drop the top and there are only minor tweaks to this right hand drive design study. Factory buckets are replaced by Recaro TS-GS racing seats in red. The steering wheel has been replaced with a Works Bell 330mm unit and a quick release. Other than that a Panasonic HDD navigation unit directs the team through the narrow confusing streets of Japan.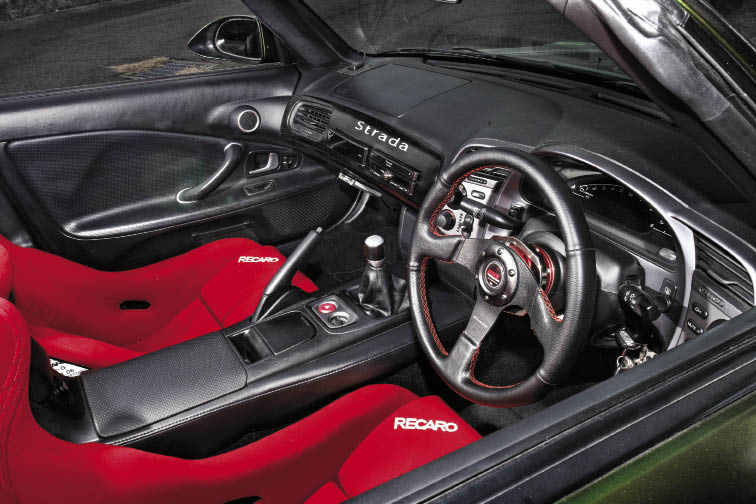 A peek at what is coming to North America from Tamon and Gram Lights is what this project was all about for us. It wasn't crazy horsepower, it was outrageous upgrades, it is clean functional machinery and you saw it here first.
THE ESSENTIALS
Owner: Tamon Design
Location: Osaka, Japan
Vehicle: 2001 Honda S2000

EXTERIOR
TAMON DESIGN wide body kit street version
Full Custom Paint

SUSPENSION
Ohlins DFV height adjust susupension system
Project-Mu 6piston calipers
(Special Orange color)
355/28mm rotors in front, slit rotor in rear

WHEELS & TIRES
RAYS GRAM LIGHTS 57 (19x8.5, 19x9.5)
Accelerate 19-8.5J+18
Dunlop SP Sport Maxx (225/35-19, 265/30-19)

INTERIOR
RECARO TS-GS seats
Panasonic HDD navigation system
WorksBell RAFIX II steering quick release