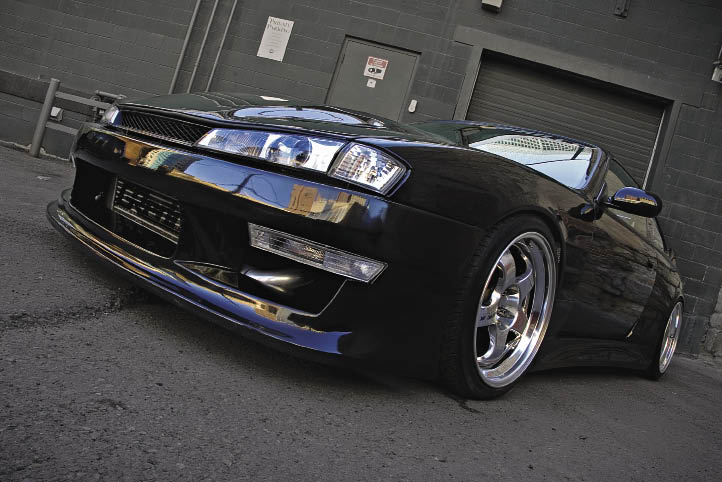 Written by Patrick Gall | Photos By Eymeric Widing
It's rare to find a genuine car enthusiast these days. Especially one who didn't come from money or whose father wasn't a former mechanic. A genuine automotive enthusiast who's had to scrape together each paycheck to afford parts, who's had to battle across a dinner table at a mother's continuous fear for her son's safety, who's had to mix oil, grease and blood in their pursuit of backyard mechanics. Helder Martins is that type of automotive enthusiast, he has the right type of dedication, and he is indeed rare.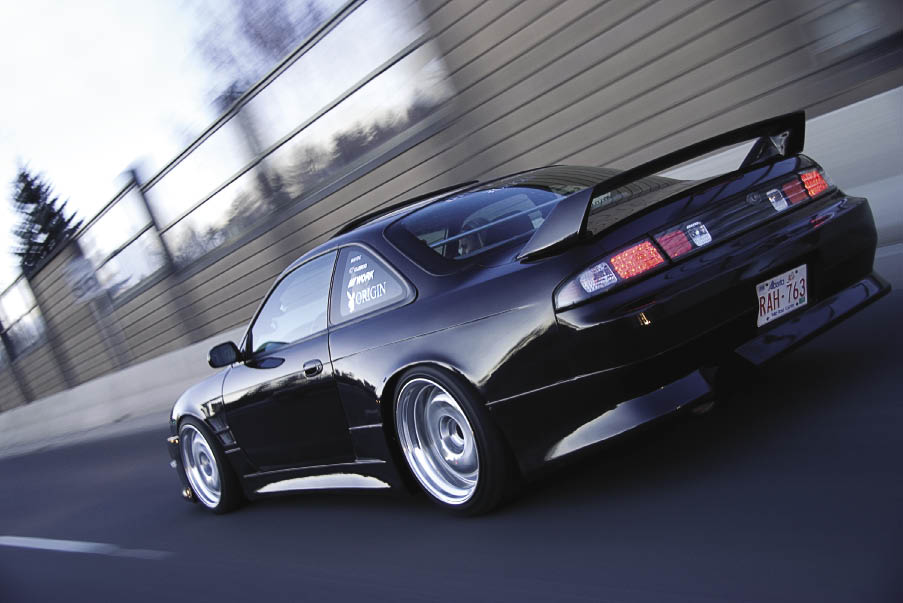 Martins grew up in Portugal, but moved to Calgary, Alberta Canada when he was just seven-years-old. Ever since Martins can remember he's been car crazy. "I used to wake up at five in the morning to watch Formula 1," states Martins. Before he even had a driver's license, he and a friend decided to take his father's Pontiac Fiero out for a joy ride one night. "We ran into some girls with a 5.0-liter Mustang," Martins says smiling. "Sure enough I got pulled over for racing, and on top of that I blew the differential!" Then I bought my own Chevy Cavlier Z24 to mod. "I blew two engines. I bored one to 2.6-litres. I had a Bomex body kit, racing everything, custom interior, 18-inch wheels then 19-inch wheels, cut retractable springs, Sparco seats, custom exhaust, Eclipse projectors, shaved trunk, slammed, Weapon R intake, Jet Performance fuel controller, it was pretty crazy,"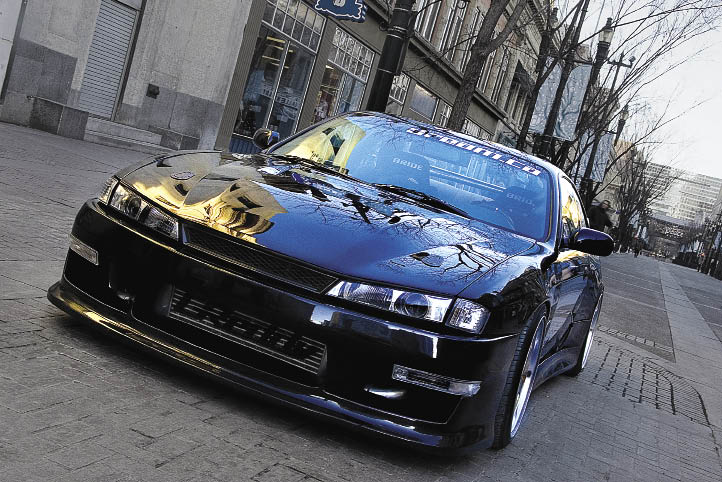 After getting bored of his Z24, he then turned his attention towards Nissan. "I'm a true Silvia S14 fanatic," Martins says, "I've always been really taken with the S14's lines. Clean and simple. There's just something about that car."
Martins picked up his '97 Nissan 240SX from a dealership back in 2004. The car started life green. Immediately he brought it to a local tuning shop called Autodream, renowned for its knowledge on the S-series Nissan cars. The shop owner, Nguyen Nguyen, got right to work with Martins' S14 and dropped in a redtop SR20DET with an intercooler and a blow-off valve. From that point on, Martins found a second home at Autodream, spending nearly every free weekend there for the next few months. "Nyugen was really good about letting me be in the shop," Martins says.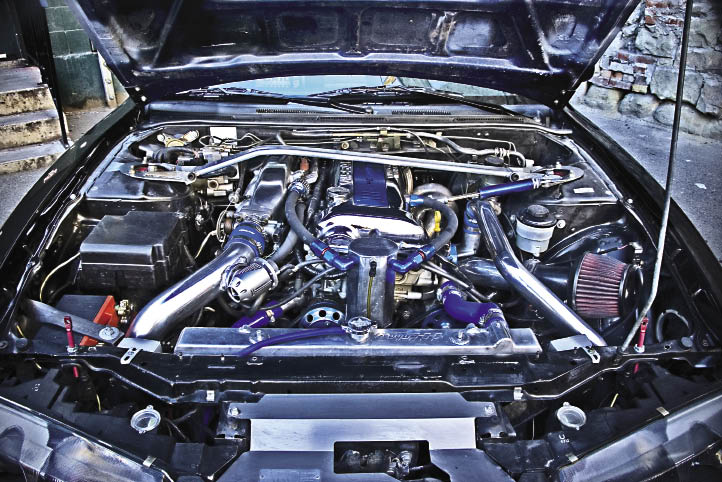 His build went something like this. First, he had a custom T-Pros downpipe and an R-Spec GReddy intercooler put into his S14. The following weekend a set of AutoMeter gauges and an HKS SSQV BOV found their way into the car. Next, a GReddy boost controller went in and the hunger for power began. Martins installed a 300ZX fuel filter, a 300ZX MAF and a Walbro 255lph fuel pump. All the added power started to take its toll on the brakes so they were swapped for a set of R32 Skyline brakes. Martins chose to go with an aggressive ACT clutch.
The car was almost perfect at this point with lots of low-end response thanks to the ECU programming done by Nyugen at Autodream. Martins was satisfied with his "three-tone 240" and like most automotive enthusiasts who reach a level of satisfaction, it was all about to come crashing down. On a drive to Banff one weekend at high speeds the relatively stock internals of the engine just couldn't keep up. Eventually the engine blew and he tossed in a rebuilt one with beefy internals.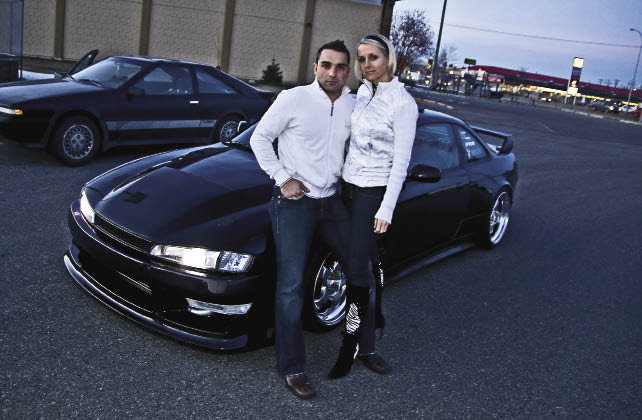 Martins had the car towed to Autodream and bought another used SR20DET from a local JDM engine shop. This SR had bad compression though and was returned. Martins then went to another well-known tuning shop in Calgary called Speedtech where he picked up his third SR. The engine was shipped to Autodream and one long weekend Martins and Nyugen went to work on transferring all the goodies from Martins blown engine to the new one. Martins also made the addition of a GT28RS turbo and manifold along with a polished GReddy intake manifold.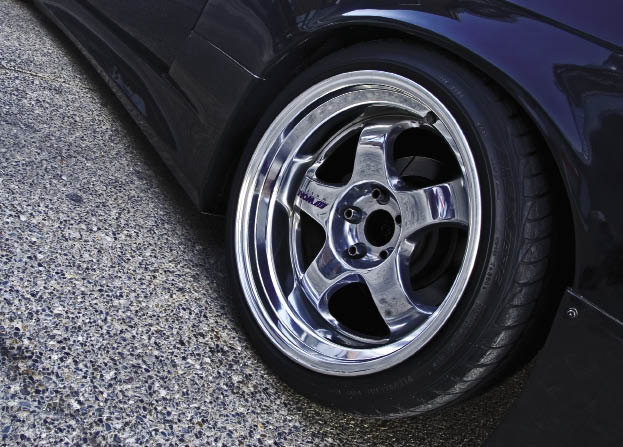 Martins ramped up the components that control the car as well. He added Megan coilovers, a Cusco strut tower bar and H-brace. Megan traction rods and tension rods were added for extra stability and tuning. Along wIth the classic Silvia lines, Martins went with classic rollers to match. A set of Work Meister S1s were added with mean offsets. These dirty 5-spokes were wrapped in Falken Ziex 225/40R18 and 265/35R18s in the back. To bring the ride to a stop, Martins added R32 Skyline GT-R brakes after they were rebuilt and powdercoated. A story that shows perseverance and hardwork can pay off. Many late nights and many paychecks went into this car, we have to give credit for the investment and Martins is more than happy to put it to good use.
ESSENTIALS
Owner: Helder Martins
Location: Calgary, AB. CAN
Vehicle: 1997 Nissan 240SX
ENGINE
Nissan 2.0L SR20DET inline-4
ENGINE MODIFICATIONS
Garrett GT28RS turbo
T-Pros manifold and downpipe
Megan full exhaust
HKS cams
HKS SQV BOV
Ported and polished head
GReddy lightweight pulleys
GReddy R-Spec intercooler
Tomei oil cap
Tomei spark plug cover
Samco silicone hoses
ARC vent plate
ARC low-boil rad cap
A'PEXi air filter
300ZX MAF sensor
Walbro 255lph
Rocker arm stoppers
Koyo rad
Flex-o-lite 12-inch twin fans
Oddessy mini battery
ENGINE MANAGEMENT
GReddy e-01 boost controller
Autodream ROM Tuning
DRIVELINE
B&M short shifter
ACT clutch
Carbon driveshaft
Tomei 2-way LSD
WHEELS
Work Meister S1 wheels
(f)18X9-inch & (r)18X10-inch
Falken Ziex (f) 225/40R18 & (r) 265/35/18
R32 Skyline front and rear brakes
SUSPENSION
Megan Racing coilovers
Cusco rear strut bar
Cusco H-brace
Nismo front strut bar
Megan traction rods
Custom C-pillar bar
EXTERIOR
Basalt Black Porsche paint
S14 JDM Kouki wing
LED taillight conversion
ORIGIN Corner lights
ORIGIN bumper lights
ORIGIN full stylish kit
ORIGIN over-fenders 200mm front,
custom 100mm rear
Helios HID kit
D-Drug Hood
INTERIOR
Momo steering wheel
NRG quick-release hub
BEE*R rev limiter
260 km/h cluster
Bride Ergo seats
Nismo seatbelt harness
Auto Meter gauges
SHOUTOUTS
Nguyen
Oliver
Marvin and Andy "the pimp" at Autodream
My girlfriend Violeta
Pat at Speedtech
My buddies: Dario, Juri, Joe and Eddie