Alright, clear your head for a bit and picture this. Yours truly and PAS Editor Mark Pereira are standing out front of the Paris hotel in Vegas after getting waaaay to involved at one of many open-bar parties during SEMA. Honestly, I can't even recall which party 'cause after a while it all blurs together especially when you have been in this circus for as long as I have. We were waiting for a cab, having a cigar or something when we hear the distinct sound of an SR20 braaaaap braaaaping around the hotel grounds. Then we see a pair of 8000K HIDs bouncing around indicating whatever they are attached too is one stiff suspension setup. But it isn't an S13 even though it has pop-ups because whatever it is, it's way to skinny. Now keep in mind, we're loaded and its like 4:00am, so we don't really register what the hell is going on until this thing slides right pasts us on the cobblestone surface through the Valet area of this prestigious hotel. Then it comes into view, it is a Hatchi Roku but not just any Corolla... its completely gutted, with a Formula D-Spec cage and plastered with vinyl and fitted with Lexan windows! Pereira and I just look at each other in disbelief and I could only sum it up by saying "Only at SEMA, dude!"
The following day we were still going on about how jokes it was to see that spectacle in front of the hotel with our homie and photographer, Jacob "Disney" Leveton. And he asks if the car was black and all stickered up, "Umm well, yah I think. How many cars like that aren't in the show and running the streets?" I said. He laughs and told us he knew the owner. At that point, we had to lock down a feature and see what the deal was with the car and the drift nut behind the wheel.
Turns out the cat who owns the car is Tommy Suell. We later caught up with Suell at another Vegas hotspot and this laid-back dude didn't seem like the type to be found tearing up the streets of Las Vegas (possibly breaking multiple laws), but hey you just have to put a windshield in front of some people to see their dark side.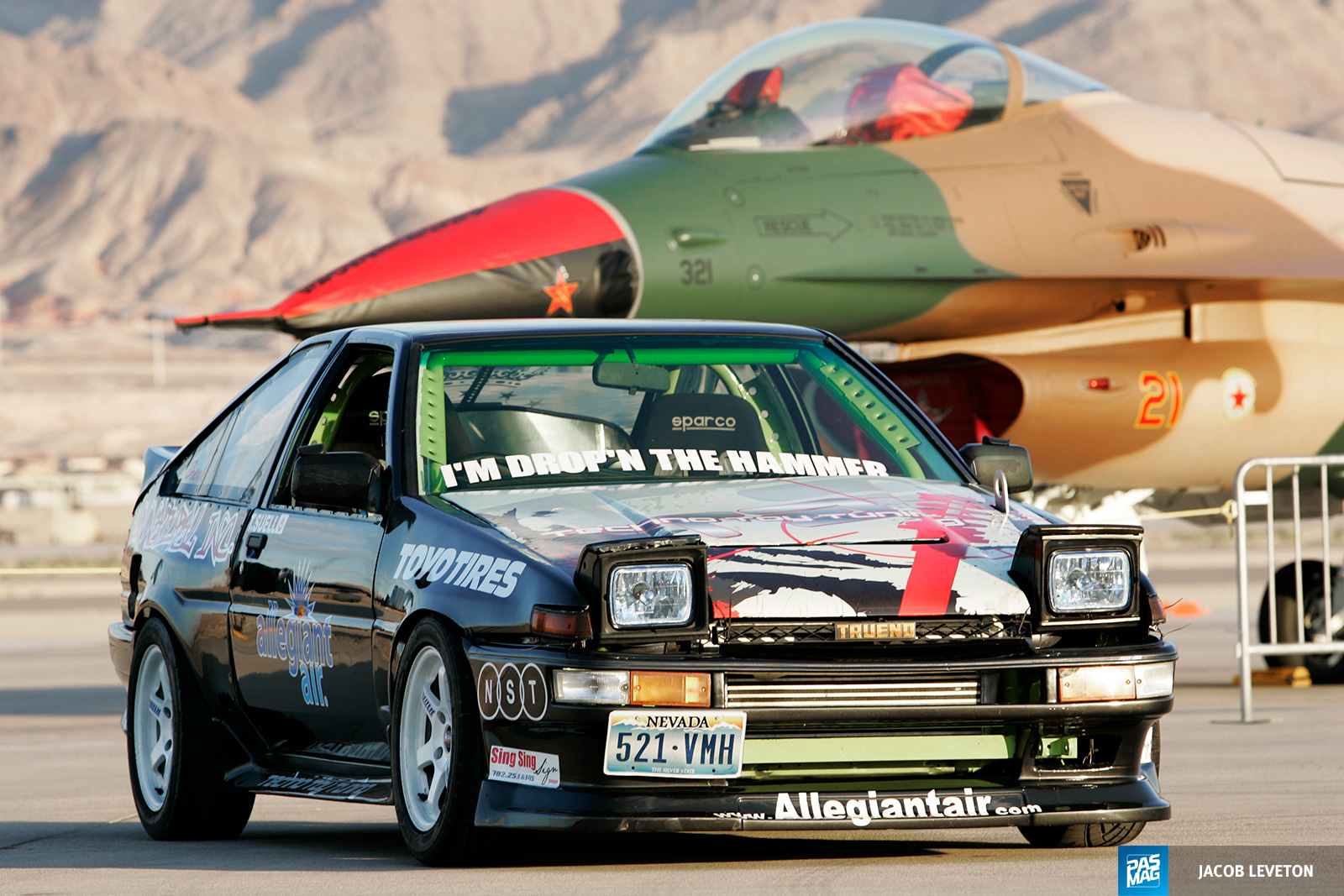 Turns out, Suell is actually more of a banana than we thought when we got the scoop on what he did to this gangster '86 Corolla GT-S. Instead of buying a right-hand drive Hatchi like a sane person seeking a J-Spec car, he built his. That is right, he converted the car to RHD in his driveway! You see, Suell learned to drift in Japan and grew up around RHD imports while his father was stationed there in the Air Force. Since he was more comfortable on the right side of the car and had to leave his baby back in Okinawa, he took a UDSM Corolla and made the switch.
The first round of mods, Suell ran a Supercharged 4AGZE but recently decided to switch to Nissan power. While he still receives 'death threats' for causing a stir with the new SR20, he says it is more versatile and parts are far more common. The car placed a couple top 16s in Pro Am but was rebuilt after Seattle and the car has made 2 top 16's in Formula D (Atlanta and Sonoma).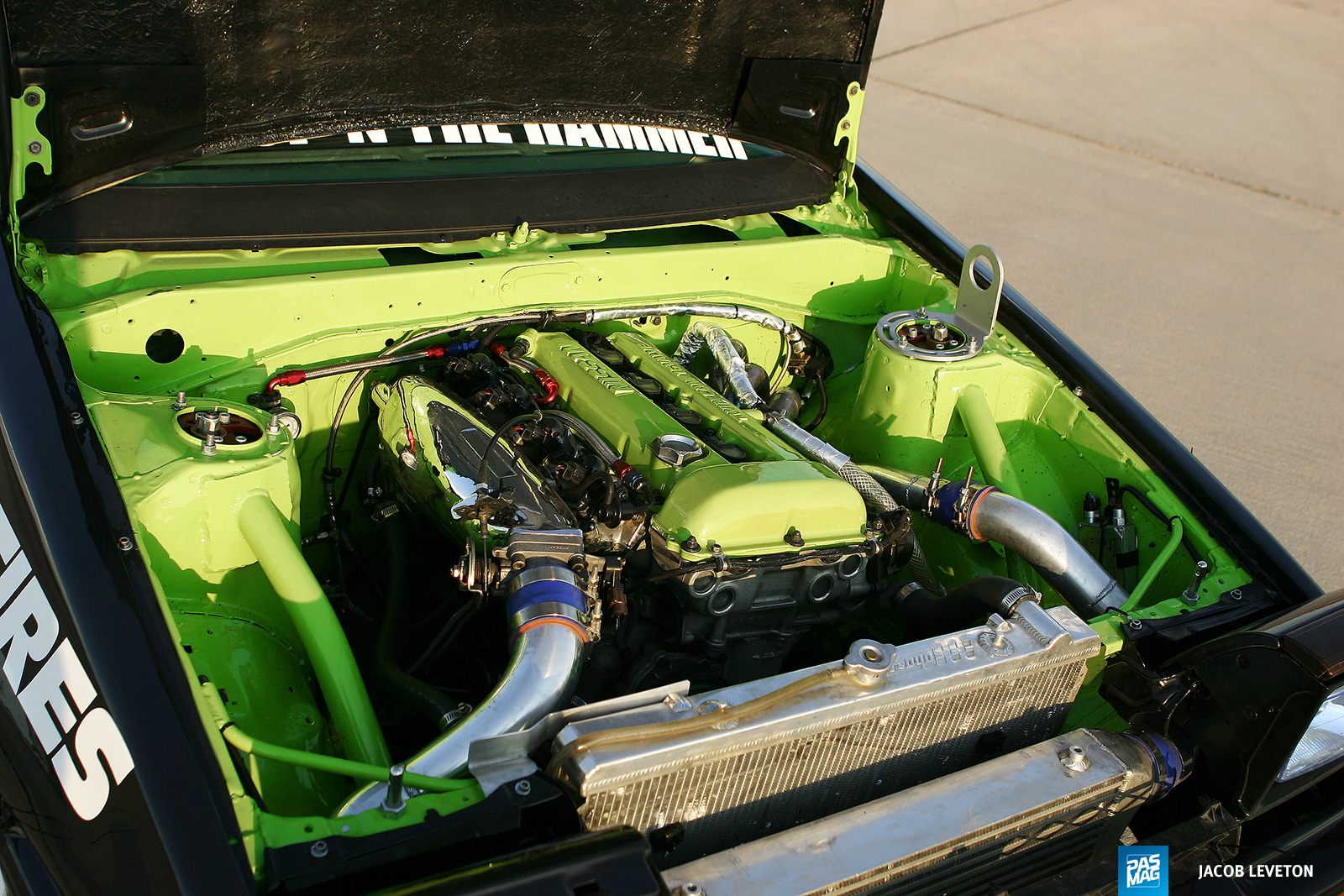 Unnatural Inc. redid a 10-point cage, interior wiring all paint and bodywork for the new version of the car. With a fresh powerplant on onboard, a capable Garrett GT2876 turbo was added. Fitted to an RS*R exhaust manifold, the spent gases head down a Trust downpipe into a GReddy exhaust. On the cool side, air is sucked directly the turbo and is chilled with a GReddy front mount intercooler vented with a GReddy Type RS BOV. Feeding the mixture is an Aeromotive fuel pump driving Blitz 550cc injectors. A Koyo aluminum radiator was added along with a GReddy oil pan to stay lubricated for those sideways antics. After a quick and easy tune with an A'PEXi Power FC with commander and boost module, the car made 340whp. And that extra juice meant the stock street disc would tap out so a Blitz Super single plate clutch was added along with an aggressive KAAZ 2-way LSD.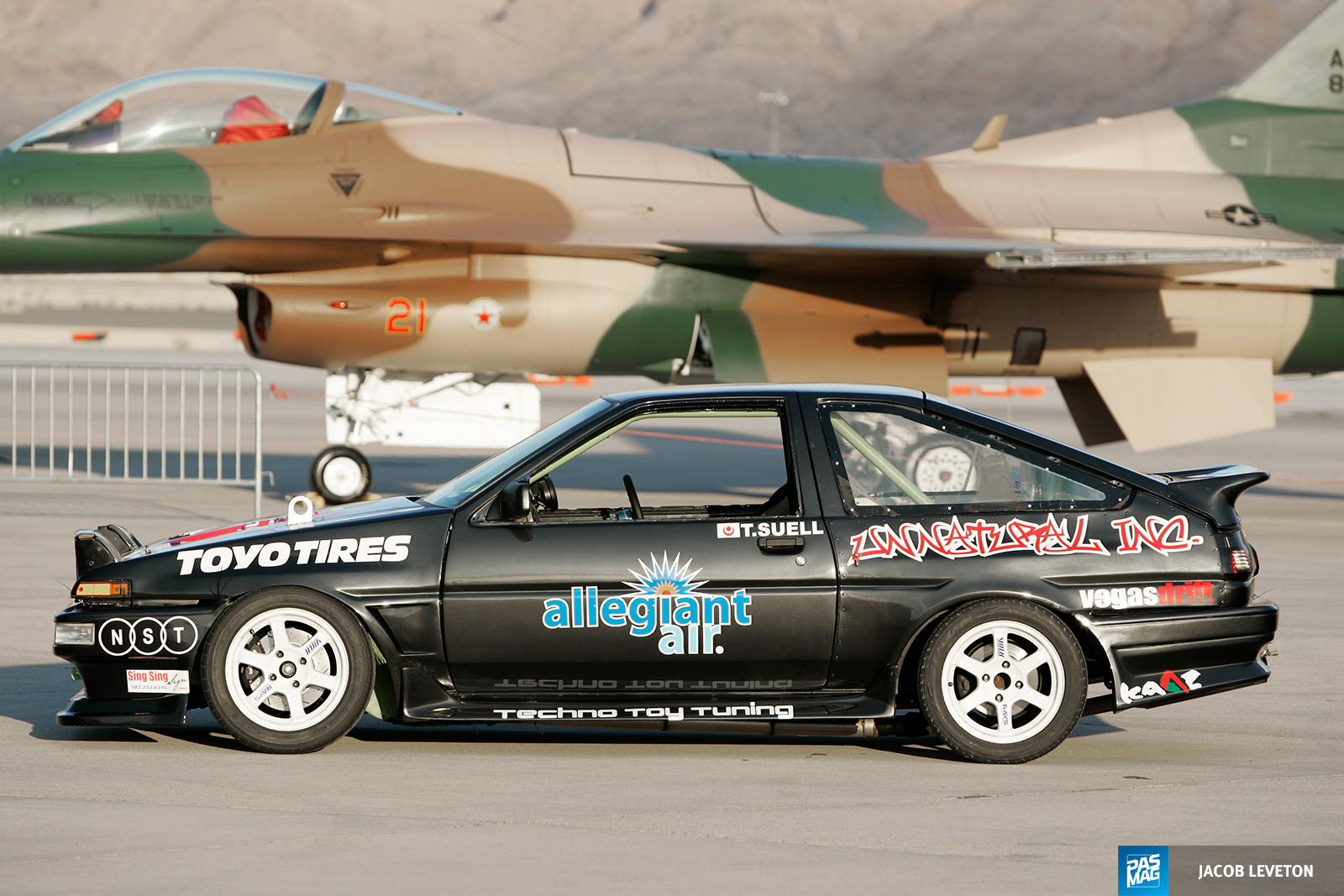 Suell switched his focus to the suspension which would be key if his car was to be competitive. With the chassis all stiffened up, foam-filled and seam welded, he turned to the hard parts that would enable the car to slide for days. Suell fabricated a set of coilovers using KYB AGX adjustable dampers and Eibach springs with 10Kg in the front and 8Kg in the rear. He added a load of parts from T3 including: lower control arms, 4-links, lateral rods, camber plates and tension rods. Then he sourced out some Ueo Style inner and outer tie rods for some extreme angle.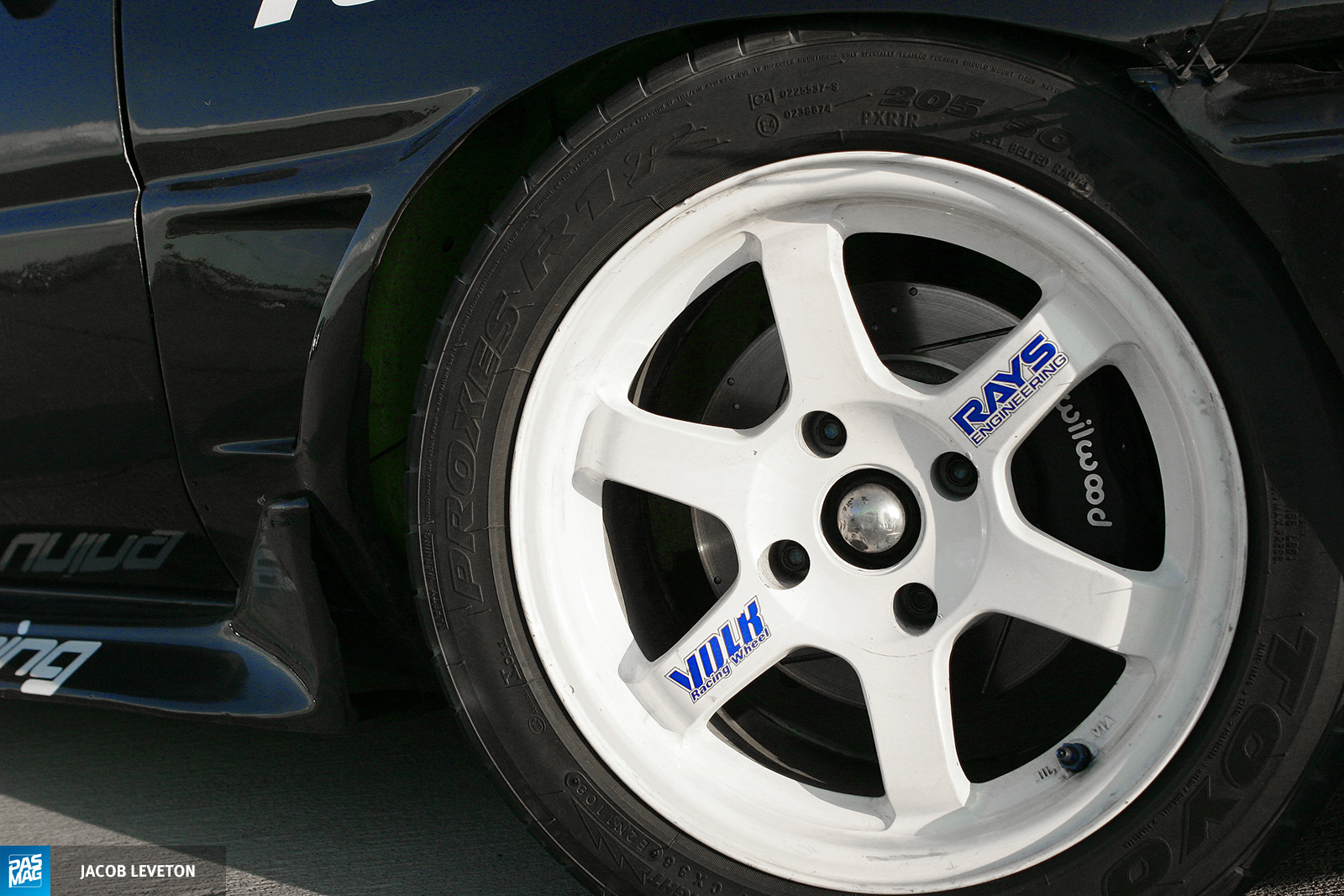 The rubber underneath would also be clutch. Since Suell was sponsored by Toyo Tires he had pick of the inventory and lots of it. He decided on the Proxes 4 a 205/50R15 tire all around mounted on some baby Volks. The white TE37s measure 15x7-inches and are so light, you would swear these hollow spokes are made of carbon fiber. The brakes were supplied by Wilwood, a 4-piston 280mm setup that has more than enough force to manage this lightweight. The interior of Suell's car is all business. First, it is 100% gutted aside from a cracked old dash pad. The seats have been replaced with Sparco Pro2000 seats and draped with 5-point harnesses. The pedal assembly has been replaced with a Tilton race setup for a more positive connection. The wheel has been switched to a Nardo Classic and the 5-speed Nissan box is now connected to a Nismo short shifter and GReddy knob. Other than that there is a Wilwood brake bias controller, a few gauges and a custom hydraulic e-brake because in a drift car everything else is just in the way.
We're sure we'll be hearing more from Suell in the future. Good guy, hard worker and has some solid skills to match. Hopefully a sponsor will take note and get him to go mainstream. After all, the D1 is coming back to town and maybe his RHD chassis can get in on some of that action.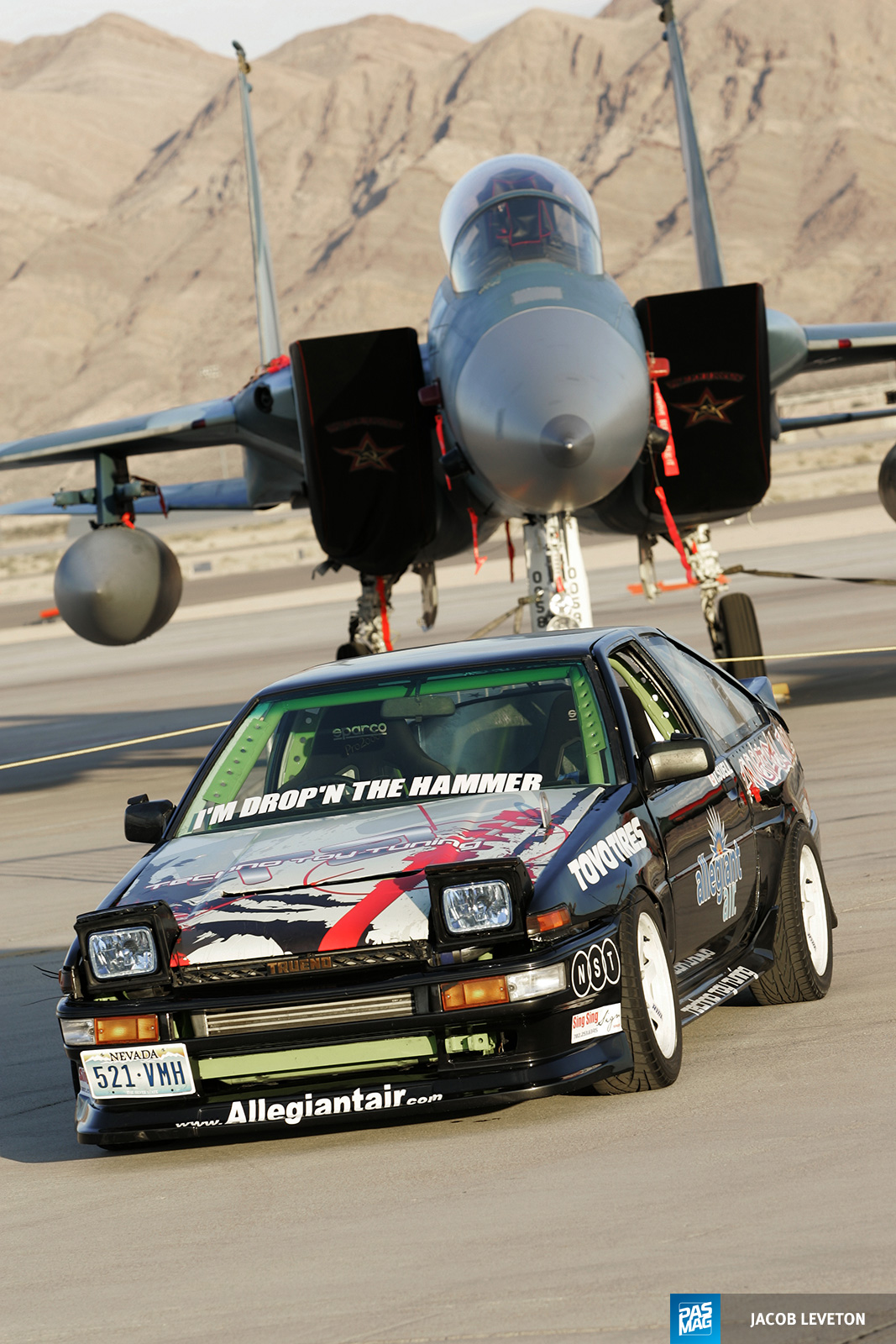 ---
ESSENTIALS
Owner: Tommy Suell
Location: Las Vegas, NV
Vehicle: 1986 Toyota AE86 Corolla GT-S
Power: 340whp
Engine: Nissan 2.0L SR20DET inline-4
ENGINE MODIFICATIONS
GT-2876 Turbine
Trust Downpipe
RS*R Header
NST Pulley Kit (Non Stop Tuning)
Aeromotive Fuel Pump
Greddy Oil Pan
Greedy Intake Manifold
Blitz 550cc Injectors
Koyo Radiator
Baker 5gal Fuel Cell
Apexi Power FC + Commander + Boost Control
Blitz Super Single Clutch
KAAZ 2-way LSD
WHEELS
Volk Racing TE37 15x7-inch
Toyo Proxes 4 205/50R15
Wilwood 4-piston / 280mm
SUSPENSION
Custom Coilovers
Eibach 8kg/10kg springs
KYB AGX Shocks 8-way
T3 Lower Control Arms
T3 Tension Rods
T3 Rear 4-Links
T3 Rear Lateral Rod
T3 Tension Rods
T3 Camber Plates
Ueo Style Inner Outer Tie Rods + Ends
EXTERIOR
Bodywork and paint by Unnatural Inc.
INTERIOR
Sparco pro2000 seats
Nardi wheel
GReddy Shift Knob
Painless Switch Panel
Custom Gauge Cluster
Sparco 5-point Harnessed
Tilton Floor Pedals
Wilwood Bias Controller
Custom 10pt Roll Cage
SHOUTOUTS
Allegiant Air
Toyo Tires
Unnatural INC
Techono Toy Tuning
Non Stop Tuning
KAAZ LSD
PHOTO GALLERY