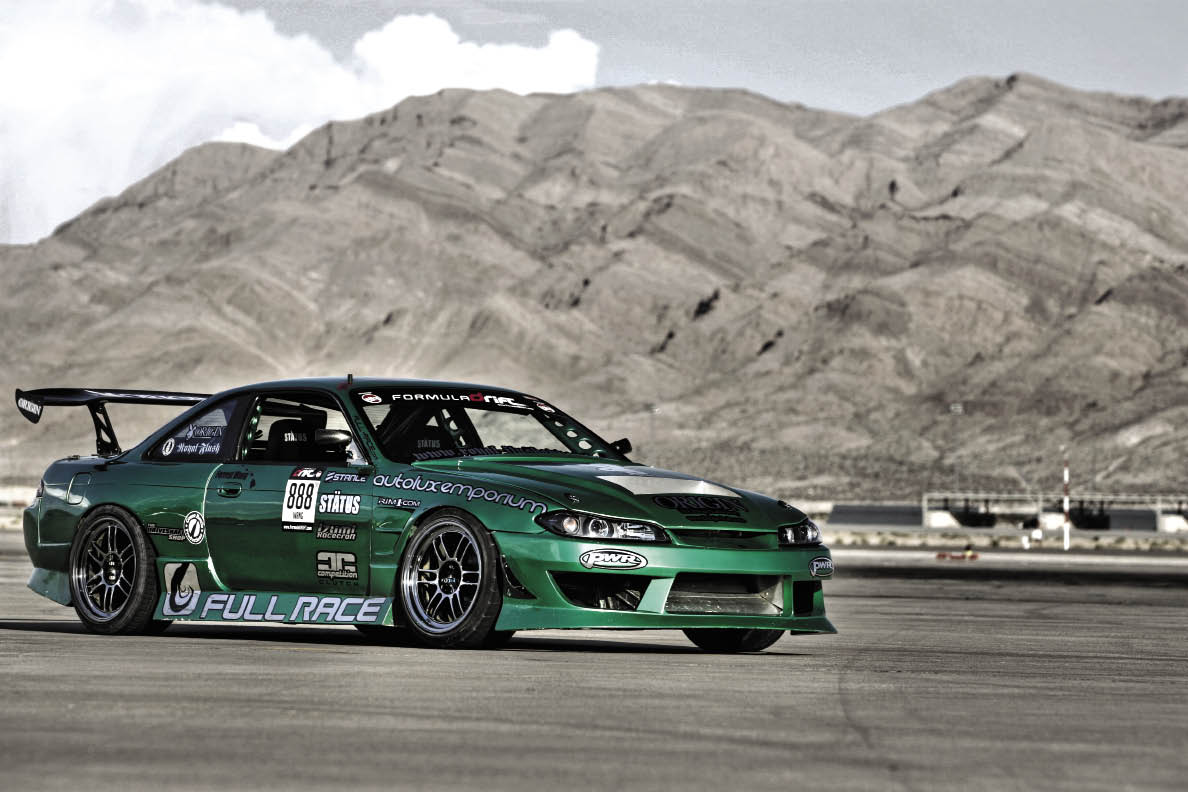 Written by Dave Pankew | Photos by Jacob Leveton
Ever gotten stuck watching lame TV shows that your sister, girlfriend or wife want to watch instead of something legit? I might have some guilty pleasures like the first few American Idols that mock all the idiots seeking stardom, but after nearly a year of cable TV-abstinence I finally gave in and now that I have it, I remember why I cancelled it. So by that admission, I think I can skip out on the $100 a month of HDTV and PVR rental charges and hours wasted watching the many versions of Law & Order, CSI or whatever junk TV executives decide to torture us with. I'd much rather spend that money and my time on more race gas to tear it up just like our friend Forrest Wang here. This Hawaii-based driver has poured everything into this creation and his attention to detail shows.
The most striking feature is the S15 front end swap on this S14 Kouki. The Origin parts are joined with 20mm front over-fenders which are vented. The Origin front bumper, sideskirts and rear bumper are complimented BN Sports 50mm rear over-fenders. An Origin Type II cowl hood is matched with an Origin carbon fiber GT win and GT mirrors. The backyard special paint job was done by Wang and Rei from Just4kix in a Samba Green Pearl.
Under the carbon fiber lid is where the magic happens and credit for that is given to Full Race. Starting with an SR20 redtop, the 4-banger was ripped apart and freshened up with Cometic gaskets and ARP studs. The head was filled with Tomei 270° cams and valve springs along with Crower titanium retainers. Gulping in air is an HKS Mega Flow filter into custom piping to meet the Full Race-spec Garrett 3071R turbo. After the air is crunched it meets the v-mount Full Race intercooler based off PWR cores and vented with a TiAL blow-off-valve. The air meets up with fuel provided by a Power Enterprise pump, regulated by a SARD FPR, then spit out by RC Engineering 750cc injectors and lit up by an MSD DIS-4 ignition. The hot-side is fitted with a TiAL 44mm wastegate, Full Race downpipe and URAS exhaust.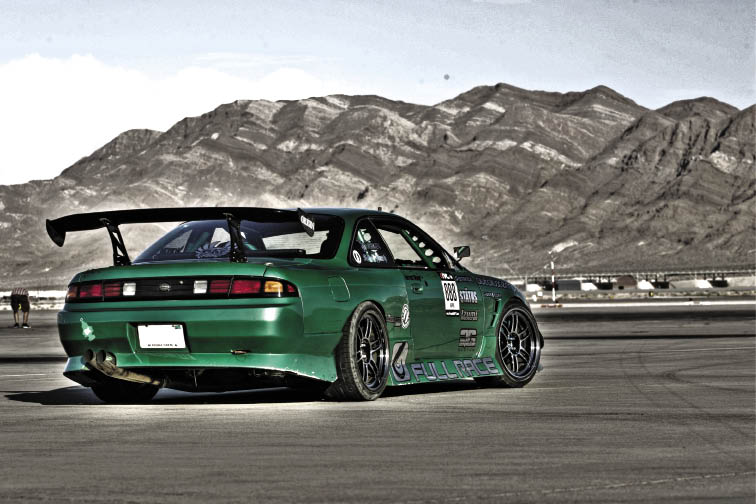 The tune is critical to the performance of any drift car. Drift cars rarely exceed 400whp since anything above that just lights up the tires uncontrollably. You want the power to be available at almost any RPM and for it to be available quickly. At the hands of Justin Izumi on the Autronic SMC engine management system, the car laid down 435whp at 1.65 bar and for most drift events it's ideally dialed in at 1.2 bar which cranks out 385whp.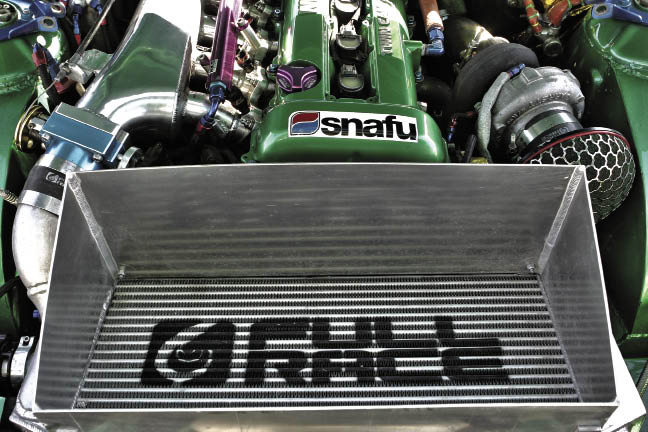 The suspension was also clutch in making this a competitive drift car. Wang turned to Stance for a set of their custom-valved coilovers, the ever-popular GR+ Pros with 8kg front and 5kg rear settings. Wang also added Stance subframe bushings and harder steering rack bushings. The suspension arms are a bit of mashup of manufacturers. Cusco supplied the rear upper control arms for some camber variation. Battle Version forward links and tension rods are found under the chassis as well. Chrome SPL rear toe rods allow for some caster play and TEIN front tie rods allow for some steering angle adjustment. Kazama TC rod braces were bolted up along with Tanable sway bars and Heim joint endlinks. Finally the chassis was braced up with a Nismo power brace and JIC carbon fiber strut tower bars.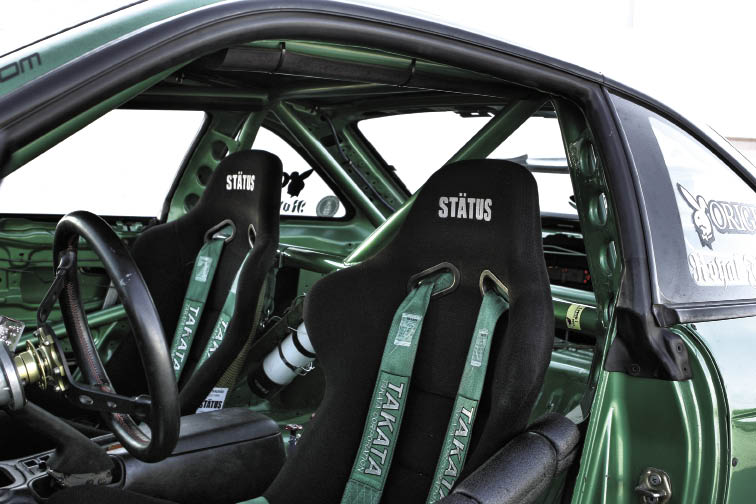 Unfortunately, Wang didn't start with an SE chassis and had to lose the 4-bolts in favor of a 5-bolt setup. He added the rear brakes from an R33 Skyline GTS-T and fit them with Project Mu pads and stainless lines. Up front he added a Project Mu 4-piston kit with 14-inch rotors for serious stopping power. With the converted 5-lugs, a world of wheels opens up for purchase. Wang ended up with Enkei RPF1 wheels finished in the SBC chrome finish. He describes his tire preference as "anything I can get my hands on." These 18x10.5-inch wheels on all four corners are still looking for a tire sponsor, so those reading take note and help a brother out!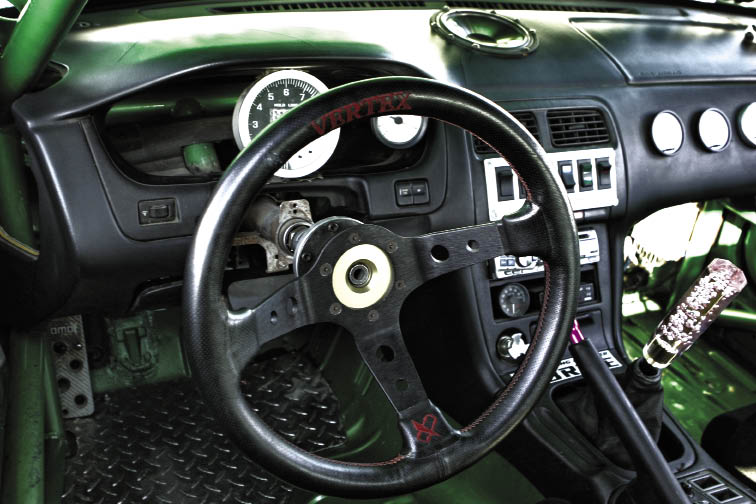 The cockpit of the green machine is all business. Completely gutted with a Formula D approved cage, this S14.5 is ready for sideways battle. The Status Ring seats are constructed of Carbon / Kevlar and weigh next to nothing. The Takata harnesses keep occupants strapped down and the steering inputs are made via a Vertex 330mm deep dish wheel. With accessories like a Yashio Factory shift knob, Sparco pedals and quick release, everything in the car has a purpose including the 5-pound extinguisher system. The gauges are Omori: Tach, boost, EGT, Volt, Fuel Pressure, Water and Oil Temp. Wang went with some leisure mods in the car when he cracked and installed an Alpine stereo, but claims it helps him be more aggressive with some soundtracks to his drift action.
We expect to see more of Wang as he battles in 2009. A team with minimal sponsor support means you won't see him at all events, but you will see him giving it his best everytime. We're just impressed with the build considering it isn't a corporate backed drift car. And well, an impressive S14.5 like this is always welcome here. Remember where you saw it first!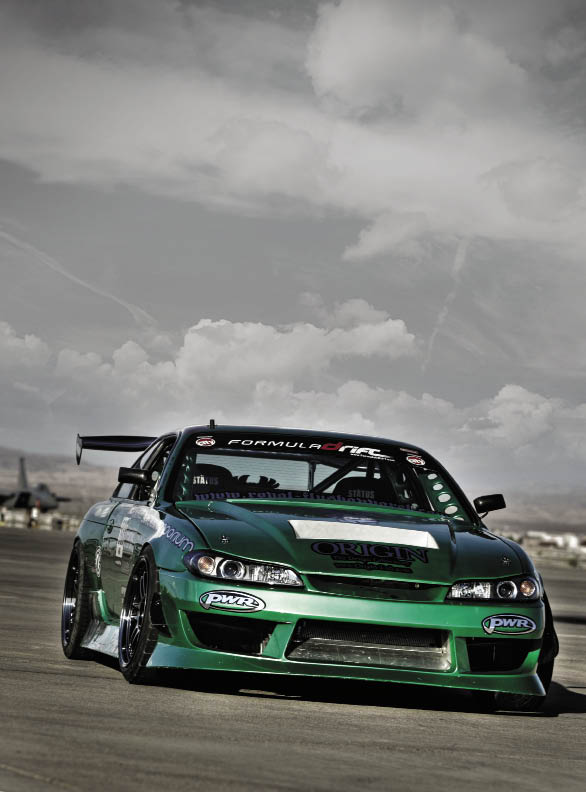 Owner: Forrest Wang
Location: Las Vegas, Nevada. USA
Vehicle: 1998 Nissan S14.5
Power: 385whp
Engine: Nissan 2.0L SR20 inline-4 "red top"
ENGINE MODIFICATIONS
Cometic head gasket
APR head studs
Tomei 270 cams
Tomei valve springs
Crower Ti retainers
KU Engineering intake manifold
KU Engineering 90mm throttle body
Full Race v-mount intercooler
GReddy pulleys
GReddy oil pan
Yashio Factory water pump
ATI Super Damper
Full Race twin-scroll Garrett 3071R turbo
TiAL 44mm wastegate
TiAL blow-off valve
Full Race downpipe
URAS exhaust system
SARD FPR
Full Race: (oil catch can, power steering res, coolant expansion tank and coolant overflow tank, shrouding for the v mount system)
MSD DIS-4 ignition
Power Enterprise fuel pump
Aeromotive filter
HKS fuel rail
RC Engineeing 750cc injectors
Earl's oil coolers
-AN plumbing everywhere
Nismo mounts
ENGINE MANAGEMENT
Autronic SMC engine management wired and tuned by Justin Izumi,
A'PEXi AVC-R boost controller
DRIVELINE
Competition Clutch twin-disc clutch
Welded VLSD
Driveshaft Shop aluminum driveshaft
Driveshaft Shop axles
Tomei shifter with Cusco bushings
WHEELS, TIRES, BRAKES
Enkei RPF1 wheels 18x10-inch
Tires are whatever is in stock!
Project Mu 4-piston/330mm front brakes
Skyline GT-R rear brakes with Project Mu pads
SUSPENSION
Stance GR+ Pros (8kg front 5k rear)
Stance subframe bushings
Cusco rear upper links
Battle Version forward links
Battle Version tension rods
SPL rear toe rods
TEIN tie rods
NISMO power brace
Kazama TC rod brace
Tanabe sway bars
Tanabe end-links
JIC carbon fiber strut bars
SE 5-lug conversion
EXTERIOR
Origin S15 front end conversion
Origin 20mm dual vented conversion fenders
Origin aggressive front bumper
Signal carbon fiber canards
Type 2 cowl hood
OEM S15 headlights
Origin aggressive sides and rear bumper
BN Sports 50mm rear overfenders
Origin 1700mm carbon fiber GT wing
Origin carbon fiber GT mirrors
Samba Green Pearl w/ black roof
INTERIOR
Takata 4-point harnesses
Vertex 330mm deep dish steering wheel
Sparco quick-release
Yashio factory drift knob
Sparco pedals
5-pound fire safety system
Omori: (gauges Tach, boost, egt, oil press, volt, water temp, oil temp and fuel pressure
Old school Alpine system
Formula D legal cage
SHOUTOUTS
Full Race
Origin USA
Izumi Racecraft
Rim1.com
Autolux emporium
Royal Flush
Stance
PWR
Status Racing
Competition Clutch
Touge Factory