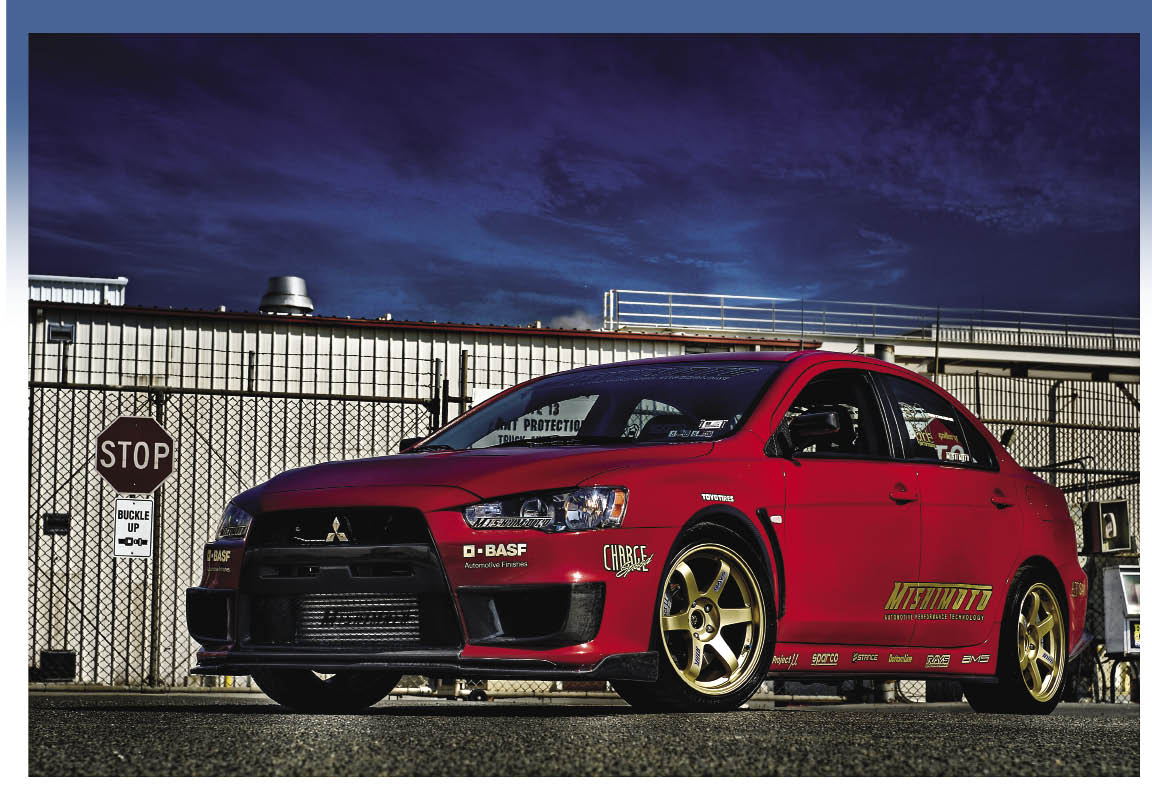 Most of you younger cats may not have heard of the classic TV show, 'The Six Million Dollar Man,' but wherther you know it or not, it's influential concept relates to many enthusiasts. It was a simple low budget show with effects that would get laughed off the screen today, starring B-list actor Lee Majors. The premise was about some astronaut who was fitted with bionic limbs and could perform feats of super human strength and speed. Naturally, he put his efforts to fighting the bad guys when most of us would likely put those powers to use by smashing cool stuff, impressing cute ladies and drag racing cars on foot (or at least I would). In many ways, your car is a mechanical extension of yourself, allowing the feel of G-forces and speeds not humanly possible in the natural world. The Evo X however is not only an extension of its owners, but an extension of the automobile itself.
If Mitsubishi Motors knows one thing, they know how to port over exciting rally cars to the streets. The struggling automotive giant had made many cost-cutting moves to stay afloat and thankfully, their halo car remains intact. The Evo is a fusion of the mundane commuter with underpinnings capable of making supercar owners blush. It was for these reasons, that performance parts manufacturer, Mishimoto chose this as their latest project.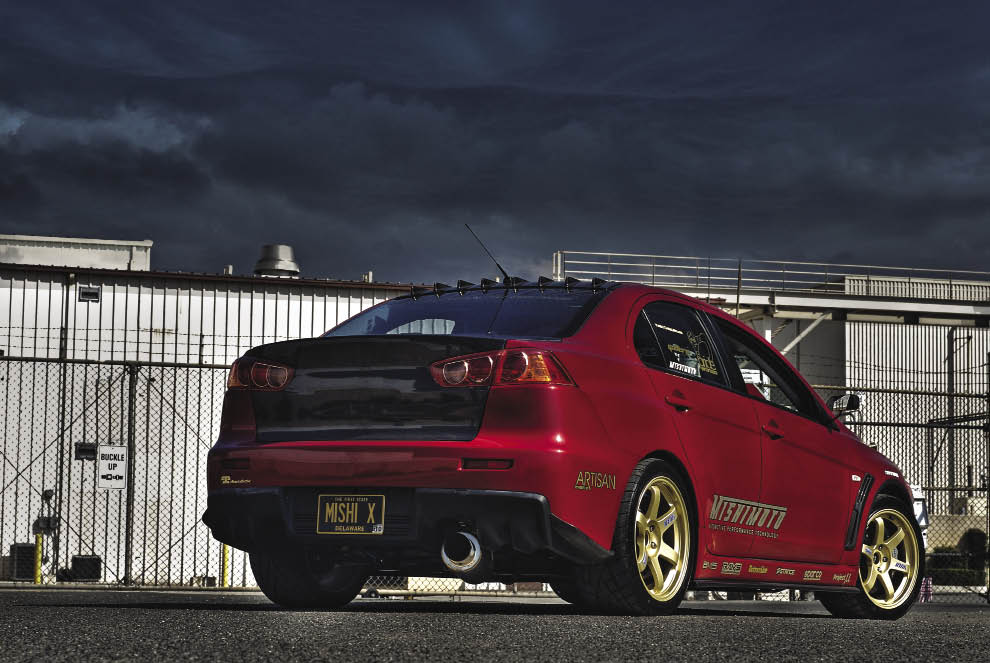 Mishimoto owner Mike Sullivan was on a mission to get his Evo X dialed in and scoop some magazine coverage. Work commenced after Sullivan's September '08 purchase and the young President and CEO of Mishimoto promptly turned to us here at PAS to set the record straight on his street performer and share it with the world.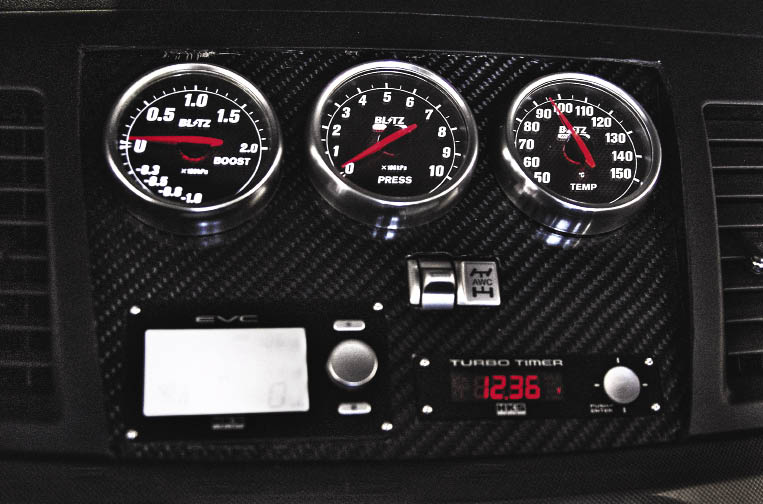 The entire effort was all put together to get the Mishimoto demo car to SEMA. The road to SEMA was a rocky ride, since it started off with the truck driver not showing up on the specified date believing they wanted it shipped in 2012 (seriously!). So our boy Mike did the unthinkable and jumped in behind the wheel and set off on a very long drive to SEMA in their project car. "The car began to kick into limp mode about 10 hours into the drive to Vegas and we realized at that point we needed to retune the car – quickly," laughs Sullivan. "There aren't many places where you can tune an Evo X but lucky for us, AutoMoto Sport (AMS) was only a six hour detour north. Then Martin Musial and the guys at AMS got us retuned and back on the road within hours." As a former builder of a Nissan S13 and an EVO VIII, this car was to be built with mostly Japanese parts and showcase the Mishimoto brand to the fullest. Sullivan contacted ChargeSpeed to collaborate on the styling of the Evo with parts rarely seen on these shores. The car was sent off to Pride Performance where the ChargeSpeed Bottomline aerokit was fitted to the car. They added an inner grille, front fender ducts, ChargeSpeed roof fins and JUN carbon fiber mirrors. They shot the car in BASF R-M Red after they rounded out the project with a ChargeSpeed trunk, bumper center cowl and air dam panel before shipping the car off to VIGG Designs to be plastered in vinyl.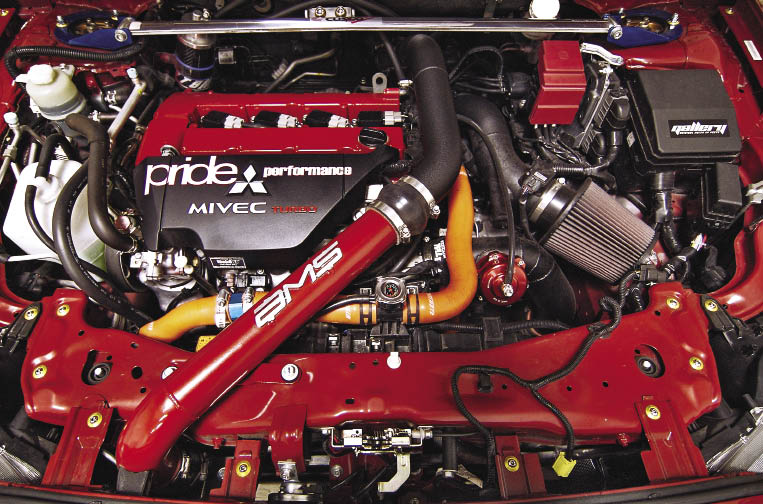 Mitsubishi was able to trump the rockstar status of their now retired 4G63 engine with their innovative 4B11. The MIVEC-equipped direct injection was feared to be un-tweakable when it debuted, but aftermarket tuners have fought the good fight and the Evo X is a serious platform to play with. Sullivan turned to Pride Performance again to make moves on the engine, which started with an Artisan 60-trim turbo upgrade. A Mishimoto M-Line intercooler was added with a network of AutoMoto Sport (AMS) piping and a TiAL blow-off valve to relieve the excess air. With the fuel ramped up by larger RC Engineering injectors, the boost was cranked creating very hot combustion. It was at this point Mishimoto flexed their techniques on the cooling system with an aluminum racing radiator and 12-inch slim electric fan kit. All of the hoses were replaced with Mishimoto 4-ply silicone, while the Mishimoto oil and transmission cooler were slipped under the lid to help out. With all of these cooling mods, the car can boost all day and lap around until the tires are ready to turn in.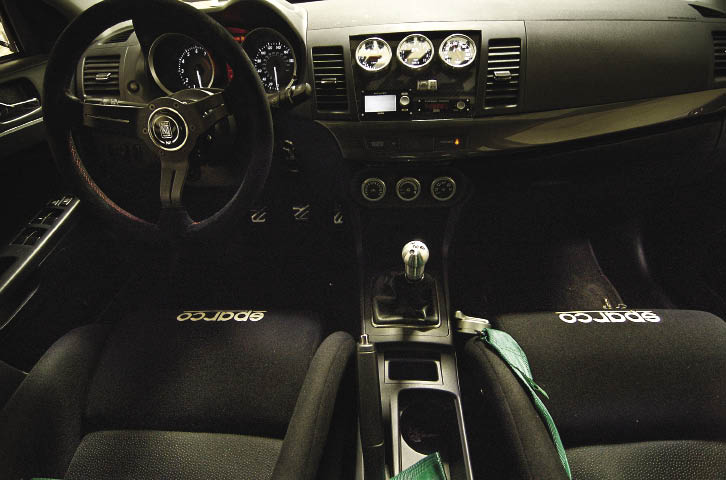 On the track, the Evo backs down from nothing and readily takes on cars costing five times as much. A Stance GR+ coilover kit was added to potent suspension lurking underneath to enhance the adjustability of the hyper sedan. Cusco sway bars were added to make cornering flat and tower bars were added to cinch the chassis together. Beyond that, Evos need nothing to produce dazzling handling results on all roads.
However, all that handling ability isn't accomplished on the stock rollers. Out of the box the rubber is worthy, but it took some upgrades to push the limits. A set of Volk Racing TE37s sized in 19x9.5-inches all around would fit rubber that bordered on overkill. Sullivan contacted Toyo for a set of their new UHP tire, the R1R. Measuring 265/35R18 on all four corners, these R1Rs provide more than enough contact patch for this AWD assassin. Behind the trademark 6-spoke wheels are Project Mu brakes with a 6-piston and 4-piston combination to bring the experience to a stop in hurry if the need arises.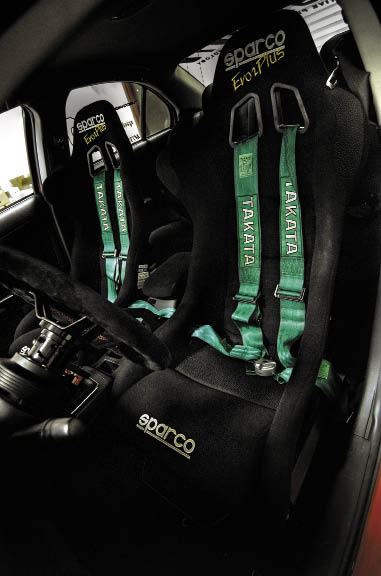 The project efforts then turned to the interior where some bolstering and strapping in of occupants was critical. This Evo is now blessed with unreal forces in every direction and to prevent occupants from slapping temples off side windows, the seats were replaced with Sparco Evo 2 recliners and Takata 4-points straps. The dash has been accented with some carbon fiber and the steering wheel has been bumped up with a suede Nardi unit connected to a Works Bell quick-release. To keep tabs on the 4B, Blitz: water and oil temp. gauges were added. Boost is regulated by an HKS EVC V boost controller and the turbo is saved from self-destruction by a Blitz turbo timer.
If the goal was a clean and functional shop car to showcase Mishimotos' line of cooling products, then they nailed it. The car isn't going to dominate any Time Attacks or run a 10-second ¼-mile but it will come close and is fully plated and insured for public roads. From what we have seen in Mishimotos' rise in popularity and the caliber of project car they put together, Sullivan shows no signs of slowing down in tough times!

THE ESSENTIALS
Owner: Mike Sullivan
Location: Wilmington, DL
Vehicle: 2008 Mitsubishi Evo X
ENGINE
Mitsubishi 2.0L 4B11 inline-4
ENGINE MODIFICATIONS
Artisan 60-trim turbo upgrade
Mishimoto M-Line intercooler
Mishimoto aluminum radiator
Mishimoto 12-inch slim fan kit
Mishimoto 4-ply silicone hoses
Mishimoto oil cooler
Mishimoto transmission cooler
AMS IC piping
TiAL blow-off valve
RC Engineering injectors
ENGINE MANAGEMENT
AMS-tuned
WHEELS, TIRES, BRAKES
Volk Racing TE37s 19x9.5-inch
Toyo R1R 265/35R18
Project Mu 6-piston
Project Mu 4-piston
SUSPENSION
Stance GR+ coilovers
Cusco sway bars
Cusco strut tower bars
EXTERIOR
ChargeSpeed Bottomline aerokit
ChargeSpeed roof fins
ChargeSpeed: (trunk, bumper center cowl and air dam panel)
JUN carbon fiber mirrors
BASF R-M Red paint
VIGG Designs vinyl
Bodywork by Pride Performance
INTERIOR
Sparco Evo 2 recliners
Takata 4-points harnesses
Nardi steering wheel
Works Bell quick-release
Blitz Gauges: (Water Temperature, Oil Temperature)
HKS EVC V Boost Controller
HKS turbo timer
AUDIO / MULTIMEDIA
Rockford Fosgate