Photography by Donnie Rochin (@r0cean11)
---
Amanda Kennedy's initial taste for cars came when she started to attend street and drag strip races in Dallas, TX with her best friend. She quickly became fascinated with modifying and building cars when she realized what she could create out of each platform. Initially, Kennedy focused on the performance aspect of her builds starting off with a '98 Pontiac Grand Am, which was followed by a Gen V swapped Pontiac Grand Prix GTP that she stills owns and is soon bringing back to life, which brings us to her current car, a 2007 Mazda Mazdaspeed 3 that she picked up in 2015.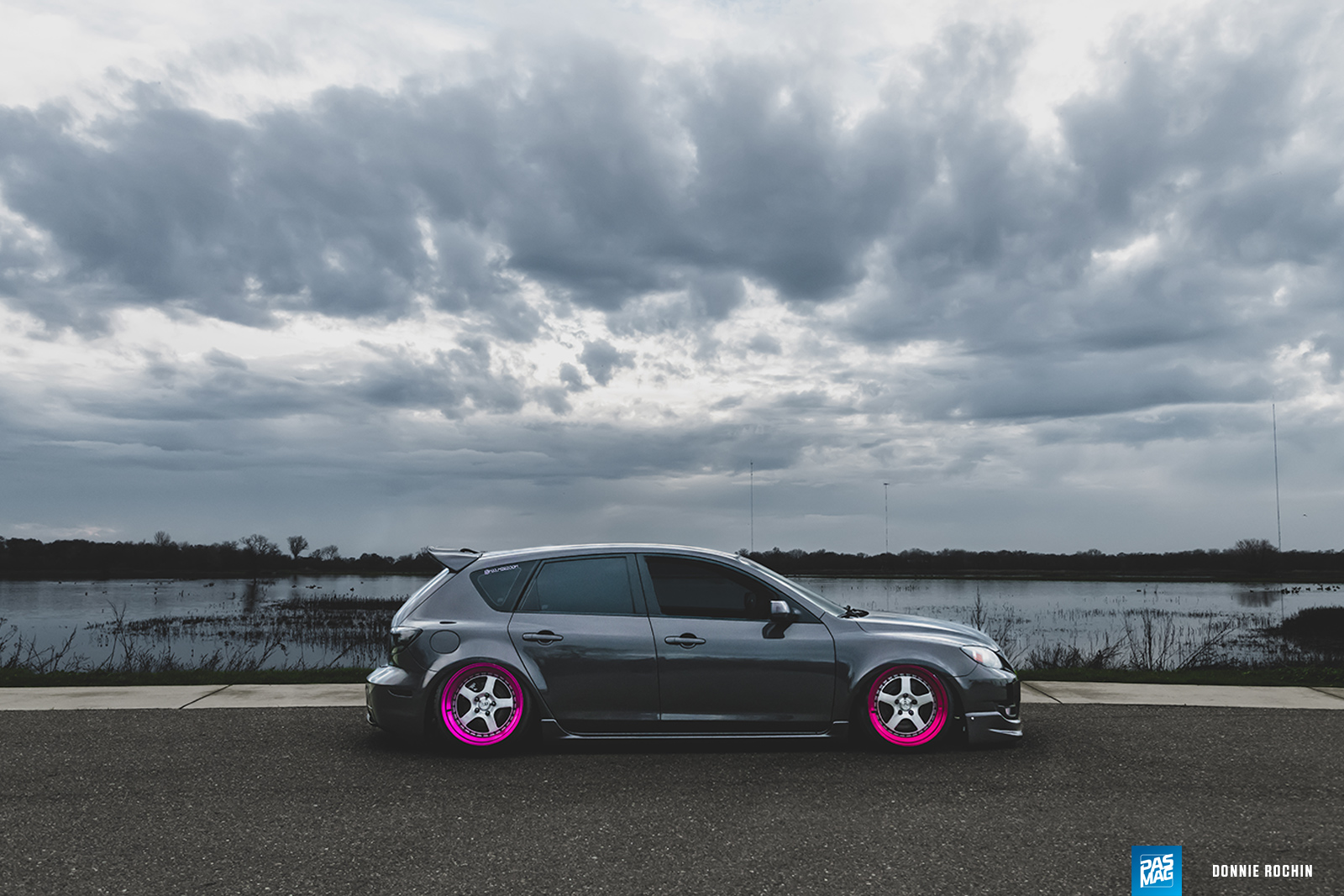 The Speed3 is different however, since the car started off with a good performance base out of the factory Kennedy took the show car route instead. The original plan, as it is for most car enthusiasts, was to just mildly modify it and build a fun street car. But as most of us know that rarely pans out, instead, Kennedy ended up building a full-on show car.
This particular Speed3 has gone through quite a bit. Initially when the car was bagged and wrapped, the first shop working on the car caused some serious damage, fortunately Everything Air (Modesto, CA) was able to save the car and even create the first fully functional pressurized rear strut brace.
Shortly after the car was set to receive a minor fender flare, but again the shop doing the work failed. Thankfully, the car was once again saved, this time by Anderson Motorsports LLC who was able to complete the body work and have the car looking as good as new.
Other shops that Kennedy is thankful for are Damond Motorsports because of their focus on the MZR platform, and CorkSport because of their constant pursuit to research and develop for this platform, as well as their impeccable customer service (special shout out to Brett from the CorkSport team).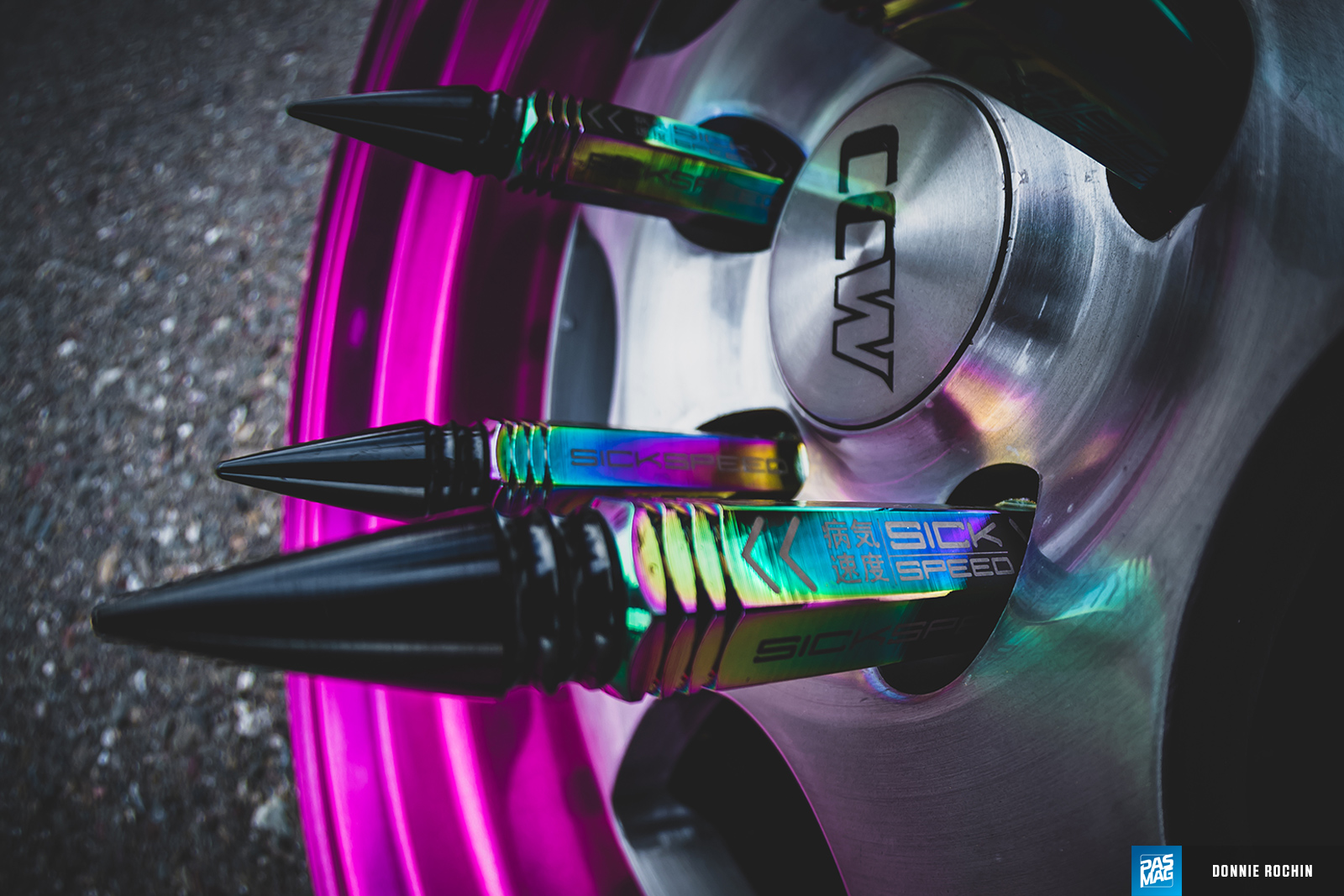 "I was a teen meth addict and the Speed3 has been built in honor of the Grand Am that kept me sober," mentions Kennedy.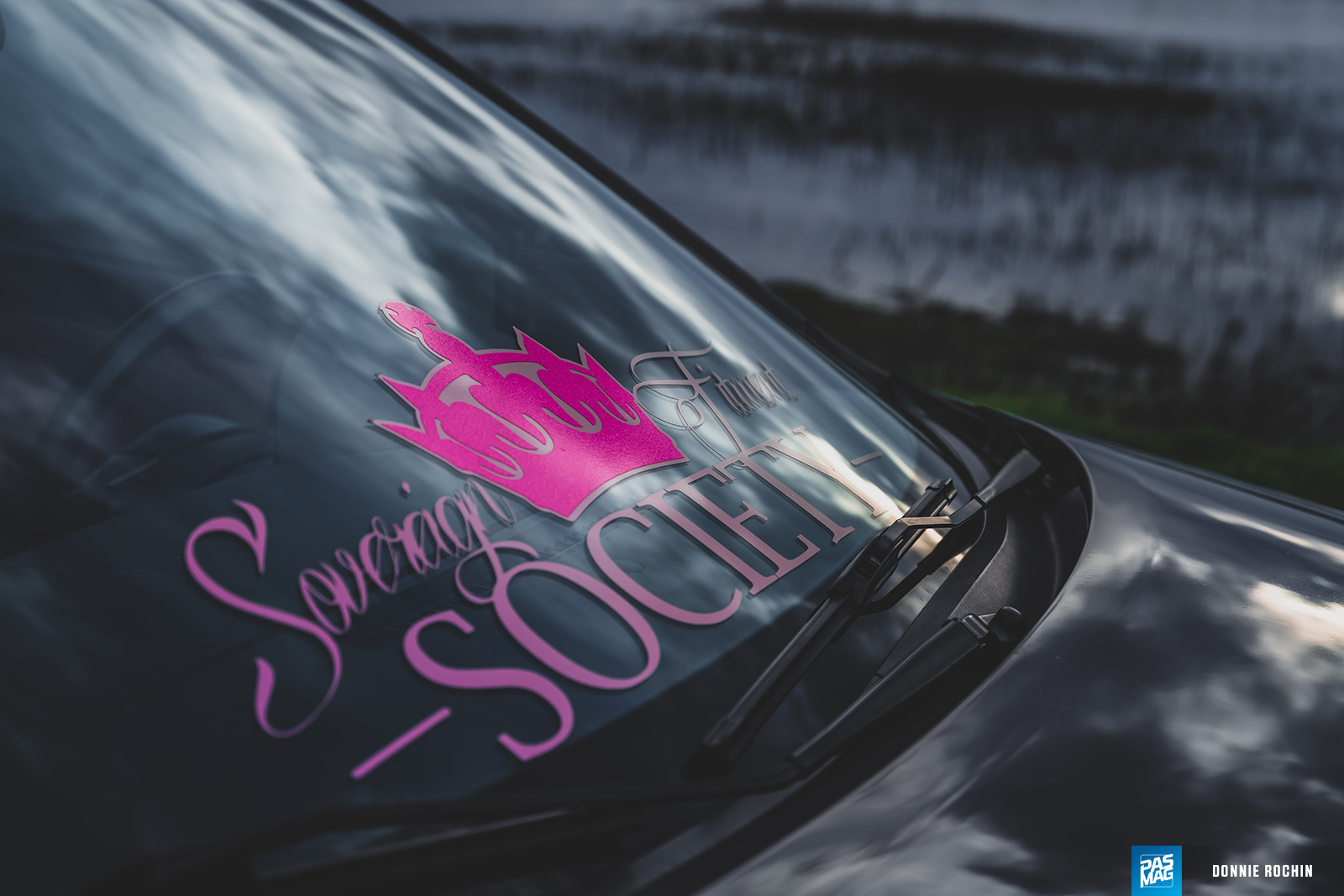 Keep an eye out for this build in the future as Kennedy isn't done yet. This winter, she plans on starting the performance-side of things as there is currently motor work in progress so that the car will be able to support a Precision 6266 Turbo.
With 58% of the Popular Vote, Amanda Kennedy was the winner of the PASMAG Tuner Battlegrounds #TBGLIVE award category competition at Hot Import Nights: Portland.
Amanda Kennedy's 2007 Mazdaspeed 3 is featured in PASMAG #155 + Style Book #6. Click HERE to order.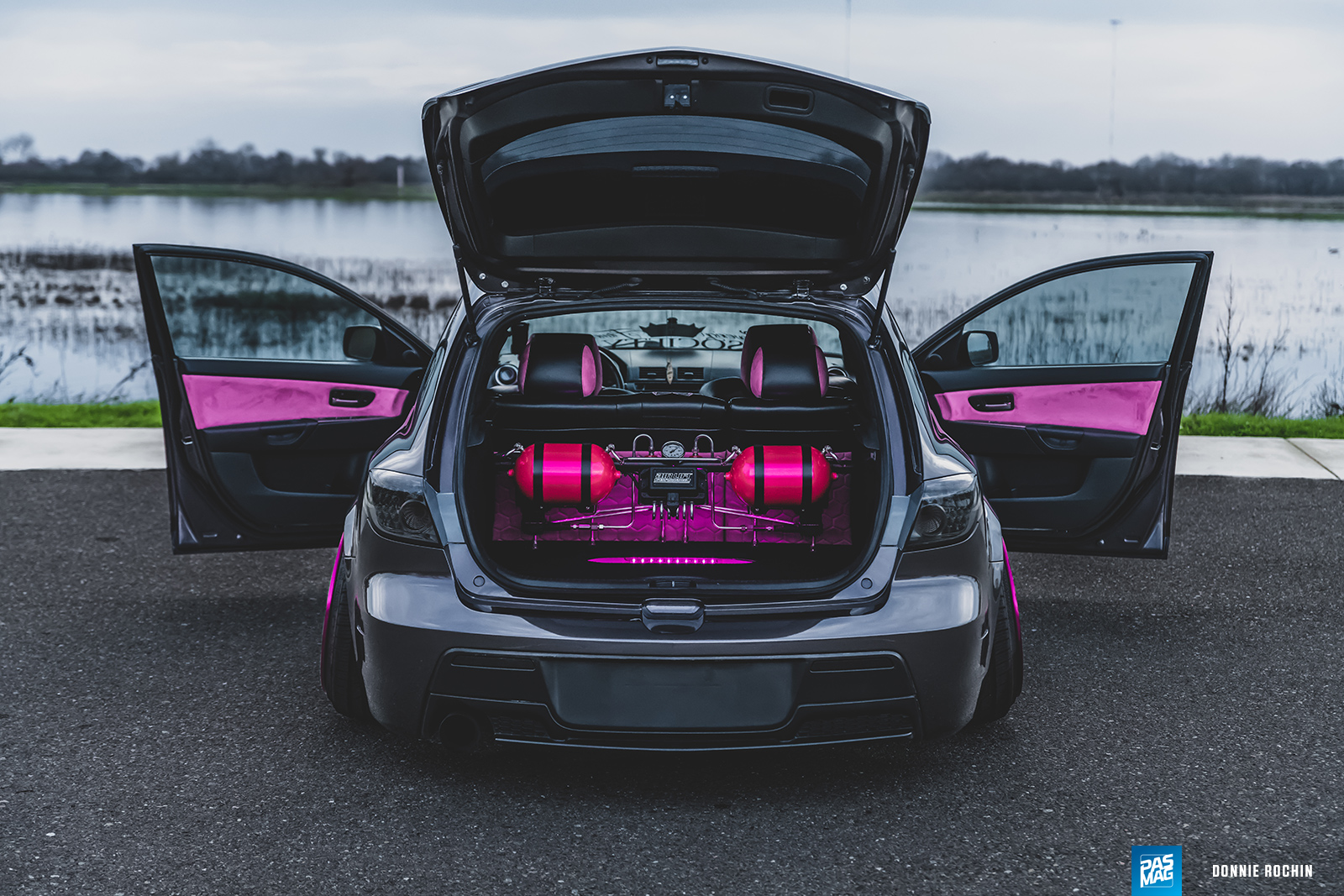 ---
ESSENTIALS
Owner: Amanda Kennedy
Location: Whitewright TX
Vehicle: 2007 Mazda Mazdaspeed 3
Horsepower: 350 WHP
Facebook: Amanda Specht
Instagram: @ms3_mzrzoom
ENGINE
BNR S3 Turbo
JMF V1 Intake Manifold
JBR EBCS
Treadstone TR8 FMIC with CX Racing piping
3 Bar MAP
Damond OCC
Damond rear, passenger & transmission motor mounts
3" JBR turbo inlet pipe
Corksport 51R battery box + ECU container
Corksport hpfp + injector seals
EXHAUST
Corksport divorced catless downpipe + test pipe
LowKey Fab custom 3" exhaust

PERFORMANCE ELECTRONICS
Cobb v3 accessport + Tuned by Will @ Purple Drank Tuning
WHEELS & TIRES
CCW LM5 18x10 +19 front/ 18x11 +7 rear
Nankang NS-20 225/35R18 front / 245/35R18 rear
Sickspeed extended lug nuts (black & neochrome)
We Are Likewise spiked black jewel valve stem caps
DRIVETRAIN
ACT HD Clutch Kit 6 Puck Sprung w/ Prolite Flywheel
CHASSIS & SUSPENSION
Air Lift Performance air struts + rear lower control arms
Air Lift Performance 3H
Dominant Engineering toe end links + camber arms
Custom rear pressurized strut brace w/ dual 2 gal tanks (powdered to match wheels)+ dual black ViAir 380 compressors by Everything Air in Modesto, CA
Corksport front adjustable sway bar endlinks
Hotchkis rear sway bar
EXTERIOR
Garage Vary front lip
Autoexe badgeless front grill
Molded Nextmod rear spoiler lip
Molded DG Motorsports rear diffuser
Custom metal widebody by Kimxon Ulterior Motives x Anderson Motorsports LLC
Evoke Dark Metallic Gray w/ Summertime Watermelon flake from Tropical Glitz
Deleted antenna, side markers and badging
INTERIOR
Custom black leather and pink suede with honeycomb stitching
Black suede wrapped pillars
We Are Likewise Lil Oozie Pink and Black shift knob w/ custom Hello Kitty shift boot
LIGHTING
Smoked led taillights
Black suede illuminated starry night headliner by Premier Upholstery, Sacramento CA
AUDIO & MULTIMEDIA
Alpine Type R 12" subwoofer
Alpine Type R door speakers + tweeters
Dual Alpine amps
Pioneer double din DVD player
FUTURE MODIFICATIONS
Turbo exhaust manifold
Full motor build to support a Precision 6266
SPONSORS
SHOPS/MECHANICS
Anderson Motorsports (Henderson, NV) @andersonmotorsportsllc
Built 4 Speed (Brentwood, CA) @built4speedinc
Everything Air (Modesto, CA) @everything_air_
Lesa's Auto Body Supplies (Las Vegas, NV) @lesasautobodysupplies
Premier Upholstery (Sacramento, CA) @premierupholsterysac
R&P Motorsports and Coatings ( Dallas, TX) @randpmc