A Mk4 Toyota Supra that's more than just big power.
It has been a long 18 years since the Mk4/A80 Toyota Supra ceased production, but the platform remains one of the most iconic and recognizable powerhouses of import tuner culture ever. Its long wheel base, unique styling, and potent 2JZ engine has kept the Mk4 Supra at the forefront of the conversation when it comes to high performance Japanese coupes. These days, the horsepower wars are raging, and 4-digit horsepower figures are more common than ever. You would be hard pressed to find a heavily modified Mk4 Supra that didn't push the limits of horsepower, but it's important to remember these cars were engineered for more. It's the Supra's well rounded performance capabilities that attracted Nick Stonawski.
Stonawski found himself enamoured with cars from an early age, and that seemed to follow him well into his adult life. "My parents have pictures of me playing with cars as early as three years old, and it has manifested into a lifestyle," he tells us. "I am always surrounded by cars on my days off, and when I am at work as a service advisor at a dealership." After attending his first car show in SoCal, and laying eyes on some cleanly modified Mk3 Supras, the addiction quickly took hold of Stonawski.
The simple and timeless style of modifications to those Mk3 Supras is something that stuck with Stonawski forever. Something about a period-correct look and genuine Japanese parts coming together in harmony to make respectable power and a clean overall appearance was exactly the kind of inspiration that he would take with him well into his build journey. That same year, he picked up his first Supra: a 1987 Supra Turbo that would follow in the footsteps of the builds that inspired him.
It was with this 1987 Supra that he would learn a lesson. First, he tried to chase power with the stock 7M-GTE. One upgraded turbo later, he learned that was a mistake when it blew. Shortly after that incident, he picked up his second Supra, a facelifted 1989 version of the Mk3. The 1989 Supra was brought over to his friend Mike Urbano at Genki Garage for a 2JZ swap. At the same time Stonawski went over there, another customer and friend, Kevin Tao, had brought his twin turbo 1994 Supra to Urbano as well. Urbano introduced the two of them while Stonawski was admiring the beautiful blue Mk4 Supra.
Unfortunately, Urbano passed away in the summer of that year, leaving Stonawski and Tao to finish the remainder of their builds on their own time. Stonawski successfully completed his 2JZ-swapped 1989 Supra, making over 600 whp and gaining tons of media recognition along the way. Perhaps most importantly, it attracted a local girl named Jill whose father once built a Mk3 Supra as well. Today, Jill and Stonawski are husband and wife, and she has a 1JZ-swapped Bomex-kitted Mk3 Supra of her own.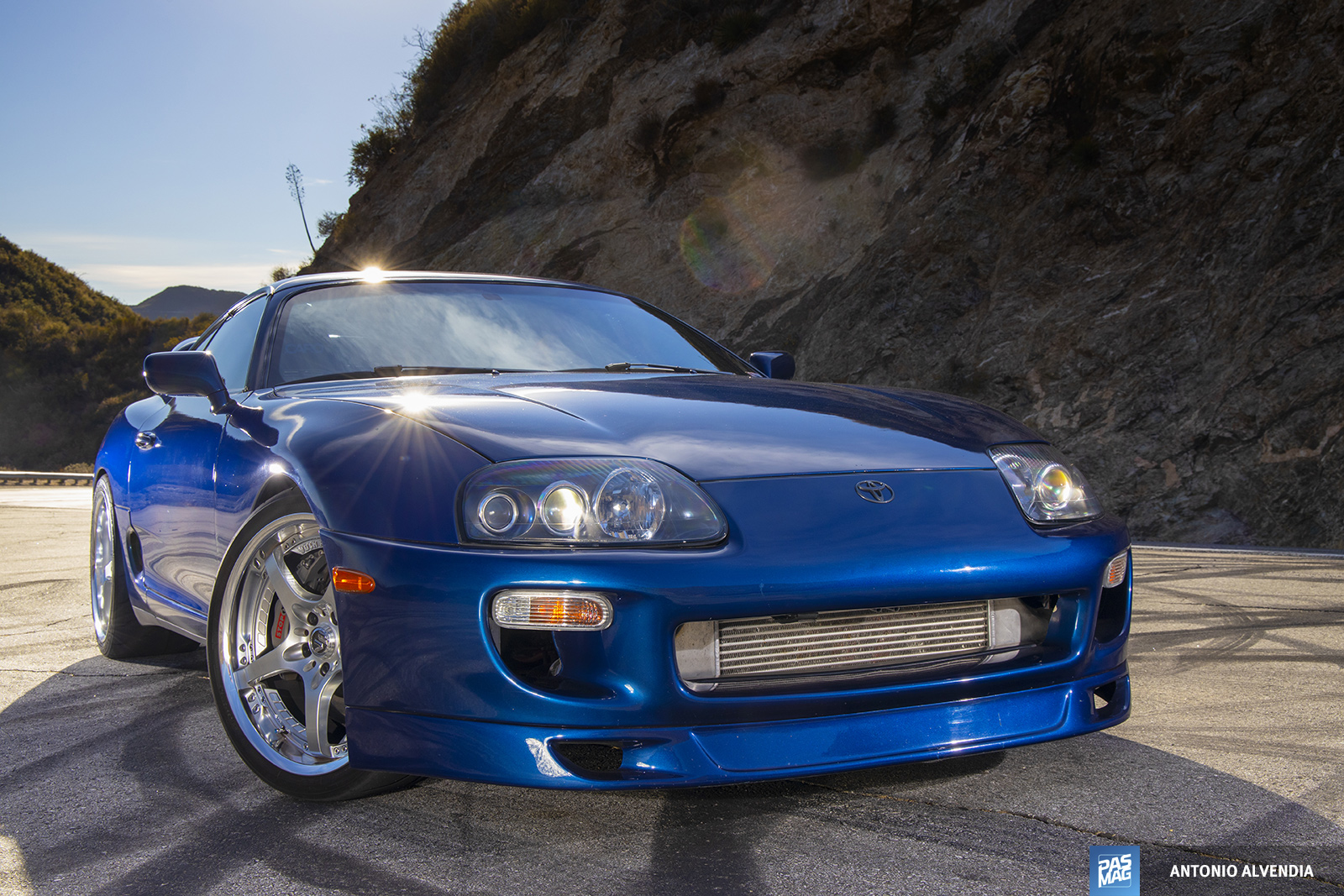 Fast forwarding to 2016, and Stonawski now owned his own Mk4 Supra as well, modified with Blitz components, but that blue twin turbo model he saw all those years ago was still fresh in his mind. So you can imagine his surprise when he got a message from Kevin Tao and Brian Urbano about meeting for dinner. At that dinner, Tao offered him the Supra he saw so long ago for a steal of a deal, and Stonawski just couldn't say no. He sold his Mk4 that he owned at the time, and took ownership of Tao's. It already had a nice HKS single-turbo system installed, but it hadn't even been broken in yet. Knowing he wanted to keep this car forever, and do things right, Stonawski got to work.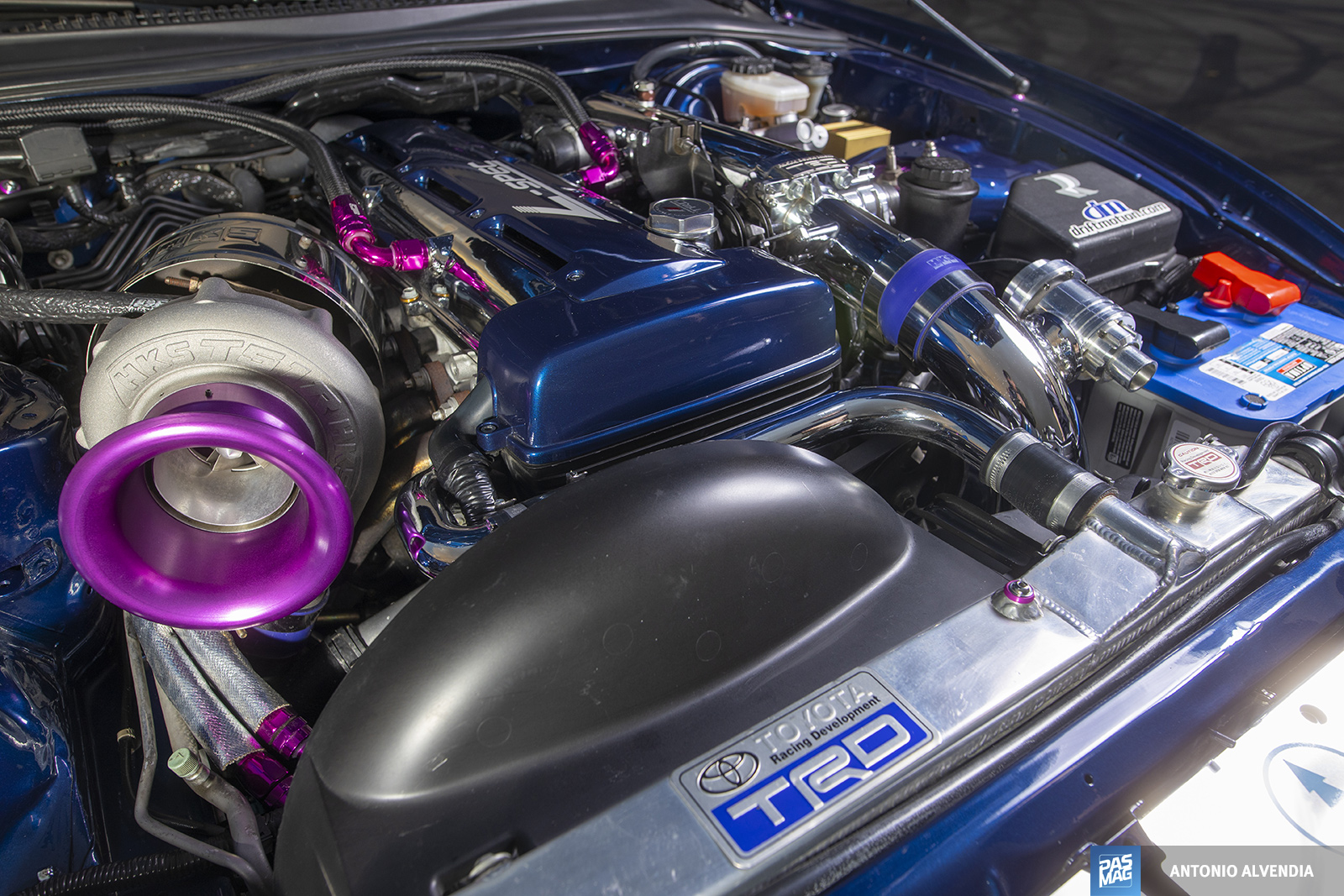 With the help of his friend Alex Ferreira of L-Spec in Torrance, the two got started. Old HKS electronics were upgraded with a modern AEM Performance Electronics Infinity standalone unit, and the entire fuel system was overhauled to be E85 compatible. He wanted to push that turbo system a little farther, and this was the way to do it. After some minor head work, the boost was turned up to 30 psi, and the setup made a potent and safe 766 whp and 600 ft-lbs of torque at the rear wheels.
As we mentioned before, Stonawski wanted the car's well-roundedness to shine, so he put it through the paces. After some Shift Sector half-mile racing events, he added some suspension components and turned the keys over to Ferreira, who was a professional driver, to exhibit the car in a drift event at Irwindale Speedway. Following that successful shakedown, the car was a SEMA 2018 booth car, and then it was back to business. In 2019, a lightweight driveshaft and OS Giken 1.5-way differential were the first in a long list of modifications to get the Supra ready for circuit racing - with Laguna Seca being the intended target.
Unfortunately tragedy struck once more, as Stonawski battled cancer and required chemotherapy and extensive recovery. Over time, he gained his strength back slowly, and began driving the car on the streets again whenever and wherever he could. Now fully recovered, Stonawski has his heart set on racing the car at its peak potential. With the determination he's shown us so far, we know it's just a matter of time. See you on the circuit, Nick!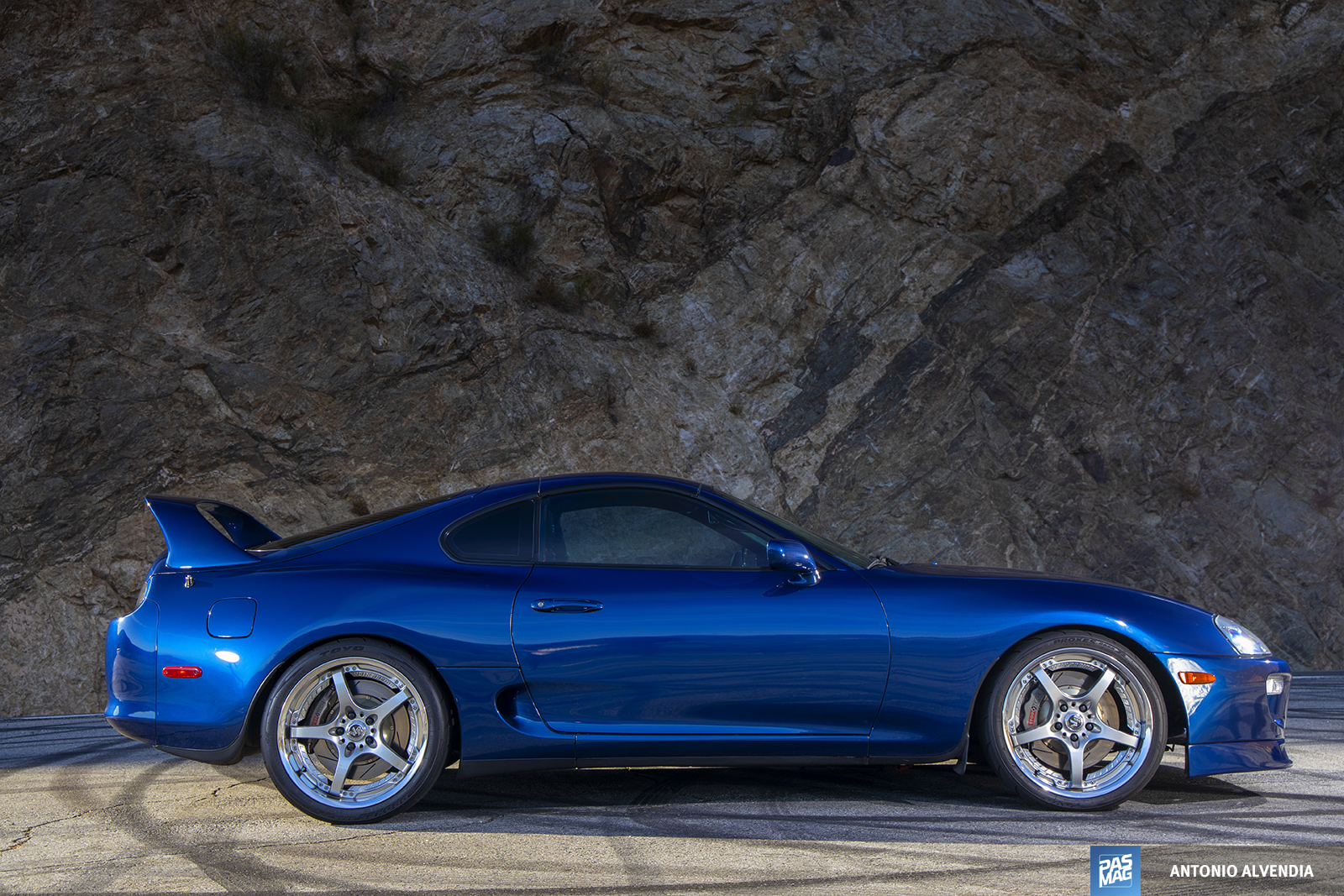 Photography by Antonio Alvendia (@motormavens)
---
ESSENTIALS
Owner: Nick Stonawski
Location: Rowland Heights, California, USA
Vehicle: 1994 Toyota Supra
Engine: Toyota 2JZ-GTE 3.0L Turbocharged I6
Vehicle: 1994 Toyota Supra
Horsepower: 766 whp
Torque: 600 ft-lb
SOCIAL
Facebook: /nickstonawski
Instagram: @nick2jzul8r
ENGINE
HKS (T51R KAI turbo, exhaust manifold, Type-R wastegate, fuel rail, Type-R intercooler, intercooler piping, Racing Type II blow-off valve, turbo velocity stack, turbo heat shield, silicone couplers, timing belt, twin power ignition Type DLI)
FSR Motorsports (E85 Complete PTFE fuel line kit, dual pump wiring/relay kit, dual fuel pump bracket)
Fuel Injector Clinic 1650cc injectors
Fuelabs (fuel pressure regulator, 6-micron dual fuel filters)
Walbro E85 450lph dual fuel pumps
L-Spec Performance intake pipe
Driftmotion (engine oil cooler, power steering cooler)
Amsoil dry air filter
MVP Motorsports billet tensioner bracket
Vibrant Performance closed loop catch can
Russell Performance ProClassic hoses
ColorFittings purple AN fittings
GSC Power Division S1 billet camshafts
Brian Crower (valve springs, titanium retainers)
Koyo aluminum radiator
Turbosmart fuel pressure gauge
TRD (engine mounts, radiator cap, oil cap)
Optima Blue Top battery
AEM Performance Electronics (Infinity 6 EMS, boost controller, flex fuel sensor, 12-position trim pot switch for boost, 12-position trim pot switch for traction control)
EXHAUST
HKS (down-pipe, mid-pipe)
Tanabe Medalion Touring exhaust
Sound Performance boost-activated exhaust cutout
DRIVETRAIN
Getrag V160 6-speed transmission
OS Giken 1.5-way differential
Driveshaft Shop HD 3.5-inch chromoly driveshaft
South Bend Stage 3 Endurance clutch
C's short throw shifter
TRD transmission mount
Figs Engineering bushings
WHEELS / TIRES / BRAKES
Volk Racing SF Challenge wheels - 19x8.5 +21 (f), 19x11 +42 (r)
Toyo Tires R888R tires - 235/35/19 (f), 295/30/19 (r)
StopTech (Trophy ST60 front BBK, Trophy ST40 rear BBK, brake pads, slotted brake rotors, stainless steel brake lines)
CHASSIS / SUSPENSION
TRD (front sway bar, rear sway bar)
HKS pillow ball mounts
Tein HA coilovers
Cusco rear strut tower bar
EXTERIOR
Car Fashion Householder front lip
S2 (headlights, tail lights, side markers)
Phillips HID lighting kit
INTERIOR
Recaro Speed reclinable seats w/ blue stitching
Personal Neo Grinta 350mm steering wheel w/ blue stitching
NRG quick-release steering hub
Wedge Engineering seat brackets
HKS peak hold/warning 60mm boost meter
Patrick Blake Racing open downpipe switch
Killer Koncepts extinguisher bracket
HalGaurd HG250R fire extinguisher
AUDIO / MOBILE ELECTRONICS
Pioneer (navigation/DVD head unit, amplifiers, subwoofer, speakers)
---
PHOTO GALLERY