Photography by Brandon Whitt (Whitt Media)
---
Burton Hughes has owned a handful of high-end cars, from a Hummer H2, to a Range Rover, and even a Lamborghini Gallardo. Instead of buying another expensive, luxurious ride back in 2013, he decided to take on an "underdog" project, and picked up a 2013 Hyundai Genesis coupe.
Falling in love with the simple Korean sports car's body lines, Hughes went into the project with a vision. It took a couple of years for the aftermarket supply of parts to catch up to his plans, but as soon as they left R&D, he was ordering them.
"All the names that I've been called and heckling I received from peers helped fuel my drive to build this car into what it is today!" he laughs.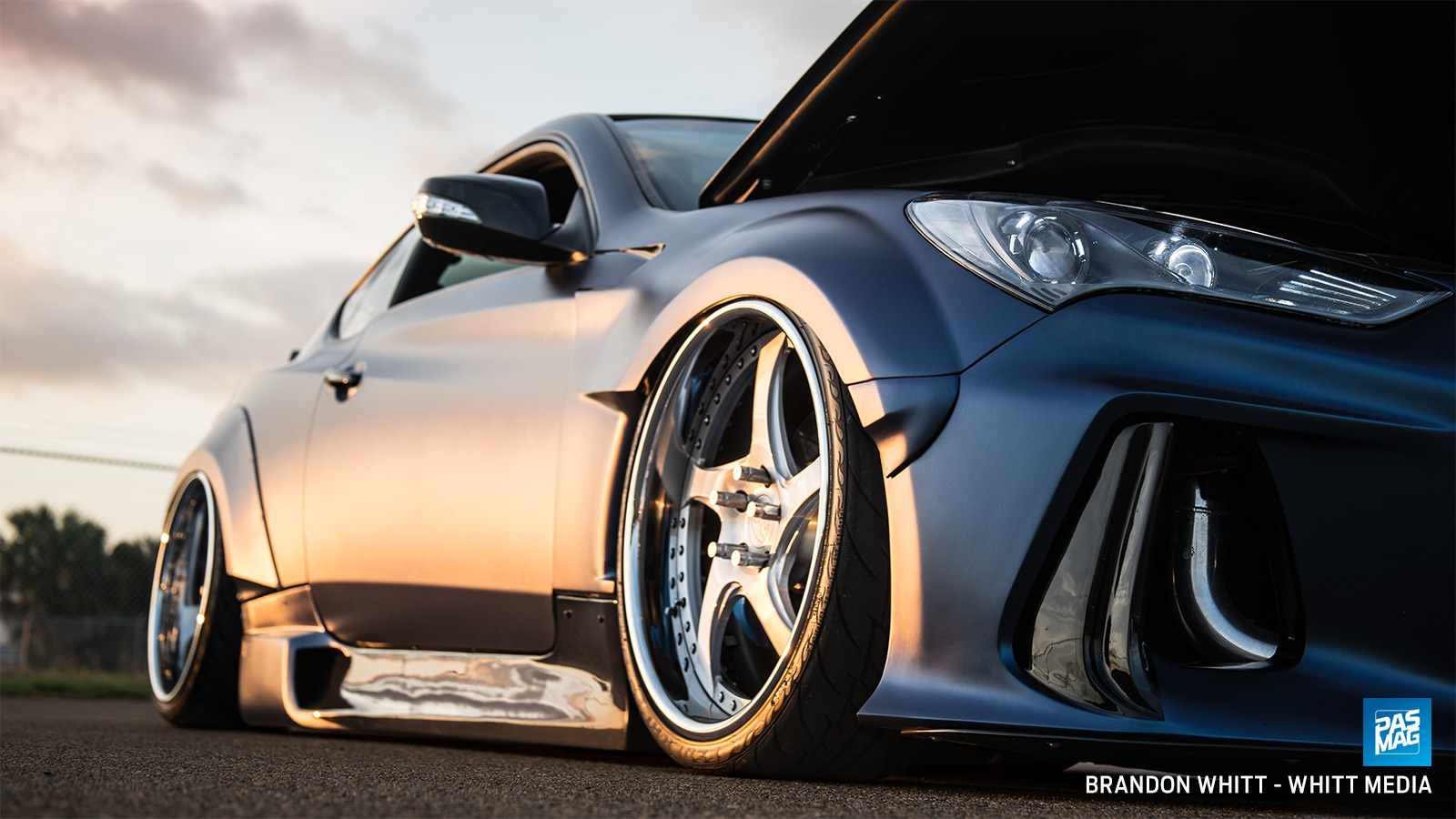 Q&A
PASMAG: Do you have any prior build experience?
Burton Hughes: I had some custom work done to my CLS63 Benz a few years ago but I really didn't know what I was doing. I had everything blacked-out (murdered), powder-coated the AMG BBK red and installed a custom trunk setup with JL W7 subwoofers with everything tucked away nice and neat, in a ported box and backlit with LEDs - which gave it a really clean look. I added 20-inch staggered Antera wheels, with a custom carbon fiber front splitter, to complete the look.
What got you into building in the first place?
Since I can remember, I've loved cars and motorcycles! So it was a natural progression as I grew older that I was going to have my hand in both!
What is your favorite aspect of the build?
To take a car and truly make it your own! When people see my car they already know who it belongs too! They know the car from IG before they know who the owner is! (Hahaha) I love the "built not bought" term and how as the build progresses it's always being tweaked, and your vision changes as you go along; almost organic in a way.
Were there any major challenges you experienced in the build?
Yes, it was very frustrating! No one wanted to work on the Genesis until I came to Tampa and English Touch Performance (Rob) reached out and informed me that they exclusively work on the Genesis Coupe platform. Pretty much after my first conversation the rest was history! I am very thankful for them helping with all of the Engine/Performance modifications where everyone else told me no!!
What were your original intentions with the build?
Show and Go
Why did you choose certain brands for your build?
I chose to go a different way with my build and thought about it for 'performance' and 'styling' to be cohesive. I also chose to work with some lesser known brands and instead of buying a complete kit, I "Frankensteined" several pieces together to make my car unique and not like all the other Gen Coupes out. (UNR Wide-Body kit isn't very well know and isn't super aggressive with bodylines)
What influences or inspiration helped you over the course of your build?
To be honest, I feel like myself and a few other BK2 owners were the first ones to pioneer the new generation of our cars. So my vision with this car really came from my own imagination.
Is there anything personal or about the build that you would like readers to know?
I was called some pretty mean names and made fun of relentlessly for choosing to mod/build this Hyundai. I liked the car; I wanted to build it and despite all the "nay sayers", I'm glad I didn't choose to go with a more popular car or something more mainstream. I've always felt like an underdog in life, so in a weird way I felt like this car was sort of an extension of my self in a way.
I am a fitness model/cover model in one facet of my life, and when I told family and friends that I wanted to start strength training in the beginning and see if there was a possibility in making this a career people were doubting and trying to tell me that "you don't have the bone structure" or "that's stupid! You'll make a fool out of yourself". Whenever someone tells me I can't, I'd rather die than give up! I am now a professional Fitness/Physique Model and have been able to travel the world doing photos shoots, being featured in magazines and book covers. So needless to say, I was able to prove them wrong!