From drifting day one, it's been all about the Nissan S13 for Simba Nyemba. He's had three occupy his stable so far, and this '91 coupe may just be the ultimate example of how to put together a period-correct drift machine. No missiles here - we're making waves, not war.
Coming up on a diet of street drifting in and around Chicago, with a healthy serving of VHS tapes of Osaka drivers - namely masters of the S-chassis, Chunky Bai and Atsushi Kuroi - Nyemba has soaked in every ounce of experience and inspiration, and then poured it into this 240SX. The result is something that just scratches the itch between track and street.
The coupe's transplanted SR20 has been given a thorough working over, inside and out, and thanks in part to the Garrett GTX2863R turbo and AEM Infinity ECU, the JDM four-banger puts down 380 horsepower and 370 lb-ft of torque to the SSR wheels.
"SR20 in an S13 is king," Nyemba says, matter-of-factly. "With new technology, turbos, and ECUs, it truly is a fantastic setup if you aren't looking for over 500 horsepower."
While an S13 with an SR20 may have been done before, the rest of Nyemba's S-chassis is all-him. The Works 9 body kit, Silvia nose swap, and Origin overfenders put together the ideal '90s street-style aesthetic, but the crowning achievement is the lid on the engine. Origin made only three hoods that featured a graphic of "The Great Wave off Kanagawa": one for a Levin Corolla, one for an S15, and one for an S13. The S13 hood that originally debuted on Origin's USA demo S13 is the same one you see here. A true one of one.
Personal touches continue inside, where, past the TF Works six-point cage, Buddy Club bucket seats and the Z32 transmission's shift boot have been reupholstered in Burberry fabric. The yellow checkered floor mats are more goodies from Origin, which also serve as a fitting tribute to one of Nyemba's aforementioned idols, the late Atsushi Kuroi, who used the same color in his S13.
The amalgamation of passion, feelings, memories, and experience all coming together to make a car that can thrash at the track, while making anyone triple-take in a parking lot. This is how it's done, boys and girls. This is how you make waves.
Simba Nyemba's 1991 Nissan 240SX is featured as a Builds To Follow in PASMAG #165. Click here to order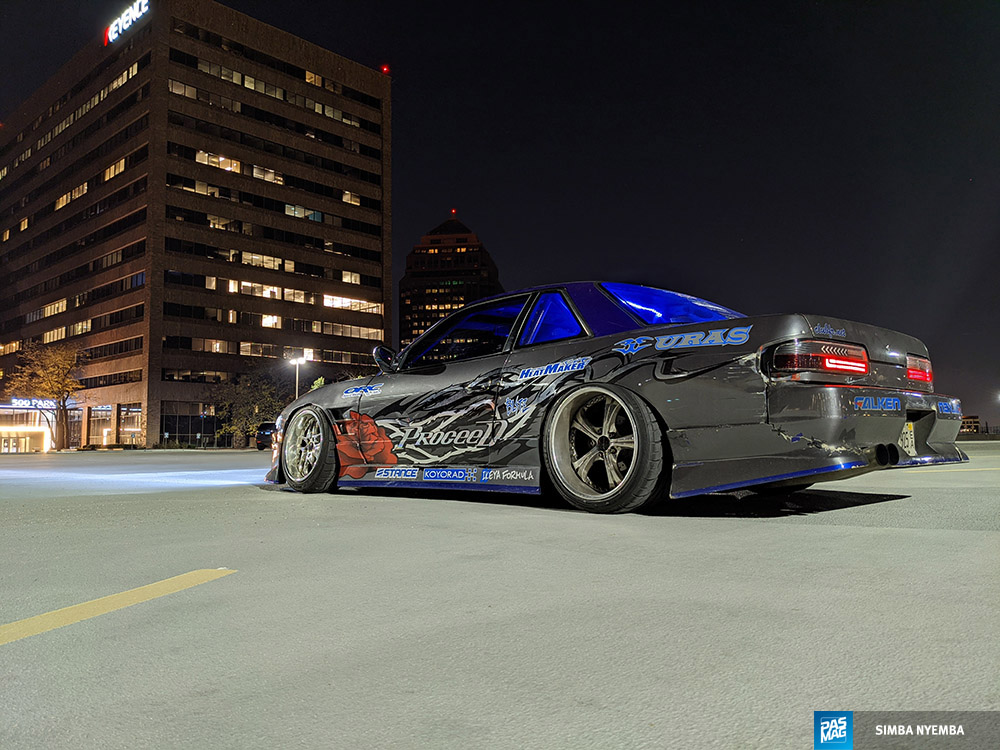 ---
PHOTOS BY Simba Nyemba, Adam Gordon
ESSENTIALS
Owner: Simba Nyemba
Location: Chicago, IL
Engine: Nissan SR20DET 2.0L turbocharged I4
Horsepower: 380 whp
Torque: 370 lb-ft
SOCIAL
Instagram: @ggsimba
Youtube: SimbaNyemba66
ENGINE
Nissan S14 SR20DET engine
Cusco motor mounts
AEM Infinity ECU
Garrett GTX2863R turbo - .64 AR
Tial MV-S wastegate
Forged pistons
Oversized valves
Greddy (intake manifold, oil pan, oil filter)
Koyorad (N-Flow radiator, oil cooler)
Circuit Sports coolant overflow tank
Tomei (poncams, rocker arm stoppers)
Proceed spark plug cover
Brian Crower (valve springs, retainers)
DSG custom oil catch tank
Swirl pot
Synapse BOV
HPI front-mount intercooler
TF Works (custom intercooler piping, custom intake piping)
K&N air filter
SARD fuel pressure regulator
Deatschworks 1500cc injectors
Walbro 455LPH fuel pump
Improved Racing oil thermostat
Raceflux AN lines and fittings
Oil filter relocation
Ford Taurus electric fan
EXHAUST
Spectrum Motorsports (V-Band Exhaust Manifold, V-Band Turbo Elbow, Downpipe)
Works 9 exhaust
DRIVETRAIN
Nissan 300ZX transmission
Mazworx SR-Z32 bell housing
ORC twin-plate clutch
WHEELS / TIRES / BRAKES
SSR Agle Minerva wheels - 17x9+10
SSR Vienna Courage wheels - 18x10.5 +12
Falken RT615K+ front tires - 235/40/17
Falken FK510 rear tires - 265/35/18
Infiniti Q45 front brake calipers
Powerstop (rotors, pads)
Stainless steel braided brake lines
CHASSIS / SUSPENSION
STANCE (Pro Comp coilovers, rear toe arms, rear UCAs, rear traction rods, solid rear subframe bushings)
Heatmaker (Hotside knuckles, 32mm extended front LCAs)
Steering rack relocation
Nismo power brace
Ikeya Formula (inner tie rods, tension rods)
Tein outer tie rods
Setrab power steering cooler
Custom power steering reservoir
Power steering AN lines
Maverick Motorsports rack spacers
EXTERIOR
ProceeD Gray paint
Candy Blue painted roof
Proceed livery by 3LLL
Nissan (Silvia JDM front end, R32 GT-R grille
Works 9 body kit
Origin (Great Wave off Kanagawa hood, front 20mm fenders, rear 50mm fenders, clear corners)
Custom LED (Origin clear bumper lights, tail lights)
Aero mirrors
Strobe light kit
INTERIOR
TF Works 6-point roll cage
Custom "Burberry" Buddy Club bucket seats
Street Faction door cards
Tomei/Personal steering wheel
HKB steering hub
Quick-release
Custom gauge cluster
Bride seat rails
Team Tech 6-point harnesses
Origin yellow checkered floor mats
Innovate wideband
Blitz boost gauge
AEM (oil pressure gauge, GPS speedometer, fuel pressure sensor)
Yashio Factory Okachan water/oil temp gauge
AutoRod control switch panel
Eric's Auto Lab wiring harness
Super Duper switch panel
AUDIO / MOBILE ELECTRONICS
Kenwood (12-inch subwoofer, amplifier)
Bluetooth audio receiver
SPONSORS
Koyorad
Heatmaker
TF Works
Stance
Falken Tires
---
PHOTO GALLERY