Photography by Hector Quinones (@_hqphotography_)
---
This is one of those situations where a picture does say a thousand words, but it still isn't enough. The paint job on David Castanon's 1994 Acura Integra GSR requires in-person viewing to truly be able to appreciate the quality and detail of the custom air brush work that was done by Buddy's Body Shop in El Paso, TX. Castanon's Integra truly is a work of art as the car was stripped down to the frame and built up over the past two years, including a large amount of engine work done by G-Tuned Garage which allowed the boosted Honda B18C1 to create an impressive 538 horses to the wheels.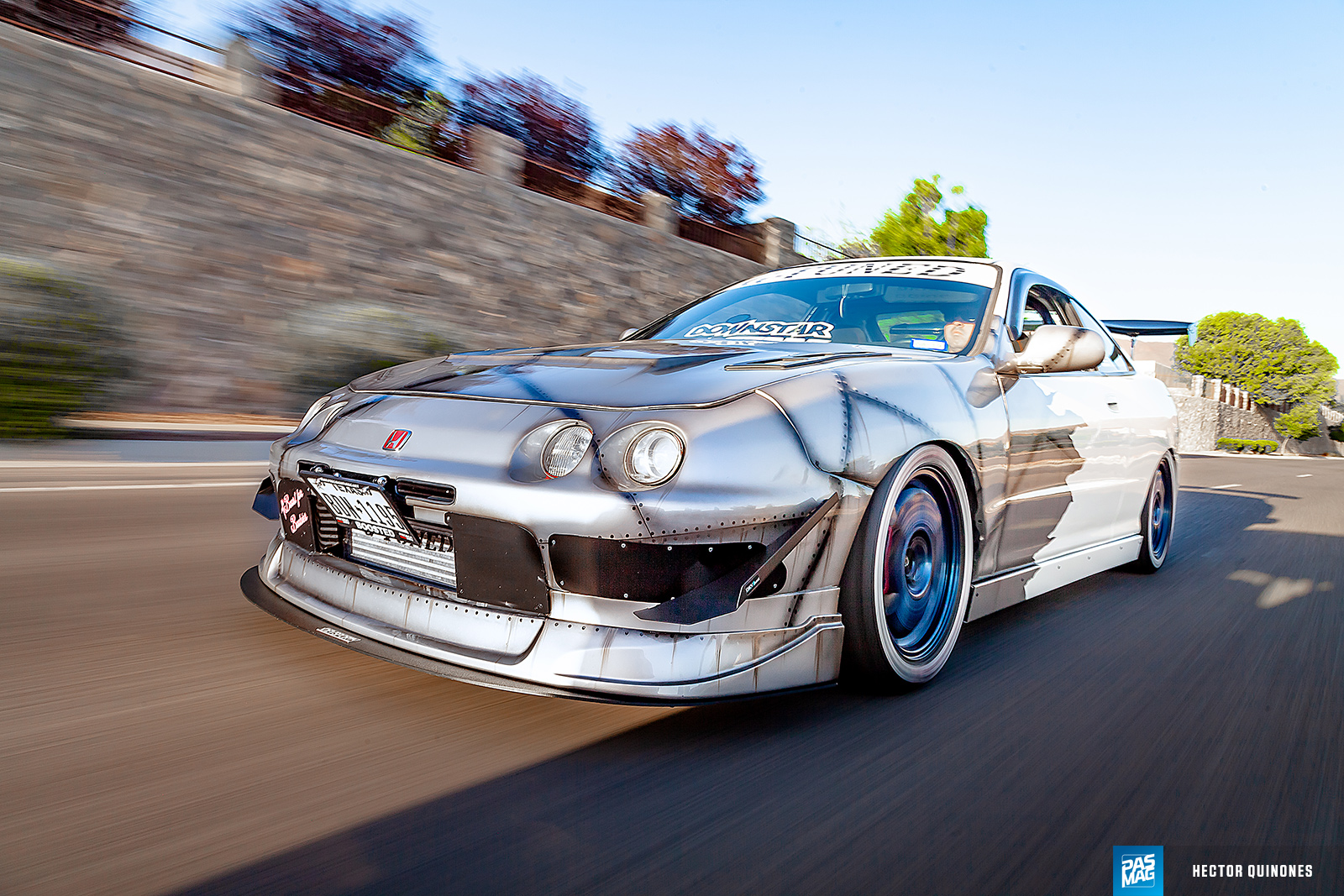 When asked about the inspiration behind this build, Castanon stated that he is a big fan of Frank Garcia's work (the owner of Downstar) and credits him with the lessons of being unique and not being afraid to be different. Castanon's inspiration outside of the car world stems from his mother who is currently battling breast cancer and has inspired him to create Boost for Boobies and to dedicate his build to the loved ones he has lost in his family to it. Castanon's mother has always supported his passion for cars and encouraged him to continue to explore his hobby as she saw the amount of joy that it brought to him.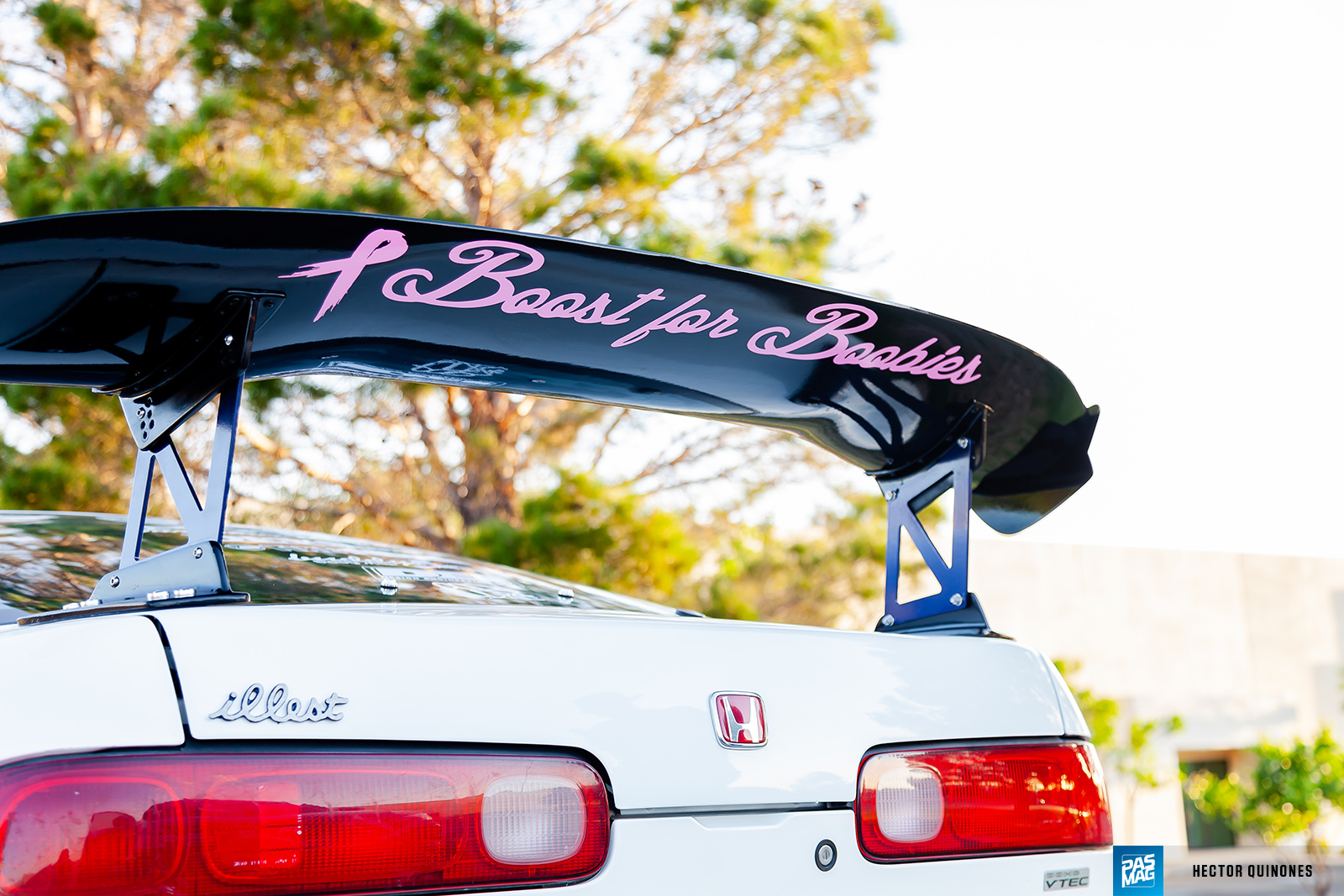 Between his mom taking him to car shows and following his brother around as he built and prepped his own car for shows, Castanon didn't stand much of a chance against the car-modding bug. Castanon grew up to be a huge fan of the automotive scene of sharing his passion for cars with his friends and family. After initially trading his Lexus SC400 for his GSR six years ago, Castanon has never looked back and has truly built one amazing machine. Be sure to keep an eye out for Castanon and his Integra in the El Paso area car scene.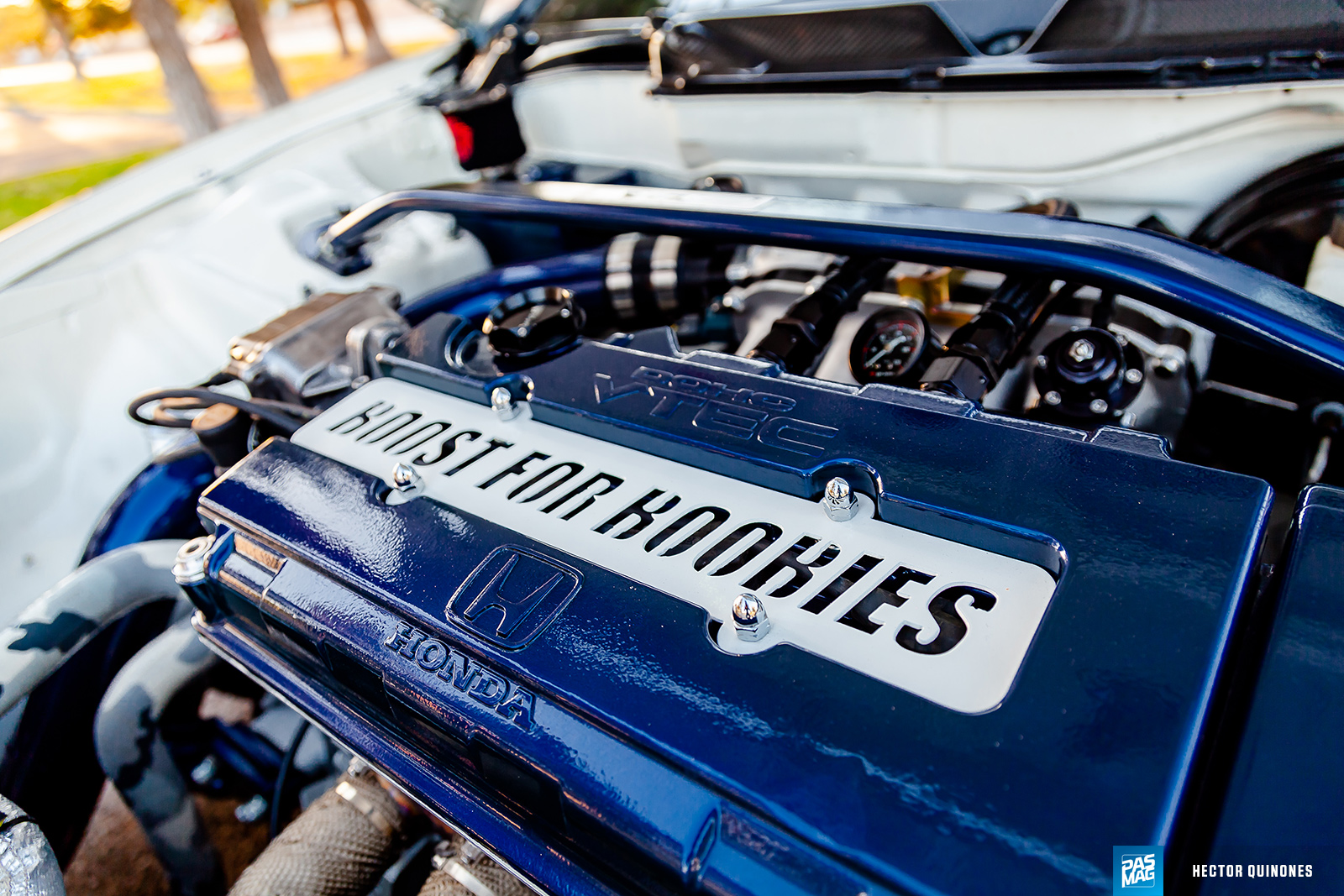 With 62% of the Popular Vote, David Castanon was the winner of the PASMAG Tuner Battlegrounds #TBGLIVE award category competition at Low Class: New Mexico Expo in Albuquerque, NM.
David Castanon's 1994 Acura Integra GSR is featured in PASMAG #155 + Style Book #6. Click HERE to order.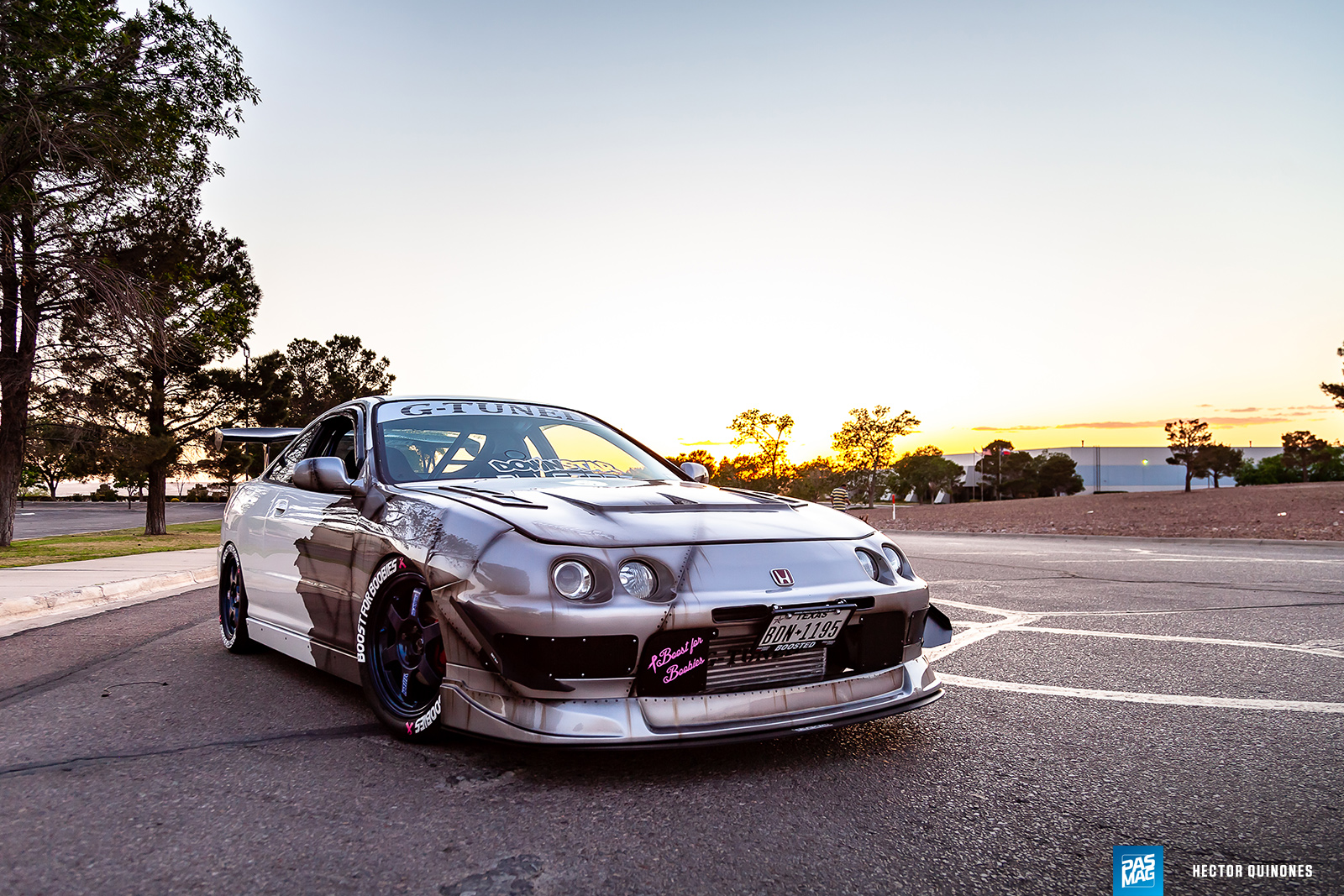 ---
ESSENTIALS
Owner: David Castanon
Location: El Paso, TX
Vehicle: 1994 Acura Integra GSR
Engine: Honda B18C1 GSR
Horsepower: 538 WHP
Facebook: /DavidBoostin
Instagram: @isoswaggy_dc2
ENGINE
Turbonetics 6162 turbo
Tial BOV
Tial Wastegate
Goautoworks mini ram horn manifold
Goautoworks dump tube
DEI cry02 system (two tanks in trunk setup)
DEI intake tube wrap
DEI hood insulator
DEI intercooler sprayer
DEI intake tube drop
AEM fuel rail
AEM fuel pressure regulator
CJS ground kit
Buddy club oil cap
Devsport fuel tuck kit
Devsport power steering delete kit
Devsport fuel return lines
Custom made 3in charge pipe
Custom backdoor intercooler
Grams 1000cc injectors
Grams 255lph fuel pump
Grams fuel gauge
Skunk2 ultra street manifold
Skunk2 .5 plenum spacer
Skunk2 pro series 74mm throttle body
Skunk2 VTEC solenoid
Brian Crower stage 2 NA cam gears
Supertech pistons
Golden eagle rods
ACl bearings
ACL piston rings
ARP bolts
ARP head studs
Supertech 16pc race flat valves
Supertech 32pc valve springs
Supertech 16pc titanium retainers
Supertech 16pc bronze valve guides
Supertech 16pc valve stem seals
Supertech 32pc valve lock keeper set
Supertech lost motion assembly
Fluidyne radiator
Samco racing hoses
Mishimoto carbon fiber radiator cap
Mishimoto sandwich plate
Mishimoto slim fan
Mishimoto coolant tank
Mishimoto drain plug
Mishimoto thermostat
Hasport motor mounts
Password:JDM Carbon fiber cooling plate
Avid torque mounts
Gates racing timing belt
NGK spark plugs
Downstar dress up kit
EXHAUST
Goautoworks 3-inch dump tube
3-inch full exhaust
Megan racing muffler
Electric Y pipe cutout
PERFORMANCE ELECTRONICS
Hondata s300 v3 bluetooth
AEM boost gauge
AEM fuel-air ratio gauge
Samsung tablet running Hondata
DRIVETRAIN
ACT 6-puck racing clutch
Insane shafts axles
WHEELS & TIRES
Volk Racing TE37 - 16x7 +42
Federal 595RS-RR
Boostforboobies tire stickers
Rays lug nut
BRAKES
EBC brake pads
Downstar brake tuck kit
Downstar brake plate
Wilwood brake master cylinder
CHASSIS & SUSPENSION
J2 full 32-way adjustable coilovers
Skunk2 lower tie bar
Skunk2 control arms
Skunk2 rear camber kit
Skunk2 front camber kit
Skunk2 control arm dress up kit
Skunk2 front strut bar
Skunk2 rear strut bar
Autopower roll bar
Cusco pillar bars
EXTERIOR
Custom air brush paint
Championship white paint
Mayhem Metal Werkz front bar
Custom hood vents
Top 1 hood lovers
Devsport splitter
Devsport canards
Custom side skirts
Carbon fiber gas tank door
Carbon fiber cowl cover
Window visors
Front lip
Spoiler w/ custom brackets
Downstar dress up hardware
Custom air dam
LIGHTING
INTERIOR
J's Racing steering wheel
NRG hub
Suede dash, gauge pod, door panels
Buddy Club fixed back seats
Buddy Club seat rails
Buddy Club shift knob
Downstar dress up bolts
Bride black armrest blue stitching
Bride black door panels
Bride black Sun visors
Status 5-point harness belts
Cusco shifter plate
Broadway mirror
Custom dead pedal
Custom floor plates
Custom battery holder
Custom ECU bracket
FAVORITE MODIFICATION
FUTURE MODIFICATIONS
Rear bumper bar by Mayhem Metal Werkz
FCS Tubular subframe
FCS Tubular control arms
Wilwood Big brake kits
SPONSORS
Tirestickers.com
Gangstarrdesigns
Devsportparts.com
Designengineering.com
G-Tuned Garage
Buddy's Body Shop
Pacheco Garage Powder Coating
SHOPS/MECHANICS
Buddy's Body Shop
G-tuned Garage