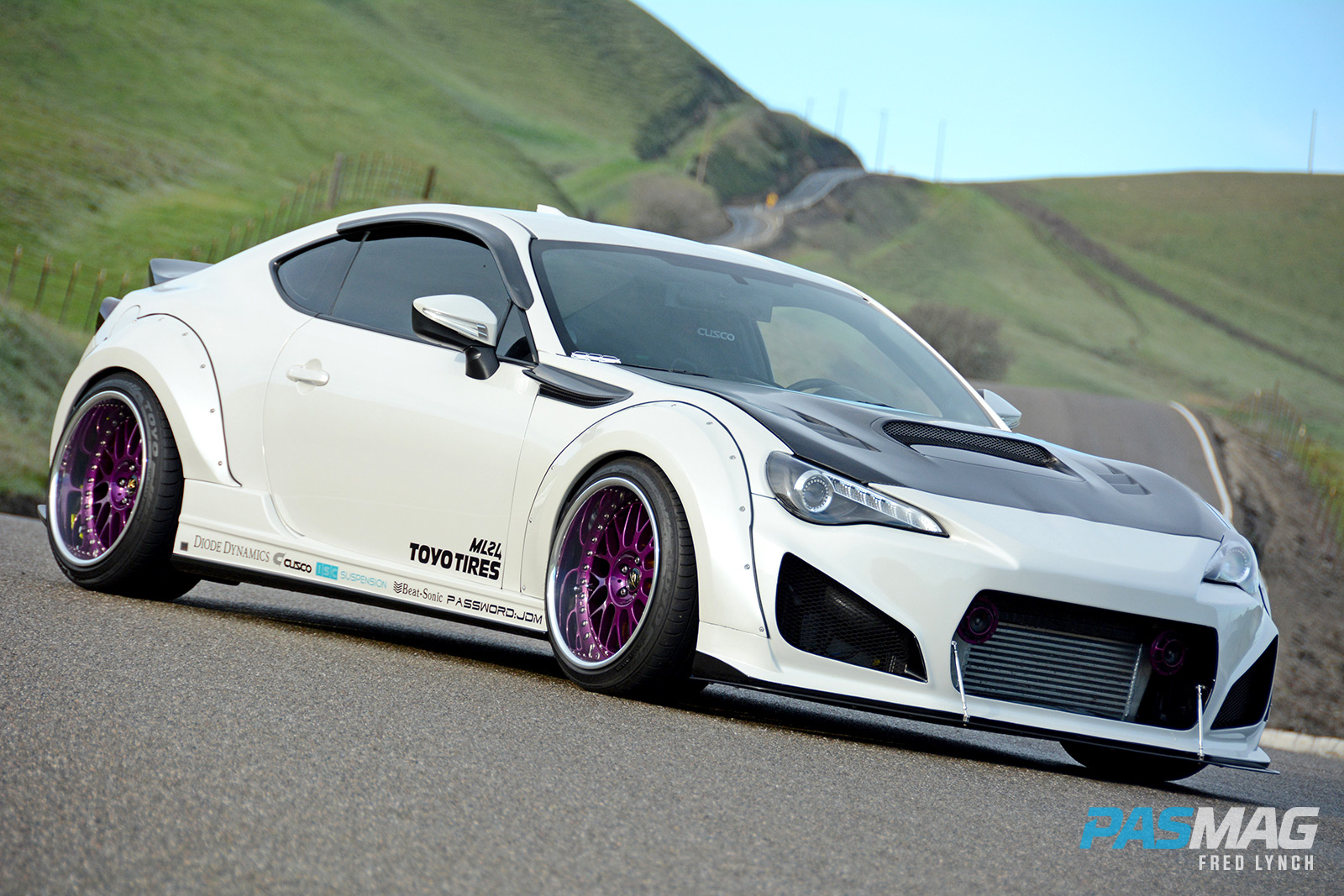 Written by Micky Slinger | Photography by Fred Lynch
Impressive is definitely one word for the "BunnyHunter" FR-S. Owned by Sheena Dela Cruz (known online as NorCalGirl), it's the spirit of individuality. The moniker "BunnyHunter" is a jab at all those who are using Rocket Bunny kits on their 86s. A playful jab, mind you; there's nothing wrong with repping some RB. Dela Cruz is just saying that she's coming after those other bolted fenders on the podium.
"I'm big on customization and making something your own," explains Dela Cruz. "I initially fell in love with the car just as it was when I first saw it, but of course I had to add my own personal touch to it."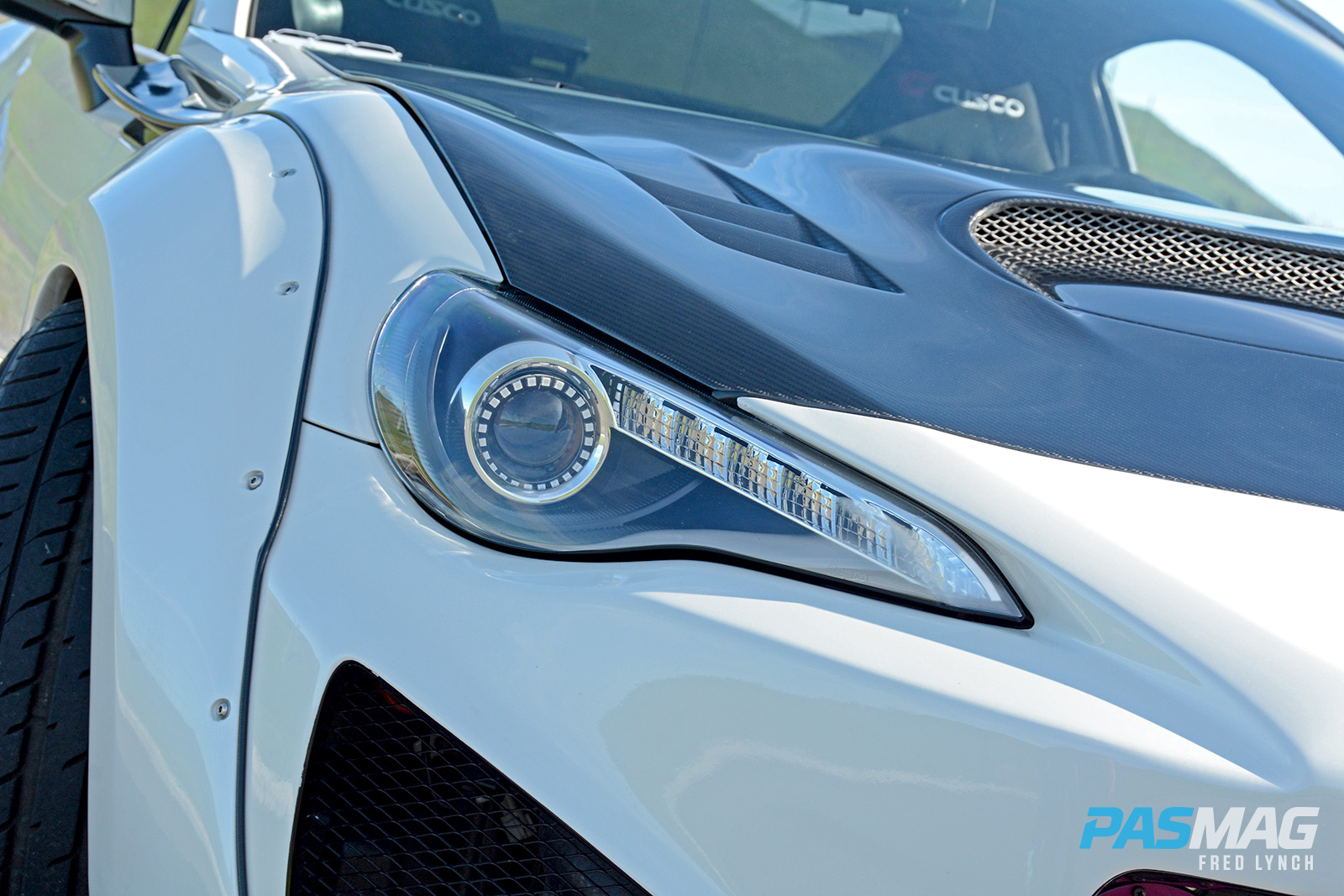 Sheena was introduced to the 86 by her brother, Darrell, who is also her primary mechanic. She was looking for something new to have fun with and her brother told her to look no further than the Scion. Soon after, Dela Cruz joined up with NorCal 86 Owners Club, FT86.com and 86Drive.com and was hooked on taking on the "twisties" in her newfound FR love.
Starting with suspension and some brotherly advice, Dela Cruz sourced some new legs that would make her even harder to keep up with on the club drive events she was now frequenting. KW coilovers, TRD sway bars and ISC lower control arms take residence below, while what seems like the full Cusco catalog braces just about everything possible within.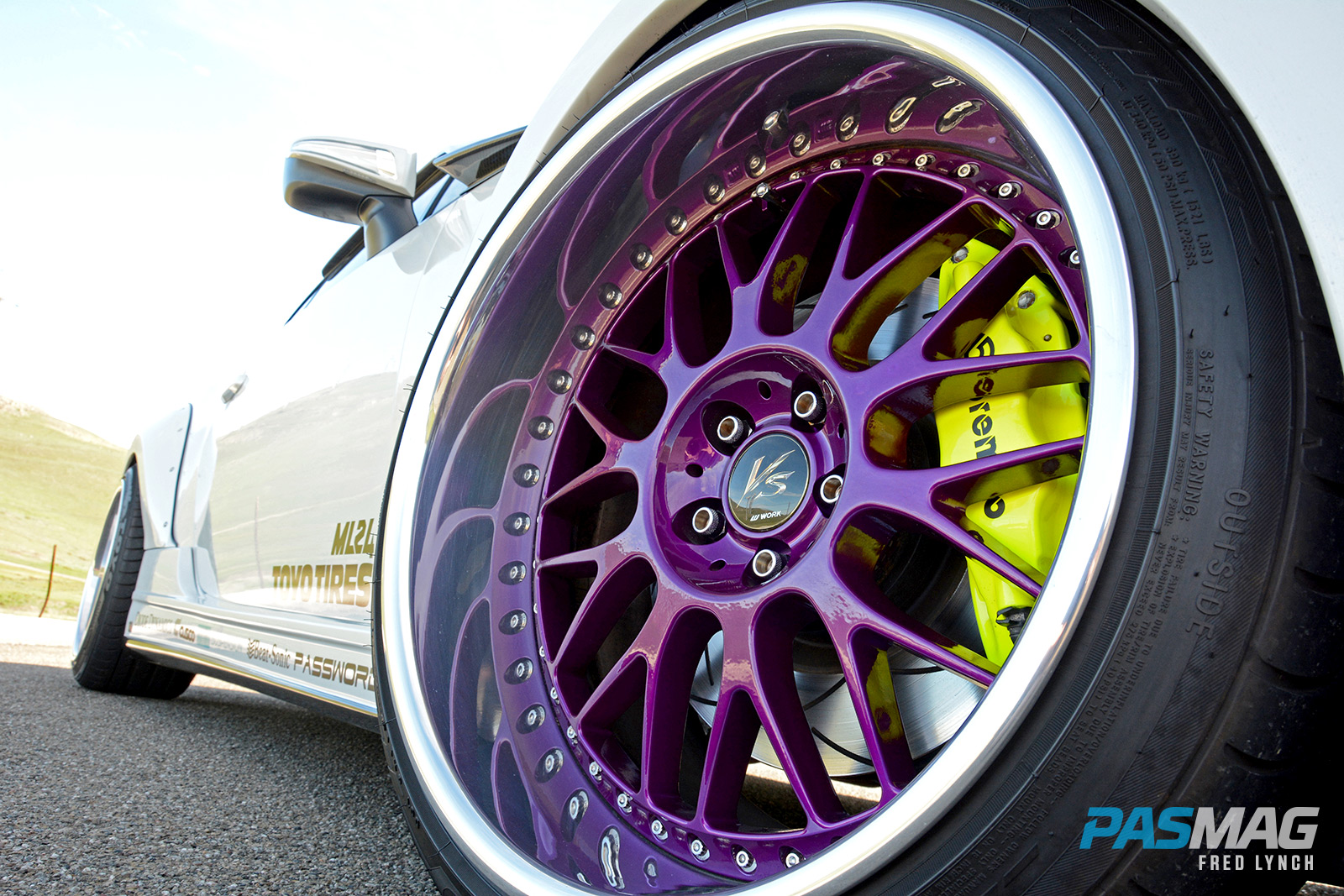 Invidia N1 titanium-tipped exhaust, a Kartboy short shifter and a sweet set of 18-inch Work VS-XX wheels with Brembo brakes were next in line to help fuel the mod bug that Sheena had absolutely given in to. With support from her brother and club members, she had all the encouragement in the world to keep pushing.
"After winning the award for Best Female Owned FR-S/BRZ at the first meet I had attended, I caught the bug to continue building towards a show car," Dela Cruz recalls. "After seeing show car quality audio builds, I wanted one in my car but wanted to add minimal weight, keep my Cusco rear strut bar in place and have a simple but elegant design that would complement the car."
Being referred to Simplicity in Sound in Milpitas, Cali was a step in the right direction, but installers Bing Xu and Joey Knapp's advice to go with ARC Audio was a giant leap. Sheena is rocking some of the best audiophile gear out there, including ARC's PS8 processor, XDi 1200.6 6-channel amp, a pair of ARC Series eight-inch dual four-ohm woofers and Black Series components. Paired with the custom door and trunk install by the boys at SIS, this FR-S is banging in looks and sound.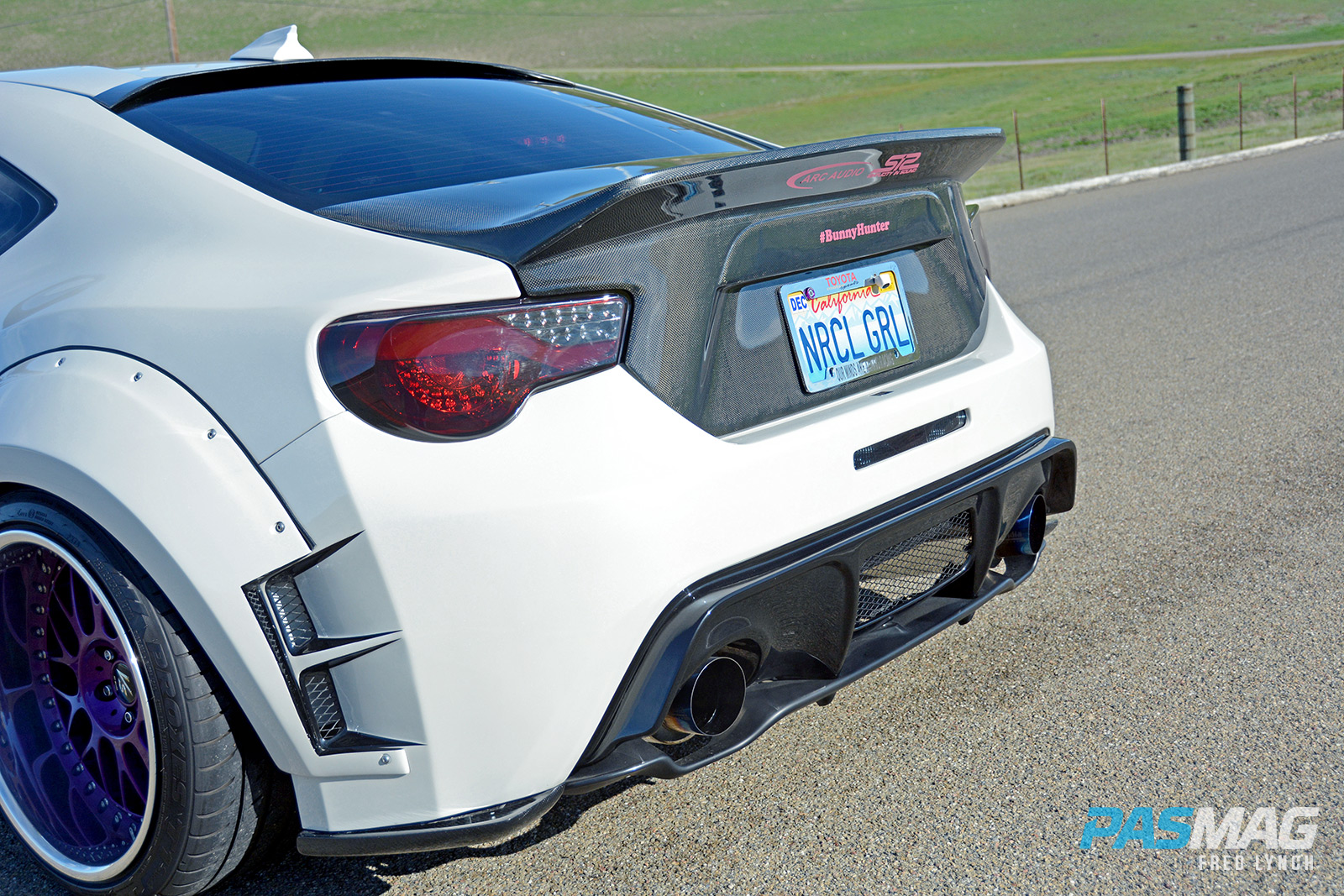 Before this Scion was known as the BunnyHunter, it was lovingly referred to as "Diamond" and/or "Crystal." Less aggressive yes, but that's because the car itself wasn't a hunter just yet. Wearing a Stillen lip kit and Stivo wing was a good look for Dela Cruz, but in order to score more style points and show her wild side, she started looking into widebody options. The ML24 arches and Chargespeed body kit seemed like winners, but fitment would be a problem. Sheena's brother reassured her that they'd make it work.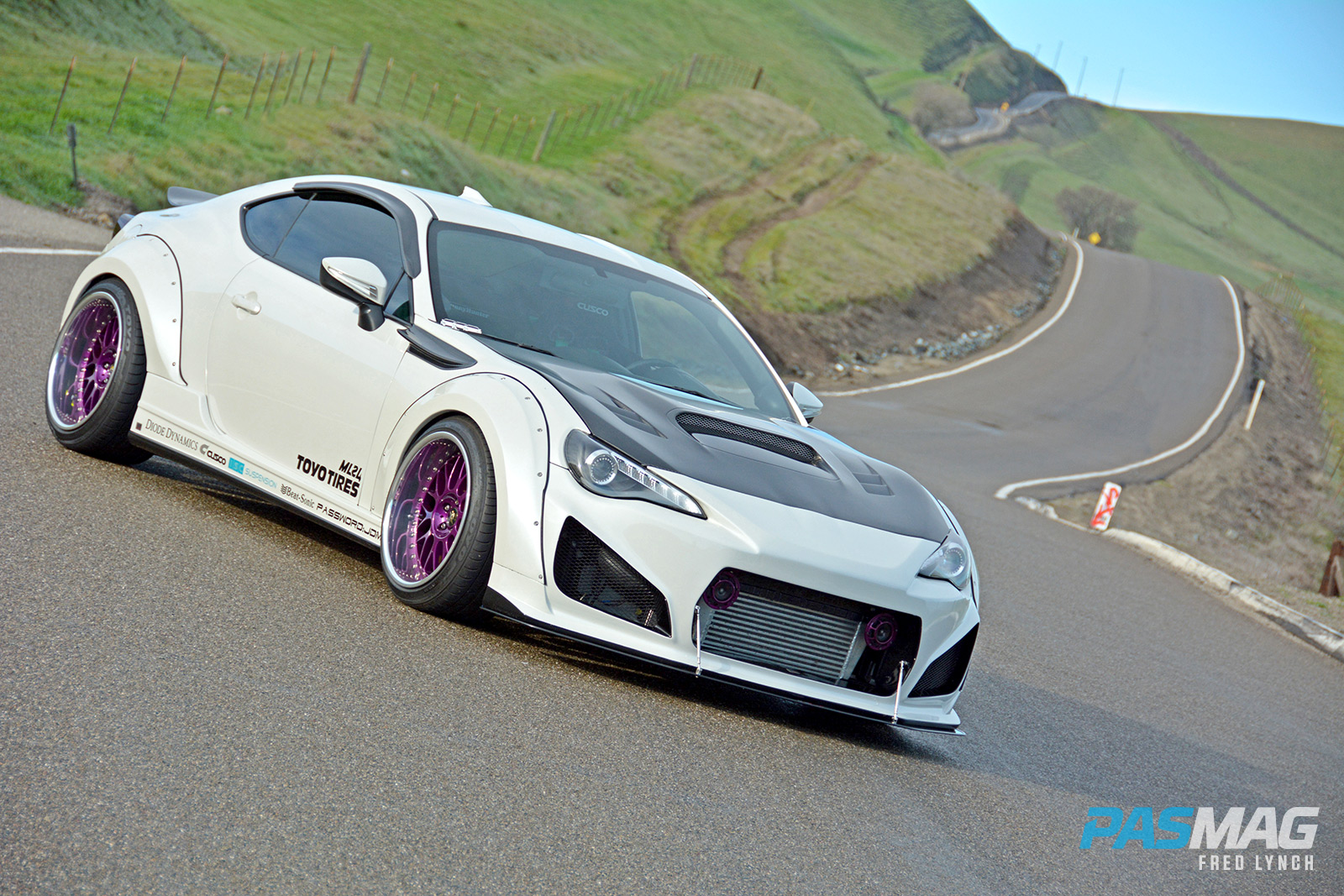 The ML24 wide arches are trimmed here and there to fit around the Chargespeed pieces, and both kits are cut into a diffuser-like piece directly behind the rear wheels. This not only highlights the individuality aspect, but also lends to the aggressive factor that Dela Cruz was aiming for and makes the curious combination look like they were made for each other. Around the outside, carbon fiber accents work well against the pearl white paint.
A Seibon carbon hood, JBlood window visors, TRD fender fins and Chargespeed trunk/spoiler combo (all done in carbon fiber) flare out to meet the bolted-on wheels arches. Winjet headlights give that JDM feel, while also being given the twist of 8000K HIDs and "Angel Eyes" courtesy of Diode Dynamics.
With the killer audio upgrade and exterior transformation complete, Dela Cruz is carrying around some extra weight in the FR-S. To offset this, she opted to install an AVO Stage 2 turbo system. Complete with all the bells and (turbo) whistles and an ECUtek tune, the BunnyHunter was now pushing a 50 percent power increase. That should be enough to keep her competitive at Moto Miwa's Dynamic Driving Academy sessions.
Not only does Sheena drive (very well, in fact), but she also did a lot of the work to make her little, white 86 the widebody beast it is today.
"My favorite aspect of the build was helping with the installations and work that was done on the car," says Dela Cruz. "My primary mechanic is my brother, but I also got my hands dirty working on the car, installing and doing as much as I could do. I like the gratification of knowing that blood, sweat and tears went into building the car, not just other people's, but also my own."
The BunnyHunter is absolutely blowing up on Instagram, winning show awards, commanding meets and inspiring others, but it has also been to both SEMA and CES with ARC Audio to show off. There's a lot more to come from both the 86 and Sheena, and we're looking forward to see what else she has up her sleeve to keep separated from the pack.
ESSENTIALS // Vehicle: 2013 Scion FR-S, Owner: Sheena Dela Cruz, Location: Daly City, California, Engine: Toyota/Subaru 4U-GSE/FA20 2.0L Flat-4, Horsepower: 300 hp (est.), Built By: Darrell Dela Cruz, Simplicity in Sound, AutoRnD, Club Affiliation: NorCal 86 Owners, ft86club.com
ENGINE // AVO (Stage 2 turbocharger, front mounted intercooler, hoses, adjustable blow-off valve, 8 PSI wastegate actuator), AEM (Dryflow air filter, 41-1408DS electronically tuned intake), ECUtek ECU, Cusco (oil catch tank, high-pressure radiator cap), Password:JDM (engine bay dress-up kit, dry carbon fiber engine cover, battery tie-down)
EXHAUST // Invidia N1 cat-back exhaust – titanium tip, AVO headers, PLM (up-pipe, down-pipe)
DRIVELINE // Kartboy (short shifter, shifter bushings), Whiteline transmission mount, Braided stainless steel clutch line
WHEELS / TIRES / BRAKES // Work VS-XX wheels – 18x10.5 -15et (f), 18x11 -5et (r), Toyo T1 Sport tires – 235/40 R18 (f), 265/35 R18 (r), ISC wheel spacers – 8 mm (f), 15 mm (r). Muteki lug nuts, Brembo brake kit – 6-piston (f), 2-piston (r), DBA T2 Street Series unidirectional slotted rotors (f/r), Braided stainless steel brake lines, Hawk Performance brake pads, Cusco drift handbrake knob
CHASSIS / SUSPENSION // KW V3 coilovers, TRD sway bars, Whiteline subframe bushing inserts, Cusco (Type OS strut bars (f/r), Power Brace (engine room, rear side member), rear differential brace, ISC rear adjustable control arms, Vorshlag (high caster camber plates, perches), Kartboy rear end links, 742 harness bar
EXTERIOR // Chargespeed (front bumper, rear bumper, grilles, carbon fiber trunk), ML24 widebody fender arches – modified, Seibon Carbon FA-style carbon fiber hood, Carbon fiber rear spats, Hella Supertone horns, JBlood carbon fiber window visors, Beat-Sonic (carbon fiber roof spoiler, shark fin antenna), TRD fender fins, APR Performance carbon fiber front splitter, Winjet black housing headlights, Diode Dynamics (Angel Eye Kit – RGB multicolor, 8000K HIDs, LED side mirror covers, license plate LEDs, multicolor LED, engine bay kit), Spyder Version 2 taillights, Bodywork by Darrel Dela Cruz
INTERIOR // Clear bubble shift knob, Nardi Competition steering wheel – 330 mm, Works Bell boss hub, AEM (wideband gauge, boost gauge), Perrin dual gauge pod, Cusco Bride Euro II+C seats, Takata Racing Drift III snap harnesses, Diode Dynamics (LED dome light, trunk light, Vanity Sun visors, Beat-Sonic (mobile holder dash stand, universal phone holder), Broadway rear view mirror
AUDIO / MOBILE ELECTRONICS // Pioneer AVH-4000NEX double-DIN head unit, ARC Audio (PS8 processor, ALD line driver, XDi 1200.6 6-channel amplifier, ARC8 D4 8-inch subwoofers (2), Black Series, 6.0 mid-bass drivers, Black Series 1.0 tweeters), Sealed subwoofer enclosure, Optima Yellowtop battery, Stinger (front fuse holder, main power wire, distribution blocks), Beat-Sonic back-up camera, Simplicity in Sound (custom speaker rings, custom door speaker grilles), Installation by Simplicity in Sound (Milpitas, Califonia)
SPONSORS // Diode Dynamics, Beat-Sonic, ML24, ARC Audio, Simplicity in Sound, Cusco, Toyo Tires, ISC Suspension, Password:JDM