Dominick Barger's entry into the world of car modification is straightforward and likely relatable for many in the scene.
The Seattle-area resident grew up loving Hot Wheels diecast cars and once he got his driver's license, he received his Dad's old Honda Accord which he quickly modified. After that project was completed, he set his sights on acquiring a car that was truly his own that he could modify so he chose a 2006 Volkswagen GTI.
Dominick has thrown a lot at his GTI, and nowhere is that more evident than under the hood where the stock turbo has been swapped out in favor of a Ko4 replacement. The engine's breathability has been enhanced with a Neuspeed intake, while an Audi S3 intercooler and custom-built discharge pipe helps keep things from running too hot.
When it comes to fuel delivery, stock components were benched to make way for an APR high pressure fuel pump and Audi S3 injectors. A Drivemotorsport stage 2+ ECU tune helps optimize engine performance and a Billy Boat 3-inch turbo-back exhaust lets all comers know this is no ordinary hot hatch. Add it all up and this GTI makes 325 horsepower at the wheels.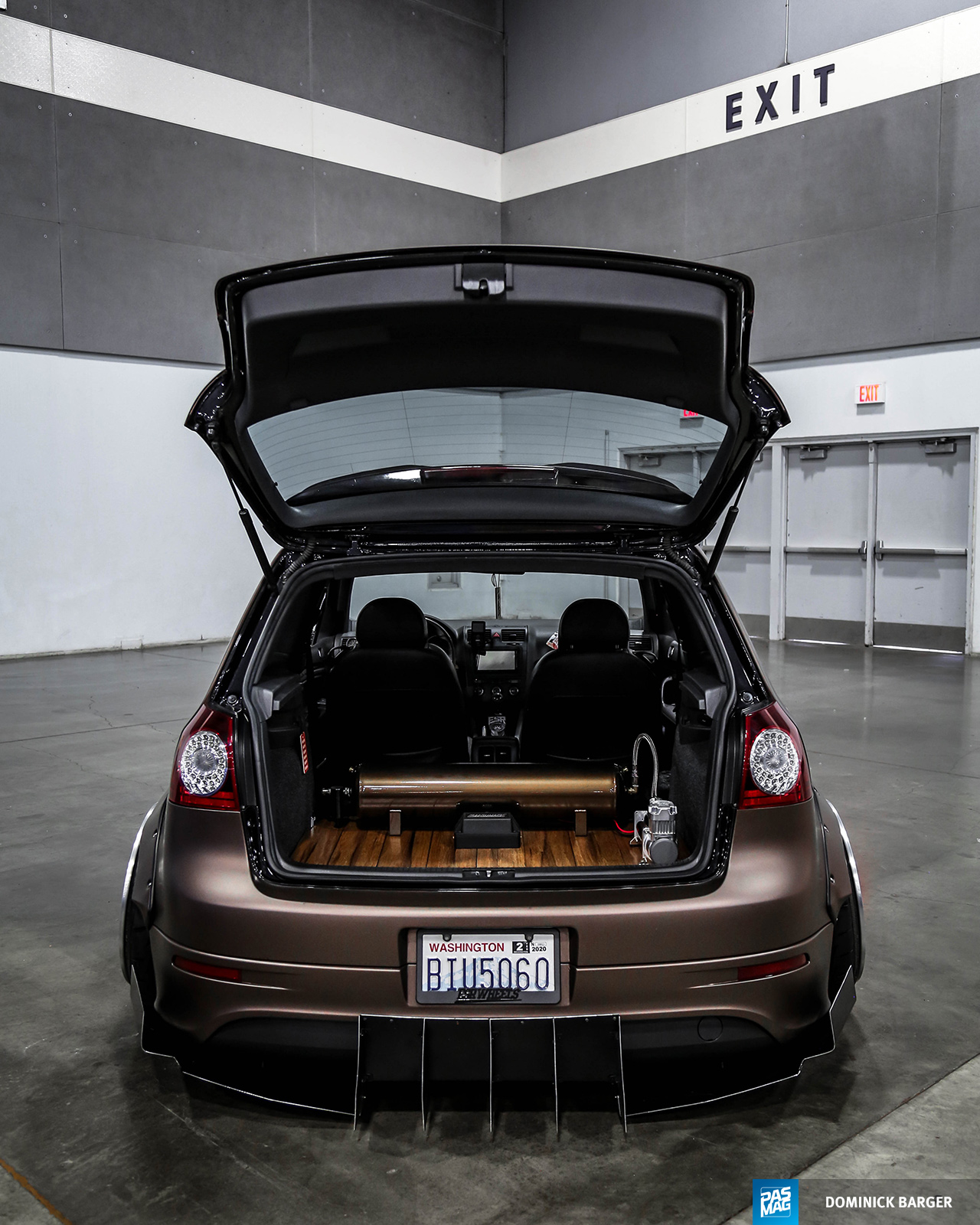 As for stance, Dominick elected to put his ride on bags from Air Lift Performance with a set up that also includes rear shocks and 3P management from Air Lift, H&R rear sway bar, Hotchkis front sway bar and BSH engine and transmission mounts. For rolling gear, Dominick went with ESR ES-10 3-piece wheels wrapped in Firestone Firehawk Indy 500 rubber.
The Mark V GTI sports a clean and handsome design that has aged well, and Dominick has made bodywork alterations that enhance its good looks. Highlighting the changes are a Volkswagen R32 rear bumper conversion, Clinched fender flares and OSIR carbon fog light covers and eyelids.
Elsewhere Dominick uses a Maxton design splitter and spoiler extension, ECS tuning carbon fiber front lip, shaved hood, badgeless grille, custom rear diffuser, and Ventus Autowerks side splitters. On the lighting front, a set of Valeo Euro taillights and yellow fog lights were selected, while a matte brown vinyl wrap completes the custom look.
On the inside, there are a host of upgrades. Among them are rear seat delete with black fur, mahogany hardwood trunk floor with gold chrome air tank, Vair 444c compressor, New South boost gauge and gold carbon vinyl wrapped trim pieces. Handling the tunes flowing out of this head turning GTI is a Kenwood head unit connected to an upgraded amplifier and speakers.
With all that he's done to personalize his ride, Dominick says his favorite mod is the custom rear diffuser because, "it's pretty much one of a kind and stands out the most!"
As for future mods, Dominick says he wants to install Braum seats. Among those he wishes to thank for their tireless efforts and support are sponsors ESR Forged and Nostalgic, along with the talented crews at Tailored Auto Garage and ATYPICAL Designs.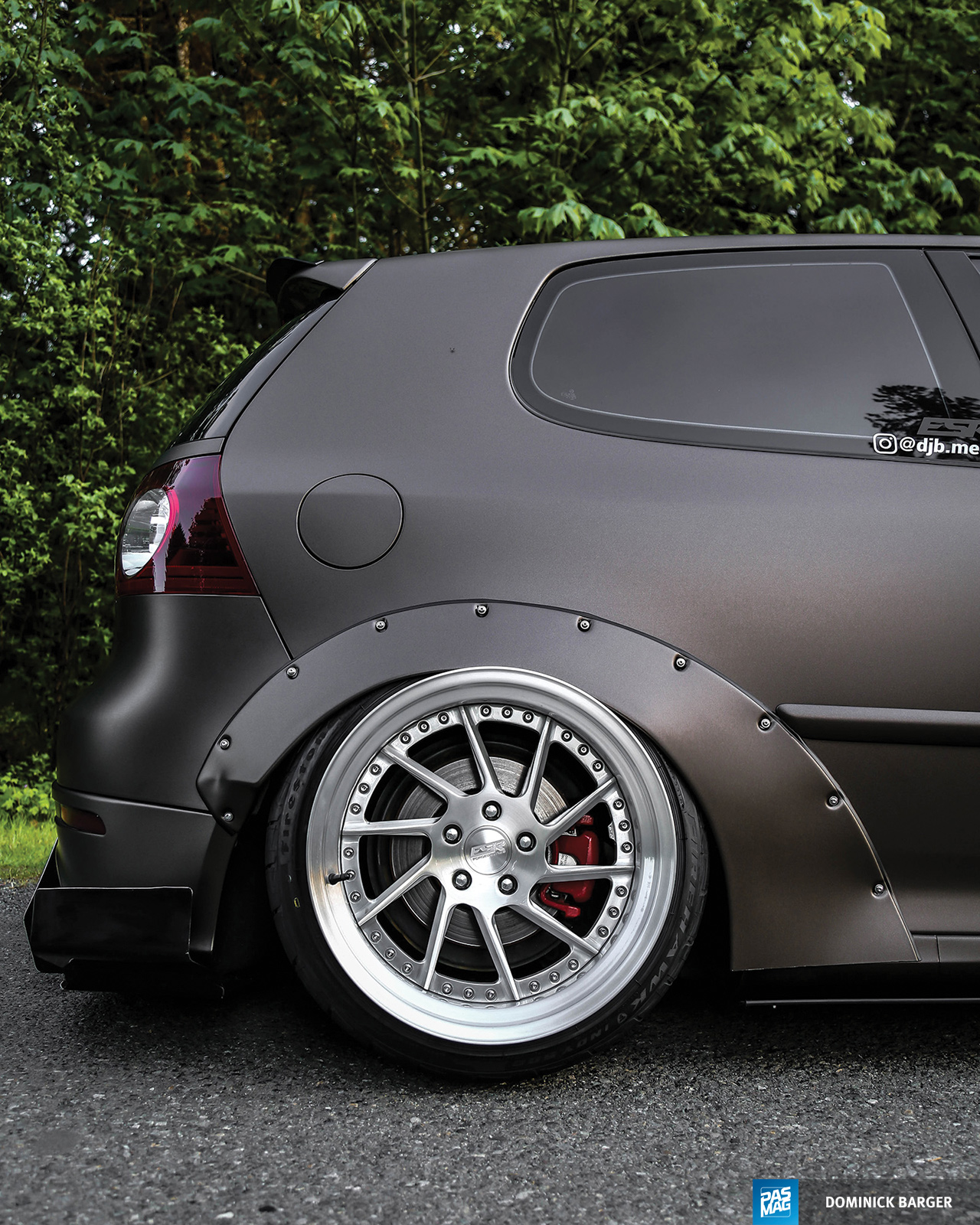 Dominck's 2006 Volkswagen GTI is featured in PASMAG #162 / Style #7. CLICK HERE to order.
Photography by Dominick Barger
---
ESSENTIALS
Owner: Dominick Barger
Location: Maple Valley, Washington, USA
Vehicle: 2006 Volkswagen GTI
Horsepower: 325
Club: Nostalgic
SOCIAL
Facebook: /dominick.barger
Instagram: @djb.mkv
ENGINE
Ko4 turbo swap
APR high pressure fuel pump
Audi S3 injectors
Audi S3 intercooler
Neuspeed intake
Custom built discharge pipe
EXHAUST
Billy Boat 3-inch turbo-back exhaust
PERFORMANCE ELECTRONICS
Drivermotorsport stage 2+ ECU tune
WHEELS / TIRES
ESR ES-10 3-piece wheels
Firehawk Indy 500 tires
CHASSIS / SUSPENSION
Air Lift Performance bags
Air Lift Performance rear shocks
Air Lift Performance 3P management
H&R rear sway bar
Hotchkis front sway bar
BSH motor and transmission mounts
EXTERIOR
Volkswagen R32 rear bumper conversion
Clinched fender flares
OSIR carbon fog light covers
OSIR eye lids
Maxton design splitter
Maxton design spoiler extension
ECS tuning carbon fiber front lip
Shaved hood
Badgless grille
Custom rear diffuser
Ventus Autowerks side splitters
Matte metallic brown vinyl wrap
LIGHTING
Valeo Euro taillights
Yellow fog lights
INTERIOR
Rear seat delete w/ black fur
Mahogany hardwood floor trunk with gold chrome air tank
Vair 444c compressor
New south boost gauge
Gold carbon vinyl wrapped trim pieces
AUDIO / MOBILE ELECTRONICS
Kenwood head unit
Upgraded speakers
Upgraded amplifier
SPONSORS
---
PHOTO GALLERY