Photography by @connorcroak.
---
The 1989 Nissan 240sx you see here was actually Mike Power's first ever project build. When he was first getting involved in drifting, he was lucky enough to have a close friend of his sell him the fairly clean S13 with an SR20 swap - the perfect platform to get his feet wet and get some seat time. In 2016 he attended his first drift event with Club Loose, and it's been a never-ending story since then.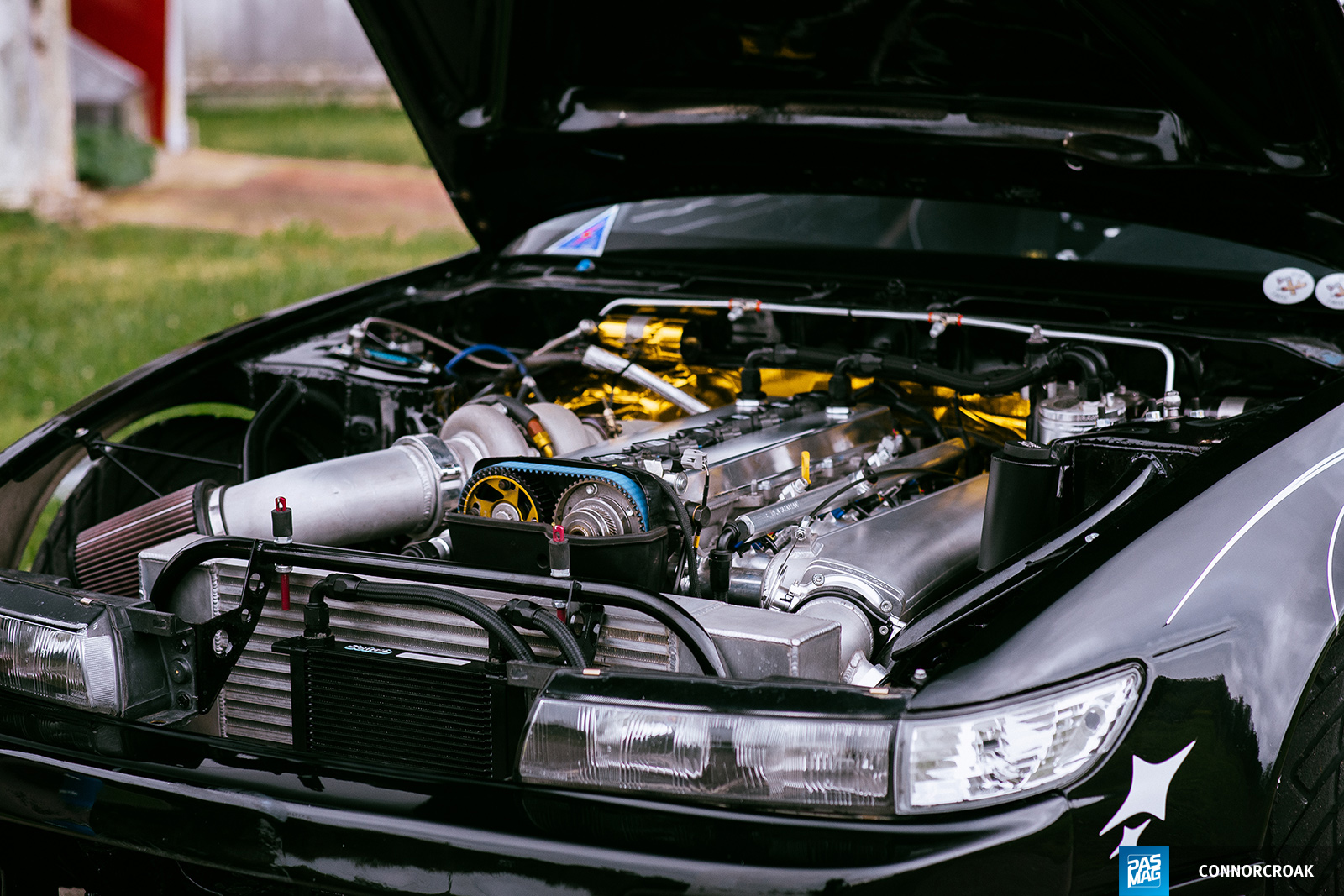 As Power's driving abilities improved, the car's mechanical prowess improved as well. The SR20 was eventually replaced by a 2JZ-GTE VVTI so he could make a reliable 700-plus horsepower, and the car's exterior was transformed with style in mind. Modifications were always a balance between overall function as well as ease of serviceability in an effort to maximize seat time and minimize time spent fixing the car in the pits. These days you can catch Power getting sideways at USDrift events in the same 240sx that started it all for him.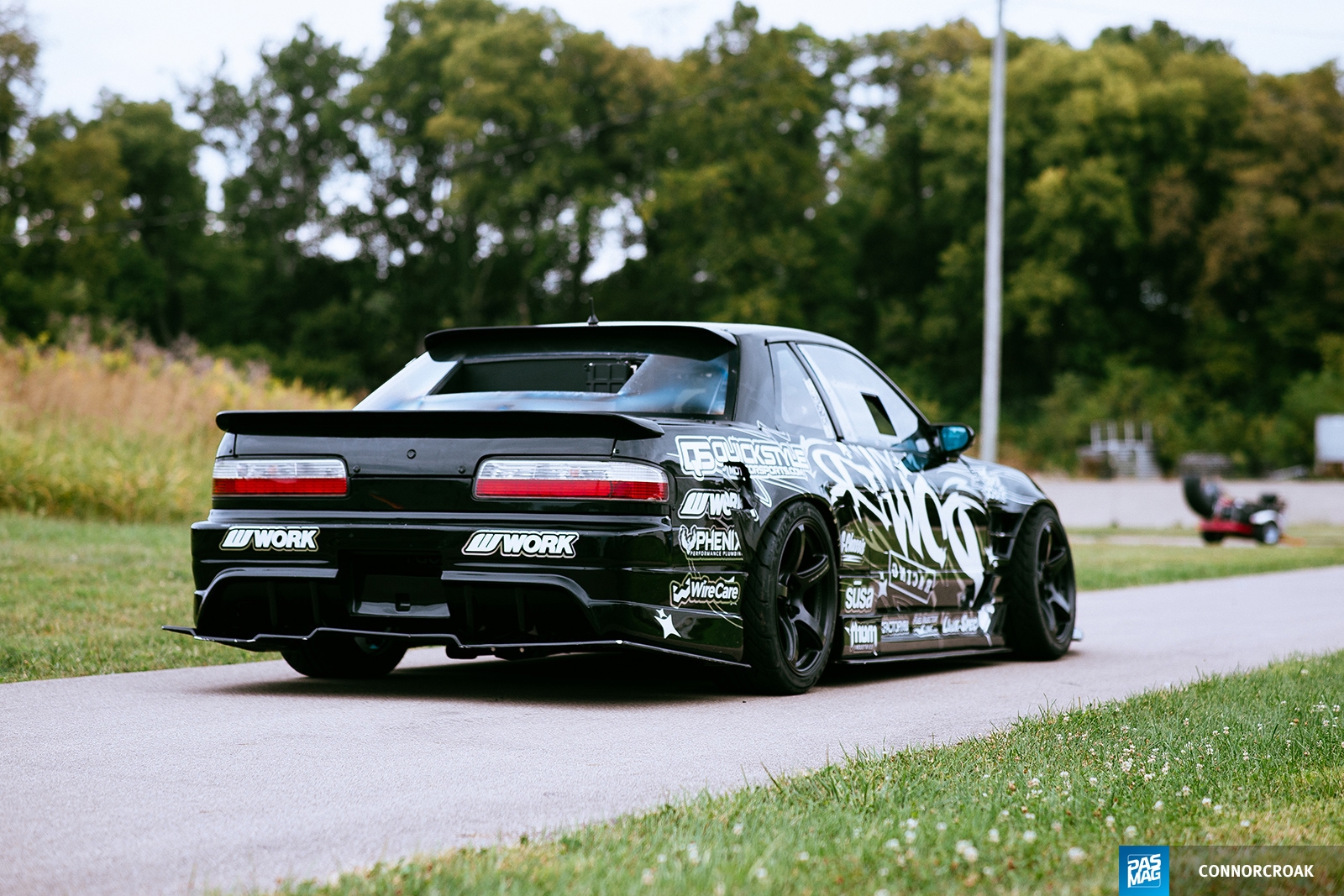 ESSENTIALS
Owner: Mike Power
Location: St. James, NY
Vehicle: 1989 Nissan 240sx
Engine: Toyota 2JZ-GTE VVTI 3.0L I6
Horsepower: 700+ whp
Club: Power Racing LLC
Competition: USDrift
SOCIAL
Facebook: /mikepowerracing
Instagram: @mikepowerdrift
ENGINE
Toyota 2JZ-GTE VVTI engine swap
GSC S1 cams
Ferrea valvetrain
Garrett GTX3584rs gen 2 turbocharger
Fuel Injector Clinic 1650cc injectors
Thorn Industries R35 coil pack conversion
Hypertune valve covers
Plazmaman intake manifold
Radium 10-gallon fuel cell
Griffin dual-pass rear-mount radiator
Spal fans
AEM Performance Electronics 6 ECU
ECU Masters (PMU16, 12-position can keyboard)
RAD Industries self-exciting alternator
EXHAUST
Future Fab twin-scroll exhaust manifold
4-inch oval exhaust
DRIVETRAIN
Andrews A431 4-speed dog box transmission
Winters quick-change differential
3.5-inch aluminum driveshaft
Driveshaft Shop 1000-hp axles
WHEELS / TIRES / BRAKES
Work Wheels T5R wheels - 17x9 +38 (f), 18x9.5 +12 (r)
Achilles 123S tires - 255/35/17 (f), 255/35/18 ®
Wilwood (4-piston front calipers, dual piston rear brakes, hats and rotors)
CHASSIS / SUSPENSION
Tubed front and rear chassis w/ FD Pro2 spec cage
Wisefab suspension arms
Stance XR3 custom coilovers
Bink Industries multi-link front sway bar
EXTERIOR
Origin Labs (Racing Line aero kit, 55mm front fenders, rear overfenders)
Plastics4Performance window kit
Ganador mirrors
Silvia brick headlights
D-Max (clear corner lights, LED tail lights)
INTERIOR
HGK fiberglass dashboard
Woodward collapsible steering column
OMP (330mm steering wheel, HTE-R 400 seats)
Schroth Racing harnesses
SPONSORS
Power Racing LLC
Quickstyle Motorsports
Thorn Industries
Fuel Injector Clinic
Work Wheels Japan
Setrab USA
Phenix Industries
Schassis
Wirecare Inc
Cleo Tuned