Photography by Ranger Ramirez
---
Tucked away in a garage in Mount Joy, Pennsylvania, the shrieking laugh of Austin Barnett can be heard echoing from within over the whiz of impact guns, high-pitched buzz of saws ripping through sheet metal, and the sizzle of metal being welded back together again. Inside, Barnett toils away on his wide WRX, stretching and relocating in the bay to fit his transplant: the heart of a monster.
It's almost hard to believe that before he became Dr. Frankenstein, Barnett was blissfully unaware of the potential of JDM sport compact cars. Being brought up by a mother who loves Corvettes and owns a '63 Stingray and a C5, as well as a father enamored by Mustangs and drives an all-original '70 Boss 302, Mach 1 with a 650-plus-horse 460 motor, and a 2000 Cobra R, it's no surprise that his first foray into the world of automotive modification was a 1994 Mustang Cobra at the age of 16. Starting out with minor upgrades, the Cobra was eventually worked up to heads, cams, intake, nitrous, and even a 76-mm turbo.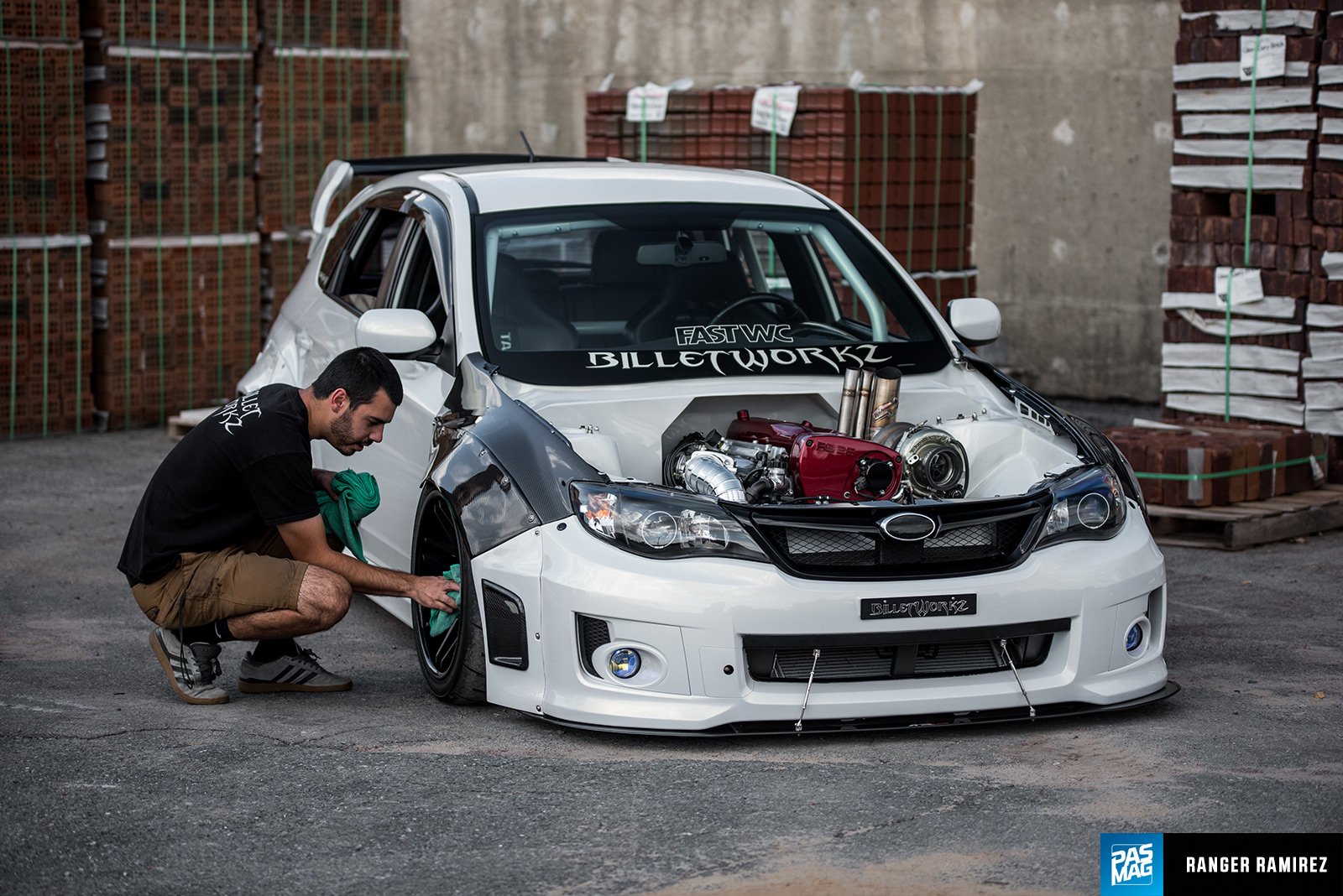 Featured on the cover of PASMAG #145 (Oct/Nov 2017). Order your copy here.
As college was about to start for Barnett, and the Cobra's 5.0-liter Windsor V8 wasn't liking boost too much on the stock block, it was time for a sensible, yet fun daily driver. Enter the hawkeyed 2012 Subaru WRX hatchback. With AWD, a turbo, and plenty of cargo space, it ticked all the boxes - that is until Barnett found out about the massive aftermarket available for the WRX. After that discovery, the Mustang was shelved and the daily became the new project car – as it goes.
Soon, just like the 'Stang before it, the WRX had been pushed to the engine's limits and Barnett stood at a crossroads: rebuild the flat-four EJ25 to handle more abuse, or do something completely different. After starting his own business engineering shift knobs and other accessories for cars at Billetworkz, Barnett needed a company vehicle and a white panel van just wasn't going to cut it, so the "completely different" approach seemed to be the way to go. As he sourced the new heart for his WRX, some say this is when he went from humble engineer to mad doctor.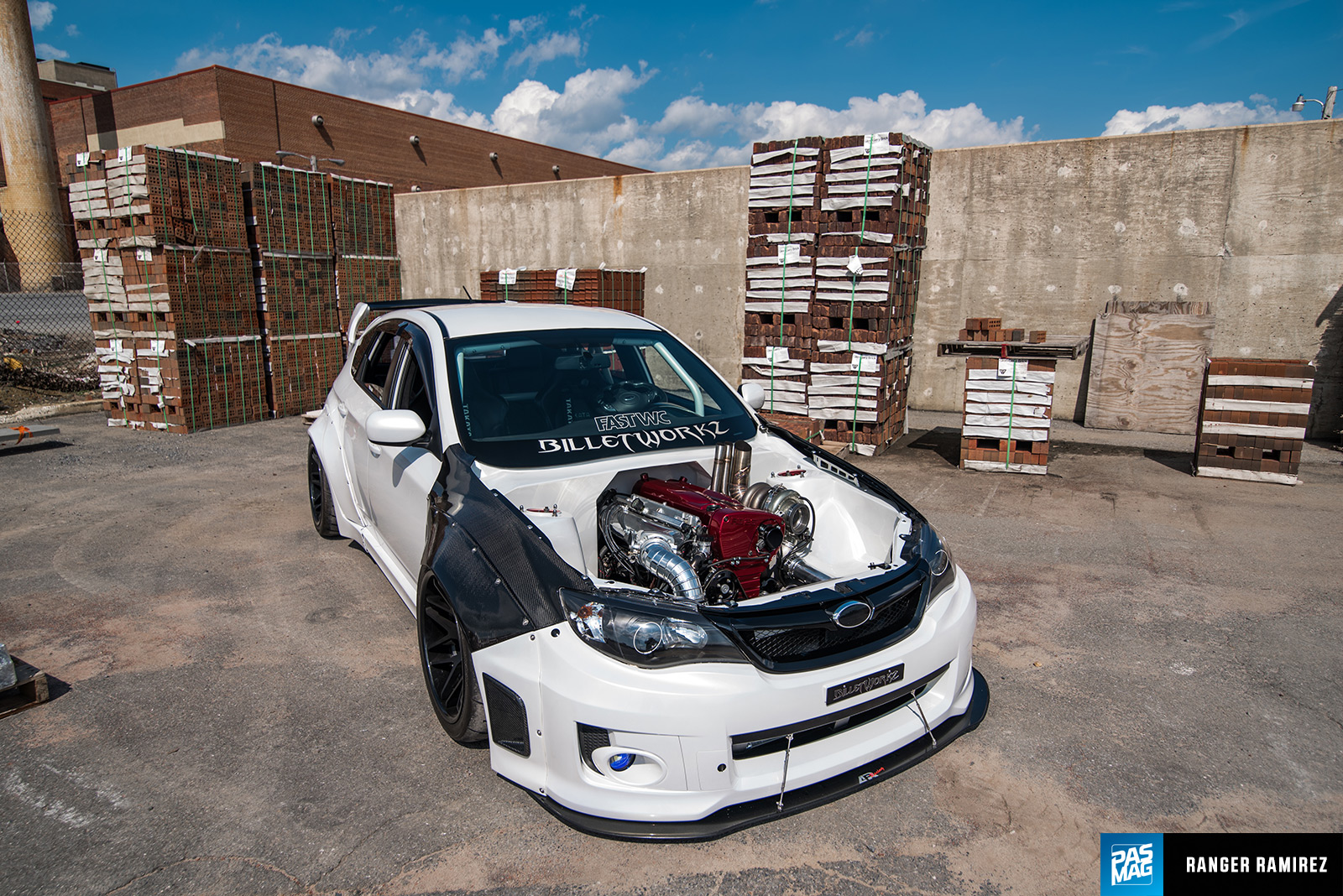 Featured on the cover of PASMAG #145 (Oct/Nov 2017). Order your copy here.
As Barnett became more acclimatized to the JDM community, he heard whispers of the legendary GT-R and realized that if he wanted to do something truly different, the RB26DET powerplant would be the one to have for his creation. One would think that with both cars being AWD, the swap would be at least a little more straightforward than you're imagining, but a hole made for a horizontal-four just isn't the same as one meant for the large Nissan inline-six. Barnett was going to need some qualified help to get this done, and luckily, he knew just the right group of people.
Being an entrepreneur that's heavily involved with the automotive community, Barnett knows quite a few talented local individuals that have headed up their own businesses, and calls many of them friends. Dave Brown of FAST of West Chester was one buddy that was instrumental in achieving the Godzilla transplant.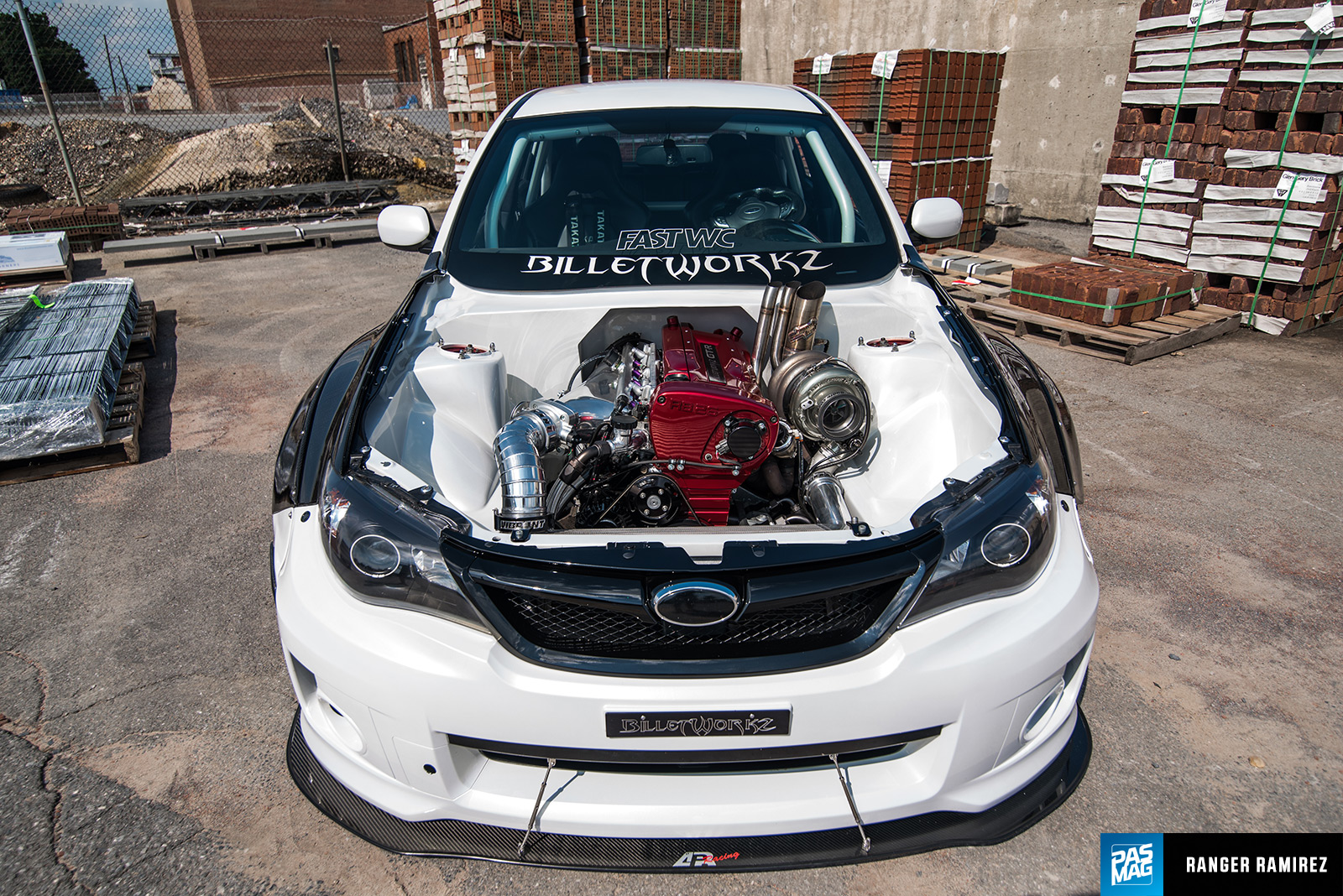 Featured on the cover of PASMAG #145 (Oct/Nov 2017). Order your copy here.
"His experience, as well as his ability to do the impossible, made the easy decision for me to have him perform the motor swap," Barnett says of Brown. "The guys at FAST of West Chester did a fantastic job deciding the proper steps to fit the motor and trans into the car. Some days consisted of mocking the motor into place and just staring at it for a few hours, and some days consisted of pulling the motor in and out and cutting along the way."
The swap was far and away the most challenging part of the build, especially when trying to keep the WRX's all-wheel-drive goodness. In order for the front diff to line up with the Subaru hubs, the RB26 had to be pushed back through the Subaru firewall, which resulted in a brand-new, custom firewall so the GT-R engine wasn't technically a passenger. As a result of the extension, the steering column, center console, and front seats were pushed back, facilitating the need for the OBP Racing floor-mounted pedals. FAST soon found out that the oil pan wouldn't clear the front crossmember and the chunkier GT-R Getrag six-speed and front driveshaft wouldn't fit the transmission tunnel, so the oil pan was cut and the WRX was swapped to a dry sump setup, while the trans tunnel was made more accommodating.

Featured on the cover of PASMAG #145 (Oct/Nov 2017). Order your copy here.
Unfortunately, your usual RB26 turbo kit wasn't going to fit in the engine bay of the WRX, even with it shaved and tucked beautifully, so reinforcements needed to be called in, and Jason Schmuck of Schmuck Built heeded call. Specializing in forced induction fabrication, Schmuck supplied a one-off turbo kit that would snake around the RB26, as well as a V-mount radiator and intercooler setup, and the slant-cut exhaust pipes that I would call hood-exit, if the WRX ever wore a top. With Haltech Platinum Pro ECU masterminding the situation and a Borg Warner EFR 9174 twin-scroll snail providing the whoosh, the newly-homed wailing six-cylinder unleashes a staggering 713 horsepower and 568 lb-ft of torque to all wheels.
"I started with one of the most popular sport compact cars, the WRX, and combined it with one of the most legendary sport compact cars, the GT-R," Barnett says of his choice. "I hear from many other enthusiasts that I've combined two of their favorite cars into one."

Featured on the cover of PASMAG #145 (Oct/Nov 2017). Order your copy here.
Now, if Barnett's WRX was a trailer queen, it wouldn't really matter how he supported the engine and the power it produces, but seeing as how he actually has the guts to drive this thing, his friends made sure that the hatchback wouldn't implode on the first drive through town. Fast of West Chester fabbed-up a tubular front subframe, subframe brace, and a transmission crossmember to keep things from getting twisted, and Barnett employs sticky R888s in 315-wide, wrapped around 18-inch Nessen Forged S7.0 wheels, to keep the four corners from continuously burning out. Massive eight-piston front, and six –piston rear Runduce calipers help bring the WRX down, while an Air Lift air suspension system literally brings the hatch's MNT Rider Designs widebody and Carbon Fiber Element fenders down over the 12-inch wide wheels.
"The car was ultimately built to drive and have fun with, but no corners were cut, as I wanted it to also be a show car," Barnett explains. "I would like to enjoy the car more in 2018 by taking it to tracks for fun, as well as having fun in it driving around town."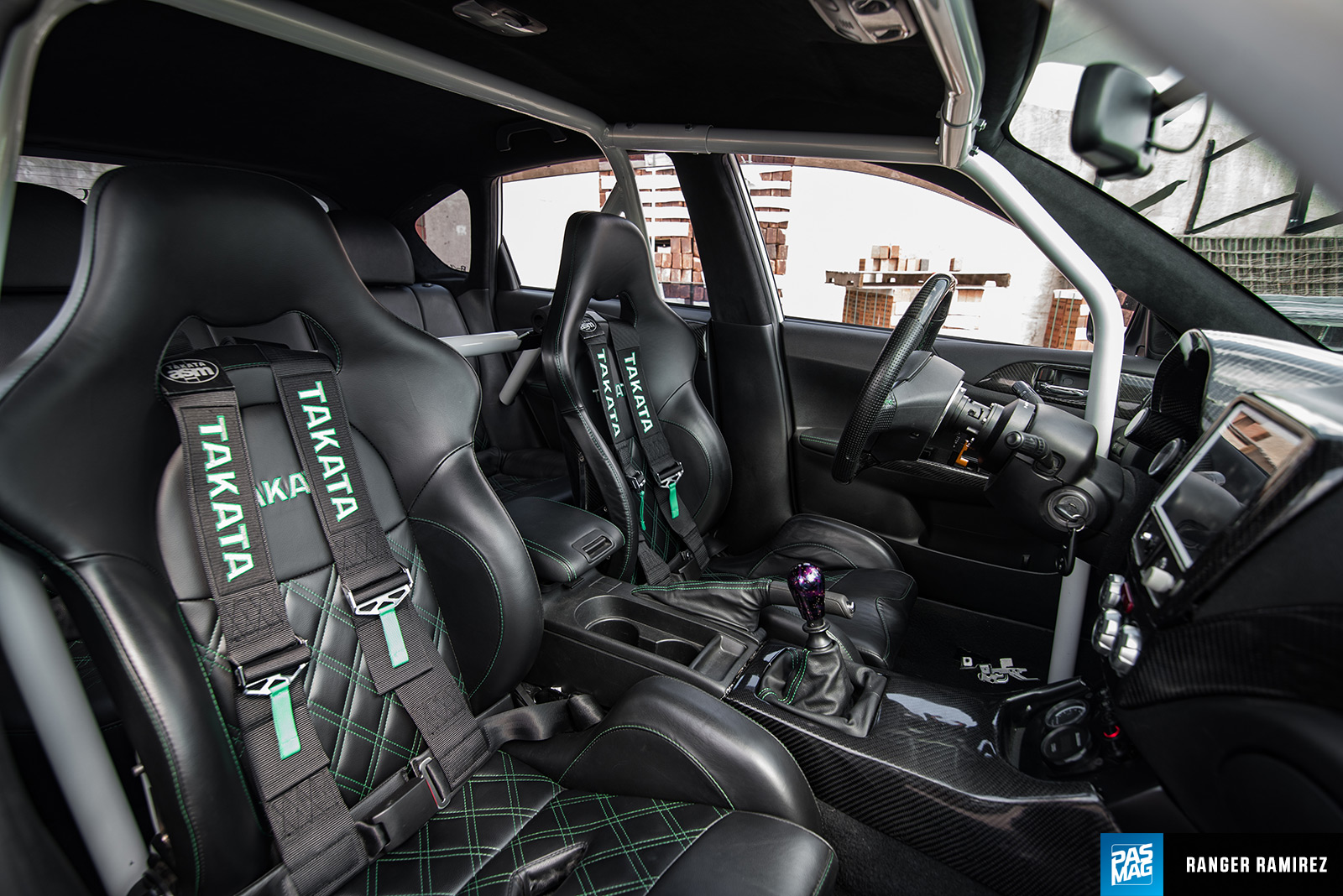 Featured on the cover of PASMAG #145 (Oct/Nov 2017). Order your copy here.
Since the WRX is meant to be a part-time showstopper, the fit and finish inside is just as fantastic as the outside. Exact Art has made-over the upholstery with Alcantara and hints of carbon fiber, as well as trimming up the rear seats in Takata fabric to match the Drift Pro LE twin racing seats up front. There's also some fancy electronics for Barnett to peer over, like the AIM MXG dash, which allows him to view custom vehicle data or datalog on track, and an iPad mounted for control over the Air Lift 3P management. The custom six-point roll cage ties the theme of show and go all together.
"One of my favorite aspects of the build is the people and friends I brought together to build this car," gushes Barnett. "With many other great friends whom are also entrepreneurs, I wanted to build a car that could feature all of our work. I've met a lot of my best friends along the way."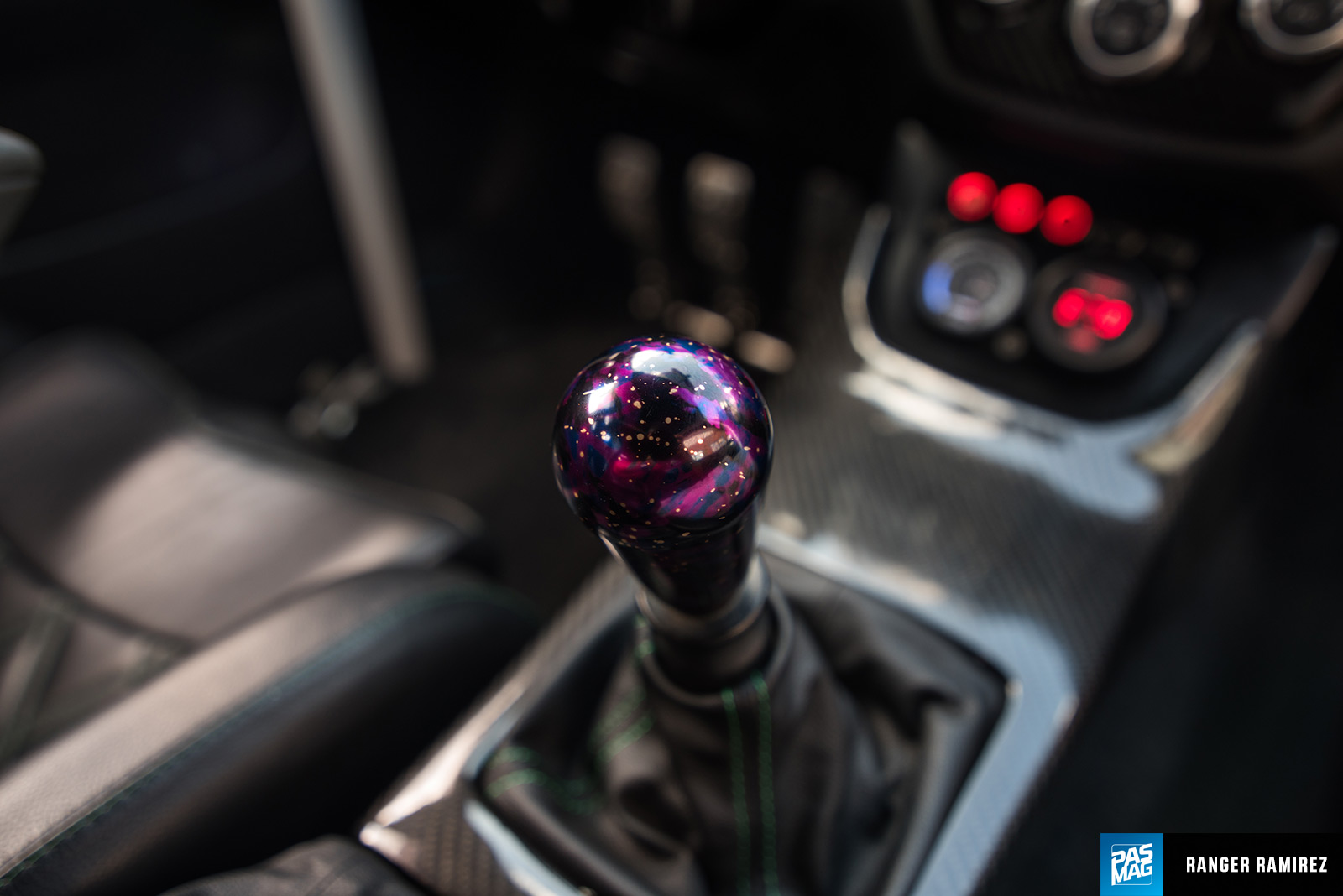 Featured on the cover of PASMAG #145 (Oct/Nov 2017). Order your copy here.
One of the friends he made along the way that Barnett lists as his biggest inspiration is Willy Izaguirre, a fellow business owner (Nostalgic Grains) and rad car owner (SR-swapped '68 Datsun Roadster). Izaguirre's Roadster was a definite inspiration in the uniqueness department, but he also taught Barnett to stay humble and build his passion. Those lessons led Barnett to build the WRX you see here now.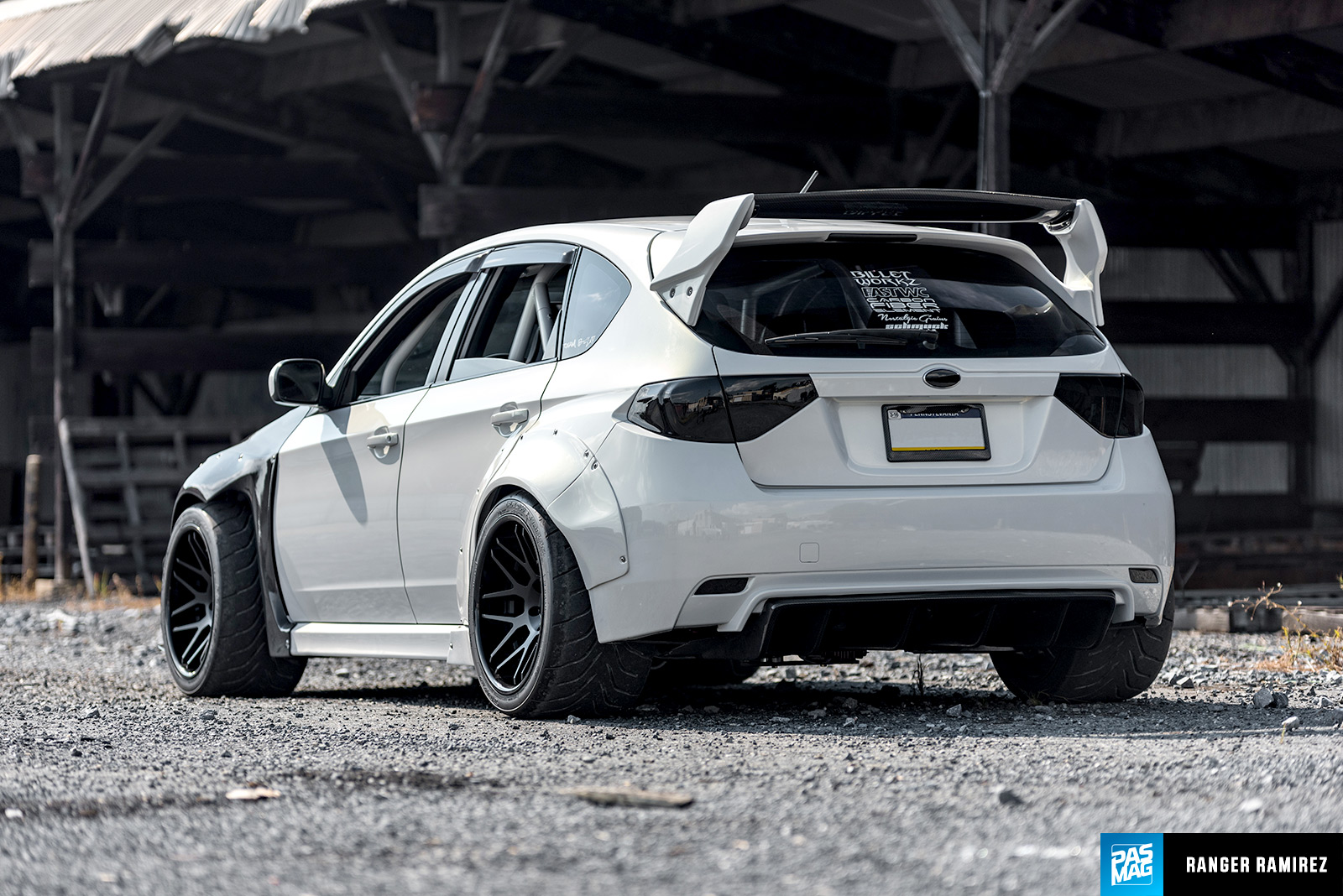 Featured on the cover of PASMAG #145 (Oct/Nov 2017). Order your copy here.
For Barnett, it's not about trophies (even though he's won quite a few now) or having the biggest follower count, it's about building something truly unique, which we feel he's done – in a mad scientist kind of way. We're glad he flipped the switch on his WRX, giving it life and scaring the townspeople, but we can't help but wonder what the plan is for that Mustang still up on his shelf.

Featured on the cover of PASMAG #145 (Oct/Nov 2017). Order your copy here.