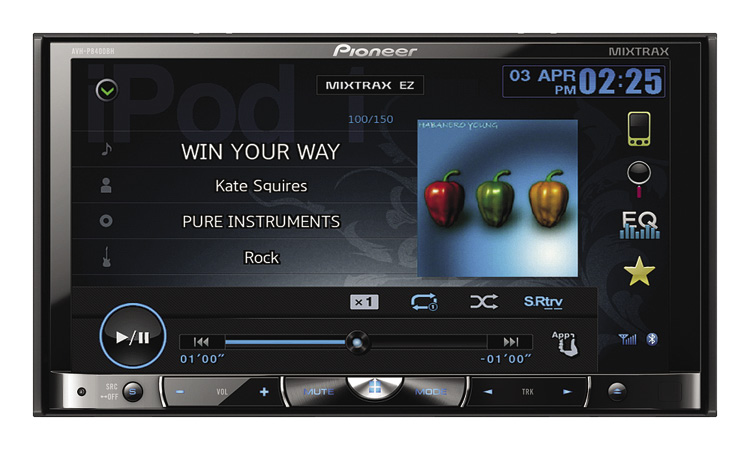 The folks at Pioneer have been hard at work coming up with new ways to enhance your entertainment experience. Evidence of their work is found in the new top-of-the-line Pioneer AVH-P8400BH multimedia receiver. The unit is built around a high-quality seven-inch touchscreen display, complete with Bluetooth®, Pandora® and HD Radio™. But, what many users may find possibly even more exciting is a new technology Pioneer calls MIXTRAX, which brings club DJ-inspired audio and visual effects to your music. Another shot of the cool factor comes from Pioneer's AppRadio Mode, which allows control over a variety of smartphone apps right from the screen. Let's get into the nitty gritty details to see what's what.
FEATURES
Let's start with the focal point of any good AV receiver: the display. The AVH-P8400BH sports a removable seven-inch TFT touchscreen LED backlit display. Outstanding picture quality is made possible with a resolution of 800x480 pixels, making it extremely sharp and detailed. Something that may not be evident until you start using the unit, however, is the special anti-glare coating that allows the display to be much easier to read in direct sunlight and other high-glare situations. You'll appreciate this feature almost every time you drive with the sun behind you or with the top down.
The unit's control of an iPhone or iPod is very smooth, polished and fast. I'm able to scroll through over 5,000 songs in a couple of seconds using the handy scroll bar. I should add here that, while the audio playback is blazing fast, the display does take a couple of seconds to "catch up" with the artwork and track info. To me that is not an issue, but it may be for some.
The Pioneer MIXTRAX feature creates a continuous mix of your music library and adds DJ-type audio and visual effects. By adding transitions between songs and other effects, the MIXTRAX function will take the music from your iPod, iPhone or USB device and make it seem like there's a virtual DJ in the car with you. To use MIXTRAX, you first use the included PC software to analyze your library. The software analyzes each song, including beats-per-minute (BPM), bar, beat position, vocal position and mood. The MIXTRAX extension is then added to the music file and then saved to a USB storage device. When you playback these analyzed tracks on the AVH-P8400BH, you will experience full-featured non-stop mixes complete with dancing album art and the ability to adjust the song's BPM on the fly! You can also experience MIXTRAX as an app for the iPhone 4/4S or iPod Touch (fourth generation), using AppRadio Mode to control the MIXTRAX from the receiver's touchscreen.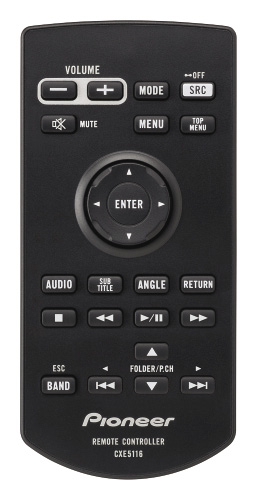 AppRadio Mode adapts technology originally developed for Pioneer's AppRadio™ to this receiver (and two other current models). When you've connected your iPhone with Pioneer's CD-IU201S cable (sold separately), you'll be able to control more than a dozen compatible apps like Pandora, MotionX GPS Drive, INRIX traffic, Rdio and more new apps to follow. At this time, these functions are only for iPhone or iTouch users, which is too bad for Android or Blackberry users. I'm hoping Pioneer is working on an Android compatible version, particularly for the Pandora app, which currently cannot be used without an Apple device connected.
Built-in Bluetooth connectivity provides full hands-free telephony and the AVH-P8400BH will download and store your phonebook. Bluetooth connectivity also means you can stream audio from your phone using A2DP and AVRCP for control, which allows practically any smartphone user to stream audio from their favorite music apps through the AVH-P8400BH. The convenience and safety of Bluetooth hands-free calling is something that, once you've experienced, you won't want to be without.
Other cool and handy features include: HD Radio Artist Experience, which displays the song/artist/album metadata and album art that is transmitted by participating HD Radio broadcasters and iTunes tagging, which, speaking from experience, really helps build your music collection. In addition, you have the option to add Pioneer's AVIC-U220 hideaway navigation module to enable the AVH-P8400BH to have full navigation capabilities. And, to make backing up safer and easier, a rear-view camera can also be added to the unit's dedicated rear camera input. If your car has steering wheel controls, you can also retain that convenience by using an optional third party adaptor.
But, there's a lot more to the Pioneer AVH-P8400BH than just a bunch of high-tech wizardry and a great display. The audio section is just as fully-featured and well-designed as the rest of the unit. With a built-in four-channel 18-watt amplifier and front, rear and subwoofer preamp outputs sporting a full four volts of drive, the AVH-P8400BH will easily serve as a great source for a serious audio system.
Powerful DSP functions bring an eight-band equalizer with +/- 12 dB of boost as well as high and low pass crossovers, each with five selectable frequencies. The unit also features an innovative finger EQ setting feature that makes it effortless to quickly change sound settings by simply drawing (swipe of a finger) a desired EQ curve on the display. There are controls for woofer phase and level as well as a bass boost control that's separate from the built-in EQ.
CONTROLS AND ERGONOMICS
The AVH-P8400BH is very easy to use and the mix of hard button and touchscreen controls are well laid out and intuitive. The unit does not have a rotary volume control, but it does have large hard key-type buttons that are clearly marked, have good tactile feel and, thankfully, are easy to find, ensuring your eyes and attention are on the road. The screen controls can also use swiping motions, which can be simpler to use, but it takes a bit of practice to master. The unit is very customizable, with 112 available colors and a favorites bar that allows you to customize the displayed menu options for items you use most frequently. You can adjust button colors to be different from the color of the background display and the front panel can be set at one of five different angles, providing a perfect position regardless of your viewing angle.
LISTENING
As one would expect from a head unit with this much technology, the AVH-P8400BH provides excellent sound quality regardless of the source. The sound of the CD section is pleasing with what sounds like just a hint of sibilance on the top end. Bass is warm and natural sounding with excellent detail and dynamics. DVD and DivX videos are reproduced excellently. For the fun of it, I play a couple of fairly-damaged CDs and the Pioneer's transport mechanism has no problem reading them, so I'd have to say the laser mechanism and error correction is pretty good. My iPod sounds great and, interestingly, does not seem to have the top end sibilance the CD section has. As usual, the Pioneer tuner brings in all my favorite local stations, regardless of AM, FM or HD Radio source.
PERFORMANCE / BENCH MEASUREMENTS
Things get interesting once I move to the test bench. The sonic measurements of the CD mechanism show it is not as flat as other Pioneer units I have seen in the past. The response has a small bump in the bass region around 75 Hz and a distinct rise from about three kHz to 15 kHz. This is certainly audible, but I actually think many people will find this curve quite pleasing, so it's not necessarily a bad thing. Then, as I had expected from my listening session, the USB and auxiliary inputs measure almost ruler flat, thus confirming the response anomaly is restricted to the CD section. Signal-to-noise measures good as does the output impedance and crosstalk. The built-in amp meets its rated power numbers and provides a flat response. THD+N distortion measures low at 0.05% at one watt.
CONCLUSION
All in all, the Pioneer AVH-P8400BH stands proud in this well-populated market segment. For under 700 bucks, you get a class-leading display, intuitive and easy-to-use controls, very good audio performance and all the bells and whistles you'd expect. And, while I'm still hoping Pioneer builds a Pandora-enabled unit for non-iPhone users, it definitely deserves your full consideration.
MEASURED SPECIFICATIONS
AMPLIFIER
CEA-2006A power per channel (all channels driven @ 4 ?)....... 18.4 W x 4 ch.
A Wtd S/N ratio (ref. to 2 V/1 W @ 4 ?) amplified output…...... -81.5 dBA (CD)
THD+N (ref. to 2 V/1 W @ 4 ? 1 kHz ) ……………………….. 0.05%
Frequency response (-3 dB) …………………………………...... 20 Hz – 15.4 kHz (CD)
20 Hz – 20 kHz (Aux)
PREAMP SECTION
Max usable RCA output voltage ……………………………… 4 Vrms
A Wtd S/N ratio (ref. to full output voltage)………………….. -89.1 dBA (CD)
Output impedance ……………………………………………… 92 ?
Frequency response (-3 dB) ………………………………….. 20 Hz – 15.7 kHz (CD)
20 Hz – 20 kHz (Aux)