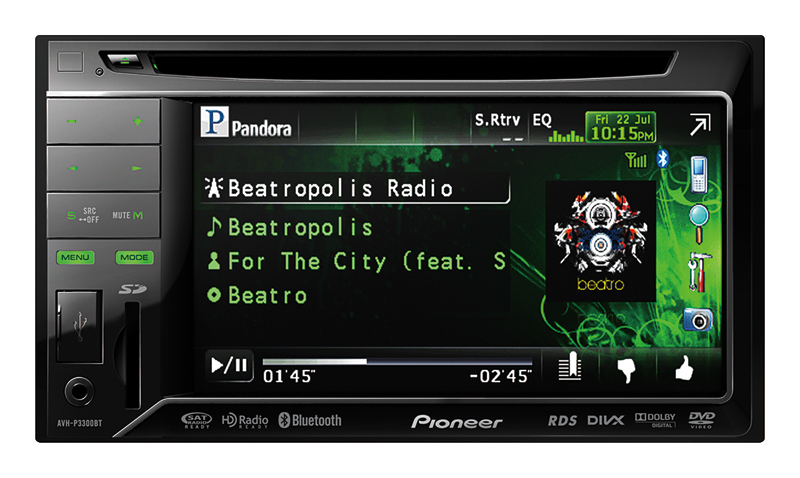 Today, more than ever before, we live in a world that's all about connectivity, content and choices. We can do our banking and watch television on our cell phones, and use our TVs to browse the web. More and more devices are being designed to interface with other devices, and the result is a world where anyone can find just about every bit of entertainment or information they want from almost anywhere.
And if you're the owner of a Pioneer AVH-P3300BT head unit, connectivity is likely one of the reasons you chose it to begin with.
The Pioneer AVH-P3300BT multimedia receiver is one of those new products designed to provide all the usual features you'd expect from a double DIN DVD receiver, as well as keep you connected to your favorite app-based content as well. And with a full retail price of $539 (US), it's a great way to get all of today's technology in your dash at an affordable price.
The Pioneer AVH-P3300BT is a full featured multimedia receiver, with DVD/CD/AM/FM/iPod/iPhone/MP3/AAC/WMA/DivX playback, and comes ready to connect with Pioneer's optional GEX-P20HD HD Radio tuner or a SiriusXM satellite radio tuner. Additional inputs are provided in the form of SD card, USB and auxiliary connections, so no matter how you transport your tunes, the AVH-P3300BT has you covered. Built-in Parrot powered Bluetooth connectivity allows for lawful, true hands-free telephony, and it's compatible with most Bluetooth capable cell phones. (Hands free operation of a phone in a car is mandatory in many places now, and soon may become a legal requirement everywhere.)
Pandora radio control and display functionality is supported when connected to an iPhone with the Pandora app. But what about that connectivity and content I was talking about? Well, with an Internet-enabled iPhone, you can access all your app based content from Netflix, YouTube, MotionX Drive, etc. The web based content will be watchable on the 5.8" active matrix touch screen. (Of course watching video will require that the vehicle be stopped and the parking brake applied.)
I guess this leads me to my only real gripe about the AVH-P3300BT. I'm a Blackberry guy, and I don't have or want an iPhone, so some of the cool features available in this unit would not be available to me. I'd really like the unit to support Pandora and some of the other Internet apps on other smartphones. We Blackberry and Android users deserve some love too! But, to give credit where it's due, I will say that the Parrot powered Bluetooth functionality quickly and easily found and synched with my Blackberry Torch.
But even if you are an avid iPhone user, don't think the AVH-P3300BT is just all about added gadgets and apps, because all those things aside, this A/V unit is actually a very serious piece of audio equipment. For outstanding quality audio playback from DVDs, CDs, and flash media, this Pioneer is equipped with a 24-bit/96kHz digital-to-analog converter. Output comes from either a built-in MOSFET amplifier, rated at 14 watts per channel, or the 3 pairs of 4 volt pre-outs. And with built-in DSP features like Pioneer's Advanced Sound Retriever, which is handy for enhancing compressed music, and the Sonic Center Control which allows you to change the arrival time of sounds from each channel and create a realistic soundstage, the tuning functionality will impress even the hardcore tweakers. And it doesn't stop there… there's a built-in 8-band EQ, high and low pass crossovers, and other handy features. With the addition of an optional microphone, an "Auto EQ" function is claimed to automatically correct for frequency response aberrations in the car, making quick work of "tuning". Although I did not attempt to tune with this function, frankly my experience with these types of automatic tuning aids in the past has been, well, let's just say less than successful.
In any case, a few minutes of menu browsing is all it takes to understand that this piece is as much about getting the most out of your music as it is about keeping you connected, informed and entertained.
And if you decide later on that you need navigation, with the simple addition of Pioneer's AVIC-U220 add-on navigation system ($439.00 US), you can have a full- featured 2D/3D capable navigation receiver. The navigation system is an easily installed add-on module and provides coverage for all of the U.S., Canada, and Puerto Rico. It includes many of the same features as Pioneer's built-in navigation units, such as road preference selection, customizable AVIC feeds, fuel cost reports, the ECO Graph function, Text-to-Speech, as well as Turn-by-Turn Voice Guidance.
The AVH-P3300BT is a very easy to use source unit. Controls are clearly marked and large enough to be operated with gloved fingers. A CD slot right above the screen allows disc loading and unloading without requiring a motorized screen. The 5.8" screen uses a 16:9 aspect ratio and provides crystal clear video with excellent color and contrast. For those who even like to tweak the video, there are numerous video adjustments available for each source as well as the optional rear view camera. Adjustments include brightness, contrast, color, hue, and temperature. And to customize the units coloring to your liking, the on-screen display can be set to white, blue, red, amber, or green. The background can display one of four preset still images, one of three preset movie images, a stored JPEG image, or just the clock, and the ability to simply turn it all off. Additionally, the color of the button illumination can be set to red, amber, green, blue, white, or to scan through the spectrum of 112 possible colors. The screen also responds exceptionally well to touching and touch-slide finger movements. Icons can be rearranged, and the display can be adjusted many different ways to ensure you'll have everything just the way you like it. Even the repeat and random functions were easy to find and set. Other companies could learn a few things here.
Menus are logically laid out- and easy to use- even without reading the owner's manual, which is good, because it's a small booklet with over 100 pages, using very small fonts which can be quite an eye chart after a while.
Additional features include an input for a third party wired steering wheel remote adapter, and the ability to adjust the levels of individual sources to bring them all to similar levels, minimizing the need for volume adjustments every time you change the sources.
In my listening room the AVH-P3300BT did indeed prove to be a superb device for musical playback, regardless of the chosen source. DVD playback was automatic, and the built-in Dolby Digital surround decoding worked like a charm. The video output connection easily drove my external monitor and the picture quality was excellent. One note on video playback – when playing back DivX content, you cannot use the external output and the built-in screen at the same time.
CDs loaded quickly and quietly, and when I switched to my iPod, I really appreciated the quick access alphabet style menu to easily jump to any artist or song. When it comes to a fast and functional iPod interface, it simply doesn't get much better than this Pioneer. Music was reproduced with a very natural timbre and the frequency response sounded just as good as my high end home reference player. Bass was strong and well defined, and the higher registers showed good detail and brilliance without being harsh. I didn't notice any audible noise or hiss between tracks or on very quiet passages, and the soundstage was realistic and provided excellent and distinct placement of the players. Overall, after listening to the AVH-P3300BT for several hours on all sorts of music, I came away solidly impressed and really pleased with its performance.